Corporate Gifts - 2 Chocolate Box
This festive season, gift your corporate clients and employees something that will bring a smile on their faces and also strengthen your business association forever. Corporate gifts are mainly given as a token of thanks to your clients and employees at the same time creating a brand visibility among them.
Chocolates can serve that purpose with ease and also ensure that your clients and employees remember you for a long time. We have the option of printed chocolate boxes and assorted chocolate boxes that can be given as corporate gifts.
The chocolates are custom made especially for your recipients and are made from the finest of the ingredients.


Step 1 - Select Configuration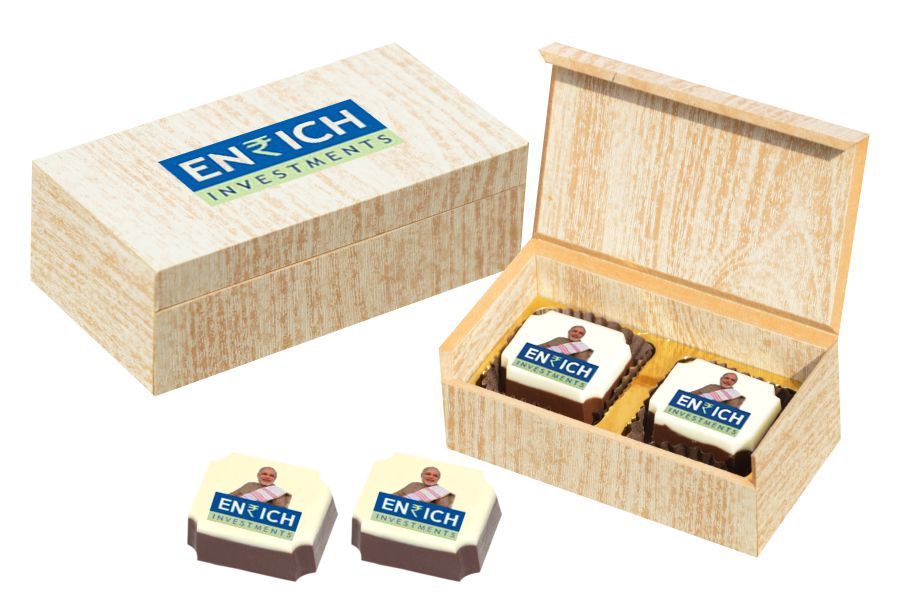 All Printed Candies, Wooden Box with your logo, Message on Butter Paper.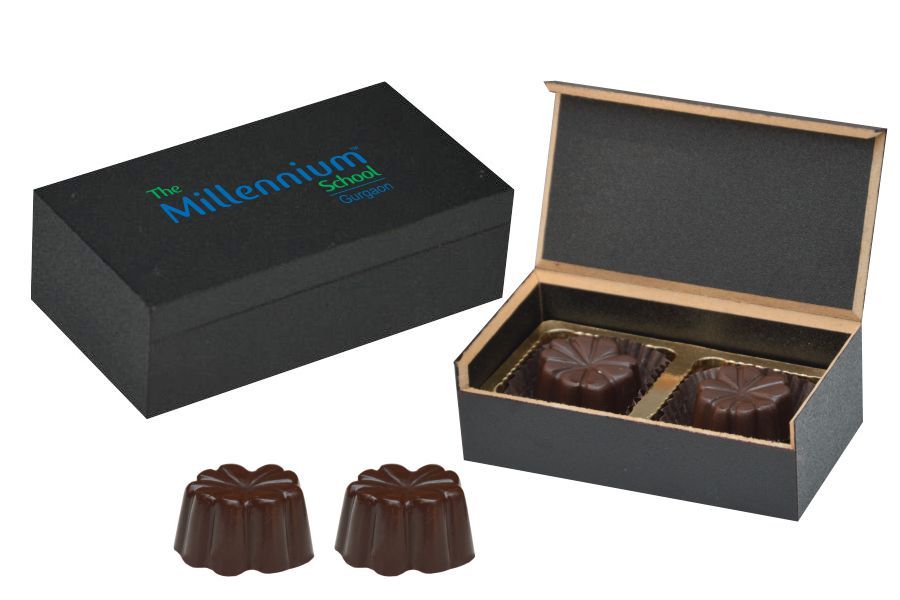 Assorted Candies, Wooden Box with your logo, Message on Butter Paper.


Corporate gifts are one of the most impactful brand building techniques that companies can make use of. Gifting during the festive season is nothing new but gifting something that your customer, clients or employees will love is definitely worth the effort.
Our 2 chocolate boxes are unique and innovative corporate gift ideas. The 2 chocolate box has an option of printed or assorted chocolates as per your choice.
The printed chocolate can have the logo or the motto of your company printed right there on the chocolate itself. The prints are done in perfectly edible inks so that your recipients can relish the delicious chocolates till the last bite. Corporate gifts are not only a way of thanking your clients and employees but will also express the thought that you value your clients and employees. This thought process is extremely invaluable in creating goodwill for your business.
Corporate gift ideas are many but our chocolates are definitely one of the most beautiful corporate gifts that you can give out this festive season. Our chocolates are purely vegetarian and entirely custom made which gives it a personalized charm as well. The chocolates are packaged in beautiful wooden boxes with a butter paper placed inside. This butter paper can have your wishes for the festive season along with the contact details of your company printed on it. Innovative corporate gift ideas are just a click away. Order your chocolate boxes today.

Box size available - Corporate Gifts
---
Occasions we make corporate gifts for
---


---
Corporate Gifts - 2 Chocolate Box by Chococraft
---

Promotional Gifts in India by ChocoCraft
If you want to run a business, promoting your brand is of utmost importance. You have to put your brand out there and make sure that everyone knows about it. How else will your business flourish? Brand endorsement is crucial for the growth of any business, and more so if it is a startup.
Brands can be endorsed in several ways such as giving away promotional products, business gifts or advertising items which act as executive gifts. These custom promotional products are generally logo items. Some common marketing items are diaries, calendars, engraved pens or mugs. But you really have to make a mark with your promo gifts, and ChocoCraft brings you the best promotional items, which are made using chocolate!
Yes, you read it right. We at ChocoCraft create exquisite chocolate boxes which serve as excellent business promotional products. We specialize in crafting delicious chocolates with your product logo printed on them. These custom promotional items come in specially packed boxes. You can have your logo printed on the box as well.
Our two chocolate box is one of our best business promotional items. These promo products consist of two pieces of delicious chocolates in a box decorated as per your preference. The 2 chocolate box has an option of printed or assorted chocolates as per your choice. The printing on these unique promotional gifts is done using edible ink; you can enjoy it to the fullest till the last bite! We have a wide range of designs for you to choose from. These personalized promotional products come with a butter paper inside which can bear season's greetings or messages to accompany the promotional items.
You can get your promotional gift items from ChocoCraft online quite easily. Just select the number of chocolates and the type and upload the gift logo (if you are looking for promotional items with logo), and you're done! We deliver to all major cities in India. All of our products are pure vegetarian, hence you need not think twice before ordering. And of course, they taste delicious.
All of our products are reasonably priced. You can even buy wholesale promotional products to avail a discount.
Company promotional items are all about reaching out to customers and establishing a name for the company. These unique promotional products from ChocoCraft make excellent business gifts for clients and will ensure that you are never forgotten; who can forget such lovely, innovative gifts?

Promotional Gifts by Chococraft
Gift Categories
Gifting Ideas
Our Speciality
Beautiful promotional gifts
Custom promotional products
Doorstep delivery across India
Unique Ideas with a personalised message
Design / Make your own promotional gifts / favors
Products in a wide price range
Personalized promotional products

Giveaway Gifts by ChocoCraft
These days, promotional giveaways are also on the rise. Generally, they consist of events or competitions for which the prizes are promotional merchandise or promotional bags filled with personalized business gifts.
The objective behind such promotional items giveaways is to spread awareness about the company by distributing personalized promotional gifts to a wide audience. Office giveaways corporate gifts can be for employees as well as to the public in general. Branded promotional items can also be given to the children of employees; the products might create awe in a child's mind and spread the word.
Personalised corporate gifts are excellent gamification tools; you can make people actually want your gifts! Such giveaways establish a name for the company. When the gifts are used, they are seen by the public. And isn't that great publicity? You can get a lot of business by simply increasing the number of people viewing your logo. Apart from creating a name for the company, the business is remembered by the gift.
A great gift creates a positive first impression, and you will never be forgotten. So if you buy corporate promotional gifts from ChocoCraft, you'll always be remembered as the one with the creative gifts!

Customized Gifts by ChocoCraft
At ChocoCraft, we create exclusive gift boxes for various occasions. Chocolate is the epitome of divine indulgence, perhaps the original dessert! What better way to celebrate your happiness than with chocolates? Be it birthdays, weddings, engagements, mehendi ceremonies or corporate gifts; we can make a customised gift box for you.
Our specialty is creating exquisite gifts by combining decadent chocolates with beautiful photographs and messages.
We provide the complete customized invitation or gift; you need not even worry about the packaging. All of our chocolates are packed in sturdy and beautiful wooden boxes.
You can choose what design appears on the box. If you are having a themed wedding, we offer several designs for each theme (such as butterfly, vintage, western or traditional theme) to choose from. You can even have a photo printed on the chocolate box.
You can also include a message in your invitations. This message will be printed on a special card or butter paper which will be placed inside the box. Your message can be printed in the regional language of your choice. We offer several designs for the card as well.
We have customised boxes and designs for various occasions like Valentine's Day, hug day, rose day, and so on.
All of our products are made without egg and hence are pure vegetarian. With the finest of ingredients and the cleanest of kitchens, we assure you of the highest quality of chocolates. You can order our chocolates online from the comfort of your own homes.
Choose your designs and upload pictures if you need them. All done with a few clicks! We deliver to all major cities in India, and your chocolates will be delivered to you within a week. And all of this at reasonable, affordable prices. Our gifts make fast cheap promotional items as well. After all, sharing your love shouldn't cost you the world, should it?

Thank you Gift for Corporate by ChocoCraft
Appreciation is extremely important for growth and better results. Positive reinforcement works wonders in all aspects of life. A child will perform increasingly better if he is applauded.
Similarly, an employee who is recognized and appreciated for his contribution knows that the company values him. When you say thanks to your parents, friends, husbands and wives, it shows that you care. Thank you gifts work wonders in professional as well as personal life.
ChocoCraft brings to you the best way of saying thank you someone. We have custom gift boxes made specially to appreciate the people in your life.
We have special thank you gifts for men, women and children. Wedding thank you gift boxes are also available. With a variety of designs and patterns to choose from, you can create an interesting and creative thank you gift. A personalized gift shows that you truly care.
You can put a smile on your child, employee or even your boss's face with a lovely photograph printed on delicious chocolates.
Head over to ChocoCraft and order these novel thank you gifts today!

Trade Show Promotional Items by ChocoCraft
A trade show is an exhibition organized so that companies in a specific industry can showcase and demonstrate their latest products and services, meet with industry partners and customers, study activities of rivals, and examine recent market trends and opportunities.
Exhibitions are visited by thousands, including both consumers as well as other businesses. Due to the large footfall and the publicity offered by it, exhibitions are fertile ground for corporate giveaways. You can distribute your corporate promotional gifts here so that your company becomes known.
At ChocoCraft, we have special personalized marketing gifts for such fairs. Give away a box of our custom chocolates with your brand logo printed on them. These come in exquisite wooden boxes. You can choose the number of chocolates.
Our Two Chocolate Box is a compact box which has been used by a lot of our clients as take-away gifts at exhibitions or trade shows. It is a wooden box and is available in two finishes; light brown wood and textured black. A fine gift to remember you by!
Our gift boxes are delicious, perfect and yet, affordable to each business. If you don't want to spend a fortune and want your promotional gifts cheap, ChocoCraft is the right place for you.

Promotional Gifts for Pharmaceutical Companies
Pharmaceutical companies depend, in a way, on doctors for their businesses. It is because of their expertise and advanced knowledge that they prescribe just the right medication.
We, at ChocoCraft have designed special gifts for doctors.
You can have a message for the doctor printed on a chocolate bar. This can be packed in a box with the design of your choice. In addition, you can have the logo of your company (or a specific brand) printed on it. If you want to go the extra mile, you can also have a photo of the doctor printed on our chocolates.
Whether you're launching a new product, thanking the doctor for trust in your brand, celebrating an anniversary, or congratulating a doctor for some achievement, our chocolates are a perfect gift for physicians.
For a pharma company, our custom chocolates are a great way to leave a lasting impression on a doctor. This gift can draw attention to your brand, and the doctor may start prescribing it regularly. It is also a very good way to introduce your company to the doctor and form a lasting relationship with him. Go ahead and order today!

For more information, please get in touch with us.