Wedding Invitations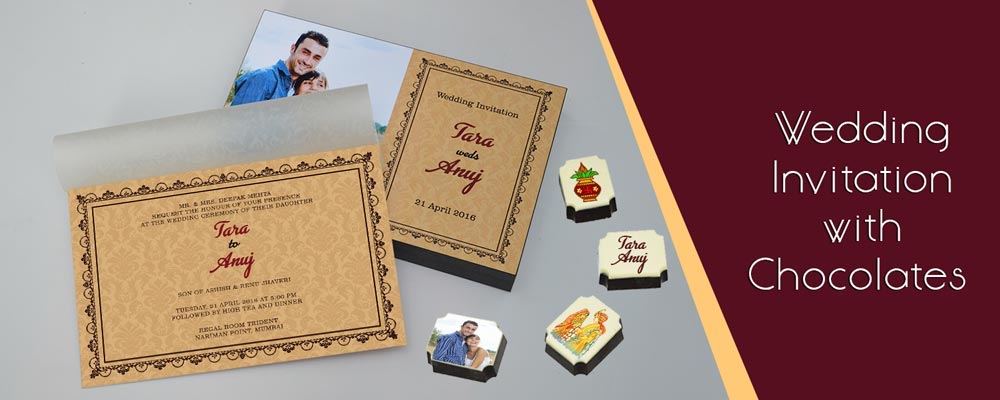 Wedding invitations are such an important part of the wedding preparations. Have you ever wondered how wedding invitations began in India? But regardless of how they began, marriage invitations have evolved and today there are so many options for wedding invitation designs.
More than any other thing it is your wedding invites that set the tone for the entire wedding. It is a glimpse of what to expect at the wedding ceremony. Funky and playful or elegant and formal it should reflect your personality. At ChocoCraft we create unique wedding invitations that do just that!
The concept is a custom made chocolate gift box which includes the marriage invitation card accompanied by delicious chocolates. You can customise the design of the box, the invitation card and the chocolates to create a truly one of a kind wedding invitation. We offer a wide range of wedding invitation cards designs to choose from and special marriage invitations that feature pictures of the bride and groom.
We also offer a fantastic range of exclusive wedding return gifts too!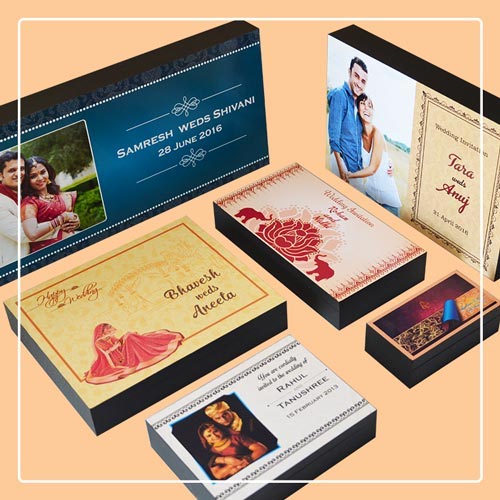 Our gift boxes are elegant and sturdy wooden boxes. They are available in a range of sizes to suit your needs.  The top of the box will be like the envelope of your wedding invitation. It shows the basic details like name of the bride and the groom, maybe a photograph and the wedding date.  There is a wide variety of box and wedding invitation card designs to choose from and if that is not enough our design team can work with you to create a new design especially for you!
Have you already picked out your wedding invitation card? No problem! We can create a gift box and chocolates with the same design that will go beautifully with the card.
Our premium range of boxes are eco-leatherette boxes that offer a beautiful textured finish and are available in many colours.
2. Invitation Cards
We also print wedding invitation cards to be placed inside the box. Continuing the same theme as that of the box top design, these cards carry the details regarding the time and venue and other information. You can choose to keep just one card or several leaves for different ceremonies like the Mehandi, Sangeet and the Reception.
The cards are printed on excellent quality paper. We can offer you many different options for the wording of the invitation or you can create your own. We carry a lot of traditional Indian wedding card designs as well as modern ones. You can choose what suits your marriage ceremony best.
Finalising your wedding invitations can be a difficult task and you can check out our checklist of wedding invitation dos and donts to ensure you don't make any mistake!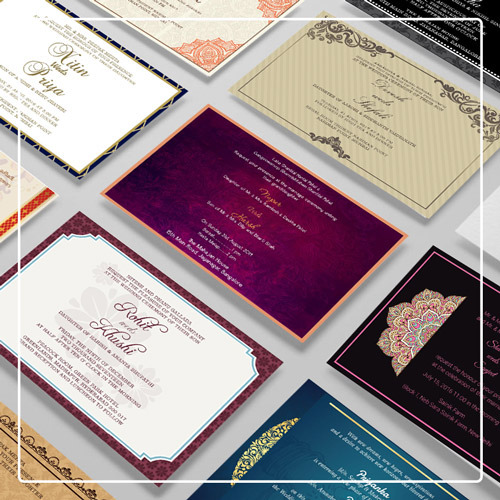 3. Wedding Chocolates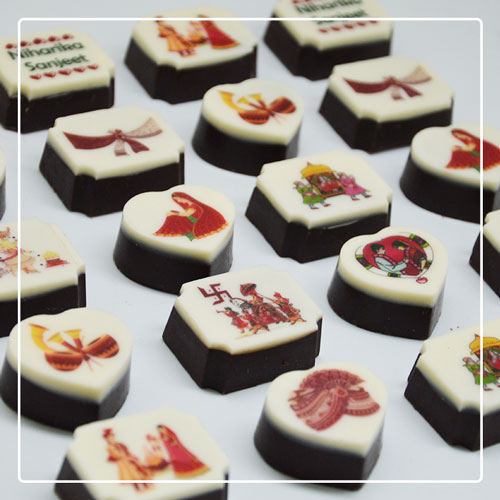 The chocolatesto be placed in the box are also completely customized. You can choose any flavour or filling for the chocolates. For printed chocolates you can have anything printed on the chocolates. Popular choices include names of the bride and the groom or their picture and wedding related symbols!
The color used for printing on the chocolates is edible and conforms to the best international standards. Designs or text can be printed in bright vivid colors and you can print almost anything you imagine.
We offer a range of fillings and flavours for the chocolates like fruit and nut, butterscotch, roasted almonds and others. All our chocolates are made using only the finest ingredients. Instead of individual chocolate candies you can also choose to include a printed chocolate bar with your wedding invitations!

Options for box & chocolates

We offer chocolate boxes for wedding invitations in a variety of sizes - 2, 4, 6, 9, 12 and 18 chocolate box.
You can choose to have choose your own unique arrangement of chocolates. Have all of them printed or maybe only place a few printed chocolates in the box.  Or you can even choose to have your wedding invitation printed on a chocolate bar.

Wedding Invitation with Photographs

At ChocoCraft we create beautiful wedding invitations that feature photographs of the bride and the groom. These wedding invitation are a new concept and something that will definitely surprise and delight your wedding guests. But we do more than just print your photograph on the invites - we print them on the chocolates as well.
In fact we also give you the option to print out the entire marriage invitation card on a chocolate bar. Just the thing if you are looking for a new and innovative idea!
Here's 5 reasons why our photo wedding invitations would add something special to your wedding:
It is a unique way to announce your wedding to everyone. Choose a beautiful picture that celebrates your love!

If you had a pre-wedding photo shoot here's a wonderful way to use these pictures.

It's a new concept and your wedding invitation is something that is likely to stand out in people's mind.

Wedding invitations are now becoming more intimate and casual whereas earlier they were more formal and a photo wedding invitation reflects who you are more than anything!

A wedding invitation is also a tangible memory, a keepsake of your wedding day. Something you will look at in the years to come. And wouldn't a photograph make it all the more special!

Personalized Marriage Invitations - Print the names of each individual guest!

At ChocoCraft we realise that every person you invite to your wedding is special. That is the why we give you the option to personalize each chocolate gift box for your wedding guests. You can have the name of each individual guest printed on the gift box, the marriage invitation card as well as the chocolates.
Imagine receiving a wedding invitation crafted personally for you. It is a gesture that will touch anyone and make them feel extra special. And giving out personalized wedding invitations also offers the following benefits :
Personal invitations tend to be more memorable than others because guests can see that you have put work into them.

You are not sending regular invites, but rather something that is unique to your wedding, something that they are likely to remember for years to come.

Personalised wedding invitations are an opportunity for you to be unique. No one wants their invites to be the same as everyone else's. You have vested so much time and energy into planning this perfect day, there is no reason your invites shouldn't reflect this.

Prior to sending the actual invitation, you may want to send out a"save the date"to advise the date and location of the Wedding. This may be especially useful when the wedding is to be held in a distant location to allow for travel plans. We can create a beautiful save the date with a customized gift box. You can also choose a save the date gift box which has a lovely photograph of the bride and the groom.
Check Save the date chocolate & box designs!
Save the dates are rapidly becoming very popular and there are a number of advantages to sending out save the date cards:
A save the date works as a way to announce your engagement to friends family and other loved ones.

Your save the date sets the tone for the entire wedding and lets the guests know what to expect. Whether you're having a vintage theme or a modern one be sure to introduce this theme on your save the date.

If you had a pre wedding shoot this is a clever way of sharing your pictures. Simply incorporate a picture in your Save the Date.

Sending out Save the Dates also helps to finalise your wedding guest list. Since they already know when and where the wedding is happening your guests can inform you if they won't be able to attend. By the time you send out the formal invites you already have a fair idea of how many people will be there!

Save the dates can give advance notice of a destination wedding and give the guests ample time to make their travel arrangements.

Create an exciting buzz around your wedding. Your Save the Date can kick off the festivities. You can also share the details of your wedding website or facebook page to get everyone involved right from the get go!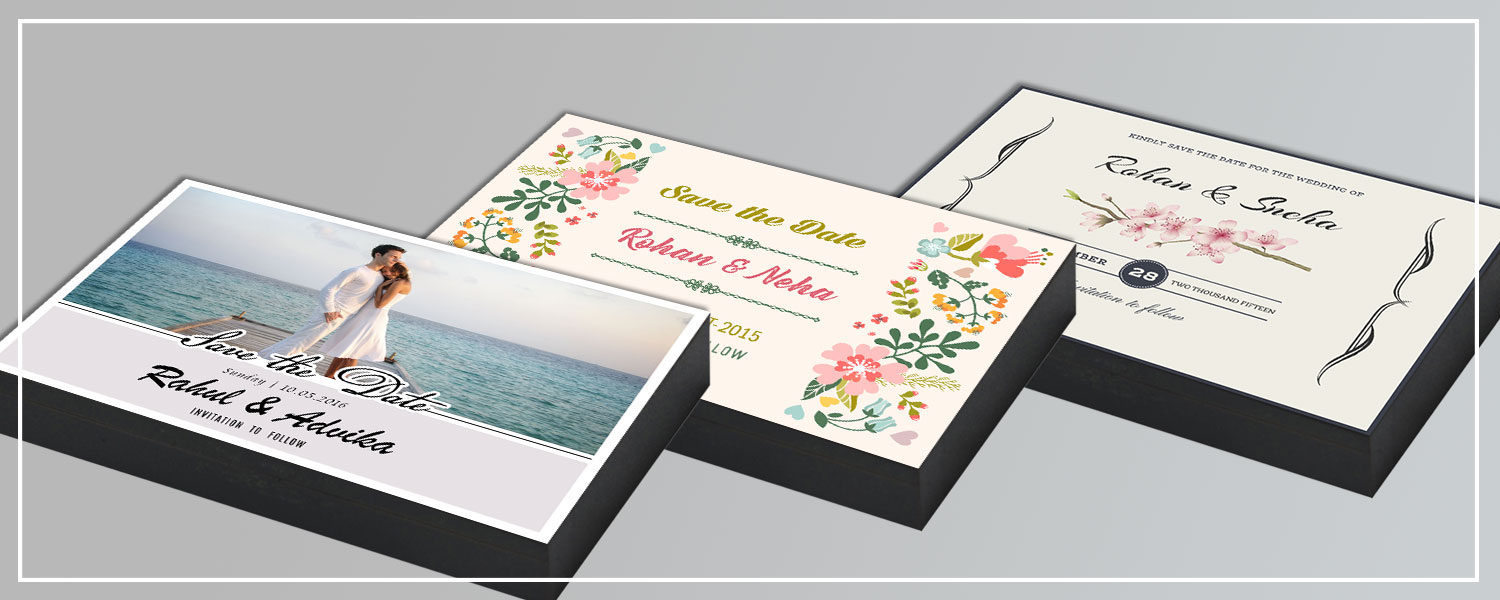 Wedding Theme Designs on Chocolates!

Wedding themes are all in vogue now. A wedding theme gives a base on which you can design and organise all the different wedding related events. A theme gives a unifying motif to every wedding event whether it is your wedding invitation, the wedding day itself or the thank you note. At ChocoCraft we can create chocolate gift boxes to go with any theme that you choose. Have a look at some of the most popular wedding themes.
Award night theme

- Make your wedding guests walk the red carpet with this wedding theme. The wedding invites can be made to look like tickets to the event.

Destination wedding theme like Goa, Hong Kong, Dubai, Istanbul, Hawai

- At a destination wedding theme the invitation can feature designs taken from local art and culture. Or you can focus on what is unique about the place a landmark like the Taj Mahal can be beautifully depicted on the wedding invites.

Contemporary theme Rajwada theme

- A royal theme that celebrates the style of the grand kings of India. Ornate decorations and old world charm which can be beautifully rendered in the wedding invitations as well.

Traditional theme based like Raslila / Radha krishna

- A hint of the divine to make your wedding unique. This traditional theme can feature religious icons on the wedding invitation.

Floral theme

- This can be a colourful theme and can work very well with almost every aspect of the wedding

Vintage theme

- The vintage theme is an absolute classic. Vintage designs like victorian lace patterns can be used while designing the wedding invite. You can also choose a vintage calligraphic font for the invitations.

Wedding symbols

- Elephant, peacock, butterfly, cycle, horse cart . Celebrate these beautiful wedding symbols on the wedding invitation.

Bollywood theme

- Our very own bollywood! How can anyone resist? Wedding invites can look like movie tickets or even better model your wedding invitation on a classic movie poster.

Fairytale wedding theme

- Celebrate your own happily ever after with this theme! The these celebrates love and romance and the wedding invitations can be beautiful romantic designs.

Modern & minimalist

- Very popular these days. Modern invitation are less grandiose but tasteful and artistic. Clean designs and very strategic use of color. If that's your style go for it!

Invitations for Pre-wedding ceremonies (Roka, Mehandi, Sangeet & Reception)

Your wedding is a once in a lifetime and the celebrations are not limited to your wedding day. In India especially there are a lot of pre-wedding events. A Roka or Engagement happens much before the actual wedding and there is a mehandi or sangeet a day or two before the marriage ceremony. Every event leading up the wedding ceremony is special in its own way. And we have the perfect way to invite your guests to all the pre-wedding ceremonies:
Bachelorette Party

- This is your last official party as a single girl. A lot of times a bachelorette party is an outstation trip with friends. A fun way to invite them them to the fun and frolic would be a delicious box of chocolates.

Wedding Shower

- If you are hosting a wedding shower for the bride-to-be you we can create beautiful chocolate gift boxes to celebrate the event. We assure you it will be something she will always remember.

Sangeet & Mehandi

- Invite your guests to this fun filled event in style with beautiful chocolates from ChocoCraft.

Roka & Engagement

- A separate engagement ceremony deserves its own special invite. We can create customized invitations that will make the event memorable.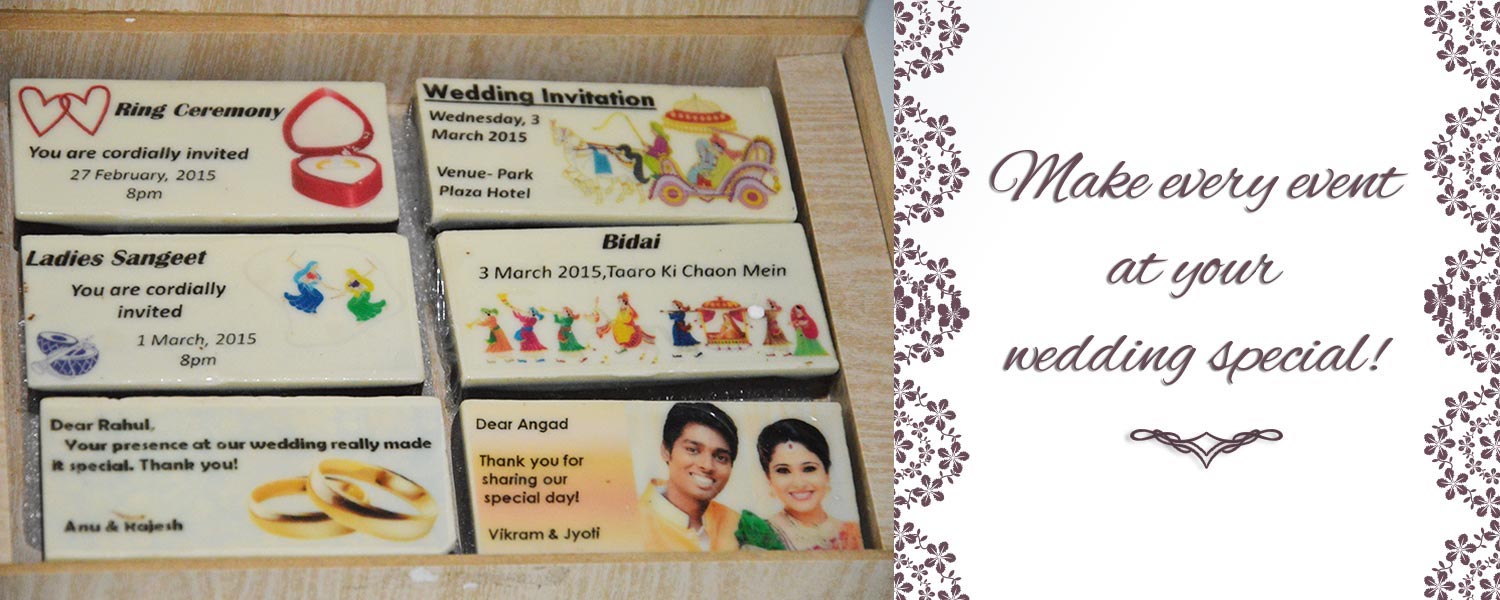 For more information, please get in touch with us.