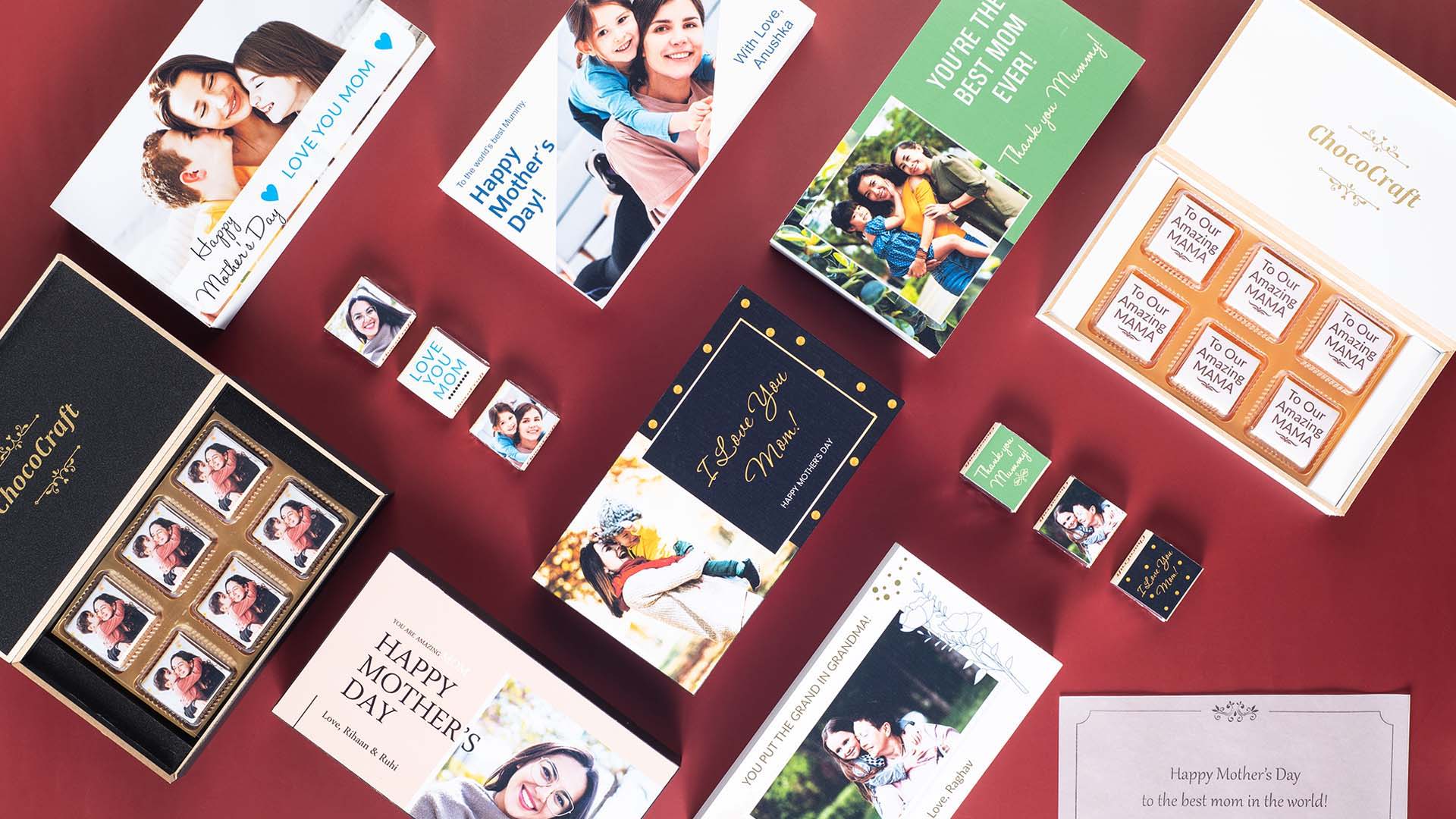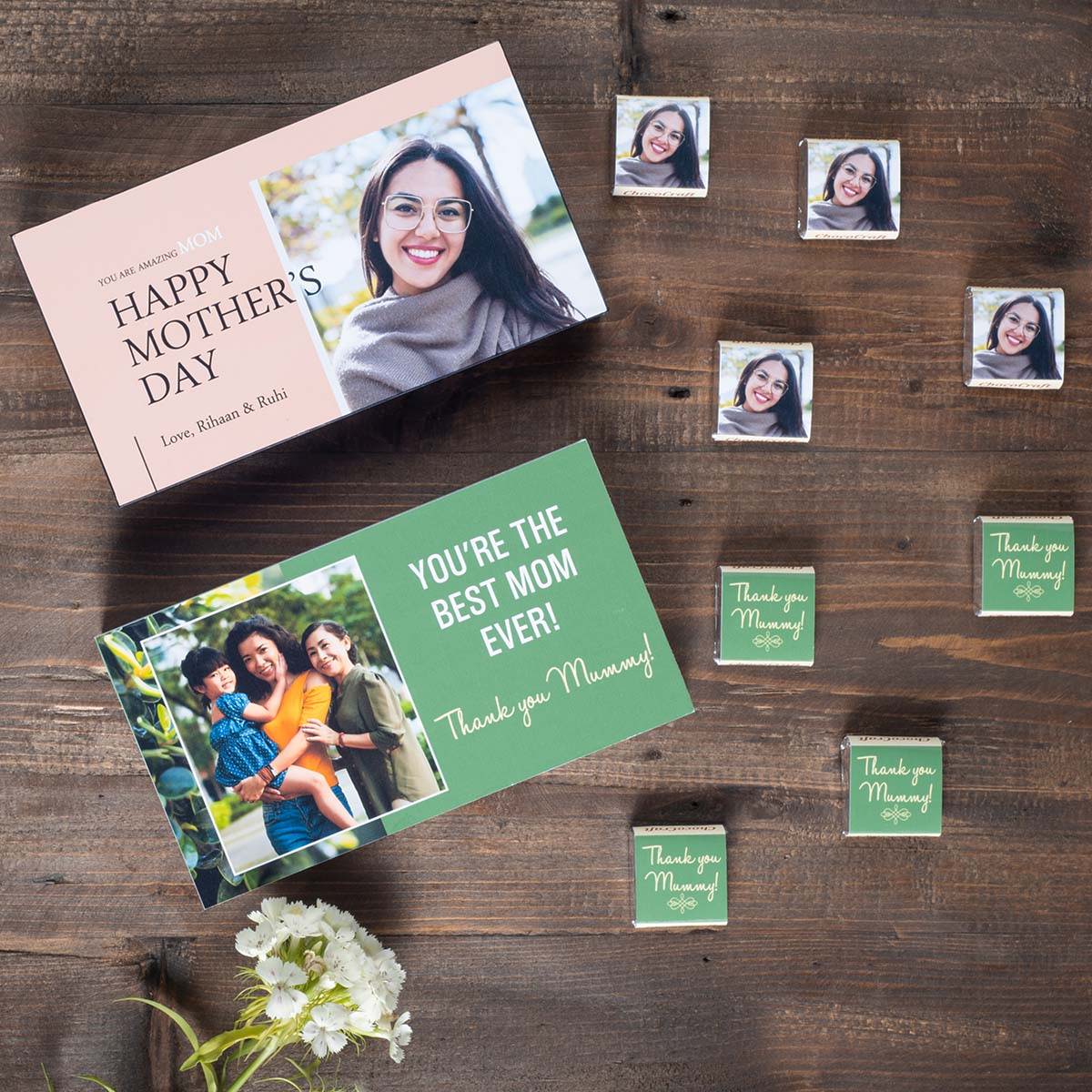 Free Delivery Across India
---
---
---
Mother's Day Gifts
How are you planning to pamper your big girl on her special day?
"Mama was my greatest teacher, a teacher of compassion, love, and fearlessness. If love is sweet as a flower, then my mother is that sweet flower of love" — Stevie Wonder
Mother's Day Gifts by ChocoCraft
The commonly said Jewish proverb, "God couldn't be everywhere so he created mothers" has every reason to believe so too. Mothers are the primary caregivers, who have always been there for us throughout our lives, as our friends, philosophers, and guides. And now comes the day when we can proudly give her back the love and affection, and reflect upon the true meaning of motherhood, on this Mother's Day.
This occasion dedicated to our lovely ladies, is when we recognize the significance of the roles they have played in our lives, and offer our appreciation. Now, this is the very reason why gifting your mother an awesome mother's day gift is very important. When she receives the gift from you, she would be escalated with joy. "My children care for me, think of me and my needs. I mean to them because I am loved by them."
Your mother for you is the best mother in the world. She is different, significant and unique. Hence how special she is should also be reflected in your gift. The ideal mother's day presents need to be something much personalized to cherish her individuality, and appropriate to the significance of this day.
Amidst the clichéd and impersonal mother's day baskets available on retail, ChocoCraft brings to you customized gifts exclusively for Mother' day. We offer customized chocolate gift boxes which are the ideal gifting items for mothers. Chocolates are the sweetest gifts you can probably give someone on any day which is dedicated to celebrating love, affection, and admiration. They remind the receivers of their innocence since there is no age either for truthful compassion or chocolates.
The customized chocolates offered by ChocoCraft are unique in the way they are created. They're all freshly prepared with the choicest of ingredients as and when you order them. Our special offerings of printed chocolates offer a personal touch to the gifts. You can add personal Mother's Day wishes and her photographs to be printed on the personalized chocolates. The vibrant ink used on the chocolates offer distinctiveness to the candies and are completely edible. We at ChocoCraft mean nothing but the best for you and your lovely mother. Therefore we prepare for her the best mother's day presents you could bargain for.
We also want nothing to stop you from having the best. Not only we prepare the most affectionate gifts for your mother, if you are searching for unusual mother's day gifts in India online, presents for mothers can be ordered from and delivered to all major cities in India. So if you are looking for unique and crafty Mother's Day gift ideas in Delhi, Bangalore, Pune, Chennai, Hyderabad or anywhere for that matter, don't worry. ChocoCraft offers you doorstep delivery free of cost. Visit our website www.chococraft.in and order unique mother's day gifts online!
Mother's Day Gifts from ChocoCraft
| | | |
| --- | --- | --- |
| For Recipients | Gift Types | Our Speciality |
| Unique Mother's Day Gift | 6 Chocolate Box | Photo Chocolates |
| Mother's Day Presents | 12 Chocolate Box | Printed Chocolate Bars |
| Customized Gifts for Mother's Day | 18 Chocolate Box | Personalised Box |
| Personalized Gifts for Mother's Day | Personalised Chocolate Box | All India Delivery |
| Chocolate Gifts for Mother's Day | Gift with Photo | Beautiful Designs |
When is Mother's Day? Why is Mother's Day Celebrated?
Mother's day is celebrated on different dates in different regions and cultures. If you date back its origins, some assume that it is the celebration of Rhea, the mother of Gods, referencing Greek mythology. Or some might say it was intended to be a day when people used to visit the churches where they were baptized.
In the modern day setting, this event is very much conceptualized to appreciating motherhood, and mother like figures in one's life. While many applaud motherhood and purchase mother's day gifts for wives, some other mother's day present ideas may include sending personal cards, customized gifts or even special holiday packages for mothers.
In most countries, this modern festival is observed on the second Sunday of May every year. Sunday being a week-off in most regions, it offers a perfect day for visiting your mother and spending some valued time with her. This is especially applicable to people living in the urban settings who might be living separately from their parents.
Mother's Day Gifts in India
Celebrating Mother's Day is a very western concept. Some mark its origins in the European, and some in Latin American culture. But the modern version of this festival, as what and how it is celebrated today worldwide, has gained popularity among the Indian masses as well. In India, we mostly hear about mother's day celebrations in the metropolitan areas. This seems corresponding to the greater western influences observed in those cities. In addition to that, as the changing cultural norms in these fast-paced cities, nuclear families now are not very unheard of.
This makes the need for having a special day to remember your beloved mother, and thank her for how without her, you wouldn't have been pushed ahead in life, and drifted apart in the name of career and better education. But now, since we finally can get our mushy selves out, presenting cool mother's day gifts for our Indian mothers, like handloom saris, bangles and handbags have become mandatory.
Mother's Day Gift Ideas
This day is dedicated to every woman who can be credited for your being. Righty quoted by Oprah Winfrey, "Biology is the least of what makes someone a mother." Motherly figures may include your elder sisters, aunts, family friends, sister-in-law or granny. If you wish to credit these lovely women for their share, here are some cute mother's day gift ideas;
Like most women, she must love jewellery too. You need not bring along something very expensive though, just a simple chain or bracelet would make her smile just as much.
Homemade gifts for mom from daughter are just priceless. Make a card or bake a cake. Your effort put in making the gift shall speak louder than the gift itself.
Instead of gifting one grand gift, select small items that are useful for her and prepare a mother's day gift baskets. They may include exotic perfumes, makeup, scarf and clutches.
Looking for last minute gifts for mom? Just take her shopping! It must have been long since she has been spoilt like a teenage girl. More so, it will give you more time to spend with her and she'll appreciate that more than any gift.
God could not be everywhere and therefore he made mothers.
Mothers are truly god's gifts to us. Mothers are the one who nurture us, protect us and give us the ability to stand on our feet. Mothers work tirelessly, round the clock so that all our needs are always fulfilled. Mother is the primary care giver when we are tiny tots, disciplinarian when we have to study, friend when step into our teenage year and a guiding force throughout our lives. In our busy lives, we often forget to acknowledge our mother's for all the love that they shower upon us. Mother's Day is one such day, when you can pour out your love towards your mother. The best way to let your mother know how much she means to you is by giving her a mother's day gift.
ChocoCraft has an exclusive collection of chocolates to be given as gifts for mother's day. You can handpick and create a collection of the most exquisite chocolates or select from the list that we already have in place. Gifts for mom must be unique yet managing to convey your feelings at the same time. At ChocoCraft, we have designed some very creative and fresh mother's day gift ideas. Our chocolates have the option of edible printing on the chocolate itself. You can get an adorable childhood photo with your mom printed on the chocolate. The chocolate box can have a beautiful message printed on it. We offer a great collection of personalized chocolate gifts that will be a great gift for your mother.
Gifting is a great idea to let your mother know that she is the best mother in the world. Gifting signifies a token of gratitude and love that we have for our mother. It is a gesture of appreciation for all the things that our mothers do for us. There are many options for mother's day gifts, but the best among them all is the good old box of chocolates. Chocolate in many ways resonate a mother's bond with her child. It is sweet, it gives joy and it always spreads happiness. A simple yet elegant chocolate box with your heartfelt message will convey your love in a much deeper way than any other gift.
For those of you who cannot be with their mother on this special day, you can simply order the chocolates online. You can choose the chocolate flavor, the design, the message. We deliver all over India. Our chocolate boxes are also a great idea for birthday gifts for mom or if you are looking for a unique idea for your parents' wedding anniversary gift.
ChocoCraft uses the best and fresh ingredients for your orders with love being the major ingredient. All the orders are freshly prepared which means that we start making the chocolates only when you have ordered. A gift for mother has to be special and at ChocoCraft we ensure that your mother gets nothing but only the best. Contact us on phone or email to explore the many exciting chocolate options that you can gift your mother.
Make this day all the more memorable for your gorgeous lady. Shower her with all your over and share your time over a box of delicious chocolates, only from ChocoCraft.
"To the world, you might just be one person, but to one person you might just be the world."