Wedding Return Gifts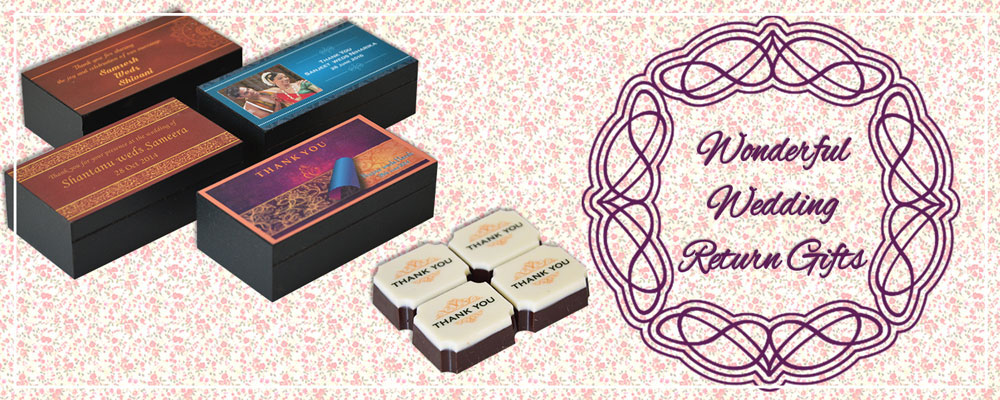 Unique return gifts for wedding ceremonies are rapidly becoming very popular in India. In India it has been a very old custom to give out gifts to guests who come all the way to attend a wedding. However, Indian wedding return gifts for guests used to be traditional gifts like sweets or clothes. These days there is a great demand for innovative wedding return gift ideas for Indian weddings. At ChocoCraft we create exclusive wedding return gifts - printed chocolates in customized gift boxes!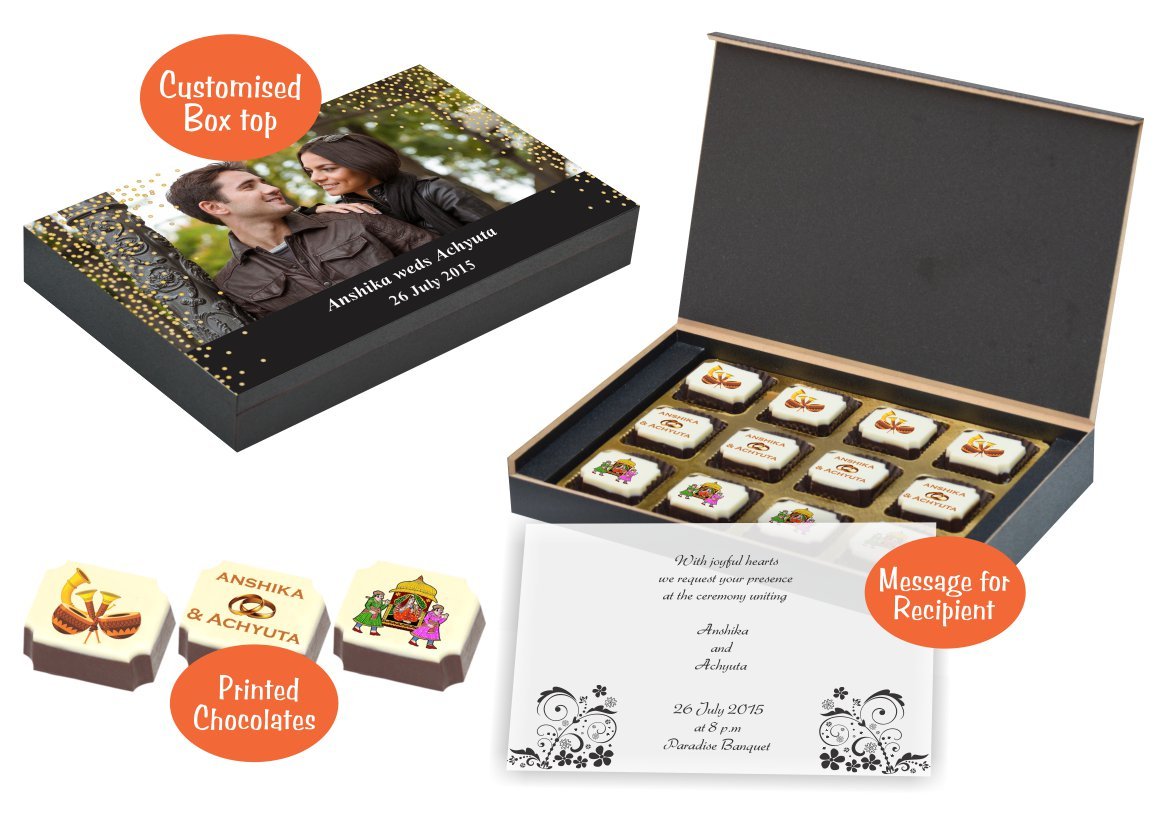 ---
Unique Return Gifts for Weddings - Printed Chocolates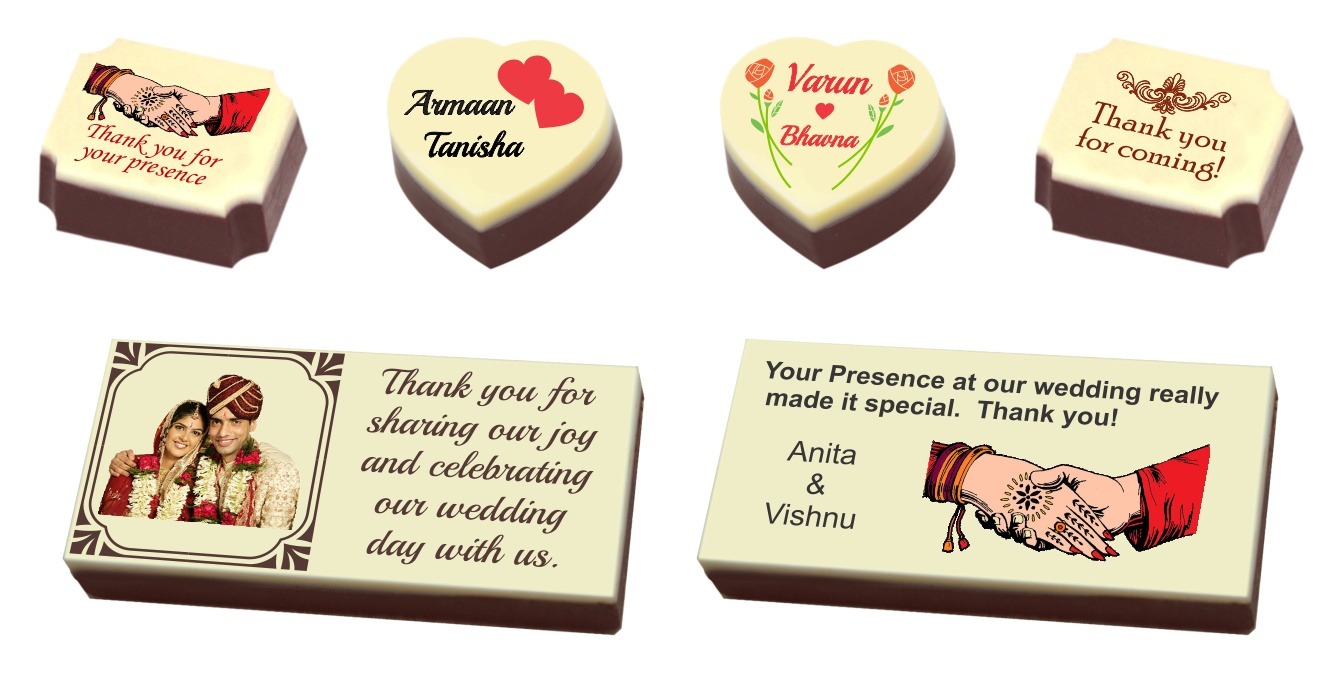 Printed chocolates are among the most interesting return gift ideas for weddings. You can print beautiful designs or even a picture of the bride and groom in colorful detail on the chocolates in edible ink. These chocolates can be unique marriage gifts for the guests who attend the wedding!
---
Customized Return Gifts - Boxes with Name & Photo of Couple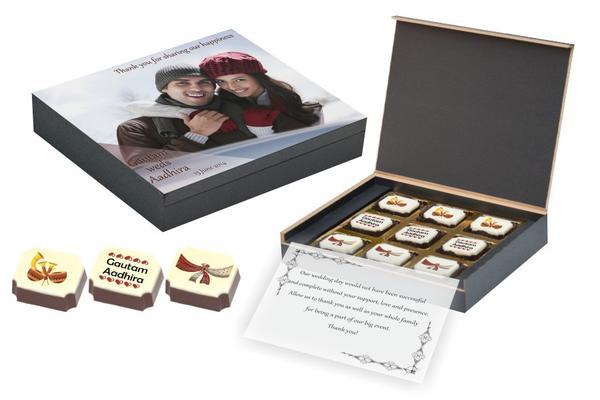 Our gift boxes are sturdy, elegant and make excellent return gift ideas at Indian weddings. The boxes can also feature a photo of the bride and groom and their names to make them unique wedding gifts for your guests. Our return gift boxes can be a unique gift for marriage ceremonies and will surely delight your guests!
---
Wedding Return Gift Message
Return gifts for marriage are a wonderful way to thank your guests for making your wedding day special. Wedding return gifts for guests are simply not complete without a heartfelt thank you message. All our marriage return gifts have a thank you note for the guests!
---
Marriage Return Gift Ideas - Box Sizes Available
---
2 Chocolate Box - Personalized Wedding Gifts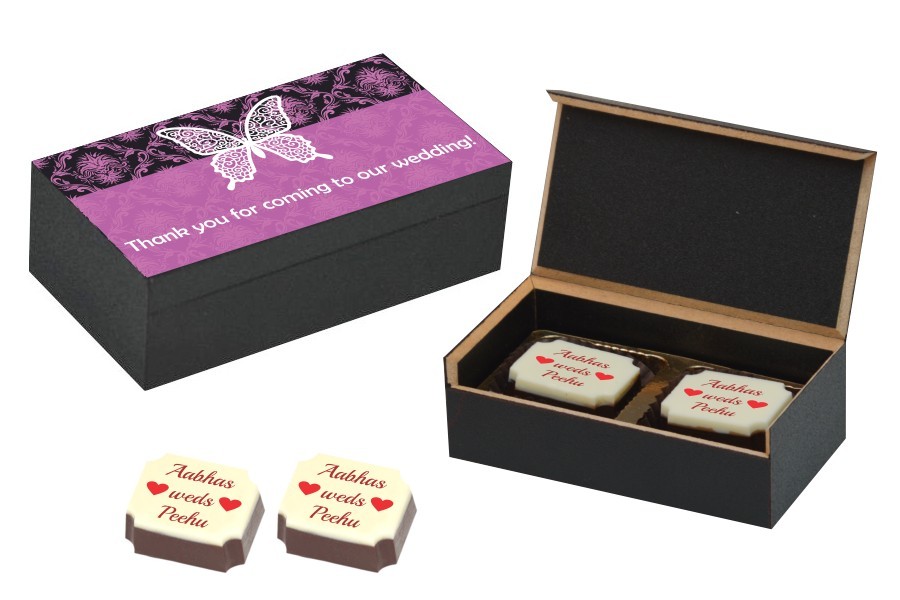 The 2 chocolate box is a compact box that has a great impact. It can have two chocolates or a chocolate bar. You can choose to print what you like on the chocolates. If you are looking for innovative return gift items for marriage this beautiful chocolate box can be a wonderful option!
---
4 Chocolate Box - W
edding Return Gifts for Friends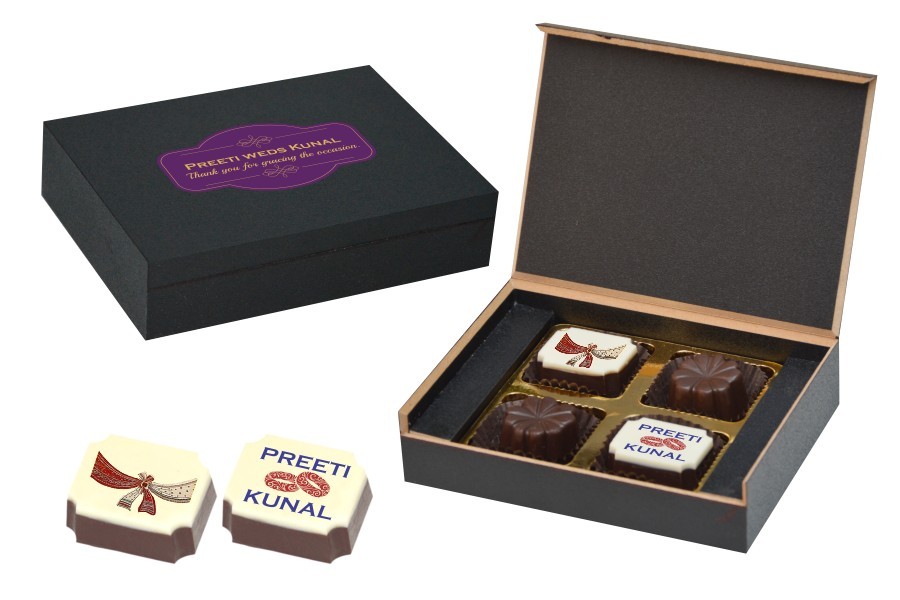 iWeddings are incomplete without return gifts! This 4 chocolate box can be an elegant option for a gift for your wedding guests. The box top and chocolates can be completely customized as per your wishes. We have a range of designs available for Indian wedding return gifts.
---
6 Chocolate Box - M
arriage Return Gift Ideas
Wedding return gifts are a symbol of our love and appreciation for all the frinds and family members who made the effort to make it to the wedding. Naturally you only want to choose the best return gifts for your wedding. This beautiful 6 chocolate box can be a great idea!
---
9 Chocolate Box - Return Gifts for Wedding Guests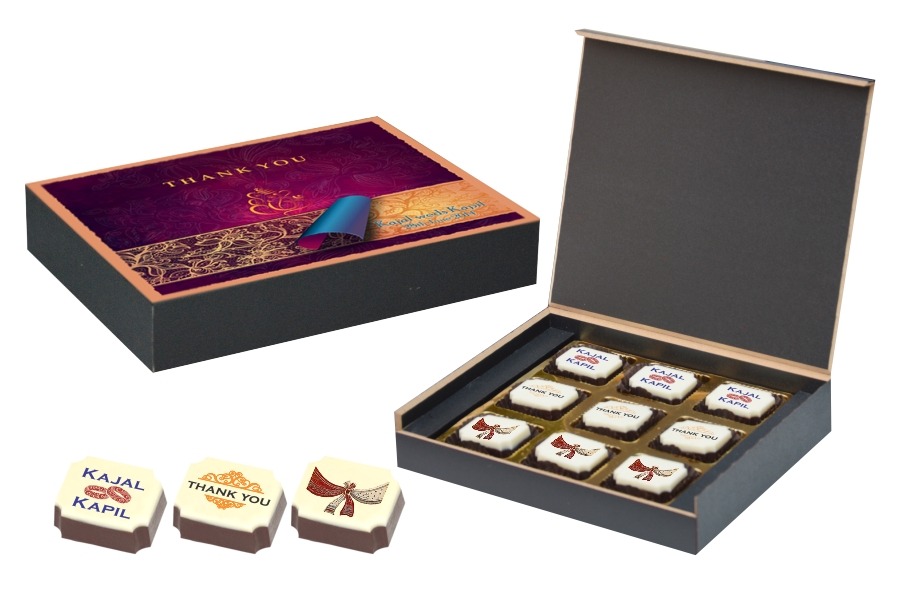 If you are looking for return gift ideas for a wedding reception may we suggest this gorgeus 9 chocolate box? The box and chocolates can have beautiful designs on them and what is even better you can buy all these return gifts online! Yes you can explore all the designs we offer for wedding return gifts online, then simply place an order and they will be delivered to you.

---
12 Chocolate Box - Return Gift Ideas for Marriage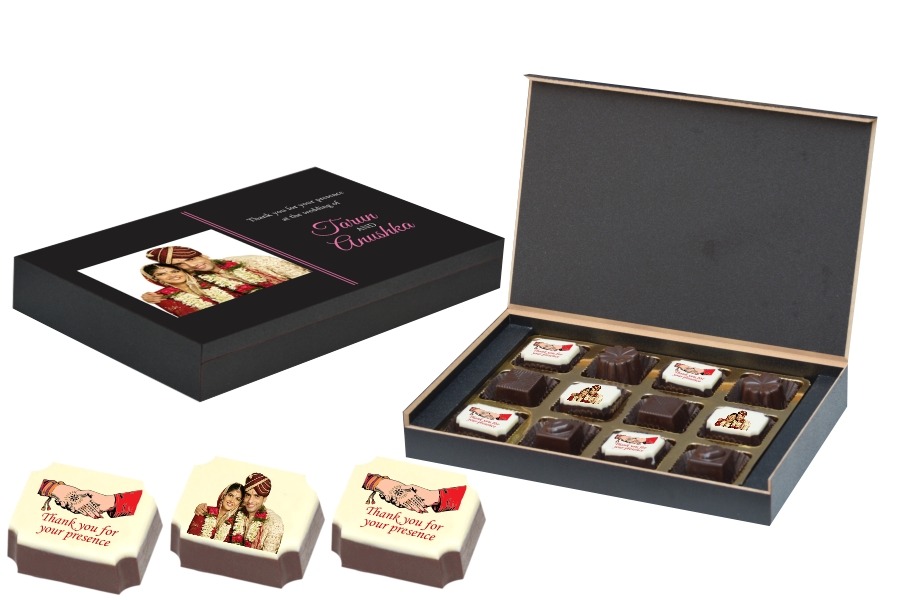 There are many return gift ideas for wedding that you must be considering while you are planning your wedding. Chocolates are something that everybody enjoys and this is what makes this elegant 12 chocolate box a wonderful gift for all the guests at the marriage ceremony!
---
18 Chocolate Box - Wedding Guest Gifts
Chocolates are now gradually becoming more popular that traditional Indian return gifts like sweets. There are so many creative ways in which chocolates can be packaged and this 18 chocolate box is just one of them! Since the boxes bear the names of the bride and groom and the date they can also become a keepsake for the guests who receive them as return gifts for a wedding reception.
---
Popular Indian Wedding Gift Ideas for Guests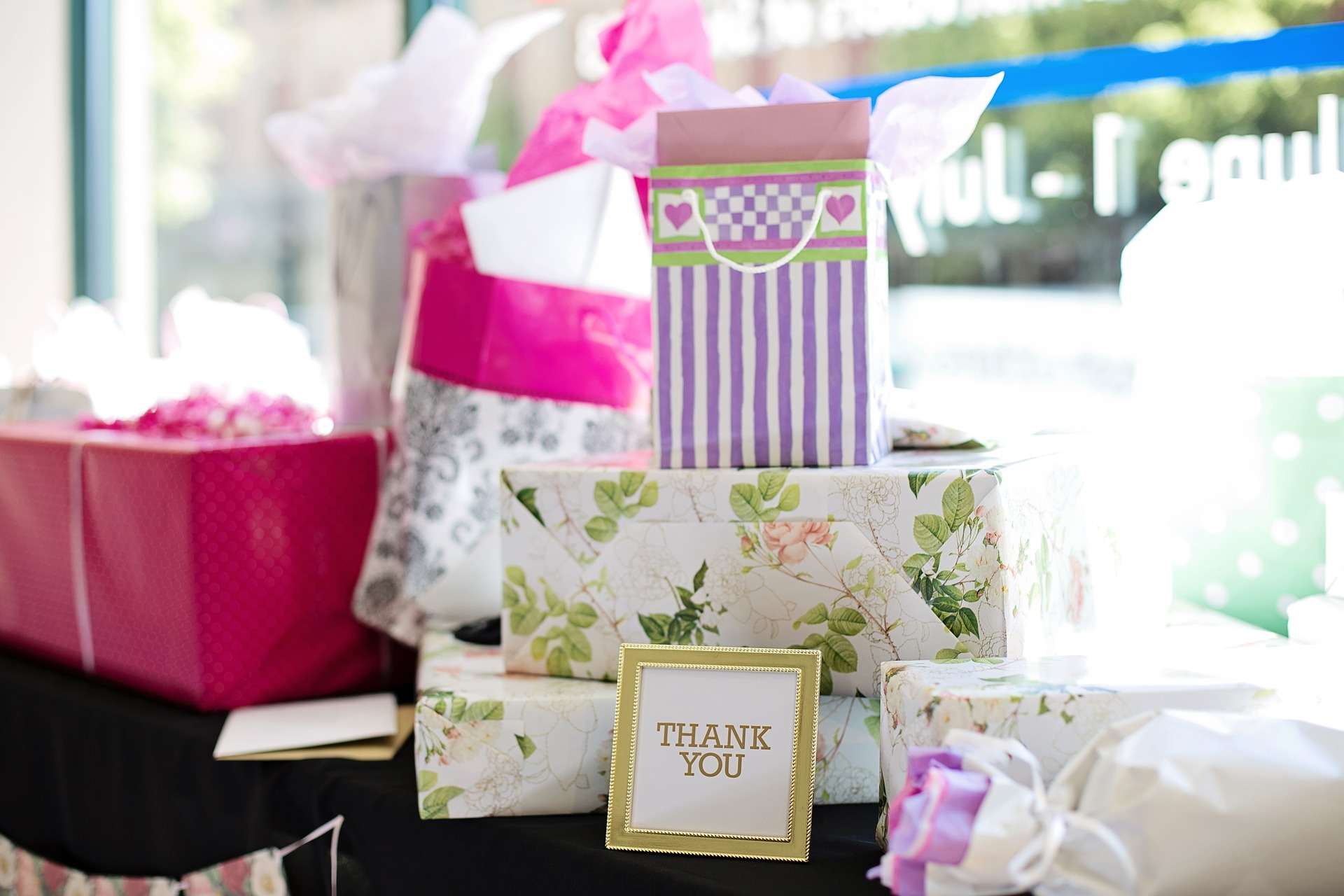 Indian weddings have always had the tradition of giving a gift to all the guests who attend the wedding. Friends, family members and relatives all take with them beautiful memories of the marriage and a gift as keepsake or memento of the occasion. If you are wondering what are the popularIndian wedding return gift ideas keep reading!
Silver return gifts : Silver gifts or return gifts have always been very popular in India. The basic reason behind this is that silver metal is considered sacred and holy. Objects of silver thus become ideal gifts at any occasion whether it is a return gifts for housewarming (gruhapravesam) or you are looking for good Indian baby shower return gifts. And they obviously make a great return gifts for marriage ceremonies!
Items of clothing : In weddings in the northern part of the country family members usually receive an article of clothing on attending a wedding. Return gifts for ladies ususally consist of sarees or dress material while men may receive suit pieces
Sweets : Any Indian celebration would be incomplete without something to sweeten the taste buds! Whatever else you may receive, boxes of sweets were always given as return gifts for indian weddings, These days dry fruits packages and chocolate gift boxes are also becoming very popular
---
---
---
For more information, please get in touch with us.