Wedding Return Gifts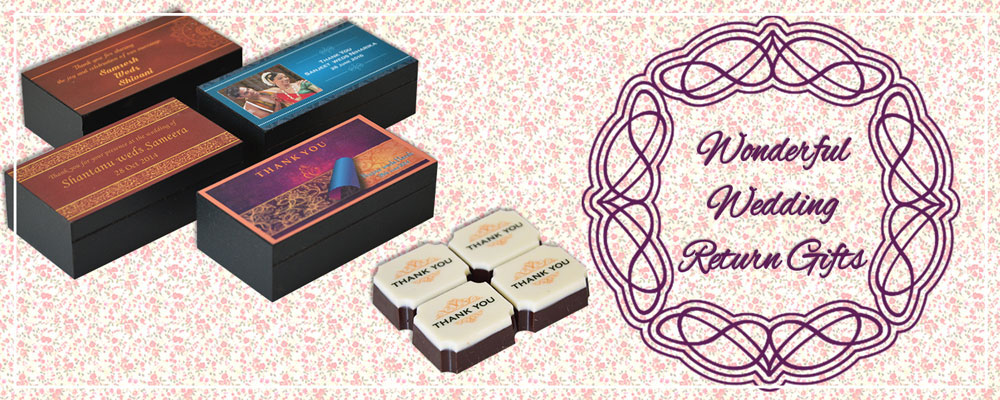 After the wedding ceremony is over it is customary to give gifts to your wedding guests. This tradition is present in almost every culture and these gifts are chosen very carefully. There are a number of reasons why wedding gifts are important. It is a way to say thank you to guests who take the time to be there for the bride and groom. After all what wedding ceremony would be complete without the presence of family and friends. These wedding favours are also keepsakes or mementos that will remind the guests of your special day.
At ChocoCraft we create beautiful chocolate boxes for your wedding guests. These boxes come in many elegant designs and are packed with delicious printed chocolates. You can also choose a design with a picture of the bride and groom on the box. A small thank you note for your wedding guests is also placed in the box. 
Everybody wants their wedding to be remembered. Our chocolate boxes will make sure that your guests always fondly remember your wedding day!
1. Chocolate Gift Box for Wedding Return Gift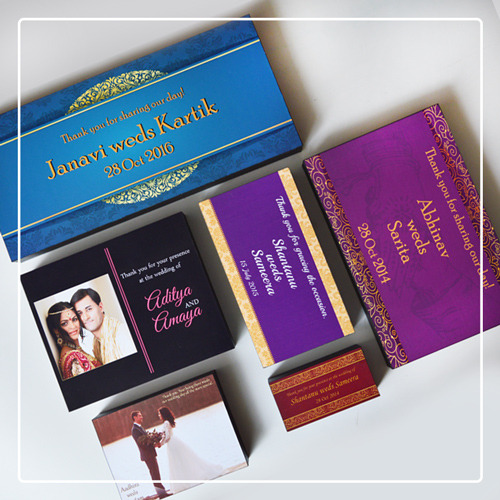 Our gift boxes are elegant and sturdy wooden boxes. They are available in a range of sizes to suit your needs. There is a wide variety of box top designs to choose from and if that is not enough our design team can work with you to create a new design especially for you!
A popular range of designs is gift boxes that feature pictures of the bride and groom.
Our premium range of boxes are eco-leatherette boxes that offer a beautiful textured finish and are available in many colours.
2. Chocolates 
The chocolates to be placed in the box are also completely customized. You can choose any flavour or filling for the chocolates. For printed chocolates you can have anything printed on the chocolates. Popular choices include names of the bride and the groom or their picture and wedding related symbols or simply "Thank You".
The color used for printing on the chocolates is edible and conforms to the best international standards. Designs or text can be printed in bright vivid colors and you can print almost anything you imagine.
We offer a range of fillings and flavours for the chocolates like fruit and nut, butterscotch, roasted almonds and others. All our chocolates are made using only the fines ingredients. Instead of individual chocolate candies you can also choose to include a printed chocolate bar.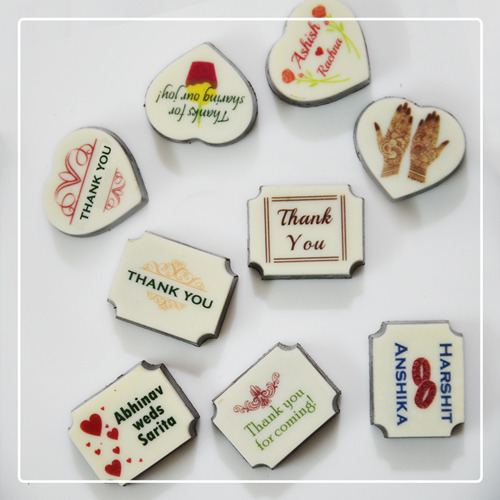 3. Thank You Note on Butter Paper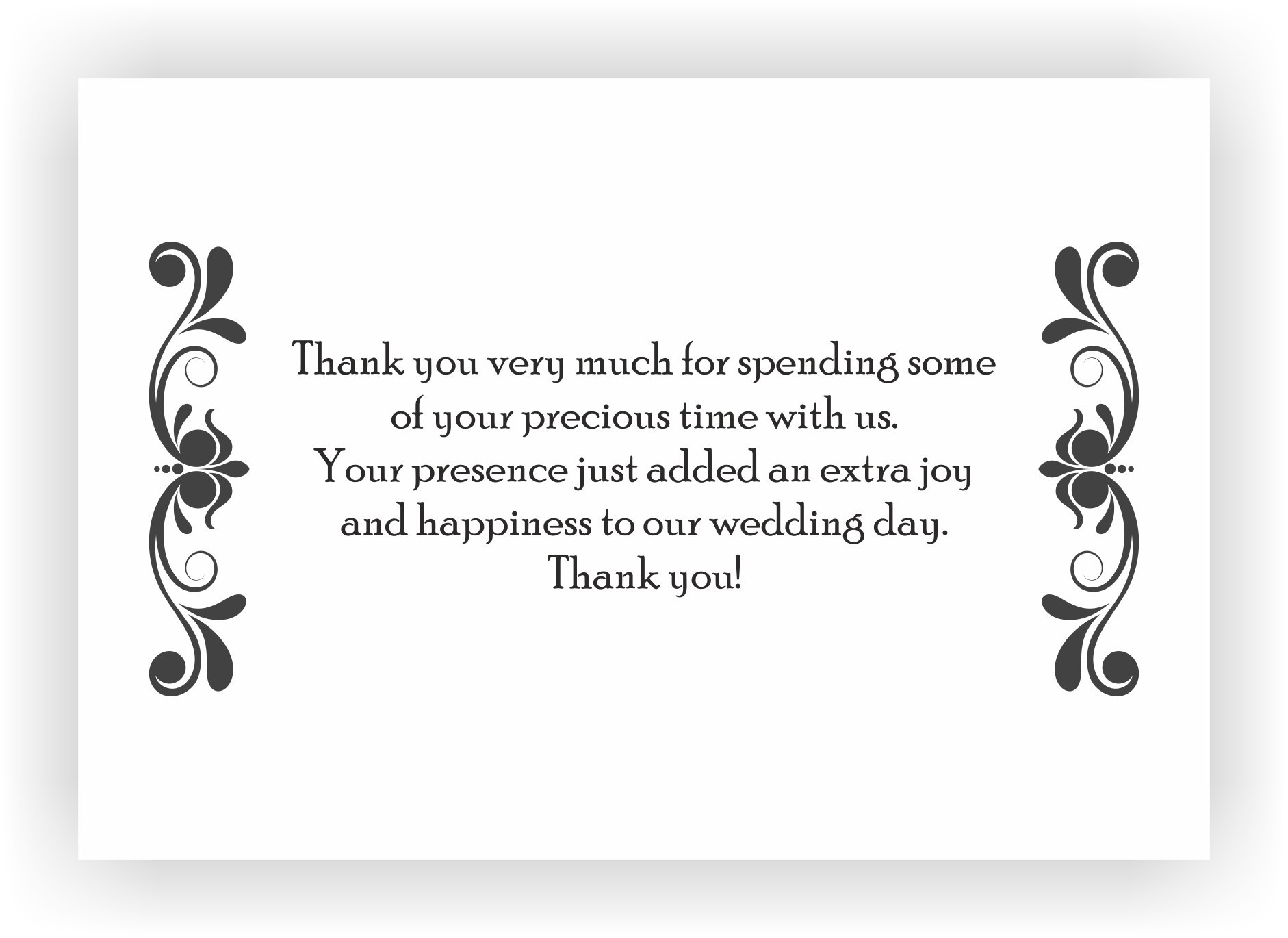 The final and most important part of the wedding return gift is a beautiful message for the recipient. We can work with you to create a unique message or you can choose from the many options for thank you wording that we offer.
If you want to make it extra special the message can be personalized for each individual guest. You can have the message in every box addressed to the recipient. e.g "Dear Mom and Dad, Thank you for...."

Options for box & chocolates

We offer chocolate boxes for wedding return gifts in a variety of sizes - 2, 4, 6, 9, 12 and 18 chocolate box.
 You can choose to have choose your own unique arrangement of chocolates. Have all of them printed or maybe only place a few printed chocolates in the box.  Or you can even choose to have your wedding invitation printed on the chocolate bar. 

Wedding Return Gifts Customized with  Photographs

At ChocoCraft we create beautiful wedding return gifts that feature photographs of the bride and the groom. These gift boxes are a new concept and something that will definitely surprise and delight your wedding guests. But we do more than just print your photograph on the gift boxes - we print them on the chocolates as well. 
Infact we also give you the option to print out the entire Thank you note on a chocolate bar. Just the thing if you are looking for a new and innovative idea!
These customized wedding favours with a picture of the bride and groom are a wonderful idea because:
It is a unique way to thank your wedding guests and a wonderful way to mark your wedding day. Choose a beautiful picture that celebrates your love!

If you had a pre-wedding photo shoot here's a wonderful way to use these pictures

It's a new concept and is something that is likely to stand out in people's mind.

 This beautiful gift will also be a keepsake or memento of your wedding day and they might choose to keep the box long after all the chocolates are gone

Personalized Wedding Return Gifts - Print the name of each individual guest!

At ChocoCraft we realise that every person you invite to your wedding is special. That is the why we give you the option to personalize each chocolate gift box for your wedding guests. You can have the name of each individual guest printed on the gift box.
It is a gesture that will touch anyone and make them feel extra special. And giving out personalized wedding favours also offers the following benefits :
Personal return gifts tend to be more memorable than others because guests can see that you have put work into them.

You are not sending something off the shelf, but rather something that is unique to your wedding, something that they are likely to remember for years to come.

Personalised wedding favours also give you an opportunity to do something different. Everybody wants their wedding to have something different and this could be something new for your guests!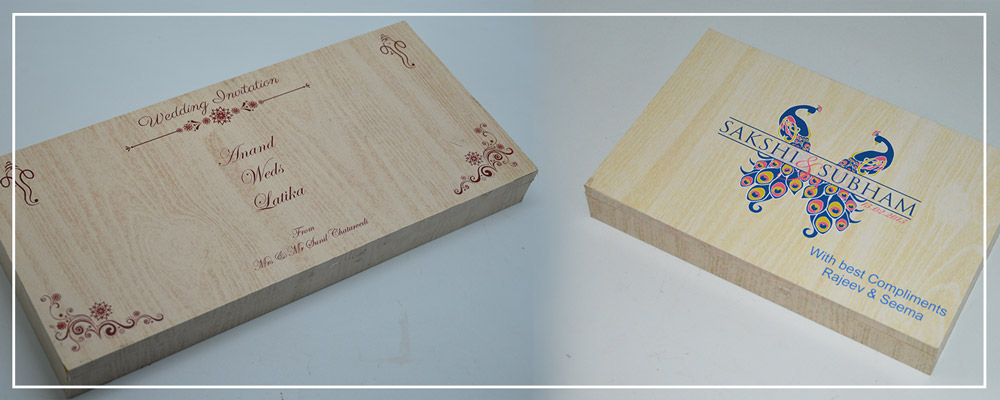 Celebrate your wedding theme on Chocolates!

Wedding themes are all in vogue now. A wedding theme gives a base on which you can design and organise all the different wedding related events. A theme gives a unifying motif to every wedding event whether it is your wedding invitation, the wedding day itself or the thank you note. At ChocoCraft we can create chocolate wedding favours to go with any theme that you choose. Have a look at some of the most popular wedding themes.
Award night theme

 - Make your wedding guests walk the red carpet with this wedding theme. The wedding favours can be made to look like envelopes that contains names of the winners.

Destination wedding theme like Goa, Hong Kong, Dubai, Istanbul, Hawaii

 - At a destination wedding theme the gift box can feature designs taken from local art and culture. Or you can focus on what is unique about the place a landmark like the Taj Mahal can be beautifully depicted on the wedding favours. This will be a beautiful for your wedding guests to remember their stay at the destination.

Rajwada theme

- A royal theme that celebrates the style of the grand kings of India. Ornate decorations and old world charm which can be beautifully rendered in the wedding return gifts as well. 

Traditional theme based like Raslila / Radha krishna

- A hint of the divine to make your wedding unique. This tradional theme can feature religious icons on the wedding return gifts.

Floral theme

- This can be a colourful theme and can work very well with almost every aspect of the wedding

Vintage theme

- The vintage theme is an absolute classic. Vintage designs like victorian lace patterns can be used while designing the wedding favour. You can also choose a vintage calligraphic font for the thank you note.

Wedding symbols

- Elephant, peacock, butterfly, cycle, horse cart . Celebrate these beautiful wedding symbols on the wedding invitation.

Bollywood theme

- Our very own bollywood! How can anyone resist? Wedding return gifts can be based on iconic movie titles. You can even model a picture of both of on a classic movie poster and that can be the box top design.

Fairytale wedding theme

- Celebrate your own happily ever after with this theme! The theme celebrates love and romance and the wedding return gifts can have beautiful romantic designs.

Modern & minimalist

- Very popular these days. Modern themes are less grandiose but tasteful and artistic. Clean designs and very strategic use of color. If that's your style go for it!

For more information, please get in touch with us.