Corporate Gifts
Are you looking for innovative corporate gift ideas for a promotional event? Do you want interesting business gifts for clients? How about a new concept for gifts for employees? At ChocoCraft we specialize in creating customized chocolate gift boxes which are business gift ideas for any event. Our special offering is chocolates with corporate logo printed on them in edible ink!


These delicious chocolates can have any corporate logo printed on them in bright vivid colours making them very attractive promotional gifts. The colors used for printing on the chocolates are completely safe for consumption and conform to the highest international standards.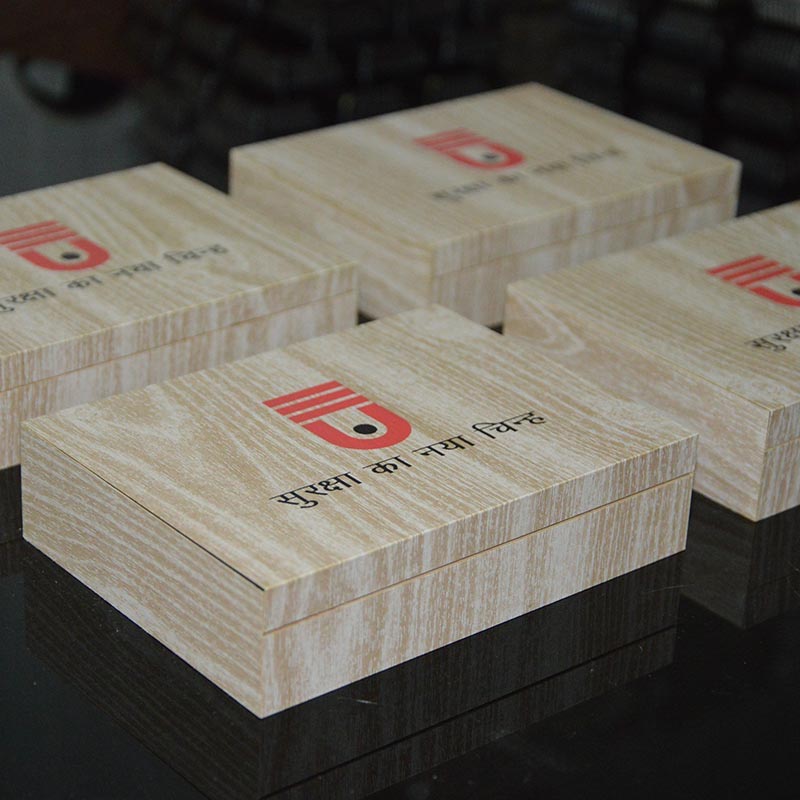 We print your corporate brand not just on the chocolates but also on the gift boxes themselves. If branded promotional gifts are what you are after you can't find a corporate gift idea more unique than this. They work very well as gifts for clients as well as employees!

Message/Greeting in each Corporate Gift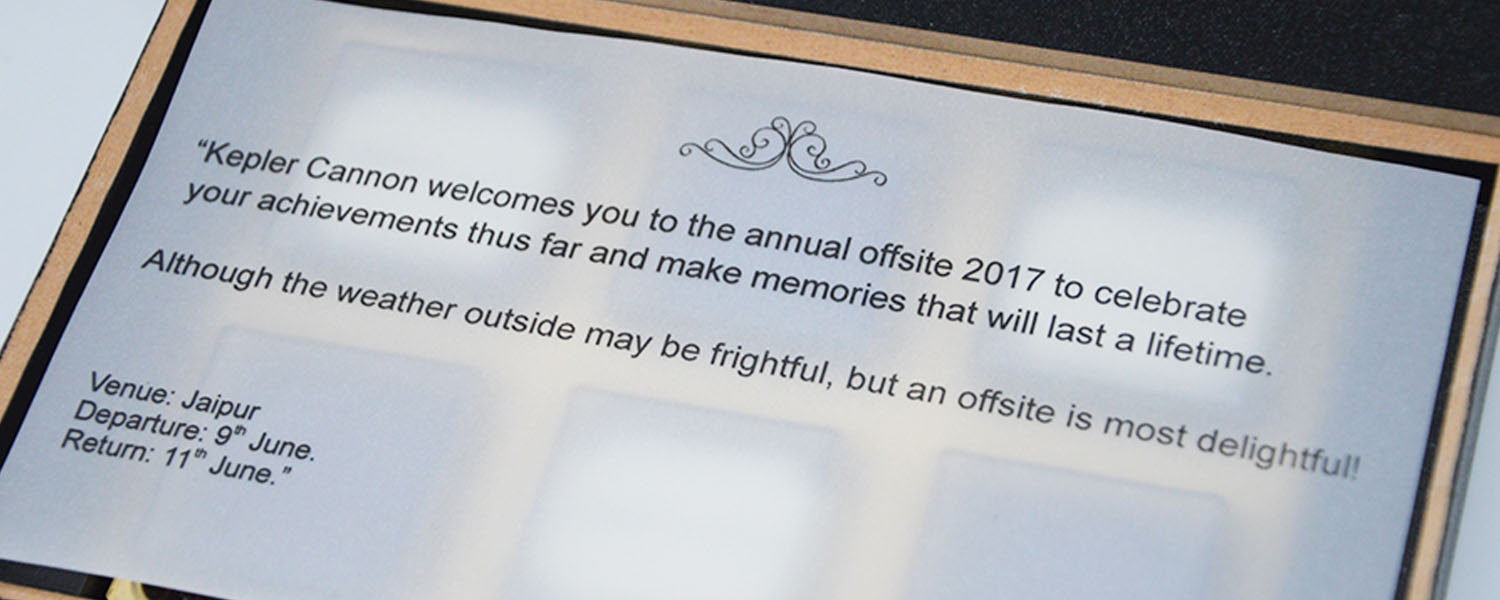 You can also choose to enclose a message for the recipient in each gift box. This can be a holiday greeting if the boxes are corporate christmas gifts or any other message as is appropriate for the occasion.If you put it all together, they surely become the best corporate gifts for any occasion or event.


The 2 chocolate box can have either have 2 chocolates or a printed chocolate bar. It is very popular choice as a promotional gift.These gift boxes have often been used as promotional giveaways at exhibitions or tradeshows. They are equally effective as corporate giveaways at a product launch!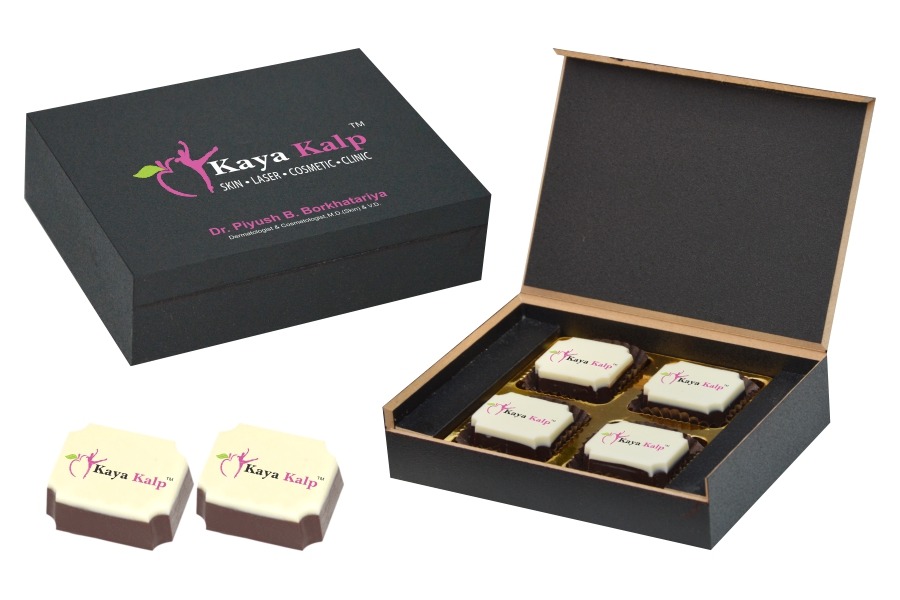 Our 4 chocolate box can also feature 4 chocolates or a chocolate bar. It is a popular choice for marketing gifts. It can be given as a corporate gift for employees or a business gift for clients. They can also be considered if you are exploring corporate giveaway ideas.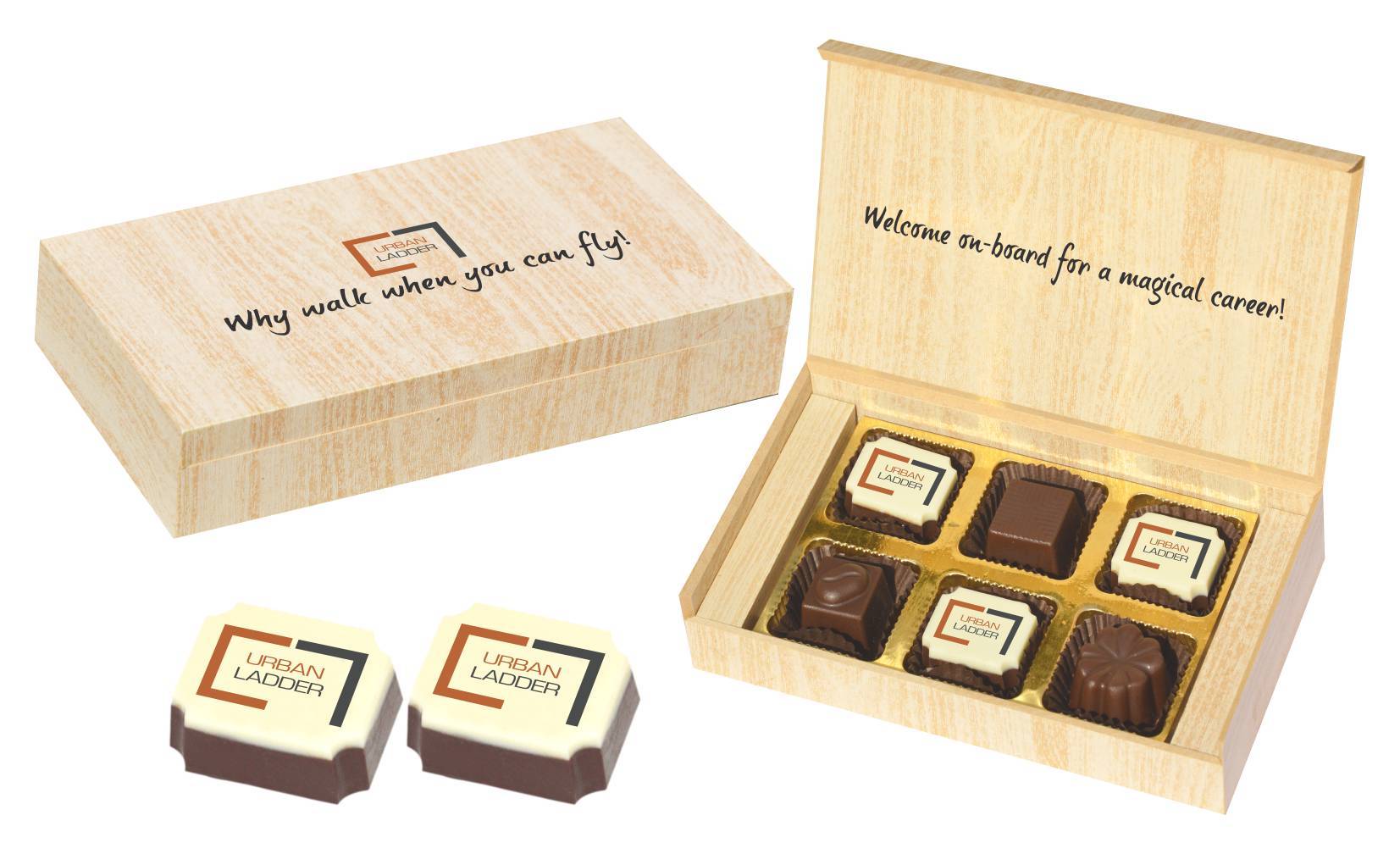 The 6 chocolate box is frequently sought as corporate gifts for employees. It can have a combination of printed and non printed chocolates. These boxes can also be created as personalized gifts for employees with each gift box personalized for the individual recipient.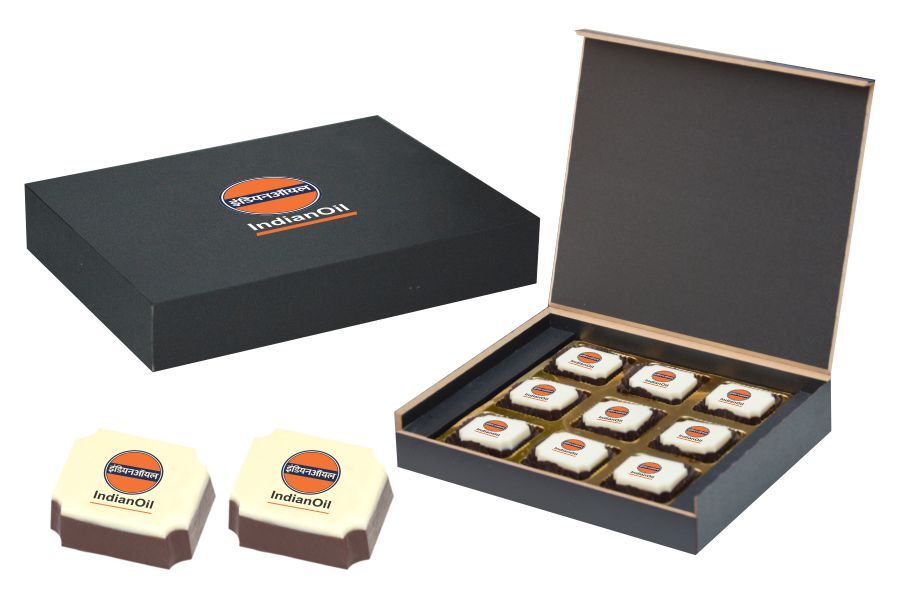 The 9 Chocolate box works as a great option if you are looking for gifts for clients. The decision of choosing corporate gifts for clients is very important in most organisation because the success of any business hinges on having a pleasant relationship with clients. Corporate gift ideas for clients must be carefully considered and this elegant 9 chocolate box is one of the best business gifts for clients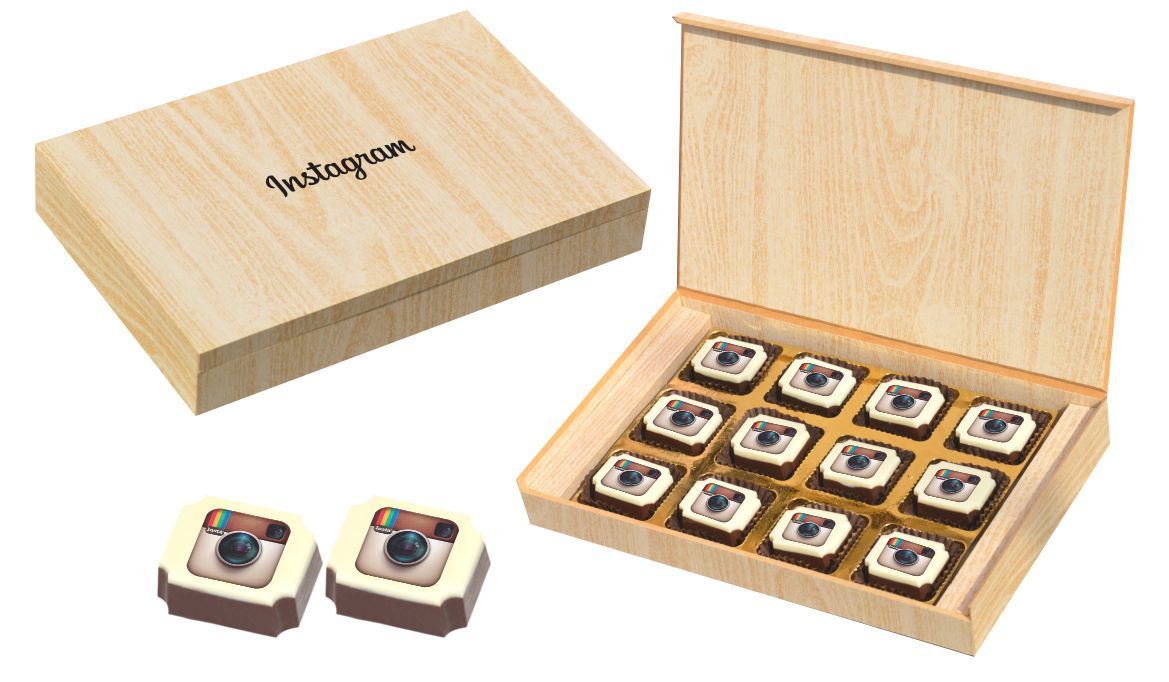 The 12 chocolate box is among our premium gift ideas. It is a sturdy yet good looking box and can be a good option in you are looking for corporate branded gifts. It is also a popular choice for corporate Diwali Gifts. Both the light coloured and black box are cool corporate gifts!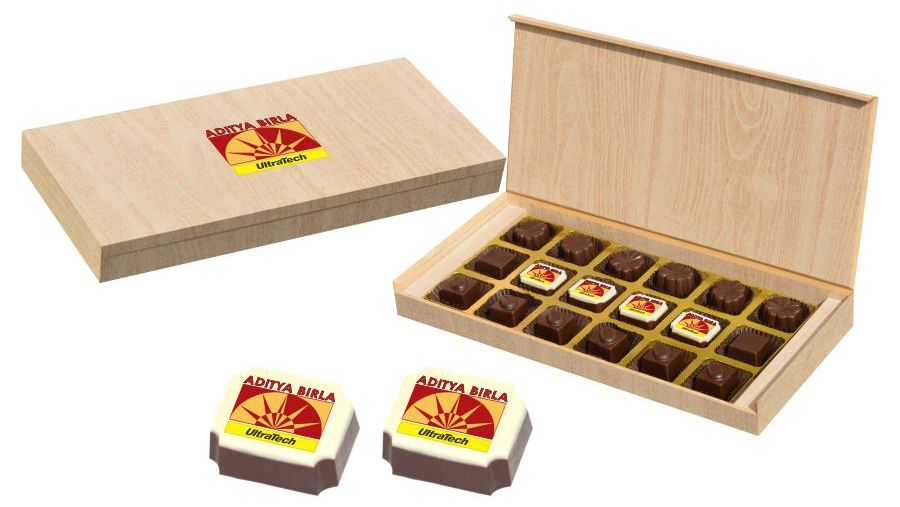 The 18 chocolate box is a great creative corporate gift. The box can have a combination of printed and non printed chocolates and can even have a chocolate bar in the middle. These gift boxes can be unique business gifts and will be surely be appreciated as gifts for corporate clients

Importance of Corporate Gifting in India
The corporate gifting industry in India has grown by leaps and bounds and many new corporate gifts suppliers are coming up. There is always a demand for unique corporate gift ideas in companies. Corporate gifts are now considered an integral part of the marketing activities of a business. In fact corporate gifts are also seen as a way to reward employees and recognize their achievements. Let us look at all the different ways in which a company utilizes business gifts:
Company gifts for employees: Gifts for employees if received well can be beneficial for the company in a number of different ways. They can boost employee morale and motivation and promote loyalty to the company. Business gift ideas for employees are something which most companies are interested in and they are always exploring corporate gift ideas for employees. Popular corporate gift items for employees are home decor items like wall clocks, lamps or idols.
Corporate promotional gifts: Gifts play a very important role when it comes to the promotion of the company or the brand. Promotional gift items are frequently given out at exhibitions, sales meets, and also to market product launches or factory inaugurations. Business promotional gifts are also given to employees and clients sometimes. Corporate promotional items can be anything, from stationery items like pens, diaries or day planners to electronic items like pen drives, blue tooth headphones or speakers or even items of daily use like key chains, caps, water bottles, torches etc.
Holiday Corporate Gifts: Gifts are also given to employees and clients on festive occasions throughout the year. In India most company give out corporate business gifts on Diwali. Corporate Christmas gifts for clients or New Year corporate gifts are also very popular. Naturally whichever festival is celebrated more that occasion becomes important for company gifts but corporate holiday gifts are popular across the world.
Gift ideas for corporate clients: Another aspect of corporate gifting which is very important for companies is gift ideas for business clients. Clients are usually given high end corporate gifts because companies want to put their best foot forward with them. Some of the best corporate gifts for clients are corporate gift baskets usually filled with an assortment of goodies like wine, chocolates, grooming products etc.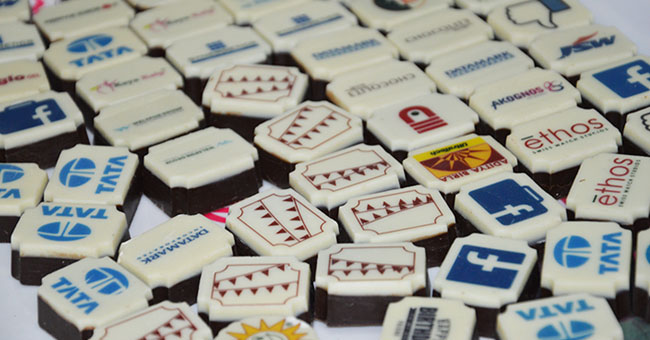 Trends in Corporate Gifting in India
The corporate gifting market in India has undergone a tremendous transformation with gifts for corporates being very much in demand. Corporate gift suppliers are always on the lookout for new business gift ideas. The industry is gaining in numbers everyday especially in the metros like Delhi, Bangalore, Chennai and Mumbai. As the economy grows so do businesses and in turn corporate gifting companies! Let us explore the trends that have emerged in corporate gifts India over the past few years.
Corporate gifts online: As with every industry corporate gifting too has changed with the advent of the internet and in particular that of e-commerce. Customers can now explore corporate gift items online.
Corporate personalized gifts: Personalised gifts for corporates are also something that is becoming popular. Personalised corporate gifts are seen to have more of an impact and are likely to be remembered more. Popular personalized business gifts ideas are mugs, T shirts, leather gifts, pens, business card holders and others. Customized gifts and personalised giveaways are also much sought after.
Premium gift ideas: Companies these days are also looking for premium and luxury gift items when it comes to corporate and business gifts. The idea is to make a good impression by choosing the best business gifts.
Unusual corporate gifts: Creative corporate gift ideas are considered the best corporate gift ideas and are all the rage these days! Cool business gifts are what everyone is looking for. Gift options under this category would be experience gifts like a day at the spa or exclusive tickets to a performance, maybe even a vacation the more unusual the idea the better.
Corporate gift hampers: Sometimes it is better to offer a selection of gifts than a single gift item. That is the reason business gift baskets and corporate hampers are such a great Diwali gift ideas in India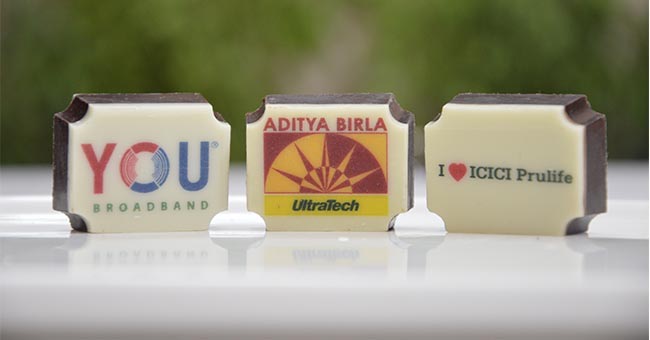 Diwali Gifts for Corporates
Any discussion on gifts for corporates in India would be incomplete without a discusion on Diwali gifts. Diwali is the biggest event in terms of corporate gifting in India. There are always new and innovative diwali corporate gift ideas coming up in the market. Some popular Diwali gift ideas are pendrives or customised business gifts. Diwali gifts for employees as well as Diwali gifts for clients both are equally important. Customized corporate diwali gifts are also becoming very popular gift ideas for corporates for Diwali.
Corporate gift items for diwali that are very popular are items that can be used during the celebration of the festival like candles and decorative diyas. Silver items like idols of deities or silver coins are also popular as diwali gifts for office staff.

Buy Corporate Gifts Online

For more information, please get in touch with us.