Christmas & New Year Gifts for Corporates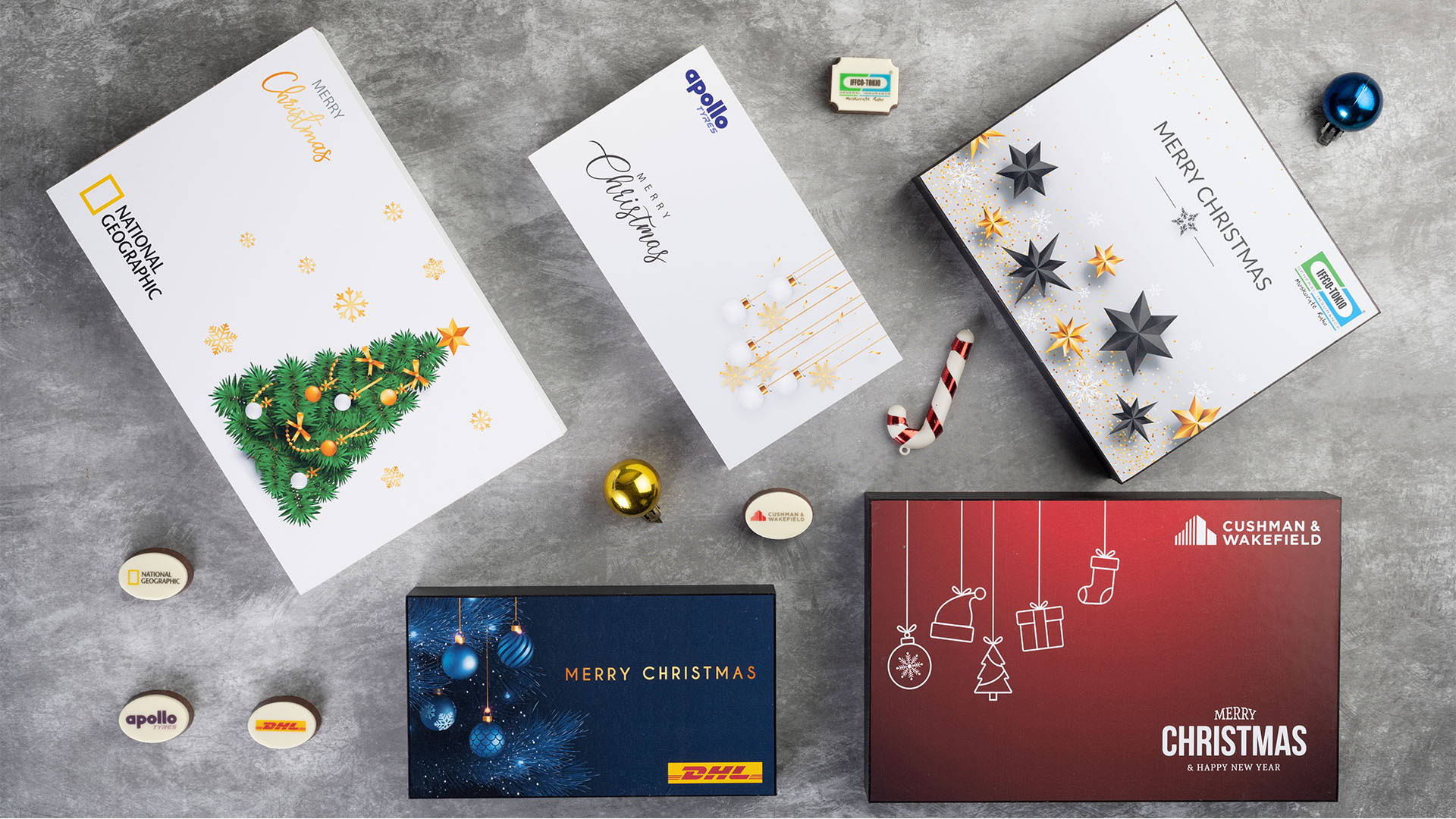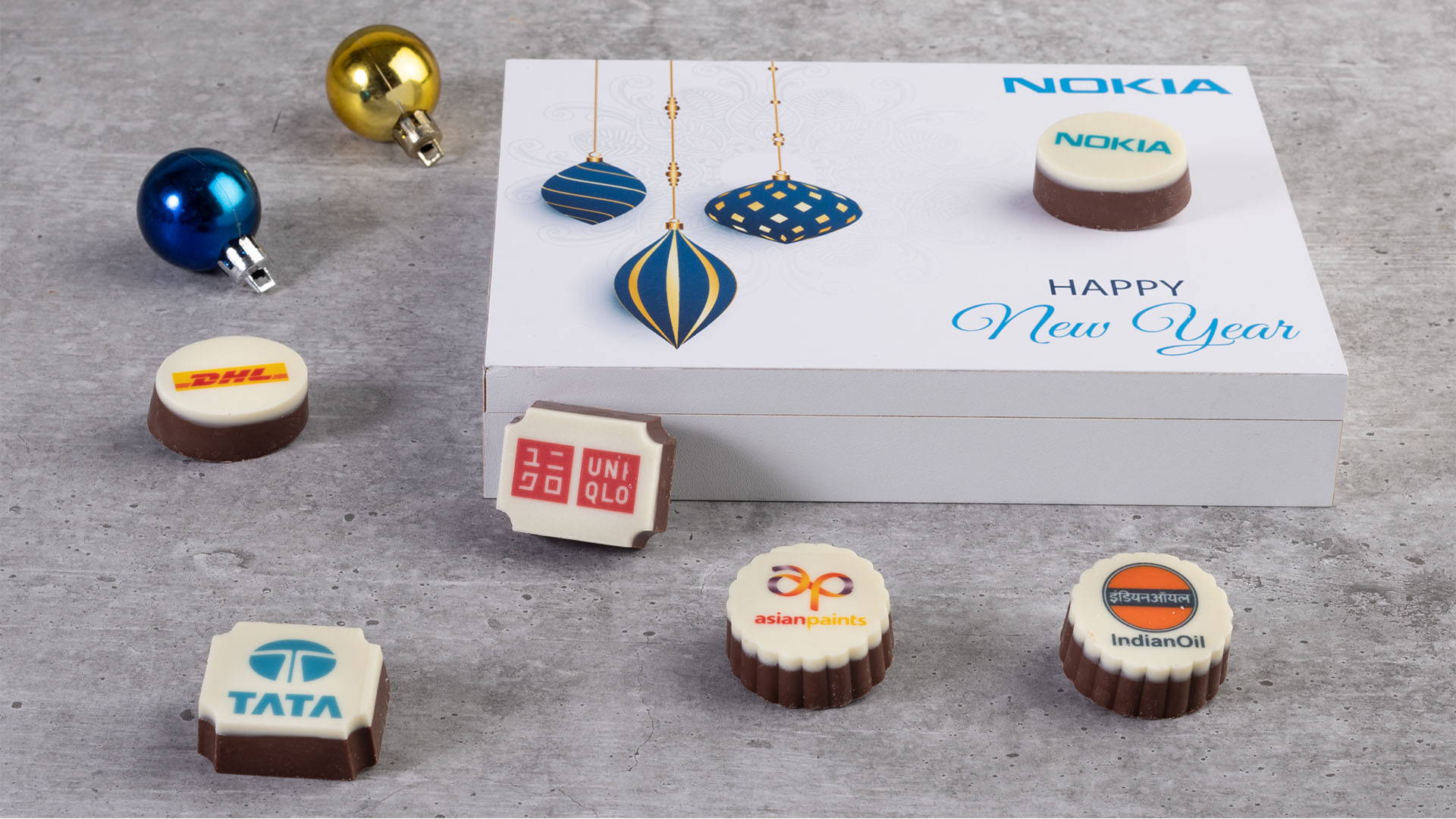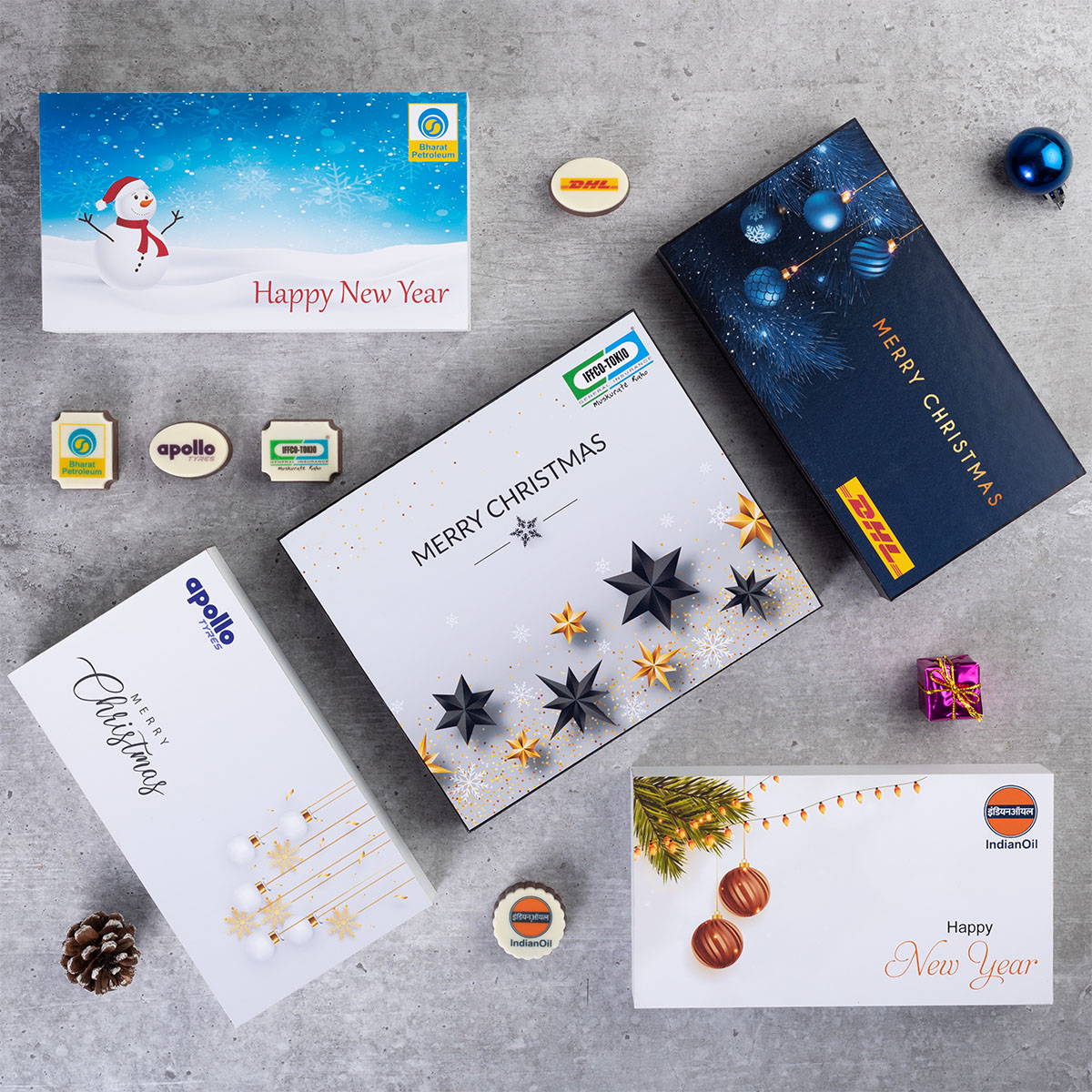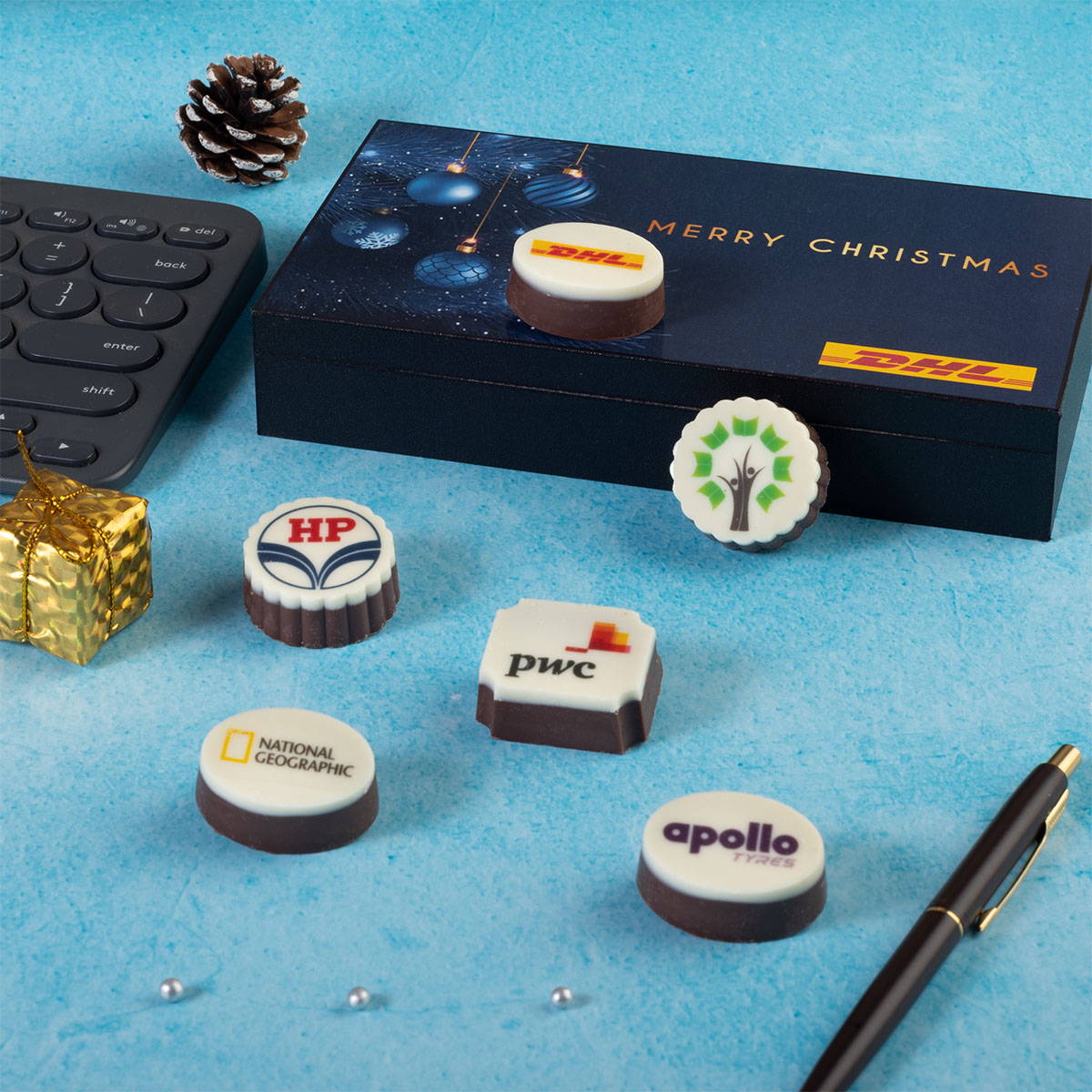 Christmas & New Year Gifts for Corporate
by
CHOCOCRAFT
It's the most wonderful time of the year! Yes! It's time for Christmas and a very happy New Year! Both Christmas and New Year are very special occasions and widely celebrated throughout the globe. For the corporate world, it is an even more special time to spread joy and foster a sense of unity and belongingness among the company's employees and shareholders. Gifts for Employees and Clients for New Years can help to spread this cheer.
1. Your "Brand" on the box
Customised elegant wooden gift boxes that highlight your brand in a beautiful way.
2. Write a message to the recipient
Write a heartfelt message or festive greetings to the recipient and strengthen your relationship
3. Everyone loves chocolates!
Chocolates are perhaps the most widely accepted gift among men and women of all ages. Surprise them with your logo on chocolates :)
6 Chocolate Box
with Single Printed Chocolate
​Box Size(LBH): 180 x 100 x 32 mm
Box Colors: Black/White
Total Weight: 230 gms approx.
Contact us: +91 9821 669 229, customerservice@chococraft.in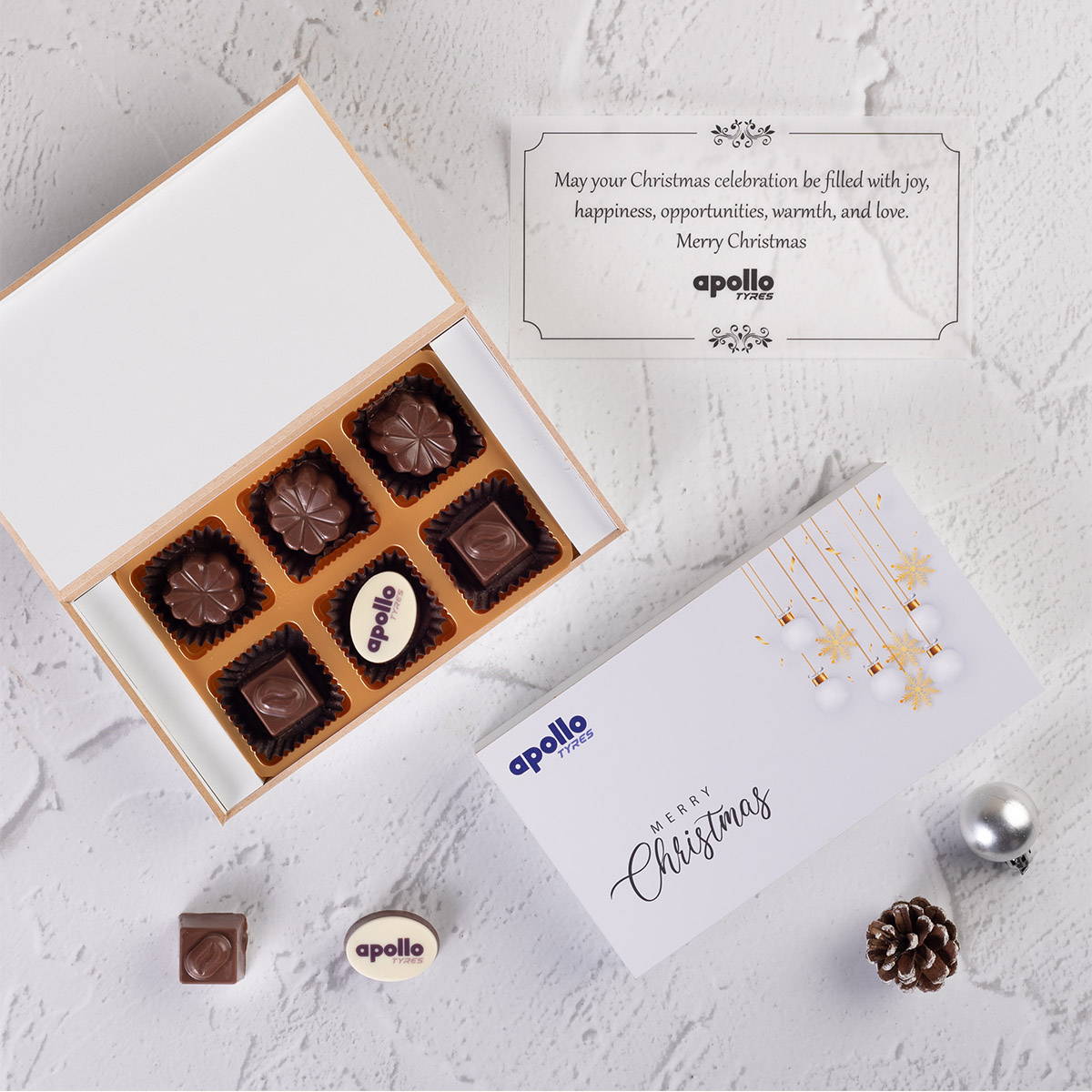 9 Chocolate Box
with Middle Printed Chocolate
Box Size(LBH): 180 x 150 x 32 mm
Box Colors: Black/White
Total Weight: 330 gms approx.
Contact us: +91 9821 669 229, customerservice@chococraft.in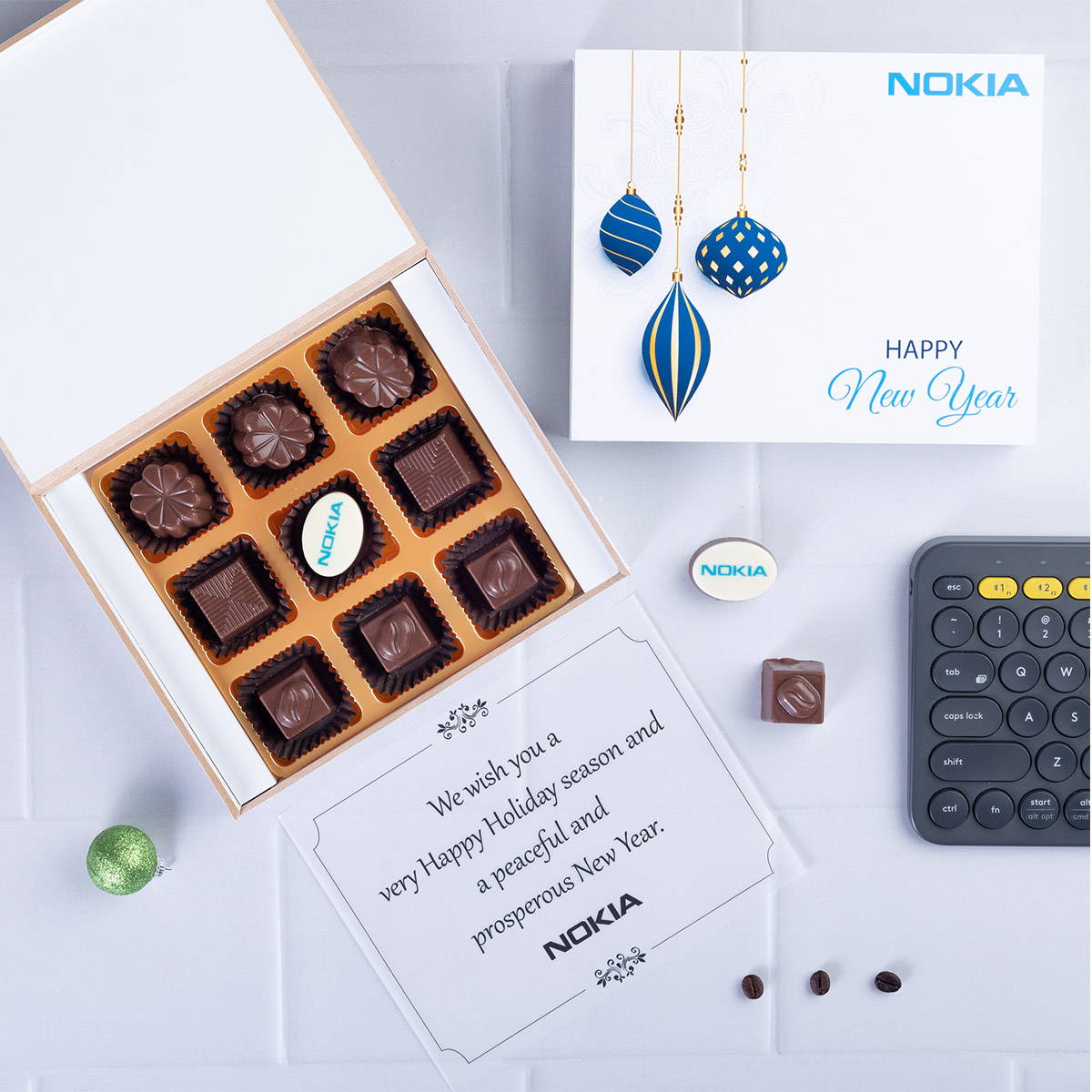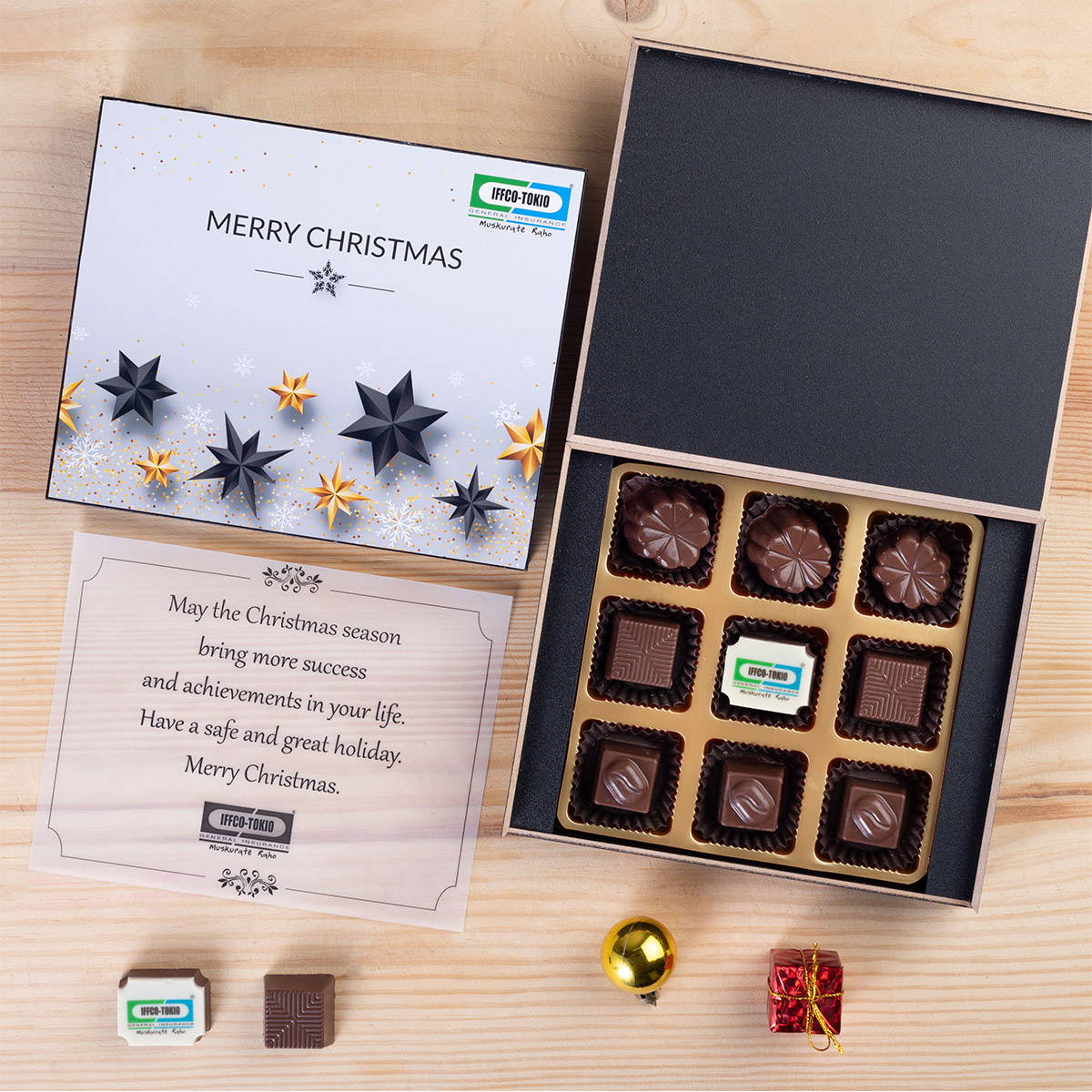 12 Chocolate Box
with Middle Printed Chocolates
Box Size(LBH): 230 x 150 x 32 mm
Box Colors: Black/White
Total Weight: 420 gms approx.
Contact us: +91 9821 669 229, customerservice@chococraft.in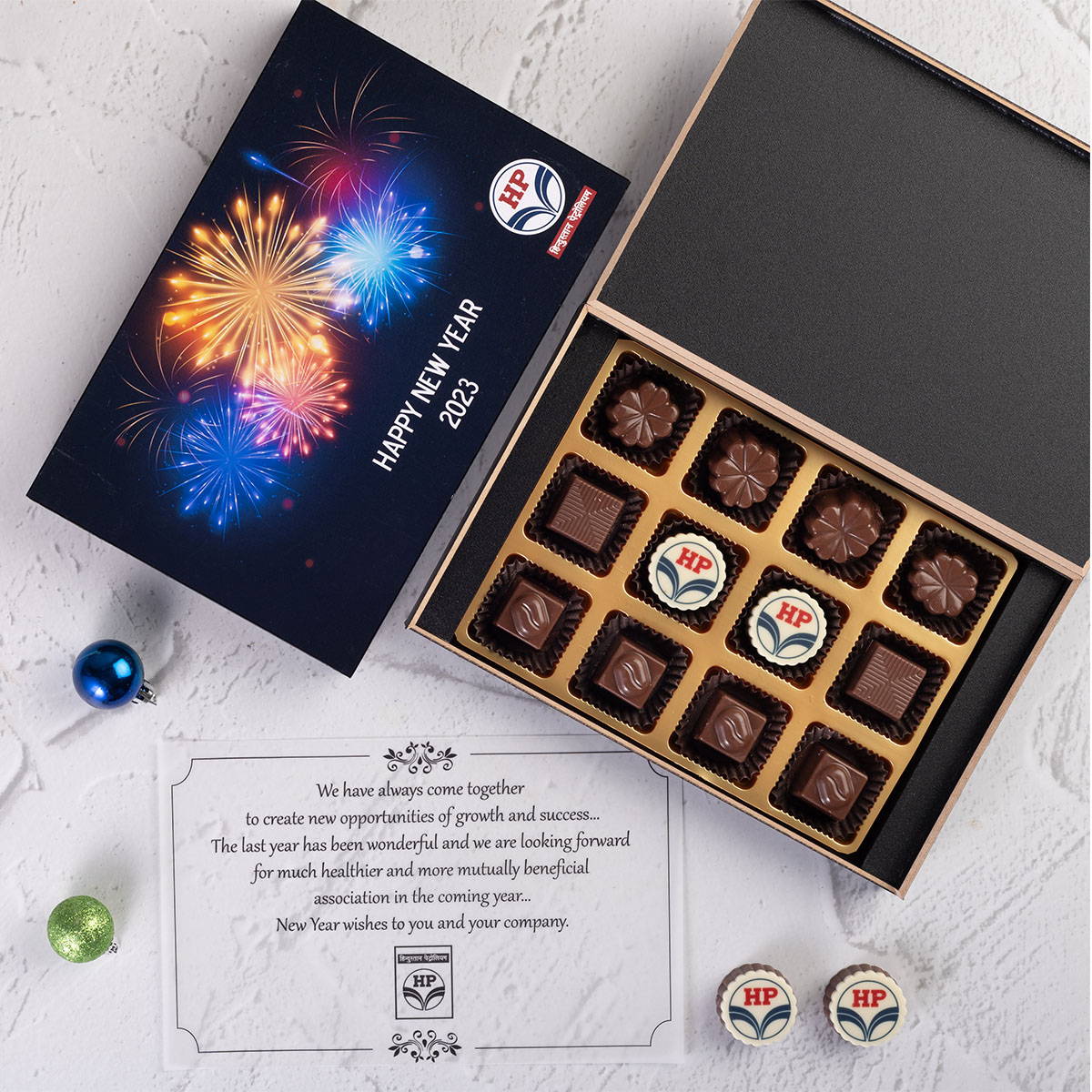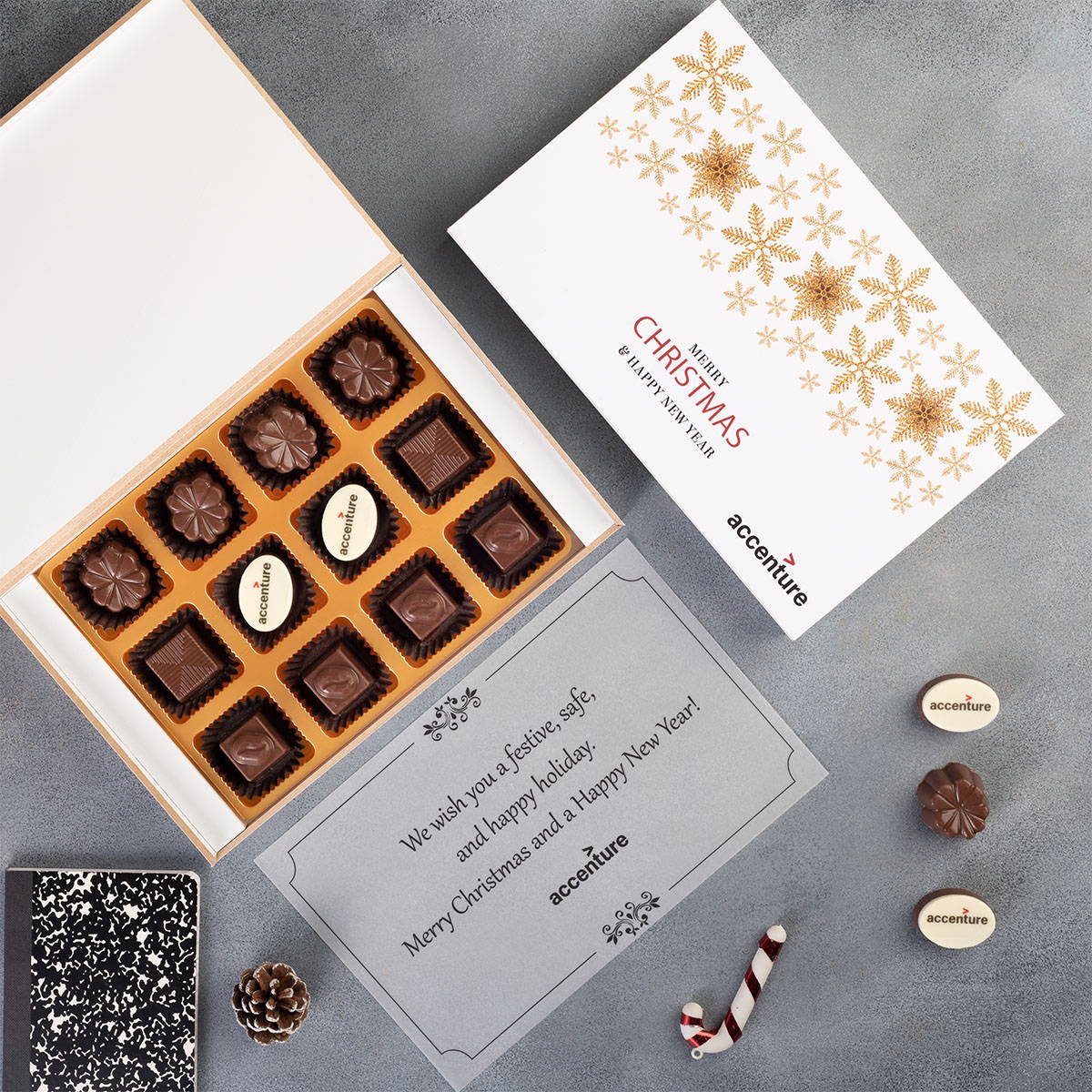 18 Chocolate Box
with Middle Printed Chocolates
Box Size(LBH): 330 x 150 x 32 mm
Box Colors: Black/White
Total Weight: 550 gms approx.
Contact us: +91 9821 669 229, customerservice@chococraft.in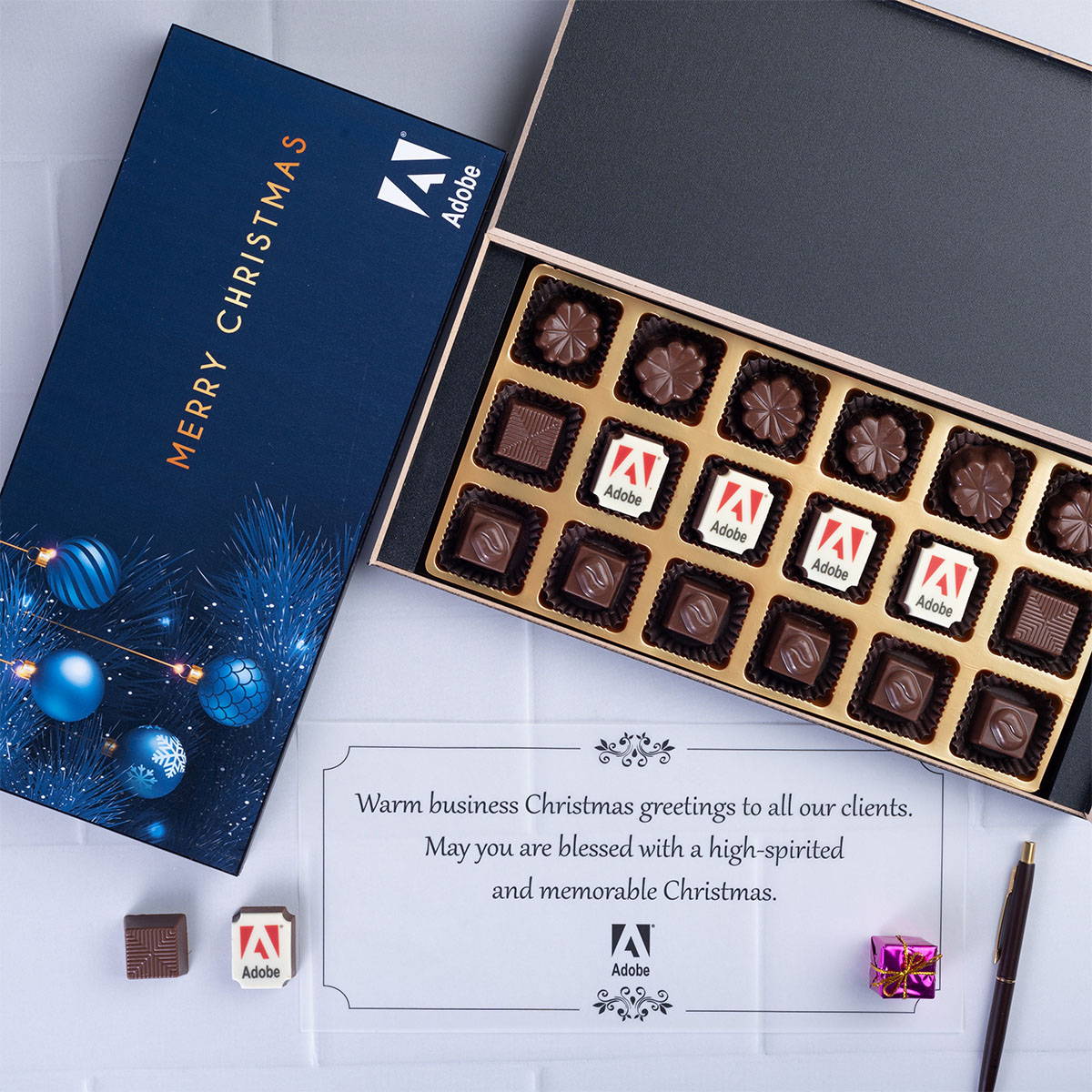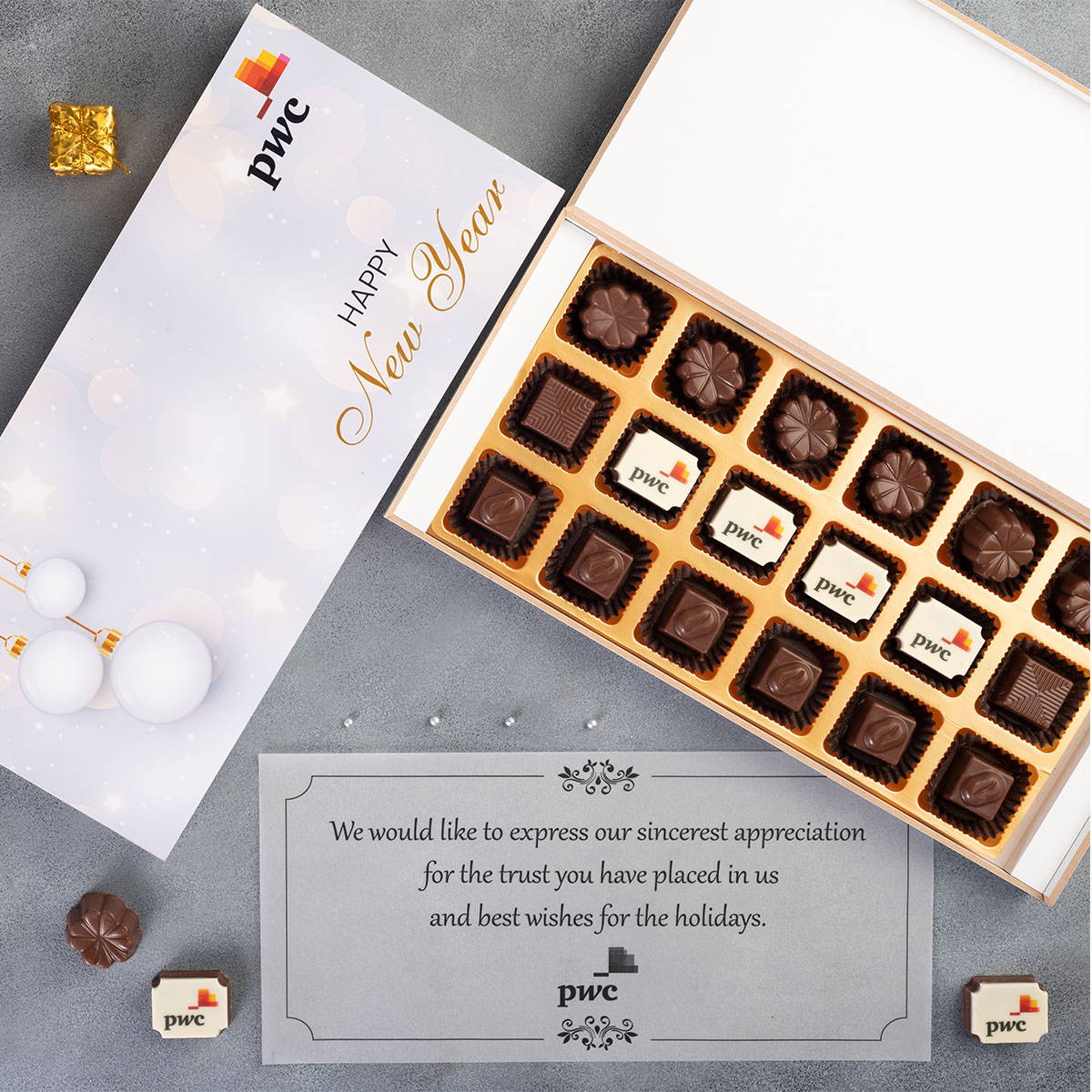 A Dedicated Account Manager

On time delivery, every time. Zero damage guarantee.

Quality Product, Colors on chocolates USFDA Approved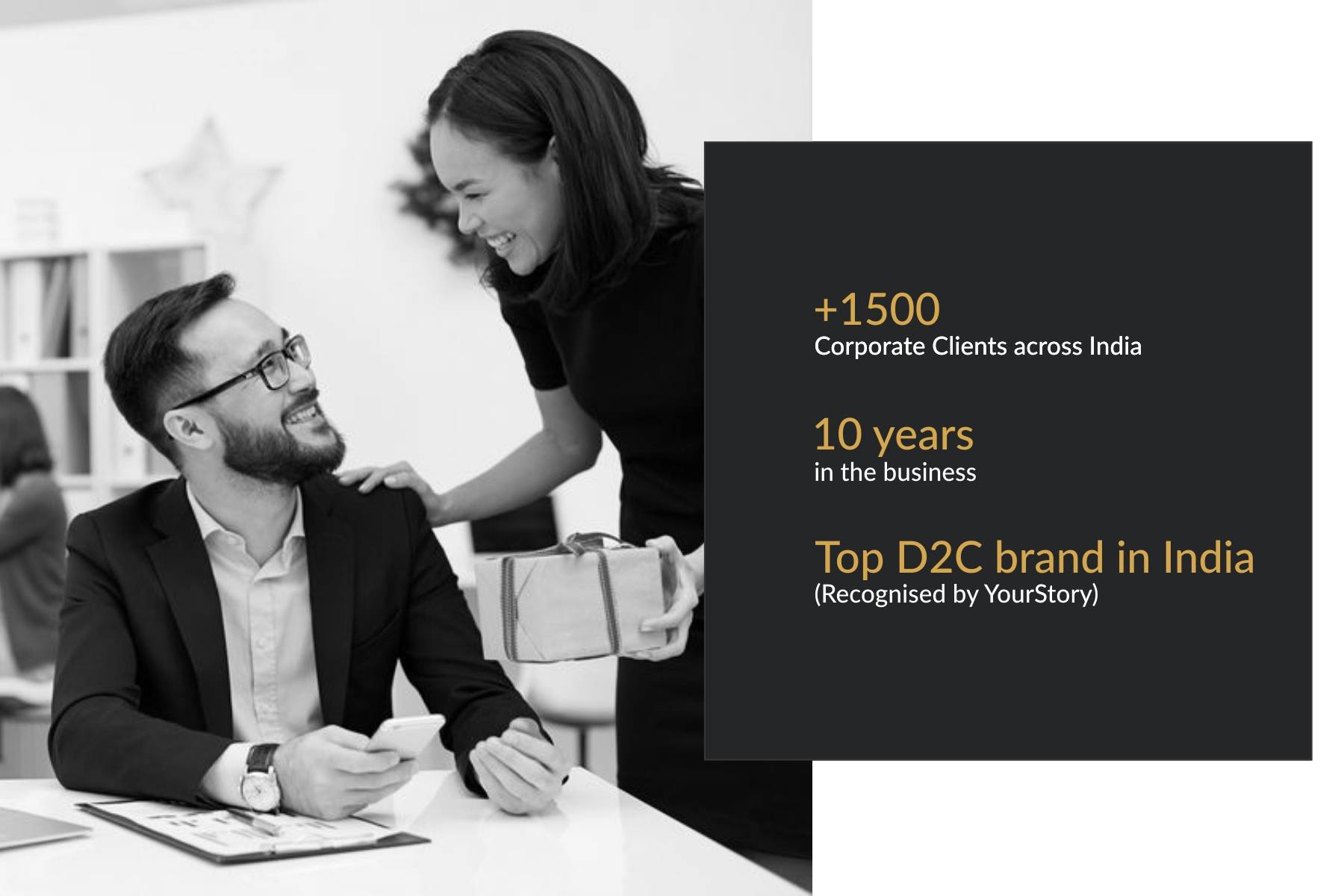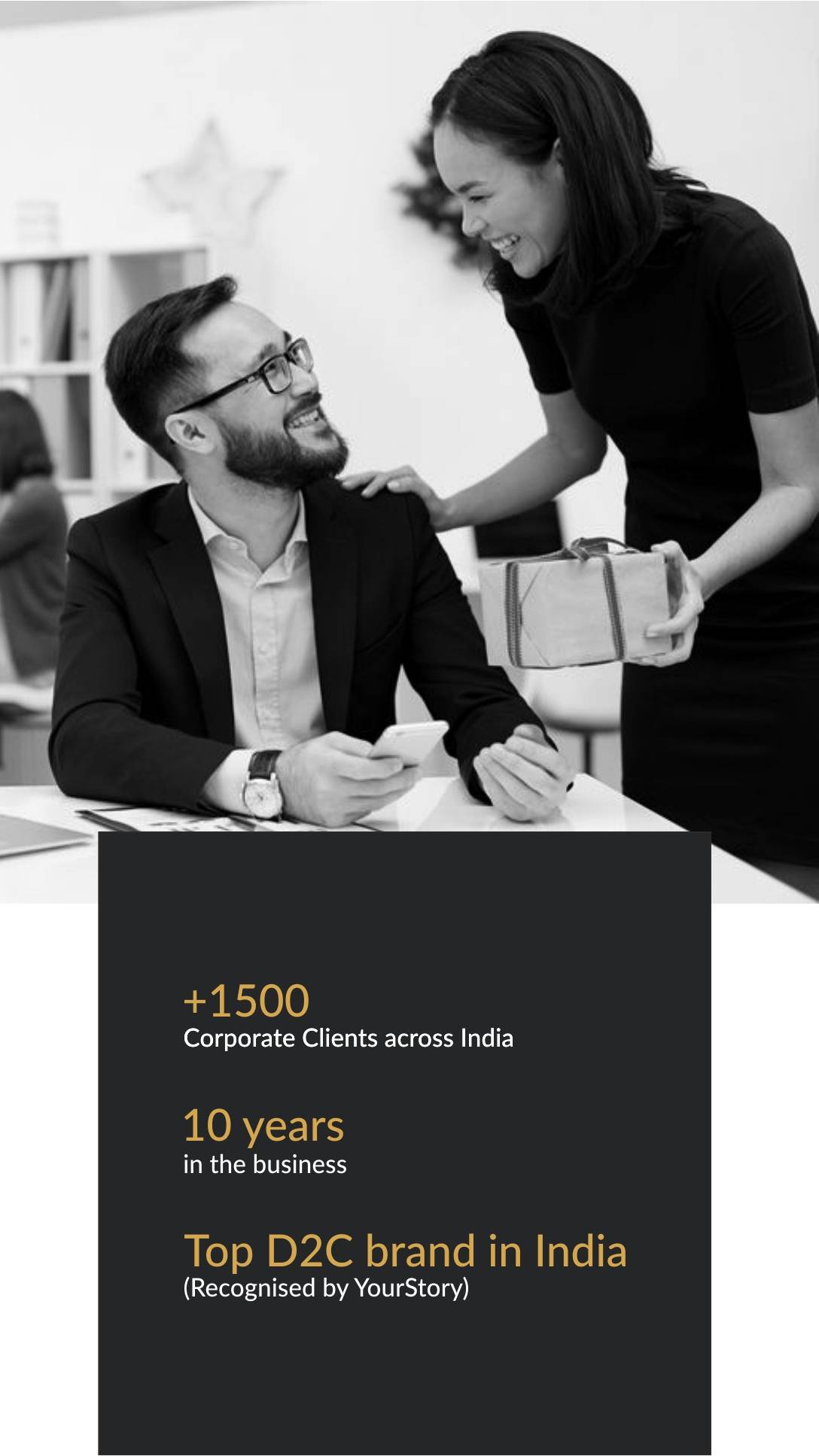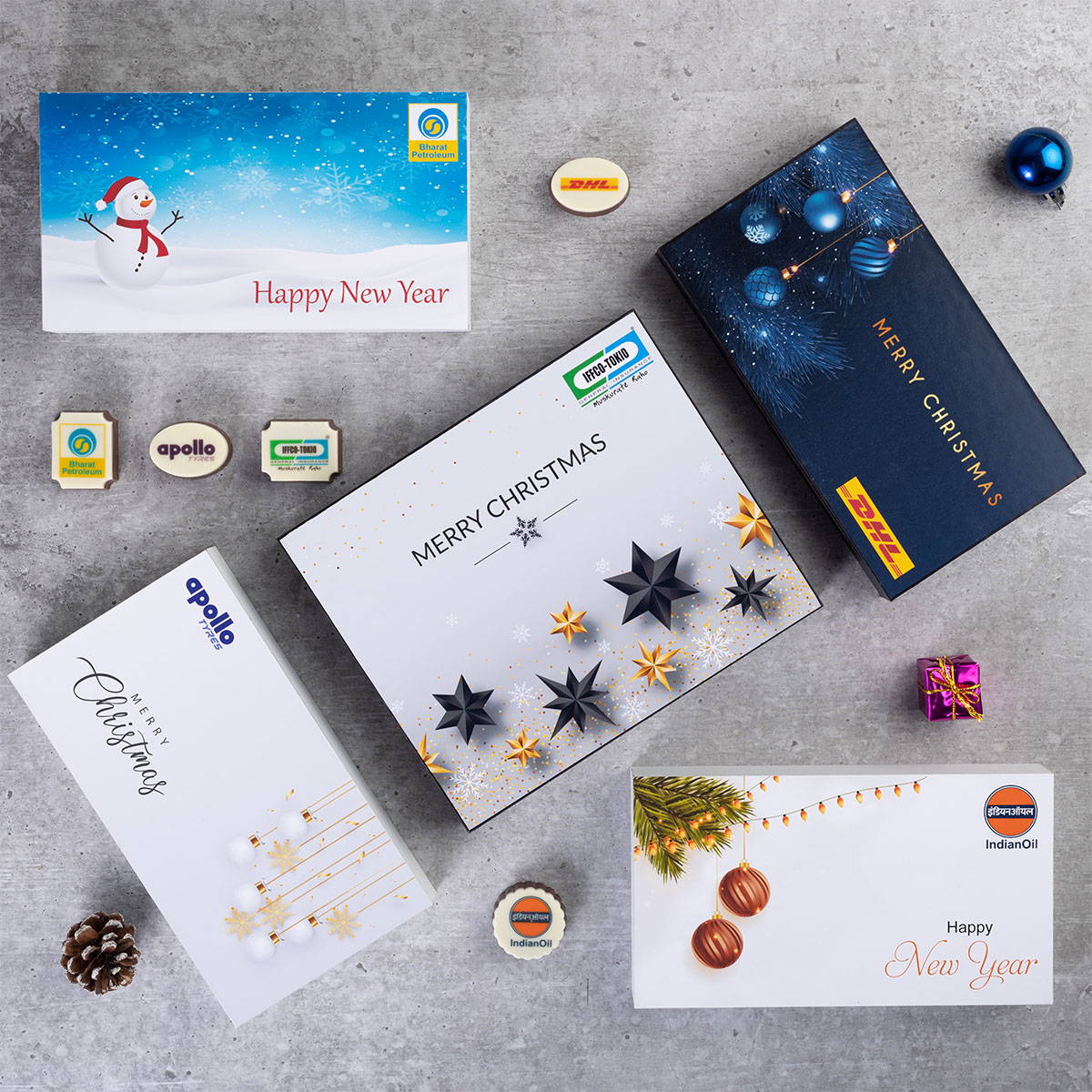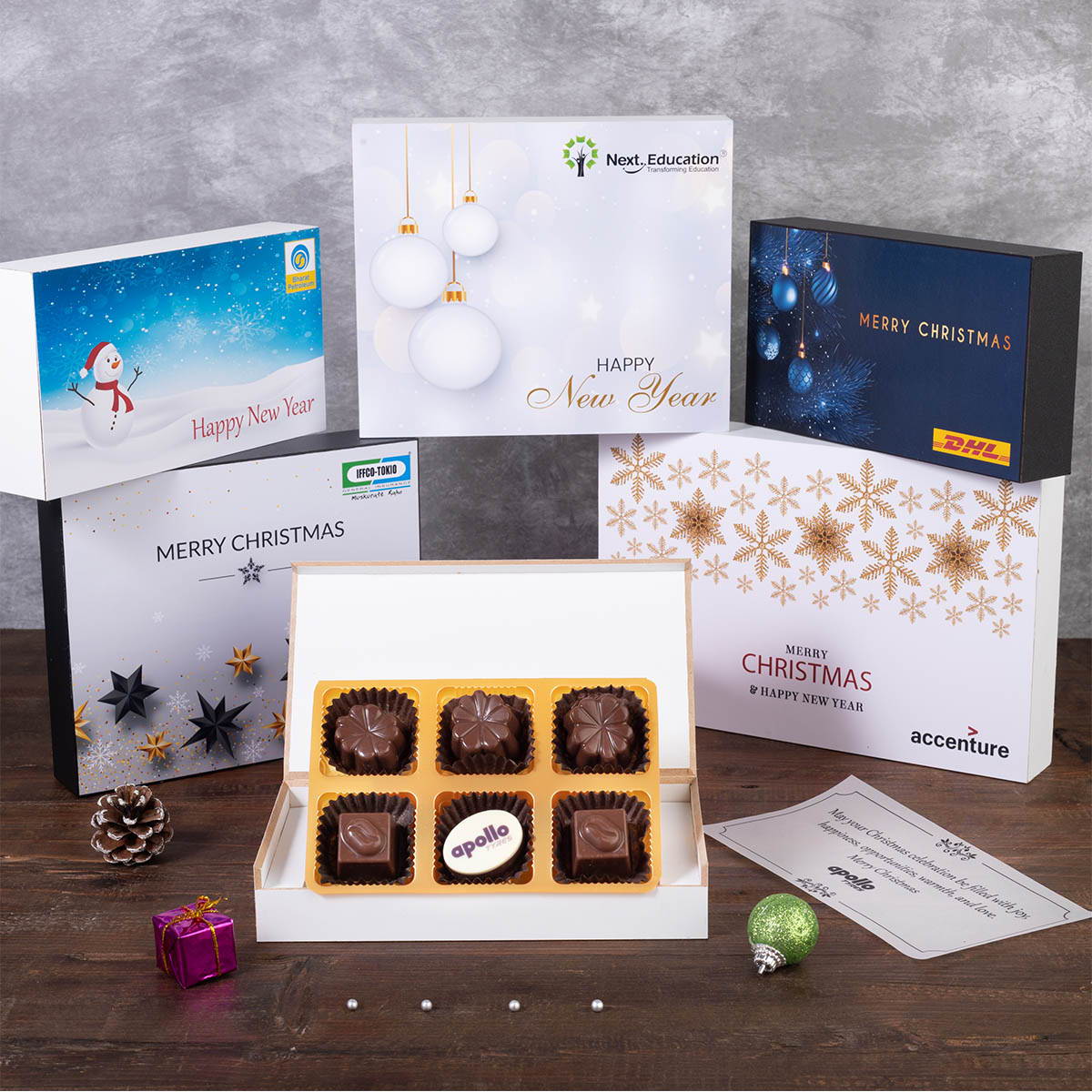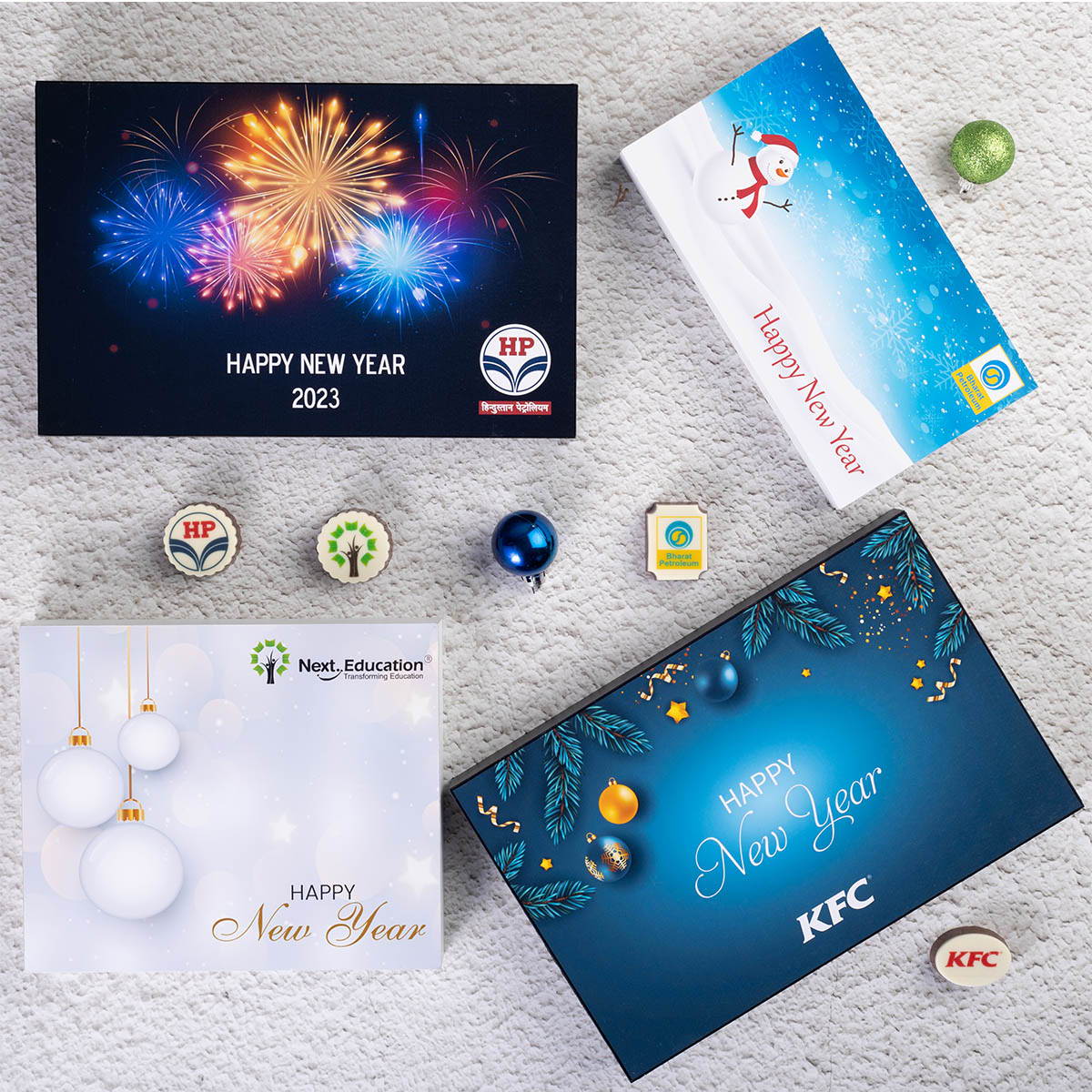 What our customers have to say!
Dear ChocoCraft, Really appreciate the flawless execution of our order. The chocolates were appreciated by one & all. Thanks
- Ms. Richa Joshi, GAIL, New Delhi
So much elated to see the Chocolate gift boxes. 100%satisfied, delivered on time. And excellent service by ChocoCraft for doing their best in a very short time.
- Ms. Josna Narayanan, Open Financial Technologies Pvt Ltd, Bangalore
Just one word for ChocoCraft ......"Excellent"
- Ms. Neelam Jagwani - Mahindra Lifespace Developers Limited, Gurgaon
It is nice to share a goood experience, association of us with you were professional from either of side. Order given was delivered in time, infact in short span of time. Quality of choclate ordered was good, presentation of packaging was customized as per our requirement. Will give 10 out of 10 on scale of measurement in terms of quality and service.
- Mr. Ashish Tiwari, ICICI Prudential, New Delhi
We are fully satisfied with your product and our relation will become more stronger in upcoming years. Next year we will plan to purchase Corporate Gift as well as gift for our employees and miscellaneous clients
- Mr. Kalpesh Panchal, Director, Shashvat Infraventure Pvt. Ltd, Ahmedabad
Chococraft delivered the Chocolates perfectly the way we wanted them to, the customized look , its flavor, texture and the delivery is much appreciated by all our employees. We would like to recommend this product to other Corporates as well especially for customized requirements
- Ms. Veni Anand, Corporate HR, Jindal SAW Ltd, New Delhi
Very Good Product & services.
- Ms. Tejal Patel, GSP Crop Science Pvt. Ltd, Ahmedabad
Good Job Done by ChocoCraft
- Ms. Harpreet Grover – Enquest Petro Solutions, New Delhi
I really liked it and thanks a lot for your support. It is more that what I had expected when it comes to the design.
- Ms. Sonali Samal - Liebherr Appliances India Pvt. Ltd., Aurangabad
The chocolates were really appreciated by the client. They tasted amazing & all was done very professionally and with in promised timeline .
- Ms. Divya Jain, Encompass Events Pvt. Ltd., Gurgaon
This is to put on records that during the Deepawali festive season of 2018, we got associated with Choco Craft for the first time. We placed quite a huge order of more than 2200 boxes of customised chocolates with you. We were very pleased with the quality, timely delivery and the proactive customer service rendered by your entire team. We wish you all the very best for all your future endeavors and hope to continue this association with you.
- Ms. Chitra Rao Shibu - Head of Administration for the O. P. Jindal Group, New Delhi
The quality, packaging & presentation, everything was very good. Happy with ChocoCraft services.
- Ms. Richi Dastani, G. D. Goenka, Hyderabad
Dear ChocoCraft, thank you for delivering chocolates within deadlines. Quality & packaging of the product is amazing. Thank you for your prompt responses.
- Tousiph Sayyad, ONEPLUS, Pune
Awesome Stuff. People loved it.
- Mr. Victor, Whatfix, Bangalore
Dear ChocoCraft, the feedback for your product was very good & all our Local & Expats like the quality of the product a lot. We hope to work again with you. Thanks for all your support.
- Ms. Priyanka Verma, Alibaba Mobile Business Group, Gurgaon
I would really like to to appreciate the product and specially the way you have packed it.Quality of product was upto the mark. Best part which i like about you and your company is professionalism you guys have deleivered what you have promised. Would really love to work with you in future.
- Mr. Sharad Banga, Central Press, Bareilly
Supplier performance is evaluated by considering weightage for delivery as 30%, for quality as 30%, Field Returns 20%, for conformity to requirement 20% (all parameters are as per quality standard norms). Based
on rating thus obtained, categories are made as A (preferred vendor) (for score more than 80), B (for score between 60 and 80) and C below 60.
Your VENDOR PERFORMANCE RATING IS: A
- Nitin Palwe, Head Procurement, JSW MI Steel Service Centre, Pune
I would like to thank complete team of Chococraft for executing these orders so professionally and defect free . The Quality of the product were good , all our customers appreciated the product. Thank you for the packing , initially we were apprehensive about how will we send pan India but all the deliveries were handed properly. I would like to Thank you for front ending this project so well and meticulously.
- Mr. S Bobby Jena, VP - Procurement & Operations, Indiannica Learning Pvt. Ltd., Noida
-- Companies we have worked for --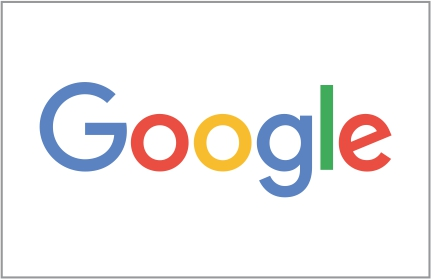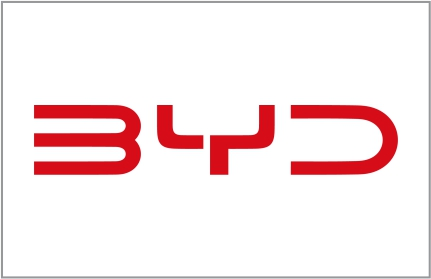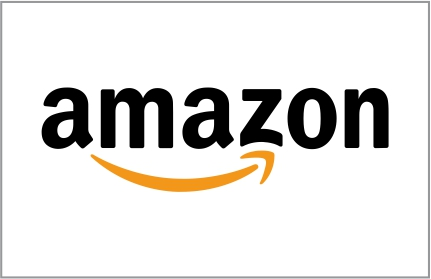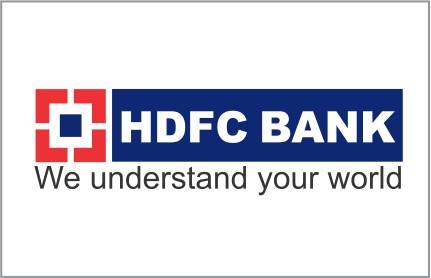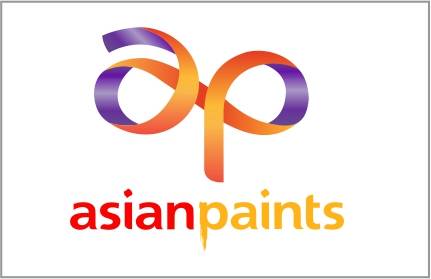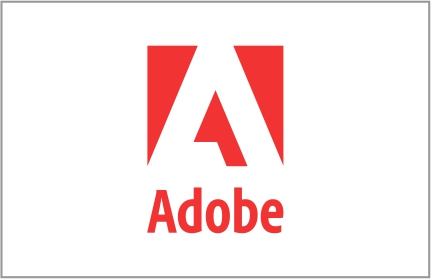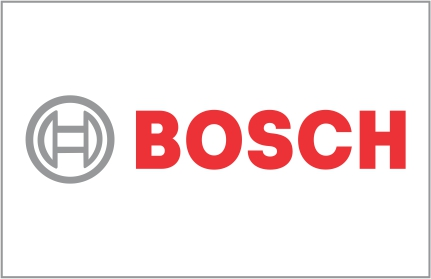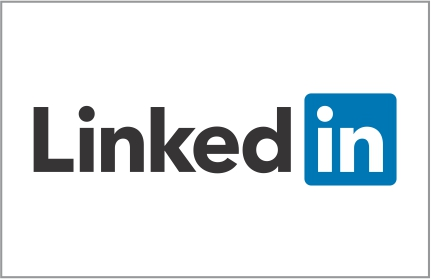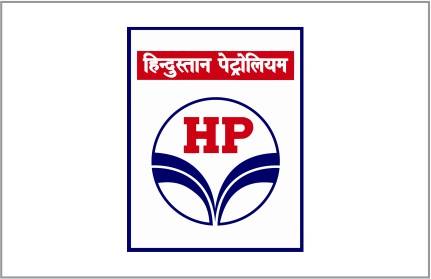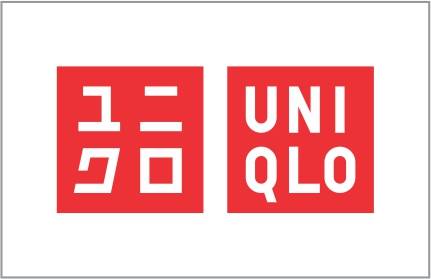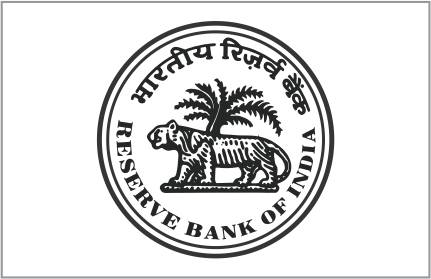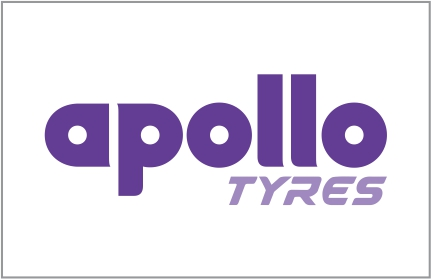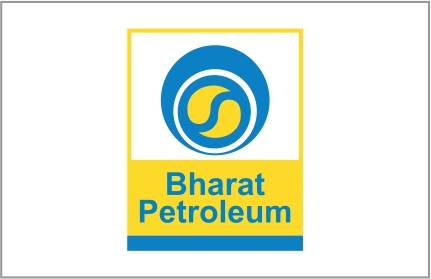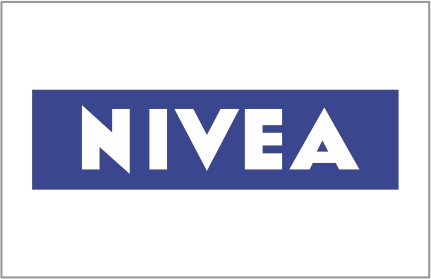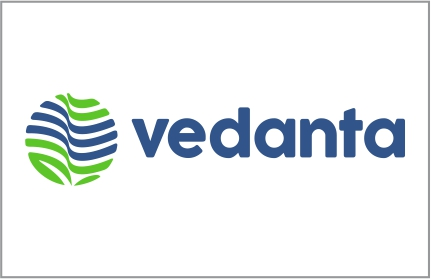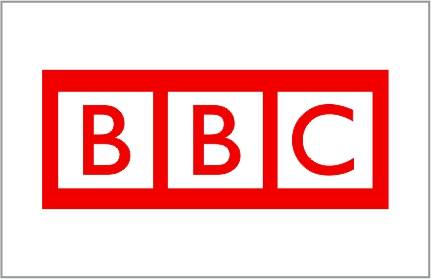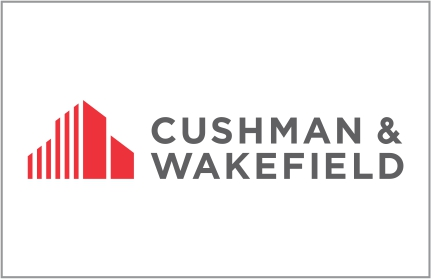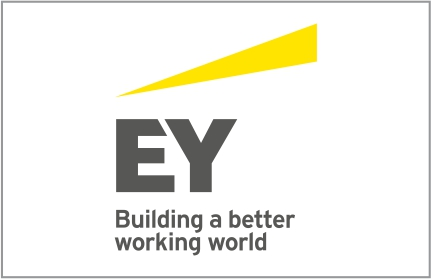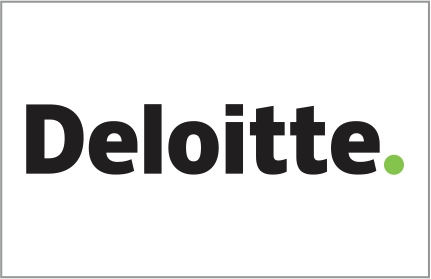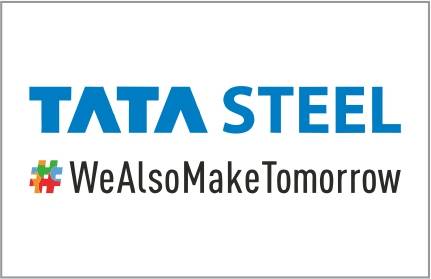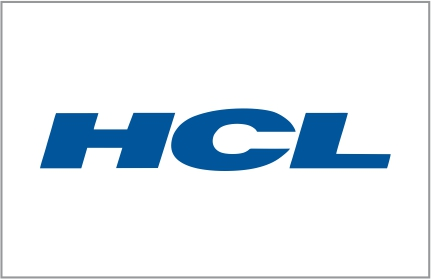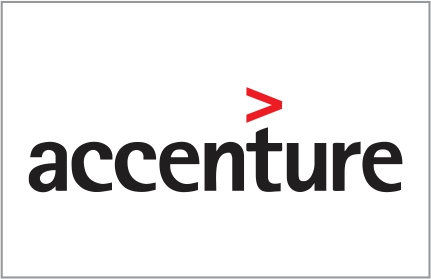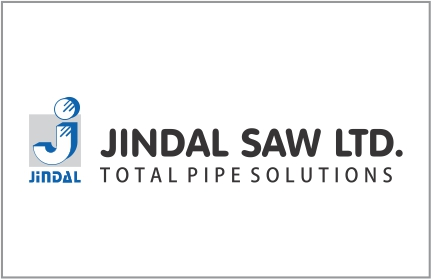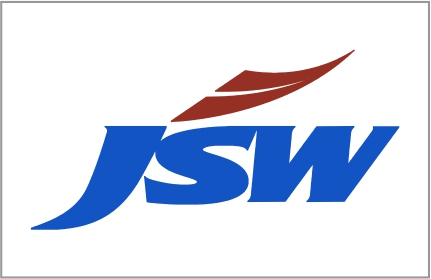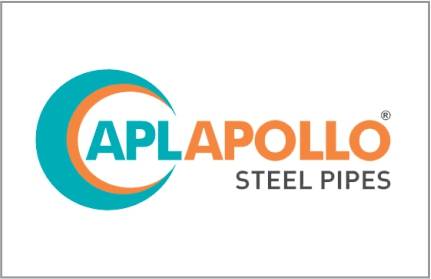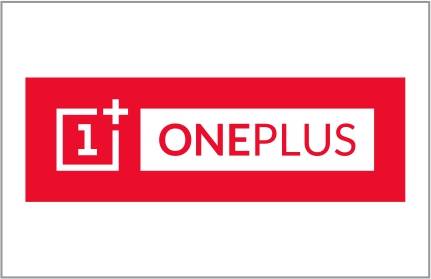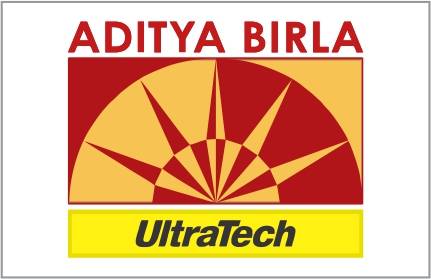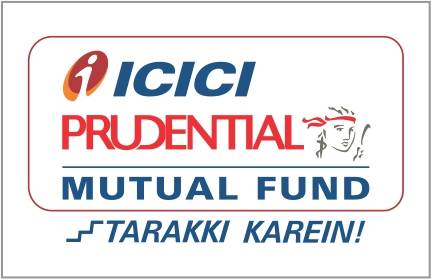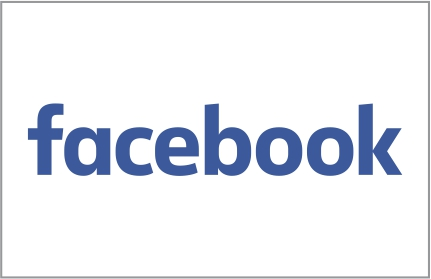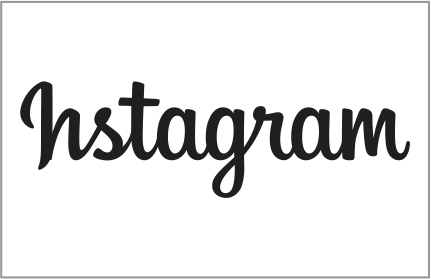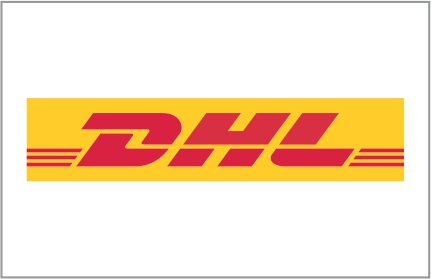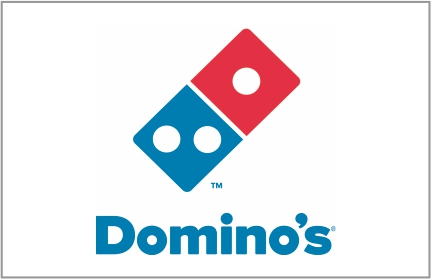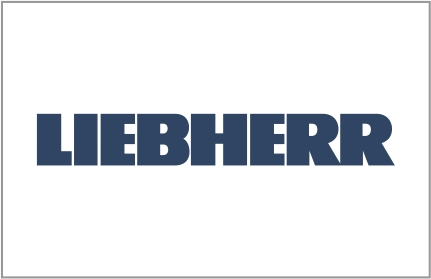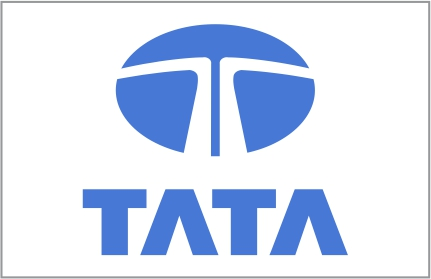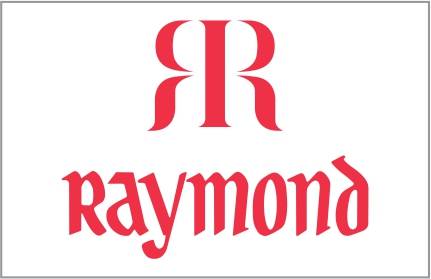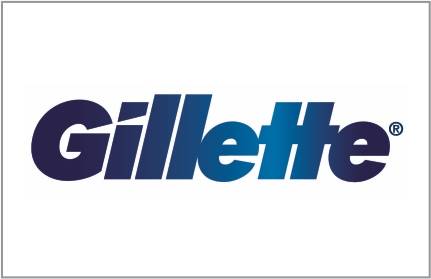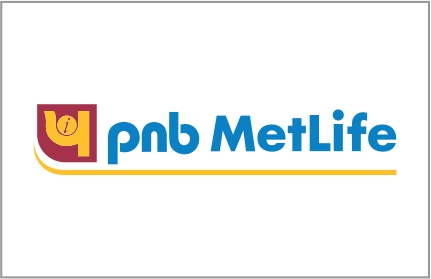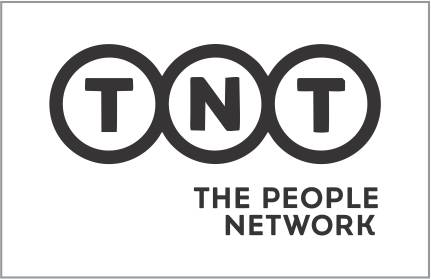 +1500 more brands
We would love to work with you!
New Year & Christmas Gifts for Corporates
Corporate Gifts for Christmas and New Year
Christmas and New Year mark the begining of a new journey for everyone part of the organisation. For those who had a rough patch during the year, these two occassions bring a new sense of joy and hope and with it, promises to turn things around for the best. It gives the opportunity to people to build new connections and move in the right directions to achieve their goals! And for the organisation, it is an opportunity to thank their employees and shareholders for all the efforts put in by them throughout the year.
Gifts for New Year Celebration
"People will forget what you said, people will forget what you did, but people will never forget how you made them feel." Corporate gifts for employees can also help motivate the employees do even better the next year knowing that the company notices their efforts. If thought from a monitory perspective, if new year gifts for corporate clients and employees is done right, then it can provide an excellent return on investment by helping build a strong realtionship with them and bringing in more business.
Corporate Gift Ideas for Christmas & New Year
Personalised Corporate Gifts – One gift, fits all! Well, you just cant go wrong with chocolate. And what's better than chocolates? Personalised Chocolates! And ChocoCraft is just the platform you need to create amazing personalised chocolate boxes for the best corporate gifts. With the wide variety of designs to choose from, ChocoCraft helps your organisation build the most unique corporate gifts within your budget! Just ideate and leave everything else from elegant packaging to an on time delivery with best quality corporate chocolate gift on ChocoCraft to make a lasting impression on your employees and shareholders.
Fitness Bands – With new year, comes new year resolutions. And most people (if not all) have the goal to get fitter. So to help them stay motivated throughout the year and achieve their goal, fitness bands are a great new year corporate gift item. This in turn can ensure that the employees stay healthy which can lead to huge boosts in their productivity while at work. Hence fitness bands can be one of the best corporate gifts this Christmas/New Year!
Coupons/Vouchers – This is a great company Christmas gift idea. Vouchers for online shopping websites like Amazon and Flipkart or vouchers for movie tickets or grocery shopping will be appreciated by all. With the booming online movie content space, one can also go for coupons for free subscription to some of the OTT platforms like Netflix, Hotstar and Amazon Prime.
Smart Gadgets – Google Home smart speakers, smart watches and other smart gadgets are an  excellent new year gifting idea. These come in various shapes and sizes and one can get different gadgets that meet the company budgets. With everything now going digital and online everyday, these are a must have in today's time and hence all your employees and shareholders are sure to appreciate this.
Personal Care Hamper – If you are looking for an innovative corporate gift, then a personal care hamper is one. By mixing an assortment of personal care products, one can come up with a wide variety of innovative gifts for the employees. Separate collection of products can be maintained for both men and women. Along with the products, some vouchers to a famous local spa or salon can also be added to sweeten the pot!
Travel Accessories – Everyone loves to travel and good travel accessories are a must for a stress free travel experience. These include passport holders, travel bags, water bottles, headphones among other items. A small hamper of these items can be a great  company Christmas gift idea. One can also print the company/brand logo on these items which can then also act as promotional gift items as well!
Luxury items – To make the employees and shareholders feel even more special and appreciated, luxury gift items live wrist watches, luxury pens and perfumes are amazing premium corporate gifts. These do come with a hefty price tag but will surely leave a lasting impact on the people these are gifted to and help in gaining their trusts and commitment for a long period.
Polaroid Cameras – Another innovative corporate gift idea is polaroid cameras. These are small, portable and colourful cameras that print out pictures just after they are clicked. These are the new cool in the market of photography and making memories. Everyone, especially the young employees, will surely have a huge smile on their faces after receiving these as their Christmas and New Year corporate gifts.
Free Medical Health Checkup – A fit and healthy employee is a huge asset to the organisation. Another invaluable Christmas and New Year corporate gift is free medical checkups for all the employees. To make this even more special, this gift can also be extended to the family members of the employees and major shareholders.
Saplings – Going eco-friendly and conserving our environment is the need of the hour. And to make a strong statement that the company stands for the idea of building a greener environment, saplings are a great and unique corporate gift idea. These can also serve as a reminder to the employees and shareholders to keep on growing with time for an overall development.