Corporate Diwali Gifts
Diwali is one of the most popular festivals in India. It is celebrated in every part of the country with great fervour. Interestingly enough Diwali is a significant festival in many different ways for different communities. But perhaps the best part of Diwali is the the gifts! People exchange gifts with families and friends and companies give Diwali gifts to employees, clients, business partners and other important people.
At ChocoCraft, we create a special range of corporate gifts for Diwali. We make customized chocolate gift boxes, each uniquely designed as per the client's wishes. You can choose to have your corporate logo, a diwali greeting or any other design you would like on the box. Further you can also choose to have your logo printed on the chocolates themselves. A custom Diwali greeting or message for the recipient is printed on butter paper and placed inside the box.  

1. Customized Diwali Gift Boxes
Our chocolate gift boxes for Diwali are elegant and sturdy wooden boxes. The design of the box top is created completely as per the client's wishes. You can print your logo on the box along with a Diwali design. We offer a range of Diwali designs for boxes that you can choose from or we can create an exclusive new design for you.
Our standard boxes come in 2 colours - Light coloured wooden finish and a textured black finish. You can also opt for a premium box which is made from eco-leatherette. Boxes come in 3 sizes containing 9, 12 and 18 chocolates respectively.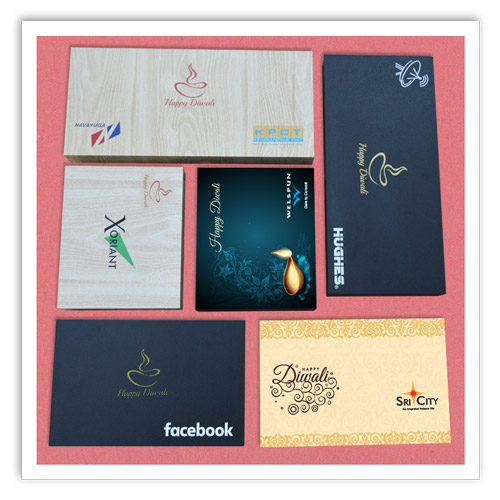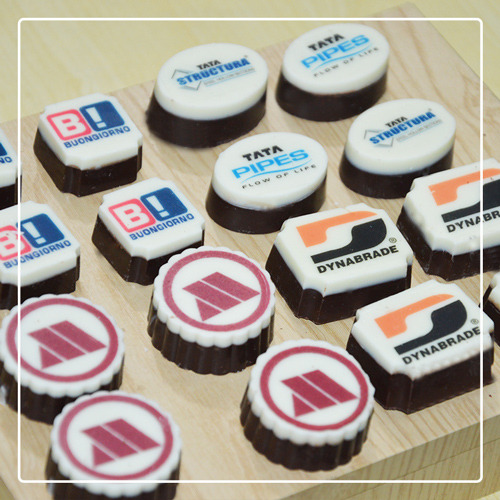 2. Logo Chocolates
The chocolates to be placed in the box are also completely customized. Our unique offering is chocolates with your corporate logo printed on them. The color used for printing on the chocolates is edible and conforms to the best international standards. 
You can choose the flavour and filling of the chocolates and also how many printed and plain chocolates you want placed in the box.
We offer a range of fillings and flavours for the chocolates like fruit and nut, butterscotch, roasted almonds and others. You can also choose to include a printed chocolate bar with you logo or diwali greeting on it.

3. Diwali Greeting on Butter Paper
A small but important part of the gift box is the butter paper with a Diwali greeting or message printed on it. It is placed on top of the chocolates and is the first thing the recipient sees when they open the box.
We have several Diwali greetings that you can choose from or if you like you can create your own. If you want to make it extra special the message can be addressed separately to each individual recipient. 
A heartfelt message adds that extra something that makes your gift special!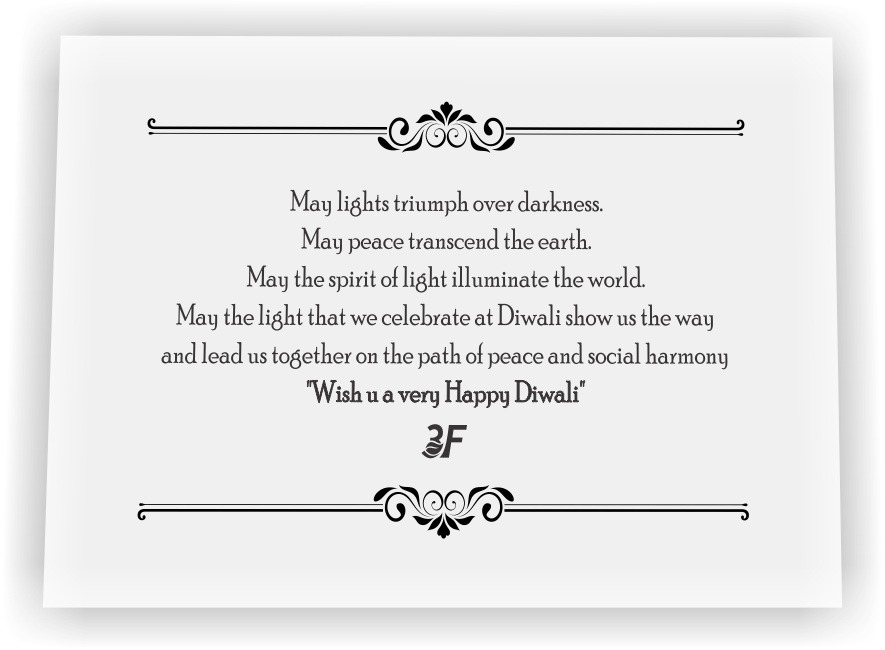 Box Options for Diwali Gifts

Leathereatte Chocolate Box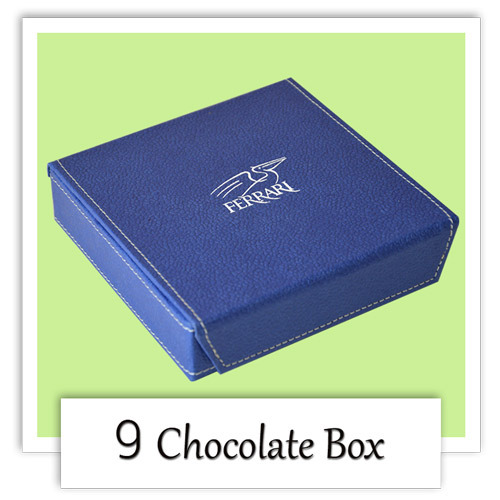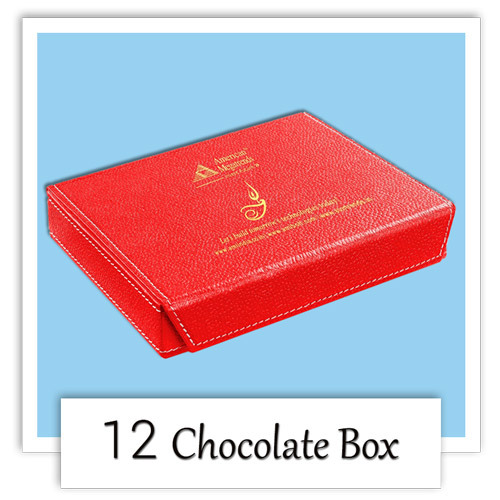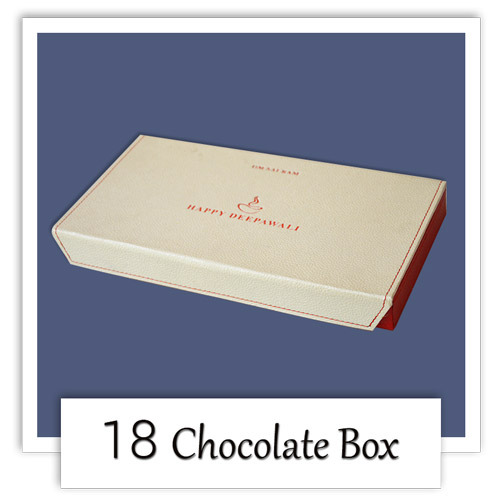 Customized Corporate Diwali Gifts
At ChocoCraft we offer customized chocolate Gifts for Diwali. Companies and businesses are always looking for unique gift ideas for Diwali. There is no shortage of gift options for Diwali but the challenge is to have a gift that will stand out! This is where customized gifts offer an advantage over others. A customized corporate gift becomes special because it has a personal connection for the person who receives it. 
Why are customized gifts better? Here are 5 reasons why :
A customized gift shows that some thought has gone into the gift and for that reason the recipient appreciates it more.

Corporate gifts have a purpose - to build relationships. Isn't that purpose better served when the gift also reminds the recipient of the company or brand?

Customized gifts also allow for a brief greeting or message to be included with the gift. This becomes especially memorable. Imagine all the employees of an organisation receiving a chocolate box with a message from the CEO!

Diwali is also the time where people make high value purchases. A customized gift to every such customer on Diwali will definitely delight them.

A customized frequently becomes a memento or keepsake of sorts for the recipient. They may pass on other gifts but something that reminds them of their association is more likely treasured.

Diwali Gifts for Employees
Employees are critical to the success of any organisation. Their contribution to the organization's success is invauable and should always be recognized and appreciated. A beautiful Diwali gift can be one such gesture to show some appreciation. After all Diwali is an occasion to celebrate achievements and give thanks! ChocoCraft creates beautiful chocolate gift boxes that make great Diwali gift for employees.
Chocolates make the best Diwali gift for employees for a number of reasons but we have chosen to higlight the following:
Everyone likes chocolate whether they are young or old, men or women, when you opt for chocolates as Diwali gifts for your office staff you are choosing something that appeals for everyone.

In India there is always some concern because your employees might come from different parts of the country. Choosing traditional sweets then becomes difficult because you are not sure if they will be appreciated by all employees equally.  But the love of chocolate cuts across all these boundaries!

In fact today we have companies that have operations in several different countries. Here again a box of chocolates is something that every one will appreciate.

Chocolates have a longer shelf life compared to traditional sweets and can be easily shipped to various locations. See how we pack and ship our chocolates.

Chocolates can be packaged in a range of beautiful gift boxes and have a very premium look and feel. Explore our packaging options!

Diwali gifts for important clients of your company need to be chosen very carefully. You want to gift them something that will convey your regards in the best possible way. A Diwali gift for a client also needs to be something unique that will stand out from the many gifts they will receive on Diwali. Our chocolate gifts can be that something unique that you are looking for! 
Printed chocolates are something of a novelty and chocolates with your logo printed on them will be something that client is unlikely to forget.

Our chocolate gift boxes are also customized with beautiful Diwali designs and your logo and branding. These clearly stand out when you compare them with the other gift boxes which are available off the shelf.

If you really want to impress them we can also personalize each gift box for a client. Imagine that every Diwali gift box has the name of the client inscribed on it and also includes a hearfelt message addressed to them personally.

We offer delicious chocolates in very elegant gift boxes. The entire package has a very premium look and feel.

While choosing a Diwali gift for clients we also need to be sensitive to the fact that certain organizations have a very restricted gift policy (for example government organisations) Consumables like chocolates are not likely to offend any sensibilities.!

For more information, please get in touch with us.