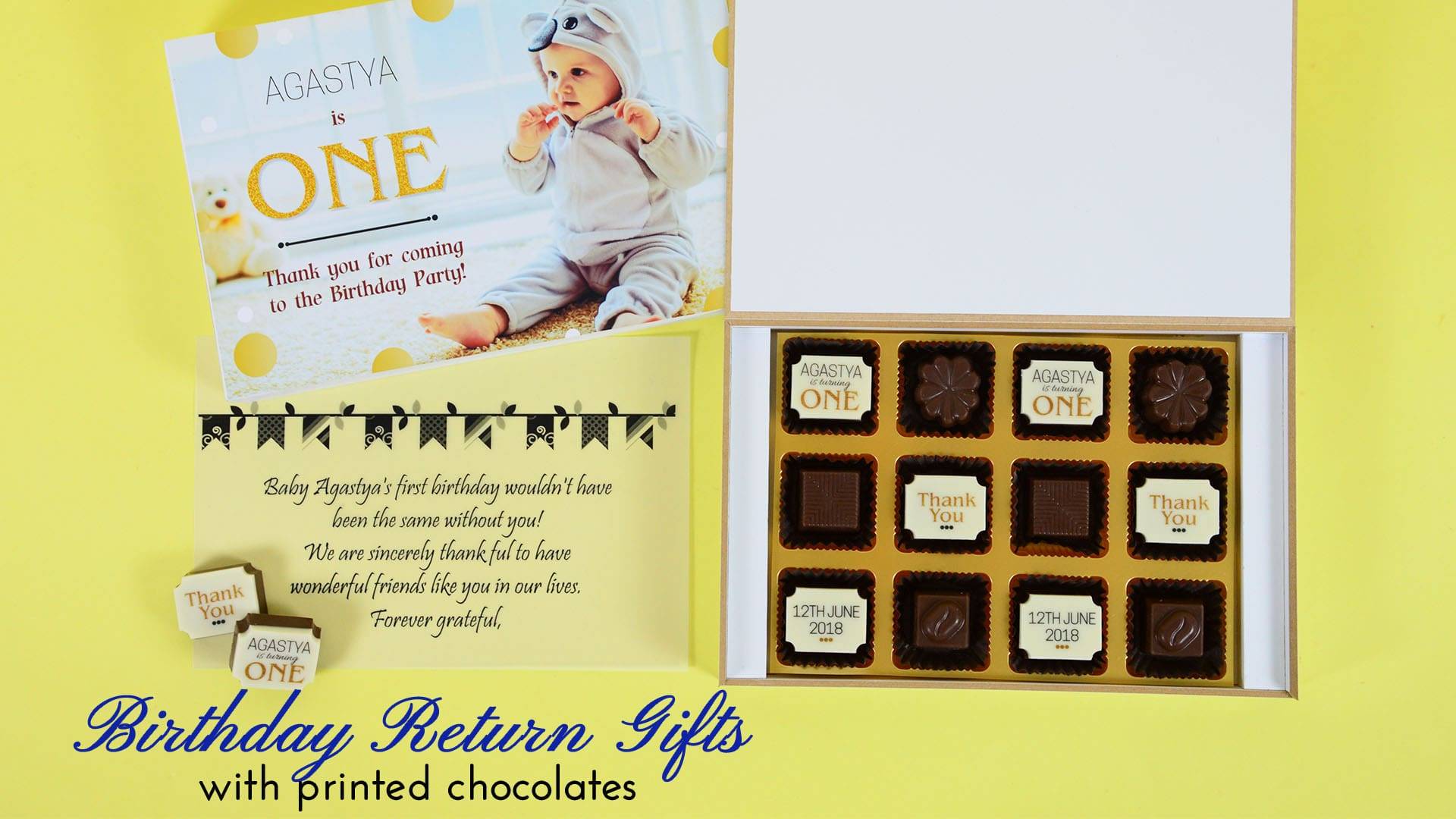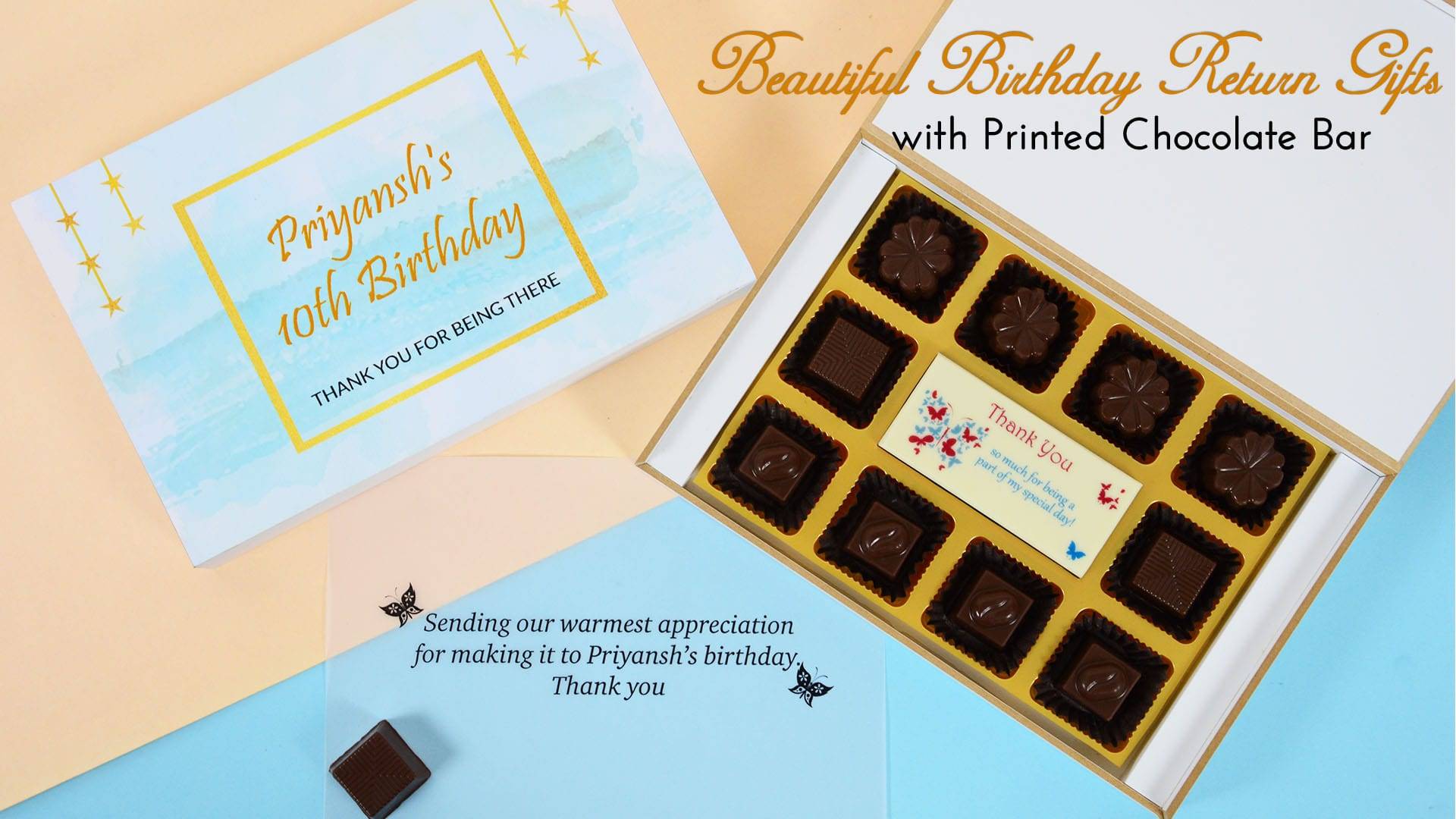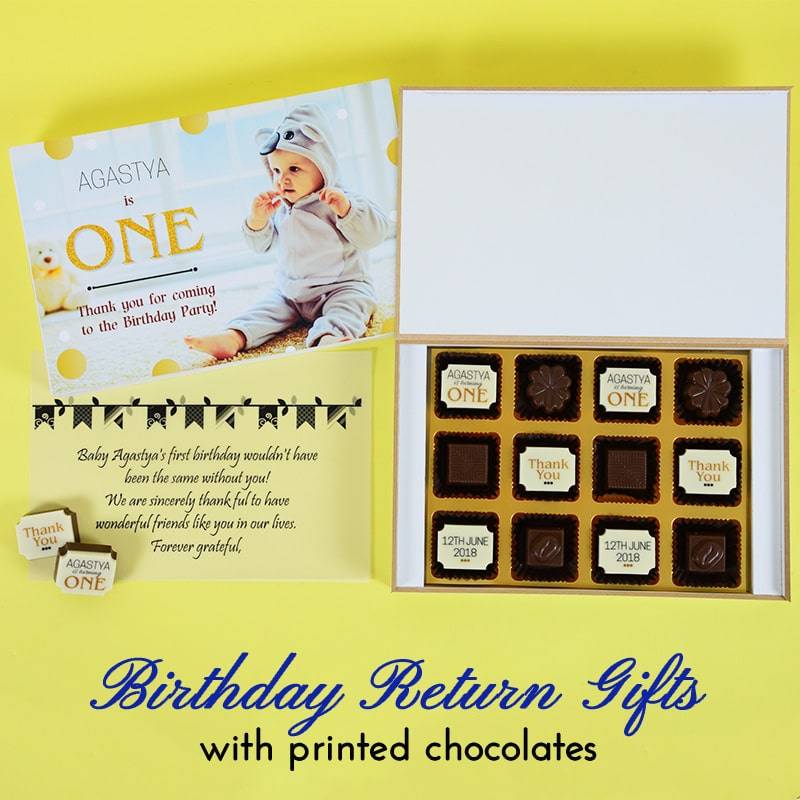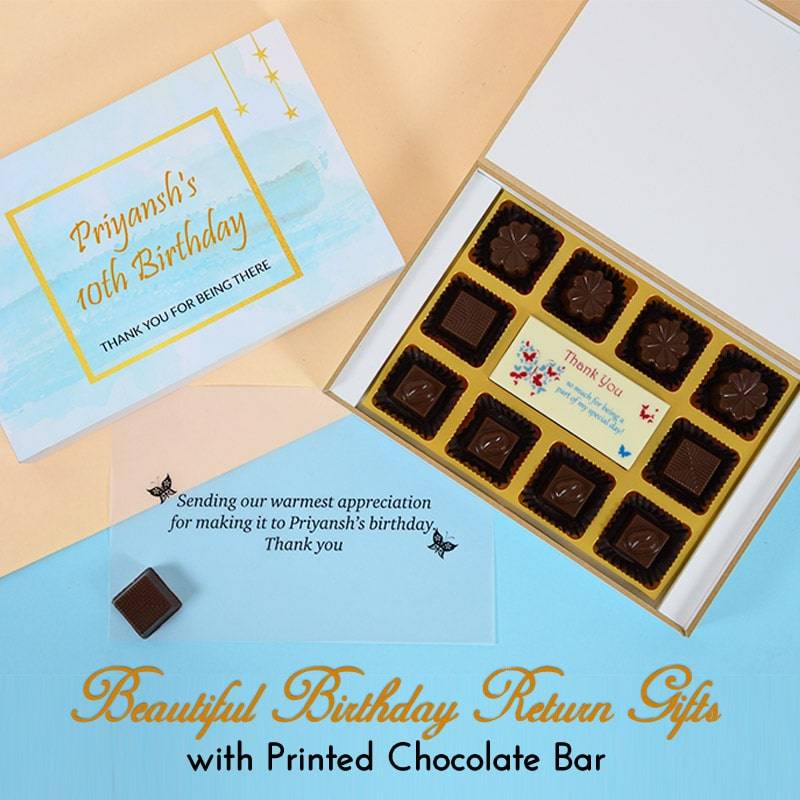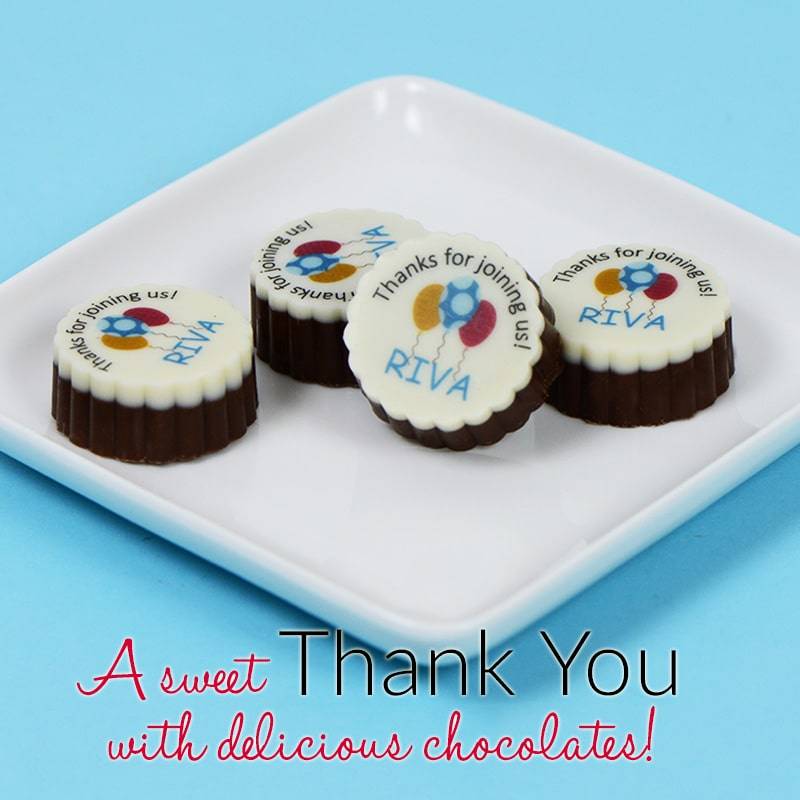 Birth

day Return Gifts
by
CHOCOCRAFT
The best part of celebrating a birthday is the fact that you get to reconnect with friends and family. We create personalized return gifts for the occasion that will make it all the more memorable. We make beautiful birthday return gifts that have delicious printed chocolates packed in elegant gift boxes along with a thank you note!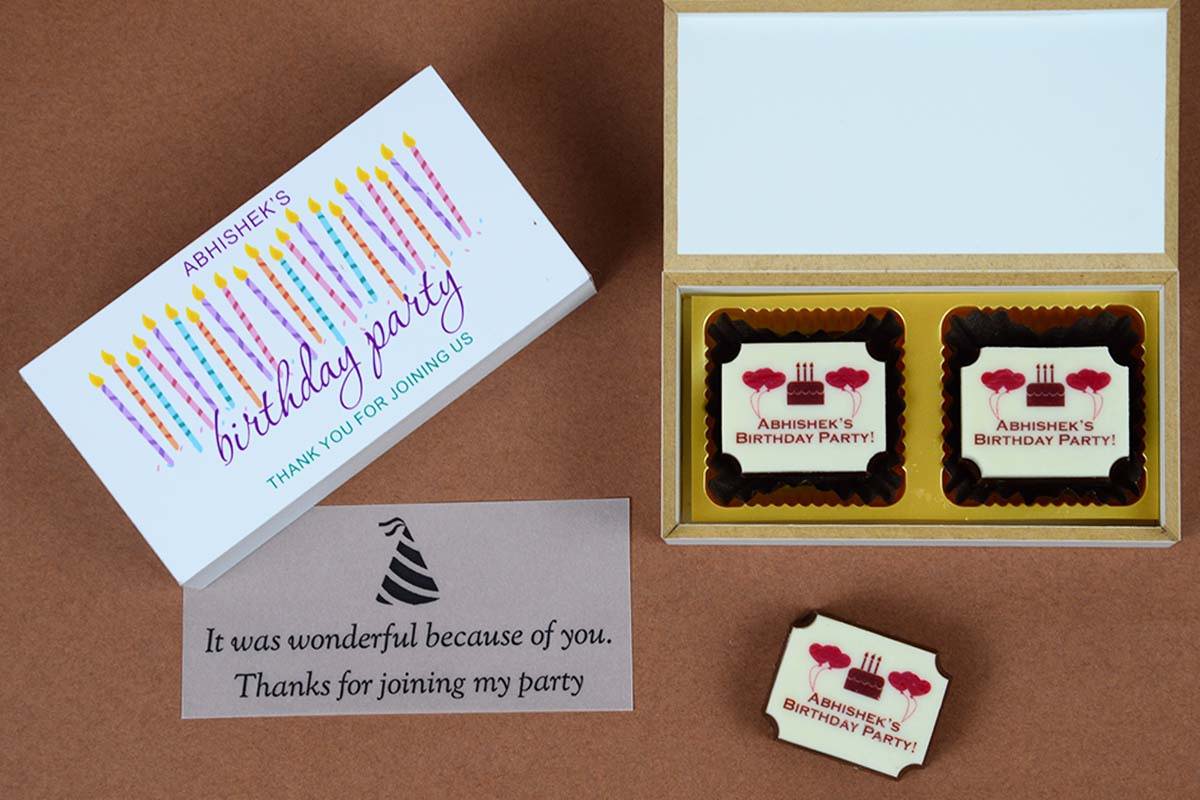 2 Chocolate Box
with Printed Chocolates
Box Size(LBH): 100 x 53 x 32 mm
Box Colors: Black | White
Total Weight: 80 gms approx.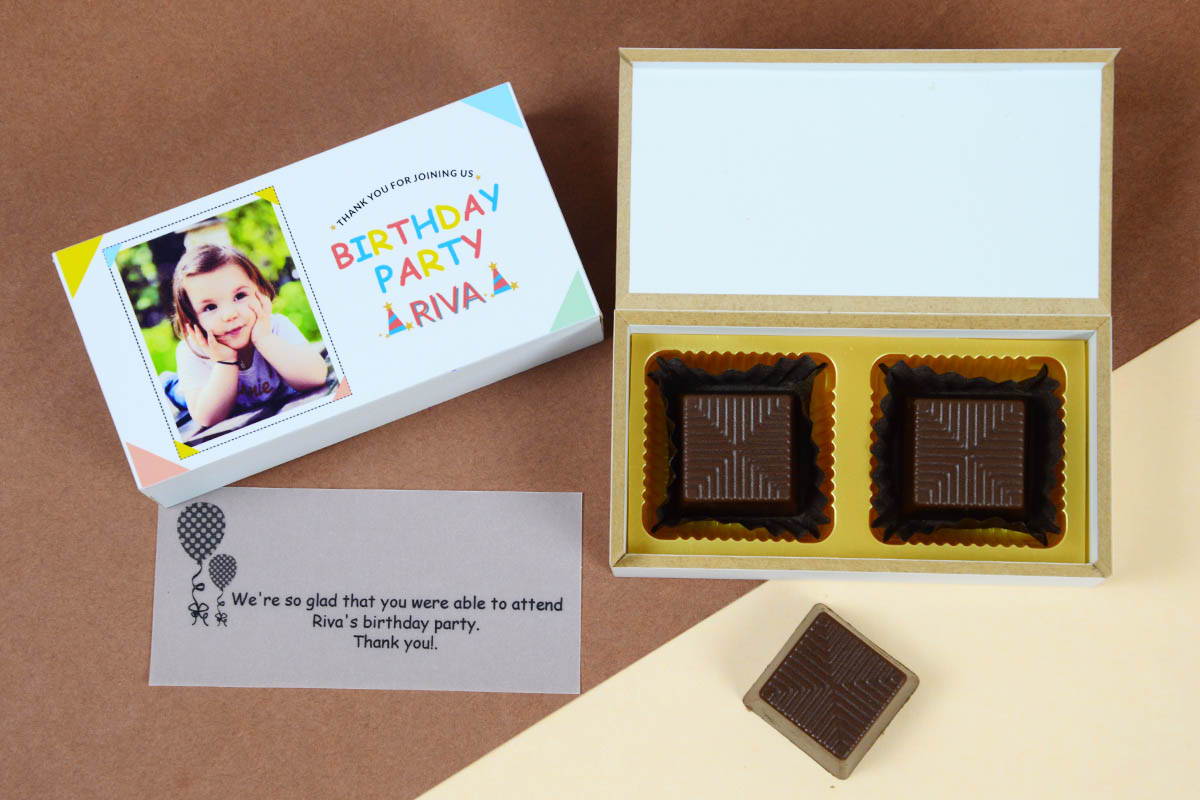 2 Chocolate Box
with Assorted Chocolates
Box Size(LBH): 100 x 53 x 32 mm
Box Colors: Black | White
Total Weight: 80 gms approx.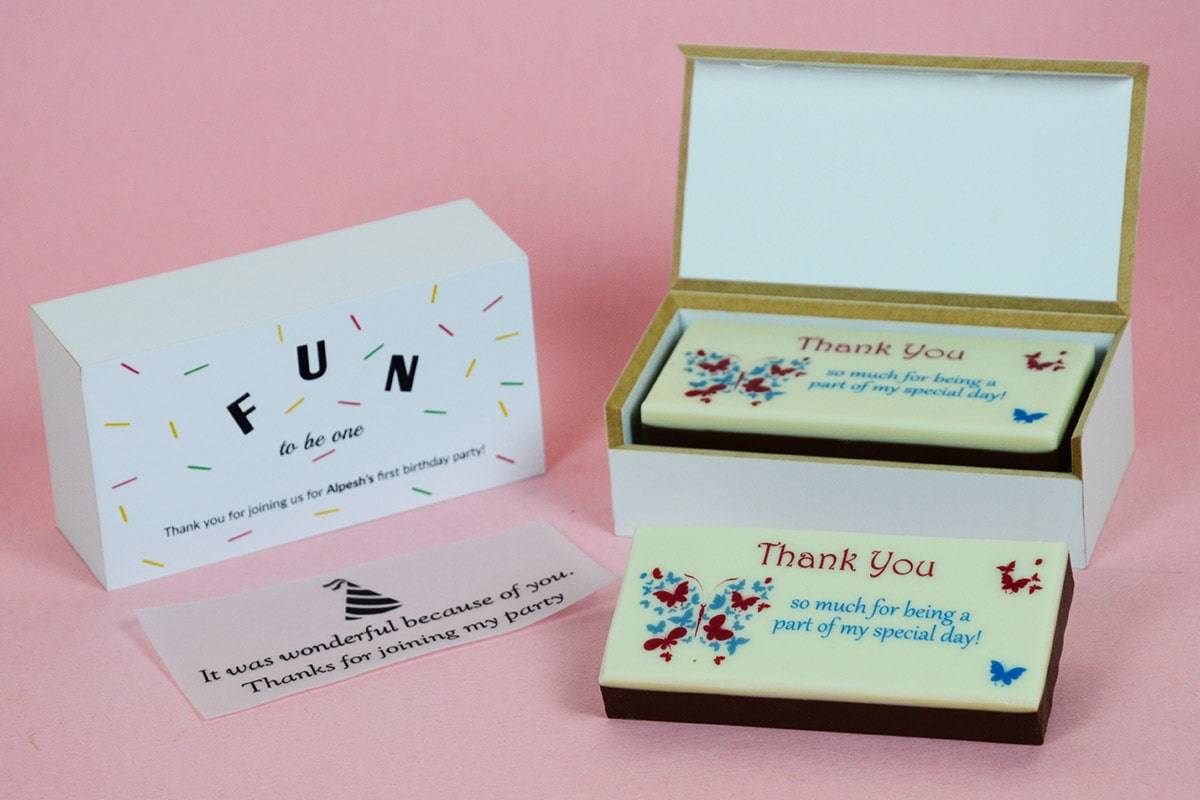 Chocolate Box
with Small Chocolate Bar
Box Size(LBH): 100 x 53 x 32 mm
Box Colors: Black | White
Total Weight: 115 gms approx.
Alternate Printed Chocolates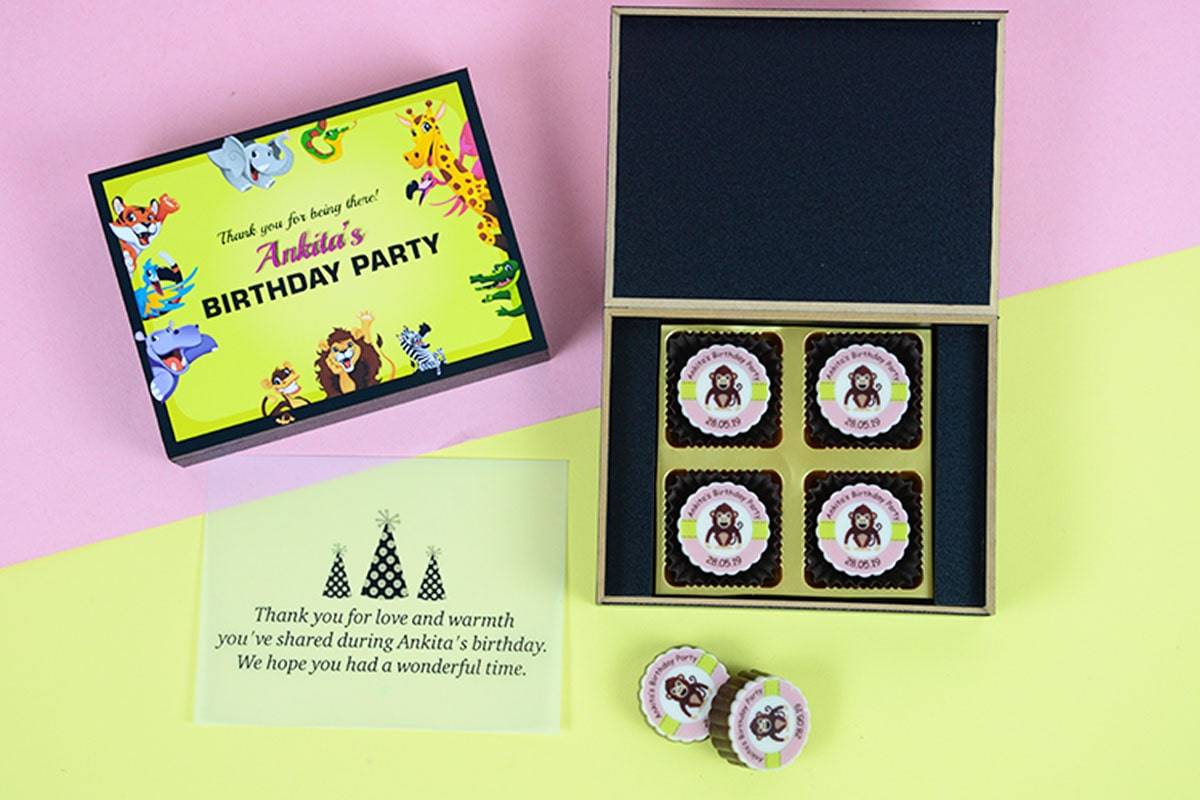 4 Chocolate Box
with Printed Chocolates
Box Size(LBH): 132 x 100 x 32 mm
Box Colors: Black | White
Total Weight: 120 gms approx.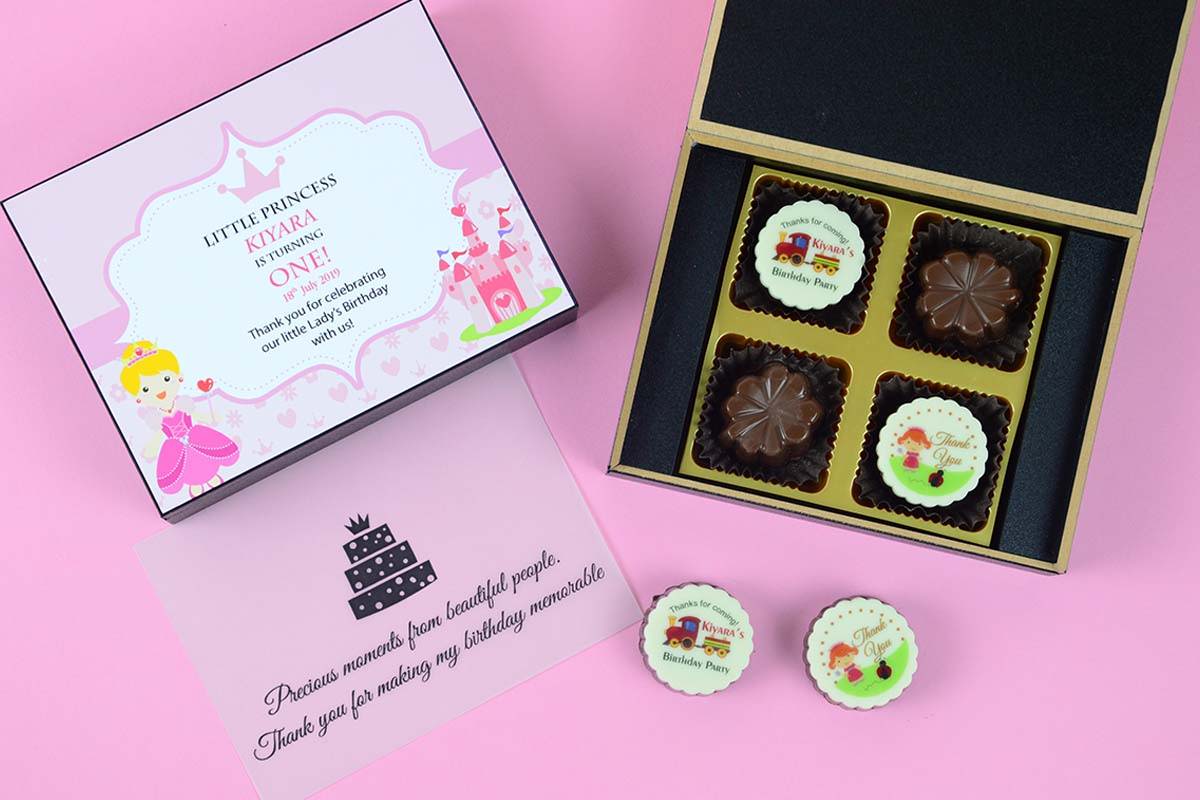 4 Chocolate Box
with Alternate Printed Chocolates
Box Size(LBH): 132 x 100 x 32 mm
Box Colors: Black | White
Total Weight: 120 gms approx.
4 Chocolate Box
with Assorted Chocolates
Box Size(LBH): 132 x 100 x 32 mm
Box Colors: Black | White
Total Weight: 120 gms approx.
Alternate Printed Chocolates
Alternate Printed Chocolates
Alternate Printed Chocolates
Alternate Printed Chocolates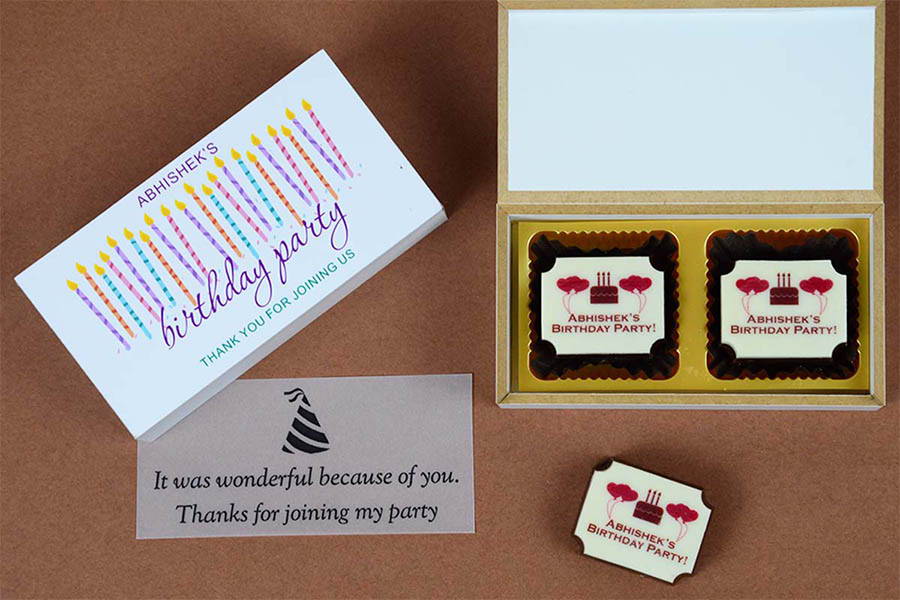 2 Chocolate Box with Printed Chocolates
Box Size(LBH): 100 x 53 x 32 mm
Box Colors: Black | White
Total Weight: 80 gms approx.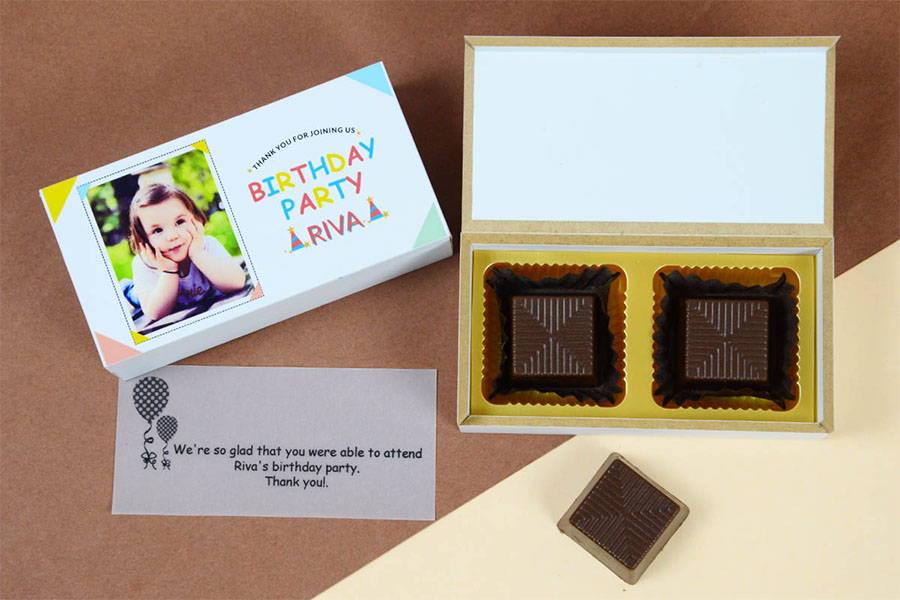 2 Chocolate Box with Assorted Chocolates
Box Size(LBH): 100 x 53 x 32 mm
Box Colors: Black | White
Total Weight: 80 gms approx.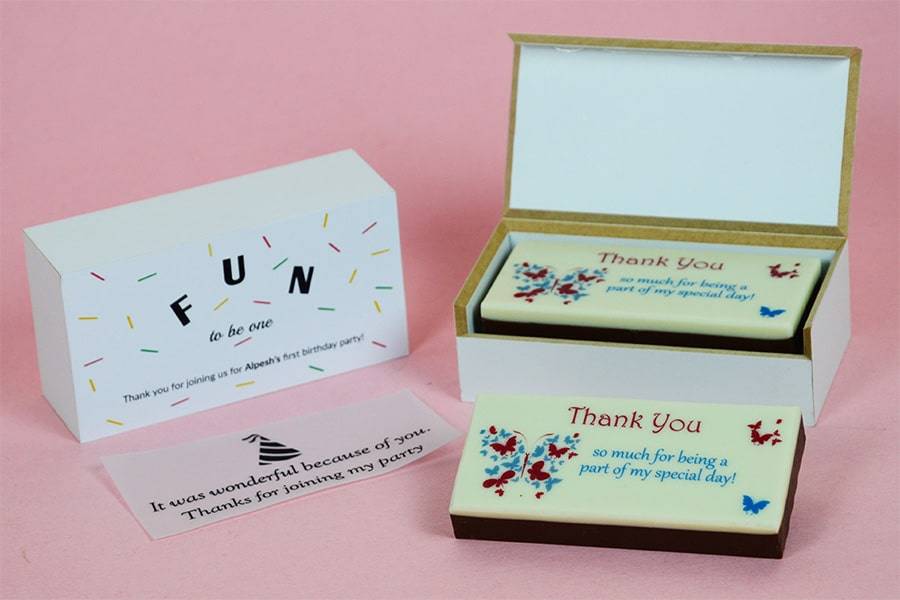 2 Chocolate Box with Printed Chocolate Bar
Box Size(LBH): 100 x 53 x 32 mm
Box Colors: Black | White
Total Weight: 80 gms approx.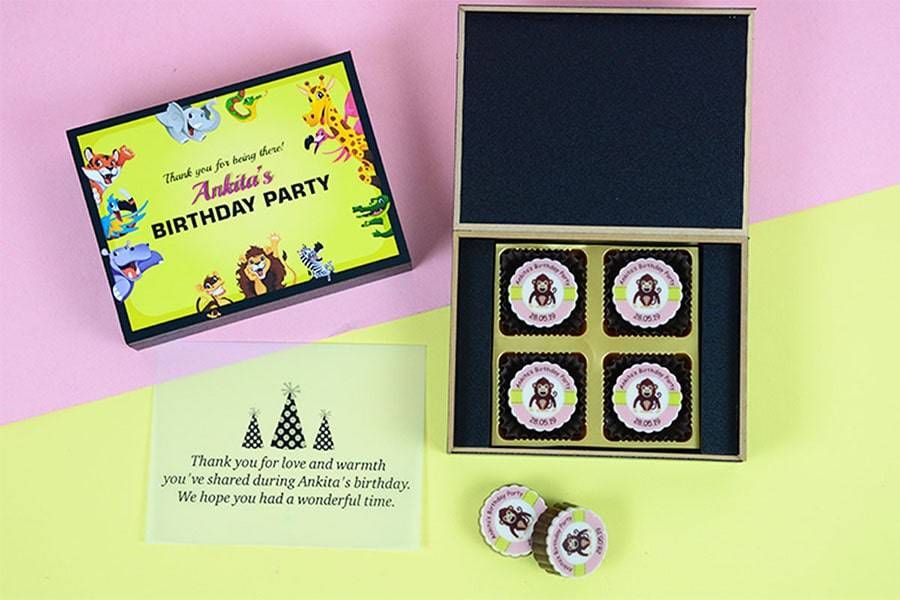 4 Chocolate Box with Printed Chocolates
Box Size(LBH): 132 x 100 x 32 mm
Box Colors: Black | White
Total Weight: 160 gms approx.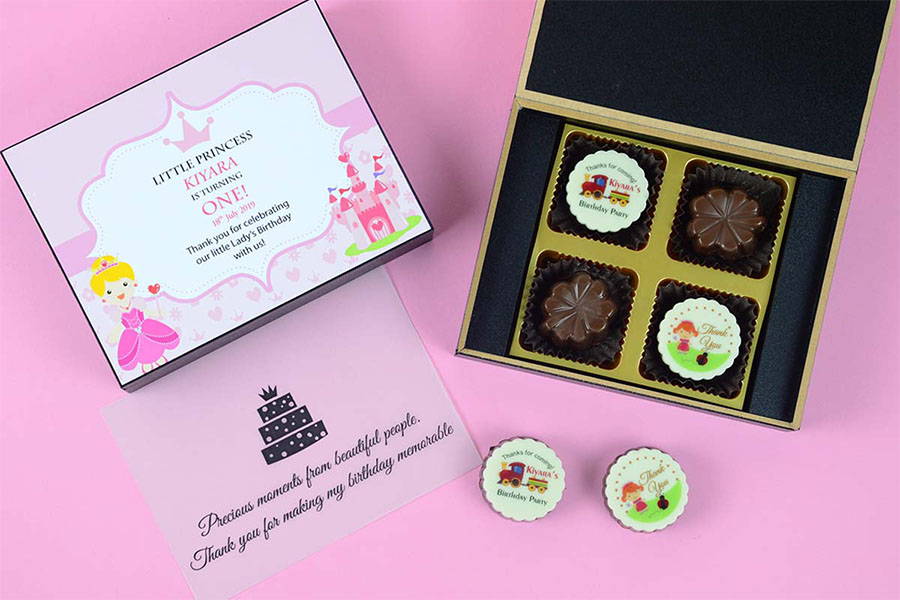 4 Chocolate Box with Alternate Printed Chocolates
Box Size(LBH): 132 x 100 x 32 mm
Box Colors: Black | White
Total Weight: 160 gms approx.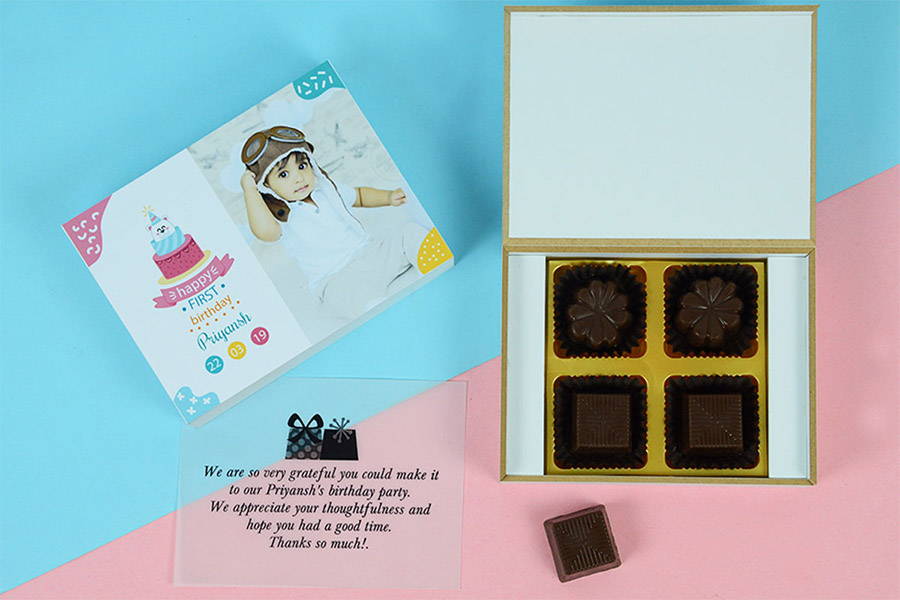 4 Chocolate Box with Assorted Chocolates
Box Size(LBH): 132 x 100 x 32 mm
Box Colors: Black | White
Total Weight: 160 gms approx.


A Dedicated Account Manager

On time delivery, every time. Zero damage guarantee.

Quality Product, Colors on chocolates USFDA Approved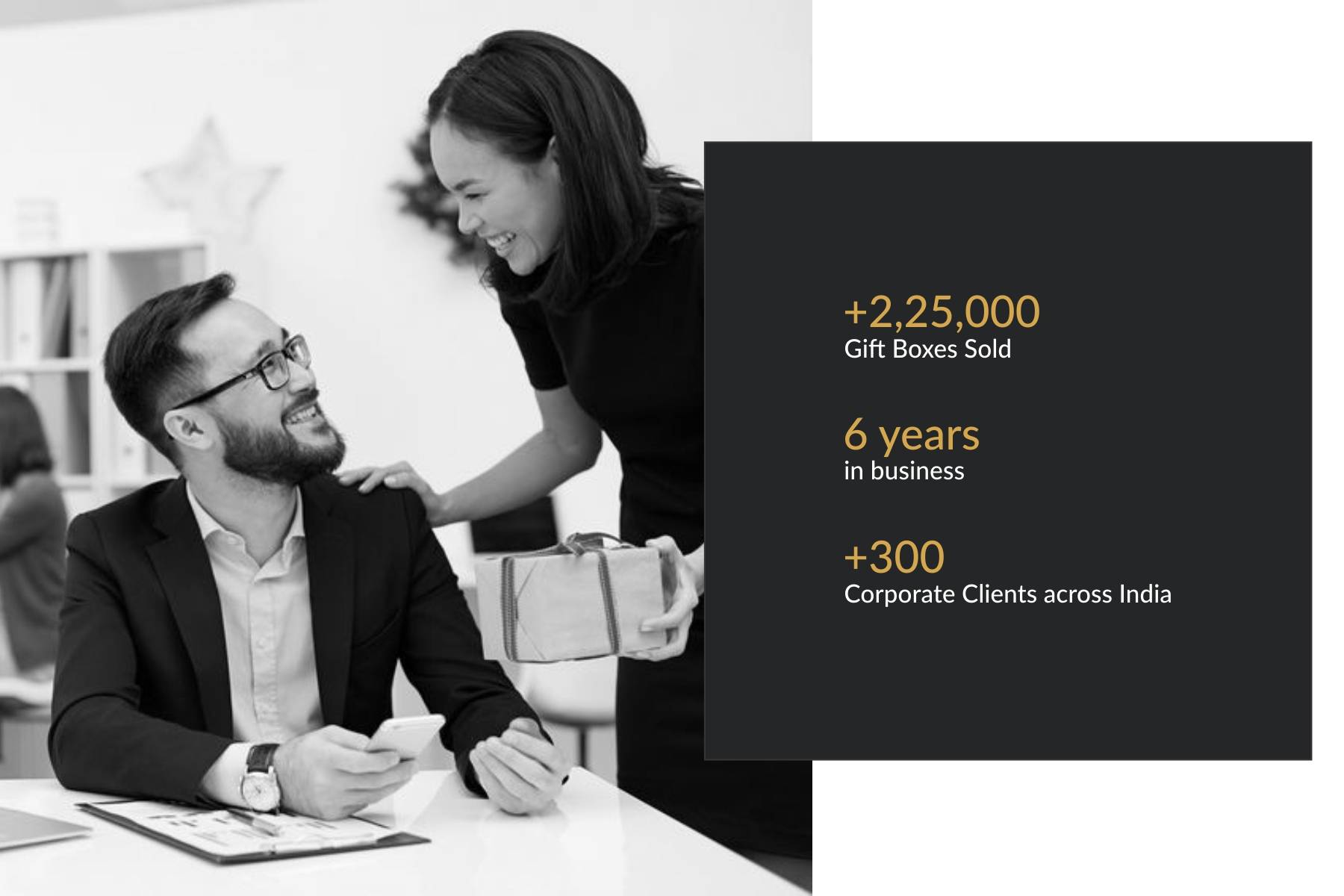 "Dear ChocoCraft, we would like to thank you for suggesting & creating a unique gift box as return gift for our daughter's birthday. The chocolate box was well appreciated by most of our guests for both quality and the creativity. The kids too loved the chocolates inside them. Given another opportunity, we would like to order similar boxes yet again or even recommend the same to our friends and family. Good luck! "
Mr. Saurabh Shankar & Ms. Rakhi Thakur
"Dear ChocoCraft Team, thanks for your prompt response & timely delivery of Chocolate boxes. It was highly appreciated in our Birthday party. Really appreciate you for making my son's birthday return gift so special."
Ms. Rashmi Thakur
"Dear ChocoCraft, Self and my family are so much satisfied on your timely service . We appreciate your way of approach and every movement follow up. Your team guided us well till the package was delivered. Wish you good luck for your future growth"
Ms. Veena Dilip & Mr. Dominic Dilip
"Chocolates were awesome. They were melting in the mouth giving truffle like taste & the print quality on the chocolate & box was of top quality (like HD quality). Thanks for providing these for the memorable moments."
Mr. Nakkul Agarwal
Write to us:
customerservice@chococraft.in
---
Call us:
+91 9821 669 229
---
Want us to get in touch with you?
Thank you! We will get in touch with you shortly.
This field is required
This field is required
This field is required
This field is required
Birthday Return Gifts in India
A birthday celebration would be incomplete without return gifts for all the guests at the party. Birthday return gifts for kids birthdays are especially important for all the little ones.
At ChocoCraft we work with you to create unique return gifts for your birthday party. Our chocolates gifts are ideal for any kind of birthday party. Whether you are looking for return gifts for a first birthday or a 50th birthday party we have the best return gift ideas!
At Chococraft, we give you the option of adding a message to your return gift. Thank your guests with a heartfelt message about how their presence added to the enjoyment of the birthday party. If you are stuck for inspiration, you can go through the various thank you samples we offer.
Print a heartwarming message on the chocolates for a unique approach to return gifting. Apart from a short message, you can even print a cute design or image celebrating the event. At the same time, our chocolates are made from the best possible ingredients, ensuring a delectable taste with every bite.
| | | |
| --- | --- | --- |
| Gift Categories | Gifting Ideas | Our Offerings |
| | | |
| | | |
| | | |
| | | |
Return Gifts for 1st Birthday Party
The arrival of a baby in a family altogether changes the environment in the house. The toddler brings about liveliness and enthusiasm in a house that was otherwise quiet. All round the globe, families wait for the arrival of the new born with great zest and various arrangements are made.  
First birthdays are thus becoming important occasions for the parents and immediate family. And hence a birthday party is no more limited to an in house affair with only closed kin. 1st birthdays have become a great affair. Various themes and ideas are brainstormed for by the parents to find the most appropriate one for their party.
Birthday parties are now held on fancy locations are theme parties or sometimes even outsourced to event management firms for hosting. These also consist of giving return gifts are a form of appreciation for gracing the event and blessing the baby. Right from the theme of the party, the food and the decor everything is done meticulously 1st.
Exchange of gifts is also an important affair. Return gifts for 1st birthday are thus an important affair too. They need to be suitable, memorable and useful to the receivers. 1stBirthday return gifts are special, as its one of the most celebrated birthdays in any person's life. Return gifts for birthday party of 1 year old need to be thought upon.
Chocolates are loved and suitable for gifting people from all age groups. ChocoCraft helps you create unique 1st birthday favors made up of chocolates and custom made to your needs. These favors are so special that the ensure people will cherish them forever. Although a lot of first birthday return gifts ideas are available online, implementing them is not an easy task.
We offer you various customization options in choosing the chocolate box, its design and also the chocolates. You can get various designs and messages upon the chocolates. If you want to make your child's first birthday giveaway memorable, we provide you with a customization option where you can get the photo of the baby printed on the chocolate box.
The best part is all these are a click away. All you need to do is select what you want and leave the rest upon us. We provide shipment in almost all cities in India. You can never go wrong with chocolates.
Customised Birthday Return Gifts
Presented in elegantly crafted boxes, our personalized chocolates make amazing return gifts for birthday occasions. Customize the chocolate pieces with any kind of design and let them show your appreciation for the guests. We offer a range of options to create chocolate boxes that are truly one of a kind.
Nowadays, return gifts are a trend which is gaining popularity day by day. People distribute return gifts as a gesture of appreciation to guests and to thank them for gracing the occasion. Your return gift needs to be creative, innovative and slightly out of the box.
These days, many people are going for customized return gifts. You can make an impression on your guests with creative custom birthday favours. Are you bored of the same old return gifts? Are you out of customised return gift ideas? ChocoCraft brings to you the best customised return gifts.
At ChocoCraft, we create beautiful and exquisite chocolate boxes by pairing delicious chocolates and lovely messages. Our specialty is printed chocolates. We print both photos as well as messages on chocolate. We print on a layer of white chocolate placed over a dark one using edible ink in beautiful colours; you can relish these treats till the last bite!
Every aspect of the chocolate boxes can be customised by you. You yourself choose the design which appears on the cover. We offer several themes and patterns for the same. If you have a theme based party, the cover can reflect your theme. You can even upload a photo to be printed on the cover!
Chocolates inside the box can also be customised by you. You can choose from a variety of configurations such as plain candies, printed ones, or a combination of both. We offer the boxes as two chocolate boxes, four chocolate boxes, or eight chocolate boxes. There is something to suit everyone's pocket; after all, appreciation shouldn't cost you the earth, should it?
Your special thank you message can be printed on a butter paper which will be placed inside the box. We offer several designs and template messages for this as well, and you can even customize your own.
These boxes make excellent customised return gifts for kids as well as adults. All of our products are pure vegetarian and without egg; so you can order them for everyone without hesitating. We use the best quality ingredients in the cleanest of kitchens; your gift box will be delicious, and of top quality as well.
The best part about these custom birthday party favours is that you can order them from the comfort of your home. Just select the designs and configuration, upload a photo if you want one, and you're good to go! Your gift boxes will be delivered to your doorstep within a week.
Birthday parties are a special attraction for kids. It is a time to eat, play and enjoy to their hearts' content. Birthday return gifts are also something every kid looks forward to. These days, a lot of thought and planning goes into planning birthday party favors.
The best kids birthday return gift ideas are those which are interesting, innovative and fun. Remember: kids do not think of practical use or need of the gift! For them, the best birthday return gifts are those that can be enjoyed and had fun with.
Are you out of return gift ideas for kids? Looking for return gift ideas india style? Here are a few tips for you.
Stationery items are great birthday return gifts. These include fancy notebooks, pens, pencils and even paints or water colours. A school pouch with all the essentials (pencil, pen, ruler, eraser, and sharpener) can never go wrong. These days, such items can also be customised. You can have them printed with popular cartoon characters and quotes. You can also have a photo of the birthday boy or girl on them. A great gift to remember your kid's party!
Every child should inculcate the habit of reading, and thus, books are also great return gifts for kids. You can find books for kids of all ages. Get illustrated versions for the young ones, and classics and novels for the older ones. The birthday boy or girl can also write an inspirational message to the receiver, encouraging him to read.
What can be a better return gift than chocolates? Everyone loves chocolate, and kids, the most of them all. Gift boxes from ChocoCraft are a great twist to the classic chocolate. We can create beautiful boxes with the photo of the birthday boy or girl on it. What's more, the box can also be designed so as to suit the theme of your party! We have special designs ready for first birthday parties, superhero themes and cartoon themes. These are unique return gifts which will create memories for lifetime.
If you can't think of anything, gift hampers are the way to go. Throw together some goodies in a box and your gift is ready! This can include small token gifts like action figures, key chains or fridge magnets. And for the added personal touch, add in a box of personalised chocolates from ChocoCraft!
Themed Birthday Parties in India
A kid looks back into time by remembering his/her wonderful celebrations. Birthday parties are something which every child looks forward to the whole year, when he/she can be pampered, gifted, and surprised! As a parent, it is very important to organize a fabulous day for your child, for that is how they shall remember their good happy days and cherish the time spent with family and friends.
 
A child's birthday party needs to maintain a casual and fun environment. With vibrant colors and interactive games, you need to take care of all. One good way to maintain consistency is to choose a theme for the celebration. Birthday cards, gifts, invites, décor, costumes, party supplies, the birthday return gifts, cake, and food- all can abide by it, making it easier for you to not have to mix and match various creative concepts which might not work together.
 
Themed parties in India are pretty popular and almost synonymous with kid's parties. Choosing the right theme is essential and must suit your kid's preferences by all means. Themes can be according to the child's area of interest or hobbies, for example, cars and airplanes for boys or maybe ballet for girls. With that, you must also keep in mind what age would be appropriate for the theme. Say, older kids would appreciate a dance theme party whereas stuffed toys or baby animals would be cute themes for babies and toddlers.
Return Gifts for Themed Parties
For adults, it might not be necessary, but for kid's birthday parties, you have to have an appropriate return gift for all your little guests. It is more exciting when it is a themed celebration and the kids would eagerly wait for the creative gifts they receive, which they can share with their peers. But many times the chosen theme doesn't favor an appropriate return gift idea for the birthday. It may be due to usability, the varied interest of the kids, cost or availability. Therefore it is upon us, ChocoCraft, to provide you with the best return gifts for the birthday this year, and many, many more to come.
 
"There is still no cure for the common birthday." John Glenn
 
ButChocoCraft provide you with the best of chocolates, crafted with all the love you need, to prepare unique birthday return gifts for kids. We offer personalized chocolates decorated in custom-made boxes, made specific to the occasion and theme of the celebration. Chocolates never end up in excess and are the most favored gifts for children. But what makes our chocolate gift boxes stand out from an ordinary box from retail is our customization process, touching upon every detail of the birthday return gifts.
Firstly, select the ideal size of the chocolate gift box you seek for your guests- available in 2, 4, 6, 9, and 12 size boxes. Customize the chocolates to be presented inside, choosing the flavor, filling, and shape. Our special offerings are printed chocolates with images and texts. You can personalize each gift box with the intended guest's name printed on the chocolate. Also add a picture of the birthday boy/girl, the day of celebration or personalized thank you notes for joining the party. All the color used on the chocolates are not only vibrant and appropriate for kid's joyous expression, they are absolutely safe and edible, meeting all international standards.
Decorate the custom-made wooden box in which the chocolates come elegantly packaged. Personalize with your preferred images, messages, designs, logos and prints. These are especially well-suited for themed birthday parties. You may prepare Jungle theme return gifts or Princess Theme return gifts, very appropriate as return gifts for boys and return gifts for girls respectively.
All our offerings are freshly prepared as and when we receive an order from you, with the choicest of ingredients and matchless craftsmanship. All the party return gifts shall be developed completely as per your preferences which are given to us online.
And if you were looking for return gifts in India and just could not find your selections with the required accessibility, worry not! ChocoCraft delivers its services to all major cities in India- be it Delhi, Bangalore, Hyderabad, Chennai, Jaipur, Mumbai or Kolkata. Simply visit our website and browse through the offerings and discover the best return gifts for kids available in India online!
It is your young man's special day and he is looking for just the right amount of his enthusiasm and spirit added to the celebrations. Young boys are curious, adventurous and extremely playful. They get captured by the word of science-fiction and heavy jobs. They look up to strong characters whom they aspire to become like some day. Your return gifts for the birthday party can be developed very nicely upon these concepts and themes too.
Themes like Pirates, Monsters, and Dinosaurs are ideal for little boys. Older kids aged 8 and above might more be interested in Sports – Football, Cricket etc. They might enjoy a celebration on the courtyard preceded with a friendly match or two, or fun themed games included in the party. The return gifts for kids may include chocolates printed with jerseys, game balls and slogans on the box make wonder themed return gift bags.
For budding tech-freaks and engineers, themes like Nautical, Rocket, Spaceship, and Vehicles – Cars or Construction truck could be very well incorporated, with party supplies made to these themes, and trips to the local fire station or planetarium. You can altogether drop the games in the party and make trips to places appropriate to the theme.
A very cute idea for little toddlers is Cowboy and Moustaches theme. You can have a fancy dress competition held too. We offer chocolates shaped like mustaches, cowboy hats, and many more, which add cute details to the return gifts and justify the chosen theme. These suggestions are great to prepare return gifts for the birthday party of 5-year-olds.
It might not be very hard to believe if we said every strong independent working woman today once ever wished to become a Princess when younger. Fairytales and fantasies, pinks and unicorns, all fascinated these ladies, and till today some do have a soft corner in their memories for them.
Fairy themes and Disney princesses are good themes for a wide range of ages, appropriately till the eleventh birthday. Girls can come in dresses and gowns from the movies like Cinderella, Beauty & the Beast, The Little Mermaid and Rapunzel. You can prepare your return gifts with the name Disney movie themes, and gift the winning girl the respective gift for that particular movie game.
"All your dreams can come true if you have the courage to pursue them." Walt Disney
Dreamy elements like Lady Bird, Swan, Ballerina, and Strawberry themes are easier to pull off with not so elaborate decorations, activities, and custom made birthday cake needed. Also, many girls might not be interested in fancy dressing, or might not find "just the right dress." Girls! Themes like Unicorn, Butterfly etc. are good for short preparation times too.
So pre-teens, aged 10 and above are now having boy-girl parties, and you don't know how to make it work for the complete audiences? Well, there isn't anything to worry. Gender-neutral themes are much simpler than gender-specific themes. And with the kids a bit older, you can keep the tone bit down and they would only appreciate it more.
Under the sea, Pool Bash, Emoji, Disco / Dance Party, Hot Air Balloon, Arabian Nights, and Hollywood are great for kids almost touching their teenage. You can take them swimming, to a dance arcade, or for a movie too.
Kids: they dance before they learn there is anything that isn't music.  
  - William Stafford
 
For kids a couple of years, younger stick to Circus, Carnival, Jungle theme or Wild theme, Art & Craft and Superhero concepts. You can simply take them to a circus or Adventure Park, or a creative art workshop. Jungle themed designs and animals printed on the wooden chocolate boxes make wonderful keepsakes too.
Sleepovers and Pajama Parties are a safe option for all ages.
Cupcake, Candyland, Rainbow and Polka Dots, Cute Baby Animal themes like Penguin, Owl, Kitten, Elephant, and Toy world themes with varied Stuffed toys, Teddy Bear and Bunny Rabbit are wonderful themes for toddlers- cute, cheerful, and simplified. While preparing your return gift ideas for 1st birthday, you can shape you customized chocolates in shapes of the stuffed animals, balloons, or with polka dots too. First birthday return gifts are always made cuter with more animals stuffed inside!
So what are you waiting for? Prepare your own customized return gifts online, made possible only by ChocoCraft!
Return Gifts for Adult Birthday Party
All birthdays are special whether it is the birthday of an adult or a child. Birthday is the day when we show how glad we are to have the person among us. Birthdays are supposed to be celebrated with delight and thrill.
But adults refrain from celebrating their birthday, or they don't make it as grand as a child's birthday. Birthdays should always be celebrated with warmth, and even the guests should be thanked for being there. One should also look at bday party return gift ideas while organizing the party so that everyone goes home happy.
Bday return gift ideas should be unique and one of kind, so that, it makes the guests feel the love you have for them. Return gifts show how much you appreciate people, and how much their presence means to you. Best return gifts for adults are the ones which are personal and give a homely feel. Anyone can give a store bought gift but these gifts seem unattached. You never want to make your guests feel unworthy. Best gift in such cases is birthday favors for adults.
Chococraft's chocolates are the best birthday party favor idea for adults. Chococraft makes the perfect birthday return gifts which everyone would love to have. Chococraft chocolates are one of kind, and it makes them the best return gifts for friends. People love to receive chocolates, and when these chocolates are from Chococraft's, then it can make anyone's day.
There is nothing ordinary about Chococraft's chocolates. Chococraft makes chocolates from the finest raw materials, and they produce only the perfect finished product. Other than this, you can completely customize the chocolates. Yes! You heard it right. You can personalize the chocolates any way you want.
You can have the chocolates in any shape or size, and you can even print whichever quotes you want. You can have messages such as "Thank you" on the chocolates, and the ink used on the chocolates is 100% safe. You can also have pictures printed on the chocolates. It certainly makes Chococraft best for birthday party favors for adults.
You can personalize the wooden chocolate box, and you can have pictures or quotes on the box. Always remember to send a thank you message along with the gift. The best part of Chococraft is that you can get everything done online! Yes, get your birthday return gift ideas for adults anywhere in India, and chocolates will reach your home within 2-3 days.  
Birthday Party Return Gifts in India
Birthday celebrations are becoming grander in India. Everyone wants to throw a big birthday party for their loved ones to show how much their presence means. With birthday parties, return gifts are also needed. You always want to make the guests feel welcome, and return gifts makes sure that everyone goes home with a smile. Whether it is adult or a baby's birthday, keep return gifts ideas ready. Yes, return gifts are also given in a child's birthday so you need to plan the gifts too.
Chococraft's chocolates are the best return gifts in India. With Chococraft, you can make a unique gift just for your guests. Your gift would be one of a kind and precious. Chococraft's chocolates can be completely personalized which will make your gift unique and adorable.
Chococraft's chocolates are the perfect birthday return gift ideas for family. On sweet chocolates, you can write your message which will definitely make your loved one's heart swell with love and admiration. You can even select the fillings on the chocolates so that you can have chocolates according to the taste of your family and friends.
You don't have to search for birthday party return gift ideas India! Chococraft has it all fixed for you. With Chococraft, you can customize the chocolates any way you like. You can have quotes or any picture printed on the chocolates. The colors used on the chocolates are 100% safe to consume. If you have a party theme, then you can incorporate them on the chocolates.
Not only this, you can also customize the chocolate box. You can mention the date, time, and quotes, or can have any picture on the chocolate box. Your party theme can also be incorporated into the wooden chocolate box.
The best part about Chococraft is that you can order your chocolates online! Yes, you can have these delicious chocolates delivered to your home without any hassle. You don't have to hop from shop to shop anymore. Chococraft delivers to all majors locations in India.
So you can have birthday party return gifts in Bangalore, birthday party return gifts in Mumbai, and get this perfect birthday return gift idea in Chennai without any fuss.
Chococraft partners with Blue dart and they deliver to most locations in India. They deliver within 1-2 days in major cities, it means, you can get the best birthday return gifts in Bangalore, Chennai, Mumbai, and Delhi in just 1-2 days.