Wedding Invitations - How to Order
---
Email Example:
Dear ChocoCraft Team,
I have placed an order for 40 boxes of Wedding Invitation Gifts, order number #2038. Please find below the details for the same:
Category: Wedding Invitation Gifts
Box Size: 12 chocolate box -All Printed Chocolates
Box Design: 309B02
Raghav & Sonam
Date: 10.06.2019
Chocolates: 309C25 in top row / 309C02 in middle row / 309C17 in bottom row
Print on Card: Yes
Invitation Wording:
Late Shantilal Harilal Patel &
Gangaswaroop Sharmishtaben Shantilal Patel
Request your presence at the marriage ceremony uniting
their grandson
Raghav
(Son of Mr. & Mrs. Kamlesh & Daskha Patel )
with
Sonam
(Daughter of Mr. & Mrs. Dilip and Bharti Shah)

On Sunday 28th June 2019
Baraat.......................1 pm
Hasta Melap..........2 pm

The Mahajan House
15th Main Road, Jayanagar, Bangalore
Please check the details and send us the graphical version.
Thank you,
Regards
Swati Sarawogi
Mob no : 96503 24035
---
Once we get the order details we will get in touch with you and send you the graphical version of your selection. You can see what the box and the chocolates are going to look like. You can also see the invitation card and make changes or corrections. We will be showing you the product in the format given below: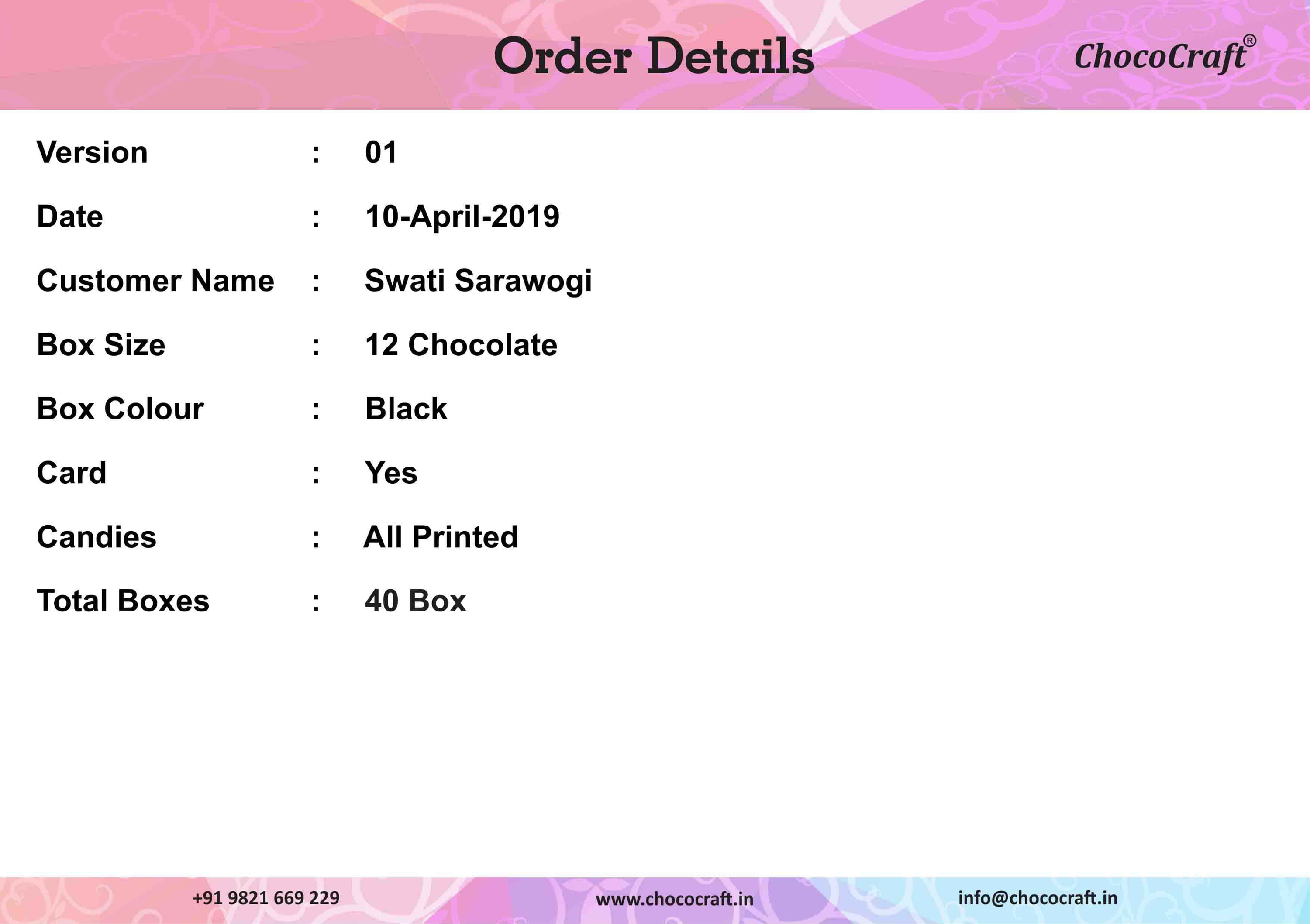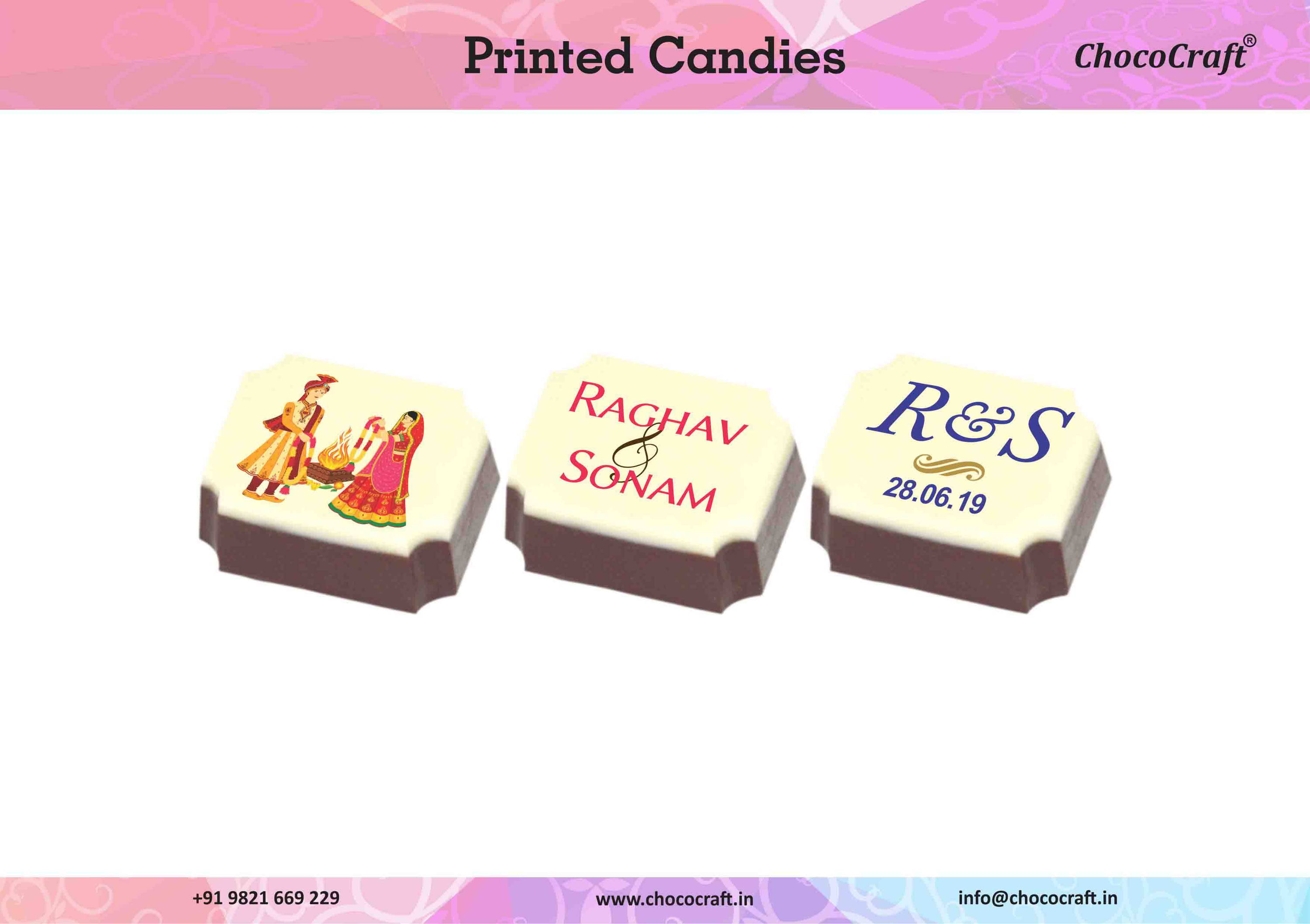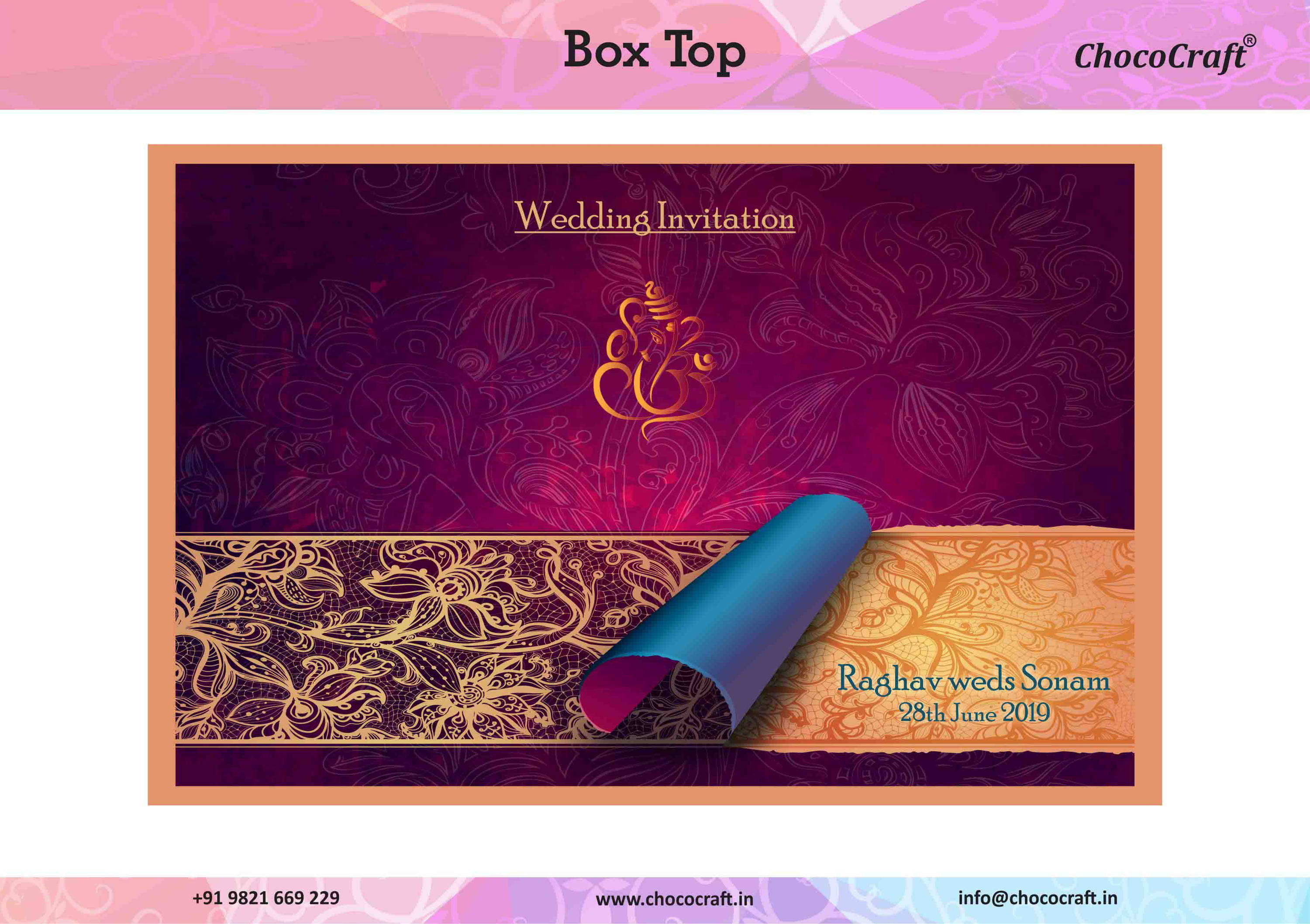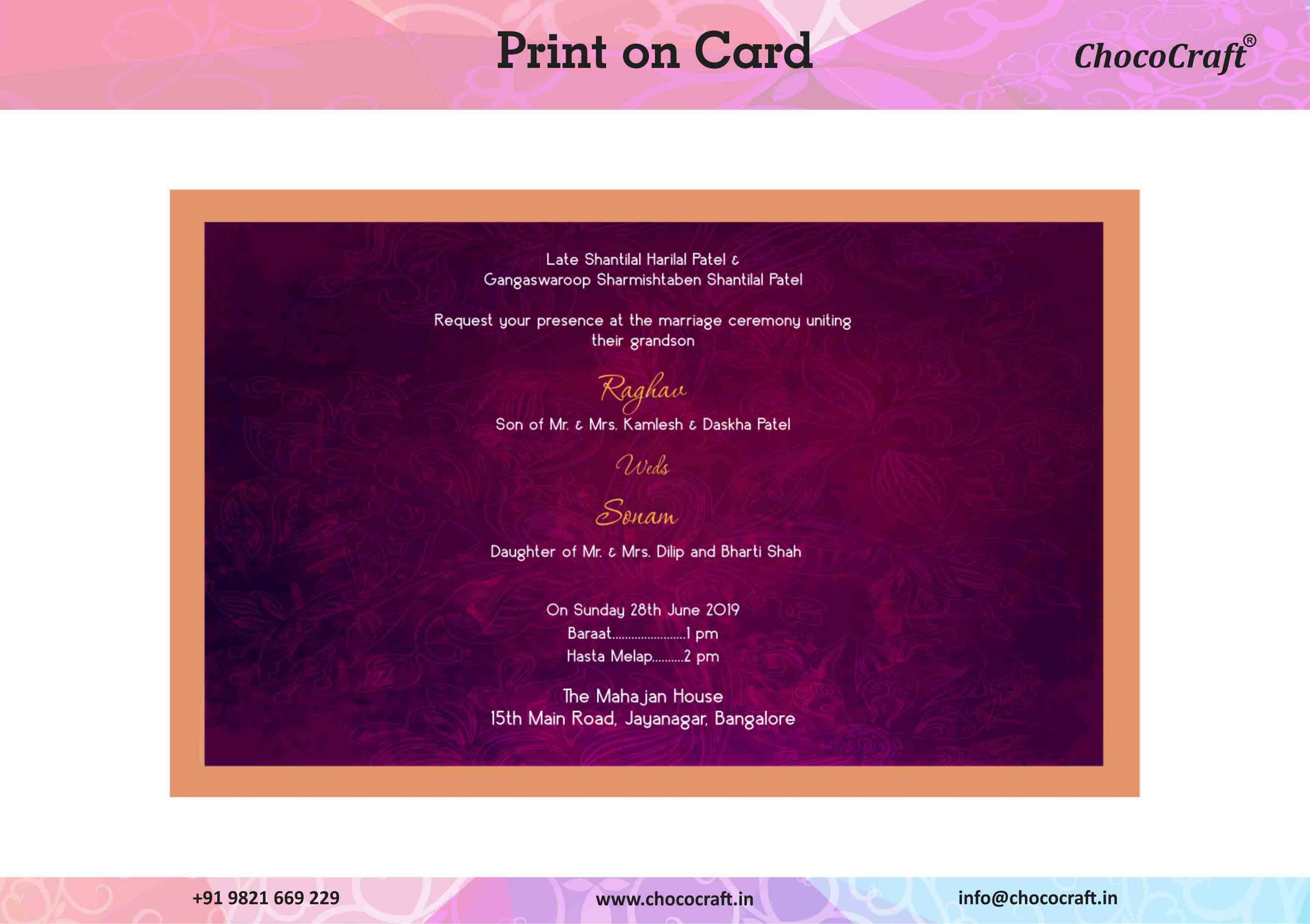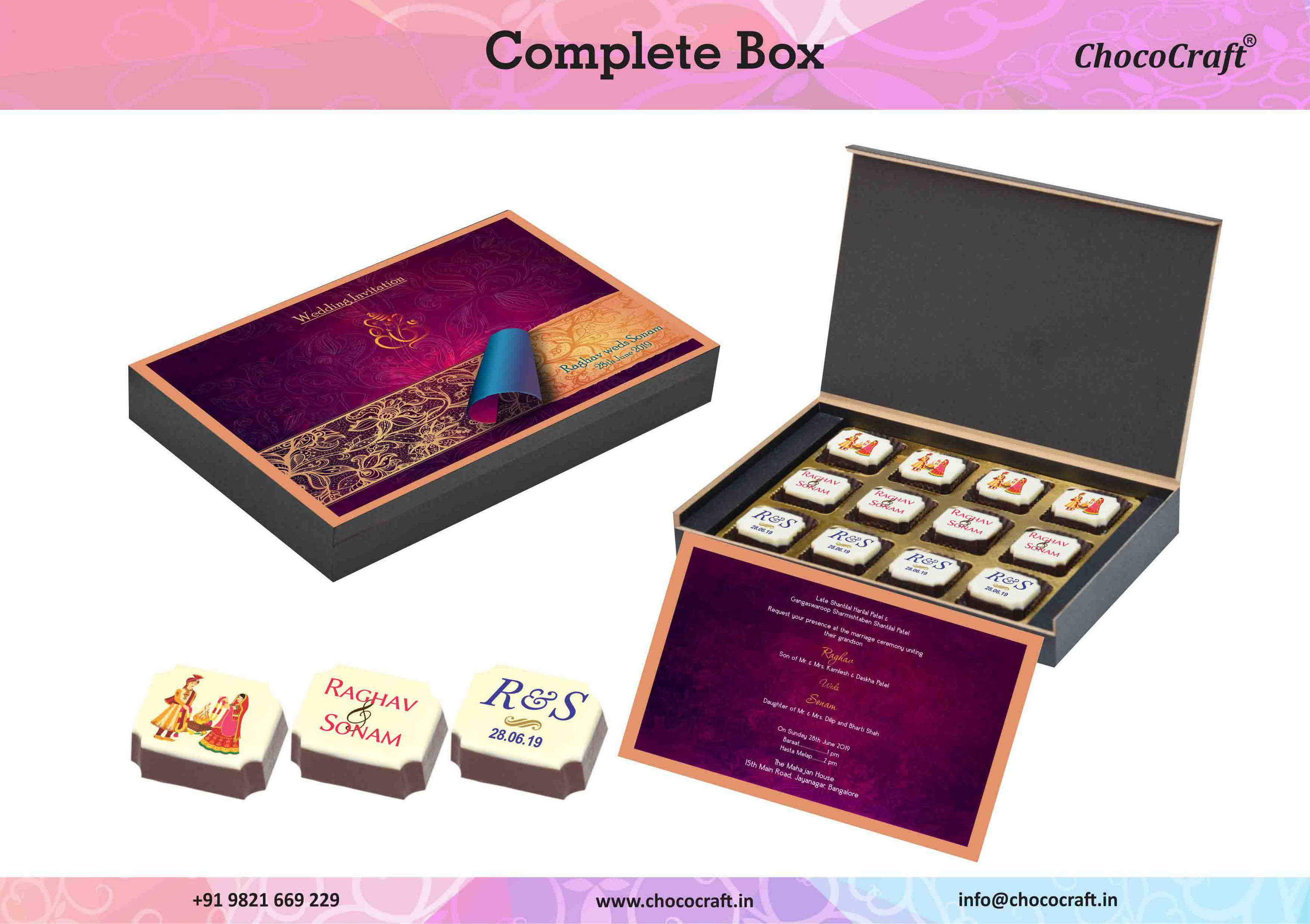 We would need a formal "Approval" from you on the final design before we start the production.
Once the design is approved, we will produce & ship the boxes to you.
Once the boxes are shipped, we shall provide you the complete details of shipment so that you can track it.
We look forward to the feedback once you receive the boxes!