Corporate Gifts - 9 Chocolate Box
Corporate Gifting is a major part of your business. It is letting your client know that they are important to you and you would like to have their continued patronage. Festivals are a great time to give out gifts to your clients. Diwali, Christmas etc. make for a good time to hand out the gifts and convey your best wishes. We provide an exciting range of custom made chocolates that can be given to your business associates and employees as well. We are the pioneer in the concept of printed chocolates which make for unique and innovative gifts to be given to your clients and employees.


Step 1 - Select Configuration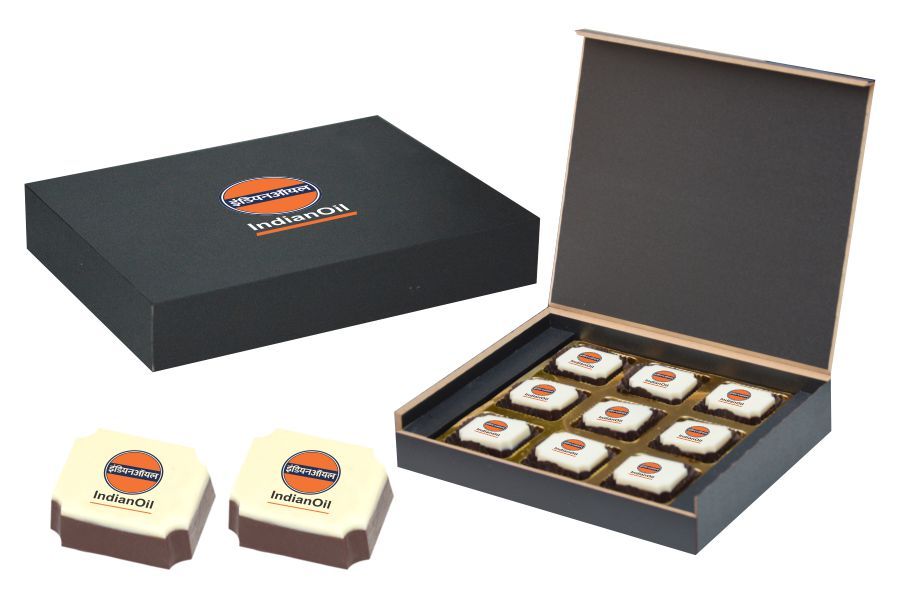 All Printed Candies, Wooden Box with your logo, Message on Butter Paper.

5 Printed & 4 Assorted Candies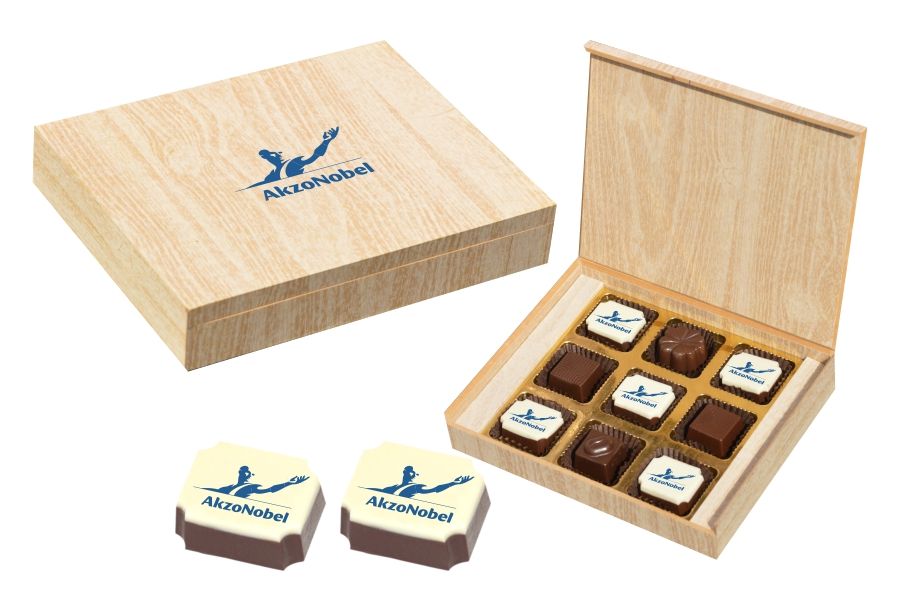 Alternate Printed Candies, Wooden Box with your logo, Message on Butter Paper.

1 Printed & 8 Assorted Candies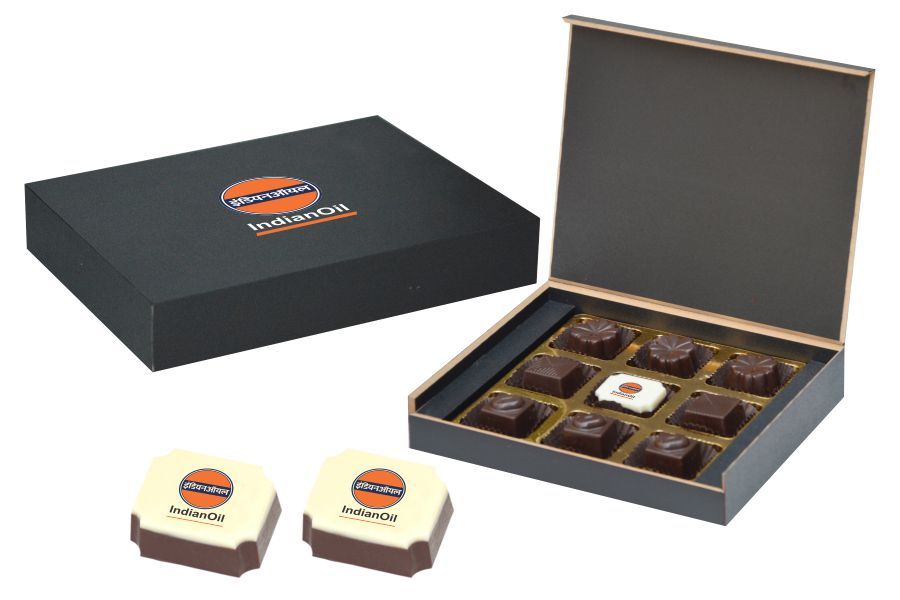 Middle Printed Candies, Wooden Box with your logo, Message on Butter Paper.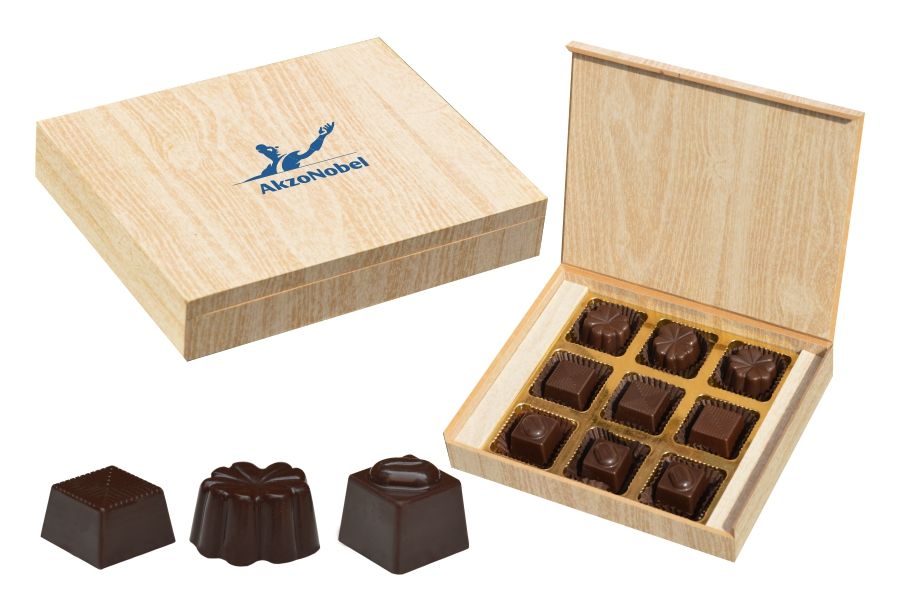 Assorted Candies, Wooden Box with your logo, Message on Butter Paper.


Corporate gifts will enhance your business relationship and help to form a mutual trust and understanding with your clients. Festivals are a great time to give out gifts to your clients. Diwali, Christmas etc make for a good time to hand out the gifts and convey your best wishes. Corporate gifts in India are usually restricted to sweets or souvenirs during the festive season. Giving sweets as corporate gifts is a good idea but the traditional gifts have been done to death and you should look at new and different ideas that will make your corporate gifts stand apart.
Our exclusive 9 chocolate box will do just that. We have designed these beautiful 9 chocolate box that is one of the best corporate gifts in India. This 9 chocolate box has the option of all printed, all assorted and a mix of printed and assorted candies that you can choose from. Custom made chocolates with your company logo and wishes printed on a chocolate bar will surely earn you the distinction of being unique.
All our chocolate boxes can be delivered across India so you do not have to worry about your clients that are based out of your city. Your corporate clients will love this effort and appreciate your idea. Corporate gifts in India hold a huge value and helps to strengthen the bond with your business partners as well as associates. ChocoCraft ensures that only quality chocolates are made for your esteemed clients and packaged in beautifully designed chocolate boxes.

---
Occasions we make corporate gifts for
---
---


---
Corporate Gifts - 9 chocolate box by Chococraft
---

Business gifts definition and about business gifts
A business gift or a corporate gift is a gift given to show how much you appreciate a person or a business. A corporate gift is, mostly, given in recognition of a business or a person. Business gifts for clients should always be given with a lot of caution and on proper time. One should always look for the perfect timing to give away gifts.
Before buying corporate gifts always decide the purpose of giving the gift. Always buy gifts according to the intention of the gift. If the gift is for promotional purposes, then look for promotional business gifts. Promotional products are those which carry the logo of the company and name of the company. These gifts are a perfect business gift idea for clients; you not only please a client, but you also promote your company.
An ideal corporate branding strategy always includes gifting branding promotional items. Corporate branding items could be made by personalizing corporate gifts. To make personalized business gifts, you just have to select any business gift (i.e. glass tumblers), and add your company logo to items or write personal messages on them.
You can also use corporate gifting for creating better public relation. Words are easily forgotten, but gifts are not. If your aim is to create better public relations, then be sure to gift something with a personalized message. In these cases, customized gifts are given. Customized gifts can send your feelings to people more effectively, than any expensive gift.
Corporate gifts and incentives can also be given to increase the speed of business. Business gift for employees tend to make employees feel happy about their jobs, and they start working harder. Gifts to employees also convey how important they are to the business. Corporate gift ideas for employees should be something which is able to convey, how much the company cherishes them. This would lead to fast growth of business and, eventually, the company.
A business gift is, also, given to remind customers of the company. If you have a regular customer or it is a festive season, then do give gifts or special offers to your customers. By doing this, customers will remember you, and they will come to you again.
Chocolate is the best business gift idea. You can even customize these business gifts chocolates. Print your company logo on these chocolates or any personal message that would remind customers of your company.

Corporate Gifts - 9 Chocolate Box by Chococraft
Gift Categories
Gifting Ideas
Our Speciality
Business gifts for clients
Beautiful Business gifts for clients
Promotional business gifts
Doorstep delivery across India
Business gift idea for clients
Unique Ideas with a personalised message
Design / Make your own Business gifts for clients / favors
Products in a wide price range
Personalizing corporate gifts

Business gift for clients
Anyone in business understands the need to stay among the good books of the client. The happiness of client is directly proportional to your business growth. And to make your client happy good, service is not enough, you need to be thoughtful enough, and also give them gifts on occasions. But these gifts need to be thoughtful and not too expensive. Expensive gifts could imply as if you are bribing them which is not something healthy for business relations.
Choosing a gift for a client is tricky. Special attention should be given to, both, the gift and delivery time of the gift. Wrong timing of the gift could lead to misunderstanding and eventually to bad relationships.
Business thank you and anniversary gifts are acceptable as well as gifts given on special occasions. Business corporate gifts show that you really care about your clients and, therefore, you need to be really careful while giving your gifts.
Find more about your client and gift them accordingly. If your client is a collector, then gift them something to add to their collection. Jewelry is a perfect business gift for women, and if your client is a dog lover, then an accessory for their dog would make them pleased. Key is to always remain thoughtful and gift something that won't look like bribery.

Customized Business gifts
Customized corporate gifts are best to show how much you care about a client. Customized gifts have a personal touch which shows how much thought and time you have spent on the gift, and how much you care about your clients. It is the thought that matters and your client would appreciate the thought and time you have put into the gift.
Customized corporate gifts are also the perfect marketing products for any business. They represent your company and whoever will see them will come to know about your company. With your company name and logo on the gift, personalized business gifts are the best way to promote your company.
The business personalized gift needs to be something that will show your feelings for the customer, and as well as promote your brand. For example, you can gift a copper mug with your company name on it. This will be appreciated by your client, and your company will also get advertised through it.
Diaries, glasses, and mugs are some good examples of personalized promotional items. Some companies have a separate budget for advertising merchandise. Personalized gifts are always within the budget and, hence, are the perfect gift.  

Business gifts in India
Business gifts in India are generally exchanged during dinners or festivals. Business demands a lot of dinners and parties together, and Indians considers giving gifts a sign of appreciation. Exchanging gifts are customary during festive seasons.
One of such festival is Diwali when a large number of gifts are given or incentives are given to employees. Business Diwali gifts are mostly sweets or jewelry. Diwali is considered festival of lights, and it signifies prevailing of good against the evil. So the gifts are given importance during Diwali.
Indians don't consider gifting way too expensive gifts as it mostly leads to social obligations. So a box of chocolate or dry fruits is considered perfect corporate Diwali gift idea. Corporate gifts items with remotely average price are ideal so that your gift doesn't look too cheap or too expensive. Expensive gifts tend to look more like as if you are buying their favor.
Gifting sculptures which are related to Hindu gods are the ideal corporate gift idea in India as most Indians have strong religious beliefs. Research a bit about the client before giving a gift because India is full of diversity and something that is auspicious for one might be offensive to other.
  Premium corporate gifts in India are mostly given during meetings or if they have a guest over. During festive seasons gifts are given have much more meaning and personalized gifts are considered special. Personalized corporate gifts for employees could be anything from stationary items to a holiday on a beach. Business holiday gifts are important as holidays are celebrated with flourish in India.
Giving chocolate is the perfect business gift idea. Chocolates are ideal marketing giveaway items as it is not too expensive, and it could easily become personalized gift for customers by just giving them on a personalized chocolate box.

Business gifts idea
 Business gifts should be given considering everything you know about the person including his/her moral and religious beliefs. Without having knowledge of this could easily lead to misunderstanding and eventually to bad relations. Make sure to know more about the recipient before buying them a gift.
Regardless, there are some safe corporate gift items that you should go with it. For example, glass tumblers are a gift that can be easily personalized and also gives a homely feel. Vases are also liked by everyone, and giving them to a women employee would be more fitting.
If the recipient likes writing, then gift them a nice pen. This gift would be liked by the recipient as you have put a lot of thought into the gift. Everyone in the business field knows the importance of time and gifting a watch is always considered good, it shows that you care about time.
You can make any gift into a business promotional gift, just by printing your company logo on the gift and adding some personal message. Giving corporate gift is the perfect way to promote a brand. People will come to know about the company through the gifts you give.

Business Gift Items with logo
The perfect way to promote your brand is to print the logo of the company on the gift. You can also make the gift personalized by adding some message or quotes. Be it glasses, mugs or even chocolates! You can make any corporate items list to a promotional one.
But you can't find these business gifts online, and this could lead to a lot of unnecessary hassle. To get the gifts printed after buying the gift is a waste of time and not to mention money.
But with Chococraft you can get printed chocolates online! Chococraft 9 chocolate box contains 9 chocolate pieces which you could print with whatever logo or any message you want to. The colors used for printing are USFDA approved and is 100% edible and safe to eat.
With Chococraft you can even customize the chocolate box. Yes, you can personalize it any way you want. Print the logo of your company on the box along with your messages which would be loved by the recipient.
Chococraft partners with the Blue Dart for shipping and they deliver in most cities. They reach metro cities in about 1-2 days. So you can get your perfect business gifts (in Delhi, Mumbai, Chennai, and Bangalore) as fast as possible.

For more information, please get in touch with us.