India is known throughout the world for its myriad of festivals encompassing all religions and faiths. But one of the major festivals celebrated pan-Indian with much enthusiasm is the festival of lights, Diwali. Diwali is also a unique festival as it is celebrated by not just Hindus, but other religions as well. For most businesses and companies it is an important occasion and they give Diwali gifts to their employees. It is equally important to gift Diwali goodies and presents to clients to thank them for their business. Let's explore the significance of Diwali and why it is an important occasion for corporations.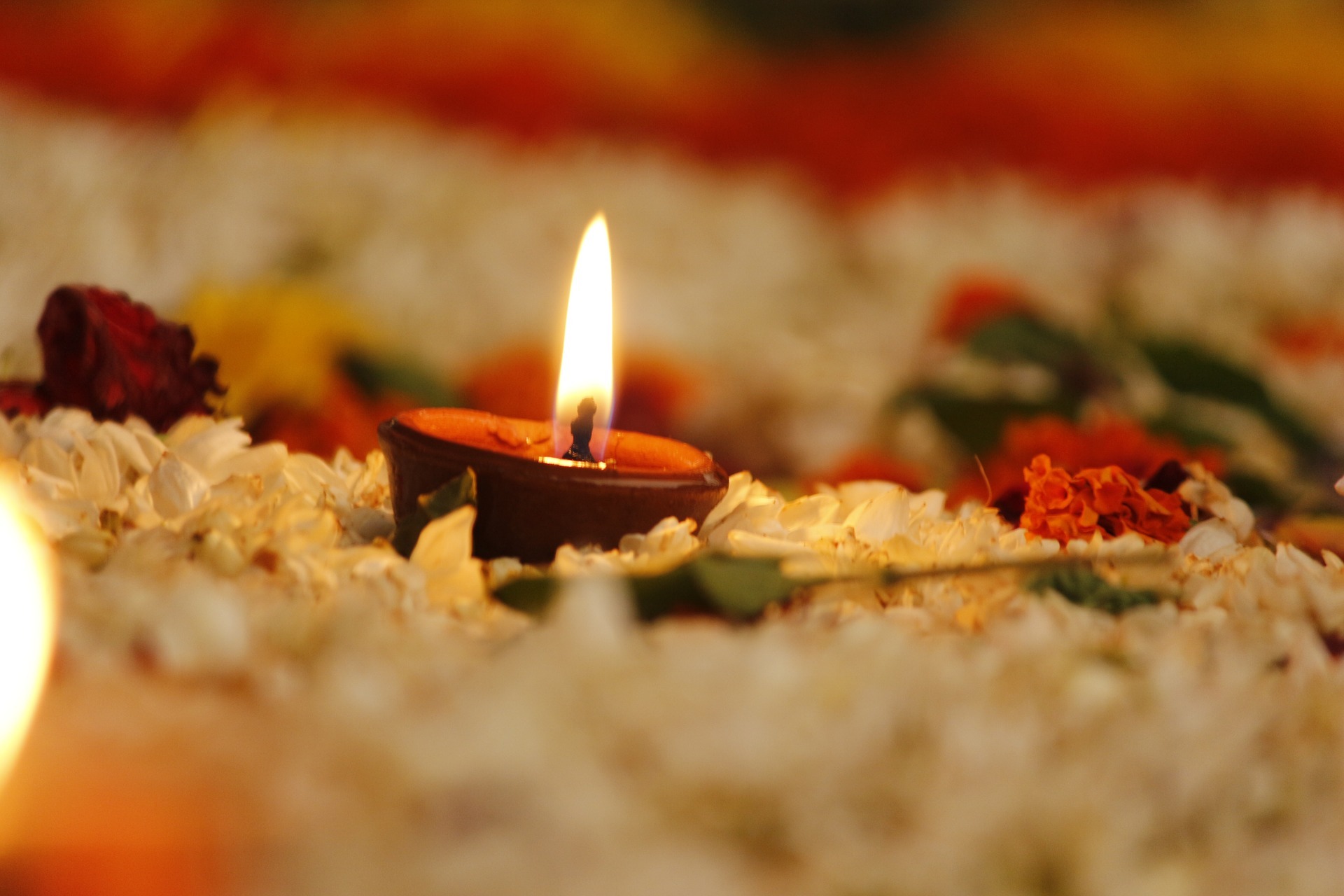 Diwali or Deepavali is one the biggest festivals celebrated in the Indian subcontinent. Everyone in the country looks forward to Diwali. The word 'Deepavali' itself means a chain of lights. It spiritually signifies the triumph of light over darkness and good over evil. During this festival, people light up their homes, temples, and offices with earthen lamps, electric lights, and beautiful decorative artwork. Diwali celebrations are not restricted to a single day. The entire celebration lasts over five days during which people meet and greet close friends and associates, exchange gifts and eat delicious sweets and food. Two days before Diwali, Dhanteras is celebrated where the God of Ayurveda, Dhanvantri is prayed to for good health and a long life. Following Dhanteras, Narak Chaturdashi is celebrated, also called 'Choti Diwali' in the common tongue. Then comes the big day of Diwali.
Diwali time also calls for cleansing and deep-cleaning of houses and offices to welcome the Goddess Lakshmi and Lord Ganesha with splendor. On the day of Diwali, people dress up in their best attires, light up their houses in bright lights and colors, burst firecrackers and meet family and friends. At night, they perform a Puja ritual to Goddess Lakshmi, the deity of fertility and wealth, Lord Ganesha, the remover of obstacles and lord of new beginnings, and Goddess Saraswati, the deity of music, literature, and learning. The day after Diwali, Padva is celebrated, dedicated to love and mutual devotion between the wife and husband. On the last day of the festivities, Bhai Dooj celebrates the sister-brother loving relationship and emphasizes the love and lifelong bond between siblings.
Diwali is a multi-religious festival in the respect that it is not just a special day for Hindus. On this day, Jains celebrate to mark the attainment of moksha by Lord Mahavira. For Sikhs, it holds a special place as they celebrate the 'Bandi Chhor Divas', the day Guru Hargobind was released from a Mughal prison.
Most of the Diwali gifts are generic and related to simple store-bought sweets. So why not gift something that is special to the receiver who wouldn't want to pass it along. Using Chococraft, you can make personalized gifts, with personalized boxes and chocolates.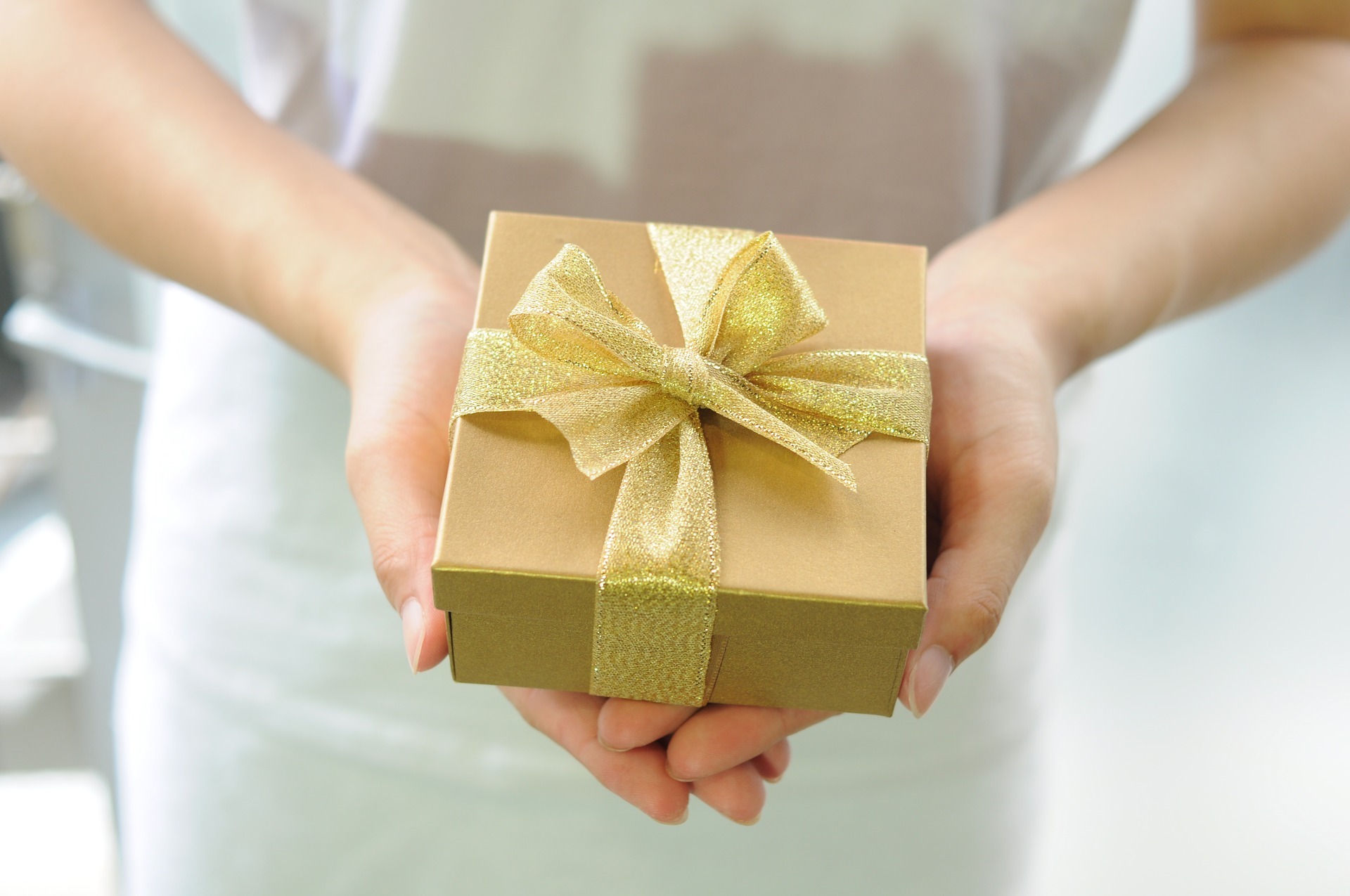 Why gift to clients and employees?
We all have grown up seeing Diwali as one big celebration party where family and friends from all over come together in one place to celebrate it together. It has always been a festival of sharing. And sharing involves gifting your loved ones gifts. Be it a shirt, a kurta, a box of sweets, dry fruits, flowers, the list goes on. The festival is all about gifting each other. But why should this joy of sharing on this auspicious festival be limited to friends and family? How great it would if the workplace where we spend the majority of our awake time can also be a part of this festival. Corporate Diwali gifting is a traditional method of strengthening corporate bonds.
It also serves as a great ice-breaker with your prospective clients. It would add the dimension of informality and they will appreciate you remembering them on Diwali. It is a way of showing to your clients how much they matter to you. Once you have your client thanking you, think about how this is going to be make conducting business with them easier. And who knows, that the client that you have been chasing for weeks and months now remembers you because of the sweets and candies that you gifted them for Diwali. This will keep you apart from their other partners who have just ended up being limited to a visiting card for your clients. Giving goodies on Diwali can serve as that differentiator that you always needed. Gifting will also provide an avenue to show your creativity and presence of mind to your clients, these two virtues are utmost important in conducting business. Most companies derive great benefits from a corporate gifting policy.
But we shouldn't limit ourselves in gifting on Diwali just to our clients, we should also do the same with our employees. Employees are the most integral part of your company, they are the ones who have taken your company where it is now. They have been with us through the thicks and thins and have contributed to our growth with all their perseverance. It is utmost important to tell them how grateful you are for their contribution. Take this great opportunity to tell them that you value their contribution with all your heart. There has always been a culture in our country where employers give bonuses and gifts to their employees.
Choosing the right gift for employees is very important. Growing up, we have seen our parents get delighted in receiving gifts from their office. And employers should not let this opportunity go away for their own employees to love them. Understanding the importance of Diwali is about empathizing with them. Go ahead and be a part of their celebration. Decorate the office with string lights, hold a rangoli making competition, have a potluck in office- there are loads of ways to lighten up the office. Use this occasion to gift your employees and quadruple their joy for Diwali. Give your employees a reason to love their company and brag to their friends about how much their company pampers them.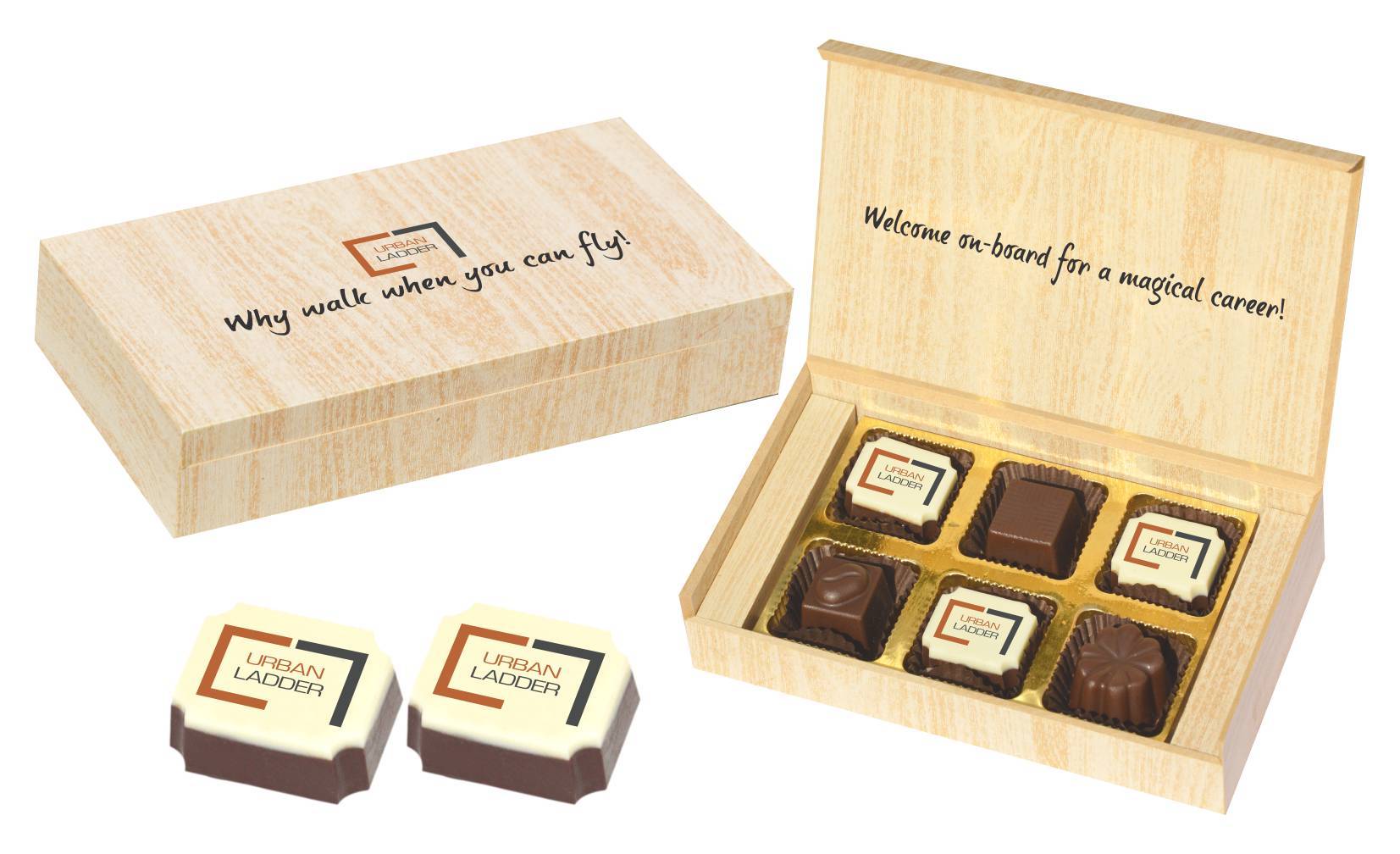 Budget considerations- Before Diwali, set aside a specific budget for the presents. You wouldn't want to overwhelm the required budget when looking at options. Convey your budget to the corporate gift suppliers so they can present you with options that are appropriate, yet do not look cheap.
Try looking online- Before you waste precious time exploring offline stores and physically looking at samples by going across markets, consider the option of choosing gifts online. You will be spoilt for choice and have multiple items to consider. The best part is that you can choose items according to your budget and order them in bulk without any hassle. You can avoid the trouble of haggling with gift vendors and be assured of a genuine, fixed price.
The gift must thoughtful and make the employees and client feel respected. Big is not always better, and with corporate gifting, it is even more relevant. You can give personalized items like customized chocolates and forgo big but dull gifts like assorted namkeen and sweets packets. Stationery and office items with company logo and the receiver's name are lovely gifts.
Consider a break from tradition, and use ChocoCraft's unique corporate gifting options this Diwali. While gifting chocolates to employees is an age-old tradition, nowadays even a box of Ferrero Rochers doesn't excite anyone. But getting a beautifully crafted ChocoCraft box with many printed chocolates inside will definitely make them enthusiastic. You can choose to have the company's logo and motto printed on the box and our mouth-watering chocolates. Your receivers will surely keep them and not pass them on like other Diwali gifts. It might turn out to be a good strategy for employee and client retention. We also provide unique wooden boxes with two options - elegant textured black finish and a light oak wood finish. A more exclusive option is stylish eco-leatherette boxes.
Check out 100 ideas for corporate gifts for employees and clients!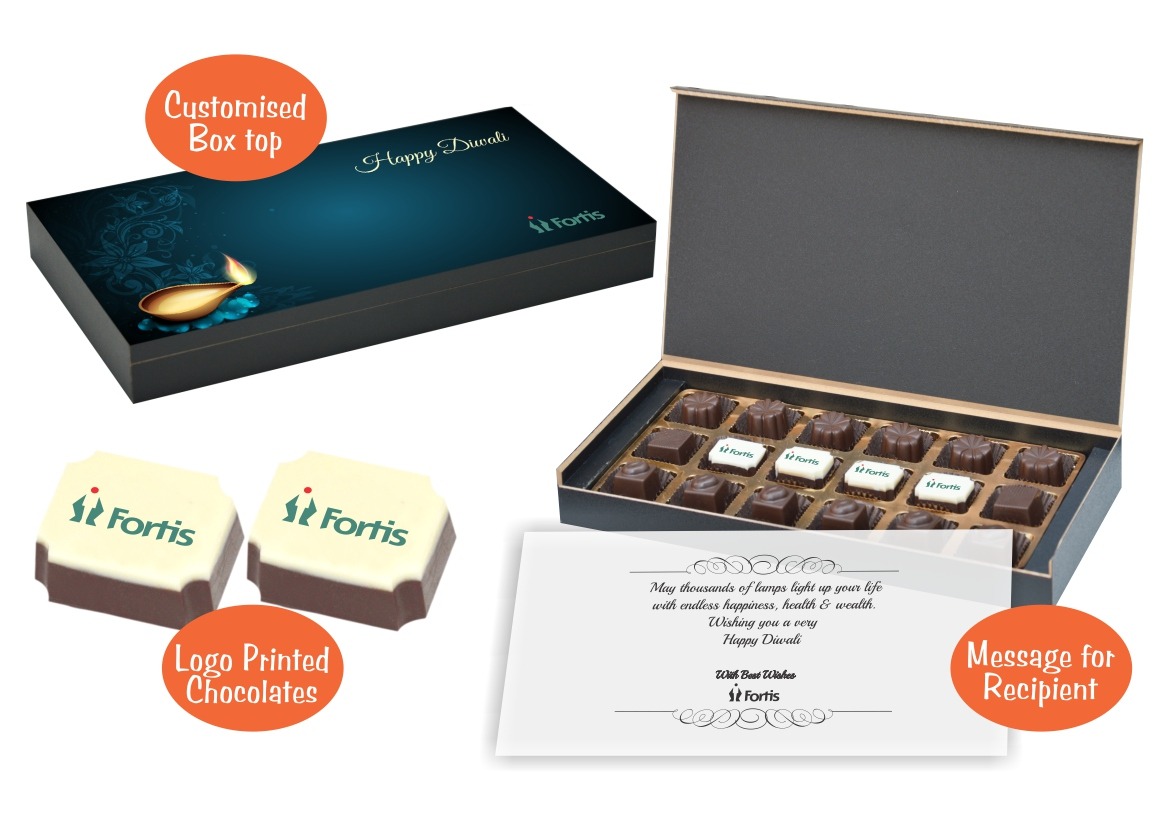 Diwali Gifts For Employees
Diwali gifts for employees can include stationery gifts, chocolate gifts hampers, sweets, assorted dry fruits, gifts certificates, gift vouchers, and some items of utensils and crockery like bone china sets. If budget permits, mobiles phones, iPads, USB pen drives, and other electronics are also excellent corporate gifts.
Employees are the building block of all the accomplishments the company has gained and Diwali is the right time to appreciate their efforts and show some gratitude. Besides above-listed gifts, you can also have silver coins, gold coins, Lakshmi Ganesha idols, and even artificial jewelry sets.
Startups and companies running on smaller Diwali gifting budget can also buy Diwali gifts online that include inexpensive but artistic souvenirs. Handcrafted items like Diya, candles as well as wall hangings and lamps are yet other artifacts that suit the mood of the occasion. They make creative corporate gift ideas for Diwali and hence appreciated by all. To shun disparity and treat all employees equally, people take great care to provide everyone with the same gifts. As a result, people buy corporate gifts like dry fruits, sweets or perfectly assorted combos can be bought in bulk to provide all the employees with the same gift. In fact, one can buy and send Corporate Diwali Gifts all across India and make bulk purchases via ChocoCraft.
You need not look anywhere online for unique corporate gifts as our website features our exhaustive range of chocolate gifts. By just browsing through our Diwali Corporate gifts section you can come across dozens of gifts ideas. The boxes are worth every penny and don't cost a bomb unlike other gifts available online.
The top of the Diwali box can have the company's logo on it. The chocolates are made in hygienic conditions and are up to international standards. The ink used for printing is edible and safe to consume without hurting any religious sensibilities of your employees. Inside the box, you can place heartfelt Diwali greetings for the auspicious event. The boxes are in 4 size options and 2 color options with different finishes. You can choose between 6 chocolates or 9 chocolates boxes for a budgeted option.Luckily, you can choose to have assorted chocolates in the box. For a bigger budget, go for 12 chocolates or 18 chocolate boxes.
The premium eco-leatherette boxes can be chosen for those high up in the corporate ladder. Another alternative for them is a 4 chocolate Executive gift box.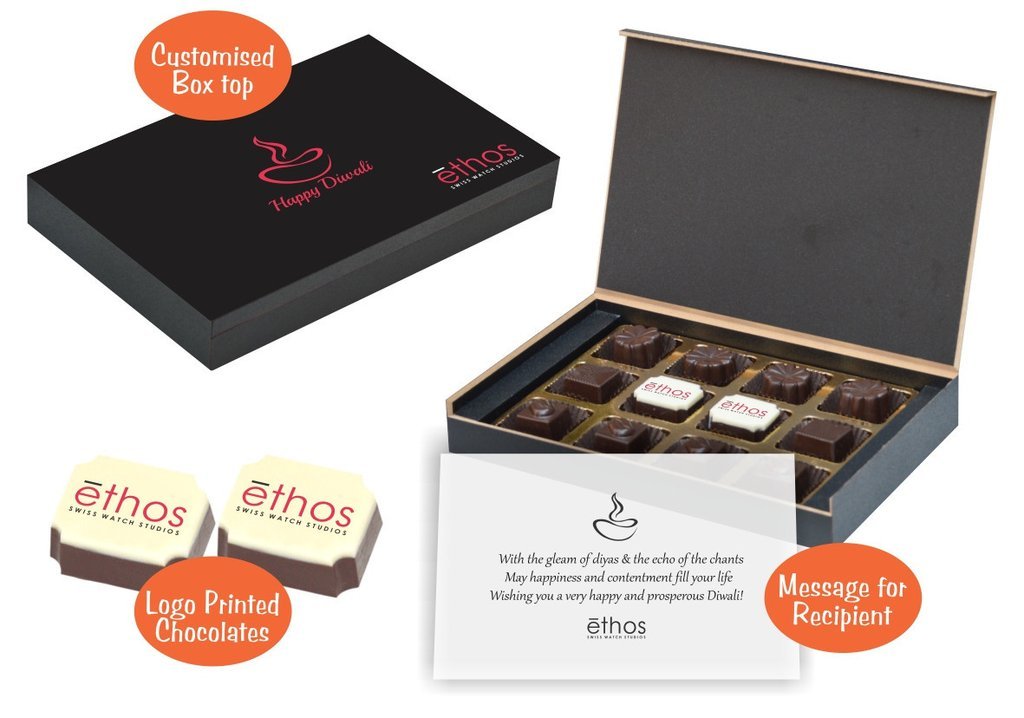 Diwali Gifting ideas for Clients
Gifting clients is a great opportunity to showcase your creative skills and your care towards your clients. There are a plethora of items which are amazing gifting ideas for Diwali. You can treat your clients with flowers, sweets, candles, plants, a fish bowl, a personalized letter; the list will go on and on. For your client to appreciate the gift, it has to touch your client's heart. It wouldn't be difficult to imagine that a lot of your competitors would also be reaching out to them through texts or gifts. To be able to set you apart from your competitors, personalization is the way forward. It is an indication of the human touch and the effort you have spent in gifting them. There's no way your client will not appreciate it.

Chocolates have always been a great festival gift. Be it young or old, there's no denying that everyone loves chocolates. Chocolates are the safest gifts that there can be. Plus there's no limit to creativity when we talk about chocolates. There are limitless flavors, sizes, and shapes when dealing with chocolates. Another advantage of giving chocolates is that they don't get spoiled as fast as traditional Indian sweets do.

We at Chococraft offer personalized chocolate boxes. You can select chocolates from a wide range of options, have your company logo imprinted on top of the chocolates and on the cover of the box. This way you will be on top of your client's mind when they indulge in these tasty chocolates. As a cherry on top (metaphorically), we would help write a personalized letter to them greeting your clients on Diwali and wishing them well for their future. Since we are available online, you would be able to reach out to your clients irrespective of where they are. We have had tons of success stories where people have gifted their clients with us to forge their successful partnership.

Check out 10 best ideas for corporate gifts in India!