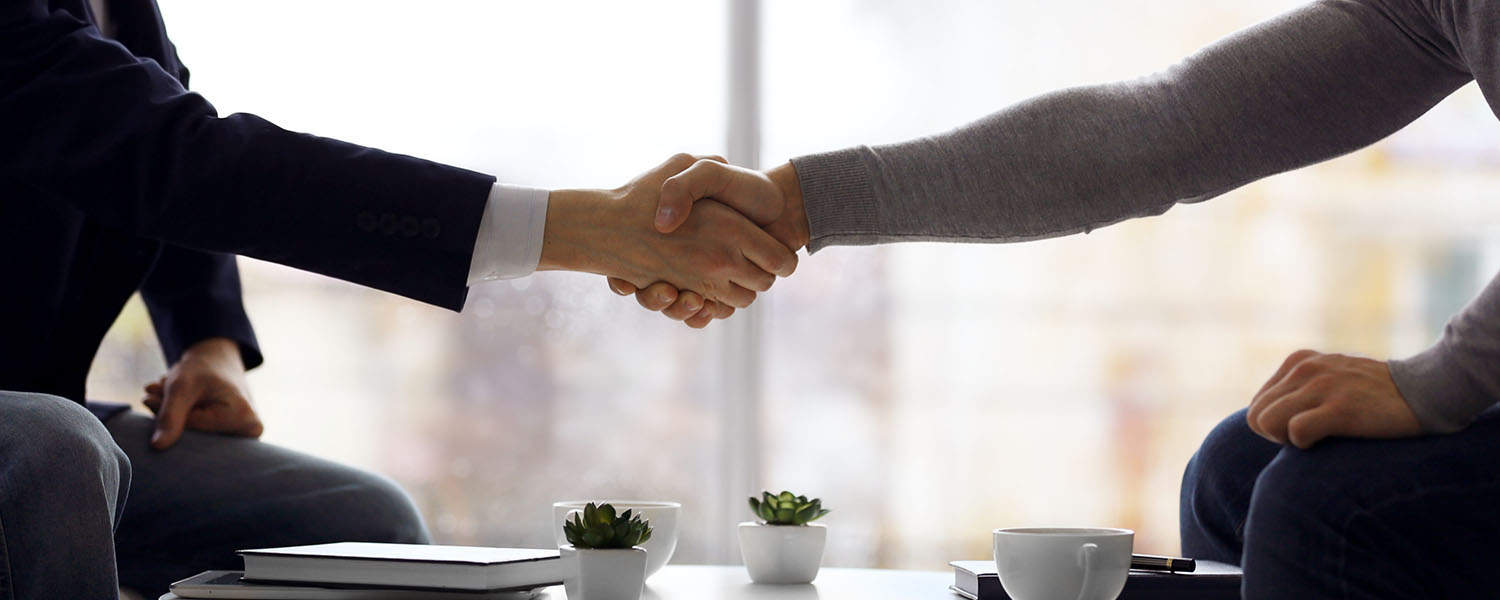 Corporate gifting has recently become a trend among companies. More and more organizations have started to gift their employees and clients on various occasions. This is certainly a great idea. However, there are a few things that you need to know about them first.
Why Go for Corporate Gifting?
There are several benefits to corporate gifting. Here are seven of the most important ones.
1. Developing Relationships
People like receiving gifts and they are the backbone of any organization. Additionally, they are sure to be more interested when they get a gift. As such, a client who gets your gift is more likely to remember you. This is particularly beneficial if the gift is something that they will use in their offices. The client is more likely to remember your act of goodwill. In turn, it can help you develop a stronger relationship with that client.
2. Increasing Brand Awareness
Promotional items can make an excellent gift choice for companies. After all, they have the name of your company, its logo and its contact information. When you distribute these gifts, you will also be spreading awareness of the company. As such, people will instantly get to know about your company when they get or view those gifts. Moreover, being free, they are more likely to view your company in a positive light.
3. Reducing Marketing Costs
Corporate gifts are one of the most cost effective advertising methods. After all, these gifts are generally kept around by the recipients. In some cases, they may even be used on a regular basis. As a result, the cost per impression is lower compared to other forms of advertising.
4. Developing Loyal Customers
Clients who get corporate gifts tend to come back for repeat business. Clients feel that they are important to your organization since you are getting them free gifts. This positive feeling improves loyalty and goodwill.
5. Increase Business
By giving away gifts with your company information on them, awareness of the organization is increased. Additionally, they can act as incentives for others to start approaching you for business. At the same time, these gifts can be a great way to encourage referrals. After all, the gifts build goodwill among the recipients. As such, your existing clients will be more receptive to the idea of referring others to your business. In other words, you can gain access to the connections of your clients. In short, you get to increase your business considerably.
6. Improving Employee Relationships
It is possible to build a better relationship with your employees simply through corporate gifting. These gifts can act as rewards for the efforts that they have put in. After all, they will feel valued since they are getting gifts for their efforts. In turn, they are likely to put in some effort into having a better relationship with their organization. Of course, this is beneficial for you in the long run.
7. Boost Morale
One of the biggest benefits of corporate gifting is that it can boost the morale of your employees. This is particularly beneficial when the times are tough. Even if the gifts are inexpensive, they can easily encourage employees when they are working on something particularly difficult.
Take a look at the following infographic to learn more about the benefits possible through corporate gifting.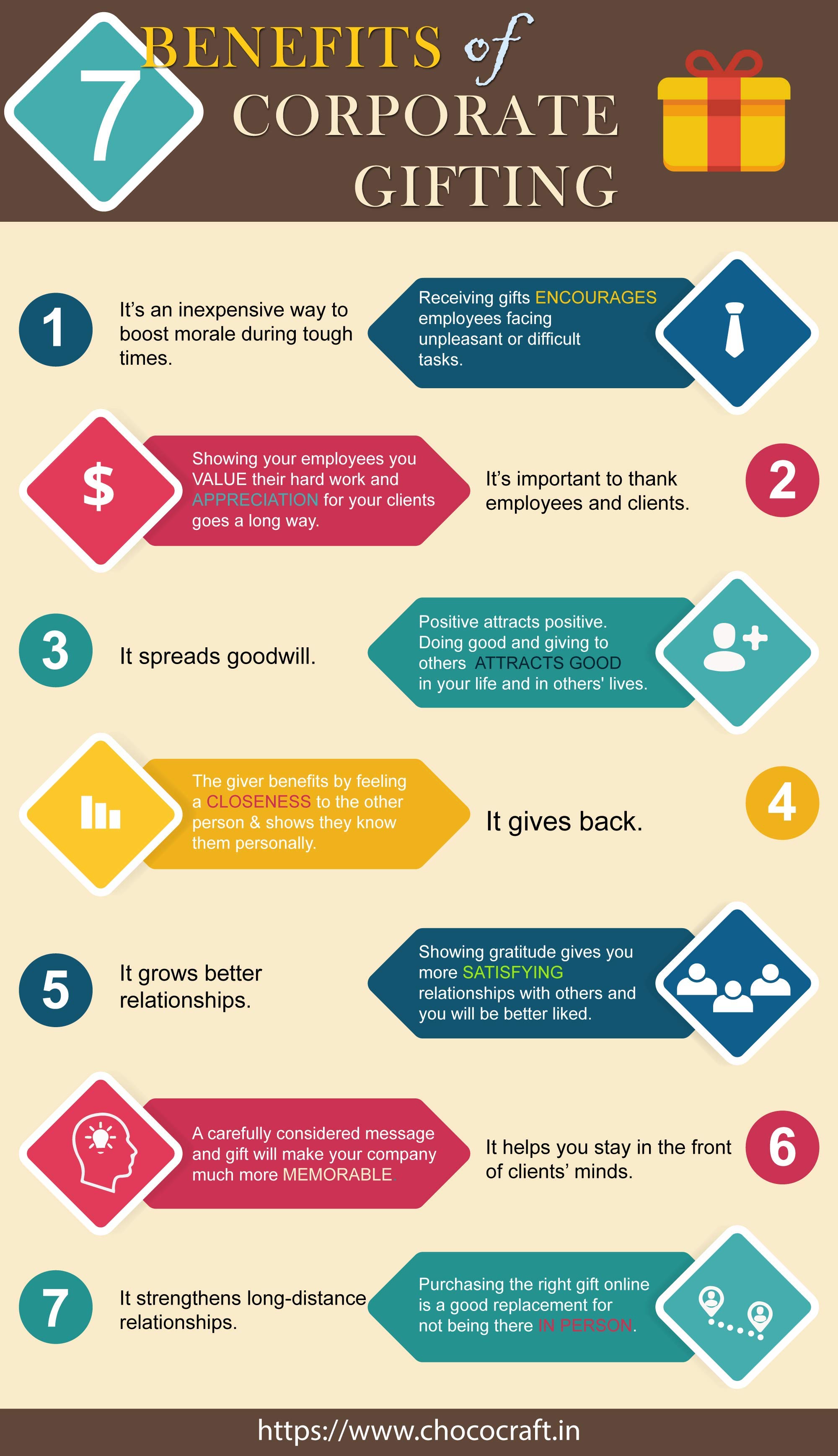 Corporate Gifting Occasions
There is no shortage of occasions when you can give away corporate gifts to your employees or clients. Here are some ideas that you can use.
Festivals: Festivals such as Christmas or Diwali are the perfect occasions for corporate gifting. In fact, it has become common for companies to gift clients and employees on Diwali and other occasions to share the happiness of the festivities.
Events: Your organization is sure to participate in various events such as tradeshows and exhibitions. They can also be great occasions to give away gifts. Gifting the visitors can help you stand out from the others in the same event. Additionally, the visitors are more likely to remember you.
Birthdays: If you want to build stronger relationships with your clients or employees, you should consider getting them a gift. A personalized gift will be a better choice since it will make the recipient feel really special. They are more likely to remember you down the line due to the emotional aspect of a birthday gift.
New Hires: Welcoming the new recruits of your organization through a gift can be an excellent idea. Of course, the gift should not be just limited to office stationery. Even a simple gift can be of more value to the new employee than a welcome gift from a senior. Moreover, they will start off their job on a more positive note.
Promotions: Just like new hires, a gift during a promotion can be a good idea. A personalized gift will make the news of the promotion all the sweeter to the employee. It will boost their morale and improve their productivity down the line.
Product Launches: A gift can make the product launch event all the more memorable for those attending it. People will appreciate the gesture and pay more attention to the new product being launched.
Important Dates: There can be several other important dates in the calendar such as the annual day of the company or International Women's Day. You can give gifts accordingly on these days to make your employees feel special and respected. In the case of International Women's Day, you can get gifts for your women employees or clients.
If you are wondering how to choose the right gift, take a look at the following infographic.

Tips for selecting a corporate gift
For corporate gifting, there are a few things that you need to keep in mind. There are certainly a few rules of etiquette that must be followed if you want to preserve the image of your company.
Put in some thought to the gift.
Avoid gifts whose meaning can be misinterpreted.
Personalize gifts wherever possible.
Choose something that will be of value to the recipient.
For more tips, you can take a look at the following infographic.