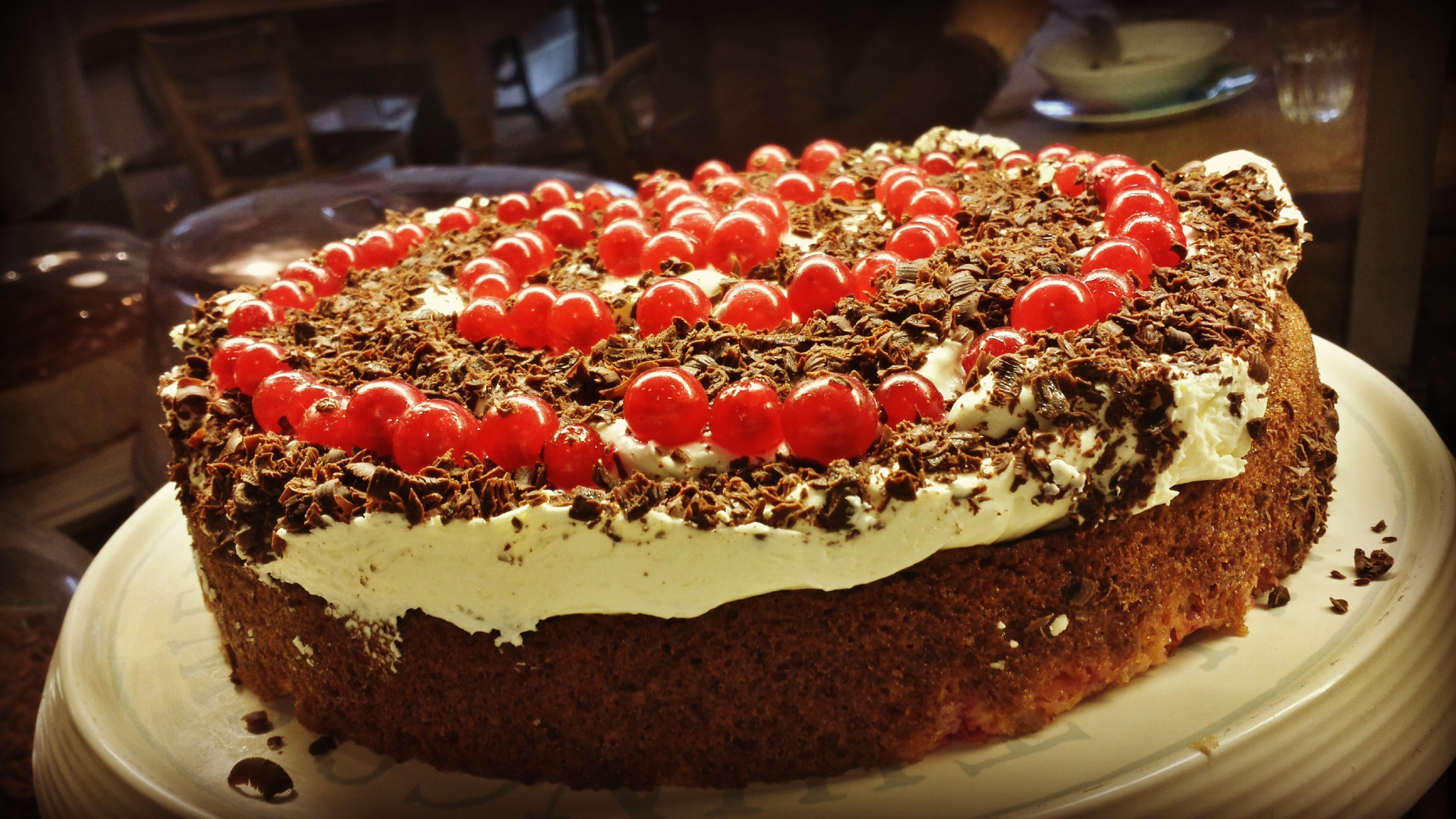 Serves 8-10 people
Ingredients
115G / 4OZ / ½ CUP UNSALTED BUTTER, SOFTENED,

155g / 4oz / ½ cup dark muscovado sugar 2 eggs

150ml / ¼ pint / 2/3 cup soured cream

150g / 5oz / 1 ¼ pint / 2/3 cup self raising flour

5ml / 1 tsp baking powder

50g / 2oz / ½ cup cocoa powder

75g / 3oz / ¾ cup stemmed redcurrants, plus

115g / 4oz / 1 cup redcurrant sprigs, to decorate
FOR THE ICING
150g / 5oz plain chocolate, chopped into small pieces

45ml / 3tbsp redcurrant jelly

30ml / 2 tbsp dark run 120 ml / fl oz ½ cup double cream
Procedure
Preheat over to 180 C / 350 F/ Gas 4. Grease a 2 liter / 2 pint 5 cup ring tin and dust lightly with flour. Cream the butter with the sugar in a mixing bowl until pale and fluffy. Beat in the eggs and soured cream until thoroughly mixed.

Sift the flour, baking powder powder and cocoa over the mixture , then fold in lightly and evenly . Fold in the stemmed redcurrants. Spoon the mixture into the prepared tin and smooth the surface level. Back for 40-50 minutes or until well risen and firm. Turn out on to a wire rack and leave to cool completely.

Make the icing. Mix the chocolate, recurrently jelly and run in a heatproof bowl. Set the bowl over simmering water and heat gently, stirring occasionally, until melted. Remove from the then add the double cream, a little at a time. Mix well.

Transfer the cooked cake to a serving plate. Spoon the icing evenly over the cake, allowing it to drizzle down the sides Decorate with redcurrant sprigs just before Serving.
Recipe source: The Chocolate Bible
Recipe Code: 20170018
Image source:http://topfoodfacts.com