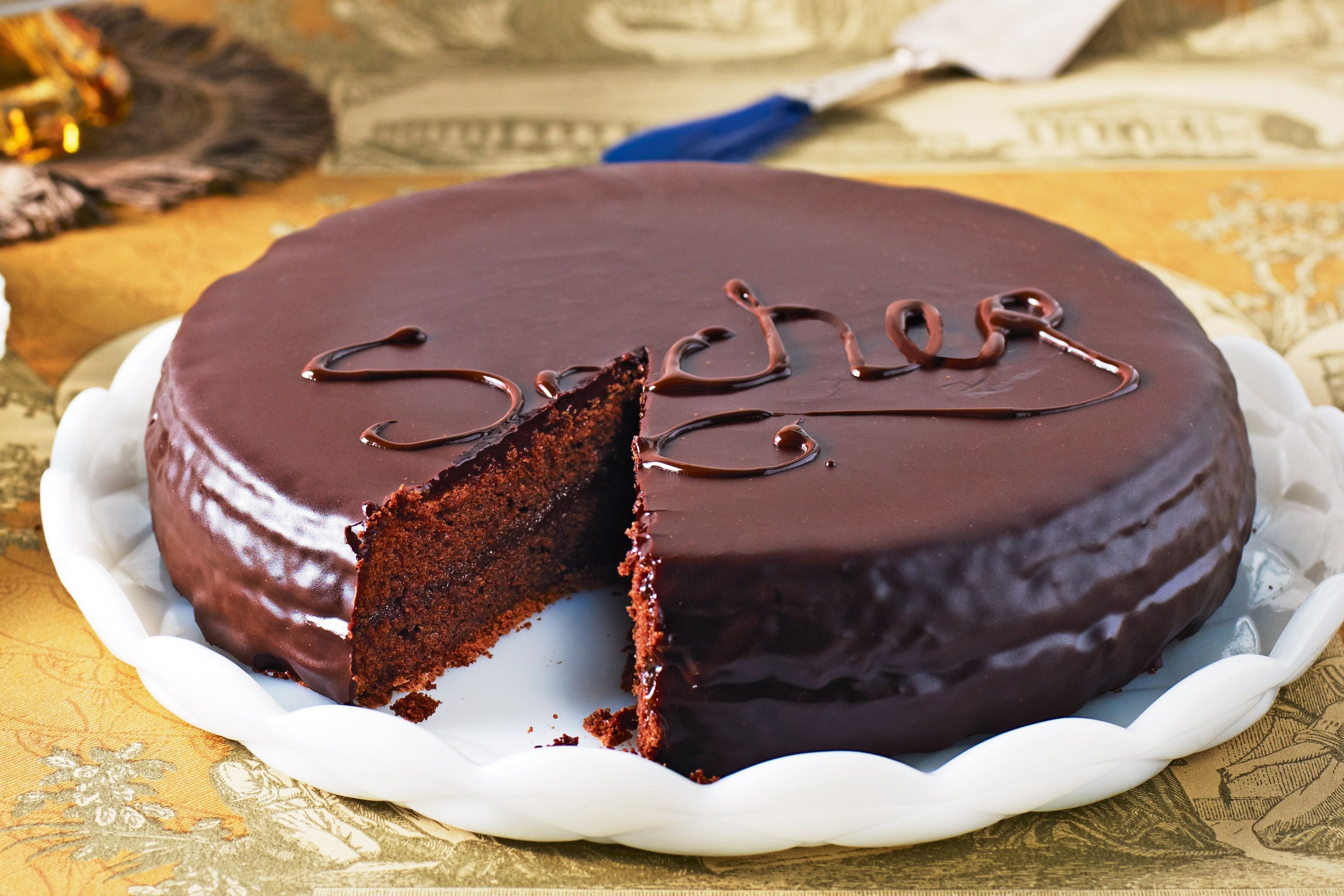 Serves 10-12 people
Ingredients
255G/ 8oz plain dark chocolate ,chopped into small pieces

150g / 5oz / 2/3 cup butter , softened

115g / 4oz / ½ cup caster sugar

8 eggs , separated

115g / 4oz / 1 cup plain flour
FOR THE ICING
225G / 8oz plain dark chocolate, cut into small pieces

200g / 7 oz / scant 1 cup caster sugar

15 ml / 1 tbsp golden syrup

250ml 8fl oz / 1 cup vanilla essence plain chocolate leaves, to decorate
Procedure
Preheat over to 1800C / 3500F / gas 4. Grease a 23 cm / 9 in round spring from cake tin and the with non-stick baking paper. Melt the chocolate in a heatproof bowl over barely simmering water set the bowl aside

Cream the butter with the sugar in a mixing bowl until pale and fluffy. The add the egg yolks, one at a time, beating after each addition. Beat in the melted chocolate, the sift the flour over the mixture, and fold it in evenly.

Whisk the egg whites in a clean, grease-free bowl until stiff, the stir about a quarter of the whites into the chocolate mixture to lightly it. Fold in the remaining whites.

Tip the chocolate mixture into the prepared cake tin and smooth level. Bake for about 50-55 minutes, the turn out carefully on to a wire rack and leave to cool completely.

Make the glaze. Heat the apricot jam with the lemon juice in a small saucepan until melted, the strain through a sieve into a bowl. Once the cake is make two, slice even-size layers.

Brush the top and each layer with the apricot glaze, then sandwich then together. Place on a wire rack

Make the icing. Mix the chocolate, sugar golden syrup, cream and vanilla essence in a heavy saucepan. Heat gently stirring constantly, until the mixture is thick and smooth. Simmer gently for 3-5 miniature, without stirring, until the mixture registers 950C /2000F on a sugar thermometer. Pour the icing the quickly over the cake, spreading to cover the top and side complete leaves, then serve with whipped cream, if whished.
Recipe source: The Chocolate Bible
Recipe Code: 20170019
Image source:http://www.taste.com.au