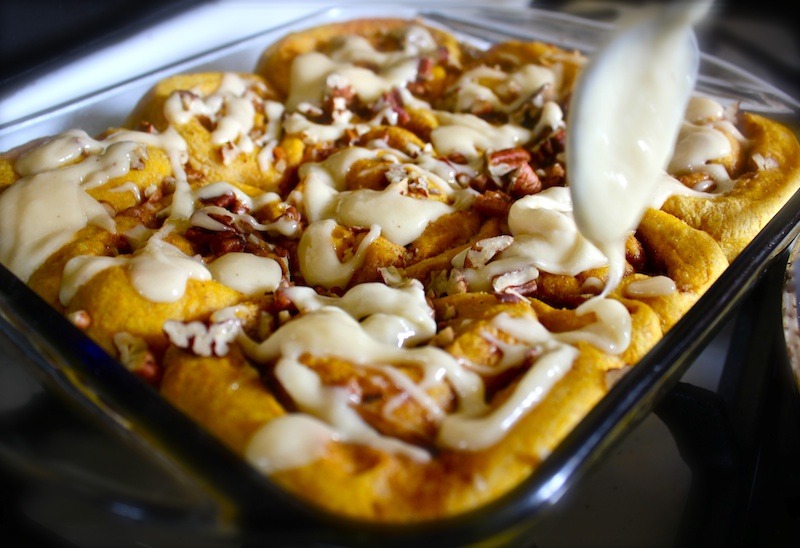 Serves 12 people
Ingredients
450g / 1lb / cup strong white flour

2.5ml / ½ tsp ground cinnamon

50g /2oz / ¼ cup unsalted butter, cut into small pieces

50g 2oz / ¼ cup caster sugar

1 sachet easy-blend dried yeast 1 eggs yolk

120ml/ 4fi oz/ ½ cup water

60ml/ 4 tbsp milk

45ml/3 tbsp maple syrup, to finish
FOR THE FILLING
40g / 1 ½ oz/ 3 tbsp unsalted butter, melted

50g / 2oz / ½ cup light muscovado sugar

175g / 6oz/ 1 cup plain chocolate chips

75g / 3oz / cup chopped walnuts
Procedure
Grease a deep 23 cm/9 in springform cake tin. Sift the flour and cinnamon into a bowl, then rill) in the butter until the mixture resembles coarse breadcrumbs.

Stir in the sugar and yeast. In a jug or bowl, beat the egg yolk with the water and milk, then stir into the dry ingredients to make a soft dough.

Knead the dough on a lightly floured surface until smooth, then roll out to a rectangle measuring about 40 x 30 cm/ 16 x 12 in.

For the filling, brush the dough with the melted butter and sprinkle with the sugar, chocolate chips and nuts.

Roll up the dough from one long side like a Swiss roll, then cut into 12 thick even-size slices. Pack close together in the tin, cut sides up. Cover and leave in a warm place for about I 1/2 hours, until well risen and springy. Meanwhile, preheat oven to 220°C/425°F/Gas 7.

Bake for 30-35 minutes, until golden brown. Remove from the tin and cool on a wire rack. Brush with maple syrup while still warm. Pull swirls apart to serve.
Recipe source: The Chocolate Bible
Recipe Code: 20170021
Image source:http://www.fromthelittleyellowkitchen.com