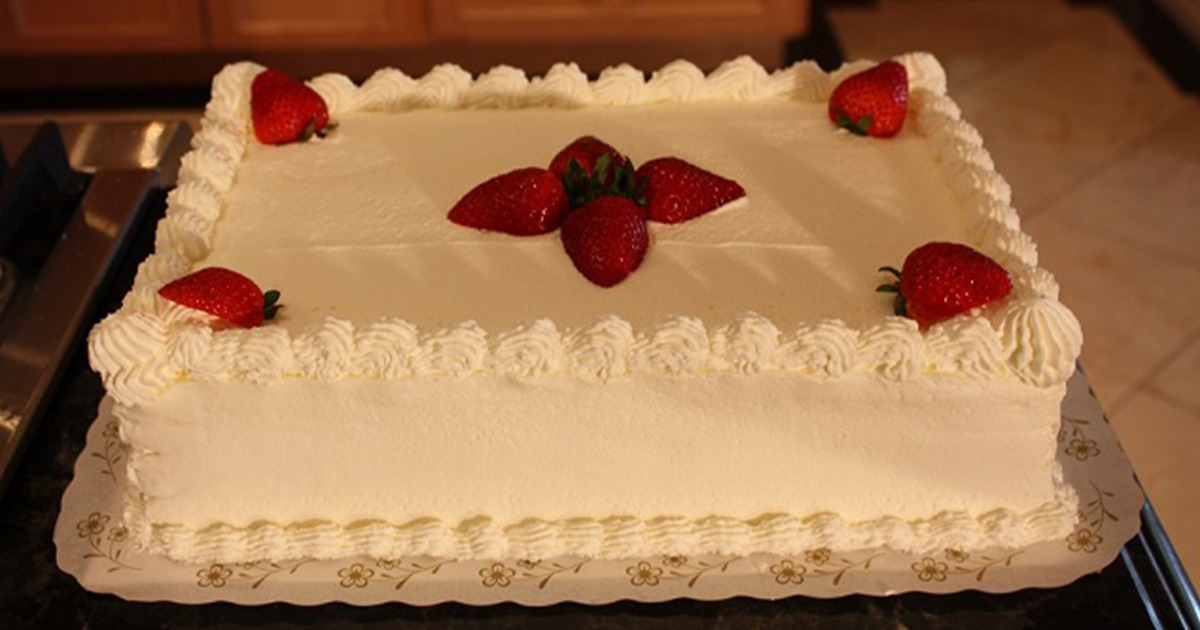 Serves 10 people
Ingredients
115g /4oz fine white chocolate, chopped into small pieces

120ml/ 4fl oz/ ½ cup double cream

120ml /4f1 oz/ ½ cup milk

15ml / 1 tbsp rum or vanilla essence

115g / 4oz / ½ cup unsalted butter, softened

175g/ 6oz cup granulated sugar 3 eggs

225g/ 8oz/ 2 cups plain flour

10ml/ 2 tsp baking powder pinch of salt

675g/ 11/21b fresh strawberries, sliced, plus extra for decoration

750ml/ 11/4 pints/ 3 cups whipping cream

30ml/2 tbsp rum or strawberry flavoured liqueur
WHITE CHOCOLATE MOUSSE FILLING
250g/ 9oz white chocolate, chopped into small pieces

350ml/ 12fl oz/ 1 ½ cups double cream

30ml/ 2 tbsp rum or strawberry-flavoured liqueur
Procedure
Preheat oven to 180 C/350 F/Gas 4. Grease and flour two 23 x 5 cm/9 x 2 in cake tins. Line the base of the tins with non-stick baking paper. Melt the chocolate and cream in a double boiler over a low heat, stirring until smooth. Stir in the milk and rum or vanilla essence, and set aside to cool.

In a large mixing bowl, beat the butter and sugar with a hand-held electric mixer for 3-5 minutes, until light and creamy, scraping the sides of the bowl occasionally. Add the eggs one at a time, beating well after each addition. In a small bowl, stir together the flour, baking powder and salt. Alternately add flour and melted chocolate to the egg mixture in batches, until just blended. Pour the mixture into the tins and spread evenly.

Bake for 20-25 minutes, until a skewer inserted in the cake comes out clean. Cool in the tin for 10 minutes, then turn cakes out on to a wire rack, peel off the paper and cool completely.

Make the mousse filling. In a medium saucepan over a low heat, melt the chocolate and cream until smooth, stirring frequently. Stir in the rum or strawberry-flavoured liqueur and pour into a bowl. Chill until just set. With a wire whisk, whip lightly.

Assemble the cake. With a serrated knife, slice both cake layers in half, making four layers. Place one layer on the plate and spread one third of the mousse on top. Arrange one third of the sliced strawberries over the mousse. Place the second layer on top and spread with another third of the mousse. Arrange another third of the sliced strawberries over the mousse. Place the third layer on top and spread with the remaining mousse. Cover with the remaining sliced strawberries. Top with the last cake layer.

Whip the cream with the rum or liqueur until firm peaks form. Spread about half the whipped cream over the top and the sides of the cake. Spoon the remaining cream into a decorating bag fitted with a medium star tip and pipe scrolls on top of the cake. Decorate with the remaining sliced strawberries, pressing half of them into the cream on the side of the cake and arranging the-rest on top.
Recipe source: The Chocolate Bible
Recipe Code: 20170022
Image source:http://bakingwithnadia.com