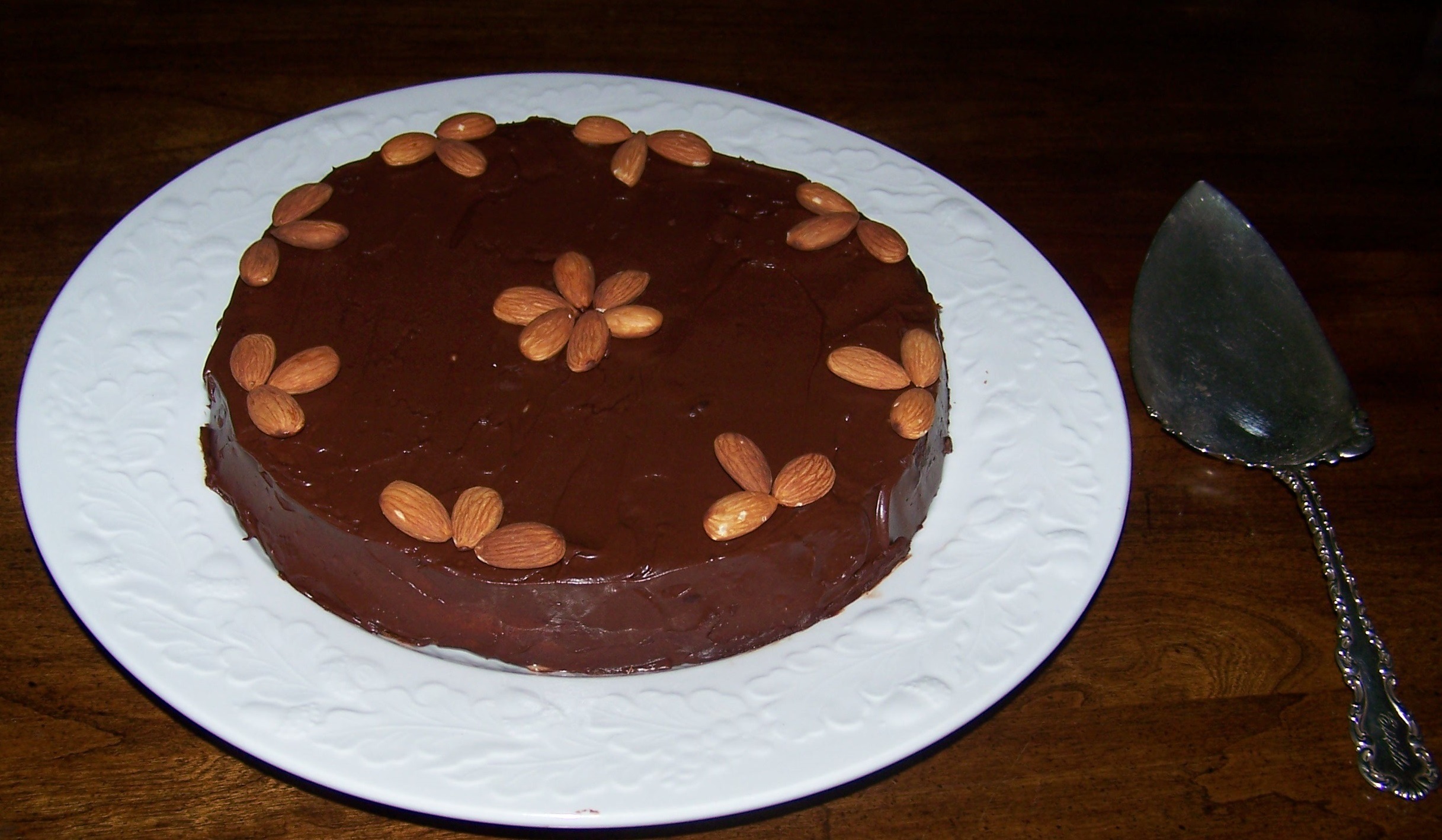 Serves 8-10 people
Ingredients
100g / 3 ½ oz / scant 1 cup whole blanched almonds, lightly toasted

115g / 4oz / ½ cup caster sugar

40g / 1 1/3 cup plain flour

115g / 4oz / ½ cup unsalted butter, softened

150g 5oz plain chocolate, melted

3 eggs, separated

30ml 2 tbsp almonds liqueur (optional) chopped toasted almonds, to decorate
FOR THE CHOCOLATE GLAZE
175g / 6fl oz/ ¾ cup whipping cream

225g / 8oz plain chocolate, chopped

25g / 1oz / 2tbsp unsalted butter

30ml / 2 tbsp almond liqueur ( optional)
Procedure
Preheat over to 180 C /350 F / Gas 4. Grease and base-line a 20-23 cm / 8-9 in spring from cake tin. Dust the tin lightly Withe flour.

In the bowl of a food processor fitted with a metal blade, Process the almonds and 30ml / 2tbsp of the sugar until very fine. Transfer to a bowl and sift over the flour. Stir to mix, the set aside.

Beat the butter until creamy, the add half of the remaining sugar and brat for about 1-2 minutes until very light. Gradually beat in the melted chocolate, the add the egg yolks one at a time, beating well after each addition. Beat in the liqueur, if using

In another bowl, beat the egg whites until soft peaks from. Add the remaining sugar and beat until the whites are stiff and glossy, but not dry. Fold a quarter of the whites into the chocolate mixture to lighten it. Then alternately fold in the almond mixture and the remaining whites in three batches. Spoon the mixture into the prepared tin and spread evenly.

Bake for 30-35 minutes until the edges are puffed but the Centre is still soft. Cool in the tin for 15 minutes, then remove the side and invert the cake on a wire rake. When quite cold lift off the base of the tin and the paper.

To make the chocolate glaze , bring the cream to the boil in a saucepan . Remove from to the heat and add the chocolate and the mixture is smooth. Beat in the butter and almond liqueur, if using . Cool for about 20-30minutes, until slightly thickened, stirring occasionally.

Place the cake on the wire rack over a baking sheet and pour over most of the warm glaze to cover completely. Cool slightly, then press the nuts on to the sides of the cake. Use the remaining glaze for a piped decoration. Transfer to a plate and chill until ready to serve.
Recipe source: The Chocolate Bible
Recipe Code: 20170020
Image source:https://njbrown.wordpress.com