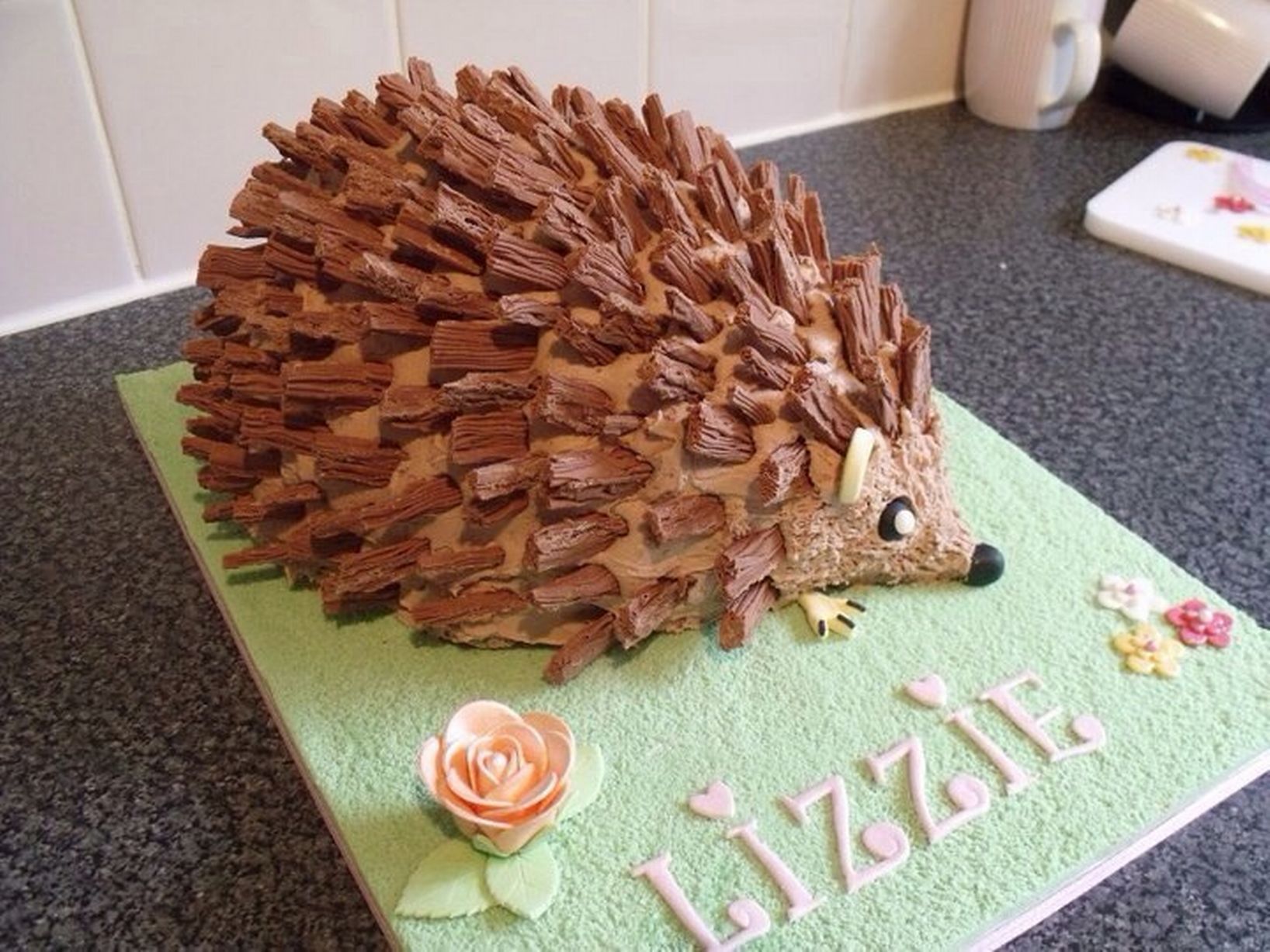 Serves 15 people
Ingredients
1 quantity One-mix Chocolate Sponge Cake

1 ½ quantity Chocolate Buttercream

5-6 chocolate flake bars

60G/ 2oz white marzipan

Cream, black, green, red, brown food coloring

Nine cocktail sticks
Procedure
Preheat the oven to 180 C/350F/ Gas 4. Grease and line the bottoms of a 900ml/1 ½ pint/3 ¾ cup and a 600ml/ 1 pint/ 2 ½ cup pudding basin (deep bowl). Spoon the cake mixture into both basins (bowls) to two-thirds full. Bake in a preheated oven allowing 55 mins- 1 hour for the larger basin (bowl) and 35-40 min for the smaller basin (bowl). Turn out and allow cooling on a wire rack.

When they are completely cool, place both cakes on a surface so the widest ends are underneath. Take the smaller cake and, holding a sharp knife at an angle, slice off a piece from once side, cutting down towards the middle of the cake. Then make corresponding cut on the other side to make a pointed nose shape at one end.

Place the larger cake on the cake board behind the smaller one. Cut one of the cut-off slices in half and position either side, between the larger and smaller cake, too fill in the side gaps. Place the other cut-off piece on top to fill in the top gap, securing all with a little buttercreams.

Spread the remaining buttercream over the cake. On the pointed face part, make marking with cocktail stick.

Break or cut the flake bars into thin strips and stick at an angle into the buttercream over the body of the porcupine to represent spikes.

Reserve a small portion of marzipan; divide the remainder into three and color one portion black, one green and one cream. Color a tiny portion of the reserved, white marzipan brown for the apple stems.

With the cream colored marzipan, shape the ears and feet, using black and white make the eyes, and with the rest of the black shape the nose and the claws for the feet. With the green marzipan make the apples, painting on red markings with a fine paintbrush. Position the stems. Place everything except the apples in its proper place on the porcupine cake; finally place the apples on the board by the front of porcupine.
Recipe source: The Chocolate Bible
Recipe Code: 20170038
Image source:http://www.liverpoolecho.co.uk