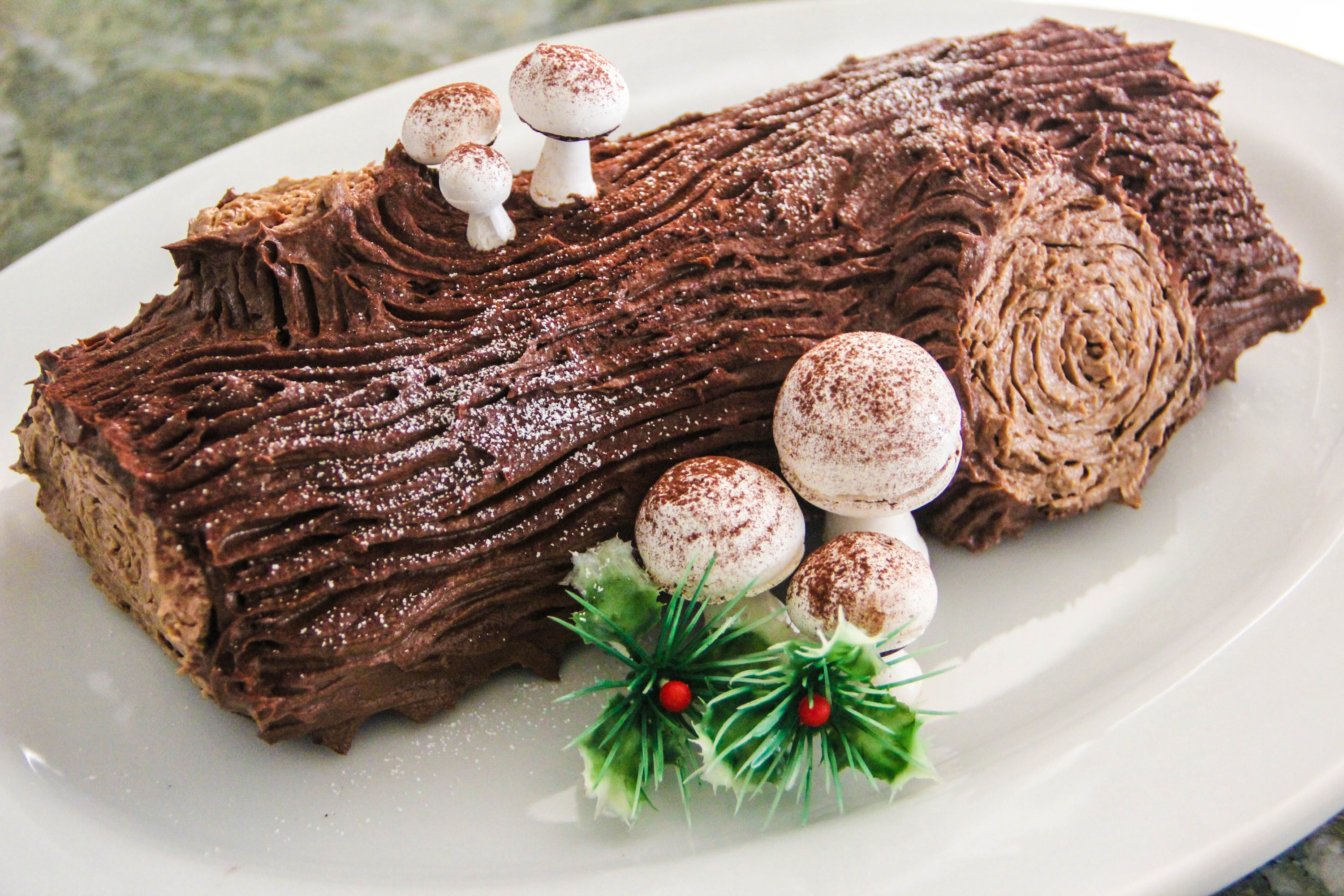 Serves 12-13 people
Ingredients
1 chocolate Swiss roll, see Chocolate Chestnut Roulade

1 quantity of Chocolate ganache or Buttercream

FOR THE WHITE CHOCOLATE CREAM FILLING

200g / 7oz fine quality white chocolate, chopped into small pieces

475ml /16 fl oz /2 cups double cream

30ml / 2 tbsp brandy or chocolate –flavored liqueur (optional)
FOR THE CRANBERRY SAUCE
450g / 1lb fresh or frozen cranberries, rinsed and picked over

275g / 10oz / 1 cup seedless raspberry preserve

115g / 4oz / ½ cup granulated sugar, or to taste
Procedure
Make the cranberry sauce. Process the cranberries in a food processor fitted with a metal blade, until liquid. Press through a sieve into a small bowl, and discard pulp. Stir in the melted raspberry preserve and the sugar to taste. If the sauce is to thick, add a little water to thin. Cover and place in the fridge.

Make the filling. In a small pan, heart the chocolate with 120ml /4fl oz / ½ cup of the cream until melted, stirring. Strain into a bowl and cool to room temperature. In a separate bowl, beat the brandy or liqueur until soft peaks from: fold into the chocolate.

Unroll the Swiss roll, spread with the mixture and roll up again from a long end. Cut off a quarter of the roll a an angle and arrange both pieces on a cake board to resemble a log.

If using chocolate ganache for the topping , allow it to soften to room temperature , the beat to a soft, spreading consistency. Cover the log with ganache or buttercream and mark it with a fork to resemble bark. Dust lightly with icing sugar and top with a sprig of holly or similar Christmas decoration. Serve with the cranberry sauce.
Recipe source: The Chocolate Bible
Recipe Code: 20170016
Image source: https://www.youtube.com