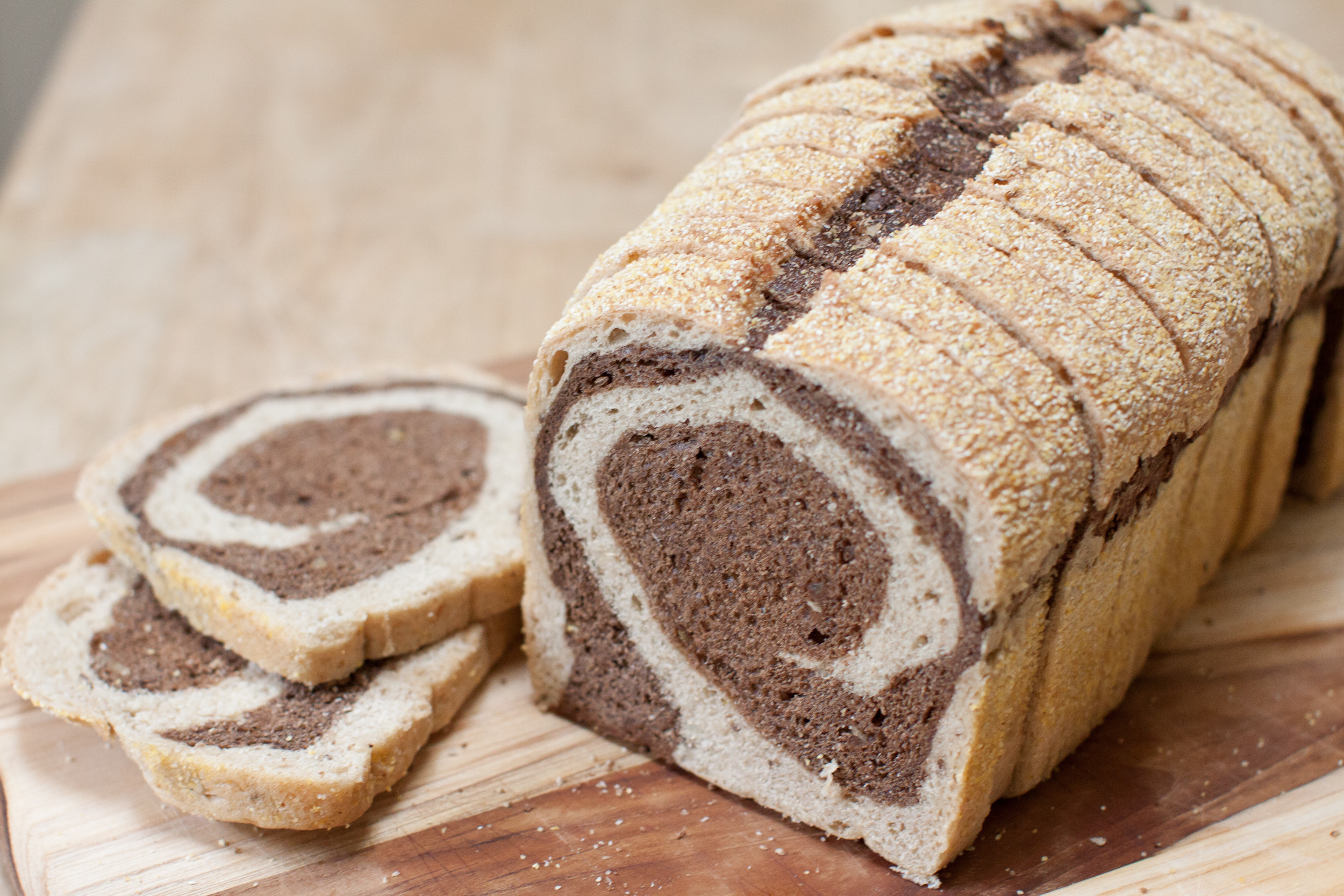 Serves 6-8 people
Ingredients
90g / 3 1/3 OZ / SCANT 1 CUP PLAIN FLOUR

15ml / 1 tbsp cocoa powder

25g / 1oz plain chocolate, grated

25g / 1oz plain chocolate, grated 3 eggs

115g / 4oz / ½ cup caster sugar

30ml / 2 tbsp boiling water
FOR THE FILLING
1 quantity chocolate Butter cream

45ml / 3 tbsp chopped walnuts
Procedure
Preheat over to 2000C / 4000F / Gas 6. Grease 30 x 20 cm /12 x8 in Swiss roll tin and line with non-stick baking paper. Sift half the flour with the cocoa into a bowl . Stir in the grated plain chocolate. Sift the remaining flour into another bowl. Stir in the grated white chocolate.

Whisk the eggs and sugar in a heatproof bowl set over a saucepan of hot water until it holds its shape when the whisk is lifted and a ribbon trail remains.

Remove the bowl from the heat and tip half the plain chocolate mixture into one portion, then fold the white chocolate mixture into the other. Stir 15ml / 1 tbsp boiling into each half to soften.

Place alternate spoonfuls of mixture in the prepared tin and swirl lightly together with a knife or slim metal skewer for a marbled effect. Bake for about 12-15 minutes or until the cake is firm and the surface springs bake when touched with a fingertip. turn the cake out on to a sheet of non-stick baking paper placed flat on the work surface.

Trim the edges to neaten and cover with a damp, clean dish towel coo.

For the filling, mix the chocolate butter-cream and walnuts in a bowl. Uncover the sponge, lift the lining paper and spread the surface with the buttercream. Roll up carefully from a long side and place on a serving plate. Slice to serve and store in an airtight container.
Recipe source: The Chocolate Bible
Recipe Code: 20170015
Image source: www.http://uppercrustbread.com