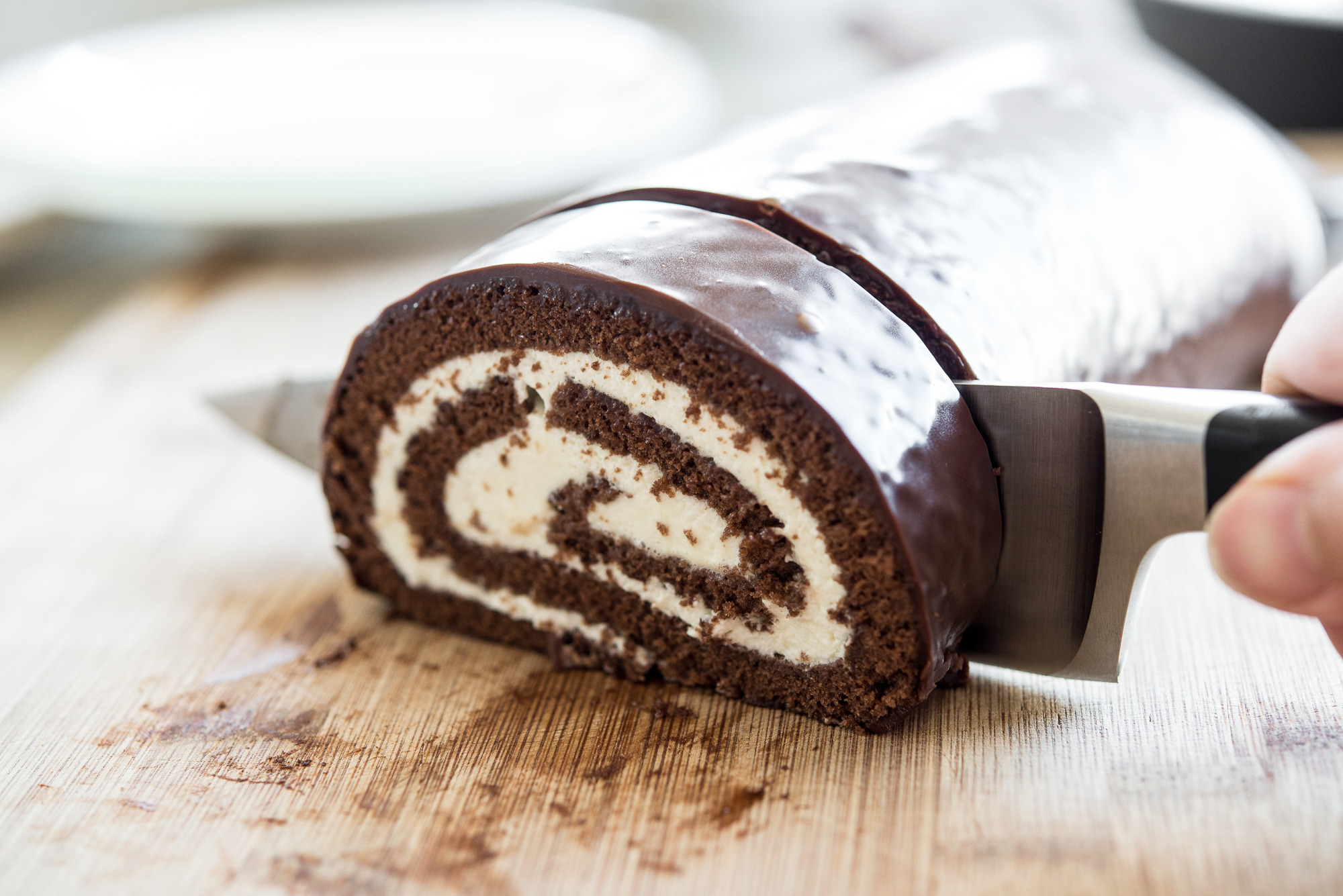 Serves 10-12 people
Ingredients
175g / 6oz bittersweet chocolate, chopped into small pieces

30ml /2 tbsp cocoa powder, sifted

60ml / 4tbsp hot strong coffee or espresso

6 eggs, separated

75g/ 3oz /6tbsp caster sugar pinch of tartar

5ml 1 tsp pure vanilla essence cocoa powder, for dusting glace chestnuts , to decorate
CHESTNUT CREAM FILLING
475ML / 16FL OZ / 2 CUP double cream

30ml / 2 tbsp run or coffee-flavored liqueur

350g /12 oz /1 ½ cup canned sweetened chestnut puree

115g / 4oz bittersweet chocolate, grated
Procedure
Preheat over to 1800C /3500F/ Gas 4. Lightly grease the base and sides of a 39 x 27 x 2.5 cm / 15 ½ x 10 ½ x 1 in Swiss roll tin. Line with non-stick Baking Paper, allowing a 2.5 cm / 1 in overhang. Melt the chocolate. Dissolve the coca in the hot coffee to make a paste. Set aside.

Using a hand-held mixer, beat the egg yolks with half the sugar in a mixing bowl until pale and thick. Slowly beat in the melted chocolate and cocoa-coffee paste until just blended. In a separate bowl, beat the egg whites and Cream of tartar until stiff peaks from. Sprinkle the remaining sugar over the whites in two Batches and beat until the whites are stiff and glossy, then beat in the vanilla essence

Stir a spoonful of the whites into the chocolate mixture to lighten it, then fold in the rest. Spoon into the tin. Bake for 20-25 minutes or until the a fingertip.

Dust a dish towel with coca. Turn the cake out on to the towel immediately and remove the at a narrow end, roll the cake towel together Swiss roll fashion. Cool completely.

Make the filling. Whip the cream and run or liqueur until soft peaks from. Beat a spoonful of cream into the chestnut puree to lighten, then folder in the remaining cream and grated chocolate. Set aside a quarter of the mixture for the chocolate. Unroll the cake and spread chestnut cream to within 2.5 cm / 1 in of the egg.

Using a dish towel to lift the cake, carefully roll it up again. Place seam-side down on a serving plate. Spread some of the reserved chestnut cream over the top and use the rest for piped rosettes. Decorate with the glace chestnuts.
Recipe source: The Chocolate Bible
Recipe Code: 20170014
Image source:https://www.bloglovin.com