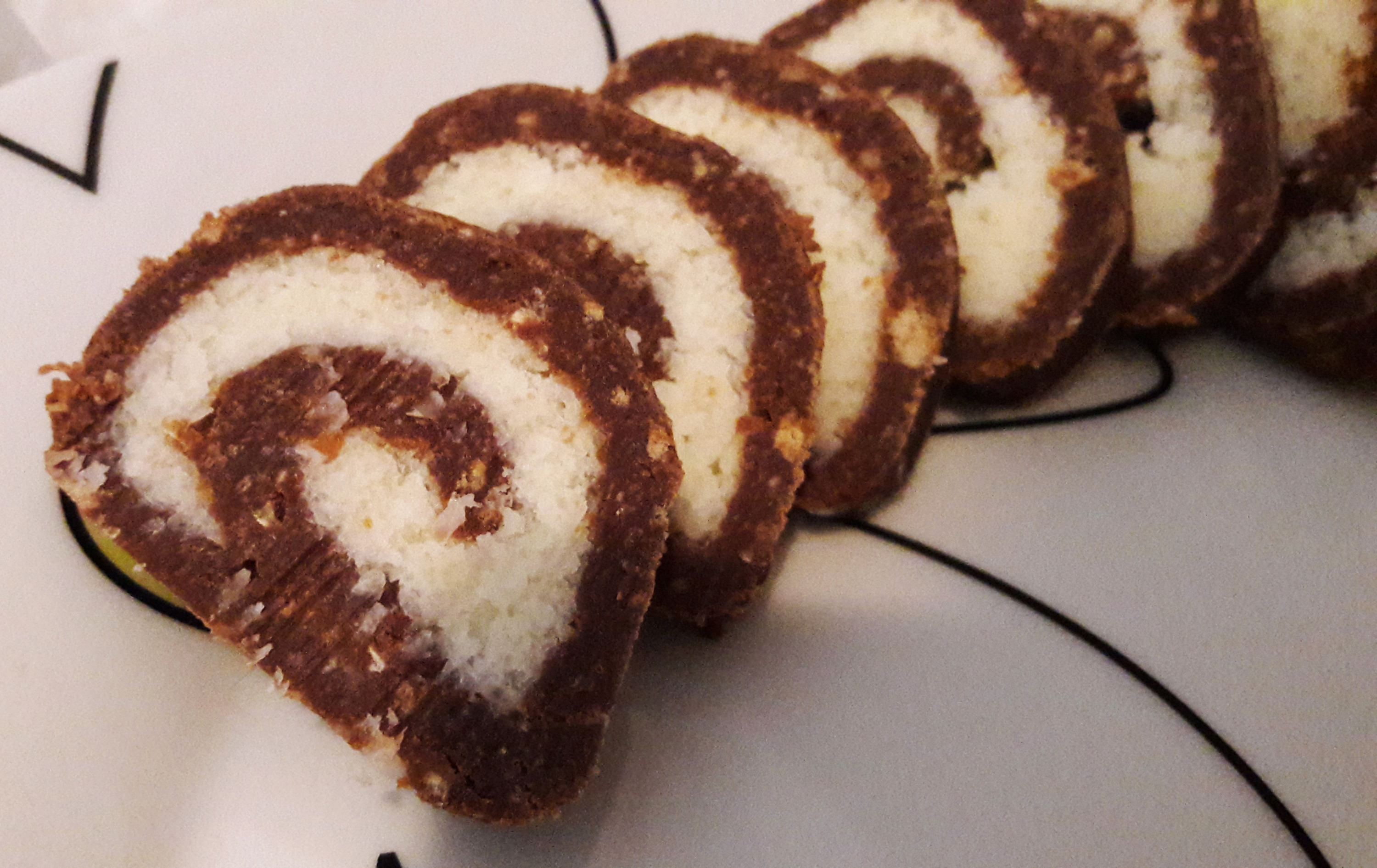 Serves 8 people
Ingredients
115g /4oz / ½ caster sugar 5 egg, separated

50g / 2oz / ½ cup cocoa powder

FOR THE FILLING

300 ml / ½ pint / 1 ¼ cup double cream 45ml / 3 tbsp whisky or brandy

30ml / 2 tbsp caster sugar
FOR THE TOPPING
a pieces of fresh coconut dark chocolate for curl
Procedure
Preheat oven to 1800C / 3500F Gas 4. Grease a 33 x 23 cm / 13 x 9 in Swiss roll tin. Lay a large sheet of greaseproof paper or non-stick baking paper on the work surface and dust it evenly with 30 ml 2 tbsp of the caster sugar

Place the egg yolks in a heatproof bowl. Add the remaining caster sugar and whish with a hand-held electric mixer until the mixture is thick enough to leave a trail. Sift the cocoa over, then fold in carefully and evenly with a metal spoon.

Whisk the egg whites in A clean, grease-free bowl until they from soft peaks. Fold about 15ml / tbsp. of the whites into the chocolate mixture to lighten in, then fold in the rest evenly

Scrape the mixture into the prepared tin, taking it right into the corners. Smooth the surface with a palette knife, then bake for 20-25 minutes or until well risen and Springy to the touch.

Turn the cooked roulade out on to the sugar-dusted greaseproof paper and carefully peel off the lining paper. Cover with a damp, clean dish towel and leave to cool completely

Make the filling. Whisk the cream with the whisky in a bowl until the mixture just holds it shape, grate the creamed coconut and the stir in with the sugar

Uncover the sponge and spread about Three-quarters of the cream mixture to the edges. Roll up carefully from a log side. Transfer to a plate, pipe or spoon the remaining cream mixture on top. Use a vegetable peeler to make coconut and chocolate curls and pile on the cake.
Recipe source: The Chocolate Bible
Recipe Code: 20170013
Image source:http://www.timeforbaking.com