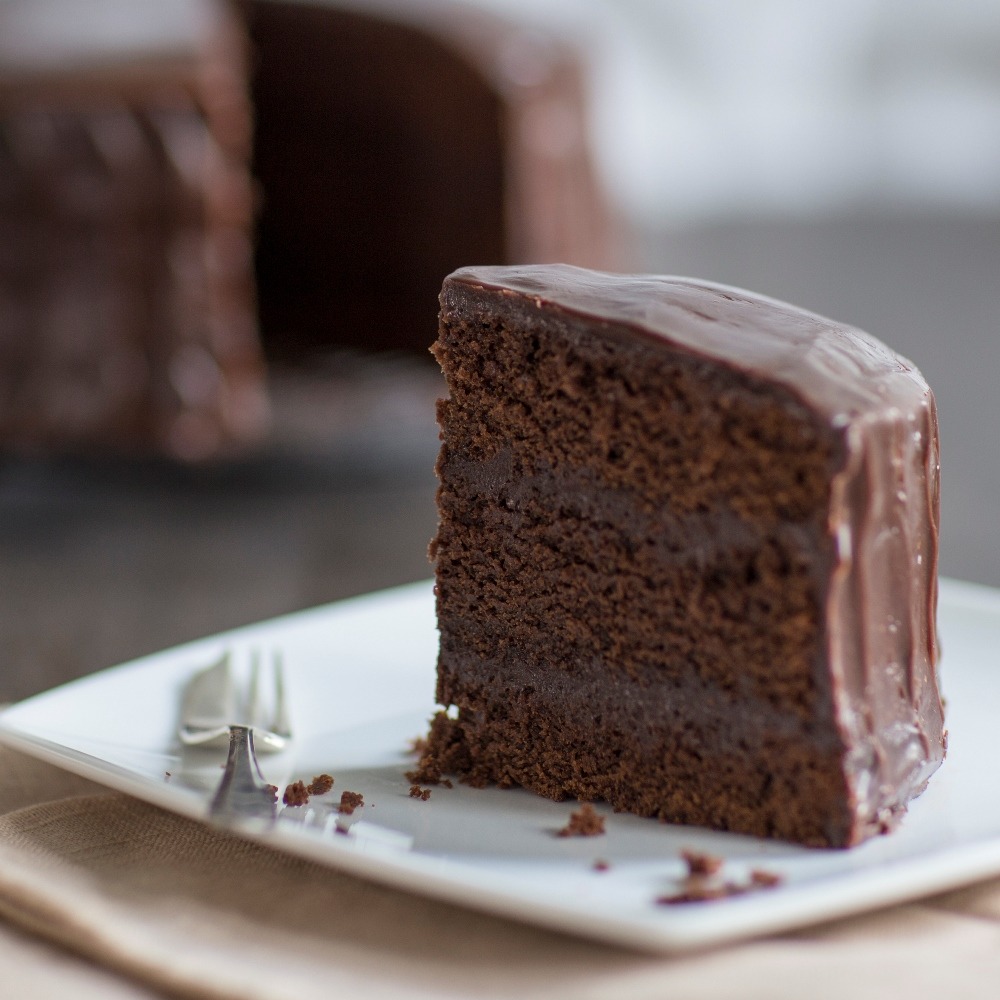 Juicy beetroot lend a special flavour to this delicious chocolate cake!
Serves 10-12 people
Ingredients
Cocoa powder, for dusting

225g / 8oz can cooked whole beetroot, drained and juice reserved

115g / 4oz / ½ cup unsalted butter, softened

425g / 15oz / 2 ½ cups soft light brown sugar 3 eggs

15ml / 1 tbsp vanilla essence

75g / 3oz bittersweet chocolate, melted

225g / 8oz / 2 cups plain flour

10ml / 2 tsp baking Powder

20.5 ml / ½ tsp salt

120ml / 4fl oz / ½ cup buttermilk chocolate curls (optional)
CHOCOLATE GANACHE FROSTING
475ml / 16fl oz / 2 cups whipping cream or double cream

500g / 1 ¼ lb fine quality, bittersweet or plain chocolate, chopped into small pieces

15 ml / 1 tbsp vanilla essence
Procedure
Preheat the oven to 1800C / 3500F / Gas 4. Grease two 23 cm /9 in cake tins and dust the base and sides with cocoa. Grate the beetroot and add to the juice. Set aside. With a hand-held electric mixer, beat the butter, brown sugar, eggs and vanilla essence in mixing bowl until pale. Reduce the speed and beat in the melted chocolate. Sift the flour, baking powder and salt and salt into a bowl.

With the mixer on low speed gradually beat the flour mixture into the butter mixture, alternately with the buttermilk. Add the beetroot and juice and beat for 1 minute. Divide between the tins and bake for 30-35 minutes or until a cake tester inserted in the center of each cake come out clean. Cool for 10 minutes, the turn the cakes out on a wire rack and cool completely.

To make the ganache frosting, heat the cream in a heavy – based saucepan over medium heat, until it just begins to boil, stirring occasionally to prevent it from scorching. Remove from the heat and stir in the chocolate, stirring constantly until melted and smooth. Stir in the vanilla essence. Strain into a bowl. Cool, then chill, stirring every 10 minutes for about 1 hour, until spreadable.

Assemble the cake. Place one layer on a serving plate and spread with one –third of the ganache frosting. Place the second layer on top and spread the remaining ganache over the cake, taking it down the sides. Decorate with the chocolate curls, if using. Allow the ganache frosting to set for 20-30 minutes, then chill the cake before serving.
Recipe source: The Chocolate Bible
Recipe Code: 2017003
Image source: https://www.pinterest.co.uk