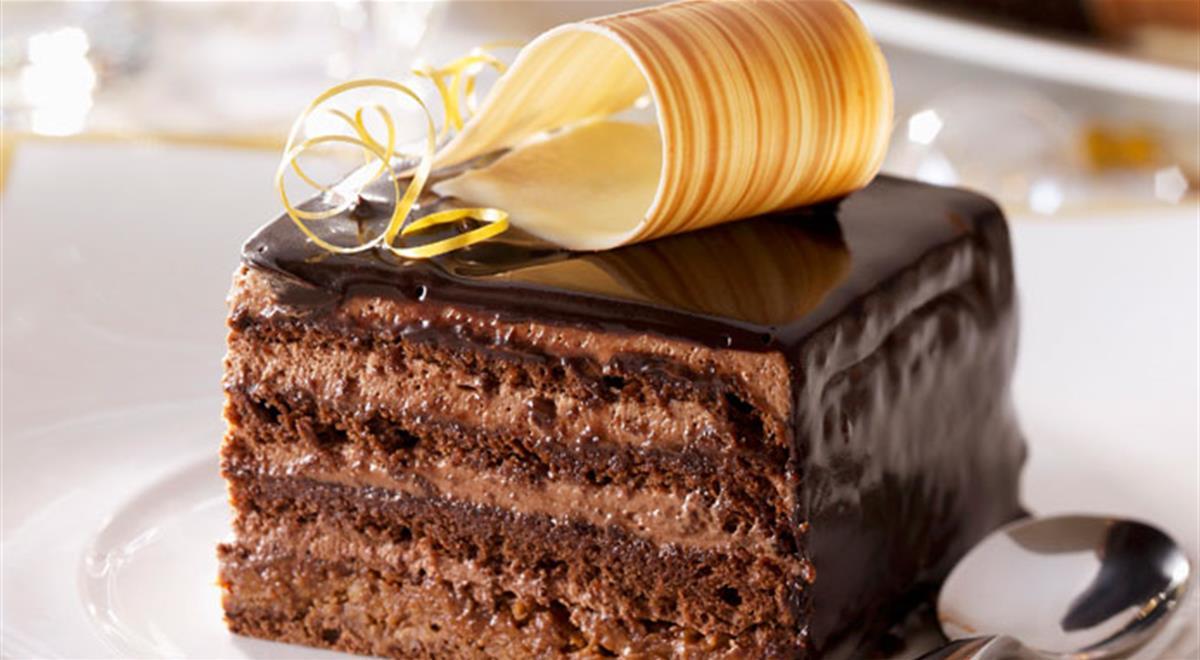 Delight family & friend with this sumptuous chocolate cake!
Serves 10 people
Ingredients
250g / 9oz bittersweet chocolate, chopped into small pieces

225g / 8oz / 1 cup unsalted butter, cut into small pieces

90g / 3 ½ oz /scant ½ cup granulated sugar

30ml / 2 tbsp brandy or orange-flavored liqueur 5 eggs

15 ml / 1 tbsp plain flour icing sugar, for dusting whipped or soured cream, for serving
Procedure
Preheat oven to 1800C / 3500F / Gas 4. Generously grease a 23 x 5 cm / 9 x 2 in spring from tin. Line the base with nonstick baking paper and grease. Wrap the bottom and sides of the tin in foil to prevent water from seeping through into the cake.

In a saucepan, over a low heat, melt the chocolate, butter and sugar, stirring frequently until smooth. Remove from the heat, cool slightly and stir in the brandy or liqueur.

In a large bowl beat the eggs lightly for 1 minute. Beat in the flour, then slowly beat in the chocolate mixture until well blended. Pour into the tin.

Place the spring from tin in a large roasting tin. Add enough boiling water to come 2 cm/ ¾ in up the side of the spring from tin. Bake for 25-30 minutes, until the edge of the cake is set but the Centre is still soft. Remove the spring from tin from the roasting tin and remove the foil. Cool on a wire rack. The cake will sink in the Centre and become its classic slim shape as it cools. Don't worry if the surface cracks slightly.

Remove the side of the spring from tin and turn the cake on to a wire rack. Lift off the spring from tin base and then carefully peel back the paper, so the base of the cake is now the top. Leave the cake on the rack until it is quite cold.

Cut 6-8 strips of non-stick baking paper 2.5 cm / 1 in wide and place randomly over the cake. Dust the cake with icing sugar, then carefully remove the paper. Slide the cake on to alpate and serve with whipped or soured cream.
Source: The Chocolate Bible
Recipe Code: 2017004
Image source: https://www.finedininglovers.com