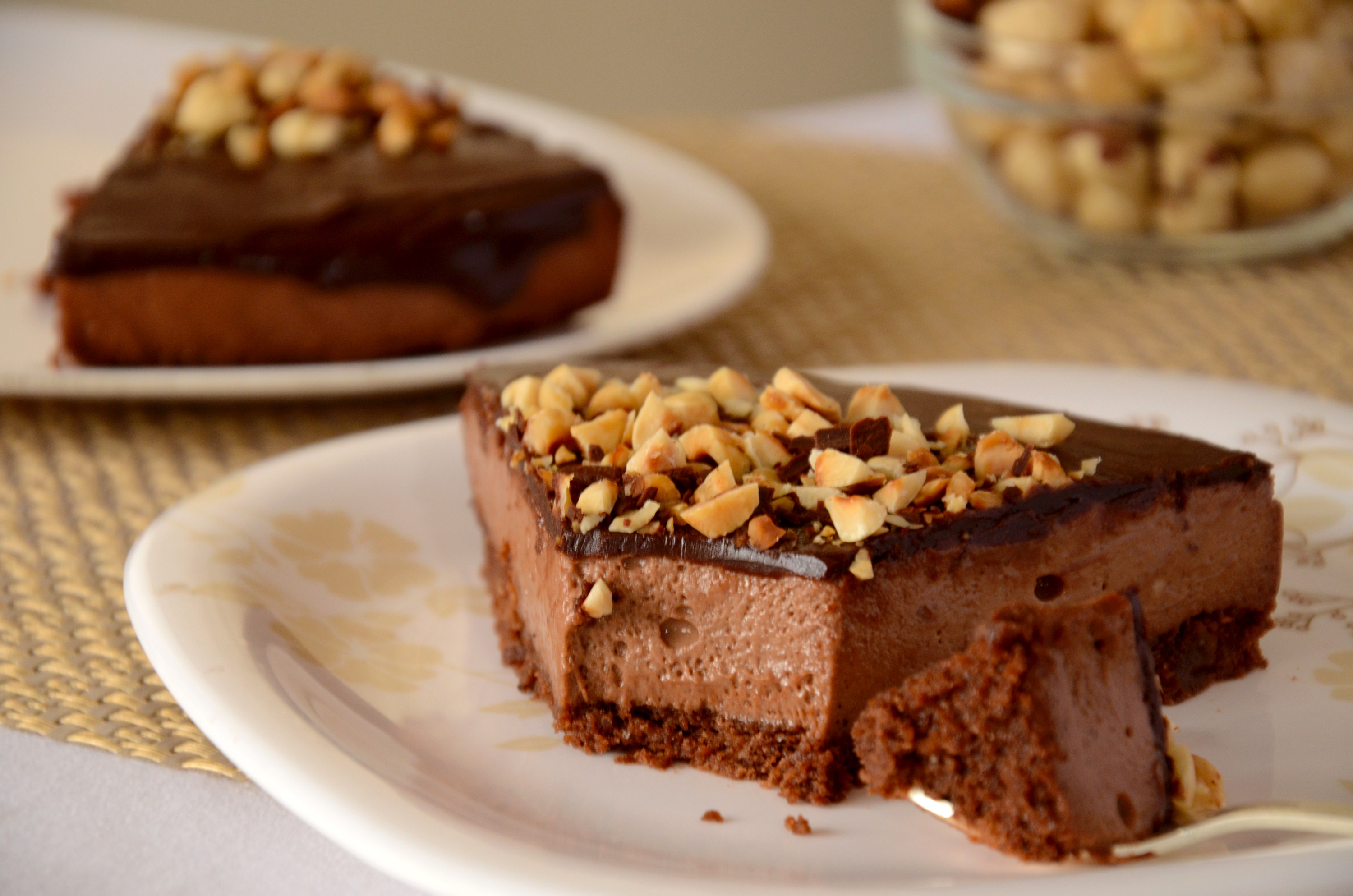 Serves 8 people
Ingredients
50g / 2oz plain dark chocolate, broken into squares

200g /7oz marzipan, grated or chopped

200ml /7fl oz/ scant 1 cup milk

115g/ 4oz/ 1 cup self-raising flour 2 eggs, separated

75g / 3oz/ ½ cup light muscovado sugar

FOR THE MOUSSE FILLING

11 5g / 4oz plain chocolate, chopped into small pieces

50g / 2oz / ¼ cup unsalted butter 2 eggs, separated

30ml / 2 tbsp Amaretto di Saronno liqueur
FOR THE TOPPING
1 quantity Chocolate Ganache toasted flaked almonds, to decorate
Procedure
Preheat oven to 190 C/375 F/Gas 5. Grease a deep 17 cm/61/2 in square cake tin and line with non-stick baking paper. Combine the chocolate, marzipan and milk in a saucepan and heat gently without boiling, stirring until smooth.

Sift the flour into a bowl and add the chocolate mixture and egg yolks, beating until evenly mixed.

Whisk the egg whites in a clean, grease-free bowl until stiff enough to hold firm peaks. Whisk in the sugar gradually. Stir about 15ml/1 tbsp of the whites into the chocolate mixture to lighten it, then fold in the rest.

Spoon the mixture into the tin, spreading it evenly. Bake for 45-50 minutes, until well risen, firm and springy to the touch. Leave to cool on a wire rack.

Make the mousse filling. Melt the chocolate with the butter in a small saucepan over a low heat, then remove from the heat and beat in the egg yolks and Amaretto. Whisk the egg whites in a clean, grease-free bowl until stiff, then fold into the chocolate mixture.

Slice the cold cake in half across the middle to make two even layers. Return one half to the clean cake tin and pour over the chocolate mousse. Top with the second layer of cake and press down lightly. Chill until set.

Turn the cake out on to a serving plate. Allow the chocolate ganache to soften to room temperature, then beat it to a soft, spreading consistency. Spread the chocolate ganache over the top and sides of the cake, then press toasted flaked almonds over the sides. Serve chilled.
Recipe source: The Chocolate Bible
Recipe Code: 20170025
Image source:https://www.google.co.in