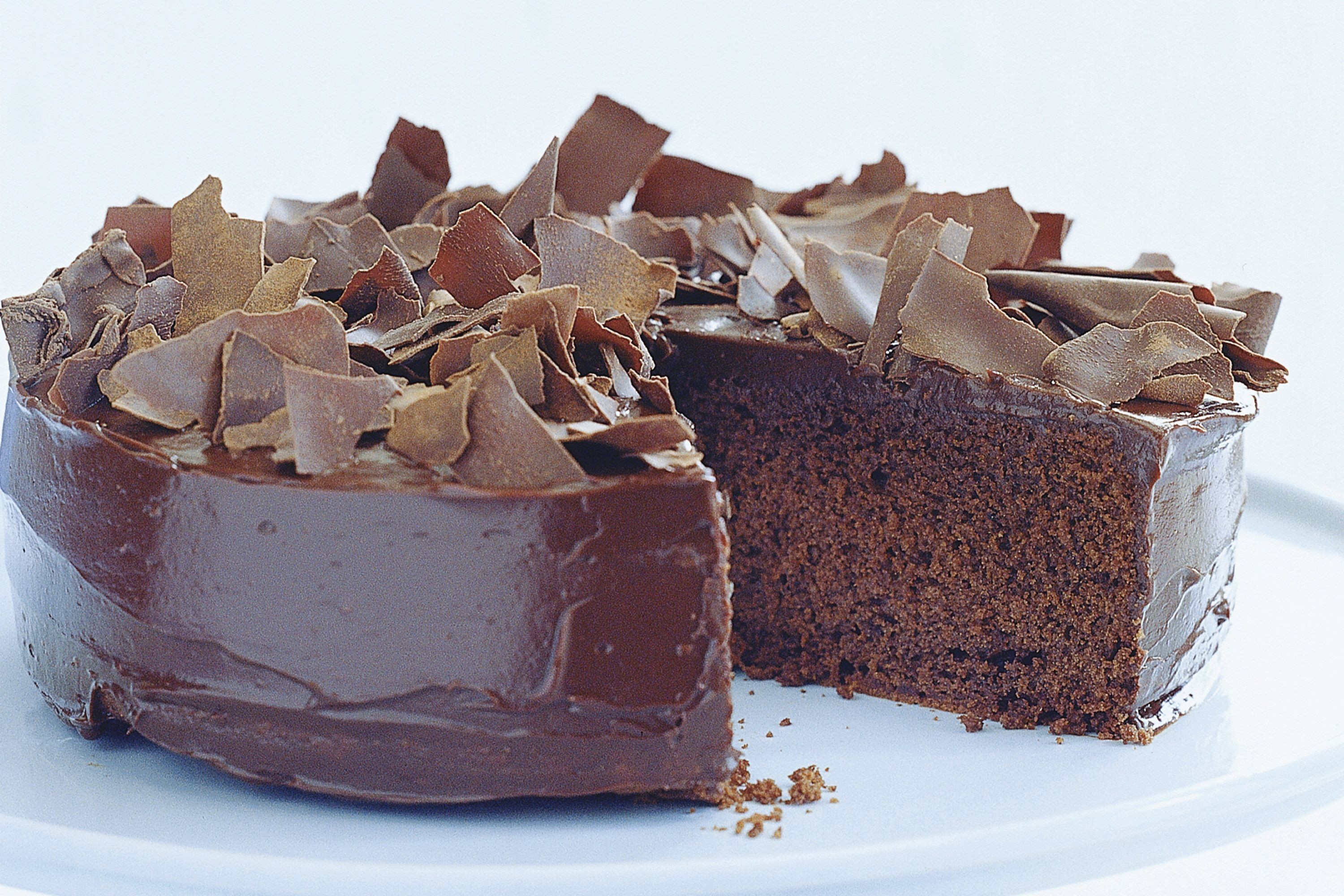 Serves 8 people
Ingredients
75g / 3oz plain dark chocolate, broken into squares

150ml/ ¼ pint/%3 cup milk

175g / 6oz / ¾ cup unsalted butter, softened

250g / 9oz / 1 1/3 cups light muscovado sugar 3 eggs

250g/9oz / 2 ¼ cups plain flour

10ml/ 2 tsp baking powder

75ml/ 5 tbsp single cream
FOR THE FILLING AND TOPPING
60ml / 4 tbsp raspberry conserve 1 quantity Chocolate Ganache dark and white chocolate leaves
Procedure
Preheat oven to 190°C/375°F/Gas 5. Grease and base-line two 22 cm/8 ½ in sandwich cake tins. Melt the chocolate with the milk over a low heat and allow to cool slightly.

Cream the butter with the light muscovado sugar in a mixing bowl until light and fluffy. Add the eggs, one at a time, beating well after each addition.

Sift the flour and baking powder over the mixture and fold in gently but thoroughly. Stir in the chocolate mixture and the cream, mixing until smooth. Divide between the prepared tins and level the tops.

Bake the cakes for 30-35 minutes or until they are well risen and firm to the touch. Cool in the tins for a few minutes, then turn out on to wire racks.

Sandwich the cake layers together with the raspberry conserve. Spread the chocolate ganache over the cake and swirl with a knife. Place the cake on a serving plate, then decorate with the chocolate leaves.
Recipe source: The Chocolate Bible
Recipe Code: 20170024
Image source:http://www.taste.com.au