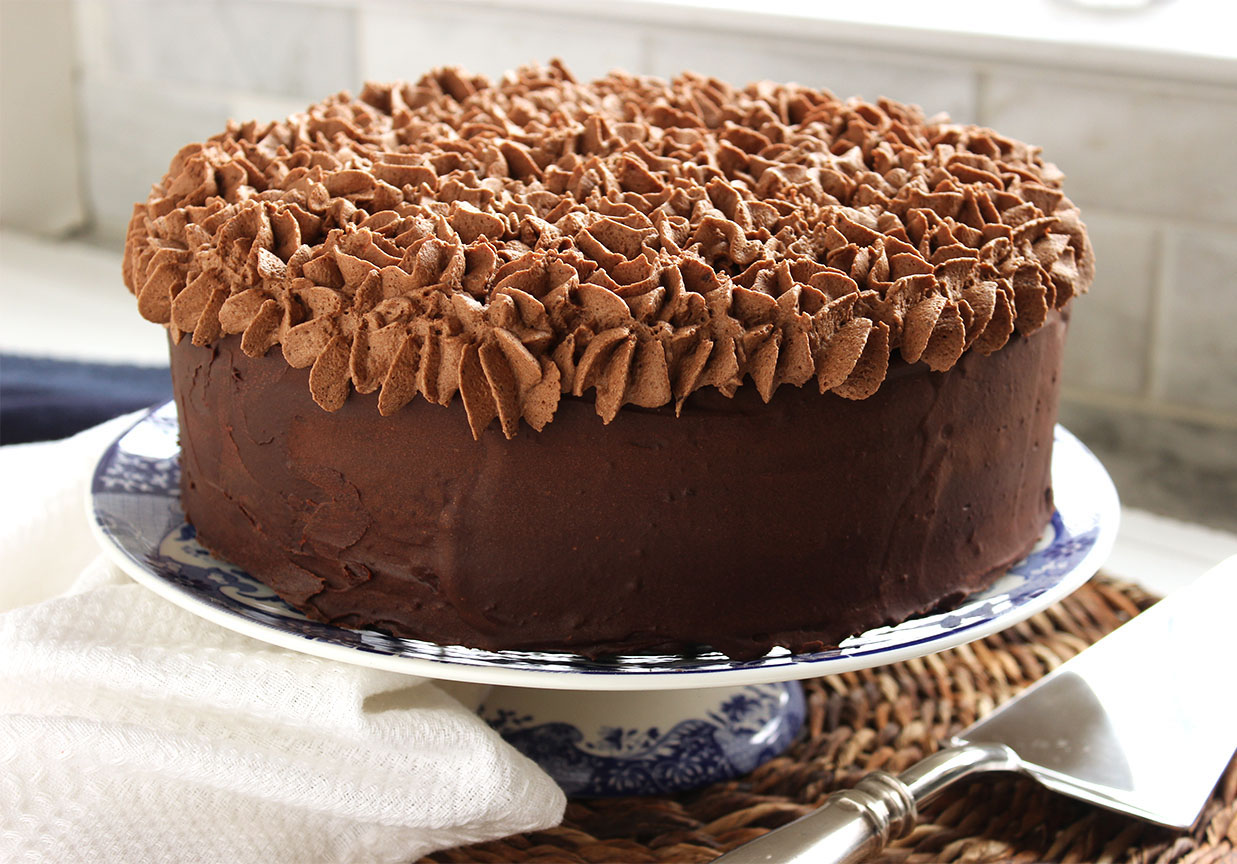 Serves 6-12 people
Ingredients
225g/ 8oz plain dark chocolate, chopped into small pieces

115g/ 4 oz /1/2 cup unsalted butter

150ml / ¼ pint / 2/3 cup milk

225g/ 8oz/ 1 ¼ cups light muscovado sugar

10ml / 2 tsp vanilla essence 2 eggs, separated

150ml /1/4 pint/ 2/3 cup soured cream

225g / 8oz/ 2 cups self-raising flour

5ml / 1 tsp baking powder
FOR THE FILLING AND TOPPING
60ml/ 4 tbsp seedless raspberry jam

60ml / 4 tbsp brandy

400g/ 14oz plain dark chocolate, chopped into small pieces

200g/7oz/ scant 1 cup unsalted butter 1 quantity Chocolate Ganache plain chocolate curls, to decorate
Procedure
Preheat oven to 180°C/ 350°F/ Gas 4. Grease and base-line a deep 23 cm/9 in springform cake tin. Place the chocolate, butter and milk in a saucepan. Stir over a low heat until smooth. Remove from the heat, beat in the sugar and vanilla essence, then leave to cool slightly.

Beat the egg yolks and cream in a bowl, then beat into the chocolate mixture. Sift the flour and baking powder over the surface and fold in.

Whisk the egg whites in a grease-free bowl until stiff. Stir about 30m1/2 tbsp of the whites into the chocolate cake mixture, to lighten it. Fold in the remaining whites, using a metal spoon.

Scrape the mixture into the prepared tin and bake for about 45-55 minutes or until firm to the touch. Cool in the tin for 15 minutes, then invert the cake on to a wire rack, remove the tin and set aside until completely cold.

Slice the cold cake across the middle to make three even layers. Make the filling. In a small saucepan, warm the raspberry jam with 15ml/1 tbsp of the brandy, then brush over two of the layers. Leave to set.

Place the remaining brandy in a saucepan with the chocolate and butter. Heat gently, stirring, until the mixture is smooth. Pour into a bowl and cool until it begins to thicken.

Spread the bottom layer of the cake with half the chocolate filling, taking care not to disturb the jam. Top with a second layer, jam side up, and spread with the remaining filling. Top with the final layer and press lightly.

Leave to set, then spread the top and sides of the cake with the chocolate ganache. Decorate with chocolate curls and then dust the top of the cake with cocoa powder.
Recipe source: The Chocolate Bible
Recipe Code: 20170026
Image source:http://www.temptationscakes.in