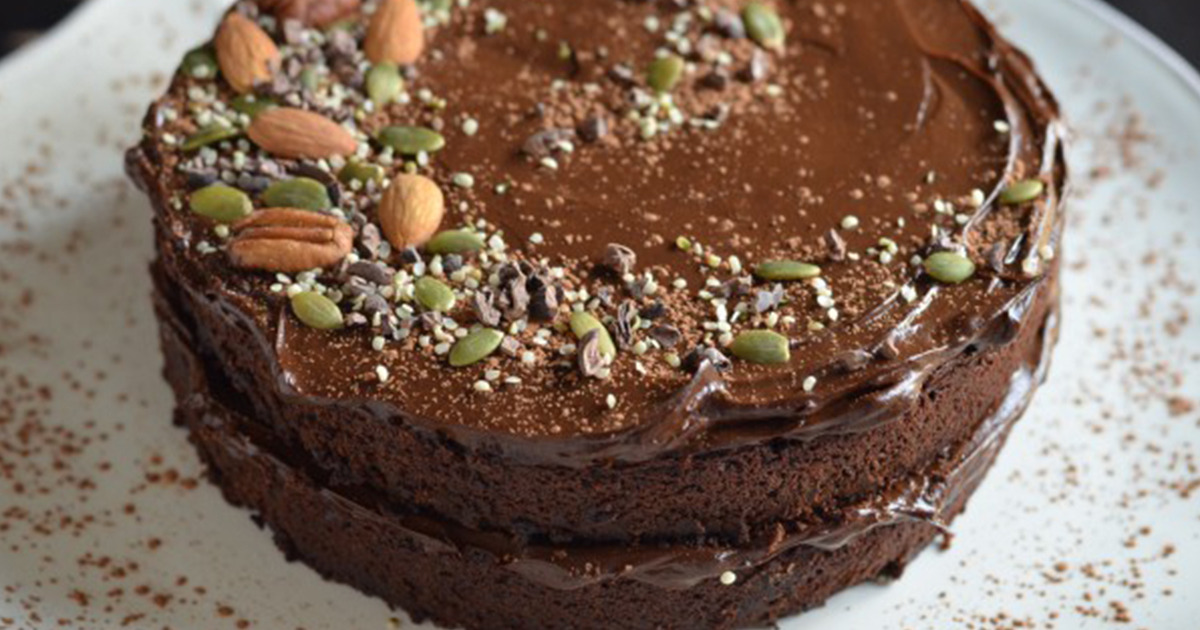 Serves 8-10 people
Ingredients
275g / 10oz/ 2 ½ cups self-raising wholemeal flour

50g / 2oz / ½ cup cocoa powder

45ml / 3 tbsp baking powder

225g / 8oz / 1 ¼ cups caster sugar few drops of vanilla essence

135ml /9 tbsp sunflower oil

350ml / 12.ft oz/ 1 ½ cups water sifted cocoa powder, for sprinkling

25g/ 1oz / ¼ cup chopped nuts, to decorate
FOR THE CHOCOLATE FUDGE
50g / 2oz/ ¼ cup vegan (soya) margarine

45ml / 3 tbsp water

250g/9oz/ 2 cups icing sugar

30ml / 2 tbsp cocoa powder I

5-30ml / 1-2 tbsp hot water
Procedure
Preheat oven to 160°C/325°F/Gas 3. Grease a deep 20 cm/8 in round cake tin, line with non-stick baking paper and grease the paper lightly with a little sunflower oil.

Sift the flour, cocoa and baking powder into a large mixing bowl. Add the caster sugar and vanilla essence, then gradually beat in the sunflower oil. Add the water in the same way, beating constantly to produce a smooth mixture with the consistency of a thick batter.

Pour the cake mixture into the prepared tin and smooth the surface with the back of a spoon.

Bake the cake for about 45 minutes or until a cake tester or fine metal skewer inserted in the center comes out clean. Remove from the oven but leave in the tin for about 5 minutes, before turning out on to a wire rack. Peel off the lining paper and leave to cool. Cut the cake in half to make two equal layers.

Make the chocolate fudge. Place the margarine and water in a pan and heat gently until the margarine has melted. Remove from the heat and add the sifted icing sugar and cocoa powder, beating until shiny, adding more hot water if needed. Pour into a bowl and cool until firm enough to spread and pipe.

Place the bottom layer of the cake on a serving plate and spread over two-thirds of the chocolate fudge mixture. Top with the other layer. Fit a piping bag with a star nozzle, fill with the remaining chocolate fudge and pipe stars over the cake. Sprinkle with cocoa powder and decorate with the chopped nuts.
Recipe source: The Chocolate Bible
Recipe Code: 20170027
Image source:http://www.temptationscakes.in