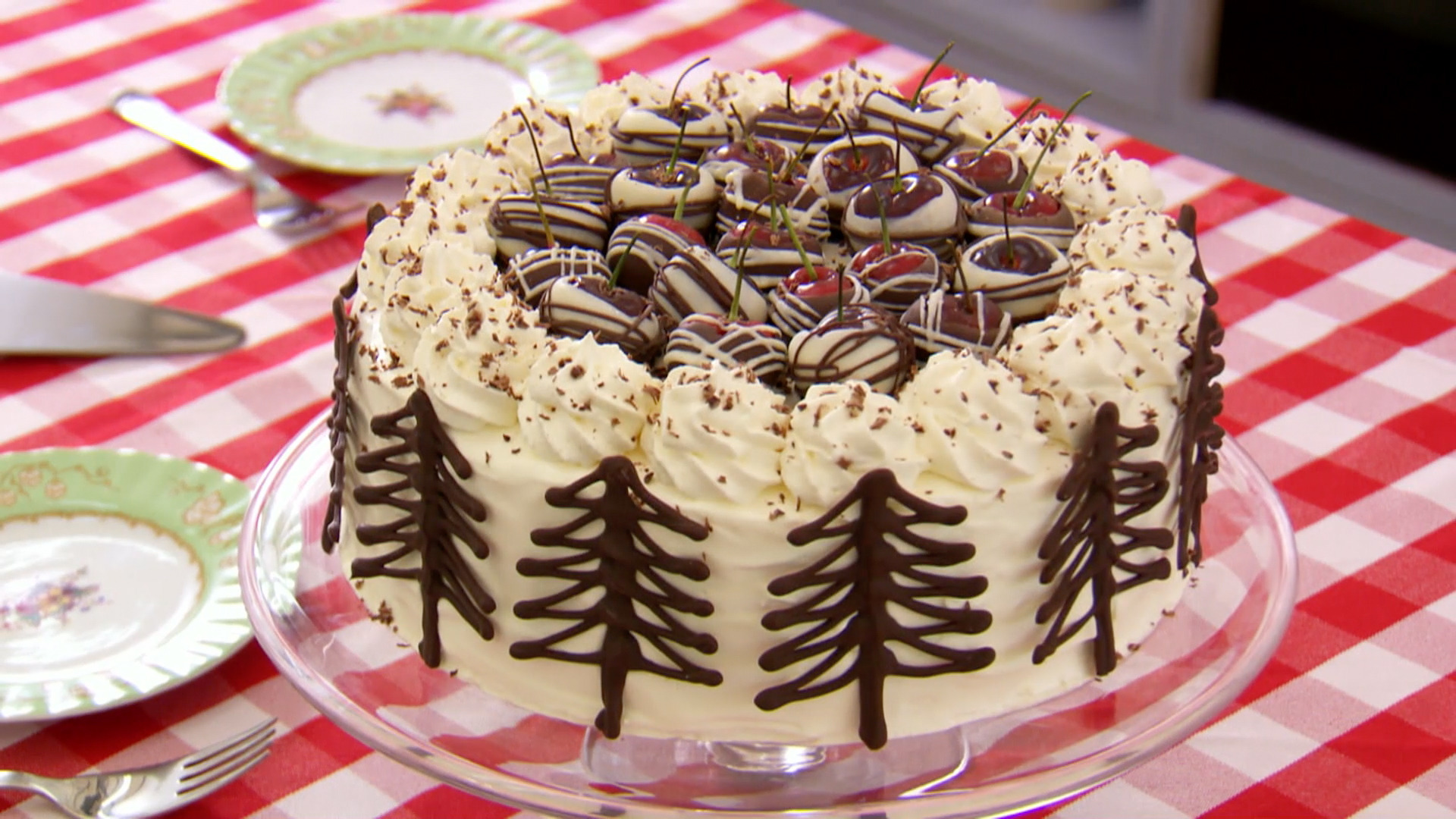 Serves 8-10 people
Ingredients
6 eggs

200g / 7oz /scant 1 cup caster sugar

5ml/ 1 tsp vanilla essence

50g/ 2oz / ½ cup plain flour

50g / 2oz/ ½ cup cocoa powder

115g / 4oz/ ½ cup unsalted butter, melted
FOR THE FILLING AND TOPPING
60ml/ 4 tbsp Kirsch

600ml/ 1 pint/ 2 ½ cups double cream

30ml /2 tbsp icing sugar

2.5ml/ ½ tsp vanilla essence

675g /1 ½ Ib jar stoned Morello cherries, well drained
TO DECORATE
icing sugar, for dusting grated chocolate Chocolate Curls fresh or drained canned Morello cherries
Procedure
Preheat oven to 180°C/ 350°F/Gas 4. Grease three 19 cm/ 7 ½ in sandwich cake tins. Line the bottom of each with non-stick baking paper. Combine the eggs with the sugar and vanilla essence in a bowl and beat with a hand-held electric mixer until pale and very thick.

Sift the flour and cocoa powder over the mixture and fold in lightly and evenly with a metal spoon. Gently stir in the melted butter.

Divide the mixture among the prepared cake tins, smoothing them level. Bake for 15-18 minutes, until the cakes have risen and are springy to the touch. Leave them to cool in the tins for about 5 minutes, then turn out on to wire racks and leave to cool completely. Remove the lining paper from each cake layer.

Prick each layer all over with a skewer or fork, then sprinkle with Kirsch. Using a hand-held electric mixer, whip the cream in a bowl until it starts to thicken, then gradually beat in the icing sugar and vanilla essence until the mixture begins to hold its shape.

To assemble, spread one cake layer with a thick layer of flavoured cream and top with about half the cherries. Spread a second cake layer with cream, top with the remaining cherries, then place it on top of the first layer. Top with the final cake layer.

Spread the remaining cream all over the cake. Dust a plate with icing sugar, and position the cake carefully in the center. Press grated chocolate over the sides and decorate the cake with the chocolate curls and fresh or drained cherries.
Recipe source: The Chocolate Bible
Recipe Code: 20170028
Image source:http://www.pbs.org