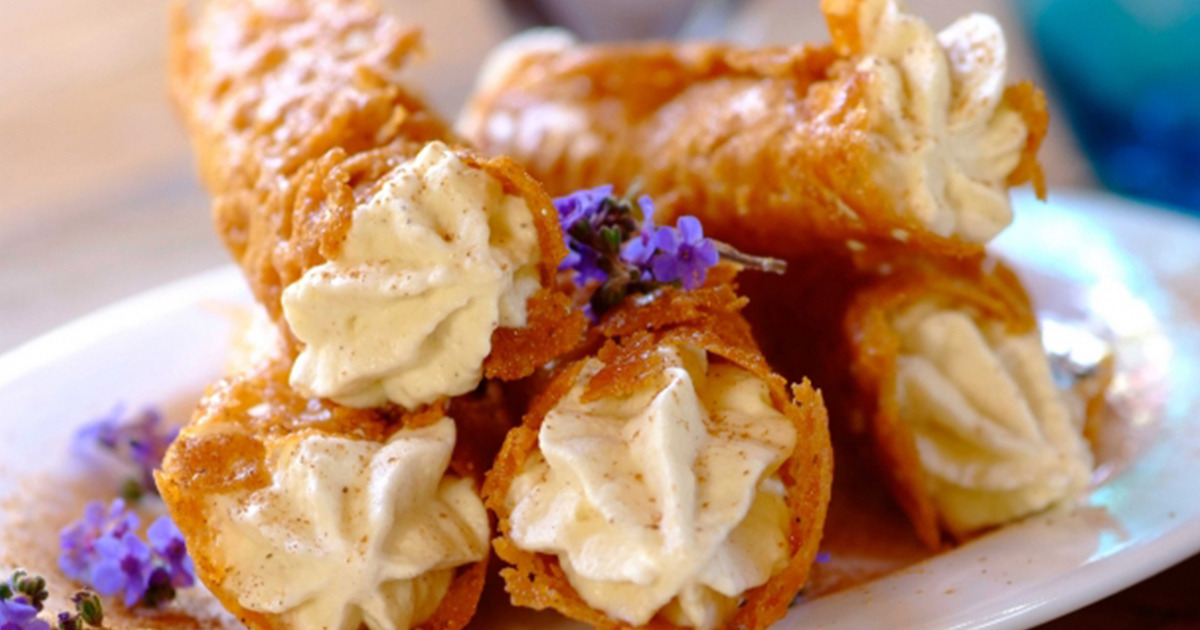 Serves 8 people
Ingredients
225g/ 8oz plain dark chocolate, chopped

225g / 8oz/1 cup unsalted butter, softened

200g/7oz/ generous 1 cup dark muscovado sugar

6 eggs, separated

5ml / 1 tsp vanilla essence

150g / 5oz / 1 ½ cups ground hazelnuts

60ml / 4 tbspfresh white breadcrumbs finely grated rind of 1 large orange 1 quantity Chocolate Ganache, for filling and frosting icing sugar, for dusting
FOR THE BRANDY SNAPS
50g/ 2oz/ ¼ cup unsalted butter

50g / 2oz/ ¼ cup caster sugar

75g / 3oz/ ½ cup golden syrup

50g/ 2oz/ ½ cup plain flour

5mL/ 1 tsp brandy
Procedure
Preheat oven to 180°C/350°F/Gas 4. Grease two 20 cm/8 in sandwich cake tins and line the base of each with non-stick baking paper. Melt the chocolate and set aside to cool slightly.

Cream the butter with the sugar in a mixing bowl until pale and fluffy. Beat in the egg yolks and vanilla essence. Add the chocolate and mix thoroughly.

In a clean, grease-free bowl, whisk the egg whites to soft peaks, then fold them into the chocolate mixture with the ground hazelnuts, breadcrumbs and orange rind.

Divide the cake mixture between the prepared tins and smooth the tops. Bake for 25-30 minutes or until well risen and firm. Turn out on to wire racks. Leave the oven on.

Make the brandy snaps. Line two baking sheets with non-stick baking paper. Melt the butter, sugar and syrup together.

Stir the butter mixture until smooth. Remove from the heat and stir in the flour and brandy.

Place small spoonfuls of the mixture well apart on the baking sheets and bake for 8-10 minutes, until golden. Cool for a few seconds until firm enough to lift on to a wire rack.

Immediately pinch the edges of each brandy snap to create a frilled effect. If the biscuits become too firm, soften them briefly in the oven. 9 Sandwich the cake layers together with half the chocolate ganache, transfer to a plate and spread the remaining ganache on the top. Arrange the brandy snaps over the gateau and dust with icing sugar.
COOK'S TIP
To save time, you could use ready-made brandy snaps. Simply warm them for a few minutes in the oven until they are pliable enough to shape. Or use as they are, filling them with cream, and arranging them so that they fan out from the center of the gateau.
Recipe source: The Chocolate Bible
Recipe Code: 20170030
Image source:https://www.robertsons.co.za