Birthday Return Gifts - 2 Chocolate Box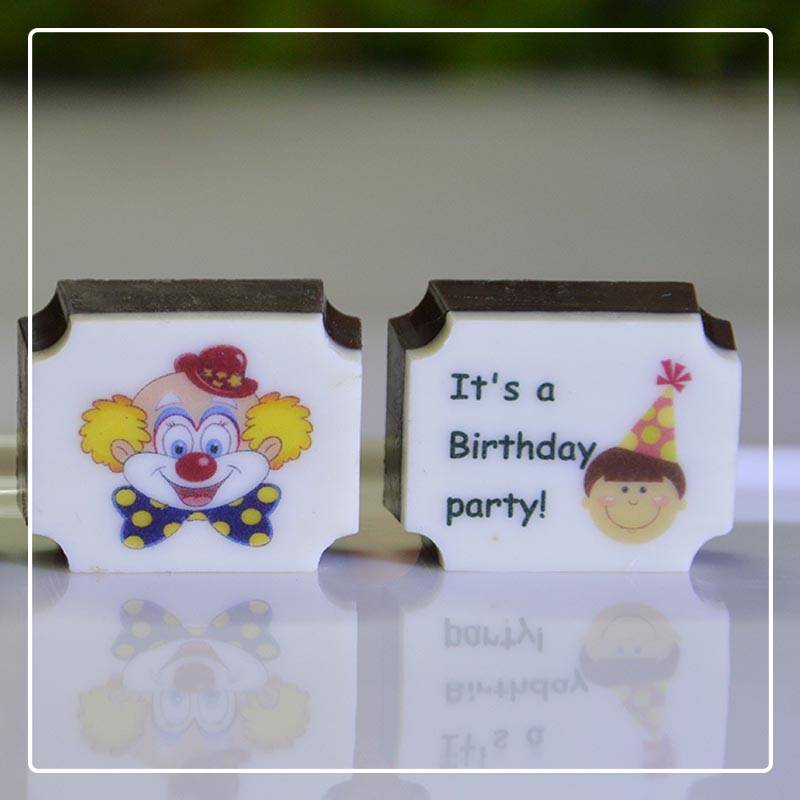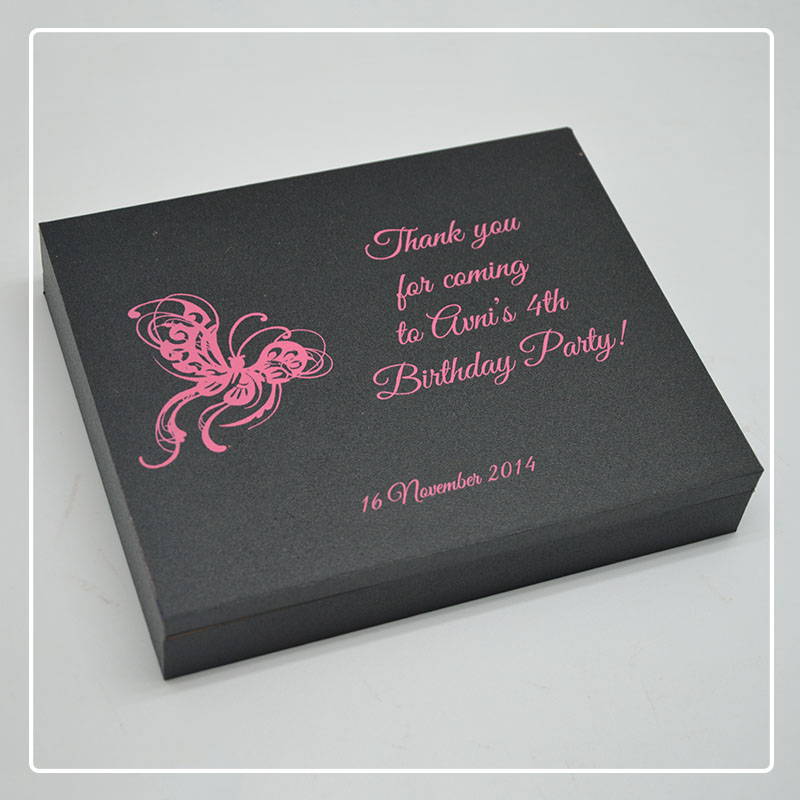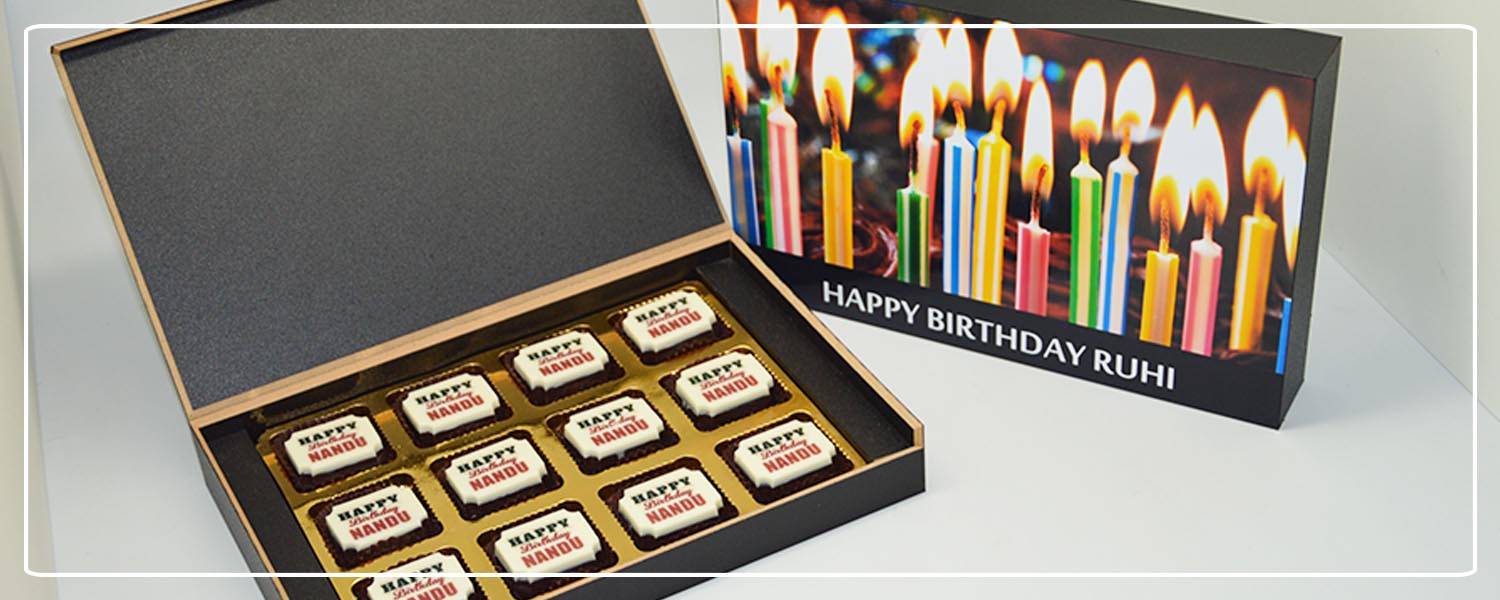 We at ChocoCraft offer you various options for return gifts. The most popular amongst them is 2 Chocolate Box option which consists of a customised wooden box, 2 candies and a message on a butter paper. This is the best return gift for kids. We make special designs based on the theme of birthday party.
All we ask you to do is choose the configuration you like and then customise. This is one really good birthday return gift you can give.

Chocolates Configuration Options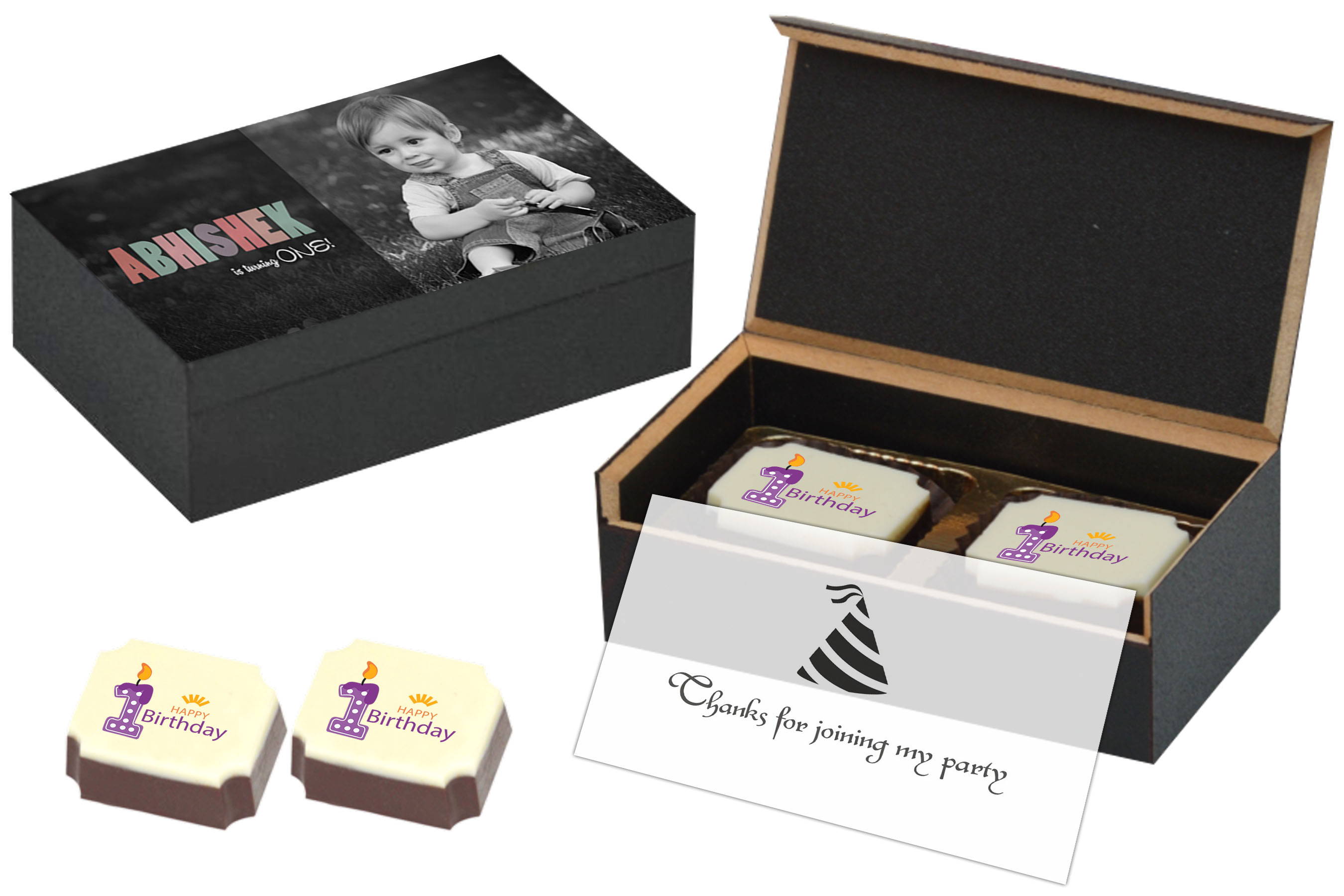 All Printed Candies, Customised Wooden Box , Message on Butter Paper.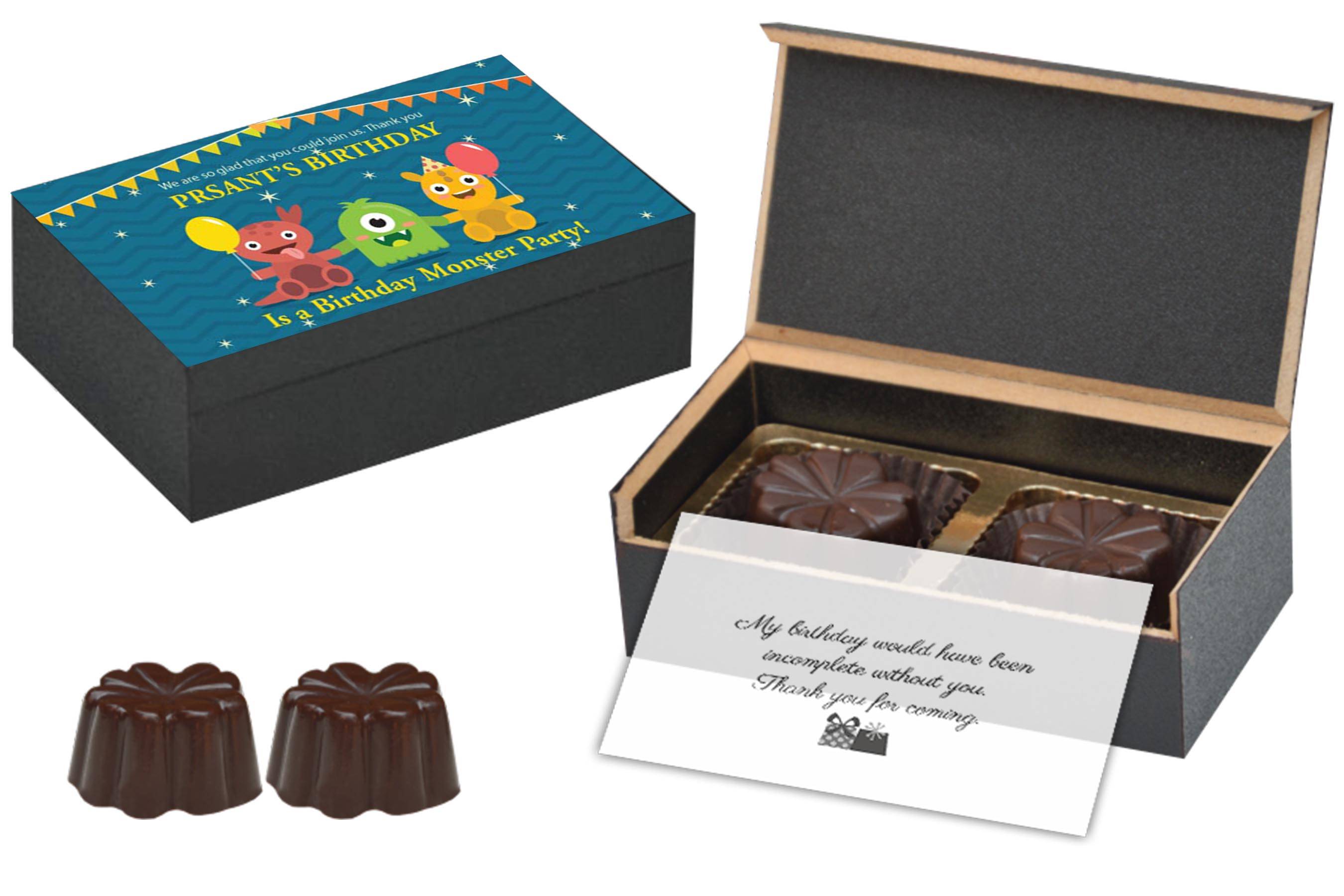 Assorted Candies, Customised Wooden Box , Message on Butter Paper.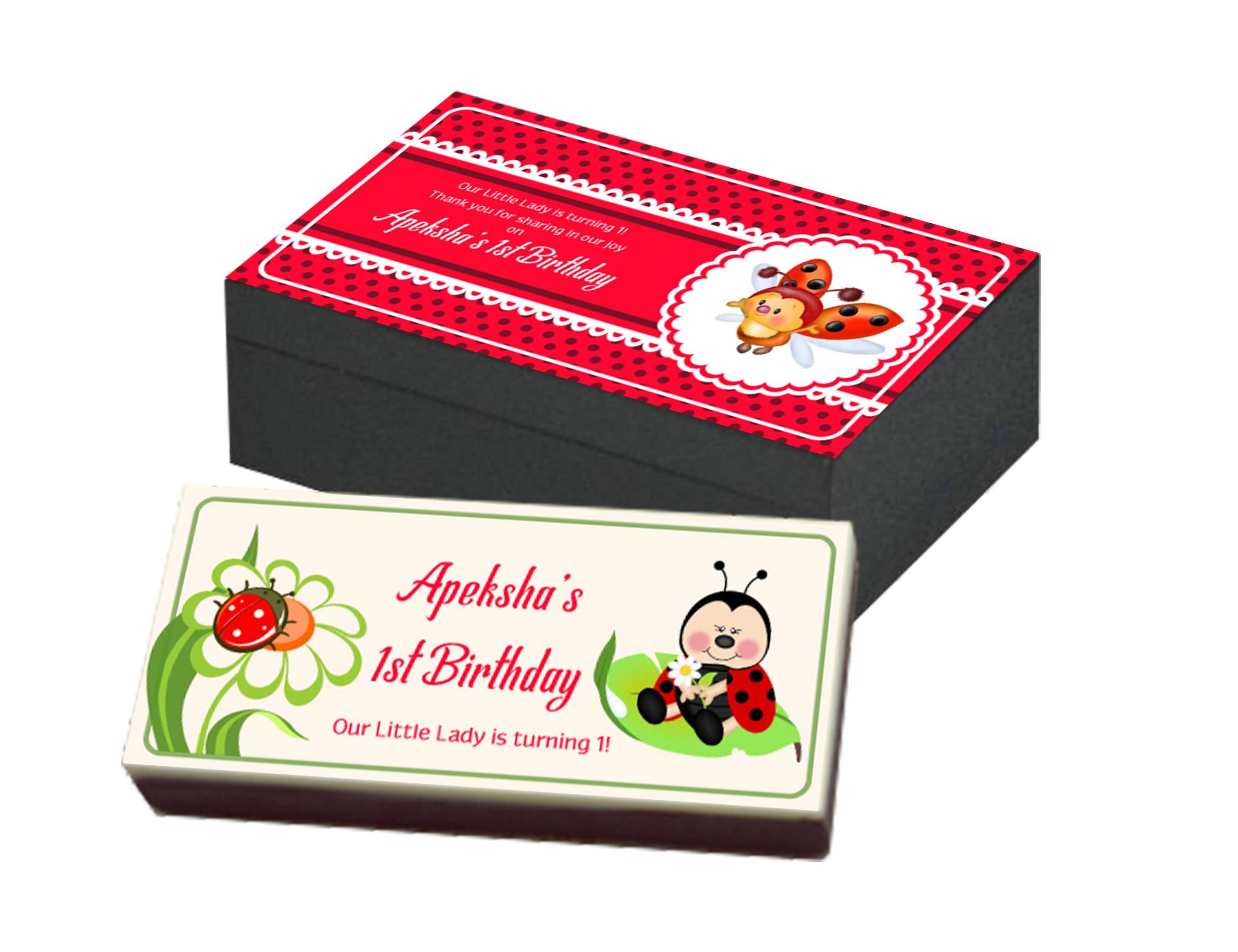 You can also explore different options for birthday return gifts as given below

Return Gift Ideas at Kids Birthday Party
A birthday party is no more limited to a private affair at home with closed ones. Birthdays are now celebrated by throwing grand parties at exotic venues right from the birthday invitations, everything is accompanied with a gift. Hence, the age-old custom of giving a return gift is but naturally followed.
A return gift is a form of acknowledgement and appreciation to the guests for gracing the occasion and also serves as a memory of the party.
Birthday return gifts are most commonly given away on birthday parties of kids. Birthday return gifts for children are of great value to kids. After all, any gift no matter how small or large, never fails to please them. Kids look forward to receiving these on birthday parties and hence return gifts for kids birthdays need to be planned taking into consideration what kids will admire.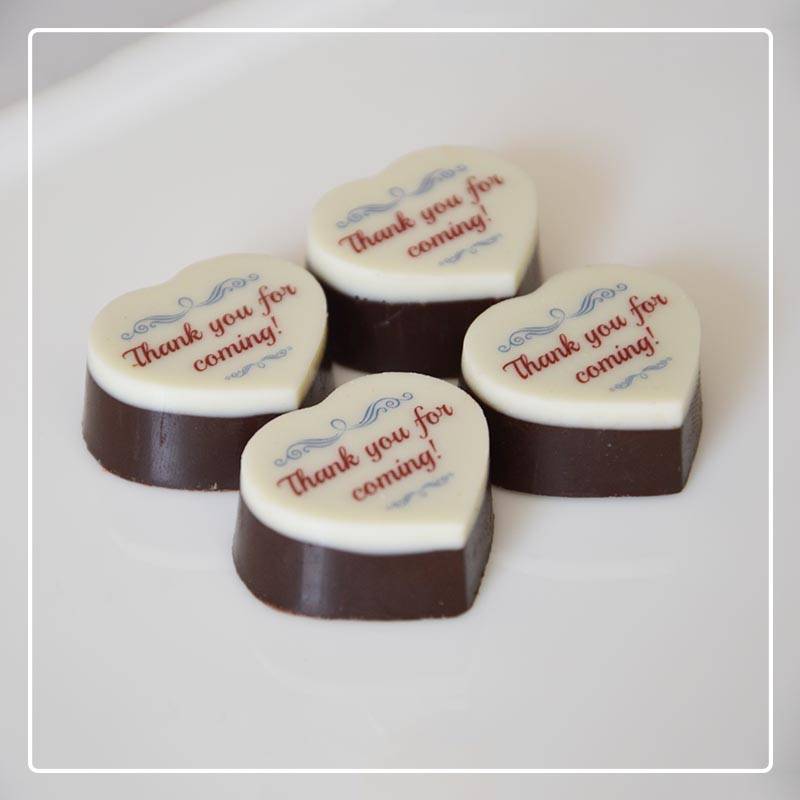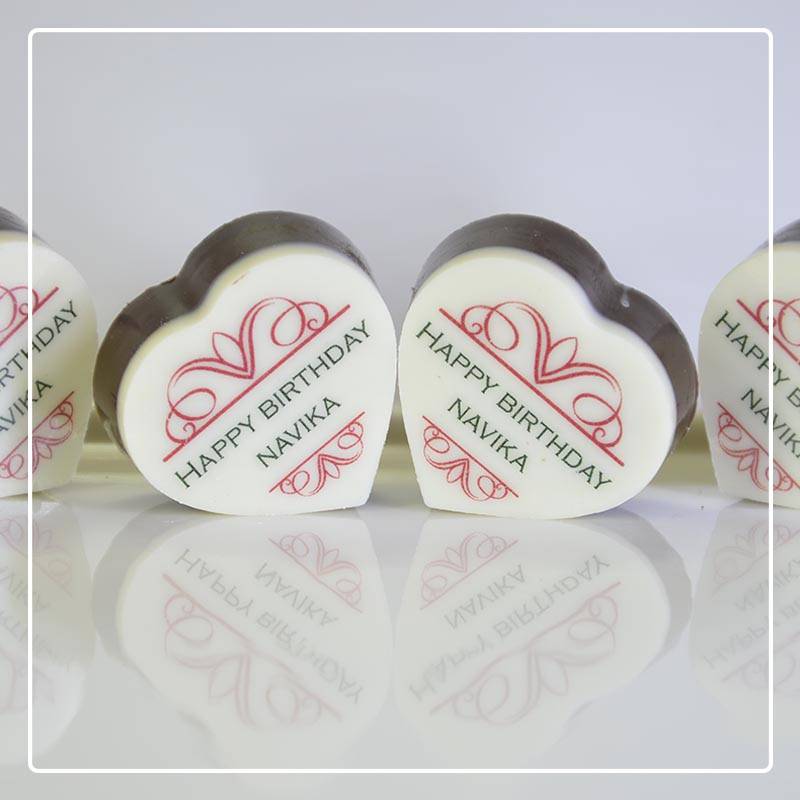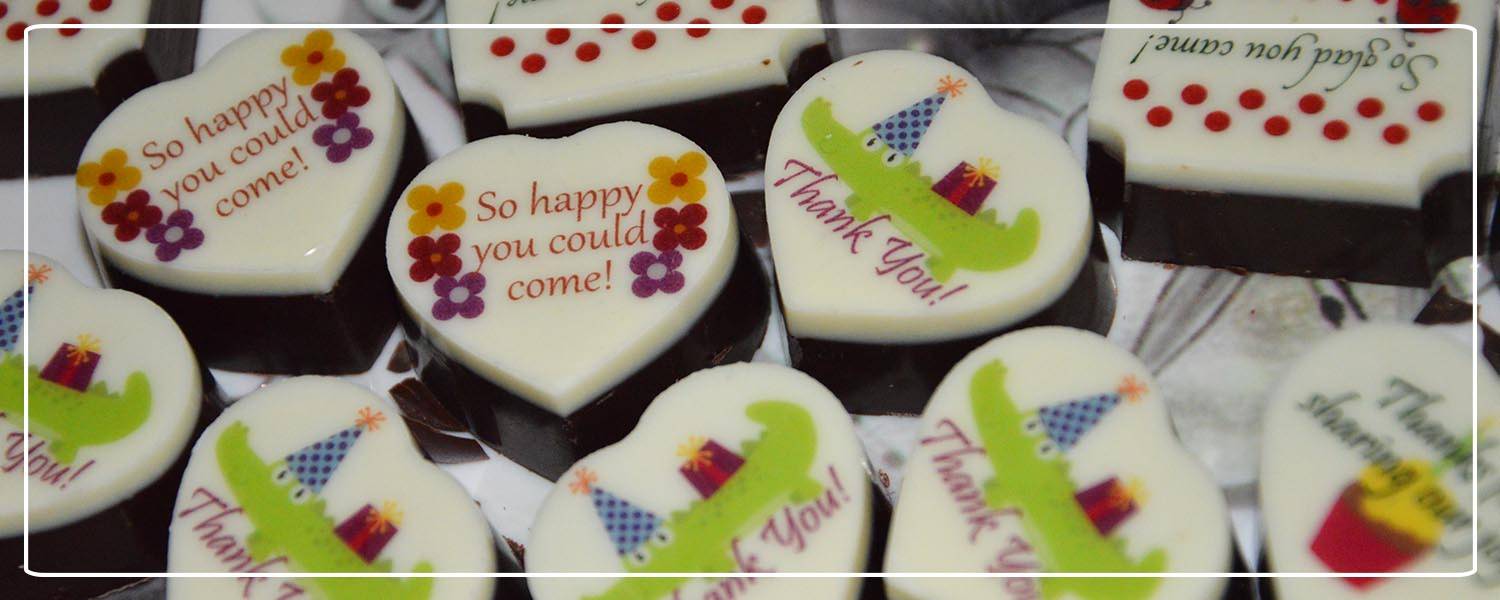 Kids Birthday Return Gift by CHOCOCRAFT
Gifts for
Gifting Ideas
Why Us
Unique Ideas with a personalised message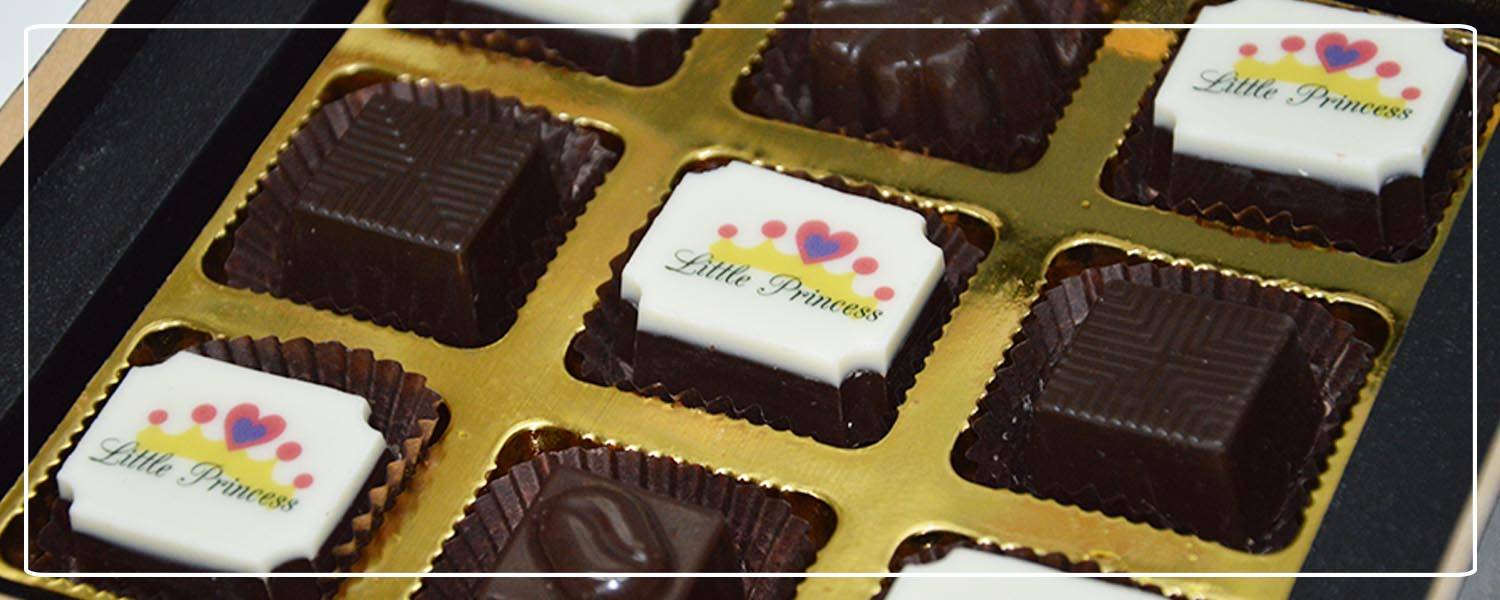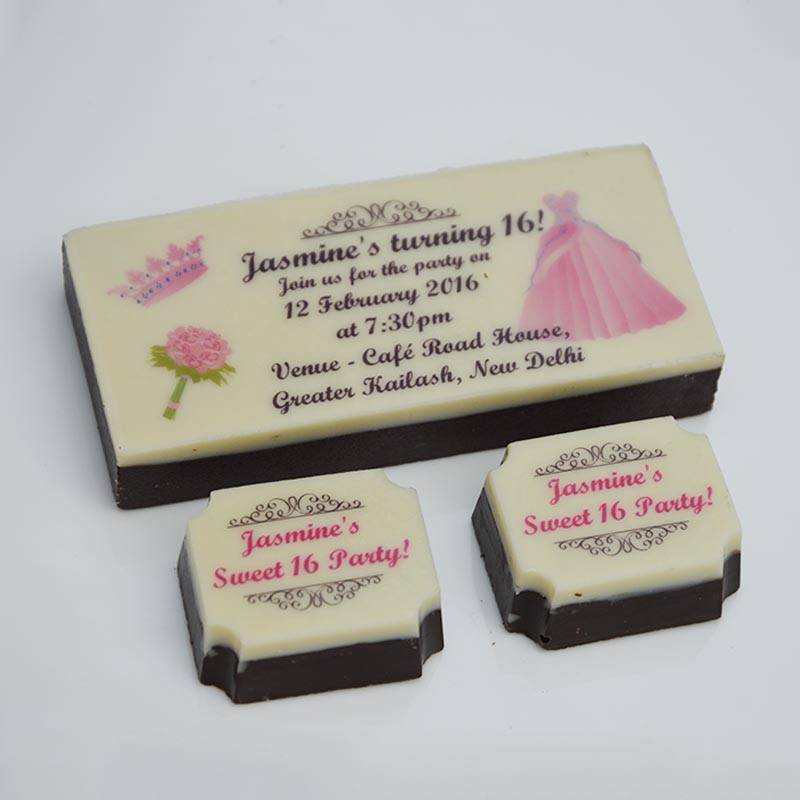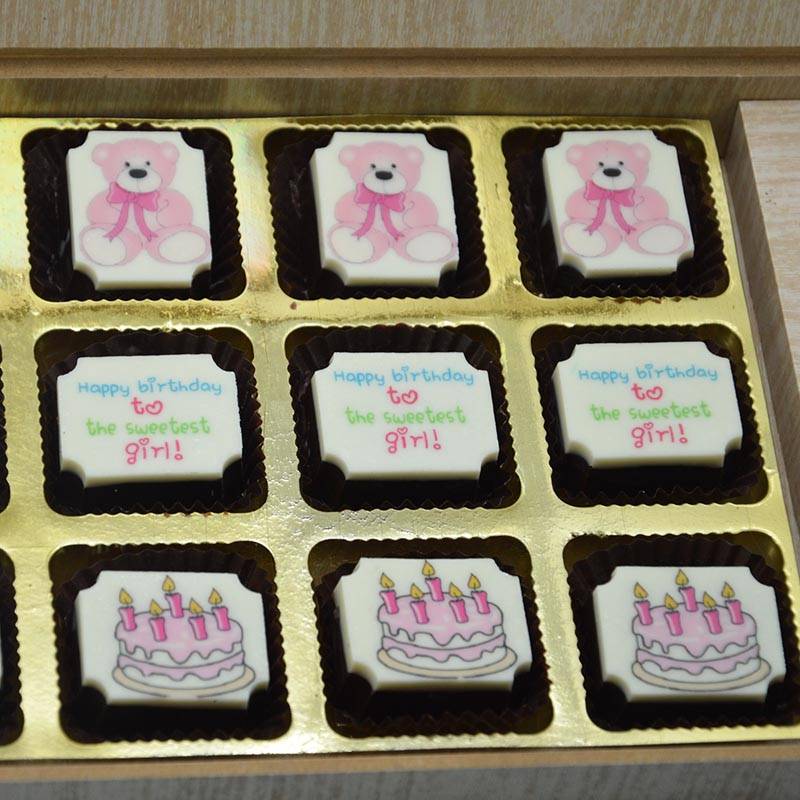 Customised Gifts for Kids
Even though plenty of best birthday return gift ideas are available, it is difficult to get them implemented. Thus, deciding and creating birthday return gifts for children is indeed a difficult task.
There are two configuration options available, namely all printed and assorted candies. In the all printed option, both the candies will have messages upon them. You get to choose the message too. The assorted one will have 2 assorted candies as per your choice without any message. With both the configurations, you get to customise the wooden box that comes along.
Various options and specialised themes are available for you while choosing the box design and they also depict the basic crux of the party.
You can also get photographs and messages printed on this box. We have a lot of options for the messages to be printed on the printed chocolates.
You also get to choose the thank you messages to be printed on the butter paper which comes inside the box. Thus, essentially you get to customise your return gift.
These are the best return gifts for kids as one can never go wrong with chocolates, especially customised ones. These are the best return gifts in India one can give away without any troubles in its making process.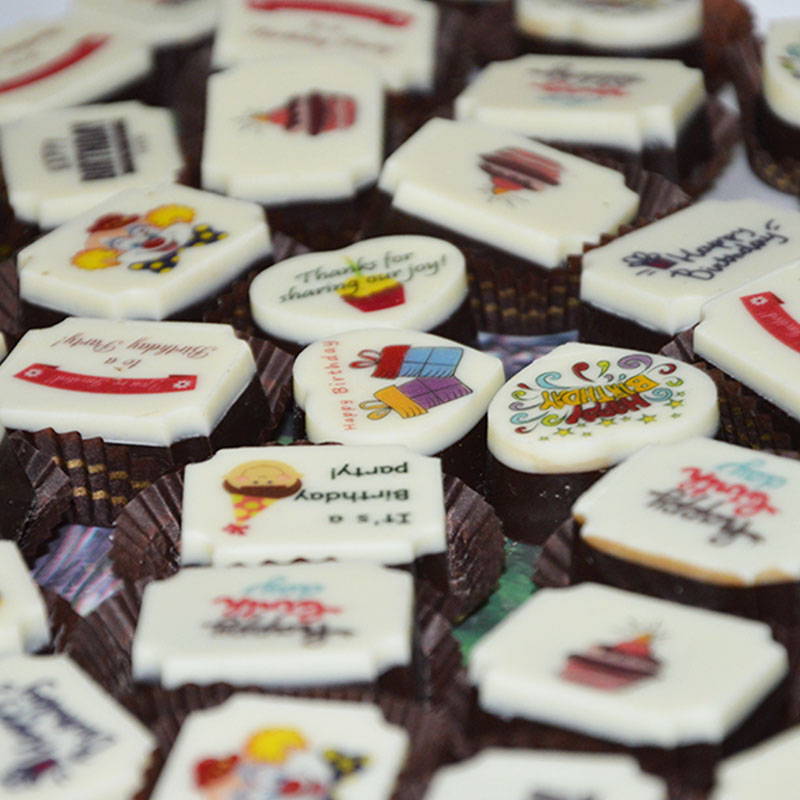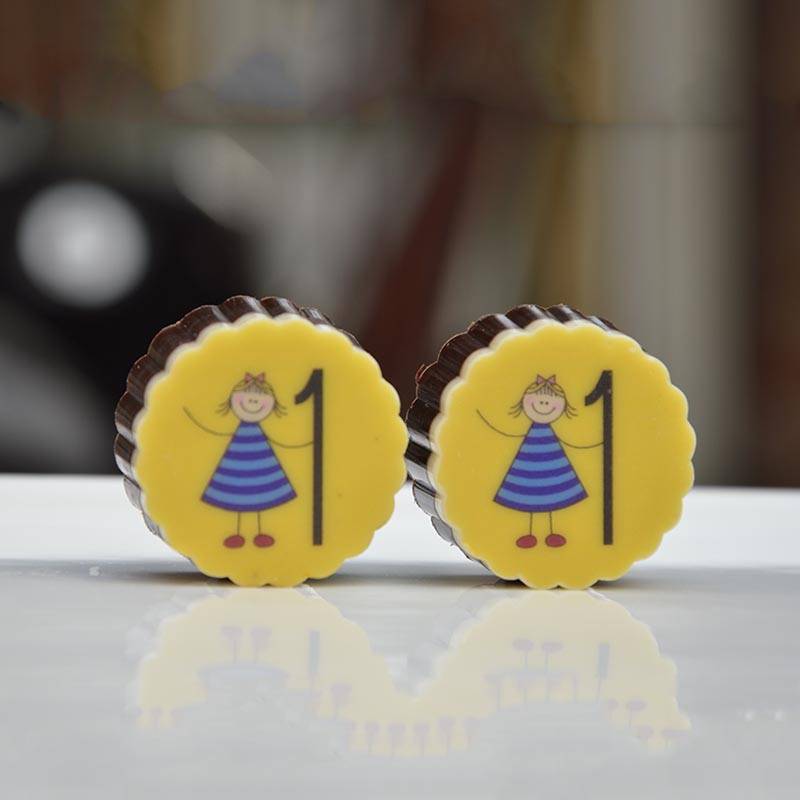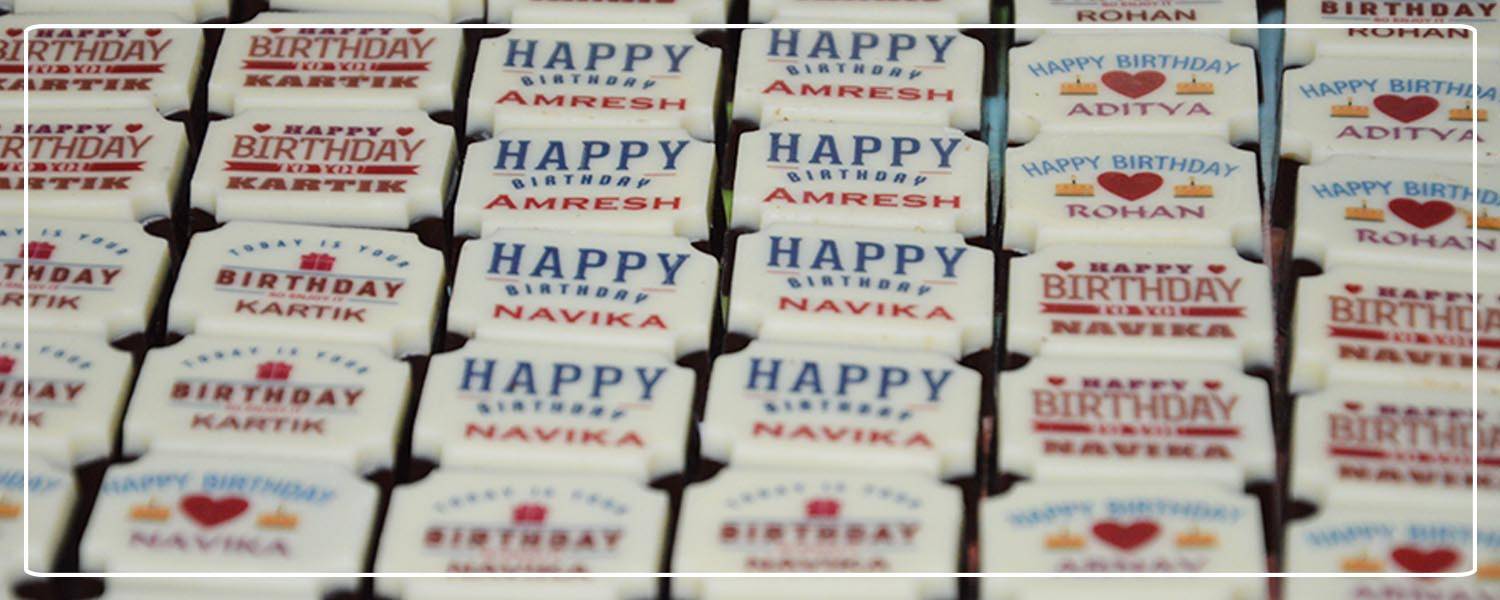 Kids Theme Party Favor
The concept of a theme party has been gaining momentum since it has come into picture and lately almost every party is based on a theme. And when it comes to kids birthday parties, there's a plethora of birthday themes that one can choose for the party.
Birthday parties of kids are celebrated with style and the common one's for boys and girls are Super hero based and Barbie or Disney princess based respectively. These days everyone wants to give latest birthday return gifts which are in trend and make a mark on the guests too.
A lot of effort is taken to finalise birthday return gifts in India. In theme parties, the theme is incorporated in almost every aspect of the party. The décor, cake , props, costume and the cake, everything is theme based. So are the return gifts. 1 year birthday return gifts are especially difficult to figure out.
Although a lot of baby birthday return gift ideas are available, it is very difficult to come up with something that lures the babies and is useful to them too. Popular themes for girls birthday parties are Disney princesses , Cinderella , Frozen , My little Pony, Dora etc. Barbie and Princesses have always enticed young girls and their birthday themes are also mostly inspired by them.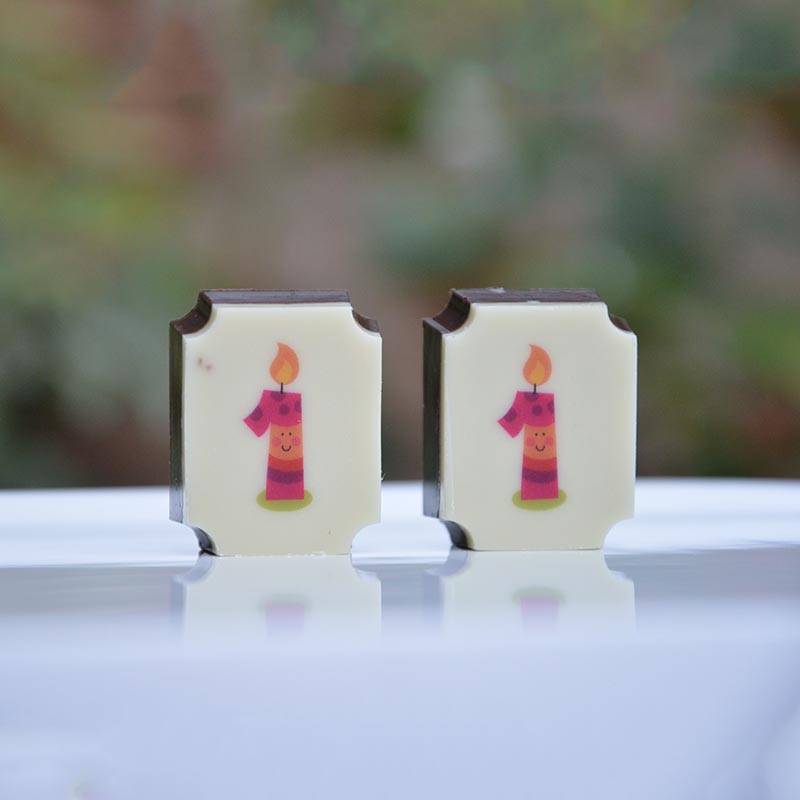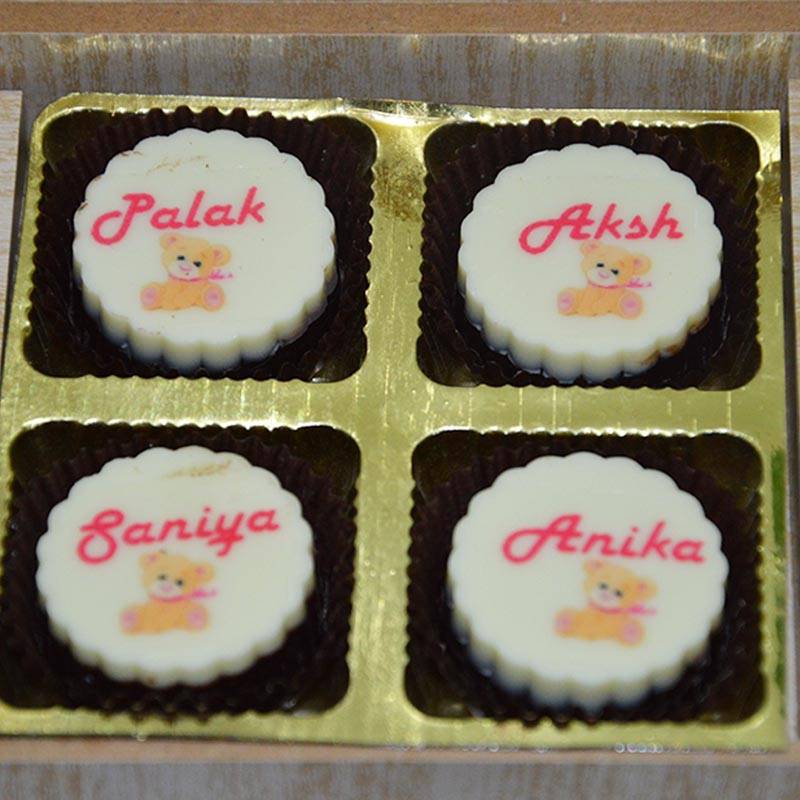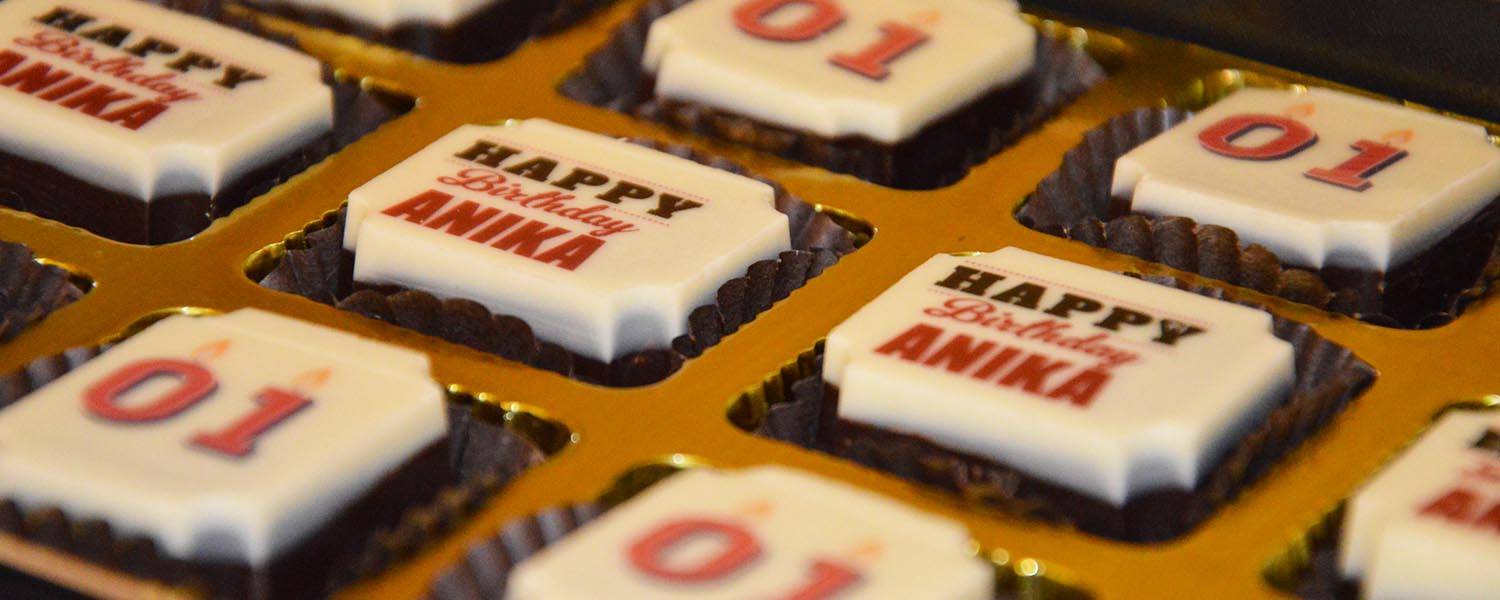 They dress up like princesses , cut Barbie cakes and what not. Themes for boy birthdays include Super Mario, Hot Wheels, Power Rangers and Pokémon. Common themes for both genders are Angry Birds, Disneyland , Minions , Animals etc. Some of the best birthday return gift ideas are useful toys, cool theme based sunglasses , themed based stickers etc. Key chains are one good birthday return gift for boys.
Almost every theme can be incorporated into key chains. First birthday return gifts are available online where in general , a lot of birthday return gifts ideas are available. For toddlers , some exceptional birthday return gifts for 1 year old are available.
Popular kids birthday favors include stationery items like colourful pencils, crayons, scales etc. , stickers , push toys , hair accessories and jewellery for girls , noisemakers, birthday party hats , yo – yo , glow sticks , tiffin boxes, water bottles etc. Theme based pictures can easily incorporated in these items.
A lot of options are readily available online too. Birthday return gifts in India are very thoughtful and creative. A lot of effort is put up by family and friends in the entire party.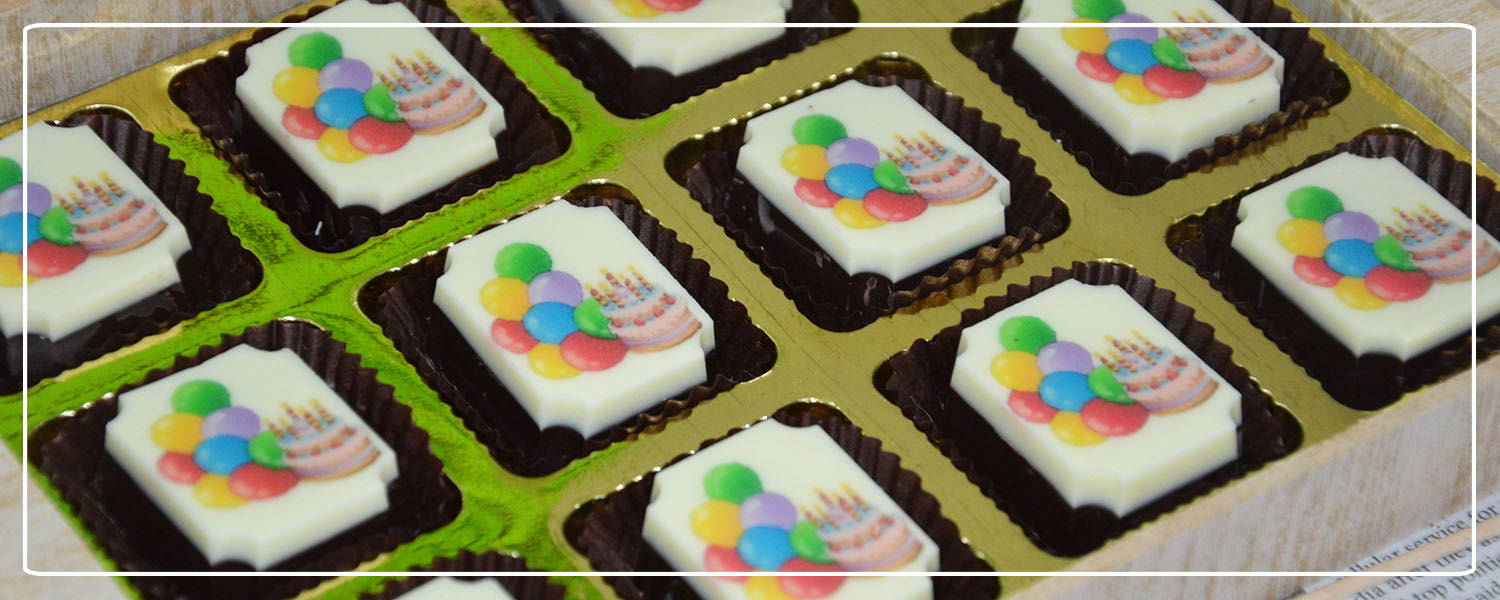 Birthday Return Gifts in India Online
Today almost everything is available online. Be it electronics, clothes , stationery or even groceries. Everything is a click away! So why not return gifts for kids birthday? Birthday return gifts for children are available too. That too a lot of them , you can get almost anything you need.
We know that giving away return gifts for toddlers birthday is difficult, but even first year birthday return gifts are easily available online. With a lot of options available at your disposal, there can be a lot of confusion. The more specific your requirements , the easier it becomes to shortlist as you can easily filter out.
However, you shouldn't be over specific too. Both return gift ideas for kids as well as kids birthday return gifts are available. You can get it delivered almost anywhere in the country. You don't need to worry , as all these deliveries reach you in time.
If you like being creative , you can refer to return gift ideas online and implement them yourself. In India, deliveries are provided almost everywhere. Especially in the major cities like Delhi, Bangalore, Chennai you can get early and fast deliveries too. Thus, it has become very easy to get everything just sitting at home.



For more information, please get in touch with us.