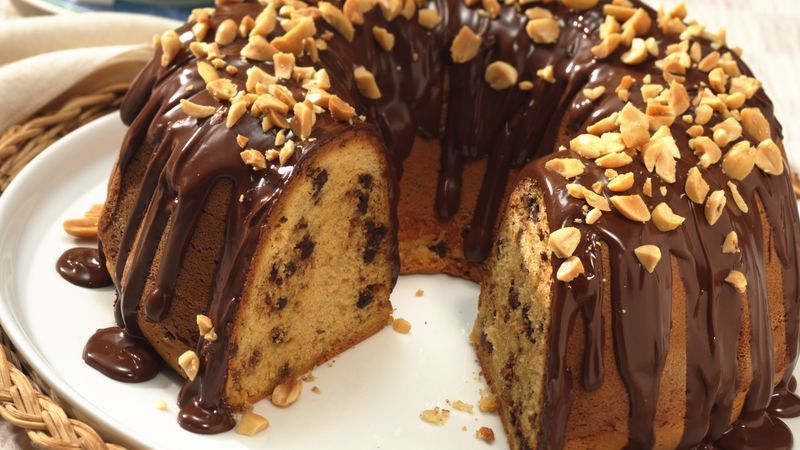 Serves 12-14 people
Ingredients
115G / 4oz bittersweet chocolate, chopped into small pieces

225g / 8oz 1 cup unsalted butter, softened

225g / 8oz / ½ cup smooth or chunky peanut butter

200g / 7oz /scant 1 cup granulated sugar

225g / 8 oz /1 ¼ cup soft light brown sugar 5 eggs

225g/ 8 oz / 2 cups plain flour

210ml / 2 tsp baking powder 2.5 ml / ½ tsp salt 120 ml / 4fl oz / ½ cup milk

50g / 2oz / 1/3 cup chocolate chips
CHOCOLATE PEANUT BUTTER GLAZE
25G /1OZ 2 TBSP BUTTER,CUT UP

30ml / 2 tbsp smooth peanut butter

45ml/ 3 tbsp golden syrup

5 ml 1 tsp vanilla essence

175g / 6oz plain chocolate, chopped into small pieces

15 ml / 1 tbsp water
Procedure
Preheat oven to 180 C / 350 F / Gas 4. Generously grease and flour a 3 liter / 5 pint / 12 cup tube or ring tin. Melt the chocolate. In a large mixing bowl beat the butter, peanut butter and sugar until light and creamy. Add the egg one at a time, beating well after each addition.

In a medium bowl, sift together the flour, baking powder and salt. Add to the butter mixture alternately with the milk until just blended. Pour half the mixture into another bowl. Stir the melted well blended. Stir the chocolate chips into the other bowl of batter.

Using a large spoon, drop alternate spoonful's of chocolate mixture and peanut butter mixture into the prepared tin. Using a knife, pull through the batter to create a swirled marbled effect. Bake 50-60 minutes, until the top springs back when touches. Cool the cake in the tin for 10 minutes. Turn out on to a rack to cool completely.

Make the glaze. Combine all the ingredients in a small saucepan. Melt over a low heat , stirring until well blended and smooth. Cool slightly. When slightly thickened, drizzle the glaze over the cake allowing it to run down the sides.
Recipe source: The Chocolate Bible
Recipe Code: 2017008
Image source:https://www.pillsbury.com