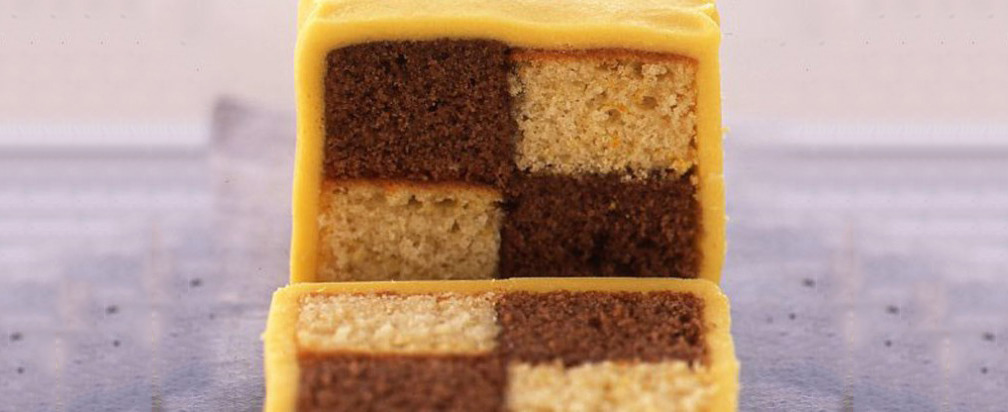 Serves 8 people
Ingredients
115g / 4oz / ½ cup soft margarine

115g / 4oz / ½ cup caster Sugar

2 eggs, Beaten few drops of vanilla essence

115g / 4oz /1 cup ground almonds

155g 4oz / /1 cup self-raising flour, sifted grated rind and juice of ½ orange

30-45ml / 2-3 tbsp milk

1 jar chocolate and nut spread corn flour, to dust

225g / 8oz white almond paste
Procedure
Preheat oven to 180 C / 350 F / Gas 4. Grease and line an 18cm / 7 in square cake tin. Arrange a double piece of foil across the middle of the tin, to divide it into two equal rectangles.

Cream the margarine and sugar in a mixing bowl, then beat in the eggs, vanilla essence and ground almonds. Divide the mixture evenly between two bowls. Fold half the flour into one bowl, then stir in the orange rind and sufficient juice to give a soft dropping consistency. Set the orange- flavoured mixture aside.

Fold the rest of the flour and the cocoa into the remaining bowl of mixture, with sufficient milk to give a soft dropping consistency. Fill one half of the tin with the orange mixture and the second half with the chocolate. Flatten the top with a wetted spoon. Bake for 15 minutes, the reduce the heat to 160 C / 350 F / Gas 3, and bake the cake for a further 20-30 minutes or until the top is just firm. Leave to cool in the tin for a few minutes Turn out the cake on to a board and cut each one into two identical strips. Trim so that they are even, the leave to cool.

Using the chocolate and nut spread, sandwich the cake together, chocolate and orange side by side, then orange and chocolate on top. Spread the side with more of the chocolate and nut spread. On a board lightly dusted with corn flour, roll out the white almond paste to a rectangle 18 cm / 7in wide and long enough to wrap all around the cake. Wrap the almond past carefully around the cake, making the join underneath. Press to seal. Mark a criss-cross pattern on the almond paste with a knife, than pinch together the corners if desired. Store in cool place. Cut with a sharp knife into chequered slices to serve.
Recipe source: The Chocolate Bible
Recipe Code: 2017009
Image source:http://www.goodtoknow.co.uk