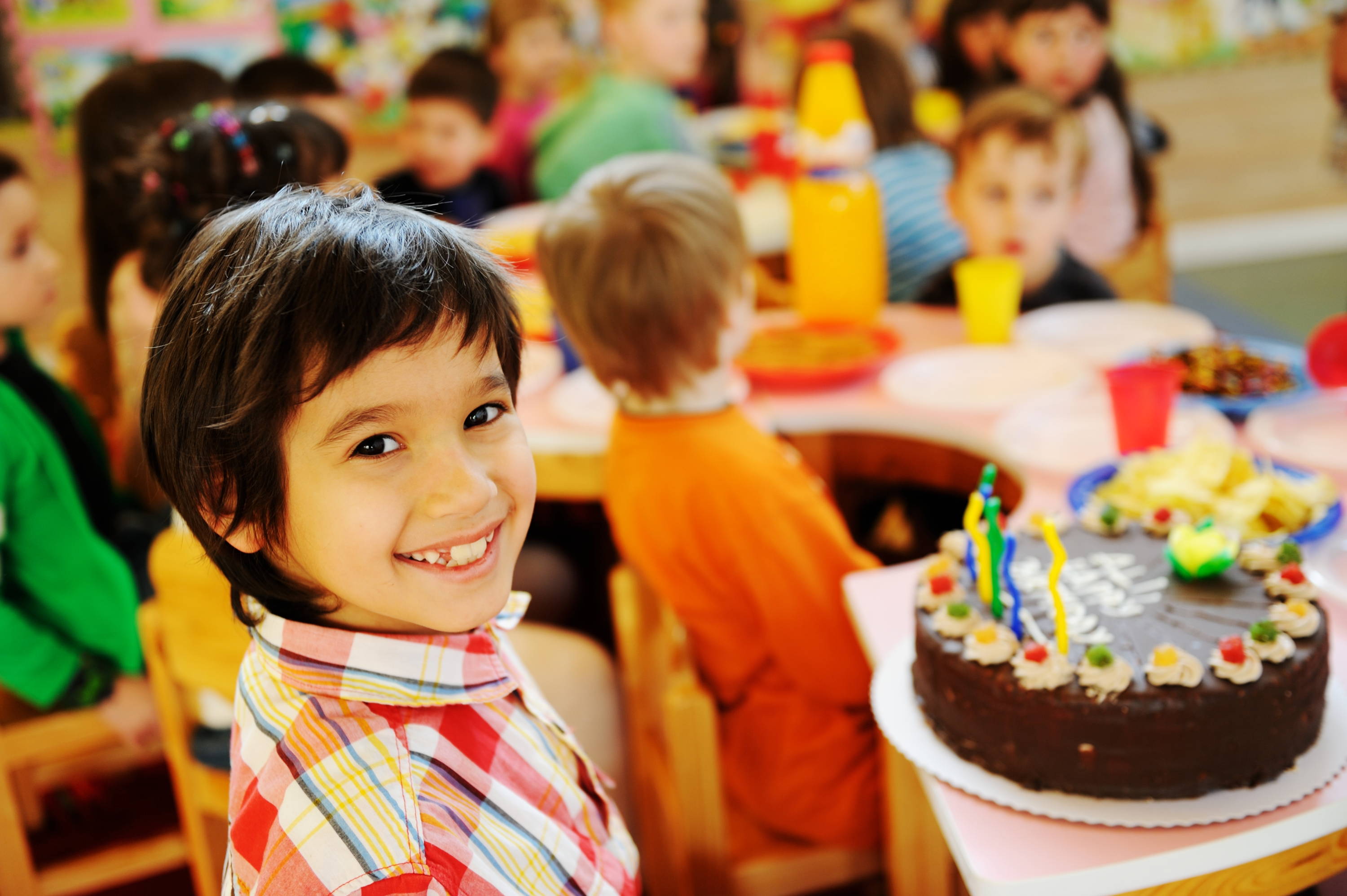 Themed Birthday Parties-Why You Should Have One
You may have come across the term "party themes" while planning for your child's birthday party. So let us break that down for you. It is basically the underlying imageries and designs that are reflected in all your party props and even the foods. The theme also allows you to design the invitation for your child's first birthday accordingly and even pick out delightful first birthday return gifts.
The cake itself, being the centre of attraction is also customized to bear the theme. A bright and colourful theme will make your boy's birthday bash the talk of the town.
It is the trend of the hour to have themed birthday parties for all ages but of course, if you are to celebrate your boy's first birthday party, you have to choose your birthday themes accordingly. It's not that your child will be able to appreciate the aesthetics and critique, but the guests who grace your soiree will surely be impressed. And then of course, when your kid grows up a bit, you can always show him pictures of his themed first birthday party and how everybody had a blast.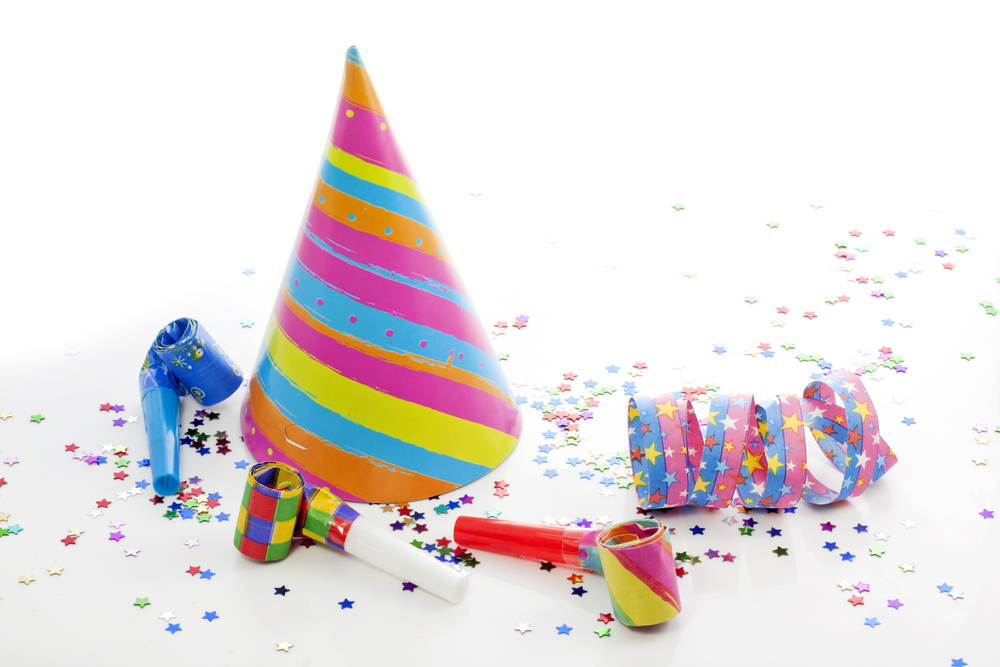 Parents willing to go the extra mile to make their son's first birthday party, are opting for themed parties more and more. A bit of creative spin can make the whole evening one worth remembering. You can ask your guests to come dressed in attire matching the theme of the birthday. Likewise, there could be return gifts for his birthday party and party favours, all matching the party theme.
When we talk of birthday themes for boys, the thumb rule is that you pick one and stick with it. It does not bode well for the eyes to have a multitude of party themes all in full display together in one party. Breaks the continuity and makes the whole affair look haphazard and out of place. So, it is always better to have one birthday theme occur recurrently throughout every little element of the party. And with more and more sites cropping up to cater to the needs of themed birthday parties for boys, it becomes a tad difficult to find what you are looking for.
So, to make your job easier, we have carefully curated a list of the 5 most popular and creative first birthday party themes in India. Like with any other lists, this is just to give you an idea and is listed in no particular order. Without any further ado, let us dig in.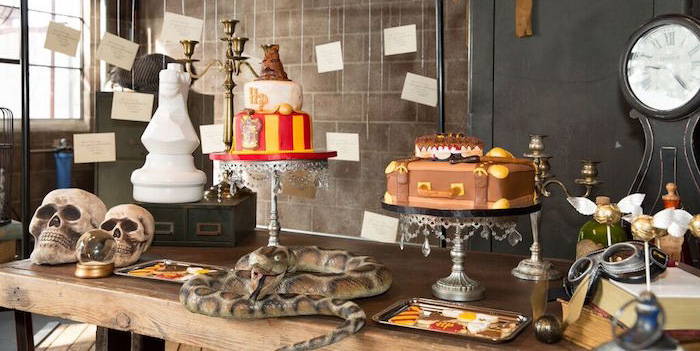 Image Sourcehttp://karaspartyideas.com/2016/02/hogwarts-harry-potter-birthday-party.html
1.   Harry Potter Theme:
1st birthday bash of your precious little bundle of joy and you don't bring a spark of magic? This would be the best theme idea in India for your boy's first birthday. You can decorate with different banners of different houses. Your guests can also arrive wearing hats like wizards and witches. This theme is also perfect for throwing in mini-games in the mix, like who gets to be sorted in Slytherin and who gets to be sorted in Gryffindor.
And then of course, if you can manage to find wands ( shouldn't be much of a problem- there are more than enough sites for that), it would be perfect. The guests can then indulge in other games like firing spells at one another. The Harry Potter universe is as vast as is, with such a plethora of characters and elements, our best bet- you'd be spoiled for choice. The cake can be customized too. And as for return gifts, Chococraft makes excellent customized gifts that would make the first birthday bash all the more exciting.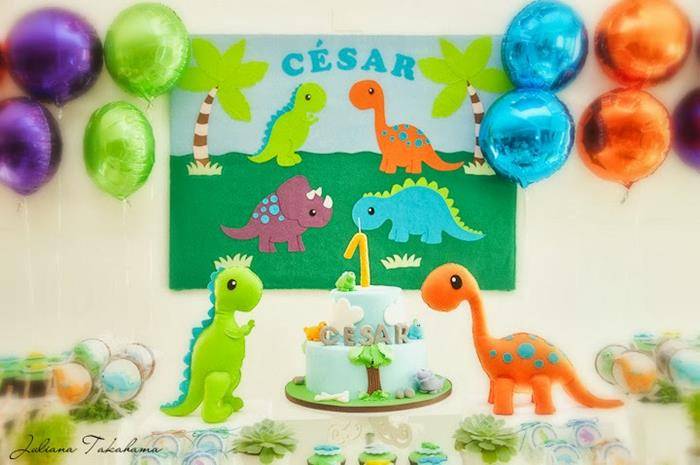 Image Source: https://allinfun.biz/dinosaur-birthday-party-ideas/
2.   Dinosaur Theme:
Next up on the list is one of the most popular 1st birthday party themes online. Baby dinosaurs. If your little man likes to play with T-Rex all day. It is his first birthday and essentially, once in a lifetime. So, the theme for his special day must capture his vibrant and joyfulness. And nothing does that better than the T-Rex theme. From tableware to party kit, online sites offer a number of customization options for party props. You can invite your guests to come wearing cute dinosaur caps.
Every minute thing like birthday banners, paper-cups, dessert-plates, balloons and the cake itself. Everything can be customized in tune with the T-Rex theme. Your return gifts, candles, etc must all match the theme for the whole experience.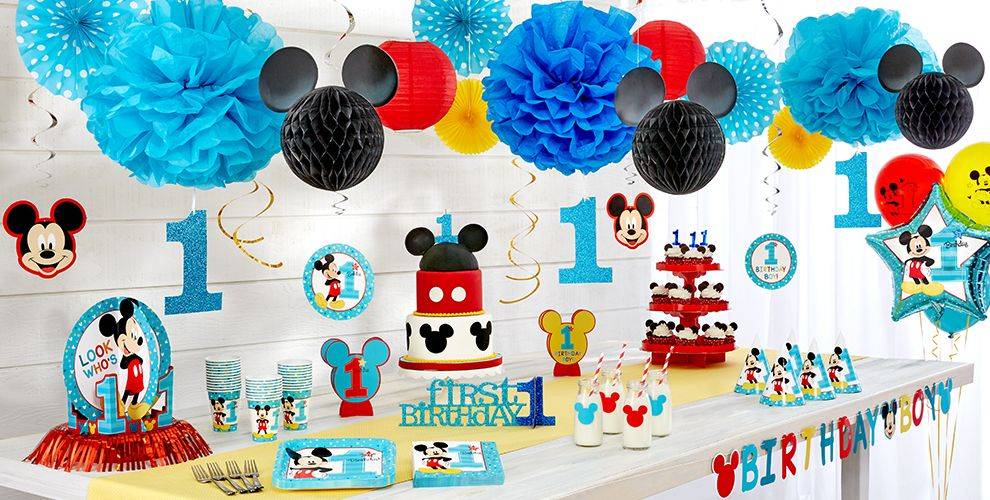 Image Source: https://www.partycity.com/mickey-mouse-1st-birthday-party-supplies
3.   Mickey Theme:
This goes without saying. Kids around the world adore Mickey and no wonder, it is one of the most loved first birthday party themes in India. Toddlers are easily attracted to bright colours. And Mickey with all its charm and cute face falls right into that bracket.
Distribute customized mickey mouse hats among your guests. Play dress-ups and we assure you, everyone will love it. With this theme, you can never go wrong. Again, customized chocolate return gifts for the first birthday from Chococraft would work perfectly with this theme.
4.   Chhota Bheem Theme:
This has to be the most talked about cartoon of the last decade. The craze in India for Chhota Bheem and his associate friends is unmatched. So, it is a given that if you celebrate your child's first birthday party on this theme, people will love it. The kids who will come to his party will surely find the theme attractive and you will become the most famous party-planner mom in your friend's circle.
The idea is pretty simple and shouldn't take days to materialize. And with a number of affordable sites, this shouldn't burn a hole in your pockets.
Decorations, cakes, etc must reflect the theme. You can have mini word-games with your guests to make it a fun evening.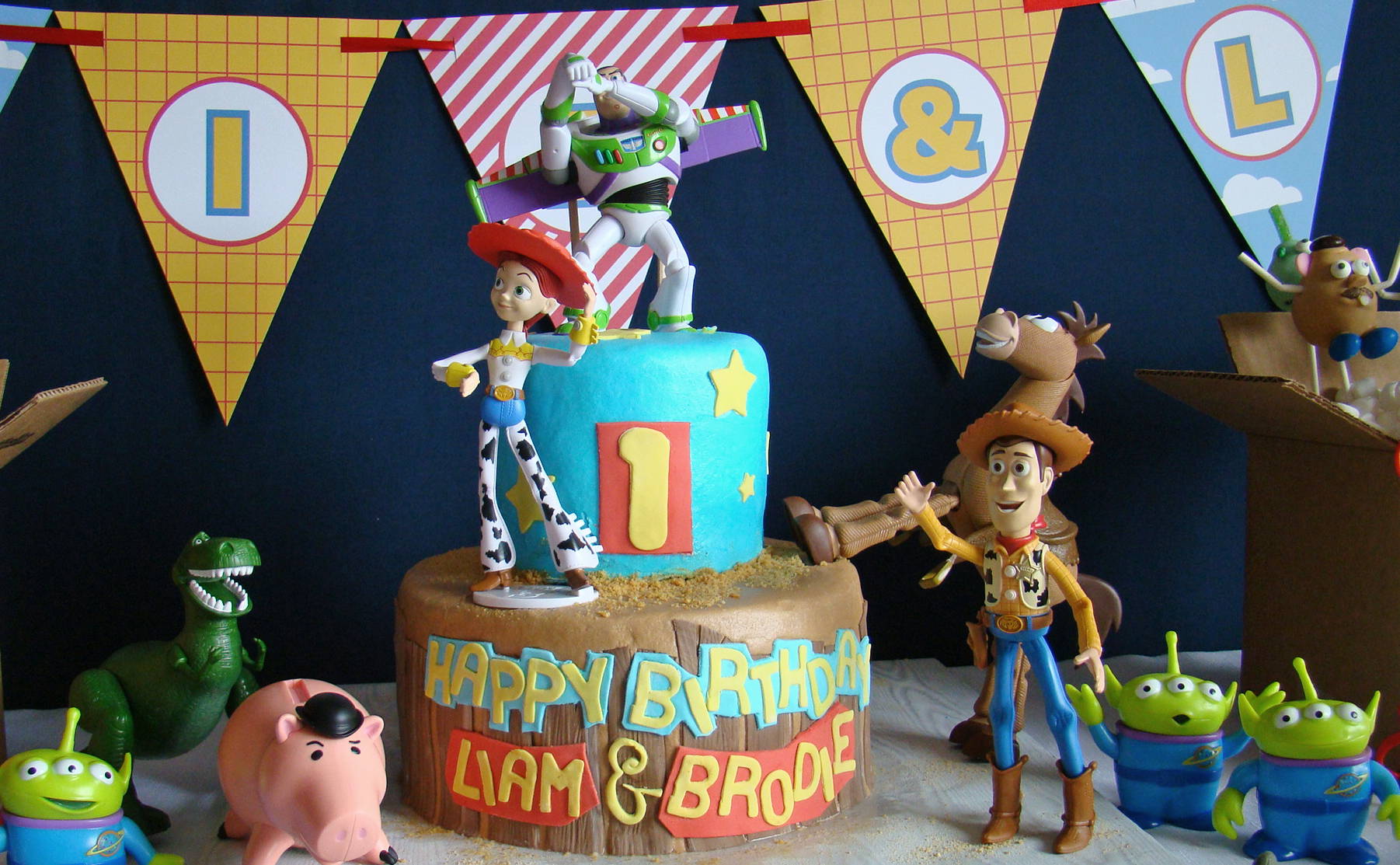 Image Source:: http://huckleberrygrace.typepad.com/my-blog/2012/08/my-entry.html
5.   Toy-Story Theme:
Now let us get down to business. Your man might be just 1 year old but who doesn't love cars and especially if it is as cool as Buzz Lightyear. And if the party people turn up in Sheriff Woody's clothes, it'll be immense fun. This theme is just the right choice for your son's first birthday party. There are aliens, sergeants, Little Bo Peep and of course, Slinky dog. Enough characters to incorporate into your party theme and have a blast.
All said and done, this is just a list of 5 unique first birthday party themes online in India. It is by no means, a comprehensive list at all. Feel free to go beyond it. It is your son's first birthday party on a theme. It is your first year of parenthood. Make it special