The first birthday party is always very special for a baby. It marks the completion of a baby's first year in this world, and a sign that they are growing up! The first party is full of joy and fun; never again will we see that look of pure enjoyment and innocence on a baby's face.
Although they do not understand what is going on around them, the hustle bustle and celebration excites them and brings a smile to their faces. Also, the photographs we click serve as beautiful memories for the years to come.
Nowadays, the trend of having themed birthday parties for girls is gaining popularity. When the party is centered around the theme, everything about it, right from the decoration to the food, the birthday invitations to the return gifts for the kids will be based on the theme. Guests are also asked to dress up according to the theme.
Today, people are going for innovative and creative birthday party themes. There are specific party themes for girls. Do you want to throw a classic themed party for your baby girl? Looking for exciting and creative ideas? Here are some ideas for you.
Theme Idea #1: Princess Theme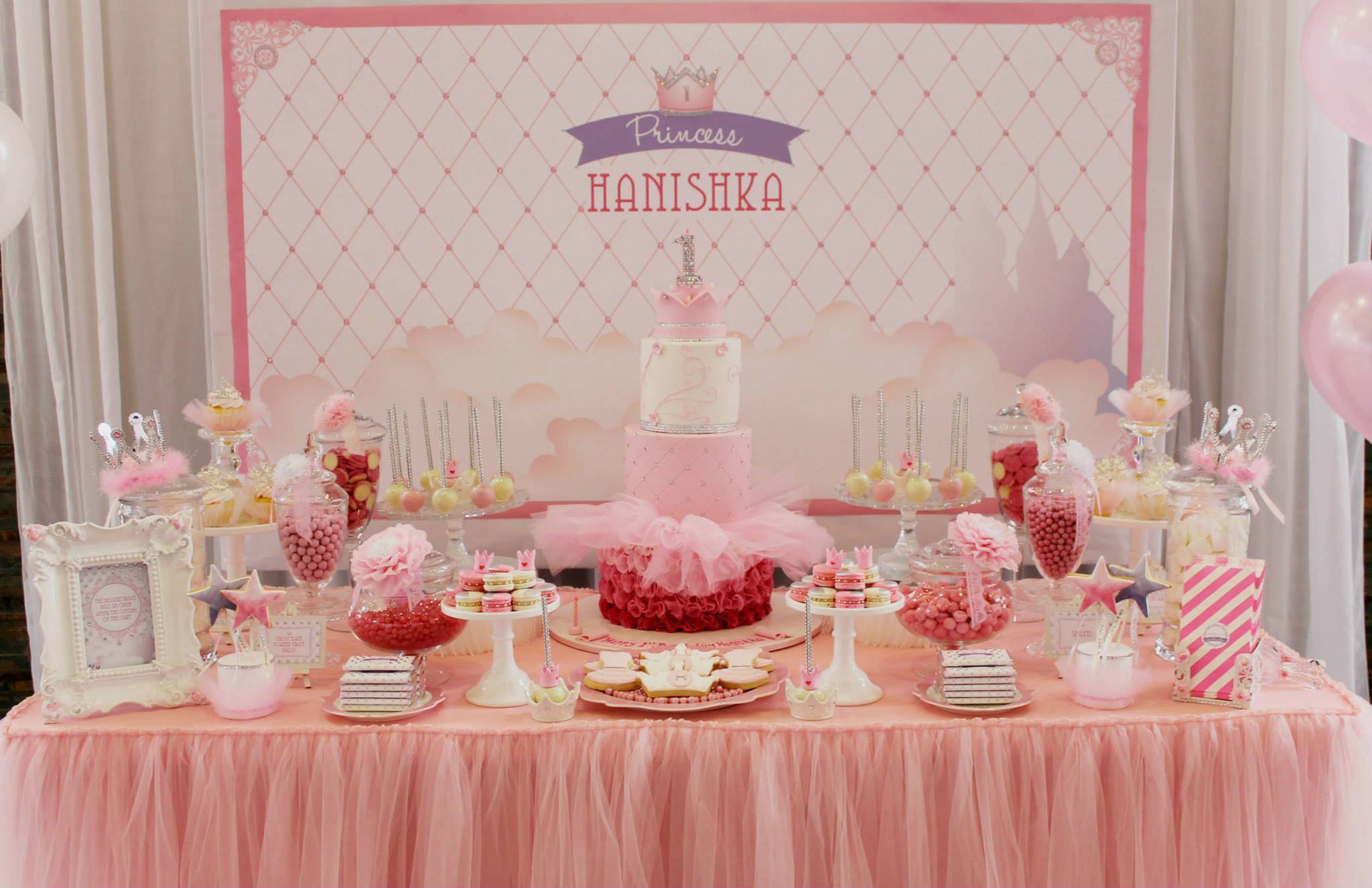 Image Source: http://birthdaypartyideas4u.com/bling-princess-first-birthday-party/
The most popular theme idea for girl birthday parties is the princess theme. A princess is every little girl's dream. With those kind eyes, beautiful hair and majestic clothes, every little girl aspires to be a princess one day.
But, isn't she already your little princess? Go ahead and throw a princess themed birthday party for her. You can take inspiration from a variety of Disney princesses: Ariel, Snow White, Cinderella, the list can go on and on.
Choose the princess you like and plan your party accordingly. Design your invitations with the pictures of the princess.
Dress your little girl in the costume of that particular princess. Ask your guests to come dressed the same way. Your gifts and decorations should be all about the princess too. For example, if the party is Cinderella themed, you can have glass slippers as return gifts.
Make the first birthday party memorable, and treat your girl like the princess she is!
Theme Idea #2: Pink Theme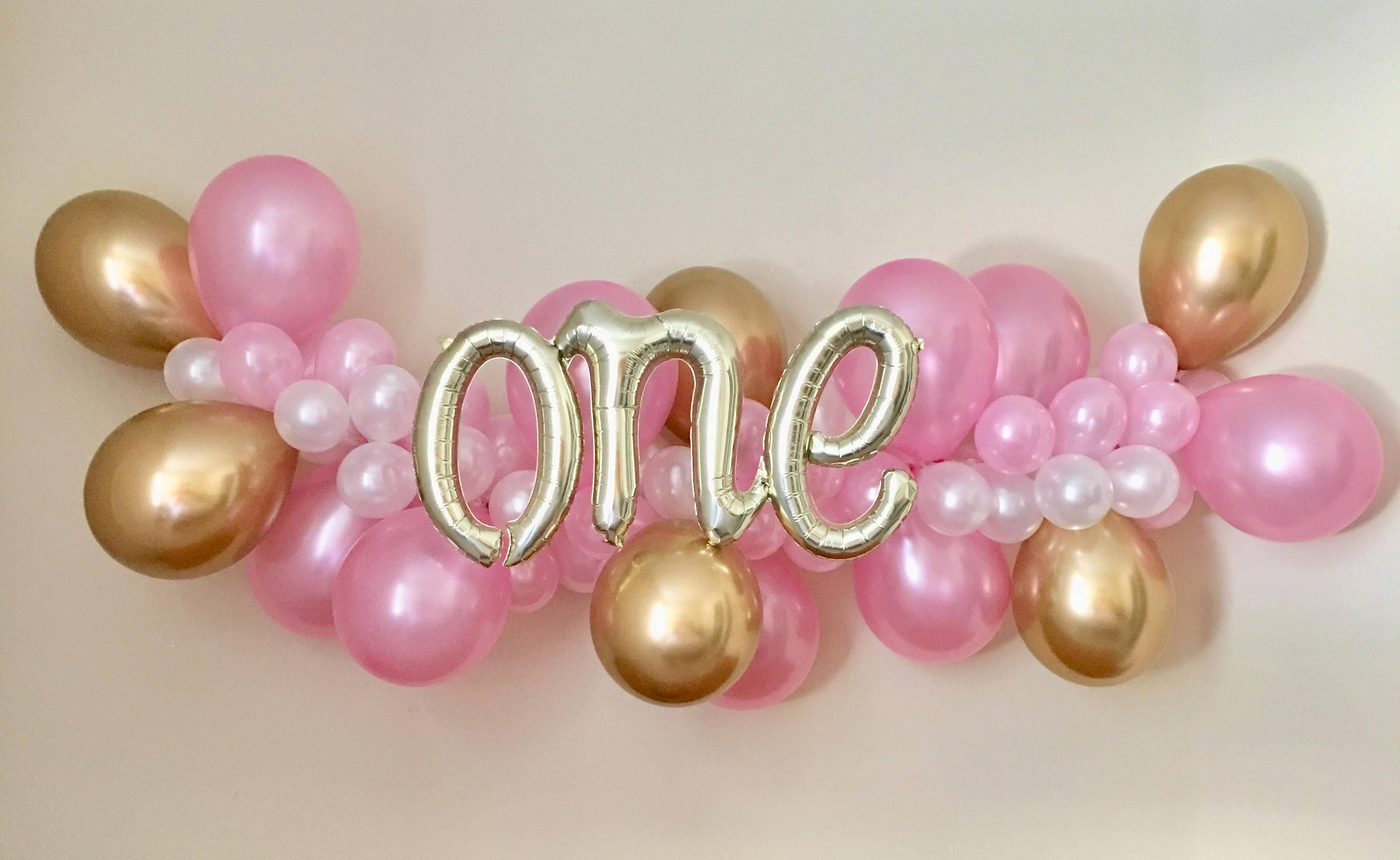 Image Source: https://www.etsy.com
What colour says girl theme better than pink? Pink is a colour that is generally associated with girls. The origins behind this association are quite interesting.
Traditionally, the pink colour was primarily worn by men. With the rise of feminism and as an effort to combat sexism, women began frequently wearing the colour pink.
Pink Provincial is a popular theme for girls first birthday parties. In this theme, everything from the invitations to the decorations is pink in colour. The dress code can also be pink. For the added touch, you can also include strawberry based items in your menu.
Popular return gifts for this theme include pink coloured stationery items, pink clothes, pink cosmetic items, and basically all things pink!
Theme Idea #3: Mermaid Theme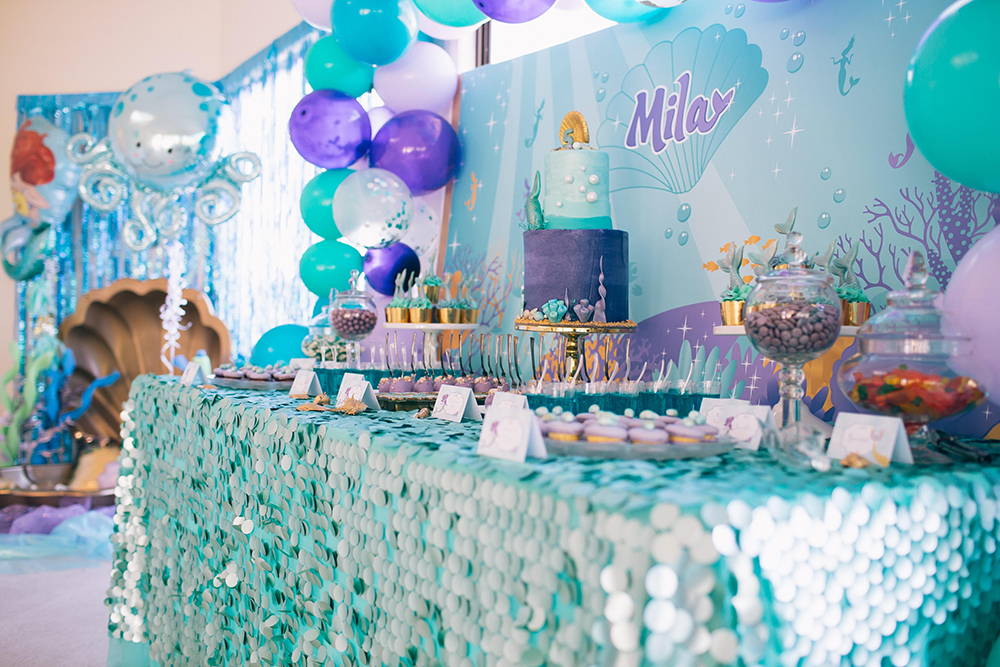 Image Source: http://pinkmilkandponies.com/2017/08/21/19690/
The mermaid is a popular character in children's myth and fairy tales. As a creature which is half human and half fish, the mermaid signifies magic and beauty. The mermaid theme is inspired from the tale of the Little Mermaid.
The mermaid theme includes the aquatic theme as well. The underwater world is beautiful, and at the same time, mysterious. Full of exotic and colourful creatures, it is a child's wonderland. Mermaids are simply gorgeous, and thus, it is no surprise that mermaid themed parties are trending today.
For the mermaid theme, the colour blue dominates. Invites, dress codes and decoration are all blue in colour. The walls of the venue can be painted beautifully to reflect a giant aquarium, with pictures of mermaids. Your gifts can have mermaid pictures as well!
A great idea regarding invitations is use of sea shells. Purchase seashells at a store, online, or collect them from the beach and wash and dry them thoroughly. Paint your party details on the shells and send them as invitations in highly padded envelopes. An invitation to be remembered for life!
Theme Idea #4: Kitty Cat Theme
Image Source :http://pliinc.us/cat-themed-birthday-party/cat-themed-birthday-party-unique-kitty-cat-party-fiesta-gatuna-tes-a%C2%B1os-cat-pinterest/
Cats are cute and furry little creatures. They are warm and cozy to snuggle with. And isn't that the same with your little baby girl? Cat theme is a popular one for girl birthday parties.
Children often love pets; and can spend good time playing with them. After all, aren't both creatures that love unconditionally?
Decorate your venue according to the cat theme. Create a backdrop of furry faces using multi coloured balloons! All you need are round metallic balloons, some card sheets for the ears and nose, and ribbon for whiskers. If your card material is too heavy and your balloons don't want to stay up, don't fret, just tape them to the wall or curtains!
Theme Idea #5: Butterfly Theme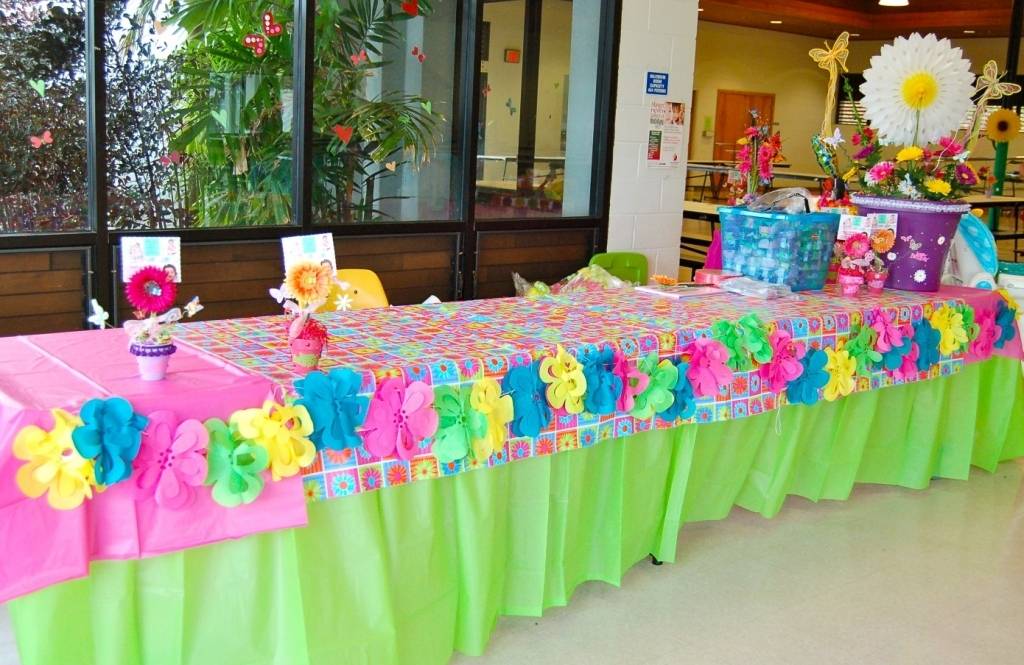 Image Source: http://partydecorbeez.com/2017/01/10/butterfly-themed-first-birthday-party/
Butterfly theme is all about the beauty of nature. It also signifies a transformation. Your little girl will be soon grown up and will be going through a wonderful transformation. Owing to their colourful wings, and the grace with which the fly easily captivate to children of all ages, thus making this a popular theme for first birthday parties.
The butterfly theme is full of vibrant colours in various shades and hues. You can decorate your venue with various coloured flowers made of paper or even silk. If you have a ceiling fan in your party area, hang plastic or paper butterflies from the blades and turn on the fan at a low speed. The butterflies will gently fly above your party.
You can also have sets of plastic wings which can be tacked on to little girls' dresses. This will add an additional fun element to the party.
These are the most popular theme ideas for first birthday parties for girls. Other popular ideas are unicorn theme, pony theme, winnie the pooh, minnie mouse, barbie, powerpuff girls and so on. No matter what theme you choose, remember to put your heart into it, and create memories for lifetime!