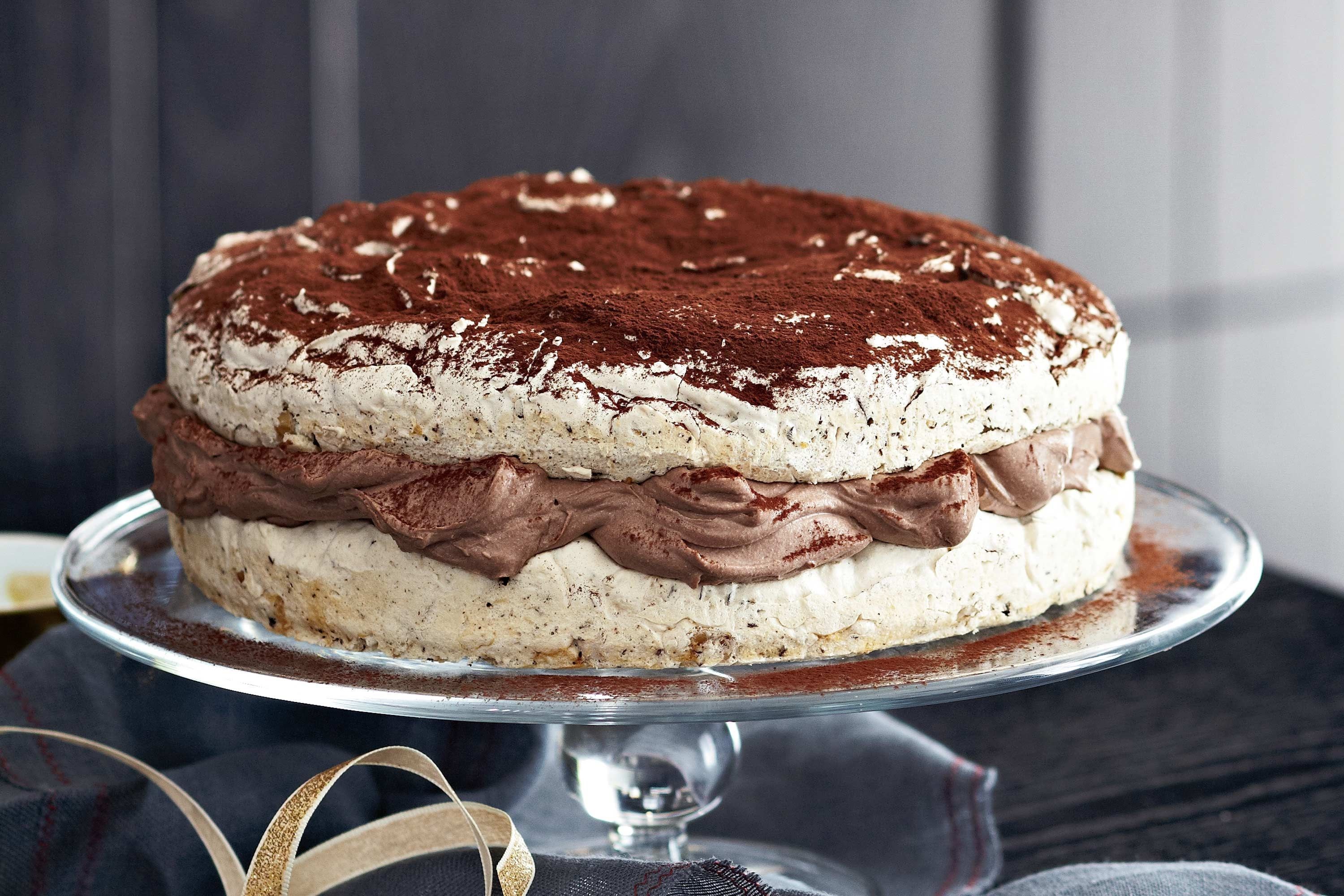 Serves 10 people
Ingredients
4 egg whites pinch of salt

175g/ 6oz / ¾ cup caster sugar

5ml/ 1 tsp ground cinnamon

75g / 3oz plain dark chocolate, grated icing sugar and rose petals, to decorate
FOR THE FILLING
115g/4oz plain chocolate, chopped into small pieces

5ml/ 1 tsp vanilla essence or rosewater

11 Sg / 4oz / ½ cup mascarpone cheese
Procedure
Preheat oven to 150°C/300°F/Gas 2. Line two large baking sheets with non-stick baking paper. Whisk the egg whites with the salt in a clean, grease-free bowl until they form stiff peaks.

Gradually whisk in half the sugar, then add the rest and whisk until the meringue is very stiff and glossy. Add the cinnamon and chocolate and whisk lightly to mix.

Draw a 20 cm/8 in circle on the lining paper on one of the baking sheets, replace it upside down and spread the marked circle evenly with about half the meringue. Spoon the remaining meringue in 28-30 small neat heaps on both baking sheets. Bake for 1 ½ hours, until crisp.

Make the filling. Melt the chocolate in a heatproof bowl over hot water. Cool slightly, then add the vanilla essence or rosewater and cheese. Cool the mixture until it holds it shape.

Spoon the chocolate mixture into a large piping bag and sandwich the meringues together in pairs, reserving a small amount of filling for assembling the gateau.

Peel off the baking paper from the large round of meringue, then pile the filled meringues on top, piling them up in a pyramid. Keep them in position with a few well-placed dabs of the reserved filling. Dust the pyramid with icing sugar, sprinkle with the rose petals and serve at once.
Recipe source: The Chocolate Bible
Recipe Code: 20170031
Image source:http://www.taste.com.au