Baby Girl Announcement - 9 Chocolate Box


Chocolates configuration options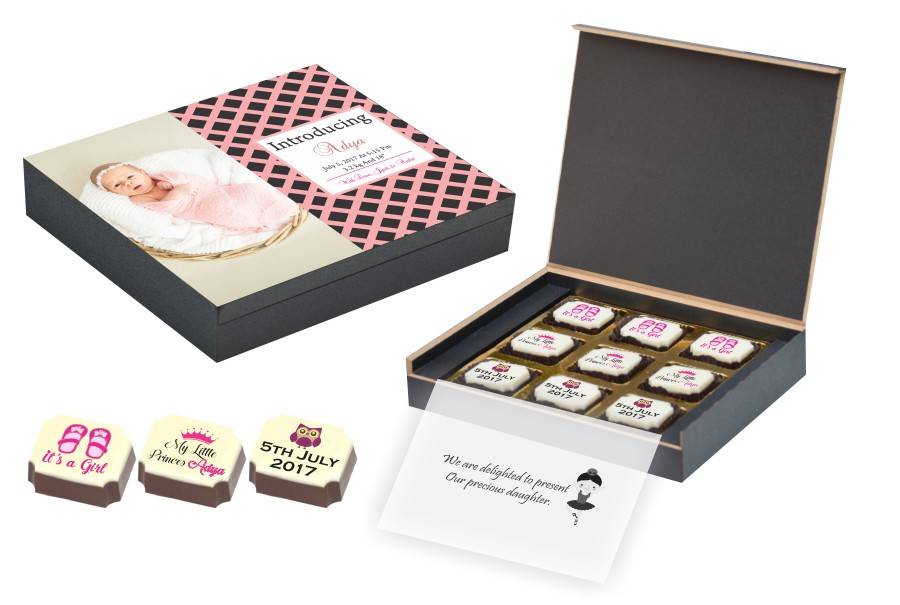 All Printed Candies, Customised Wooden Box , Message on Butter Paper

5 Printed & 4 Assorted Candies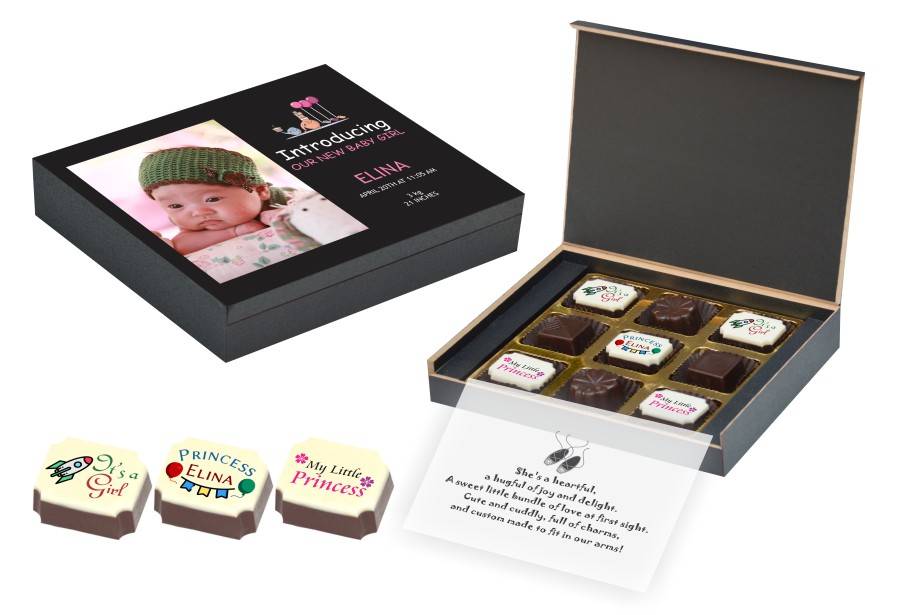 Alternate Printed Candies, Customised Wooden Box , Message on Butter Paper

1 Printed & 8 Assorted Candies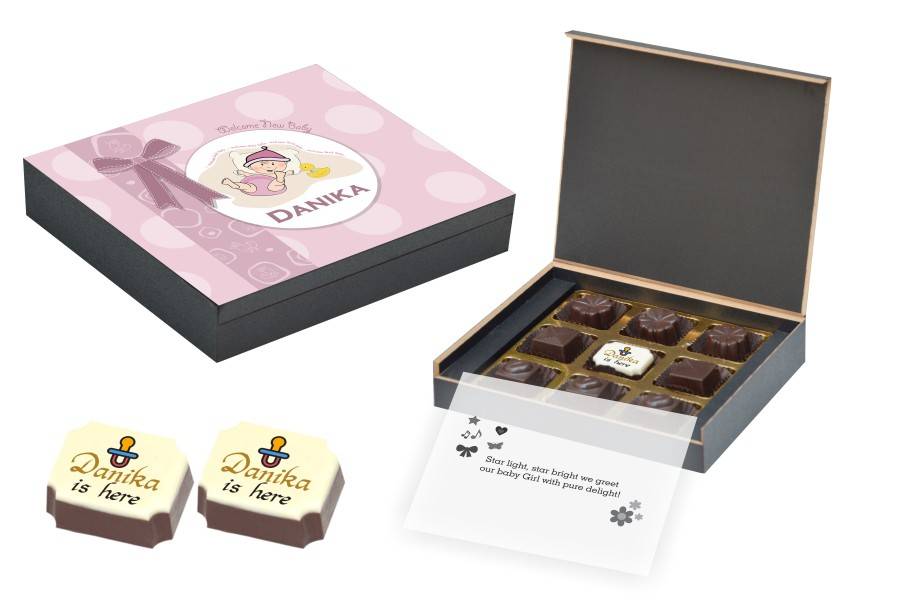 Single Printed Candy, Customised Wooden Box , Message on Butter Paper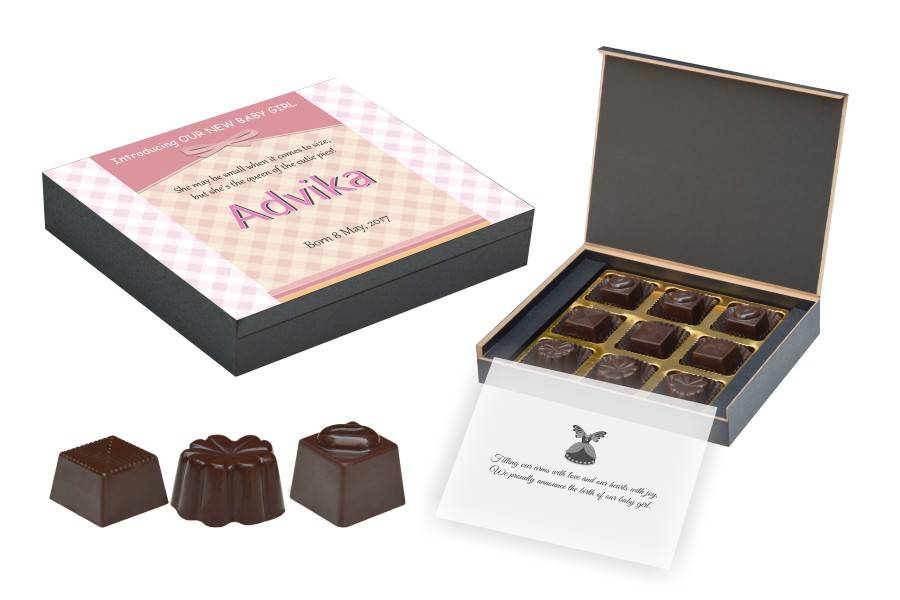 Assorted Candies, Customised Wooden Box , Message on Butter Paper

Baby Girl Announcement - 9 Chocolate Box by Chococraft
---

Custom Birth Announcements by ChocoCraft
A hearty congratulations to the new parents or parents to be and their family members! It's time to welcome a new member to the family and I am sure you want to do it in the best possible manner! And what better than ChocoCraft perfect for the best birth announcements.
As the name suggests, ChocoCraft provides beautifully crafted chocolates for almost every occasion. ChocoCraft has a special section for cute baby announcements or birth announcements!
At ChocoCraft, one gets a total personalized baby announcement gift experience! From candies to assorted chocolates, many options are available to choose from.
One can go for a box of 9 chocolates, one of the best sellers on ChocoCraft, for a unique birth announcement! The beautifully crafted boxes come with the option for customizing the box design. Photos of the newborn or a message can be printed on the box to give a personalized touch!
While customizing, you have the option of selecting the number of assorted and printed chocolates. One can also go for all chocolates of the same kind! The feature of chocolate design lets users print newborn baby girl quotes or baby girl photo on the chocolates. This custom touch is sure to make the baby girl arrival a special affair!
Before placing the order, the buyer can craft a special message on butter paper which will be placed inside the box to be delivered to your loved one. This message can be it's a girl announcement among other things.
So make your newborn baby announcement a cute birth announcement!

Baby Girl Announcement - 9 Chocolate Box by Chococraft
Gift Categories
Gifting Ideas
Our Speciality
Beautiful Cute baby announcements formats
Personalized baby announcement
Doorstep delivery across India
Unique birth announcement
Unique Ideas with a personalised message
Design / Make your own Cute birth announcement Invites / favors
Products in a wide price range

Baby Announcements for Baby Girl with Photo
Gone are the days of prosaic and banal baby announcement ideas. You want your baby's birth announcement to be cute and super fun! And when it's a girl, you want it to be cuter! Newborn, boy or girl, is a gift of God! And would you want to accept this gift and share the happiness with all. So why not go for some cool baby announcements!
We understand that you want to exclaim to the whole wide world that it's a girl, but you would want to make sure that it's a unique birth announcement!
One thing that will never go wrong when it comes to creative birth announcements is using chocolates as your means of an announcement of the news to your loved one! Chocolate is one important ingredient to share any happiness! An array of customization options for chocolates are now available both in the online and offline market which provide the custom baby announcement gift with the perfect expression one expects in such gift!
Birth announcement cards are another great option for baby birth announcements. The cards can contain special personalized messages from the parents announcing the birth of their newborn. One can also go for baby arrival quotes or baby girl poems or even baby announcement poems on the card. These customizable cards can also have the baby girl's photo.
A combo of chocolates and greeting card works great as well. It depends on your liking and your budget. Let your imagination do the work because this is a special moment!

Clever Birth Announcement Wording
Birth announcements are a perfect way to let your loved ones know of the new member of your family and share his/her photos with them. They can be funny but they need to have the perfect baby announcement wording to ensure that the message is conveyed crisp and clear.
But who likes the same old announcements which don't show any creativity? It is but obvious that we go for a clever composition of our words when it comes to baby birth announcement wording!
There is some basic information one has to include in the birth announcement message. These are the name of the child and parent(s), the child's weight and height at the time of birth and one can also include the time and place of birth of the child.
But make sure to present the above information in a clever way to make the readers laugh! You can include phrases like 'Escaped from the womb! Wanted-for stealing his parent's hearts. Meet..' before introducing the name of the child. Star Wars fans can also go for – 'The force awakens (at all hours of the night). Meet…'! This is sure to grab the full attention of your loved one.
If the birth of your newborn is near the Christmas time, then make sure to include the mystical Santa in your clever and funny baby announcement wordings. You can attach a picture of your newborn along the lines – 'Look what Santa brought us!'. This is a clever way to incorporate the festive mood into your birth announcement!
Dig deep into your brains and pull out the most clever birth announcements to welcome your newborn.

Funny Birth Announcements
A plain and simple baby announcement is way out of fashion! Everyone wants their newborn's birth announcements to be custom baby announcements and to be cool and fun. And what better than providing an exercise of the cheek muscles by tickling the funny bone of your friends and relatives! Funny birth announcements are a great way to announce the arrival of the newborn into the world.
Fun and interactive cards are a great way to make the birth announcement a funny affair! Funny baby announcement poems or quotes and messages can be printed on these cards. Messages like 'We had a baby! Send Gifts!' or 'Please welcome our brand new miniature human!' or 'We created a new person!' are some funny messages one can put on the cards. These are sure to tickle the funny bone of the person reading them!
Another funny birth announcement idea is to share a comical picture of the newborn with your loved ones. A plenitude of ideas for making the picture comical are available on the internet. Some really funny ones are dressing up the child as a superhero to announce his or her arrival on planet earth!
One can also go for some fun props around the baby in the picture. These props can vary from mini clocks to shop the time of birth or newspapers to indicate the date of birth.
A fun idea for second-time parents is to dress up the older child as Mario waiting for Luigi, a famous video game character pair of brothers!
So make sure to make this a comical affair and once again congratulations on your creation!
---
For more information, please get in touch with us.