Baby Girl Announcement - 6 Chocolate Box


Chocolates configuration options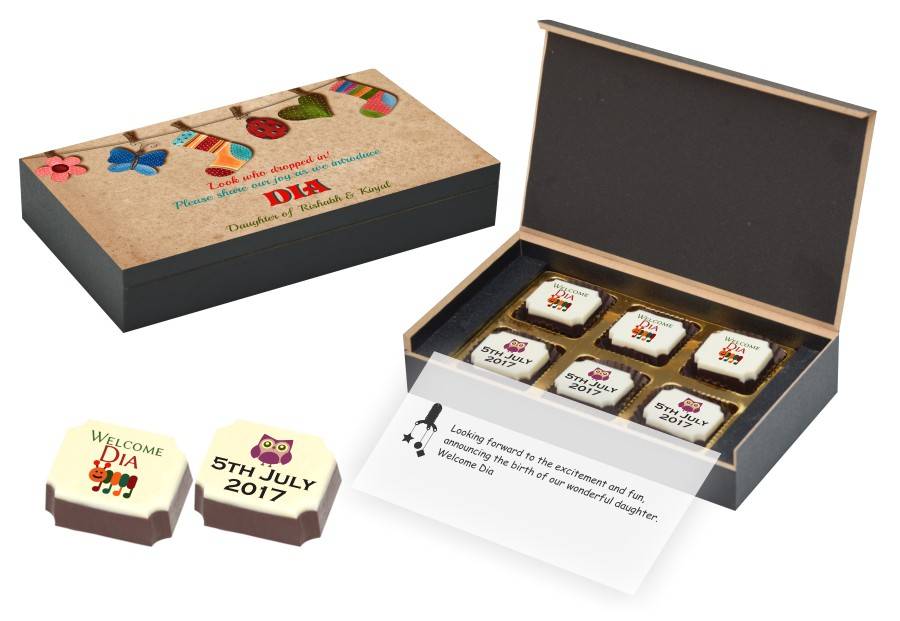 All Printed Candies, Customised Wooden Box, Message on Butter Paper

3 Printed & 3 Assorted Candies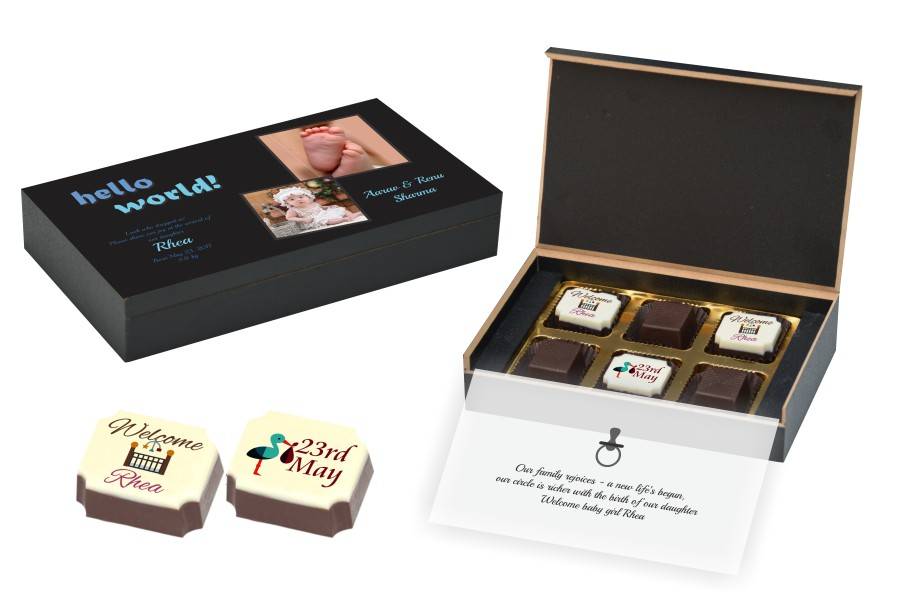 Alternate Printed Candies, Customised Wooden Box, Message on Butter Paper

1 Printed & 5 Assorted Candies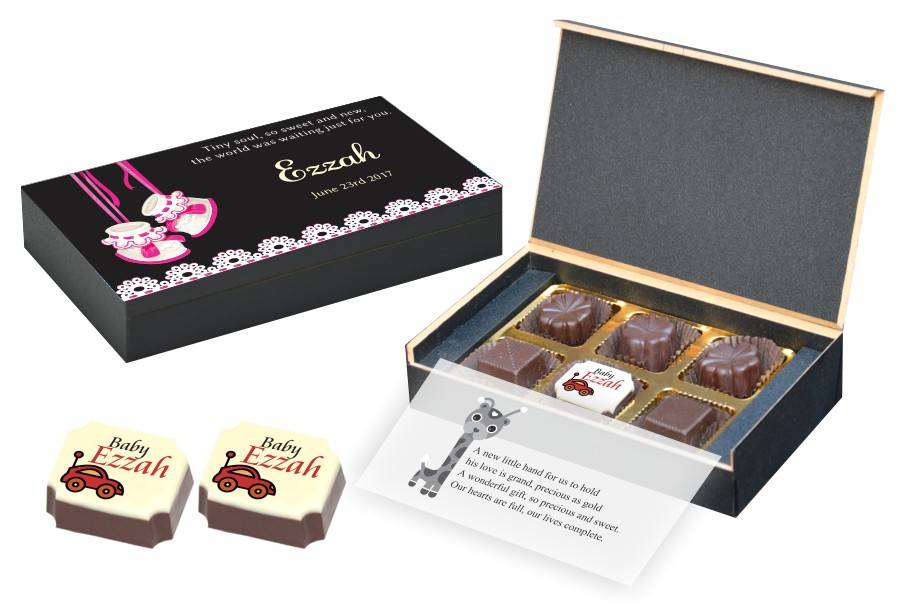 Single Printed Candy, Customised Wooden Box, Message on Butter Paper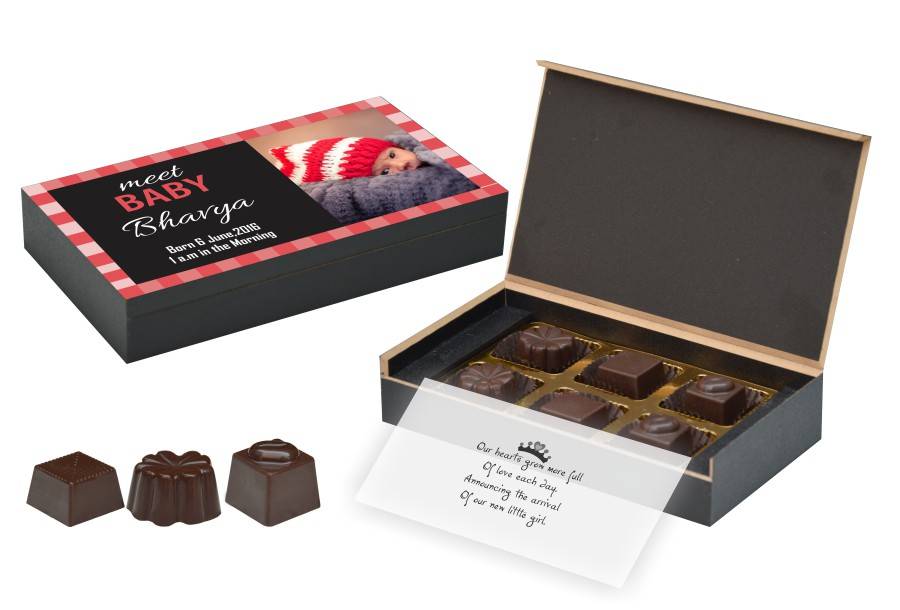 Assorted Candies, Customised Wooden Box, Message on Butter Paper

Baby Girl Announcement – 6 Chocolate Box by Chococraft
---

"A baby is God's opinion that life should go on"-Carl Sandburg


Baby Girl Announcements - 6 Chocolate Box by Chococraft
Gift Categories
Gifting Ideas
Our Speciality
Beautiful Baby girl announcements formats
Funny baby girl announcements
Doorstep delivery across India
Unique baby announcement ideas online
Unique Ideas with a personalised message
Design / Make your own Baby girl announcements Invites / favors
Unique baby birth ideas online
Products in a wide price range
Cool baby girl announcement ideas

Unique Baby Announcement by Chococraft
Chococraft has long been pioneers and the driving force in the field of gifting solutions. And when it comes to cool baby girl announcement ideas no one does it better than us. So what do we propose? Well, let's start with Chocolate. Always start with chocolate. Your guest will surely love it when they get your "we are blessed with a baby girl announcement" with a box of some of the most delicious chocolates they have ever tasted!
"Happiness. Simple as a glass of chocolate or tortuous as the heart. Bitter. Sweet. Alive." ― Joanne Harris, Chocolat.
But hold on though.It is not your regular box of chocolates that you can pick up from the grocery store down the road. No that won't do at all, will it? So, might we suggest our most popular product for customized baby girl announcement-the 6 chocolate boxes? It is not just a box of chocolates, it is a box carrying 6 slices of heaven. 6 candies with the option to get designs and messages printed on them. one hundred percent edible ink, fantastic team of in-house designers, your limitless imaginations, delicious fillings like roasted almond, fruits, etc and et voila. You have the most sumptuous of delicacies available at your disposal.
You could have a separate welcome baby announcement complete with newborn baby girl quotes and baby girl birth poems were written on a piece of elegant butter paper inside the box of chocolates. The wooden box itself is customisable fully so that you may go for photos of the baby and her date of birth and name printed on it. The most affordable of the options start at Rs 3900 and goes up to Rs 4950. It is practically magic.
And with the convenience of delivery across all the major cities of the country like Ahmedabad, Mumbai, Delhi, Mumbai, Bangalore, etc you are sure to get your order delivered to your doorsteps within the stipulated time. You can go to our website and select your item of choice from our exclusive range of personalised baby girl announcement ideas online.It is practically magic.

Things to Keep In Mind While Creating Your Baby Announcement – Funny Wordings
One of the most important things to keep in mind while designing your custom cool baby announcements is that the baby girl born announcements must surely contain the name of the girl child and her date and time of birth and her weight in some cases. Also, while coming up with funny birth announcements, don't forget to use funny wordings and props to make the ordinary looking "we are blessed with a girl announcement" into an attractive creative baby girl birth announcement. Welcome baby messages and baby girl birth quotes will up the coolness quotient further. Use wording like" We're tickled pink to have a new baby daughter!" and "Our little bundle of joy.
has arrived!". Include keepsakes and visuals from around the house, no special trip to the store required. Geek out with funny Star Wars and F.R.I.E.N.D.S references; design her name using the periodic table if you will! Celebrate your little super girl with adorable themed personalized announcements. You don't need to spend lavishly. Just follow what your heart wants and you'll have the perfect personalized girl birth announcement.
---
For more information, please get in touch with us.