Baby Girl Announcement - 18 Chocolate Box

---
Chocolates configuration options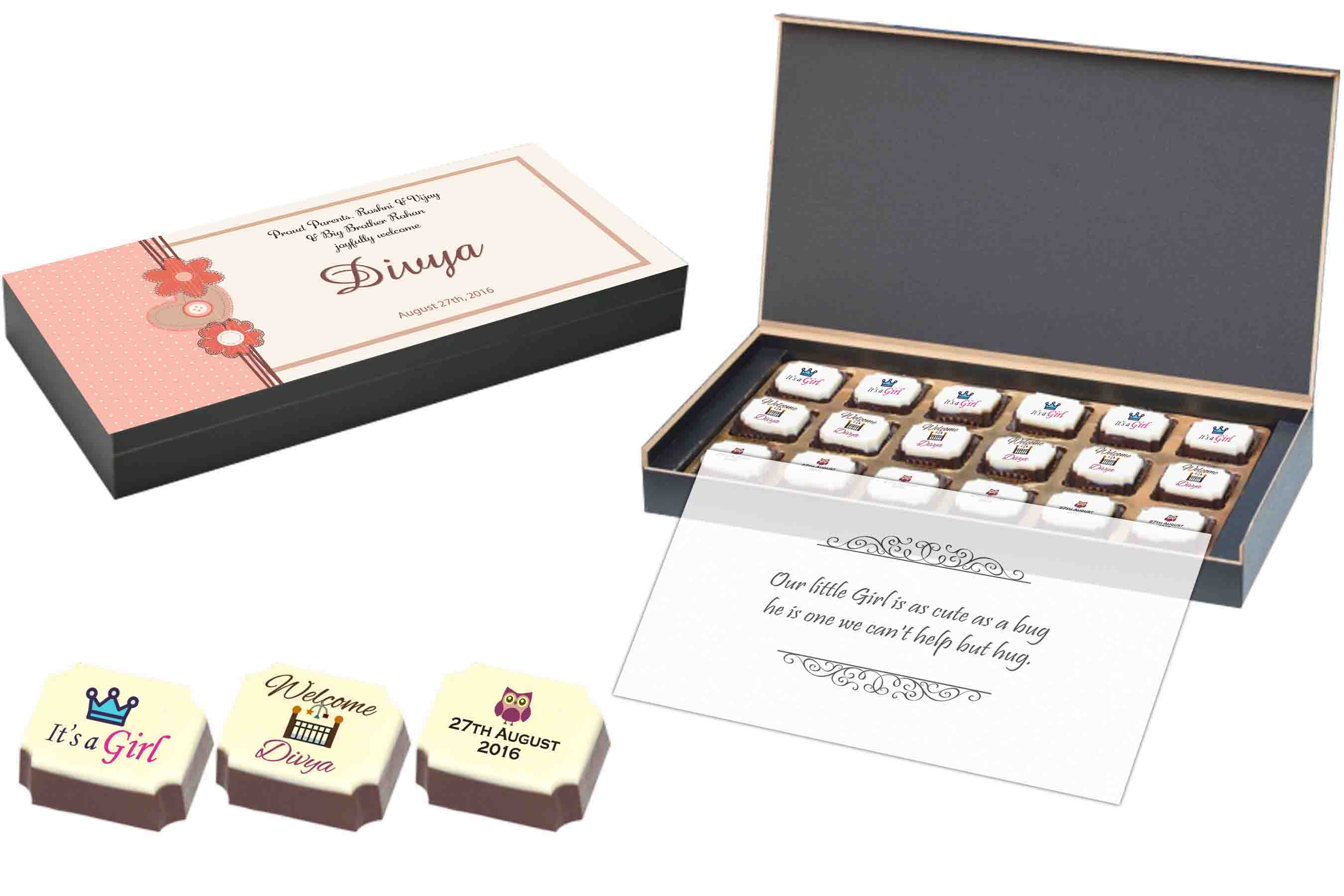 All Printed Candies, Customised Wooden Box , Message on Butter Paper

9 Printed & 9 Assorted Candies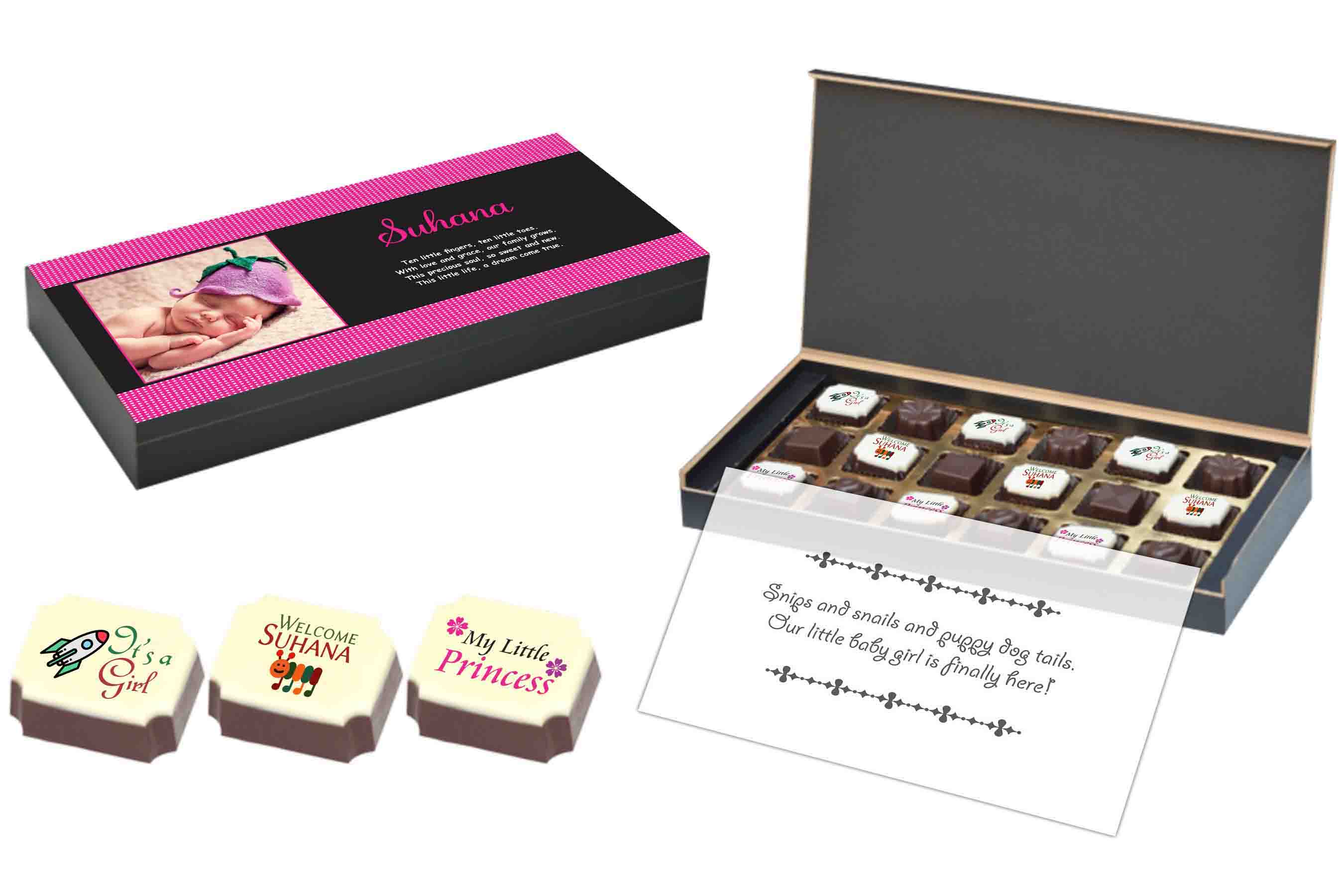 Alternate Printed Candies, Customised Wooden Box , Message on Butter Paper

Printed Bar & 16 Assorted Candies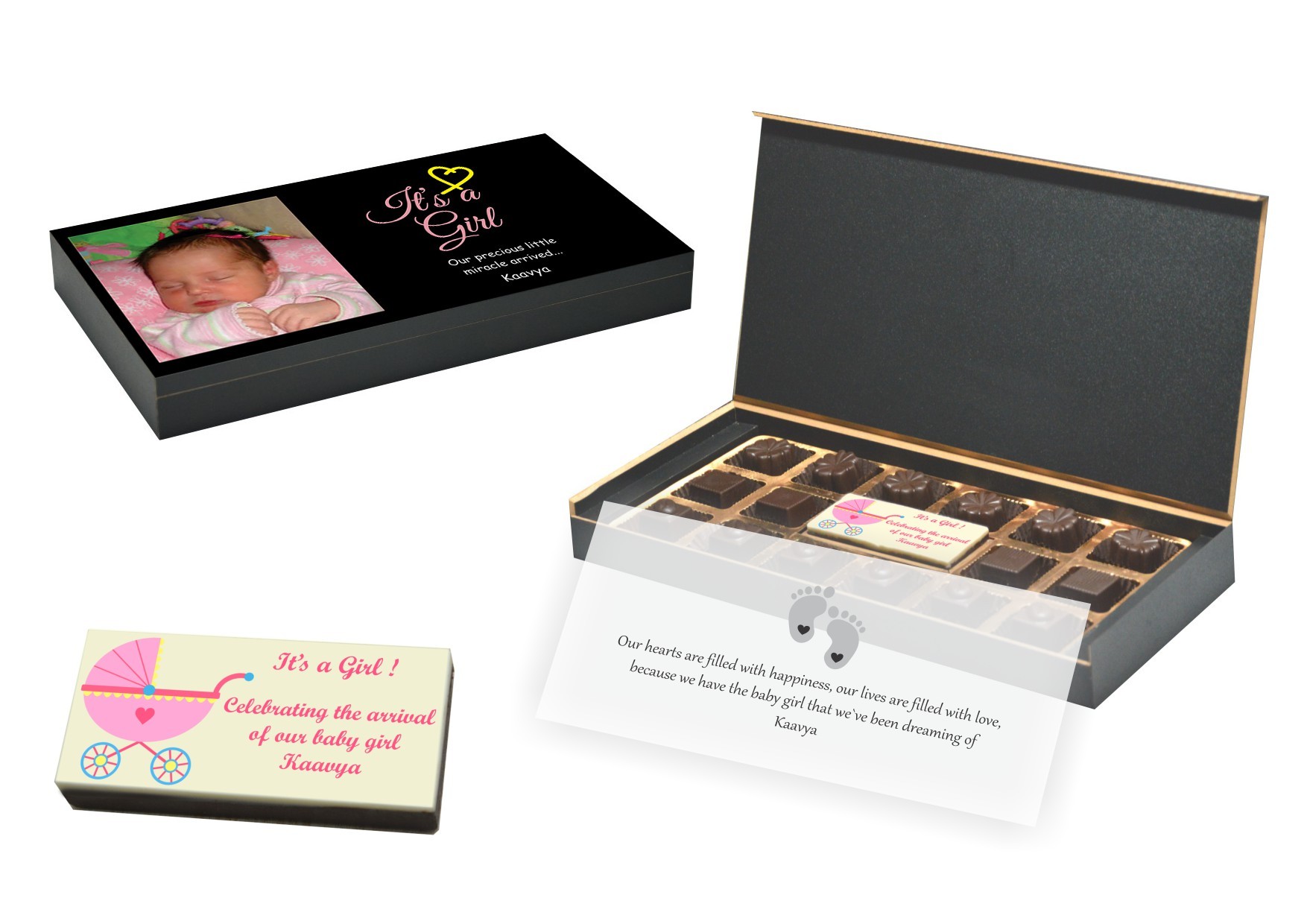 16 Assorted candies with Printed Bar, Customised Wooden Box , Message on Butter Paper

4 Printed & 14 Assorted Candies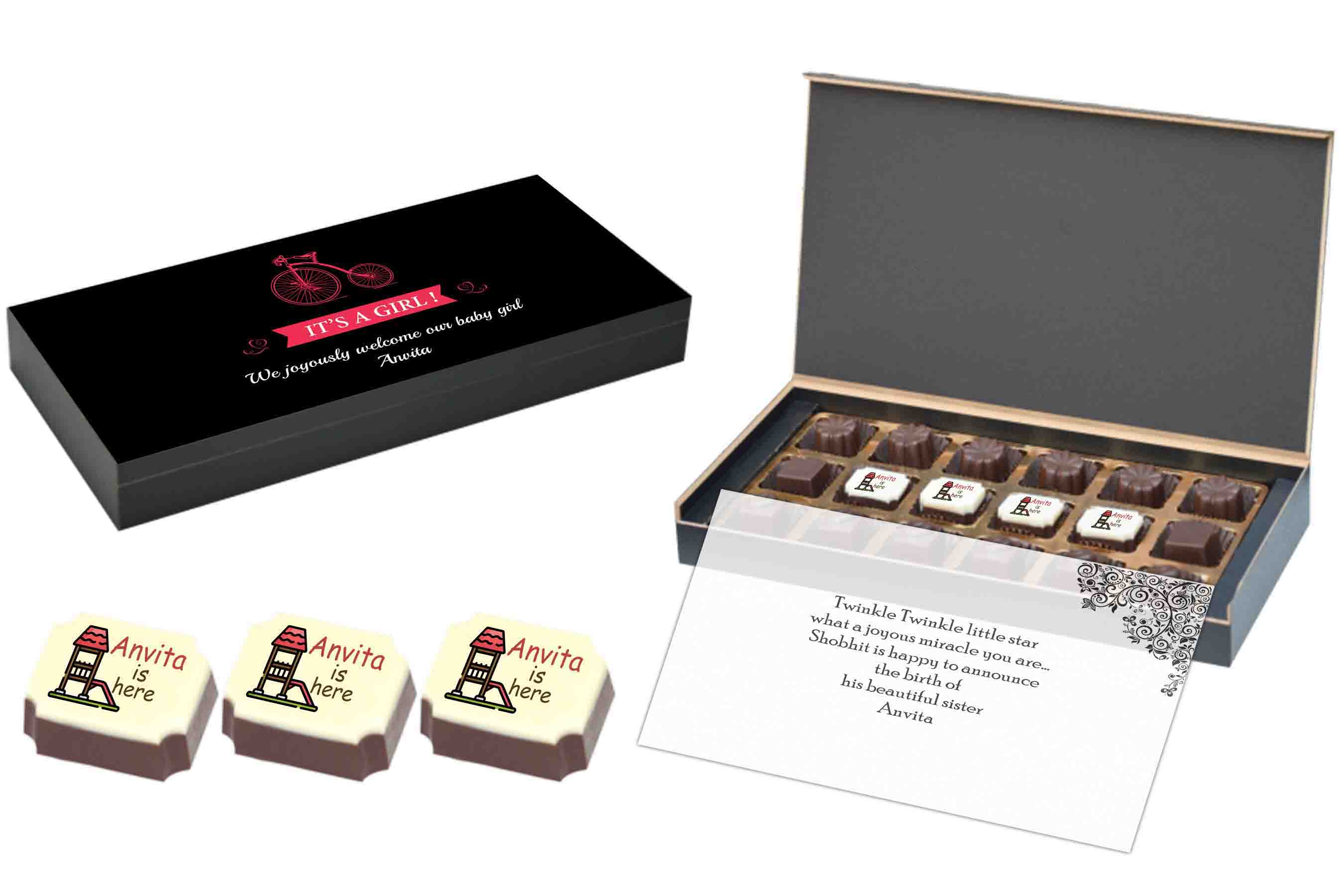 Middle 4 Printed Candies, Customised Wooden Box , Message on Butter Paper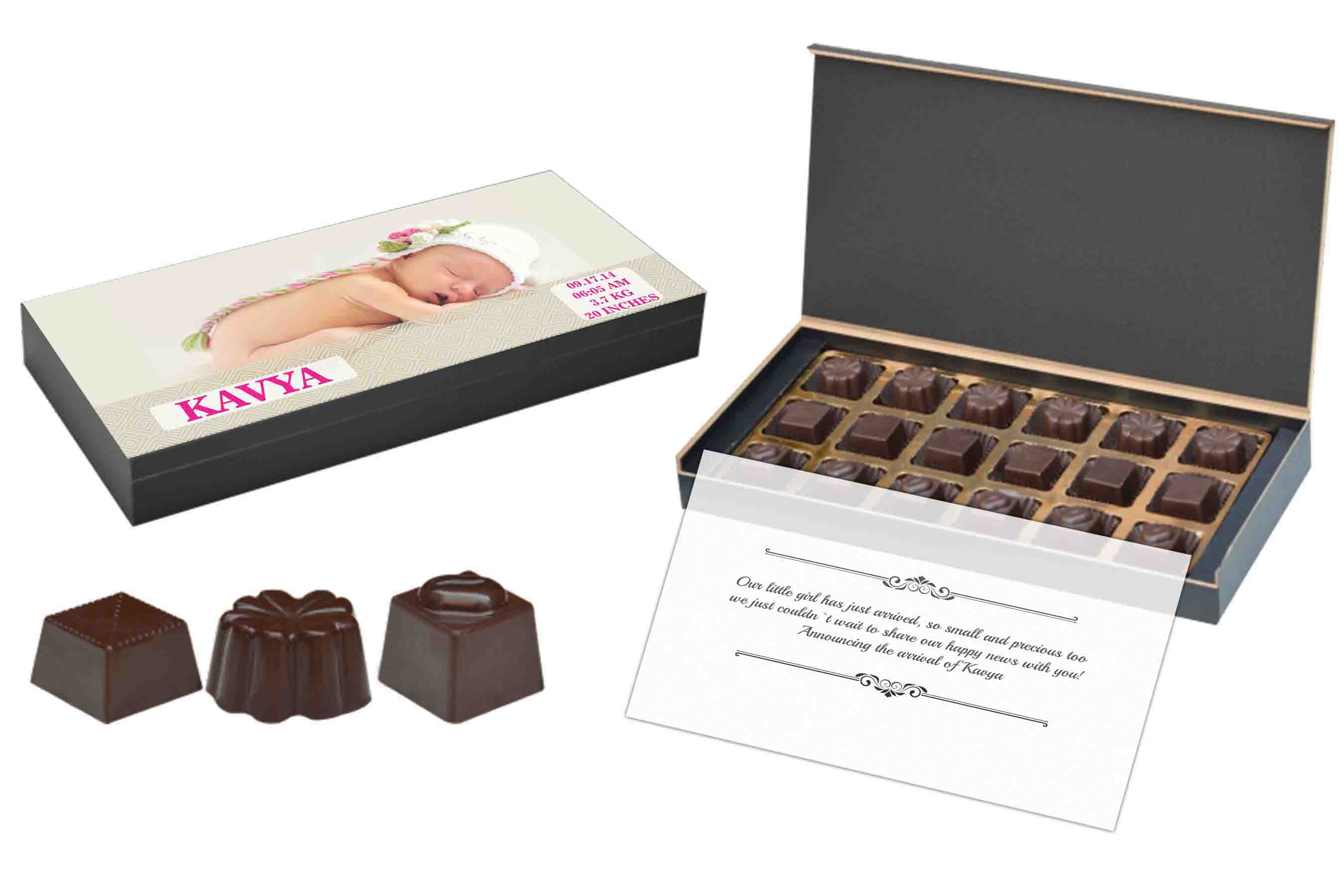 Assorted Candies, Customised Wooden Box , Message on Butter Paper

Baby Girl Announcement - 18 Chocolate Box by Chococraft
---

Personalised Baby Girl Announcements by ChocoCraft
The birth of a new born baby brings a lot of enthusiasm and happiness in the house. Parents blessed with a baby girl are lucky as this symbolizes prosperity. They say baby girl arrival is the arrival of goddess Lakshmi. A lot of effort is taken in making these Birth announcements memorable.
We at ChocoCraft provide you with the most unique way of making unique birth announcements. One such creation is our 18 Chocolate Box. It is a matter of huge pride to announce the arrival of a newborn in the house.
We provide you creative and customizable options for the same. The 18 Chocolate Box consists of 18 Chocolates and a wooden box along with a message. All you have to do is choose your configuration and then customize. We provide 5 configurations in this offering.
The first one is the All printed candies where all the 18 candies will be printed with messages that you choose. The second one consists of 9 printed and 9 assorted candies respectively. Another option is that of a printed bar along with 16 assorted candies. Here a printed bar about the size of two candies will be placed in the middle with a message printed on it.
The other two options are 4 printed and 14 assorted and the all assorted one. All these configurations will include the customizable wooden box along with a butter paper which will carry a message of the newborn announcement.
There are various options available for the customization of the box which you can check on our website. This is undoubtedly one of the most creative personalized baby announcement.

Baby Girl Announcement - 18 Chocolate Box by Chococraft
Gift Categories
Gifting Ideas
Our Speciality
Beautiful Newborn announcement formats
Personalized baby announcement
Doorstep delivery across India
Cute baby announcement ideas
Unique Ideas with a personalised message
Design / Make your own Newborn announcement Invites / favors
Baby girl announcement cards
Products in a wide price range
Announcement of a newborn baby girl

Cute Design Templates for Baby Girl Announcements
It's the desire of every parent to have their blessed with a baby girl announcements unique and creative. Everyone tries to incorporate cute baby announcement ideas for the same. Various templates are available for making baby girl announcement cards. However, if you want your one to stand out, here are cute and quirky ideas for templates that you could use.
If you wish to go with cards for your new baby announcements, here are a few options you can explore. You can get the photograph of the baby printed along with a quirky message like "I am here" or "Hello world" upon it. For those who choose the photo of the baby along with the parents, a generic message also can be used.
You could also opt for a simple welcome message along with a gift. The announcement of a newborn baby girl can be conveyed in the fairy theme too. Gifts like sweets, token return gifts are also sent. Chocolate being the favorite one among people of all age groups, it is the most common sweet that is distributed.
  ChocoCraft provides you with creative birth announcements and the best part is they do this using chocolate. Chocolate is a therapy, chocolate always understands, be it good or bad. For those looking out for creative birth announcement ideas, sites like Pinterest provide the most creative ideas for cards and gifts that you can make or sometimes even order.

Grandchild Birth Announcement
Grandparents are the most excited for the birth of their grandchildren. They pamper them with lots of love and take utmost care of them.
They are with them always and spend quality time them by playing games, cards and entertain their dear grandkids by narrating stories ranging from bed time stories to educating them with mythological ones and tales of great super heroes. They are also the ones who also imbibe great values in their grand kids.
Announcement of a baby girl is done by the grandparents saying something like "We are welcoming our princess" or "We are delighted to announce the arrival of our little grandson/ granddaughter". Various templates and ideas are incorporated for doing the same. Like pasting pictures of the baby along with them and sending sweets and chocolates along with messages conveying the message of the arrival.
Other forms include using welcome quotes for new born baby girl along with a message stating the details. Parties are arranged and sweets are distributed as old people mark the baby girl arrival auspicious and symbolic as the baby girl is said to be analogous to that of goddess Lakshmi, who is the goddess of wealth.
This is thus an auspicious occasion for those blessed with a baby girl as this marks the onset of prosperity as well as happiness along with enthusiasm. The arrival of a baby lightens the mood in the house and dispels darkness and eliminates sorrows if any.

Baby Girl Announcements in India
The announcement of newborn baby girl was traditionally done by the word of mouth in India. Family friends and relatives convey this good news to each other. But these days, there is a trend of sending going with creative birth announcements like personalized baby announcements, going for customized baby girl announcement cards. Girl birth announcements are done via a formal declaration or by making funny and quirky cards as discussed above.  
In India, the use of cards and messages is maximum stating the safe and sound arrival of the baby. In certain cases, baby birth announcement gifts are also given which include traditional Indian sweets accompanied with chocolates, generic home decor pieces along with a card and a photograph of the newborn.
A lot of creative birth announcement ideas are implemented. Some enthusiastic parents go to the extent of making handmade announcements or get these customized announcements made upon order. Popular and commonly used girl announcement ideas in India are sending cards via email and social media which generally consist of a card or a message with a photograph.
In some cases, poems or short verses are written for the announcement of the newborn baby girl. Other than sending out cards, certain people also go with gifts to convey this happy news. Customized chocolates, custom made cards and goodies are popular gifts in India.
In the metro cities like Delhi, Kolkata, Bangalore, Chennai, Mumbai etc. Dedicated companies and artists work where you can get almost anything customized right from edibles like chocolates to special giveaways. The best part is most of these accept orders online and you can get shipments delivered to almost any part of the country.
---
For more information, please get in touch with us.