Baby Girl Announcement - 12 Chocolate Box


Chocolates configuration options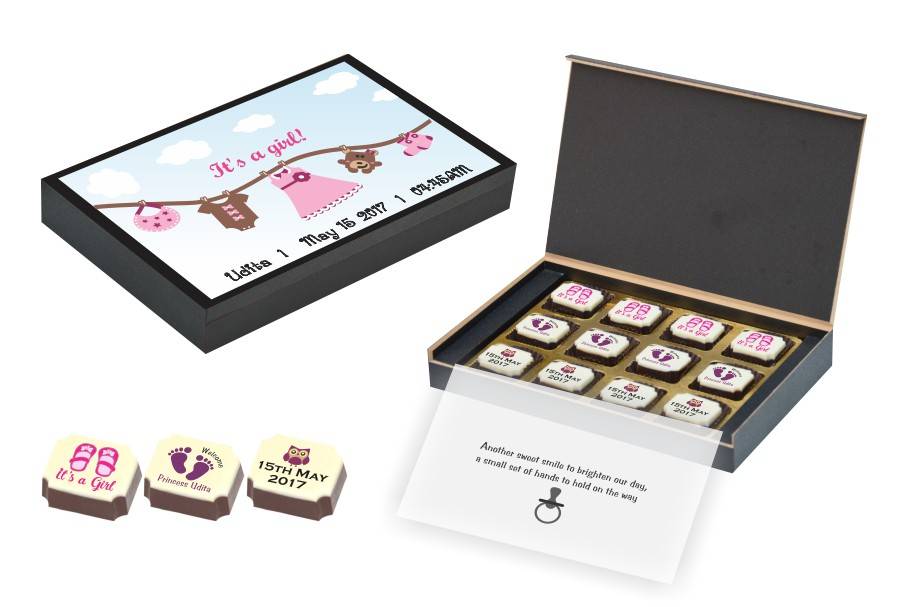 All Printed Candies, Customised Wooden Box , Message on Butter Paper

6 Printed & 6 Assorted Candies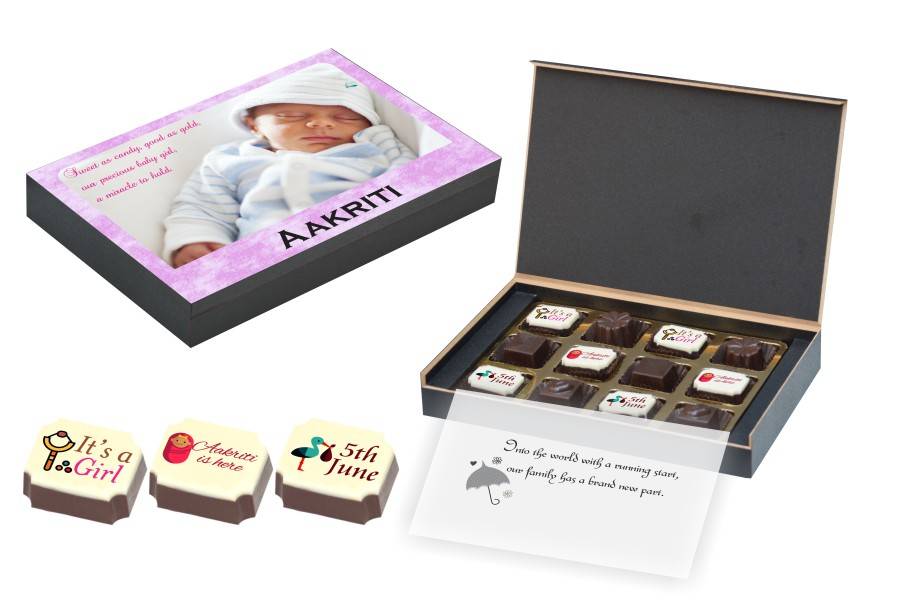 Alternate Printed Candies, Customised Wooden Box , Message on Butter Paper

Printed Bar & 10 Assorted Candies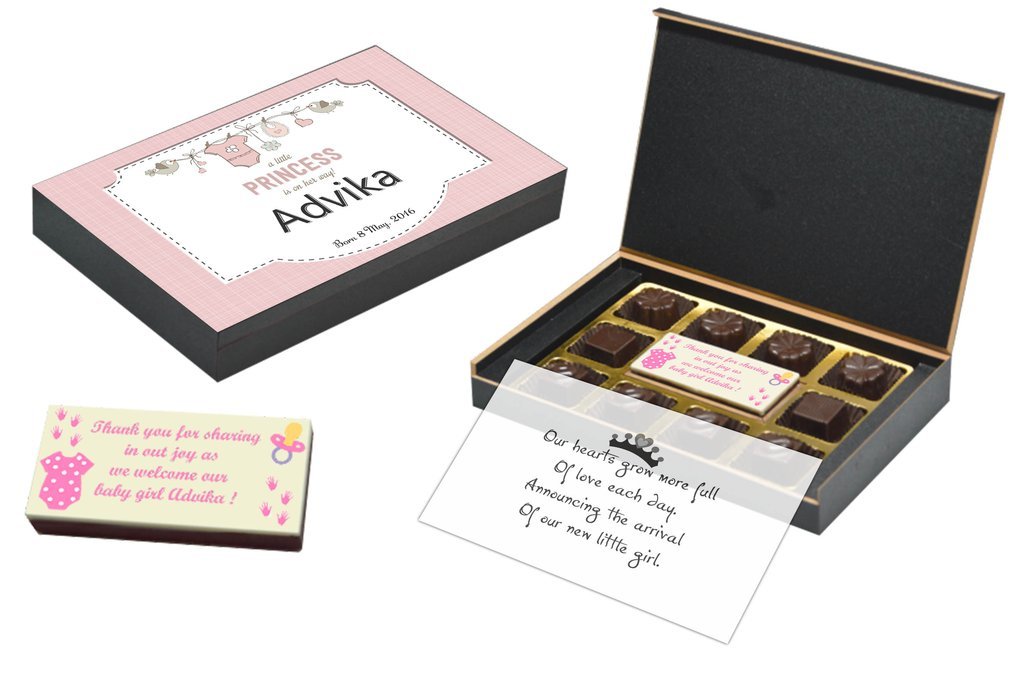 10 Assorted candies with Printed Bar, Customised Wooden Box , Message on Butter Paper

2 Printed & 10 Assorted Candies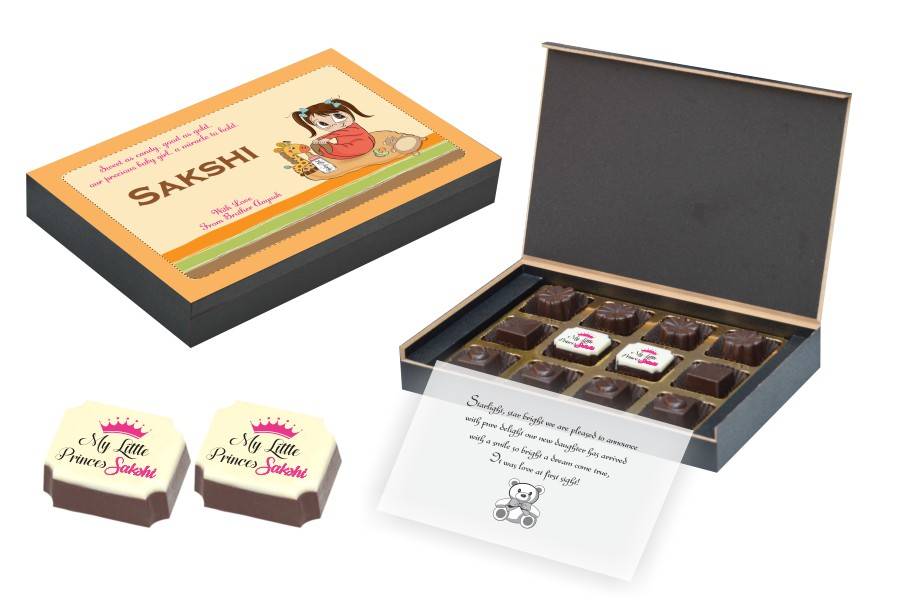 Middle 2 Printed Candies, Customised Wooden Box , Message on Butter Paper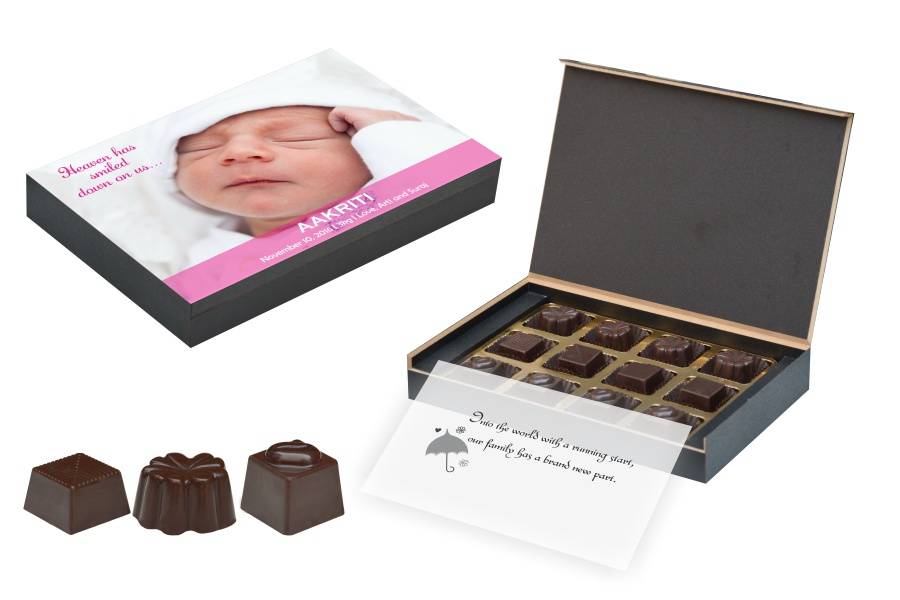 Assorted Candies, Customised Wooden Box , Message on Butter Paper

Baby Girl Announcement - 12 Chocolate Box by Chococraft
---

Unique Baby Girl Announcements by Chococraft
Girls fill up homes with happiness. Their little smile can make even the cruelest heart melt. They make your life full of sunshine and rainbows. When you hold your little girl in your arms, you know that the bundle of happiness is warped safe. Make sure to share your happiness with your loved ones through the baby announcements cards.
Birth announcements for your special girl should be equally special and unique. Chococraft gives you the perfect blend of unique and creative for the birth announcement. Chococraft makes it's a girl announcement that would have your relatives fawning over. Birth announcement cards by Chococraft are one of a kind, and they always give the best final finished products.
Chococraft lets you introduce your little girl with a box full of sweetness. Your baby girl arrival would be celebrated in the best way possible with a chocolate box. With Chococraft, you can even design these chocolates. You can have whatever pattern or design you want on the chocolates. Chococraft's 12 chocolate box gives you 12 pieces of chocolate, and you can design them any way you want.
This isn't it, Chococraft even lets you customize the chocolate box. The chocolate box can have the picture of your baby, or you can add newborn baby quotes on it. Your chocolate box can be personalized in every way you want.
With Chococraft, you can make photo baby announcements, and add pictures of your delightful baby on the chocolate box or even on the chocolates itself! Chococraft makes your cute baby's announcement wonderful.

Baby Girl Announcement - 12 Chocolate Box by Chococraft
Gift Categories
Gifting Ideas
Our Speciality
Beautiful Baby announcements formats
Doorstep delivery across India
Unique Ideas with a personalised message
Design / Make your own Birth announcements Invites / favors
Products in a wide price range
Classic birth announcement

Traditional Birth Announcements
One of the important things about selecting a baby announcement is to decide what kind of style you want your announcement to have. It could be a classic birth announcement, a religious birth announcement, a modern birth announcement, or a traditional birth announcement.
The traditional birth announcements represent the background you have, and what you believe in. In India, traditional announcements are filled with royal color which represents the rich culture of India. Animal images in bright colors are printed on some cards.
Traditional birth announcements show what you believe in and are filled with a lot of auspicious images. These announcements are often serious, and they represent in-depth devotion of a person's connectivity with their religion.
A girl baby announcement can have a lot of images of colorful birds. Especially peacocks are considered auspicious in India, and their images are used in a lot of happy occasions. Some flowers and leaves are, also, considered propitious, and they are used in rosy occasions.
Chococraft provides a lot of traditional birth announcement templates to choose from. Chococraft is the one place where you can select from a lot of traditional birth announcements, or you can design one yourself.
Not only the announcement, but you can also customize the chocolates and even the chocolate box. Why go from places to places looking for the perfect announcement when you can design one for yourself? Get the perfect birth announcements with Chococraft.

Personalized Birth Announcements  
Selecting birth announcements is the tricky part. You want to have the best for your precious girl, but announcements in the market never seem to be enough. Why not personalize it then? Create your own personalized birth announcements which would have everything you want.
Search around for baby arrival announcements ideas, and add them to your announcement. Your little girl should get the best of everything, so make your own announcement. Let your creative juices flow, and create something that people will remember for ages. Your birth announcement should be exactly like your daughter–precious and beautiful.
Your it's a girl announcement ideas should be creative and unique. Create something that would be one of a kind and loved by everyone. Add photos of the baby to make a cool baby announcement. In India, it is almost customary to send sweets on happy occasions so follow the same tradition, and send them something sweet to eat along with the birth announcement.
Make your announcement of the new baby girl into your life more special by sharing this happiness with others. Best way to introduce your little girl would be to send chocolates to your loved ones along with the baby announcements. With Chococraft it is all possible.
Chococraft lets you, not only, customize the announcement, but also the chocolate box. It doesn't just end here. You can also customize the chocolates. You can select whichever filling you want on these chocolates along with the design you want.
With Chococraft you can personalize the chocolate box, and have pictures of your daughter all over the chocolate box to create a photo announcement. With Chococraft, you can create the announcement you want.

How to Write a Birth Announcement
Baby birth announcement wording is the most important part of any announcement. This is where you give off all the important details, and tell your loved ones about the new addition to your family. Write the words which would best describe the love you have for your precious little girl.
There are some things which are necessary to be written in an announcement. The full name of the baby needs to be written on the announcement so that your loved ones would know the name of your little one. Date and time of birth of the baby are equally important. So that, your family and friends know when the baby was born, and wish it when the time comes.
Write the name of the parents along with the name of the siblings. Parents and siblings surely would want to be part of this occasion so, make sure to mention their name as well. Some people also mention length and weight of the baby, but you can just mention that both mother and the baby are healthy.
You can add blessings or words of the elders on the announcement. Lines from poems or words by the elder sibling could be written, as well. These words show that your whole family is excited to have this new addition to the family.
---
For more information, please get in touch with us.