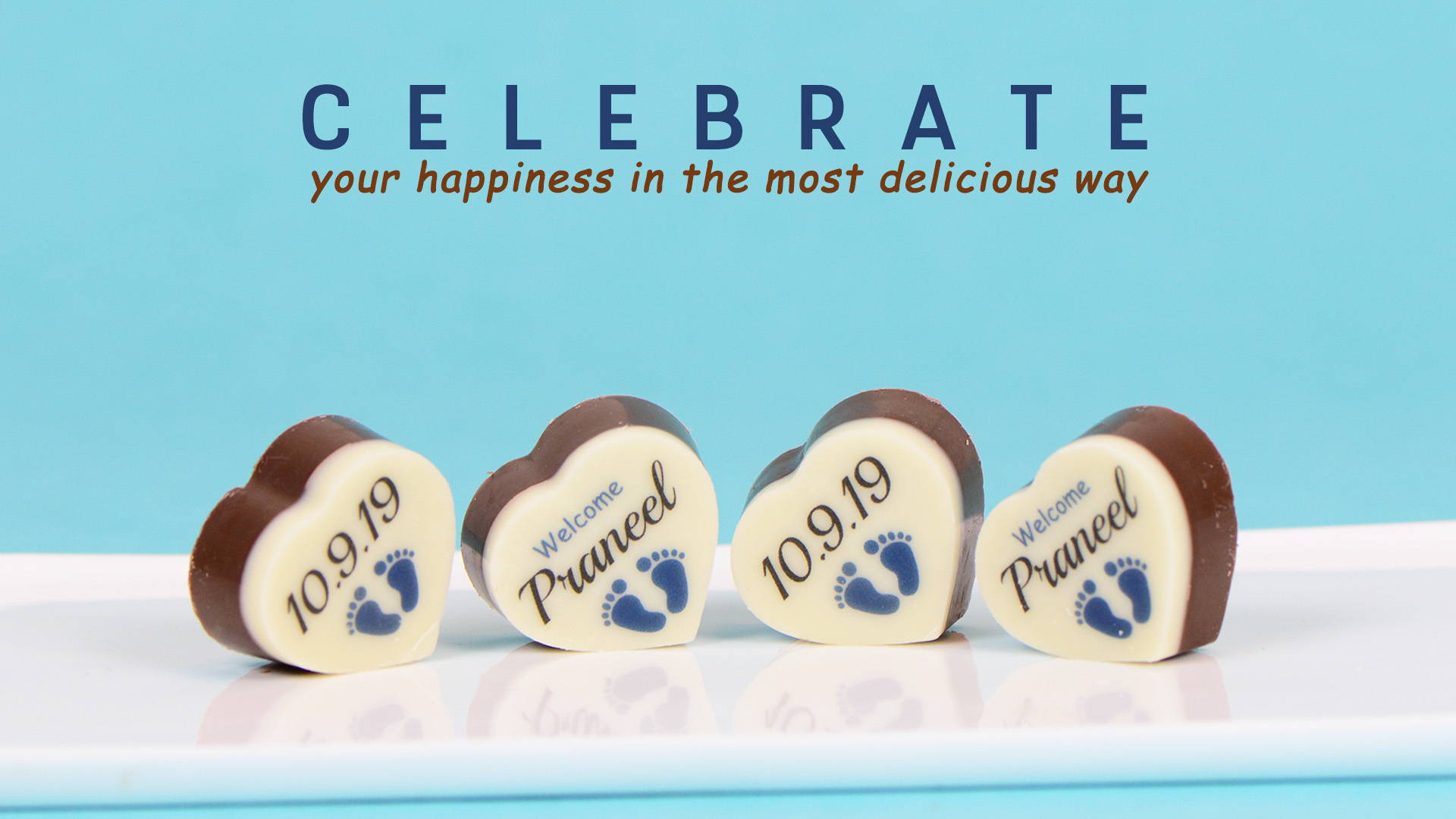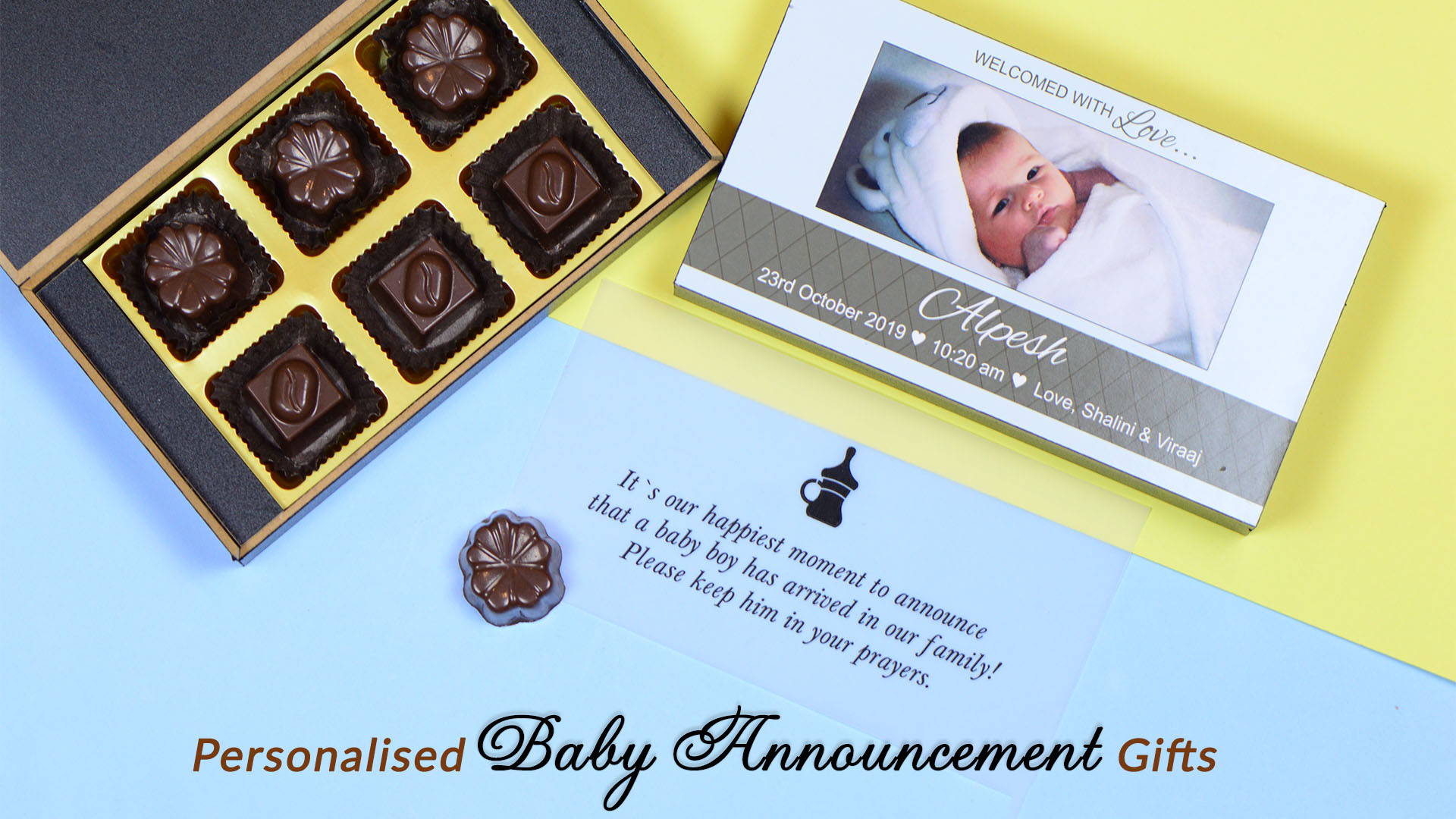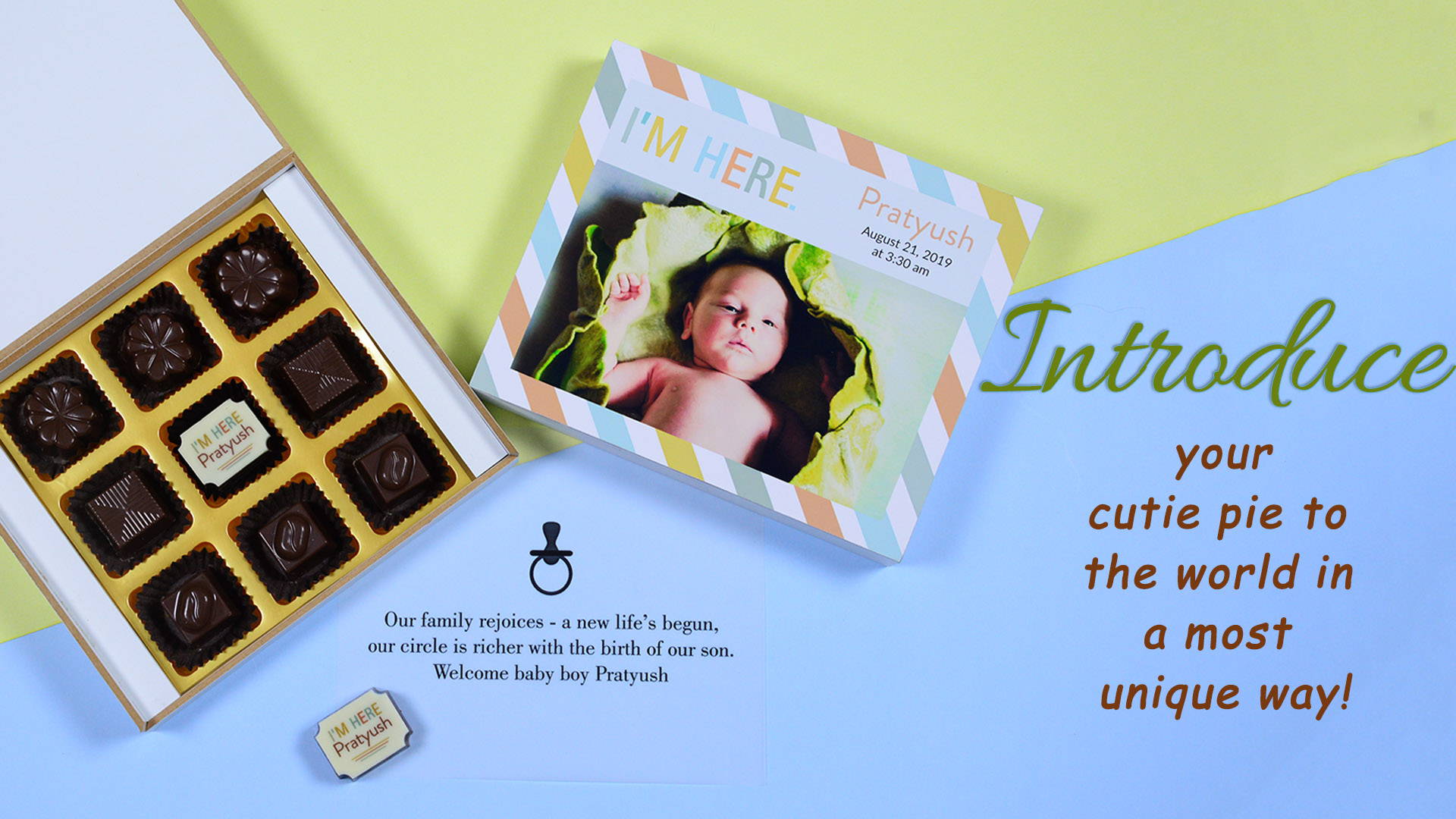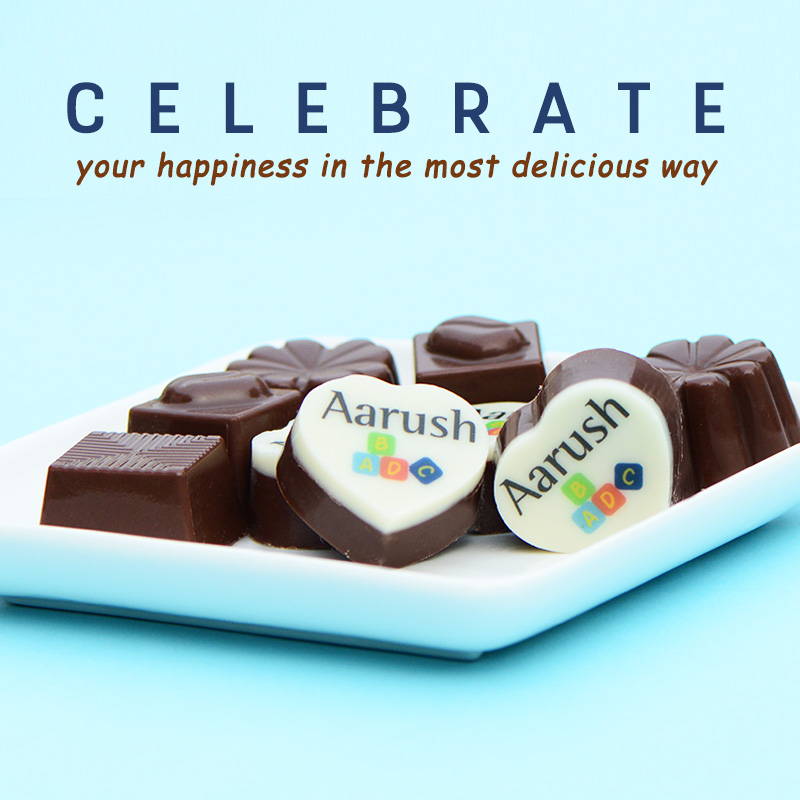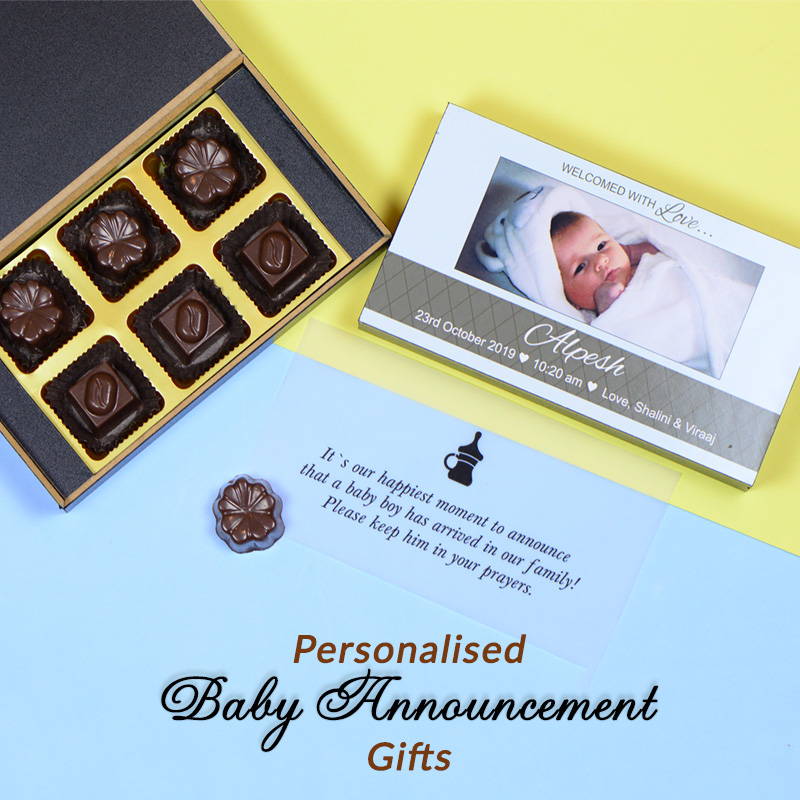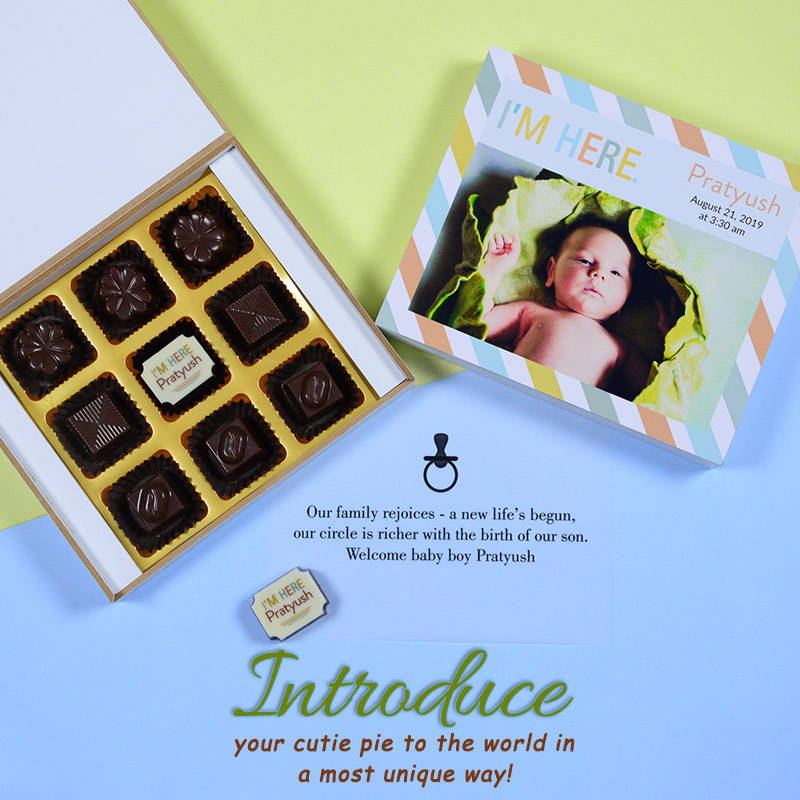 Baby Boy Announcements
by
CHOCOCRAFT
The birth of a baby boy is a wonderful occasion for any family and as parents you surely want to share this news with the rest of the world. A fun way to do this is Birth Announcements by ChocoCraft. Personalized gift boxes, featuring a picture of the baby if you want, and delicious printed chocolates inside. A lot of design options!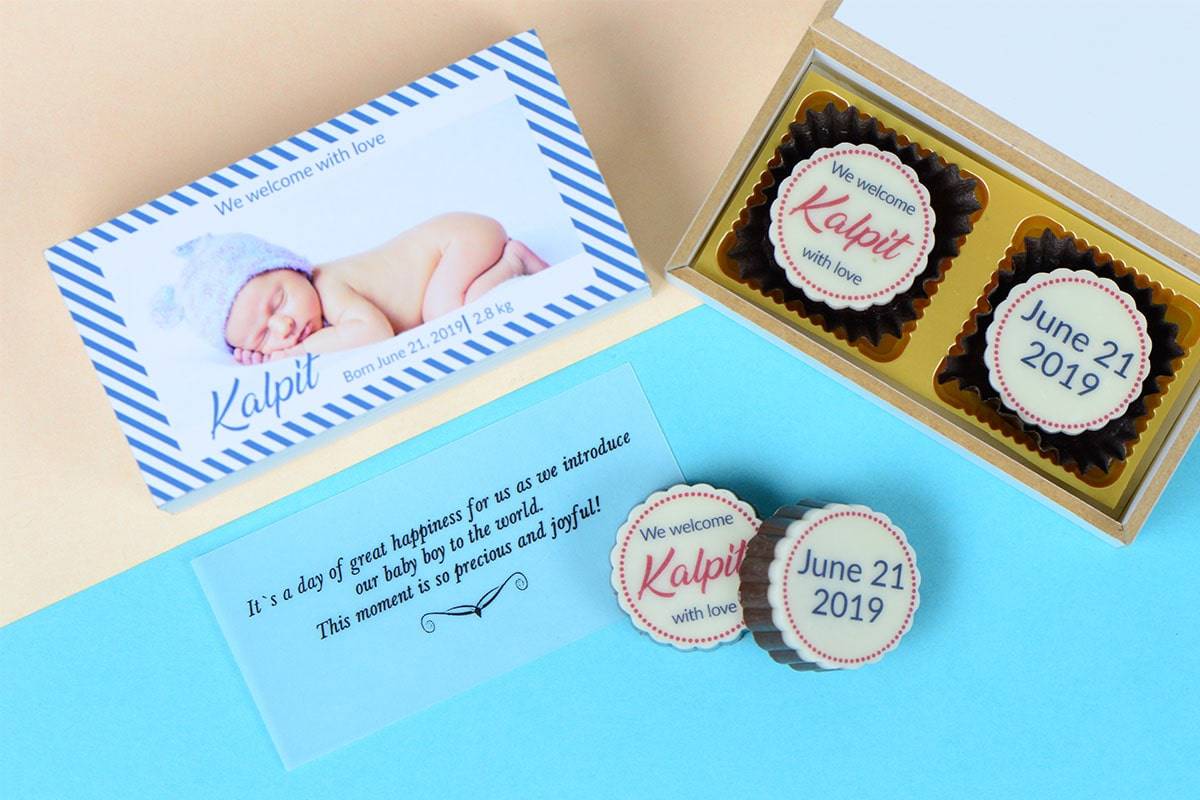 2 Chocolate Box
with Printed Chocolates
Box Size(LBH): 100 x 53 x 32 mm
Box Colors: Black | White
Total Weight: 80 gms approx.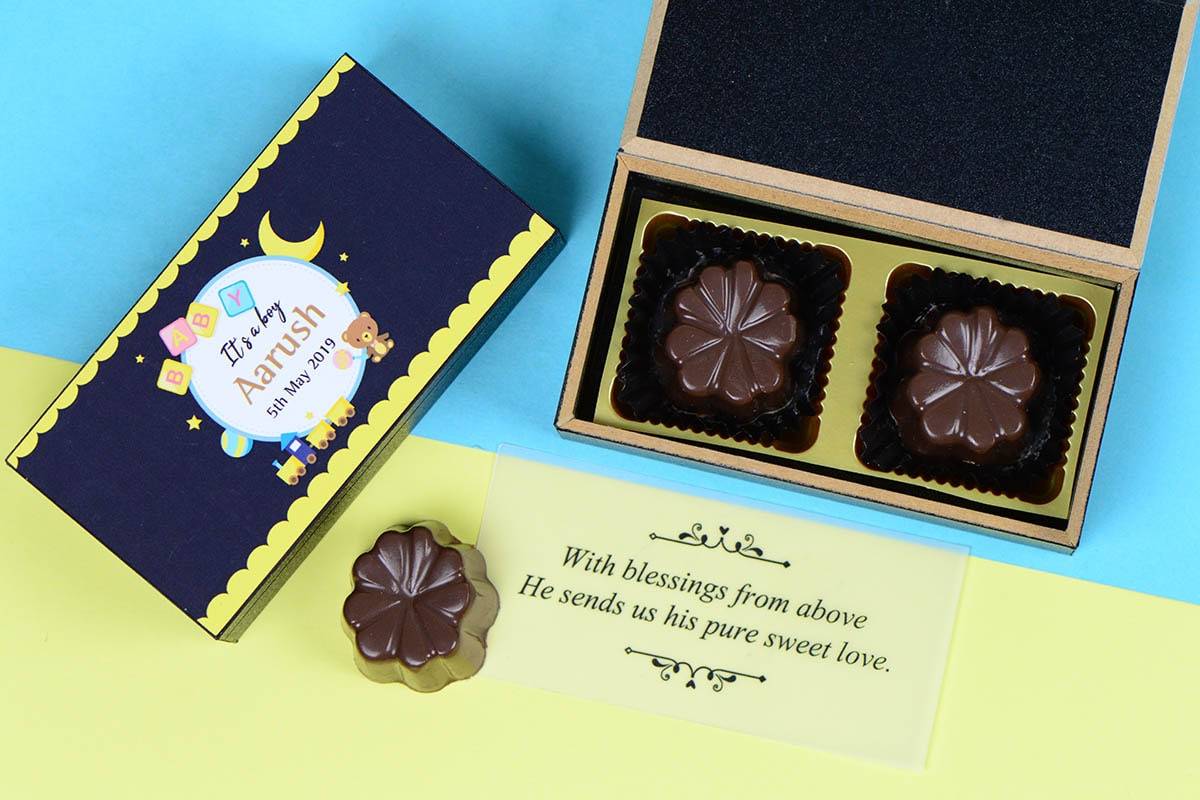 2 Chocolate Box
with Assorted Chocolates
Box Size(LBH): 100 x 53 x 32 mm
Box Colors: Black | White
Total Weight: 80 gms approx.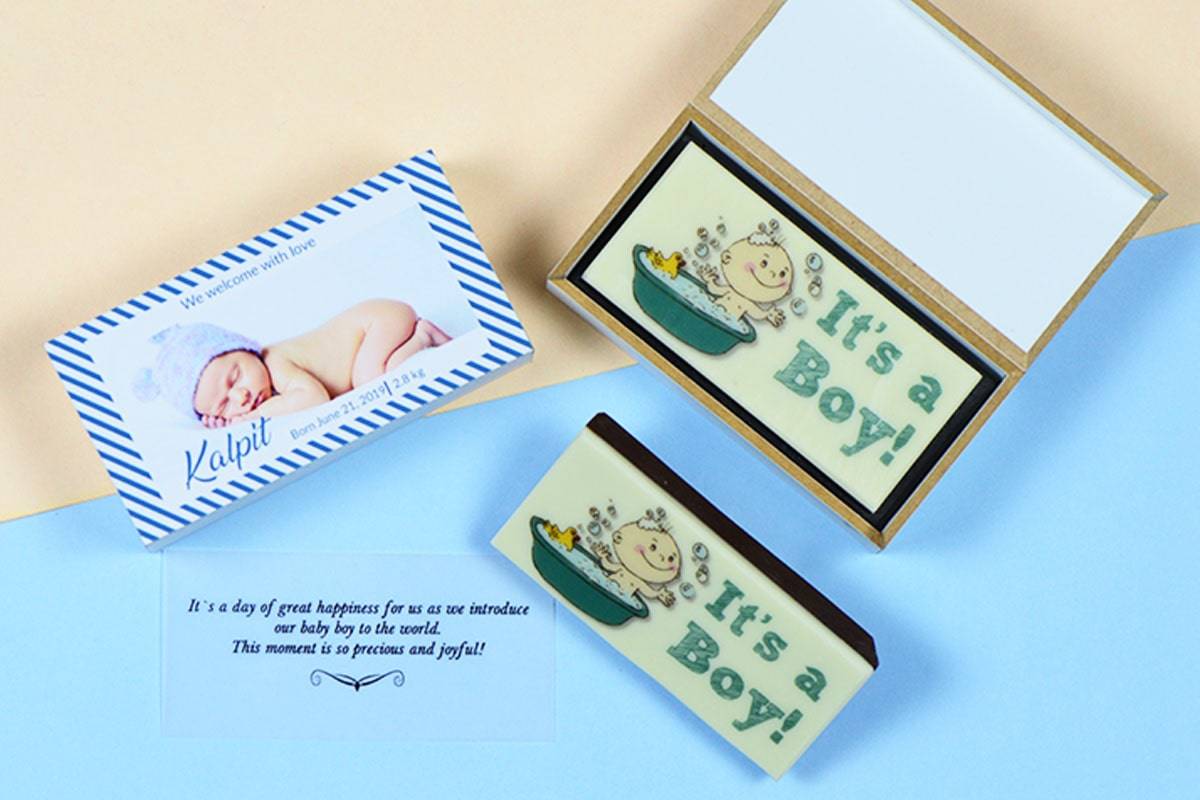 Chocolate Box
with Small Chocolate Bar
Box Size(LBH): 100 x 53 x 32 mm
Box Colors: Black | White
Total Weight: 115 gms approx.
Alternate Printed Chocolates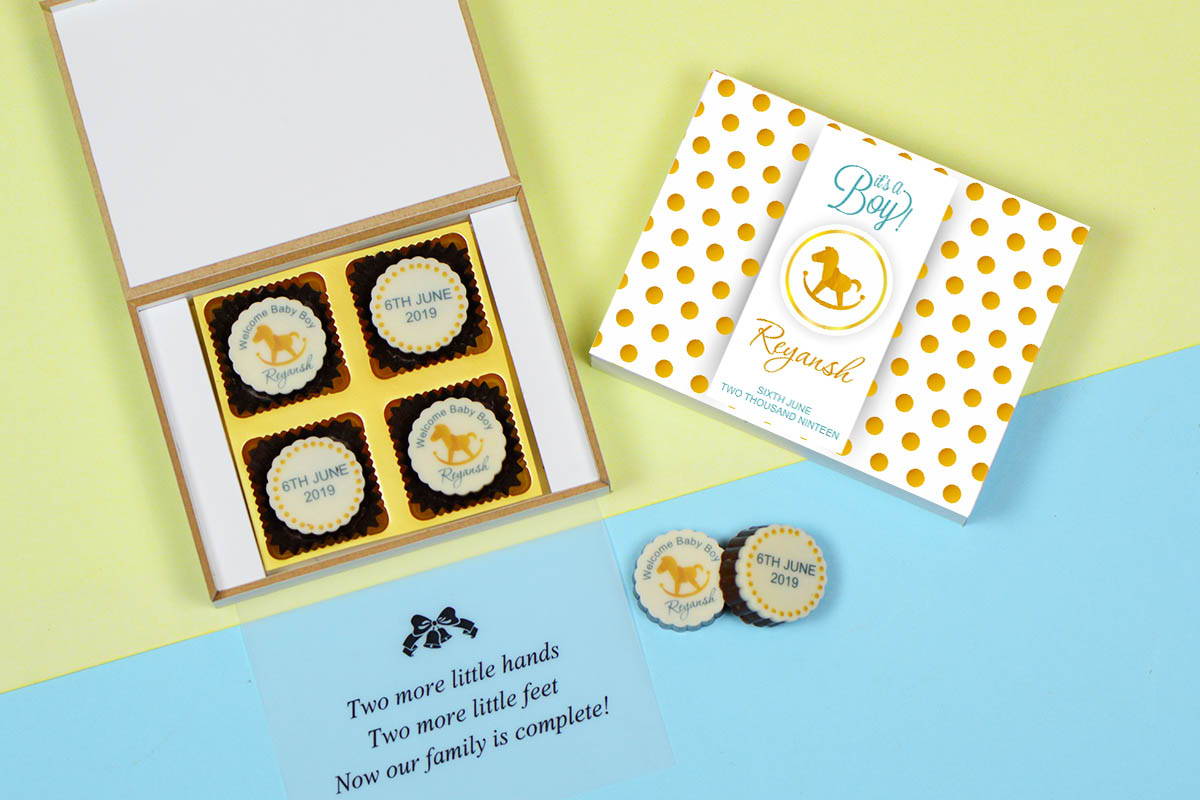 4 Chocolate Box
with Printed Chocolates
Box Size(LBH): 132 x 100 x 32 mm
Box Colors: Black | White
Total Weight: 160 gms approx.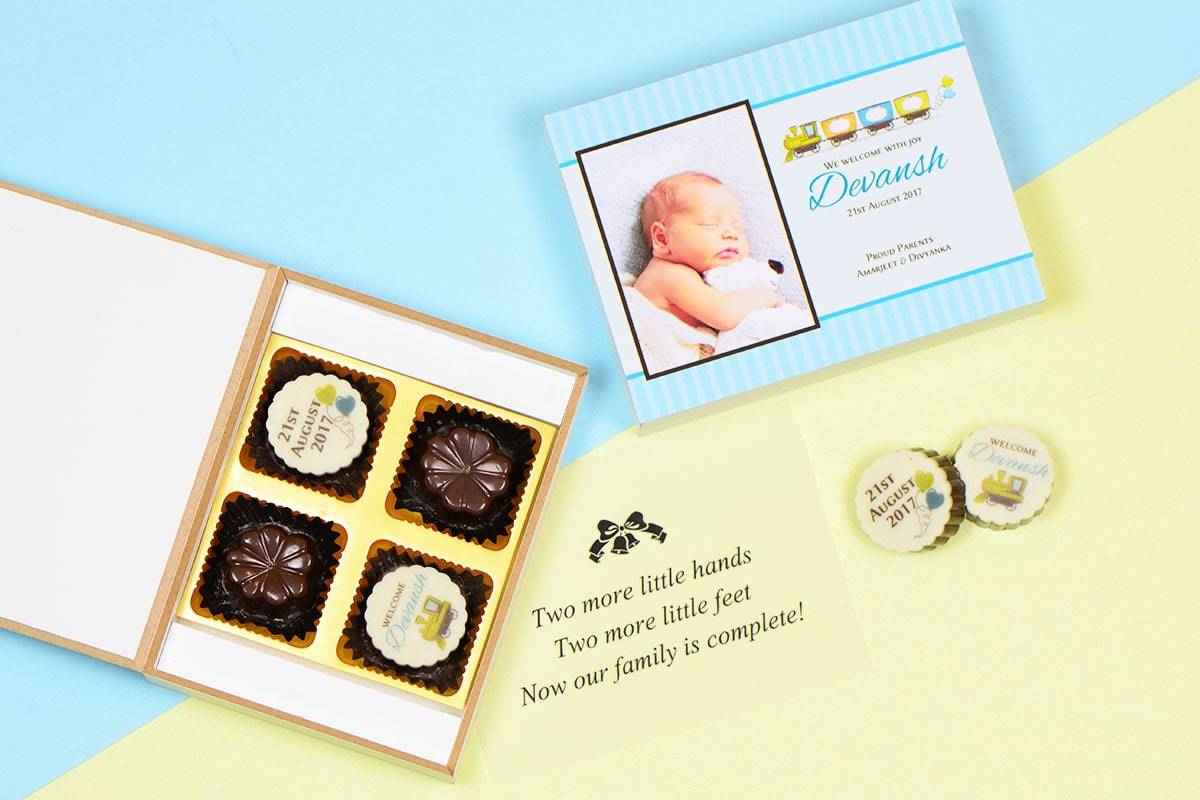 4 Chocolate Box
with Alternate Printed Chocolates
Box Size(LBH): 132 x 100 x 32 mm
Box Colors: Black | White
Total Weight: 160 gms approx.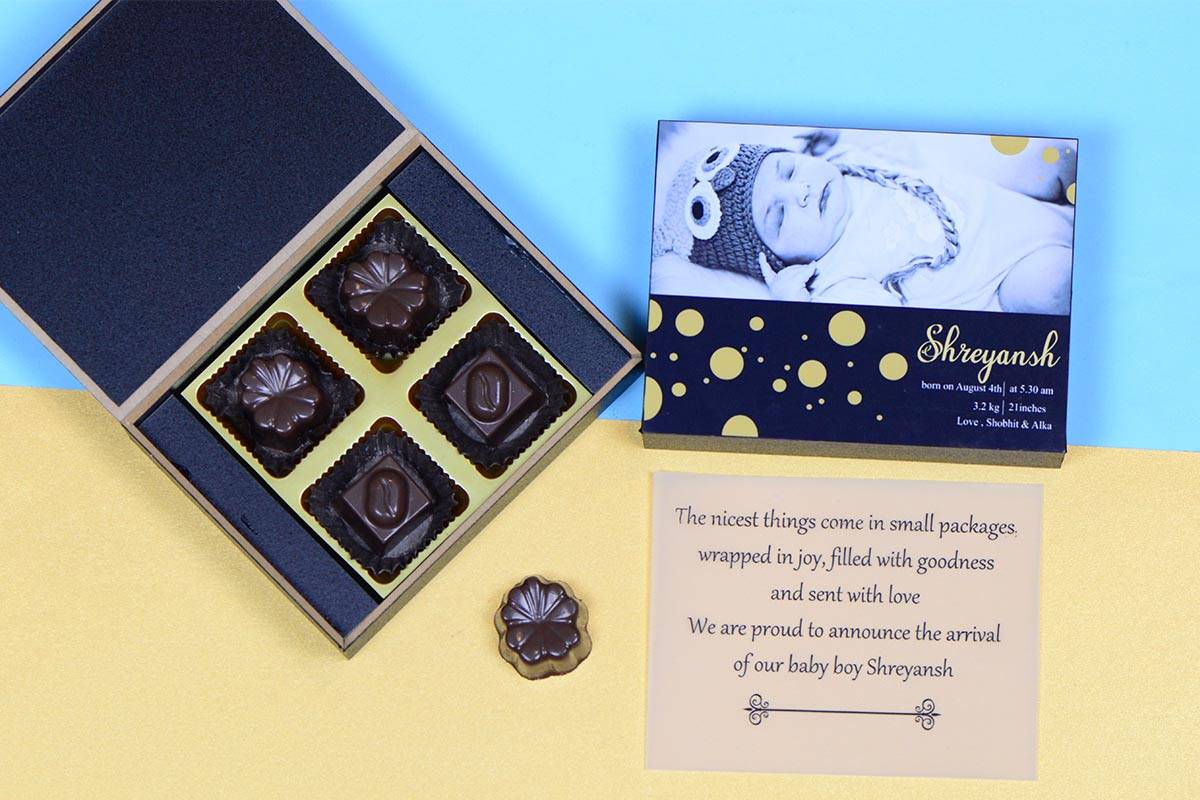 4 Chocolate Box
with Assorted Chocolates
Box Size(LBH): 132 x 100 x 32 mm
Box Colors: Black | White
Total Weight: 160 gms approx.
Alternate Printed Chocolates
Alternate Printed Chocolates
Alternate Printed Chocolates
Alternate Printed Chocolates
2 Chocolate Box with Printed Chocolates
Box Size(LBH): 100 x 53 x 32 mm
Box Colors: Black | White
Total Weight: 80 gms approx.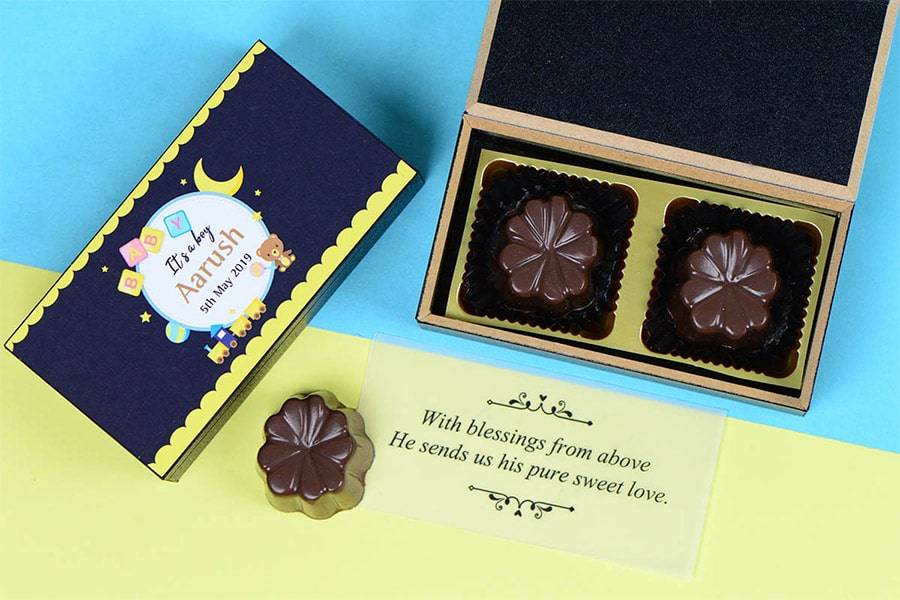 2 Chocolate Box with Assorted Chocolates
Box Size(LBH): 100 x 53 x 32 mm
Box Colors: Black | White
Total Weight: 80 gms approx.
2 Chocolate Box with Printed Chocolate Bar
Box Size(LBH): 100 x 53 x 32 mm
Box Colors: Black | White
Total Weight: 115 gms approx.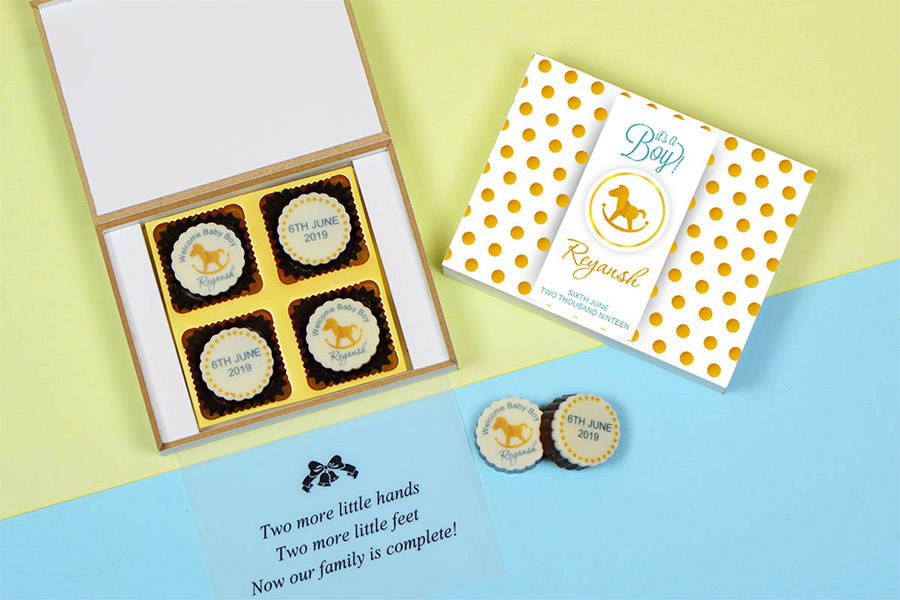 4 Chocolate Box with Printed Chocolates
Box Size(LBH): 132 x 100 x 32 mm
Box Colors: Black | White
Total Weight: 160 gms approx.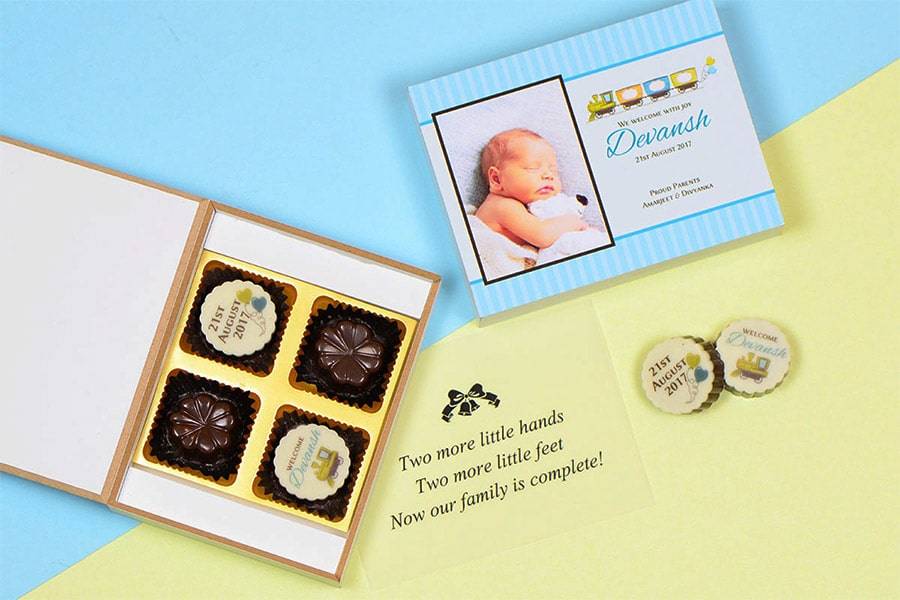 4 Chocolate Box with Alternate Printed Chocolates
Box Size(LBH): 132 x 100 x 32 mm
Box Colors: Black | White
Total Weight: 160 gms approx.
4 Chocolate Box with Assorted Chocolates
Box Size(LBH): 132 x 100 x 32 mm
Box Colors: Black | White
Total Weight: 160 gms approx.

A Dedicated Account Manager

On time delivery, every time. Zero damage guarantee.
Quality Product, Colors on chocolates USFDA Approved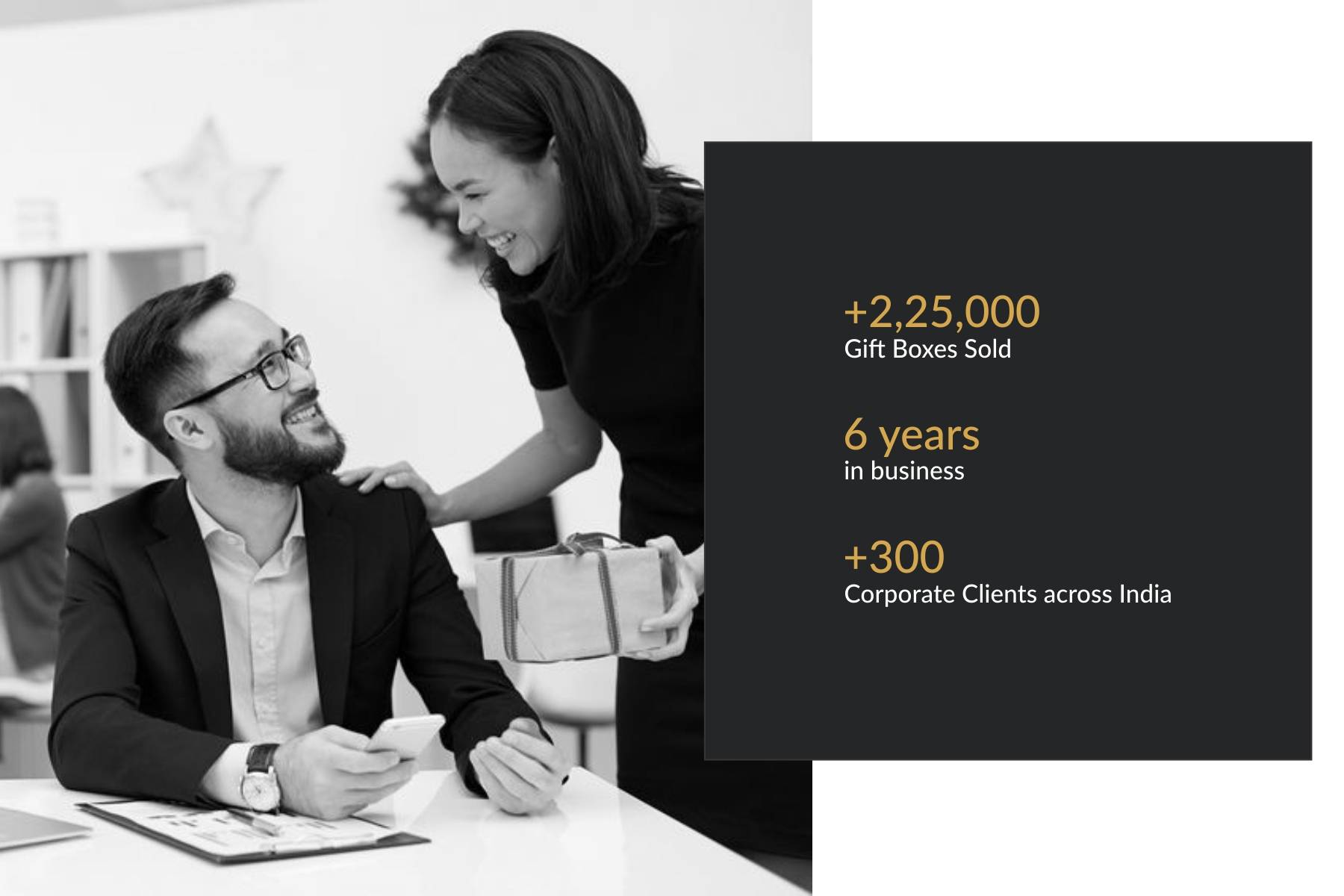 "My heartfelt thanks to all the team members of chococraft for excellent product ,service and promtness.i ordered 9 chocolate box with customisation for baby boy announcement. I truly appreciate their team for all extended help all the time which never let me face any problem right from selecting desired product till final delivery.Superb packing and on time service.The website content is also so perfect which i think cater needs of each indiviual approaching you. Really appreciate all your efforts. Looking forward for many more orders."
Ms. Dipika Mehta
"Dear ChocoCraft, Loved your products & services"
Ms. Isha Alam
"Nice surprise work done by Team ChocoCraft. They customised everything as I wanted. Chocolates were delicious, liked by everyone. Thanks a lot for timely delivery making our day memorable."
Ms. Neha Agarwal
"Thank you for your prompt service. Will definitely order again from ChocoCraft."
Ms. Zehra Ladiwala & Ms. Shaheena Ladiwala
Write to us:
customerservice@chococraft.in
---
Call us:
+91 9821 669 229
---
Want us to get in touch with you?
Thank you! We will get in touch with you shortly.
This field is required
This field is required
This field is required
This field is required
Baby Boy Birth Announcement Gifts
Watching a baby in itself is a pious experience which makes us realize how wonderful life is with its sweet surprises. When you hold a baby you notice how sweet and precious life is. Not only you, but also your friends and family would be excited about your baby. Be sure to send birth announcements of your baby boy arrival.
A birth announcement card is a way of telling your loved ones that you have safely conceived a baby. It is also a way of sharing pictures of your baby with your family and friends.
That heavenly feeling of having a tiny version of yourself right in your arms is something only the fortunate get to experience. That 9 month long anticipation and the many emotions that builds up is what makes the arrival of your baby boy even more special. And those "It's a boy announcements" that the doctor makes to you definitely gives you the adrenaline rushes and you cannot wait to break the news of having been blessed with a baby boy to your near and dear ones. But breaking the news over text messages or over mail is so clichéd. So why not make these baby boy birth announcement extraordinary and unique by sending out baby boy announcement cards or little souvenirs to go along with it?
Not sure what could be the best baby birth announcement gifts? Well rest assured as that is what we are here for- to help you with creative baby announcement ideas.
Chococraft understands the significance of your baby boy announcement for you, so we bring to you our very finely crafted delicious chocolates made especially for the announcement of your new born baby boy. That's right!! 18 Chocolate Box is one of the most unique ways to announce the birth of your baby boy. Brace yourselves for we offer you these wonderful boxes which contain 18 chocolates, both printed as well as assorted, bar as well as cubes of chocolate, middle printed as well as non-printed, according to your choice of configuration. These chocolates are freshly made right after your order has been placed. And the printed candies are made with edible colours which make it safe for consumption. You can also customize the design of the chocolates to suit your requirements. You can even customize the design of these classic wooden chocolate boxes and get various designs printed on them according to your preference. You can even add a picture of your baby girl on the wooden box and make it one of the most creative and unique baby boy announcements. And not only that, you can even write your own cute baby birth announcement on butter papers. These cute little birth announcement wordings will be inserted inside the box.
Unique Birth Announcement Gifts in India
Chococraft makes your baby's birth more special by their unique baby announcements. With Chococraft you can send your announcement of a newborn baby boy with a chocolate box! And who doesn't love chocolates. With the sweet news of your baby, your loved ones would love the chocolates.
Inside the chocolate box, you would have a printed message. This message would be printed on a butter paper, and you can write whatever you want on this message. You can write baby announcement quotes on it, blessing, poems written by elders, or anything you feel like.
Other than that, you can send chocolates to your friends and family. The chocolates can come in a range of variations. It could be an 18 chocolate box, a 12 chocolate box, a 9 chocolate box, a 6 chocolate box, a 4 chocolate box, a 2 chocolate box, or a printed regular bar.
The best part is that you can even customize the chocolates. Yes, you can have whichever designs or patterns you want on the chocolate. It doesn't end here, you can personalize even the chocolate box! You can write messages on the box and go creatively wild. Add designs or animals pictures on the box.
Announcement message for New Born Baby Boy
The overall look of the baby announcements is important but the baby announcement message is the essential part. The announcement wording is the whole crux of the new baby announcement. The wording tells your feelings about the new baby, and these heartfelt feelings are what your family and friend need to hear about.  
You can write in your own words on the baby announcement cards or can have elders write on the card. Your relatives can write their blessings on the announcement to create a personalized baby announcement.
Self-composed poems and messages by elder brother or sister of the newborn could be written on the baby boy's birth announcement cards. The messages would be written on a butter paper. Along with the message, you could also have the drawing of the baby and other imagery which would look delightful to your loved ones.
Chococraft also offers templates to select from. Clients can check the templates to get ideas for the message, or you can select any template itself. Your unique ideas and messages would be printed on the messages. With Chococraft, you can personalize your child's announcement.
Order 'it's a boy' announcements online
Chococraft is the perfect baby boy announcement idea. You can get all the things need to make your best baby announcement in one place. Chococraft gives you a chance to make your newborn baby announcement special. With Chococraft, you can send your newborn's announcement with chocolates! Make your child's announcement unique with Chococraft.
Chococraft lets you personalize the chocolate box. Not only this, but you can even have photo announcements! Send the picture of your baby by mail that needs to be printed in the chocolate box top or on the chocolates.
You can purchase the chocolates online through Chococraft website. Select the chocolate configuration, and customize it any way you like. Select the design and the text that need to be printed on the chocolates and on the chocolate box top.
The colors used for printing of designs on the chocolates are USFDA approved, and are 100% edible and save to eat. Chococraft makes chocolates from the finest raw materials, and they provide the best-finished products.
Chococraft partners with the Blue Dart for shipping and they deliver to most locations in India. They deliver to metro cities (i.e. Delhi, Chennai, Mumbai, and Bangalore) within 1-2 days. But it may take longer in other locations.
Best Idea for Boy's Birth Announcement
You can look for innovative ideas which would make your announcement look adorable and funny. Your announcement should look beautiful which would make your loved ones feel happy about the new addition to your family.
When you adopt a baby, you also welcome a new member to the family. So do send the announcement declaring a new member to the family. You can print "welcome to the family" text on the announcement card. Use a lot of props to make the image on the announcement attractive.
For example, you can go for a comic styled announcement. Your baby would have 3-4 images on the announcement page in the form of a comic strip; give it an attractive name and go are good to go.
Similarly, you can have a newspaper cover image on the announcement card. Surrounded by news would be your baby's image in an adorable pose. Give it a headline and don't forget to write proud parents.
You can even make a handmade announcement. Try to make funny birth announcements. Look for creative props and angles which would make your announcement look innovative. Announcements which make people smile are the announcements people will remember.  
Classic Birth Announcements
Be ready to be spoilt for choice as we bring to you a variety of deals to choose from. And to name a few-
•   All Printed Candies: This box comes at an affordable price of INR 13,950/- for 10 boxes. Each box contains 2 Printed Candies in beautifully designed wooden boxes with classic birth announcements written on butter paper. Chocolate designs can be altered according to the preference of your birth announcement ideas. Even the wooden boxes can be customized according to your preference. You can order a sample now at INR 1,895 only.
•   9 Printed & 9 Assorted Candies: This wonderful gift box comes at a reasonable price of INR 11,500/- for 10 boxes. Each of these boxes contains 9 printed and 9 assorted candies contained in ornate wooden boxes with sweet birth announcement wordings written on a butter paper. You can even choose the chocolate design according to your preference. You can order your very own sample box at INR 1725 only.
•   Printed Bar & 16 Assorted Candies: This lovely bundle of joy costs INR 10,350/- for a set of 10 boxes. It has one beautifully printed bar chocolate along with 16 assorted candies contained in a customized wooden box with customized and unique birth announcements written on a butter paper which is one of the best baby announcement ideas. You can order your sample box at INR 1495 only
•   4 Printed & 14 Assorted Candies: This delightful box comes at a very affordable price of INR 9950/- for 10 boxes. These contain 4 printed and 14 assorted candies beautifully placed in a customized wooden box with classic birth announcements written on a butter paper. You can order a sample box at INR 1495 only.
•   Assorted Candies: This lovely box costs INR 8950/- for 10 boxes and contains 18 assorted candies which comes in different shapes and sizes. These drops of love are contained in a beautifully designed customized wooden box with new born announcements written on a butter paper. You can grab your very own sample box at INR 1,345 only.
Unique Baby Boy Announcements by ChocoCraft
Looking for solutions for your baby boy's announcement? You have reached the right place! ChocoCraft brings to you unique solutions and crafty baby announcement ideas, with chocolate gift boxes to accompany them. Our chocolates are made with the finest of ingredients, freshly prepared as and when you place an order for them. They can be customized with images and text printed on them, with absolutely edible, safe, and vibrant ink palettes. You can add special quotes, DOB, and name of the baby to be printed on the chocolates, in addition to his initials or even pictures of the couple embracing the baby.
These chocolates come packed in beautiful and sophisticated wooden boxes which too can be personalized with logos, designs and pictures from the baby's post-birth photo shoot. Inside this unique birth announcement gift, comes a well-designed birth announcement card. You can customize your template from a wide range of samples and selections in our offerings.
In addition to announcements of the most creative kind, unique in their own charm, for more convenience of our customers, we offer our solutions across all major cities in India. Just visit our website, browse through our selections and order your baby announcements online.
Select the configuration of the printed and non-printed chocolates to be placed inside your 12-chocolate box. It could be all printed, all non-printed, alternately printed, or all non-printed assorted candies with one printed middle bar. Customize every element of your announcement box, be it shape, design or flavor, all sitting at home. Finally, ChocoCraft executes on your commands and brings to you exclusive announcements of new born baby boy, all prepared especially for you.
Traditional Birth Announcements
Traditional "it's a boy!" birth announcements are very classy and minimalistic in nature. They are usually written in simple fonts, on minimal bordered light pastel sheets with dark fonts and almost no explicit designs and logos. They keep their content structured in rigid formats, stating basic details of the newborn, like the name of the baby, date of birth, weight (or even height if you may) and the place of birth. At the end we have the complete names of both the parents.
Even though very simple, efficient and containing all the required information of the newborn, they miss out a whole lot on the celebration to go around at the birth of a baby. The point to ponder upon is that this occasion is a moment of joy for everyone associated to the young, even remotely. And to do justice to this euphoric event, the classic birth announcements need to be made with due respect to the grand affair.
For people keeping the announcement of the baby boy's arrival very low-key, and looking for a simple statement without a party to go with it, it certainly does seem justified. They are also very cost effective and don't require a lot of craftsmanship. But again, this celebration, if to be cherished to the fullest, in the most extravagant way, can only be justified with some extra zing added to the traditional birth announcement procedures.
Personalized Birth Announcements
Personalized birth announcement is the choice to go for in today's day and age. Customized invitation cards and special goodie hampers to go with them have gained popularity throughout the world. In the recent past, the announcements of a newborn have come to be more of a social obligation and a symbol of status too. But even irrespective of all these, the young couple would like to showcase the amount of joy this gift from Almighty has blessed them with. One would really wish to go all big and all out with the birth announcements. Hence, personalized invitation cards are a must, making cute as well as creative birth announcement ideas.
You can send special goodie bags, baby clothes or a sophisticated case of well-crafted custom made chocolates along with it too. Personalize your baby boy birth announcement ideas to justify the essence of this event, with even added footprints or initials of the baby, or pictures from the post-maternity photo-shoots.
How to Write a Birth Announcement
Writing a baby announcement is something which seems very simple but there are a few guidelines that you must follow to indeed keep it crisp and simple, yet informative. Here are some tips that you need to look into to prepare a good announcement;
•   The announcement card should be very subtle with the color schemes, patterns and designs. We are not suggesting that you restrain your creativity. But keep with the tone down, since it needs to showcase the innocence of the newborn. It cannot have loud elements from a formal adult party, nor should it have vibrant colors like for young kids' birthday party.
•   Baby birth announcement wording must include basic details like the name, date of birth, place of birth, time of birth, and weight of the baby.
•   Include complete names of both the parents, and also names of all the siblings (if any).
•   Go with signing-off the announcement with the immediate sibling's name. For example, if your newborn is your third baby, sign-off the invitation / announcement by the second-born's name, and if it is second born, sign-off with your firstborn's name.
•   Don't include welcoming paragraphs, or excessively long newborn baby boy quotes from any religious scripture or prose, even if you're going for religious birth announcements
•   Keep the structure as skeletal as possible. Even if you include more such elements, make sure to highlight the basic details of name and date of birth et cetera.
•   Don't use gender-neutral colors if the name of the baby is gender-neutral. If you are still opting for a gender-neutral color tones, make sure that the gender is revealed clearly.
•   Announcements need to be made very close to the event of occurrence. So when your baby is born, we understand you must be preoccupied with so many responsibilities. It is understandable for you to take up to 2 to 3 weeks for the "it's a boy" announcement cards to go out, but don't delay more than that.
•   If the child is adopted and you wish to make it public, also mention the date of adoption and the date of birth separately. It would be rather obvious addition if the child is, say a toddler or older kid. In that case you can also mention the city of birth of the baby and even a special vote of thanks directed towards the adoption agency for making this day come true for you.
Baby Announcement with Chocolates
Giving birth to new life is one of life's most precious joys. A baby brings happiness and warmth to the family and touches upon the lives of everyone around. For the parents, there is no greater joy than to hold the little life they have created in their hands.
It is undoubtedly one of the most memorable moments in any parent's life and one that demands to be celebrated. Babies are little bundles of happiness, toothless giggles and a whole lot of love. It is the greatest gift, be it the first or second child.And if it's a baby boy, the happiness is still greater.
And it is only natural that a baby's arrival into our lives should be announced to friends and family members so that they may come and be a part of the celebration. Baby announcements have always been a beacon of hope, happiness and all that is good in this world. It is also a nice way to let your concerned friends know that the mother and baby are hale and hearty and that you would love the rest of the world to catch a glimpse of your baby as well.
You can never know how sweet and incredibly precious life is unless you've held a baby in your hands. That little creature in your hands holds infinite possibilities and an unlimited capacity to make the lives of those around, better. The experience is truly life changing and one that, words fail to do justice in expressing.
Custom Birth Announcement
Today we take a look at the various options available for you when it comes to cute baby announcements.And if it's a baby boy all the merrier. Chococraft makes your baby's birth more special by our unique baby announcements. With Chococraft you can send your announcement of a newborn baby boy with a box of chocolates and beautiful birth announcement cards bearing a special message.
Now, of course, there are a number of options when it comes to ideas for birth announcements, but really is there anything better than chocolate? Who doesn't love chocolates! On this auspicious occasion, invite your friends and family members over with a box of our best chocolates.We have a range of options for baby birth announcement ideas but we'd like to suggest the 9-chocolate box which has been made specifically for the purpose of welcoming the newest addition to your family.
But these are no ordinary chocolates and nor are the boxes ordinary.No, all of them come with total customization options so that you may design and order as per your tastes.You can personalize it to have a beautiful photo of the baby on the box and a message from the elder sibling or elders of the house on a slice of butter paper.
The designs are made from a 100% edible grade ink and the chocolates and candies, each with different options can be ordered individually too.You can also have the photo or the message imprinted on the chocolates.
And also, we offer deliveries to all the major cities of India like Kolkata, Mumbai, Delhi, etc.So just sit back, find the template that you like and press the order button.All this at the convenience of being on a couch at home.And as for the pricing, we have a range of options carefully curated just for you.We have a large number of templates of cute baby boy announcements but if you don't find what you are looking for, just contact us and we'll make sure that the idea you had in mind comes to fruition.
Birth Announcement Wording
What must be realized is that giving just a box of chocolates and a card is nice, but we could do much better. It is after all the birthday of a baby boy we are talking about. There has been a growing trend which basically comprises of giving funny aliases to the babies and having nice, funny and adorable baby birth announcements. More and more parents are ditching the normal ways and coming up with unique baby announcements that go beyond the traditional notions of it's a boy announcement. These creative baby announcements come with funny messages and newborn baby quotes, welcoming the newborn to this world.
Often, these personalized baby birth announcements come with cards and gifts with the photo of the baby boy that is baby boy photo announcements, so that the guests might get to see the star of the affairs beforehand. It is all about making it an unforgettable keepsake that guests might want to Instagram. Any such custom baby announcements should come with the name of the baby, his date and time of birth and in some cases, weight. The wording will add that tinge of humour. If there is a sibling, there can be small poems written by him or her to welcome the newest kid on the block!
Baby boy poems are all the rage nowadays, but it should be kept short and simple. Use wordings "like The force awakens (at all hours of the night). Meet our new little Jedi..." if you are a dad who loves Star Wars and is likely to convert your baby into one pretty soon! And if you are the thinker type, on a much serious note something like," We wished upon a star—and our dreams came true. She's finally here to say hello! Introducing…(baby's name)" will do the trick.And if you are aiming for funnier wordings," The true meaning of #blessed: Sleepless nights and nonstop poop…but look at that little face! (Swoon.) Introducing…" would be just perfect.
Best baby announcements are the ones done from heart and it is all about spreading the love and joy around. Use props available around the house, if need be. Whether you're tickled pink or if the little league should be on the lookout, your friends and family will go goo-goo-gah-gah over your newborn's details. While coming up with baby boy arrival quotes, keep in mind that brevity is the way. The birth announcement isn't the place for you to exercise your poetry muscles with your long baby boy poems. Also, etiquette states that you have up to six months after the baby is born to send out your formal announcements.
Funny baby announcement wording add that extra spark to the monotonous same old photo baby boy announcement. Use wording like "Or little man has arrived.." or "Free at last, after 9 months we welcome (baby boy's name) to our household" and you'll have a cool baby boy announcement on your hands.
Your customized birth announcement will be able to capture this perfect moment for forever with the proper wording that fits both etiquette rules and your family's personality. Finally to cap it off, from everyone here at Chococraft we'd like to wish your baby boy all the happiness and success in this world.Thank you for shopping with us.
Unique Baby Announcements by ChocoCraft
Well, congratulations! If you clicked on this article then surely there is some really good news to share with your loved one! I get it! A baby boy announcement is what you are planning and you are screening through articles looking for creative baby announcements or in general birth announcement ideas. Your worries end here! ChocoCraft is here for you!
ChocoCraft offers the best in class chocolates with customizations to your liking! Everyone wants their baby's birth announcements to be as sweet as possible. And ChocoCraft gives you just that.
ChocoCraft offer you a host of options to select from with the 6 chocolate box being the most liked one! All you have to do is select, choose the configuration and customize. ChocoCraft handles the rest.
Candies in the box can be customized with messages like 'It's a Boy' or 'New Baby Boy' or one can even print the name of the new born the candies. ChocoCraft also provides you with an option to write a personalized birth announcements or newborn baby boy quotes which will be printed on butter paper and placed inside the box of chocolates!
ChocoCraft also gives you the option of going for assorted candies. These assorted delights are sure to enhance the unique birth announcement experience. Instead of messages on the candies, one can also opt for printed candies with a picture of your baby boy on the candy! The entire cool baby announcement comes in sturdy wooden boxes with a well-designed layout which is treat to the eyes!
So what are you waiting for? Go! Shop on ChocoCraft and make this baby boy arrival announcement a memorable one!
Things to Keep in Mind While Creating Your Baby Announcement
Childbirth is a very auspicious moment in any family. And everyone wants to share this happiness with their dear ones. Custom baby announcements are a trend now.
But there are certain things that need to be kept in mind while creating your baby announcements.
The parents of the new born or who so ever is responsible for the baby arrival announcements needs to make sure the gender of the baby along with the names of the baby's parents, siblings and grandparents are included in the announcement. It is also a good practice to include the name of the doctor who delivered the baby and the baby's weight and birth location.
Another dilemma faced by many is whether to go for paper announcements or electronic announcements. This is personal preference and might vary from person to person. The extent of electronic connectivity is one thing that needs to be taken into account here. Now a days it's the paper based creative birth announcements that are being preferred.
When it comes to the question of whom to send these personalized baby announcement tokens to, there is no hard and fast rule. One can go for as many or as few people as they want. But one needs to make sure that the announcements reache the person you feel might be hurt if they don't receive one!
Choosing the perfect set of words is essential to convey the message in a short and sweet manner! But let your imagination take over to create a creative baby announcement hamper!
Rising Popularity of birth announcements in India
With more and more creative and funny birth announcement ideas available to everyone now a days, the popularity of 'baby born' announcements is on the rise in India. People want to exclaim to the world – "We are blessed with a baby boy!" or "We are blessed with a baby girl!" and hence the rising popularity!
Child birth brings with it joy and happiness to the entire family! Celebrations start even before the child birth. So it is clearly not shocking to watch this tradition of sort rise in popularity! A host of baby announcement ideas are available online. And people want be as unique and as creative as possible.
More and more online as well as offline businesses are now focusing on this rising trend and trying to capture this new and emerging market. From creative welcome baby messages to it's a girl or it's a boy announcements, they are providing ideas and options in each domain. So don't worry if you have birth announcements to make. Everything is covered!
Maternity and new born photoshoots have also seen a rise with many opting for this! People also prefer sending out baby born announcements written behind these photographs to close family members and friends so that they can be part of this journey as well.
Whether you're a first-time parent, second- or third-time parent, adoptive parent, or a parent of multiples, you want to share your happiness with everyone! And why not! It's a time to celebrate with everyone!
Ordering your baby boy announcements online
The demand for unique boy birth announcements are on a rise! Every parent wants their child to have a special entry into this world, an entry filled with glee and happiness. And they want to leave no stones unturned when it comes to announcing to the whole world that they have been blessed with a baby boy!
The online space provides us with scores of baby announcement ideas and offers. With the growing demand for baby boy announcement ideas, many online businesses have made a special online birth announcements category. From personalized mugs to invitations cards to chocolates the options are innumerable!
One can opt for customized chocolates with personalized messages and pictures on the chocolates. ChocoCraft is one website which has a special section for online baby announcement ideas with chocolates.
Other alternatives for the announcements are also available online for you to order. Personalized cards are one such alternative. You have the option to select the pictures on the card as well have a personal message on each card. These cards can then directly to be delivered to the intended place without any hassle, all online! Personalized greeting cards online also come with the option of adding a combo of sweets with them.
So expecting a baby soon, start prepping up for the special moment now! Many baby born announcements to be made! No mistakes can be afforded! And yes, don't worry, the online market is there for you with great offers and ideas, just a tap away! Go on, share the joy!
Unique Birth Announcements by Chococraft
After all the excitement and the stress, your baby boy is finally here! But the excitement and the immense love you have for your boy doesn't end. Your whole world now lay safe in your arms, and you finally belong to someone. Make your happiness greater by sharing it.
You are not the only one who is happy to have the new addition to the family. Your family and friends would be equally delighted to know about your baby so be sure to send baby announcements. Birth announcements are sent to tell your loved ones that the baby and mother are both safe and sound. You can also use this opportunity to show pictures of your baby.
You can increase your loved one's happiness by sending the newborn announcement with sweets. Chococraft provides the best baby announcement you can ask for. With Chococraft, you can send a creative baby announcement which is like no other. Chococraft sends a baby announcement with a box full of chocolates! And these chocolates would be nothing like ordinary.
With Chococraft you can customize the chocolates any way you want. These chocolates would bear any design you want. You can have a picture of your baby boy on these chocolates. Not only this, you can even select the fillings you want in these chocolates.
Chococraft's 4 chocolate box is the perfect way to send unique baby announcements. You can even customize the chocolate box. Include pictures of your baby all over the chocolate box to show the world your adorable boy. Chococraft website has a lot of birth announcement templates, and you can choose from them.  
Birth Announcement Etiquette
You are blessed with a baby boy, and you want to show off your boy to the world through announcement cards. But what should be written on the announcement cards? Your creative ideas for the birth announcement cards can go downhill if you don't have baby announcement wordings right.
You should consider what style of announcement you want to have. It could be a classic, traditional or modern announcement. As you are sending these announcements to friends and family, make sure it is something they won't be offended by.
There are some things which are always included in an announcement like the name of the baby, the name of the parents, date of birth, and weight of the baby. Sometimes the name of grandparents is also included in the announcement.
Newborn baby messages from parents are written on the announcement card. Baby boy messages from siblings are also included. Elders write their blessings and quotes on the announcement to show their feelings for the newborn. Baby announcement quotes should be original and creative that would make people smile.
Consider whether you want to send a printed announcement or an announcement via electronic means. Send whichever way comfortable to you, and also something that your friends and family would appreciate. An electronic announcement is cost-efficient, but the paper announcement is the one which would be with you forever. You can also use social media sites to share your baby's announcement cards.
Baby Announcement for Second Baby
When you have a second baby, you know that now your world will be filled with double happiness. Now you have two parts of your heart, and one more addition to your family. Your first child now has a companion with whom he/she could share his/her experiences and spend life with.
Now your child could have a sibling bond which would help them in growing up to a full sensible adult. Share your double happiness with the world through a second baby announcement. Second baby boy birth announcements are always important as they will be the continuation of the first baby announcement.
Look for creative 2nd baby announcement ideas that would make your announcement look adorable as well as memorable. Mostly sibling baby announcements are used for the announcement. Your children in one announcement would make the announcement look irresistible.
Use pictures of your children on the invitation. Take pictures in a creative way that would make people smile seeing the bond between the siblings. It could be the elder sibling holding the baby, or they could be wearing matching clothes.
Sibling birth announcements are liked by everyone as they show the sibling bond which makes people nostalgic. But you should make the announcement respective to your audience. Some people tend to get easily offended. So make sure to make announcements which are cute and something that would touch their heart.
If the baby has a sister, then a big sister birth announcement is a must. Nothing is better than the brother-sister bond, and it is one of the beautiful relations in the world.
Announcement for Baby Boy Adoption
When you adopt a child, you welcome a member to your family. This baby boy needs to be properly introduced to the family members, and what's better than sending adoption announcement cards? Introduce this new addition to the family with creative adoption birth announcements.
Your loved ones need to know about your new baby, and your baby boy needs to be introduced properly. In the announcement, do mention the full name of the baby along with his date of birth. Also, mention the date when the baby joined your family. This way, your family can know when you welcomed a baby to your family.
Name of parents and siblings are also written on the announcement. Most of your family and friends might already know about your decision to adopt a baby so you can make a simple adoption announcement. Select the theme of your announcement which your loved ones would appreciate. Select an announcement which would make them smile with pride.  
Chococraft gives you the perfect way to introduce your baby to the world. Chococraft is the best birth announcement idea. With Chococraft you can send your announcement with a box full of chocolates. You can even personalize the chocolates. Print picture of your baby on the chocolates to make your baby announcement unique and one of a kind.
Baby Boy Announcement Gifts in India
A new born baby in the family brings joy to everyone in the house. A birth is considered to be an auspicious event, and it is believed that the new-born will bring prosperity to the family. The atmosphere is one of hustle bustle and gaiety, and the baby is warmly welcomed and pampered by everyone in the family.
In order to inform loved ones of the new member in the family, baby announcements have become common these days. Although primarily a western concept, birth announcement cards are sent even in India.
Nowadays, proud parents are stepping away from traditional birth announcements and are going for creative baby announcements. Many also opt for custom birth announcements.
Birth announcements are a chance for the family to show off their baby to the world. They can share their joy with near and dear ones. In addition, it is also an invitation for friends and family to shower the new baby with their blessings. One of the most popular baby announcement ideas is to declare the name of the baby in the new baby announcement itself.
In India, the birth of a boy and a girl signify different things. According to Indian tradition, a baby boy signifies the prosperity and longevity of the family. People feel happy and proud to be blessed with baby boy. Hence, birth announcement for baby boy is different from that of a girl.
Creative Baby Boy Announcements by ChocoCraft
We at ChocoCraft bring you the perfect baby boy announcements. Announce your baby boy with chocolates ; the favourite of all children and adults alike! Who doesn't like chocolate? Chocolate can never go wrong.
We create exclusive gift boxes by pairing decadent chocolates with beautiful photographs and heartwarming messages. Our specialty is printed chocolates. We print on a layer of white chocolate over a block of dark chocolate. All the printing is done using edible ink; so these tasty treats can be relished till the last bite!
These gift boxes are completely customisable. You need not even worry about the packing; all our chocolates are packed in exclusive wooden boxes. You can choose the design for the box. The design can also reflect a particular theme if you wish so. You can also have a photo of the baby printed on the box.
The 2 chocolate box from ChocoCraft is one of the most popular baby boy announcement hampers. It is simple, compact, and yet elegant and exquisite.
The chocolates can be printed or plain as per your choice. These chocolate boxes are easily affordable to everyone and do not burn a hole in your pocket. After all, announcing the best baby announcements shouldn't cost you the earth, should they?
You can get this 2 chocolate box as a welcome baby announcement. You can order it online with just a few clicks, and get these cute baby announcements delivered to your doorstep. We ship to all major cities in India.
Innovative Ideas for Baby Birth Announcements
You don't have to announce the new arrival via boring old cards or phone calls. Baby announcements can be sent out in several ways. Think out of the box and get creative.
If you want to turn eco-friendly, you can send a digital announcement. Make a poster or film a video where you introduce your baby to your family and friends. Make sure you get in audio of the baby's first cry! Many couples also go for pregnancy photo shoots these days. You can use these photographs, and tell a story in your video announcement. You can also announce the birth simply with a photo on Facebook.
Customized items are also great boy announcement ideas. You can customize gift items like fridge magnets, mugs and coasters. They can have a photo of the baby and the date of birth. It can also bear a message like remember this day! You can also depict the baby saying I was born on this day! in a speech bubble. As it is the birth announcement of baby boy, you can include a cartoon of the baby dressed up like a superhero!
If the baby is born in December or January, a great idea would be to customize new year's diaries and calendars. They can feature cute pictures of the baby. You can customize the theme and design to reflect that this is an it's a boy announcement. This way, the birth of your baby will be remembered for the year to come!
Themes for Baby Boy Announcements
Themes are just perfect for babies and children; they center around some character, story or setting and add a twist to the traditional events and invitations. Incorporating a theme to the classic birth announcements adds a fun element. Your theme can be reflected in your announcement card as well. The shape, size, colour, kind and design of the invitation are fertile ground for reflecting your theme in creative ways.
Most of the themes are related to nature and wildlife. The theme can be an aquatic or nautical one which features beaches, fish, and the sea in general. Nautical baby announcements are bright, beautiful and colourful. Children are particulary fascinated by the vibrant colours in the aquatic world.
The theme can also be animal kingdom. With the lion as the king, the baby boy can be depicted as the lion and other animals like tigers, monkeys and rabbits can be shown. This theme is one of the most popular birth announcement ideas.
Another popular newborn announcement idea is to create invitations based on popular TV shows or cartoon characters. Unique baby boy announcements include characters based on Pokemon, Beyblade, Shin Chan, Scooby Doo, etc.
You can also make funny baby announcements in which you depict your baby as a character in a comic strip. The birth announcement wording can be incorporated in this as the dialogues of the characters.
Order your baby boy announcements from ChocoCraft today and design them so as to incorporate your theme!