50th Anniversary Invitations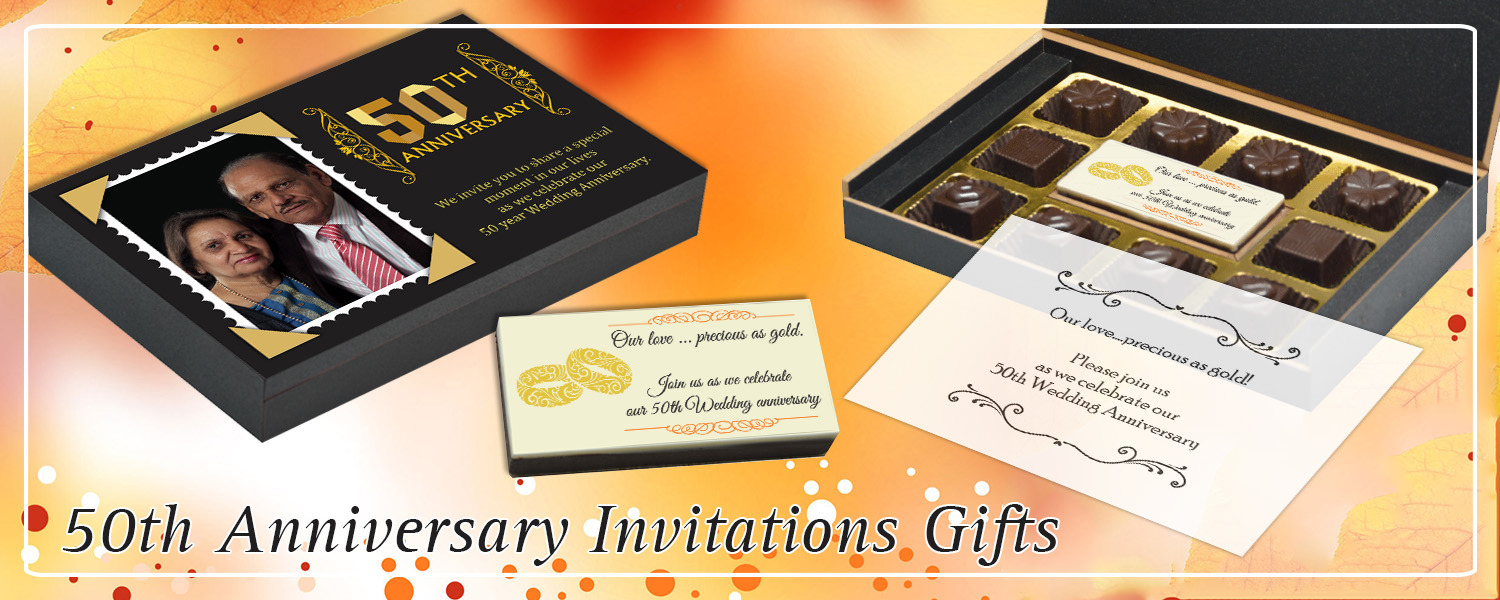 50th anniversary is always special.With our casual invitation,feather invitation leaves framed invitation,royal blue invitation,Golden invitation, colourful invitation,vintage golden jubilee invitation,photo invitation and much more to choose from,celebrate your milestone with us.Available box sizes are 2,4,6,9,12 & 18 chocolate boxes.Order now for best prices.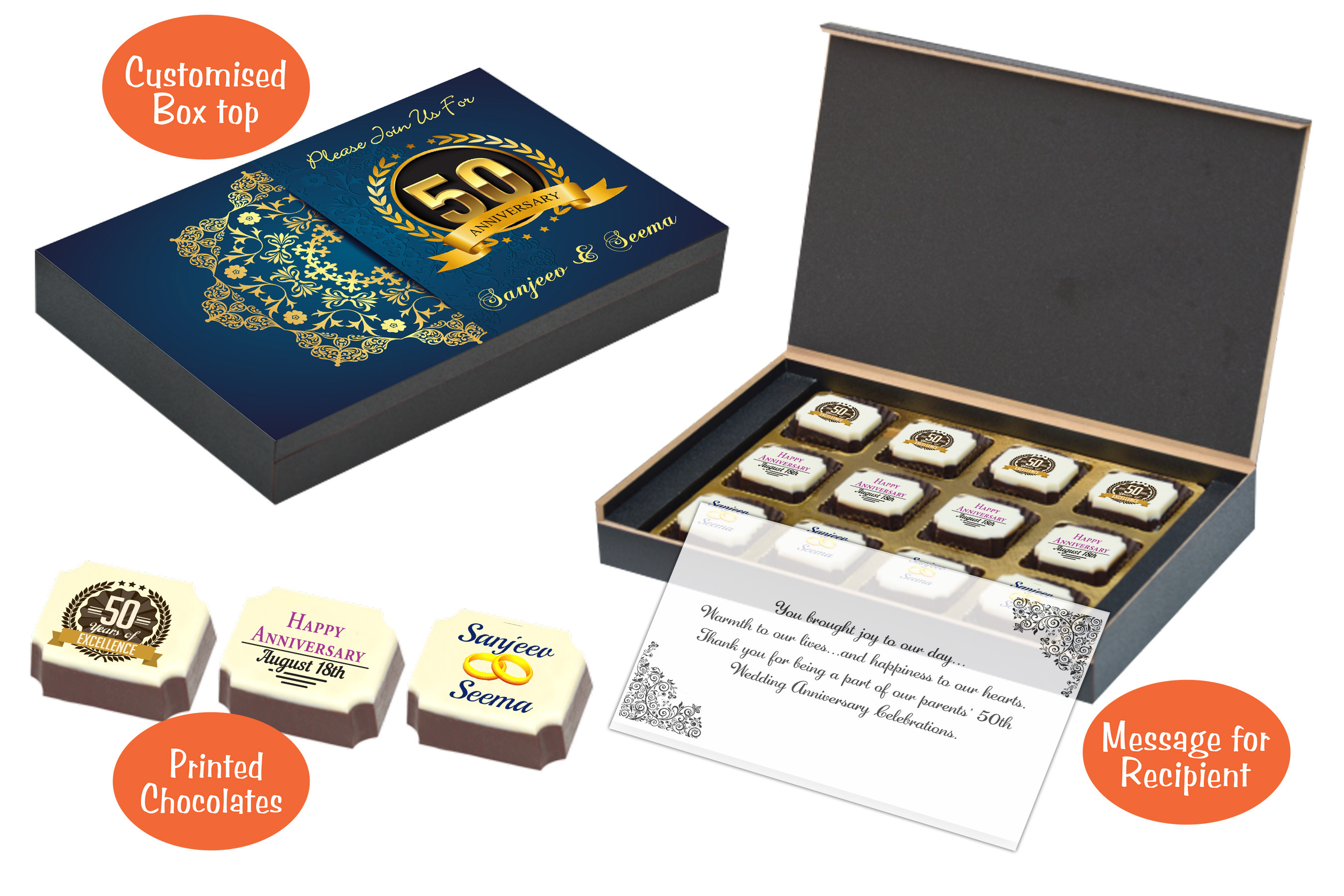 50th Anniversary Invitation Box Designs

Golden Invitation for 50th Anniversary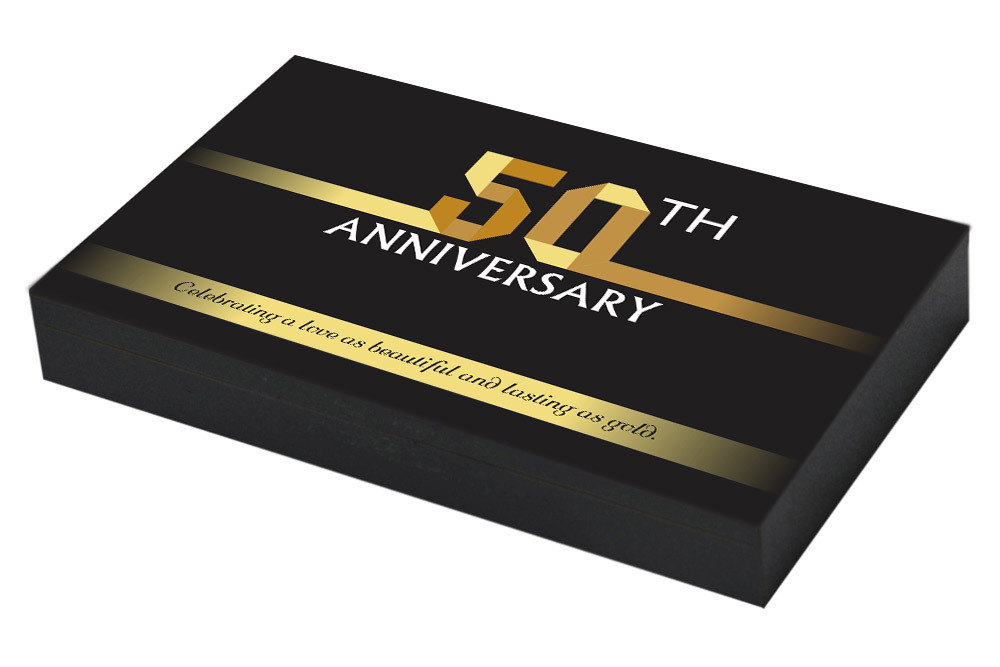 Photo Invitation for 50th Marriage Anniversary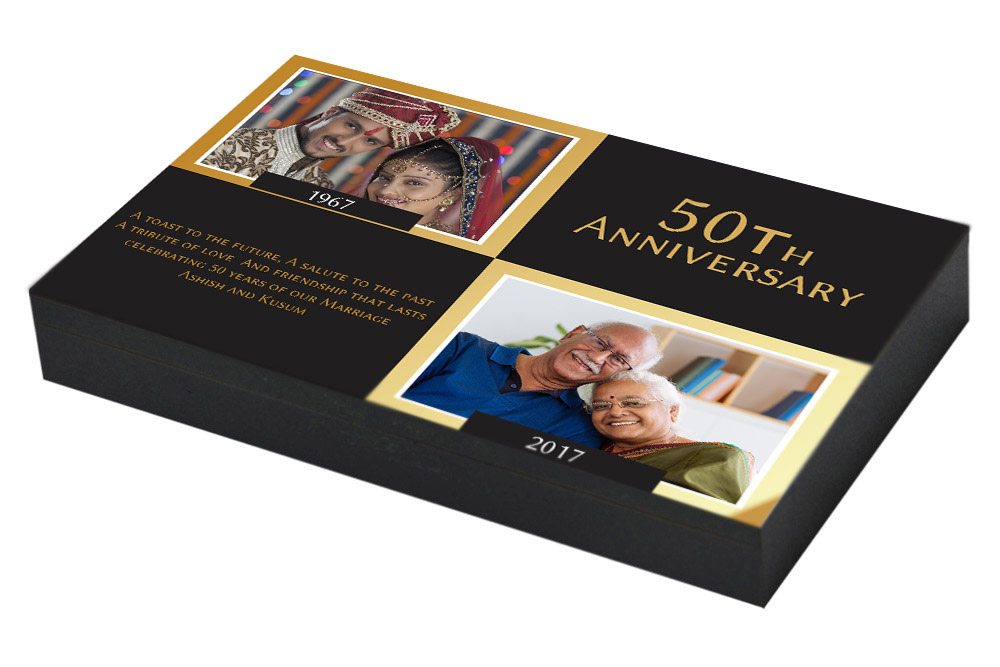 Royal Blue Invitation for 50th Anniversary Invitation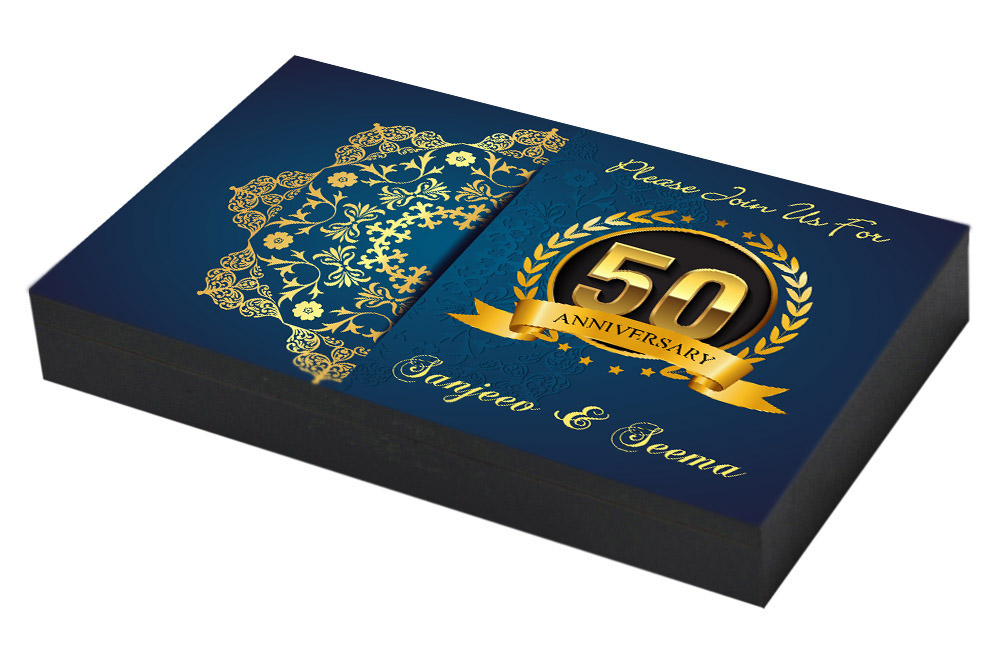 Colorful 50th Anniversary Invitation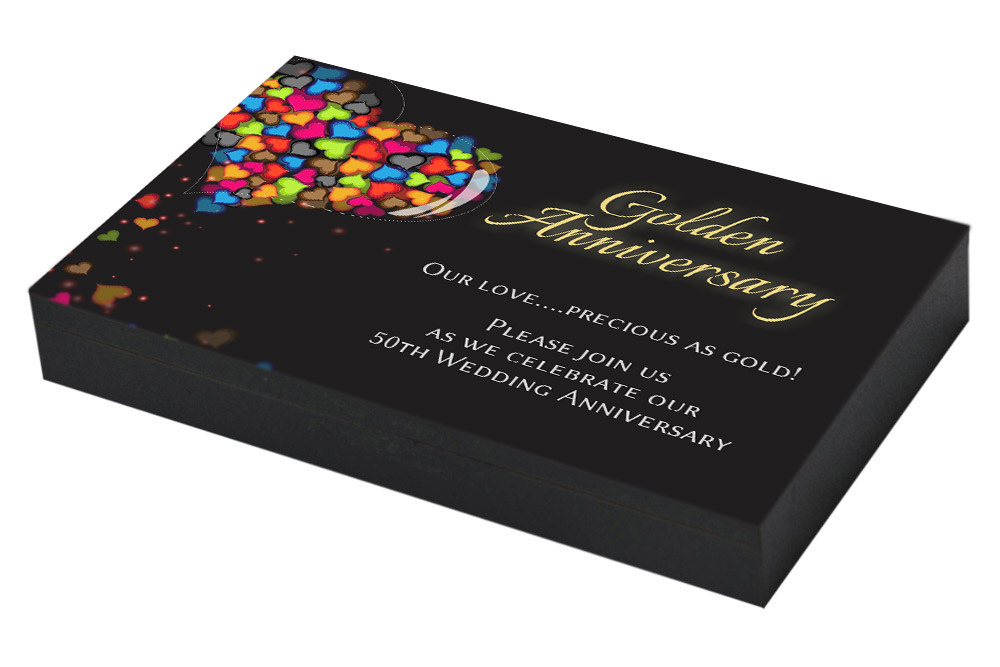 Leaves framed Invitation for 50th Anniversary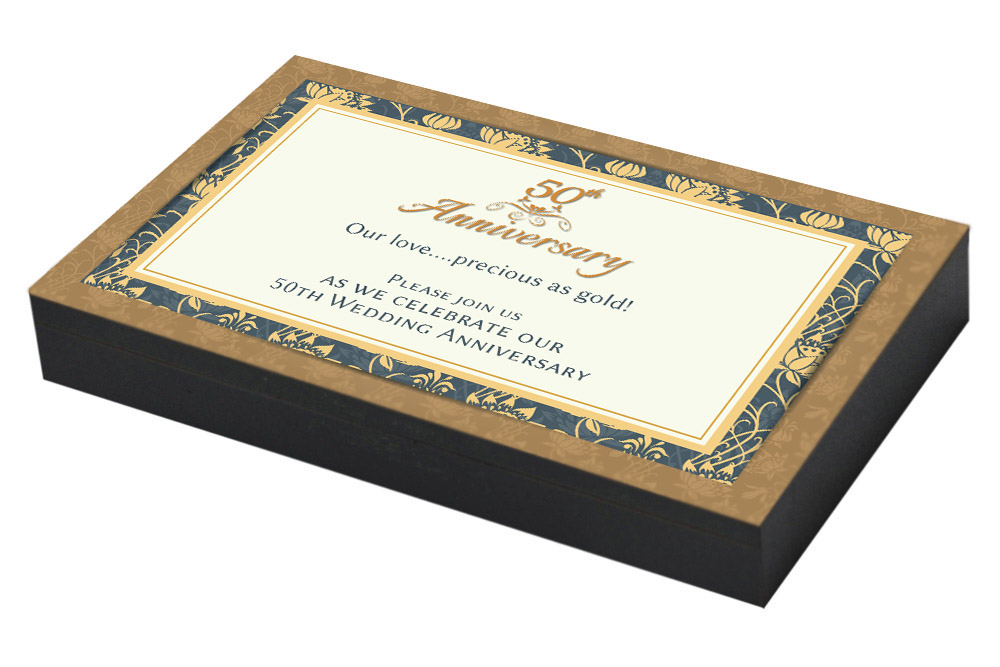 Vintage Golden Jubilee Anniversary Invitation

Customised 50th Anniversary Invitation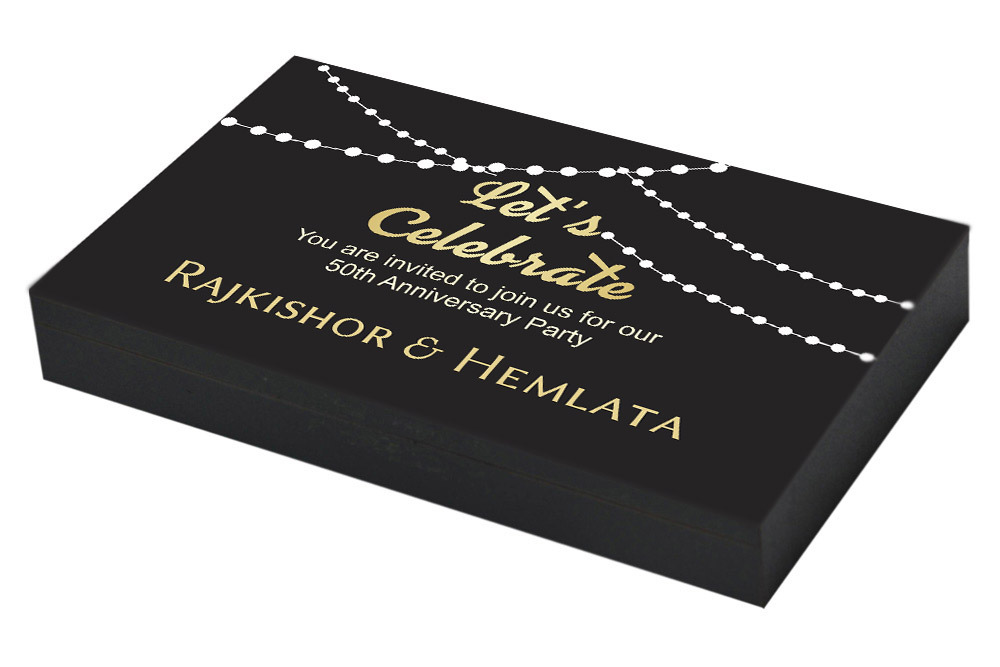 Feather Invitation for 50th Invitation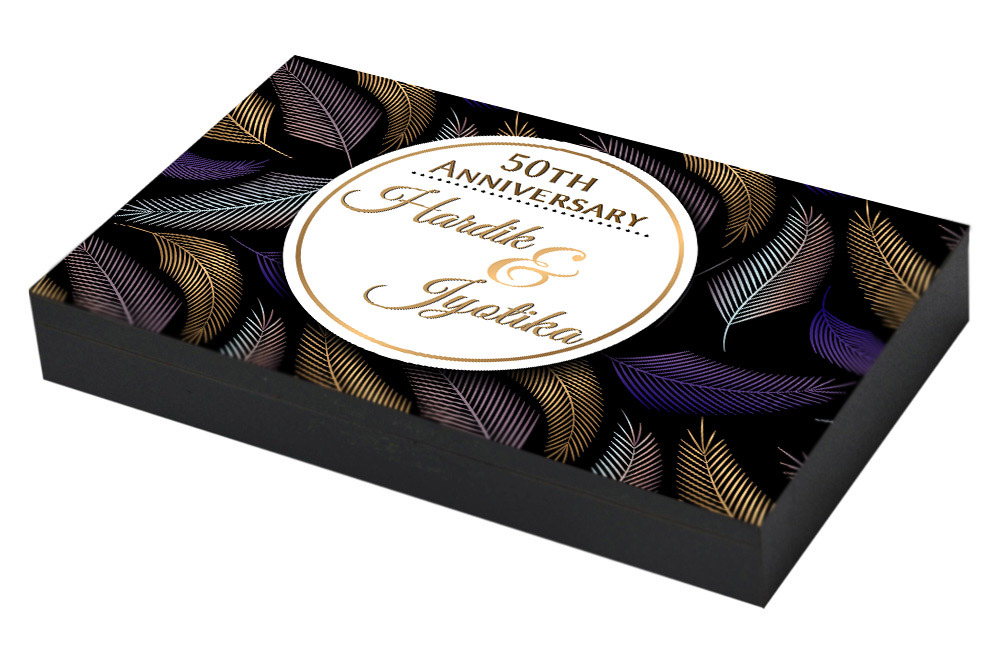 Casual Invitation for 50th Anniversary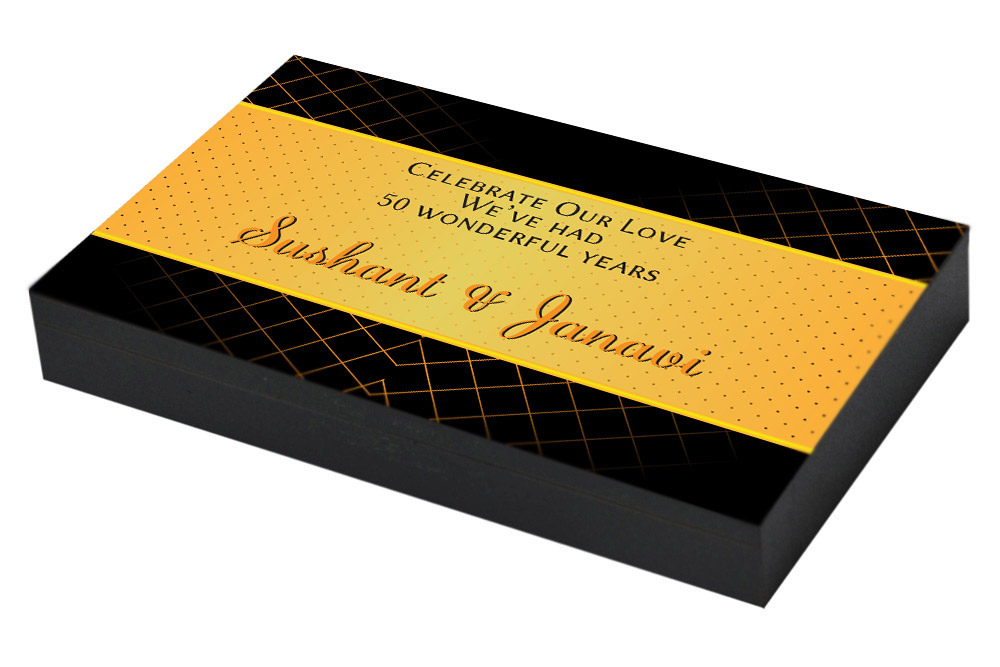 Couple photo on 50th Marriage Invitation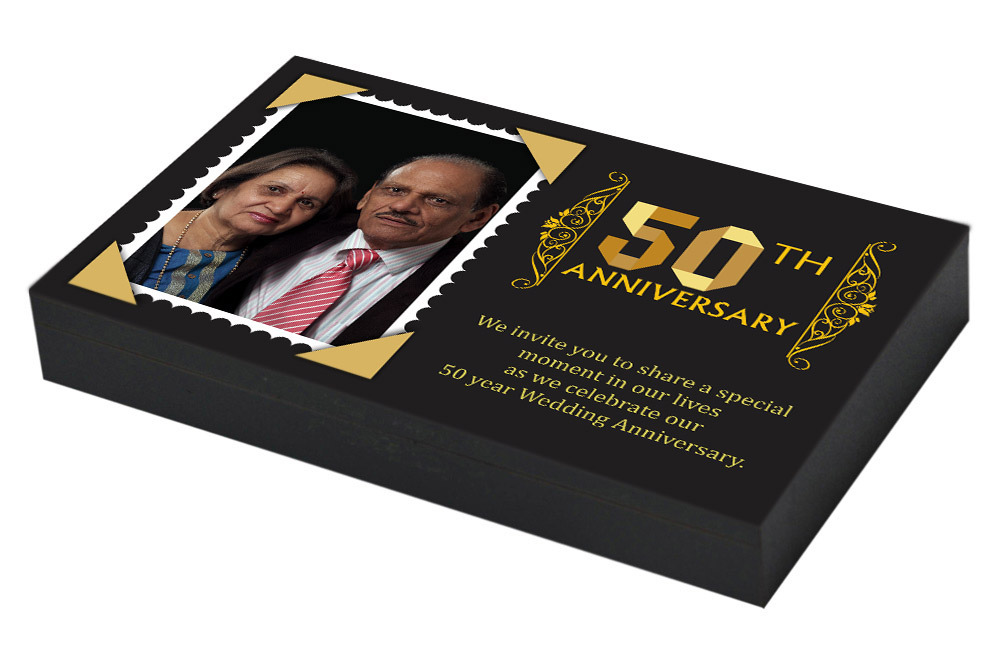 Chocolate Design For 50th Anniversary Invitations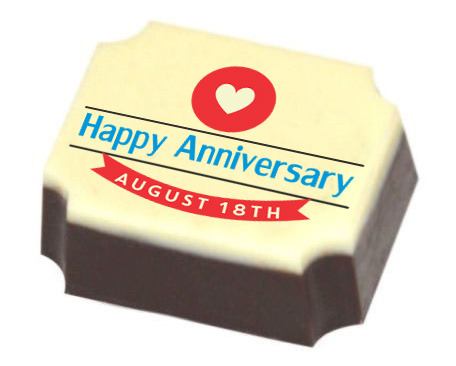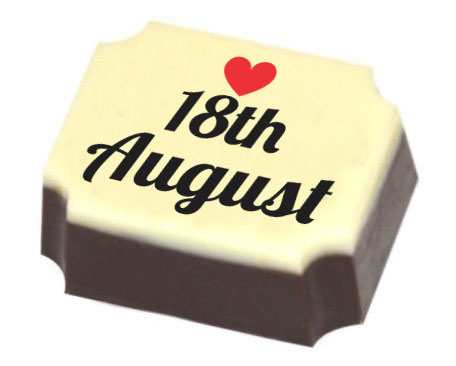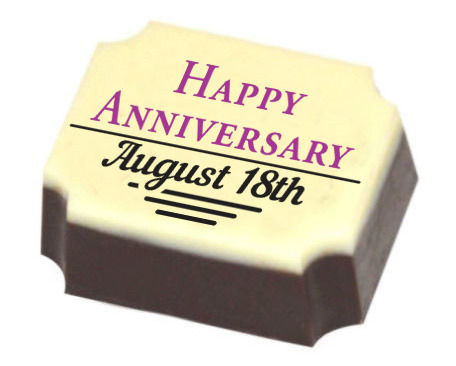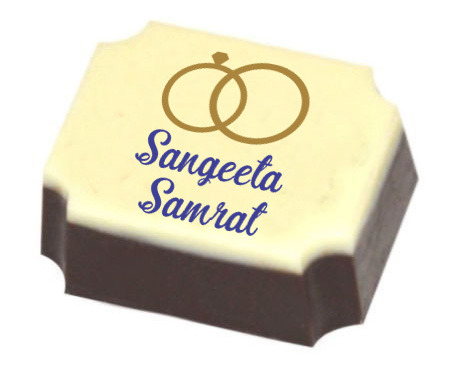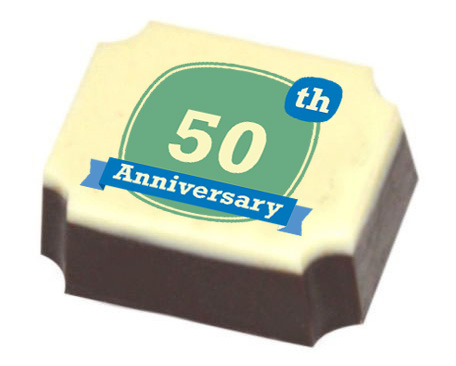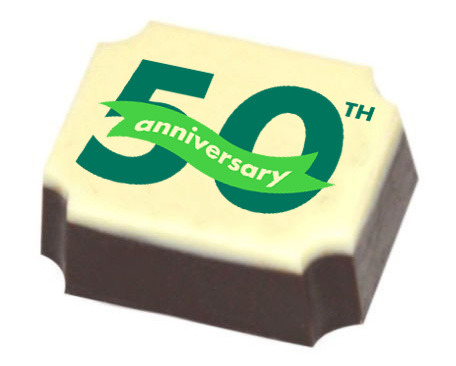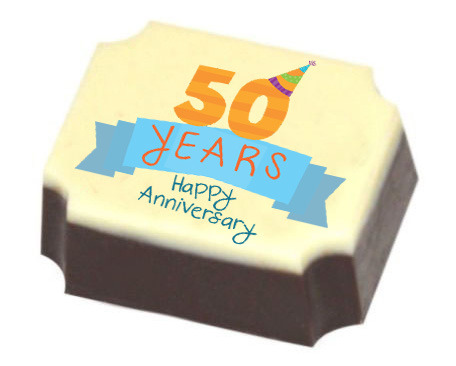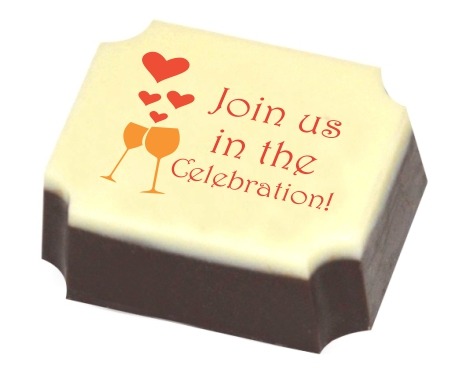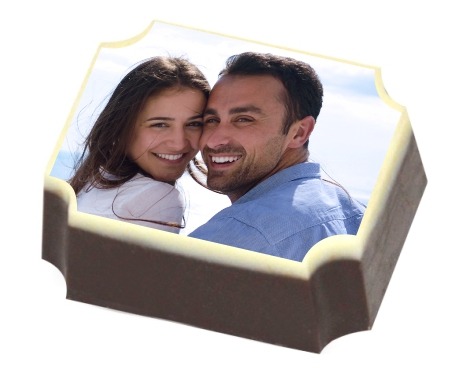 303-50th-C09, Upload Photo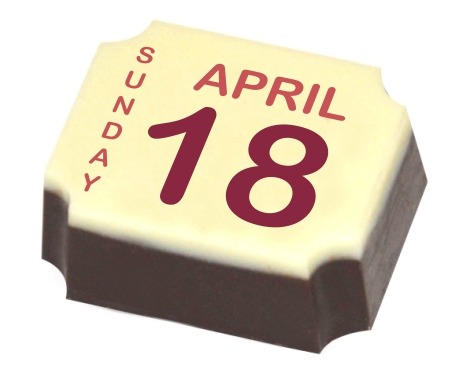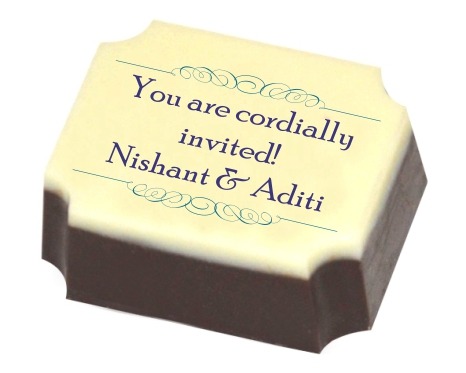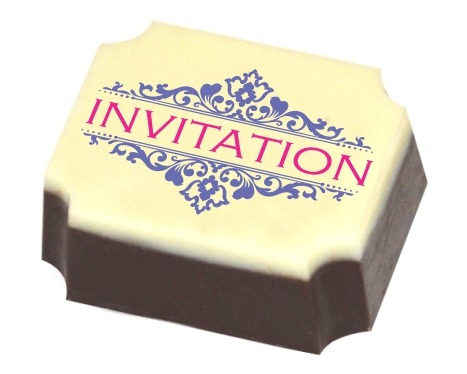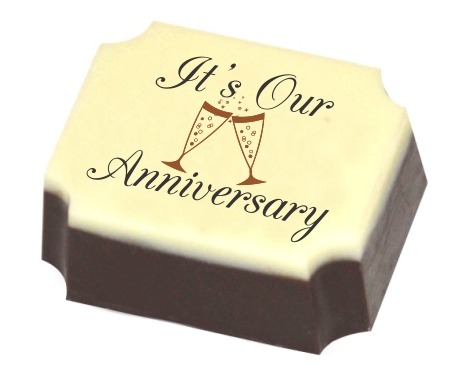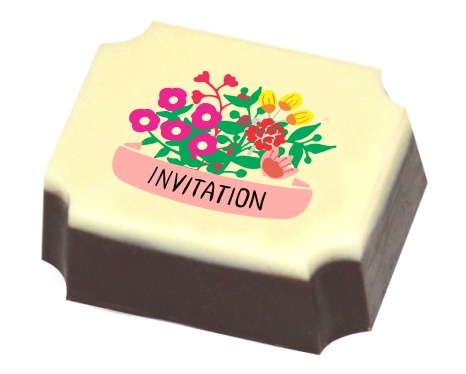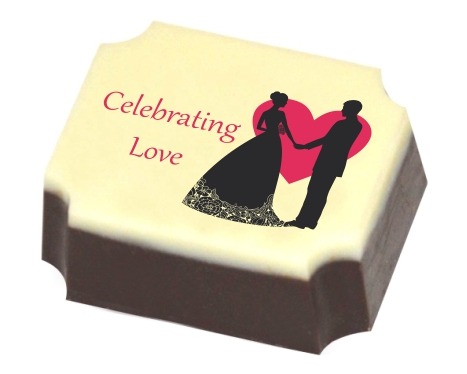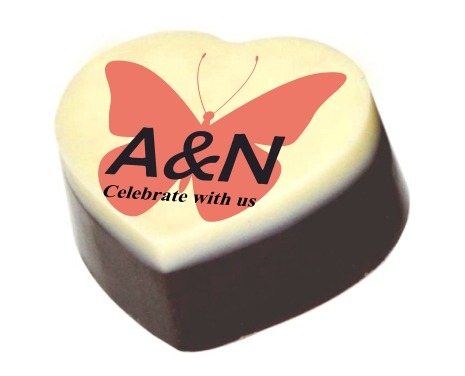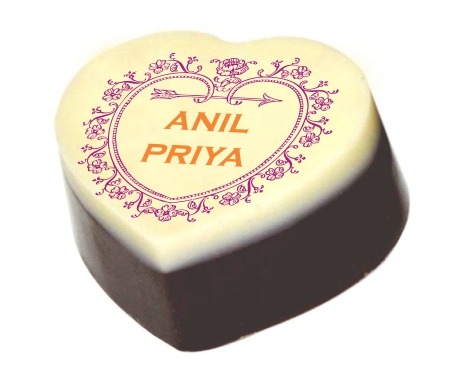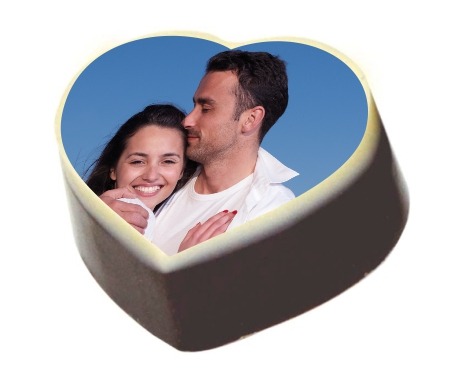 303-50th-C19, Upload Photo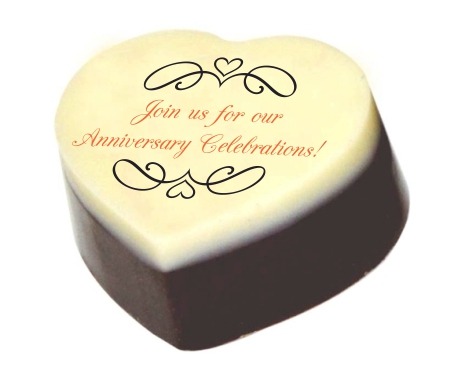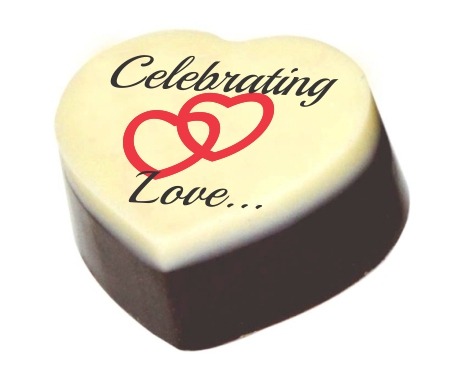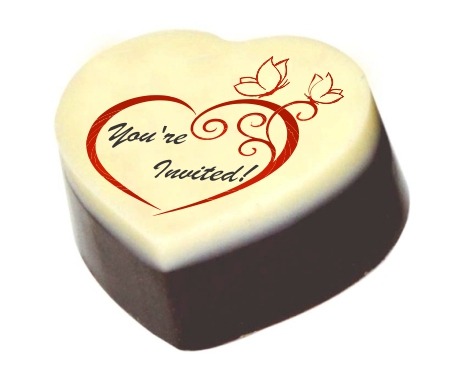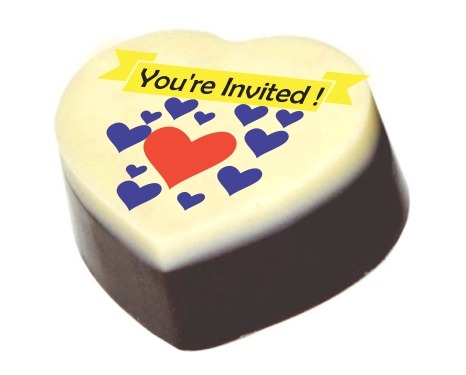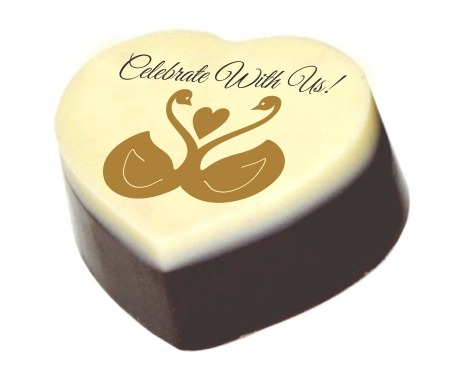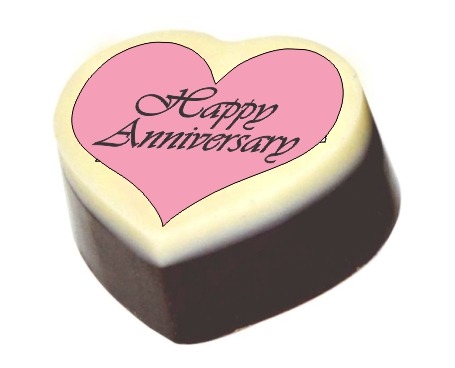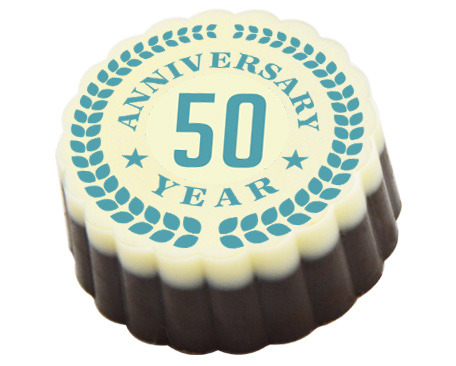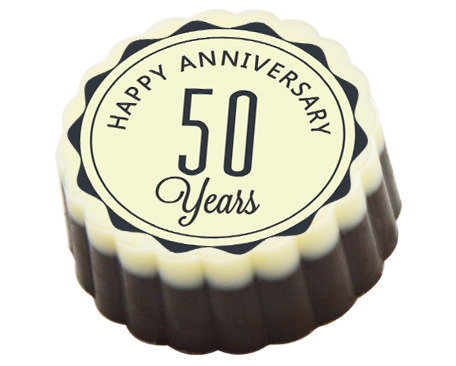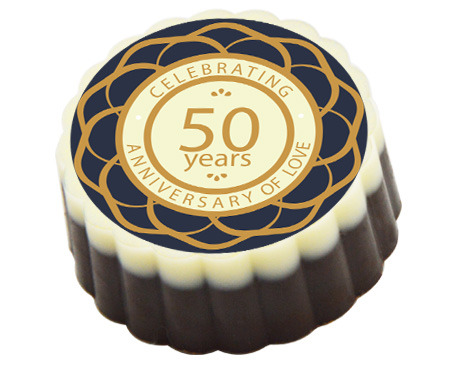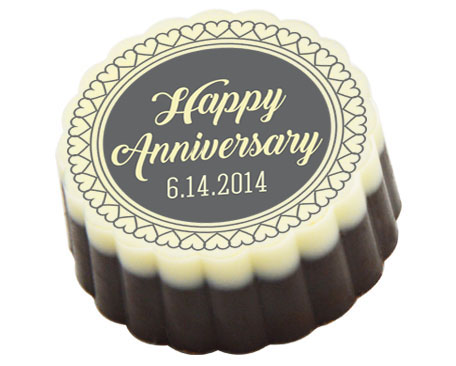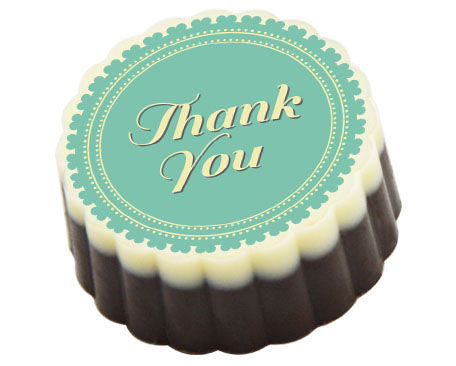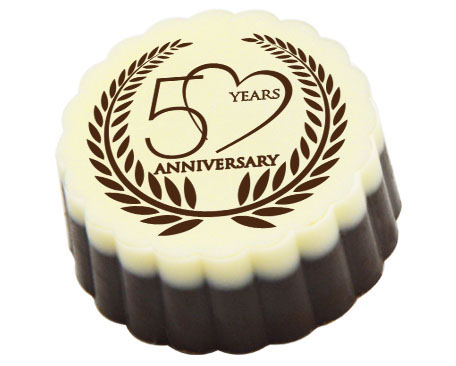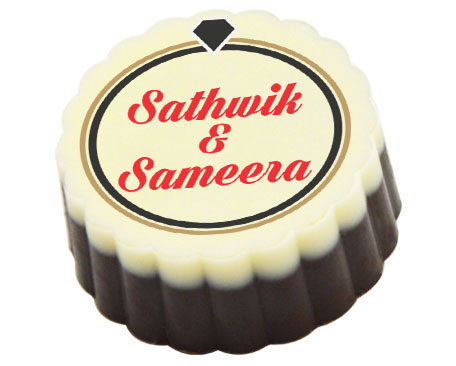 Message for 50th Anniversary Invitation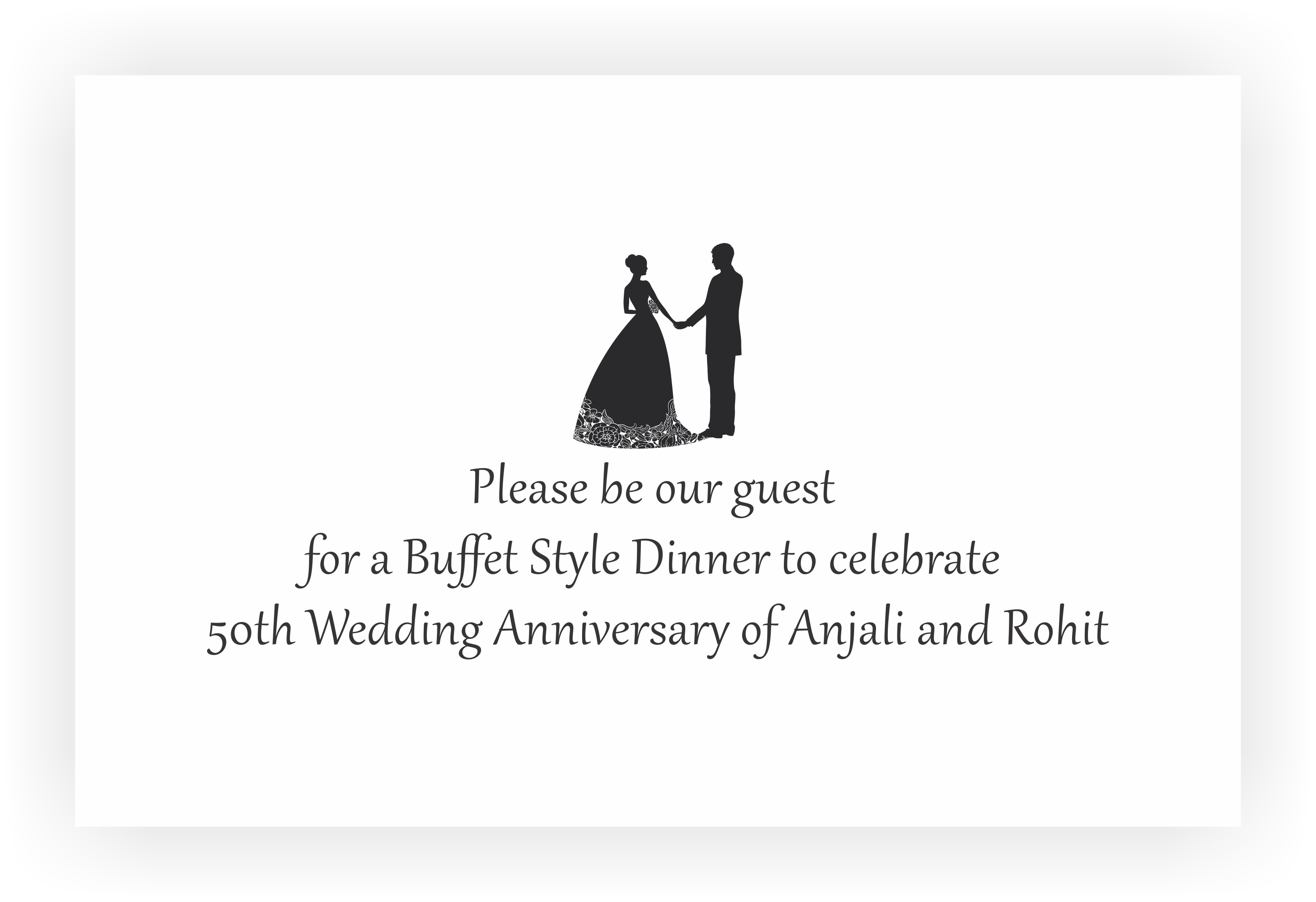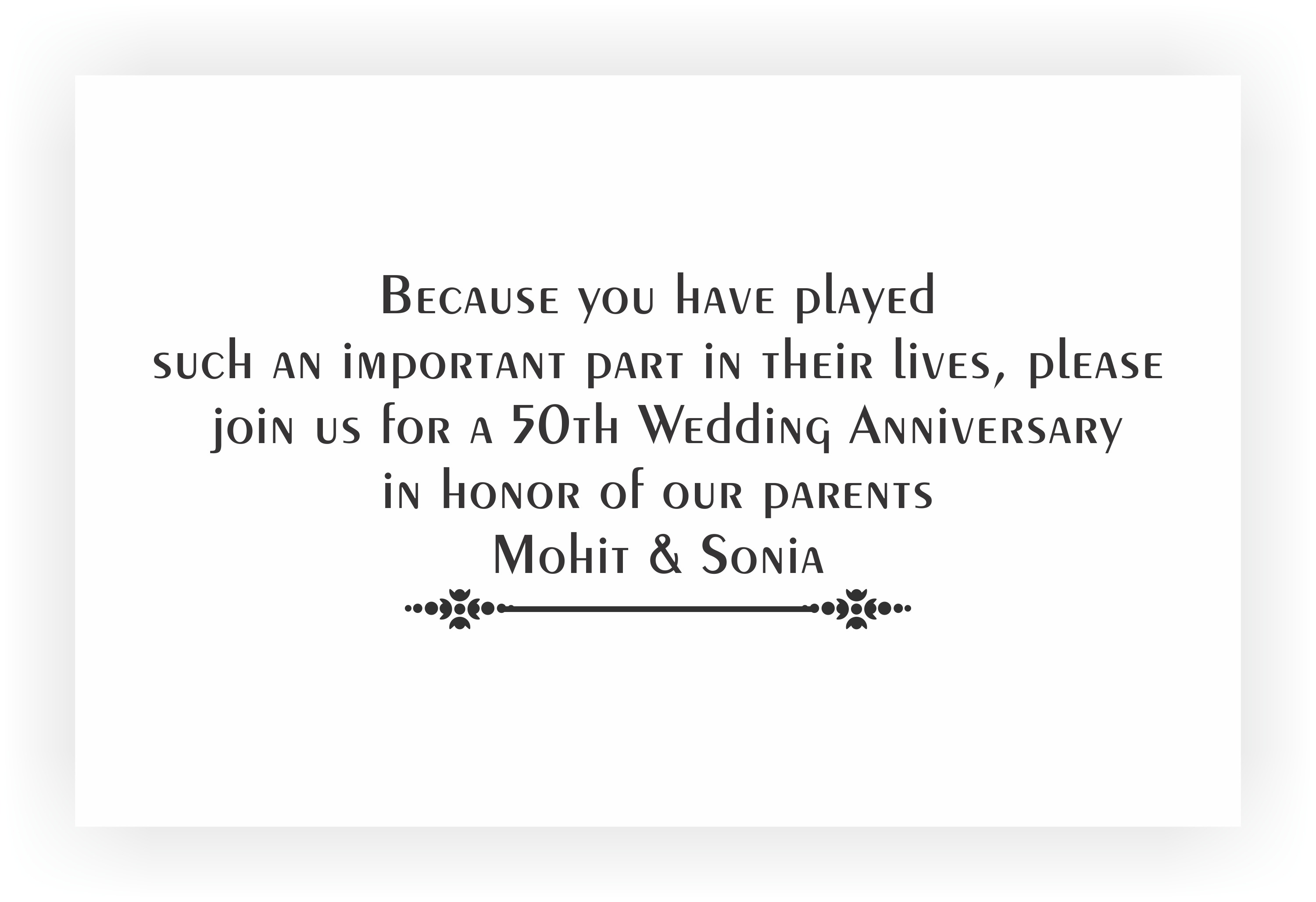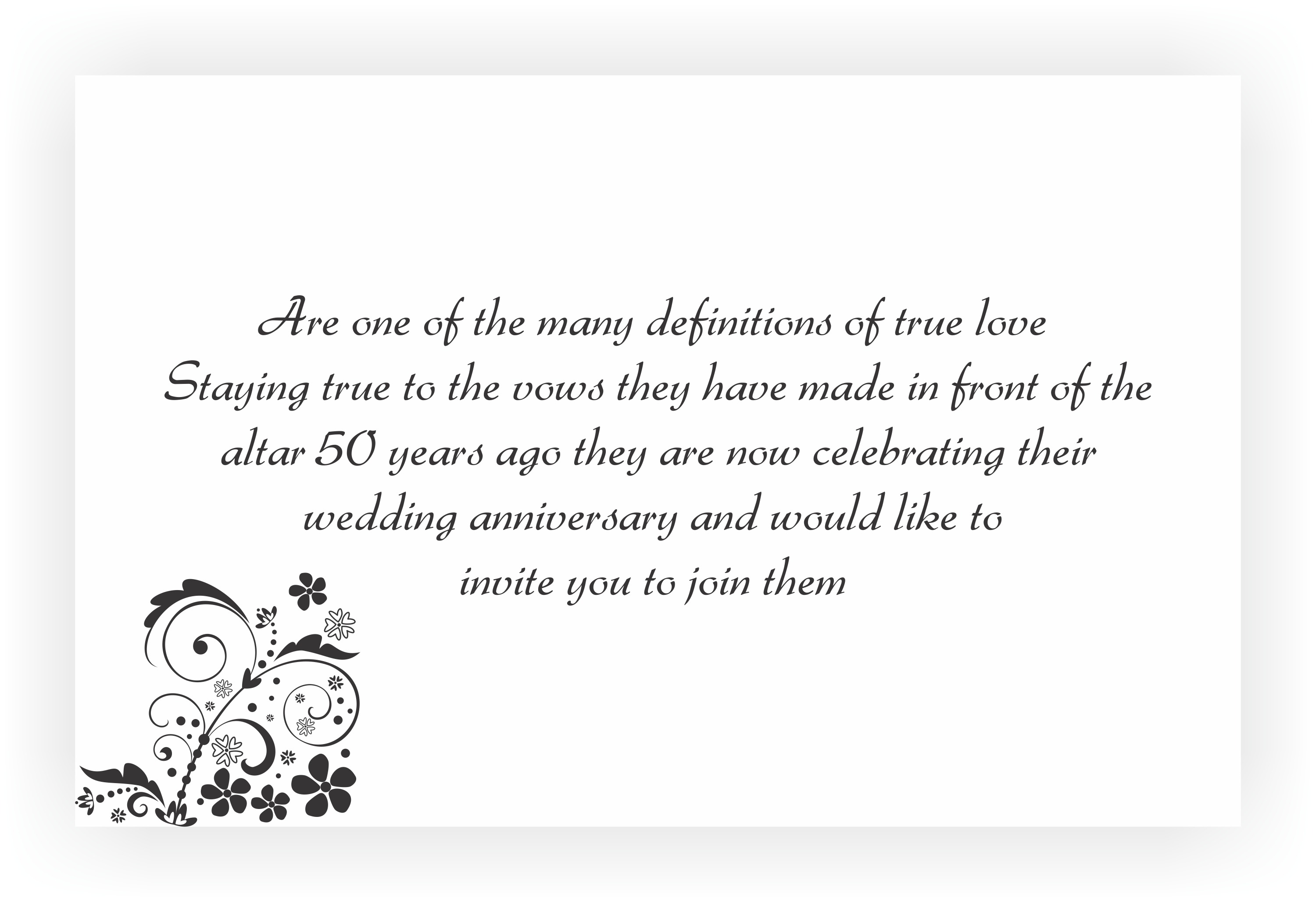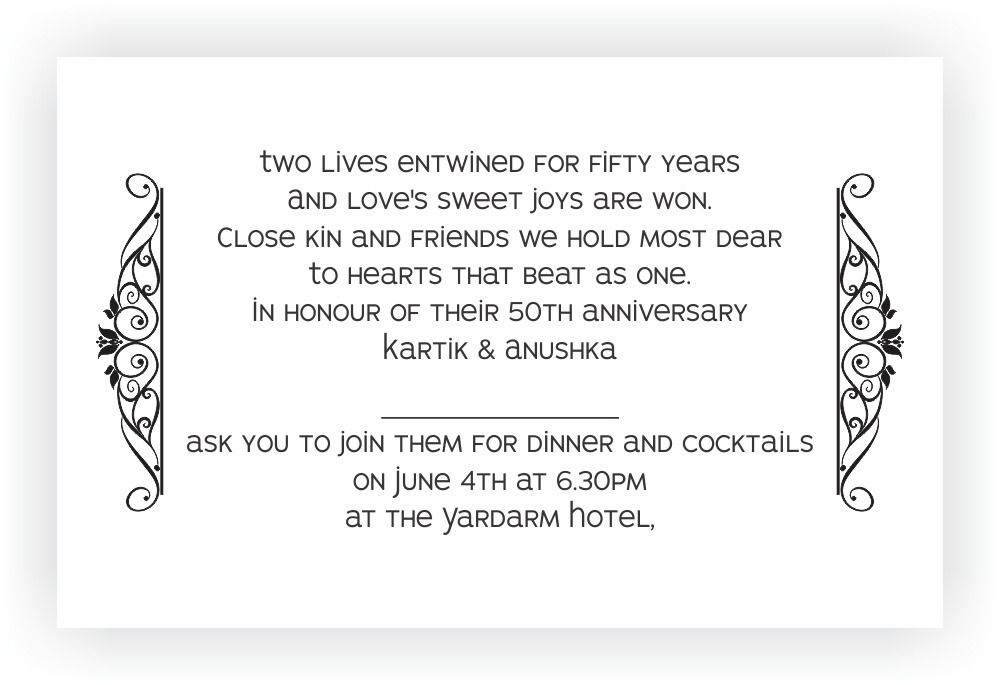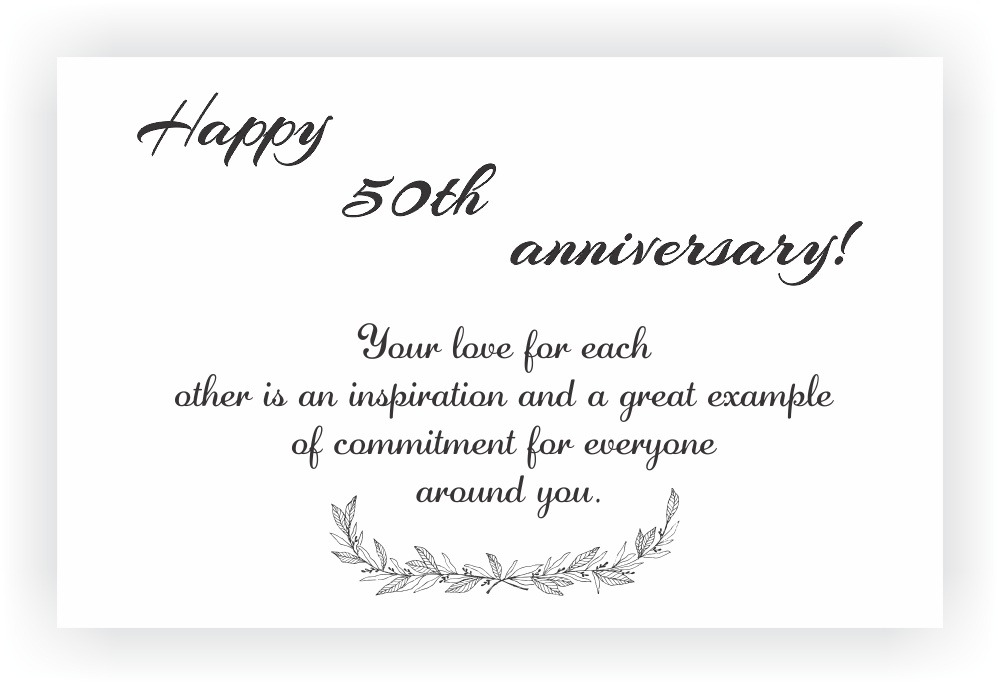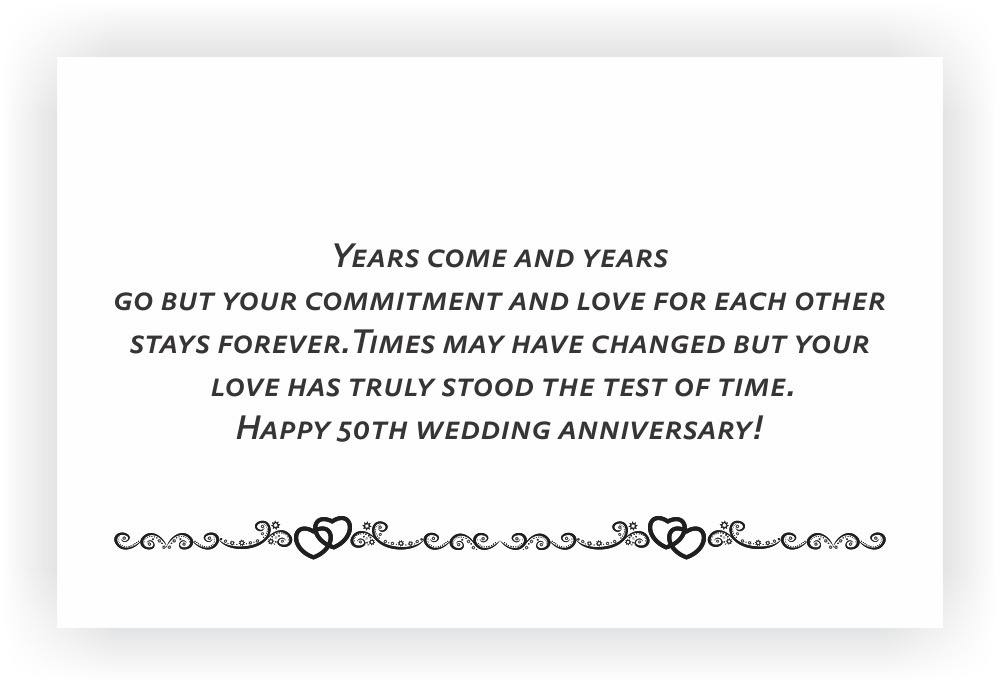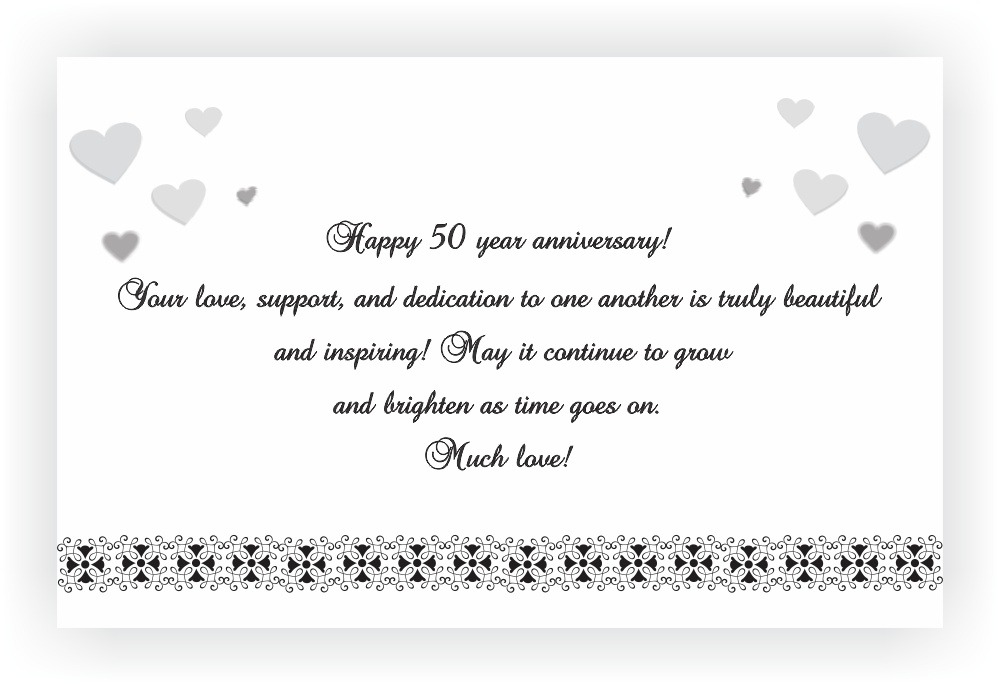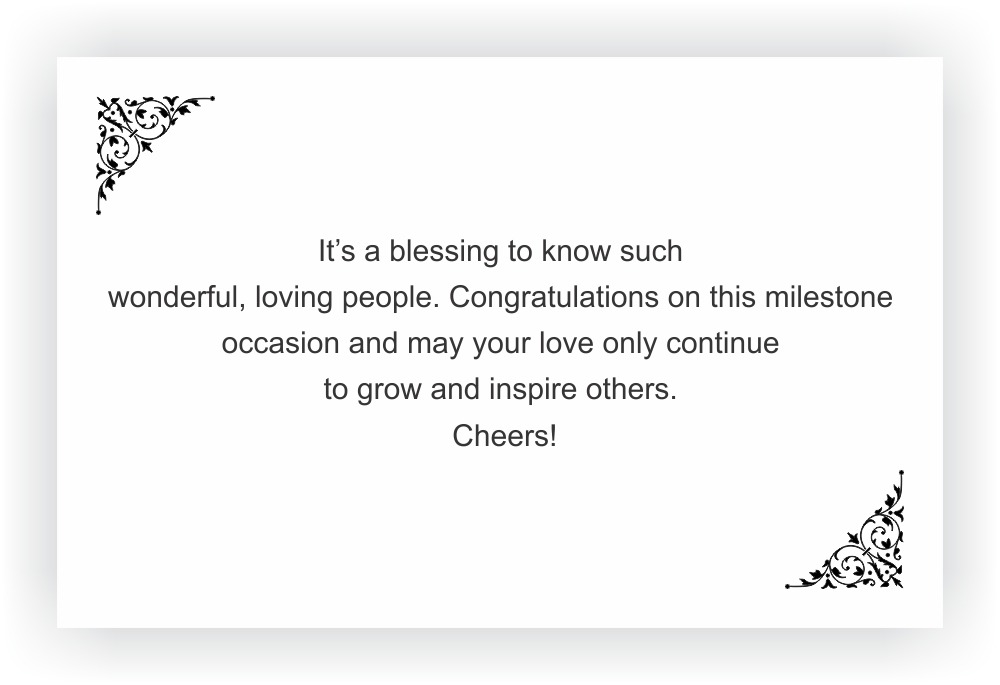 ---
50th Anniversary Invitations by Chococraft
---

50th Wedding Anniversary Invitations
The wedding day is the most important one for any person. It is the day when you are bonded for eternity with your significant other. Although anniversaries are celebrated every year, the fiftieth anniversary is perhaps the most important.
Spending half a century with one person definitely calls for a celebration. Also known as the Golden Anniversary, the 50th year of a marriage is traditionally associated with gold. Like what the gold colour symbolises, the 50th year mines a wealth of the couple's experiences in their marriage, and with the refining, carries an optimism of the 51st year and beyond with each other.
In India, a marriage is not just the union of two souls. It is a bond and commitment between two families. The golden anniversary signifies 50 years of the love and the honouring of this commitment.
The fiftieth year is a milestone that all couples strive to reach. Fifty years of happiness. Fifty years of laughter, sadness, excitement and compromise.
The wedding day marks the end of childhood things and fancies, ideals of white picket fences and dreams that love is all that matters. From that day forward, a couple begins to grow together and apart, often simultaneously, rethinking everything they thought was important in a life mate and a marriage.
The golden anniversary also marks 50 years of this higher plane of thought and growing process. The 50th anniversary definitely deserves a huge celebration. Today, golden anniversaries are celebrated in style, with elegant 50th anniversary invitations. These are different from the traditional marriage anniversary invitations and are specially designed for the golden anniversary.

50th Anniversary Invitations by Chococraft
Gift Categories
Gifting Ideas
Our Speciality
Elegant 50th anniversary invitations
Beautiful Our Speciality formats
Marriage anniversary invitations
Doorstep delivery across India
Golden anniversary invitations
Unique Ideas with a personalised message
Design / Make your own Our Speciality Invites / favors
Custom 50th anniversary invitations
Products in a wide price range
Golden anniversary invitation cards

Personalized Anniversary Invitations by ChocoCraft
We, from ChocoCraft, bring to you the best custom 50th anniversary invitations. We create exquisite chocolate boxes by pairing decadent chocolates with beautiful photographs and heart-warming messages. These boxes can be sent out as golden anniversary invitations.
Printed chocolates are our specialty. We print beautiful designs on a layer of white chocolate, with dark chocolate underneath. All our printing is done using edible ink; these golden anniversary invitation cards can be relished till the last bite!
These chocolates are packed in exclusive wooden boxes. You can customize the design on the box. We offer several designs for the box. Many of them have been created especially for custom 50th wedding anniversary invitations.
We offer several designs for the actual chocolates as well. Choose from heart shaped ones or regular ones. You can have the date and the names of the couple printed on the chocolates. We have several options for the message to be printed on the chocolate, and you can upload your own as well.
Inside the chocolate, your anniversary invitation card will be placed, which is a butter paper with your message printed on it. This card can also be customized.
These personalized anniversary invitations are available in several configurations. You can choose from our 2 chocolate box to 18 chocolate box depending on your budget.
These golden anniversary party invitations are easily affordable to one and all. After all, who can put a price tag on the 50 years of togetherness?

Order Golden Anniversary Invitations Online
Nowadays, many couples are opting for online anniversary party invitations. Casual 50th anniversary invitations are easily available online. Buying online has a lot of advantages.
First, when you shop for marriage anniversary invitation cards online, you can choose from a wider variety of designs. You can see several options right from the comfort of your homes. Some websites also allow you to mix and match various designs and patterns and compare them according to price.
In addition, buying online can prove to be cheaper as well. When you buy directly from the source, you cut down on the costs of the middlemen. This turns out to be an important factor while buying golden wedding anniversary invitations, as one has to buy them in large quantities.
We, at ChocoCraft allow you to create custom photo anniversary invitations. You can upload a beautiful picture of the happy couple to be featured on the cover of the box. Photos can be printed on the candies inside as well.
If you have a number of photos over the years, they can be printed in chronological order on the chocolates inside. This will tell the sweet story of your 50 years together.
The best part is that you can order these anniversary party photo invitations online from the comfort of your homes. The process is really simple. First, choose the design to appear on the box. You can also upload a photo to go on the cover. The select the configuration, number of chocolates and the design to be printed on the candies. And then, choose the message to be printed on the butter paper.

50th Marriage Anniversary Invitation Ideas
The best anniversary invitations are always unique, quirky and different from the rest. Step away from the traditional 50th marriage anniversary invitations and be different.
If you want to go eco-friendly, video messages are great golden wedding invitations ideas. Create a video with the couple expressing their love, and inviting their near and dear ones for the anniversary celebrations. You can include photos over the years, or even clips from the wedding video. Such wedding anniversary invitations can be easily shared on social media as well. If you add RSVP links, they can make guest list management easy too.
One of the best golden anniversary invitation ideas is to send a wedding invitation, just like the one sent fifty years ago. The anniversary party can include the couple getting married all over again. You can have the vintage theme to give it the exact look and feel. A perfect ode to the fifty years of marriage.
Gift hampers are also excellent marriage anniversary invitation ideas. Put together a basket of sweets, flowers and token gifts. Include a card with your invitation on it. For the added personal touch, you can put in a box of customised chocolates from ChocoCraft as well!

Unique 50th Anniversary Invitation
Anniversaries are always a special occasion in couple's life. However, 50th anniversary is an accomplishment. It is simply exciting to know that the couple has been together for such a long period of time. 50th anniversary implies that the couple has been together for more than half of your life.
The golden anniversary is actually the most celebrated anniversary. It is a special day for the couple, as well as for their friends and family members. It is a wonderful statement of their married life. People like to celebrate this but calling over their friends and family members. As you plan for the event, you shouldn't forget about the 50th anniversary invitations.
To distribute the invitations, you have to start thinking about the guest list. You can ask the family members and friends to help you to compile a guest list. The invitation will help the guests to purpose of the event. However, you need to make sure that the anniversary invitation is an enticing one.
When you plan for the invitation, you shouldn't forget to plan the entire event. An important part of the event is the golden wedding anniversary invitations. This is way of recognizing the importance of the guests for attending the event and being a part of your happiness. Moreover, this will help in bringing a smile on the guests. If you are thinking about invitations, you can consider customized chocolates. You can easily order them online. Moreover, you will be able to customize it as per your requirement. The customized chocolate will help you to make a significant impression on your guests.

50th Anniversary Invitation with Customized Chocolates
Ordering customized chocolates from us 50th anniversary invitation ideas are simply the best. We make sure that the chocolates are made from the best ingredients. This offers a perfect to the chocolate item. Most importantly, we customize the chocolate according to your request. Hence, you will be able print the name or picture of the guest on the chocolate to make them feel special.
We also make sure that the chocolates are given to you after being packed in a premium quality container. The chocolates containers will impress the guests in the first glance itself. Make a great impression on your guests with our customized chocolates.
The best part about customized chocolate is that you can also print message on it. This will help you to make an emotional connection with the guests. It is always better to give a return gift for wedding anniversary with a personal message. We also give you the option to choose a design for printing on the box.
We provide you the option to order the chocolates online. This implies that you will be able to order the customer chocolates from the comforts of your home. You will not have to travel. This will help in saving significant amount of time and money. We make sure that the invitations are delivered to you on or before time.

For more information, please get in touch with us.