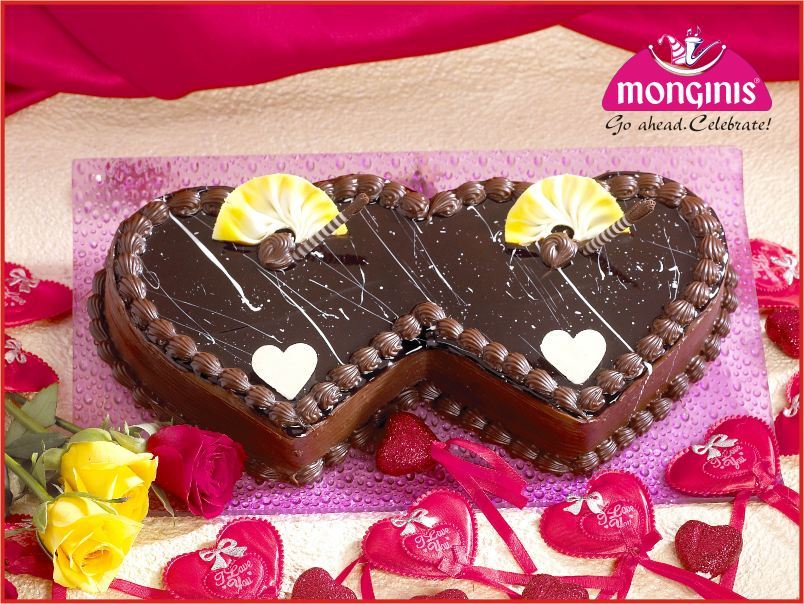 Serves 20 people
Ingredients
Double quantity one mix chocolate sponge mixture

Double quantity one chocolate buttercream

Icing sugar for sifting

Chocolate curls and fresh raspberries to decorate
Procedure
Preheat oven to 160oC/135/325Of/Gas 3 Grease and base line with grease proof paper two 20cm/8 in heart-shaped cake tins. Divide the one-mix chocolate sponge cake mixture evenly between the tins and smooth the surfaces. Bake for 30 minutes. Turn on the wire rack, peel off the linking paper and leave to cool.

Cut each cake in half horizontally. Use about one-third of the buttercream to fill both cakes, then sandwich them together to make two. Cover the tops of the cake with buttercream.

Arrange on a cake board. Use the remaining icing to coat the siders of the cakes. Make sure it is thickly covered.

Generously cover the tops and sides of both the cakes with the chocolate curls, beginning from the top of the heart and arranging them as shown, and pressing them gently into the buttercream as you go.

Dust a little icing sugar over the top of each cake and decorate with raspberries. Chill until ready to serve.
Recipe source: The Chocolate Bible
Recipe Code: 20170034
Image source:https://monginiscakes.wordpress.com