Wedding Return Gifts for Friends - 2 Chocolate Box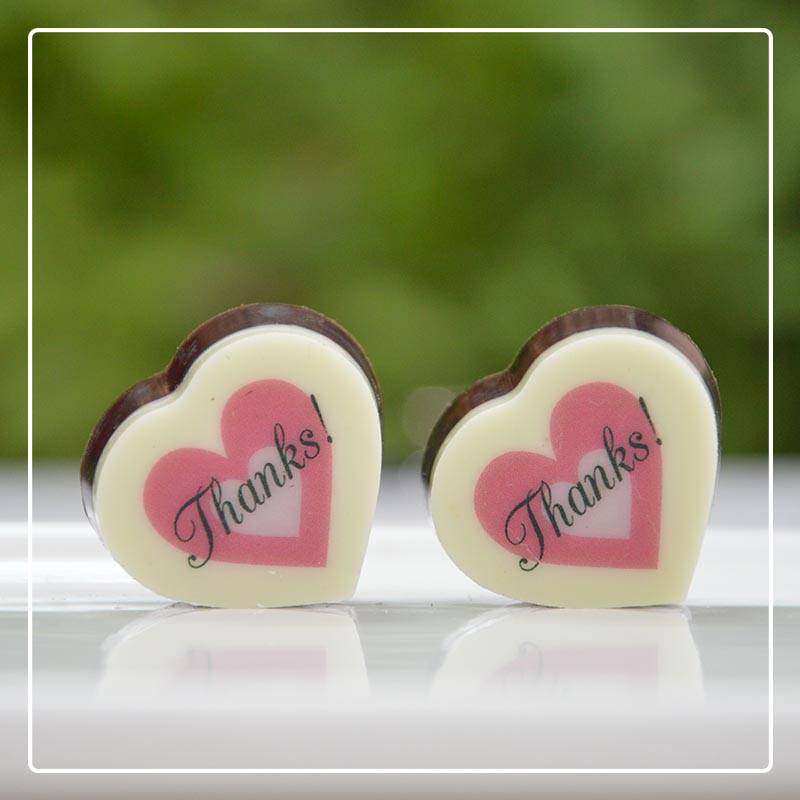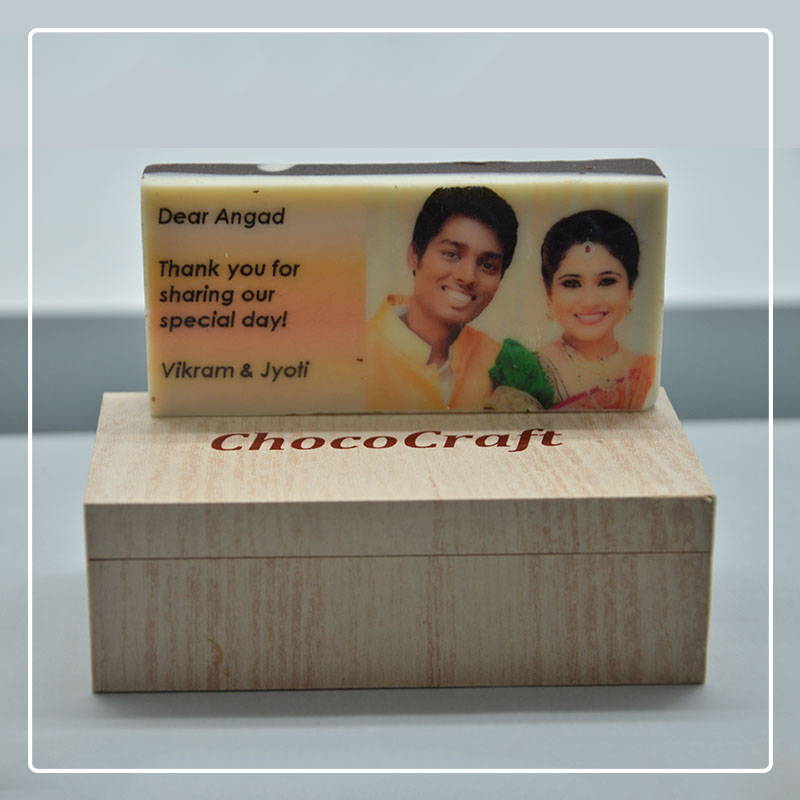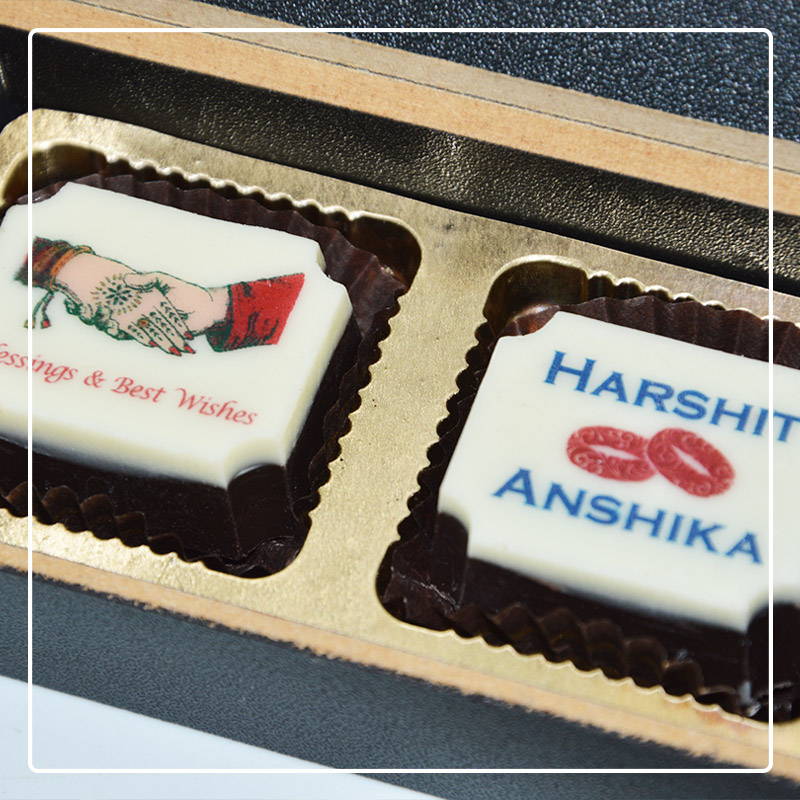 At ChocoCraft we make personalized wedding gifts using chocolate. We create exclusive gift boxes by pairing decadent chocolates with beautiful photographs and heart-warming messages. These are excellent return gift ideas for wedding guests. Printed chocolates are our specialty. The two chocolate box is one of our most popular return gifts for wedding in india.
For the chocolates inside, we offer two major options; printed or assorted candies. We print using edible ink; your guests can relish your chocolates till the last bite. These chocolates are pure vegetarian, so no hassles in ordering them.
Your thank you messages for the wedding guests will be printed on a special butter paper inside. You can choose from various designs for this as well.
The two chocolate box is elegant, pretty and compact. It is probably the best return gift for marriage in India. Whether you want wedding return gifts for friends or wedding return gifts for family, this gift is there to stay in their minds forever.
You can also explore return gifts for weddings in the following sizes:

Chocolate Configuration Options for 2 Chocolate Box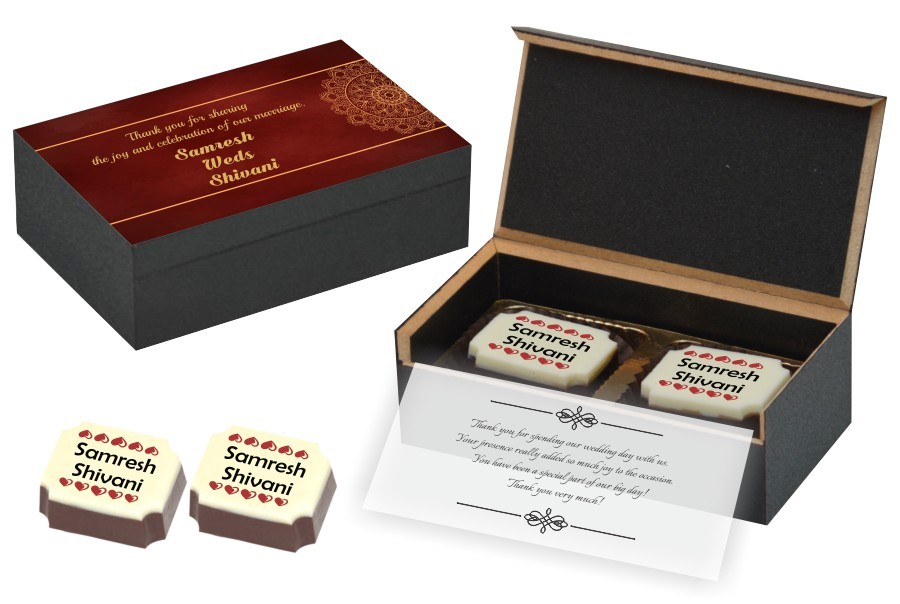 All Printed Candies, Customised Wooden Box , Message on Butter Paper.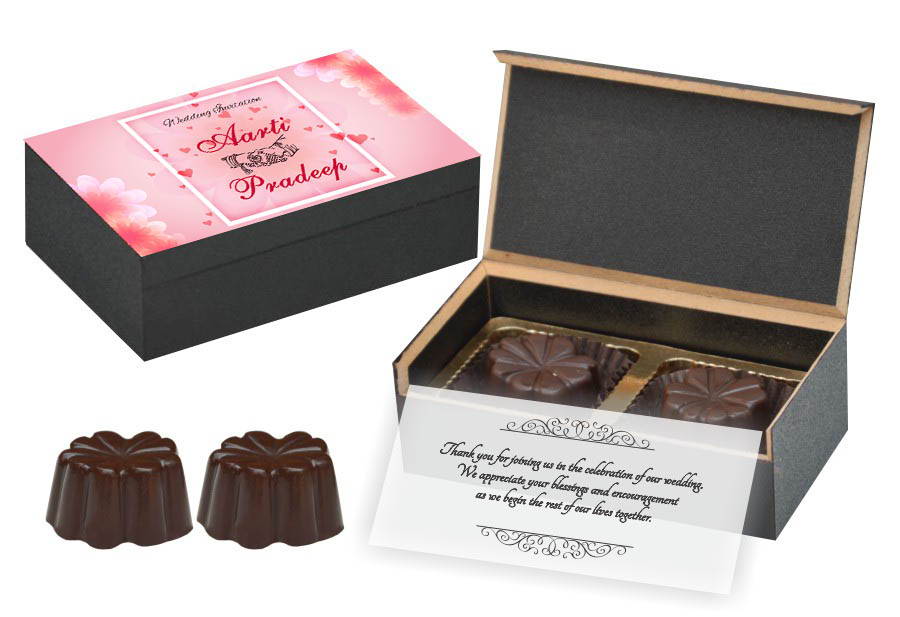 Assorted Candies, Customised Wooden Box , Message on Butter Paper.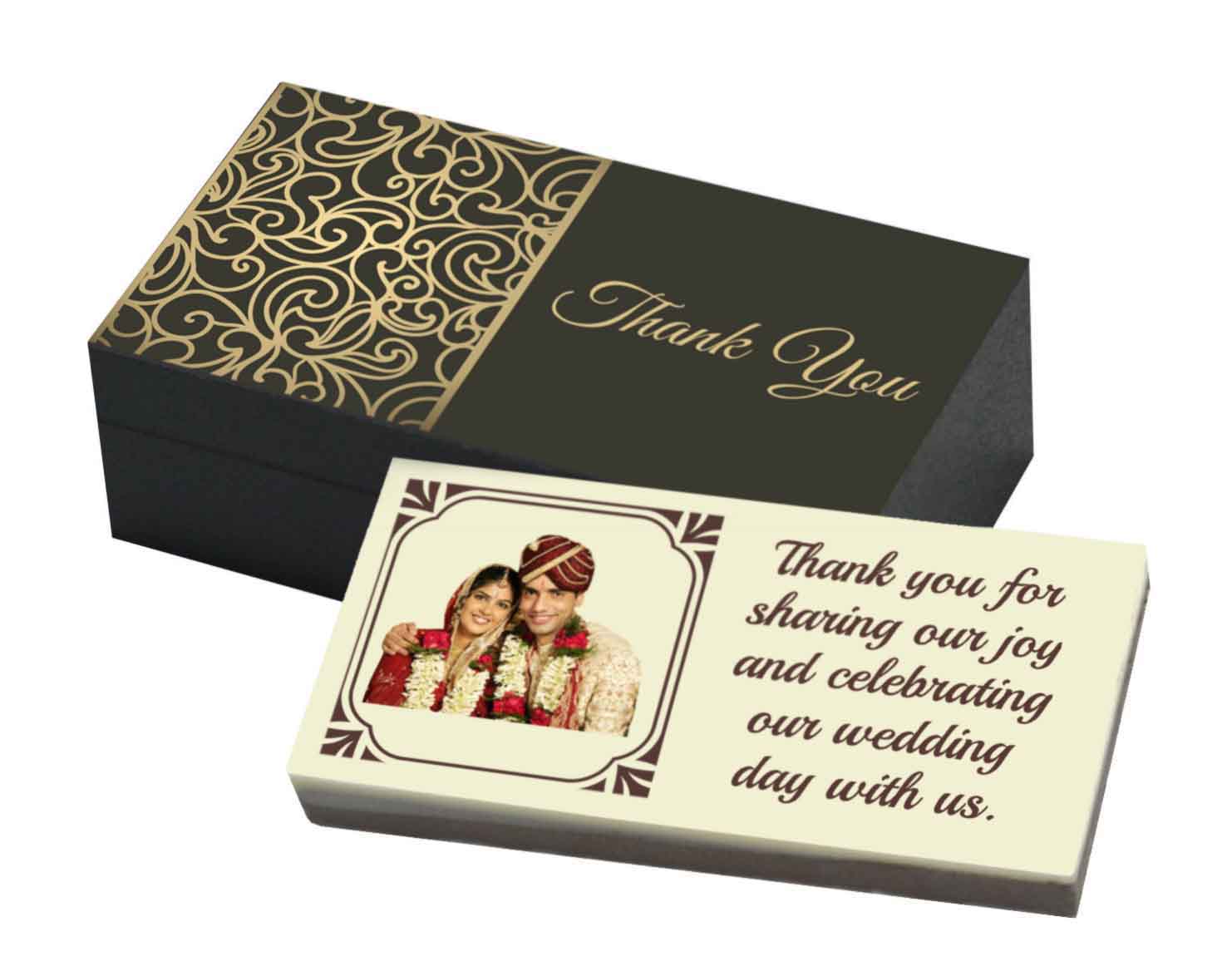 Weddings in India are a big affair. It is a time when the bride and the groom are showered with gifts from their loved ones. It is a good gesture to thank your guests with return gifts for marriage. These days, there are separate return gifts for reception as well. Are you looking for cool return gifts for friends? Want to do something creative but out of ideas for return gifts for weddings?
Do you want return gifts for wedding in Hyderabad but don't know where to get them? ChocoCraft is here with one of the best indian wedding return gifts for guests in india.
These chocolates can be completely customized according to your preferences. You don't even need to worry about packing up these gifts; all of our chocolates come in elegant little wooden boxes. You can also choose the design for the box. This design can reflect your wedding theme (vintage, western, butterfly) if you wish so. So this can be used as a return gift for themed wedding as well. For the added personal touch, you can have a photo of the bride and the groom printed on the cover.
You can order these beautiful return gifts for wedding online, from the comfort of your own homes. We deliver to all major cities in India. So whether you want return gifts for wedding in Delhi or return gifts for wedding in Chennai, ChocoCraft is the right place for you!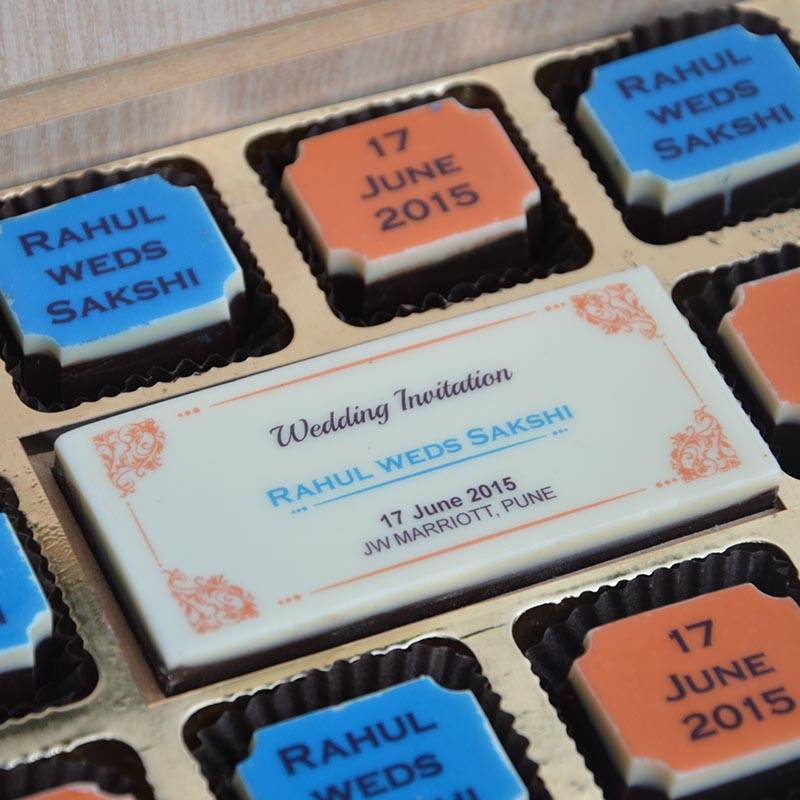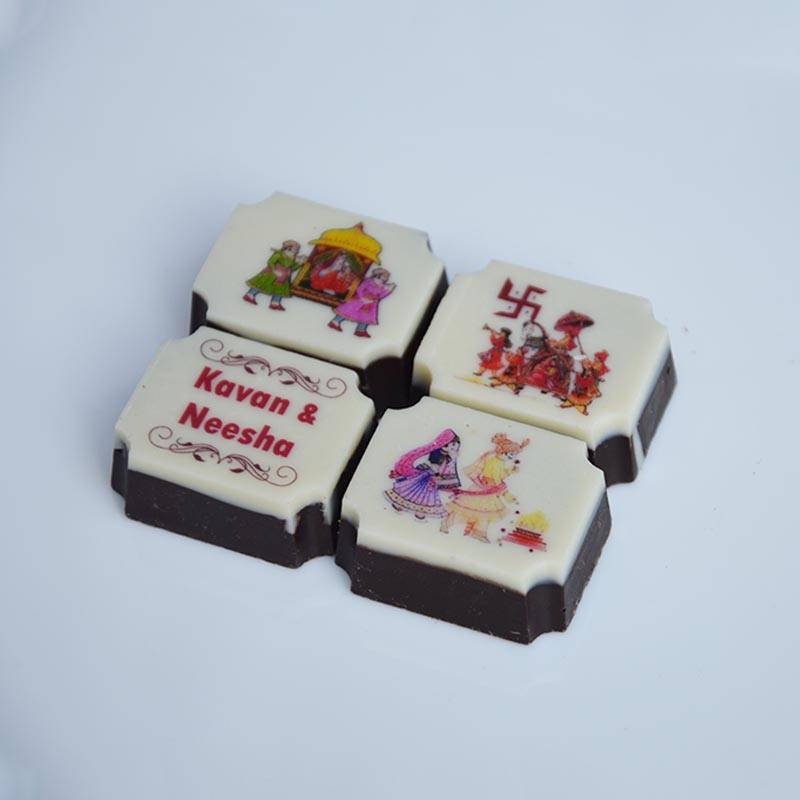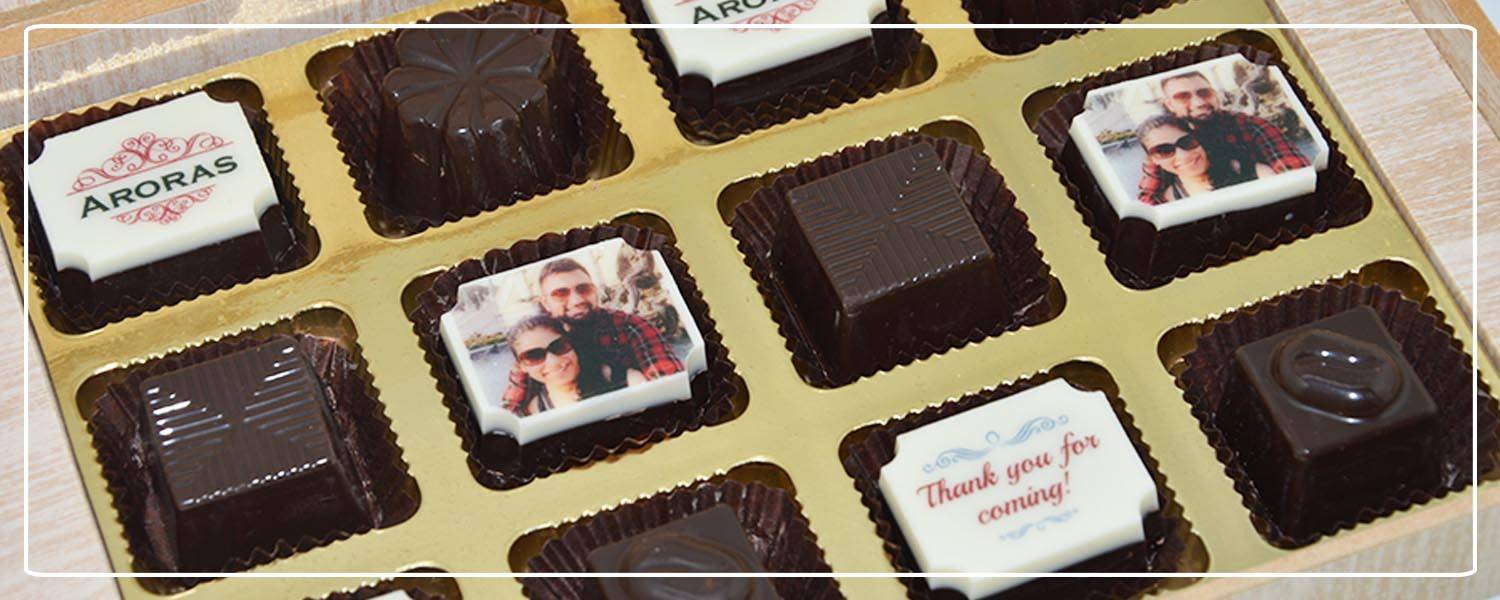 Wedding Return Gifts for Friends by Chococraft
Gift Categories
Gifting Ideas
Our Speciality
Beautiful Box & Chocolates Templates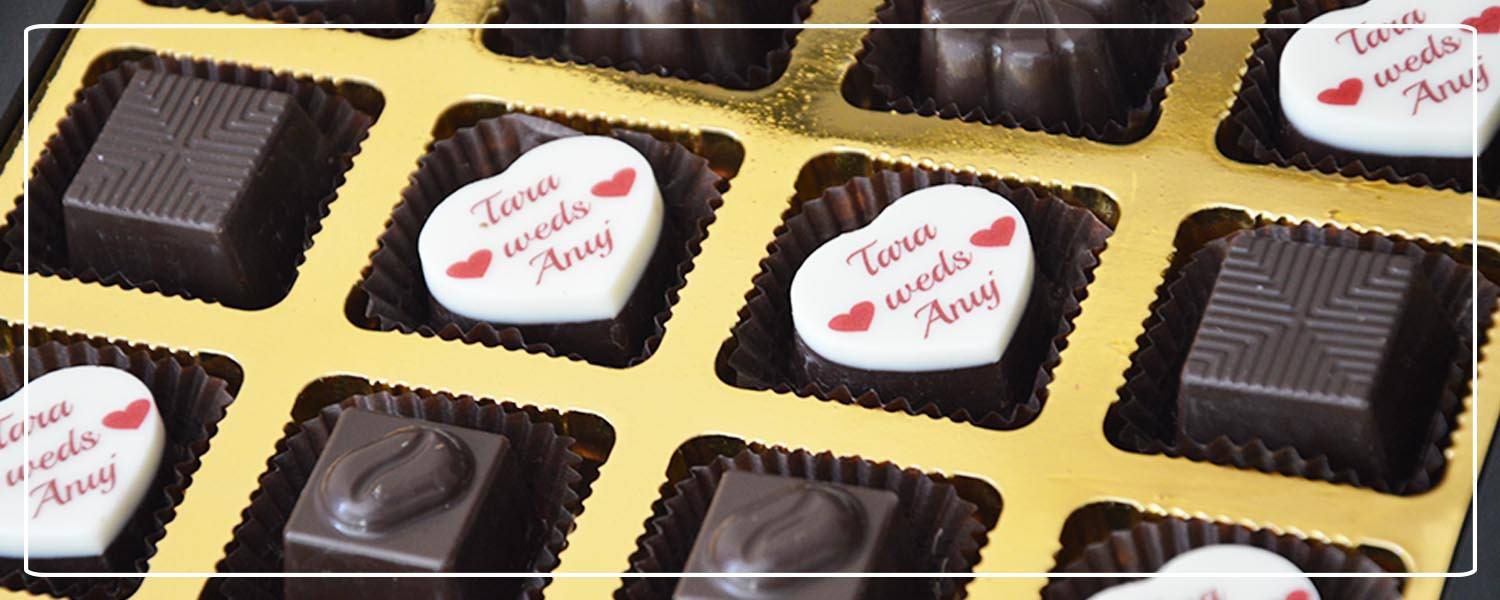 Return gift Ideas for friends
Indian weddings are a class apart; no other wedding in the world has so many customs and rituals. An important tradition in the Indian weddings is the exchange of gifts. Presents to the couple are meant to help them to start a new life together. On the other hands, wedding return gifts for guests are equally important.
These gifts express the bride and the groom's gratitude for the presence of the guests at the wedding. It shows that they respect them, and are glad to receive blessings from them. In addition, a wedding is a once in a lifetime event, and an extremely special one. These gifts serve as memories of the ceremony.
Weddings are remembered and talked about on the basis of gift received; it is thus important to have a unique gift which will make a mark. Typical return gifts for weddings include showpieces, photo frames, and items of daily use (such as purses, tiffin boxes, tea cups, etc.).
These are generally accompanied with sweets. If you have a themed wedding, these gifts can be chosen so as to reflect it. Gifts for relatives or close family members include jewellery or items of gold and silver.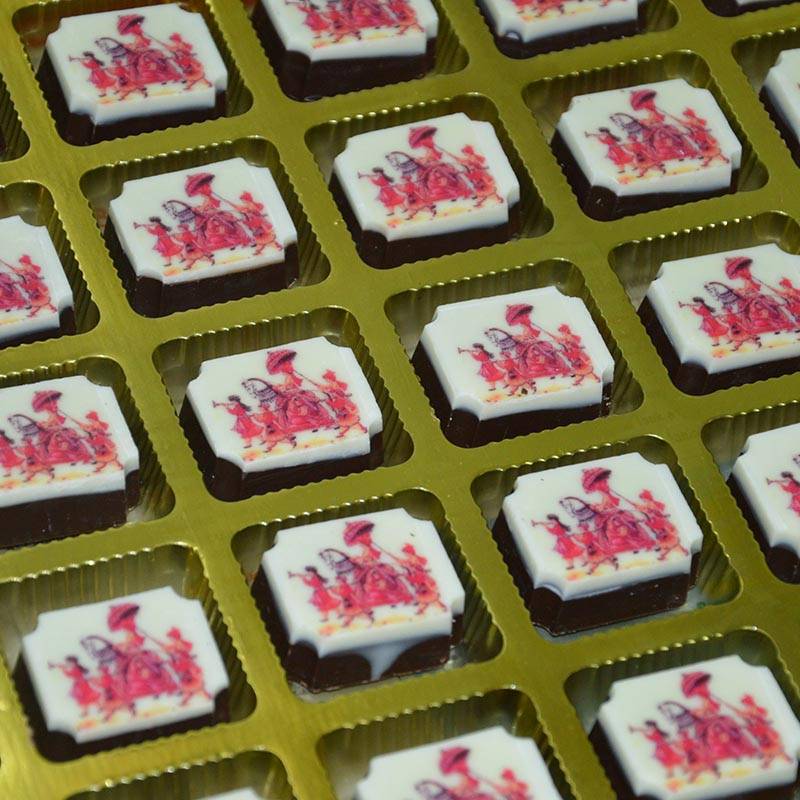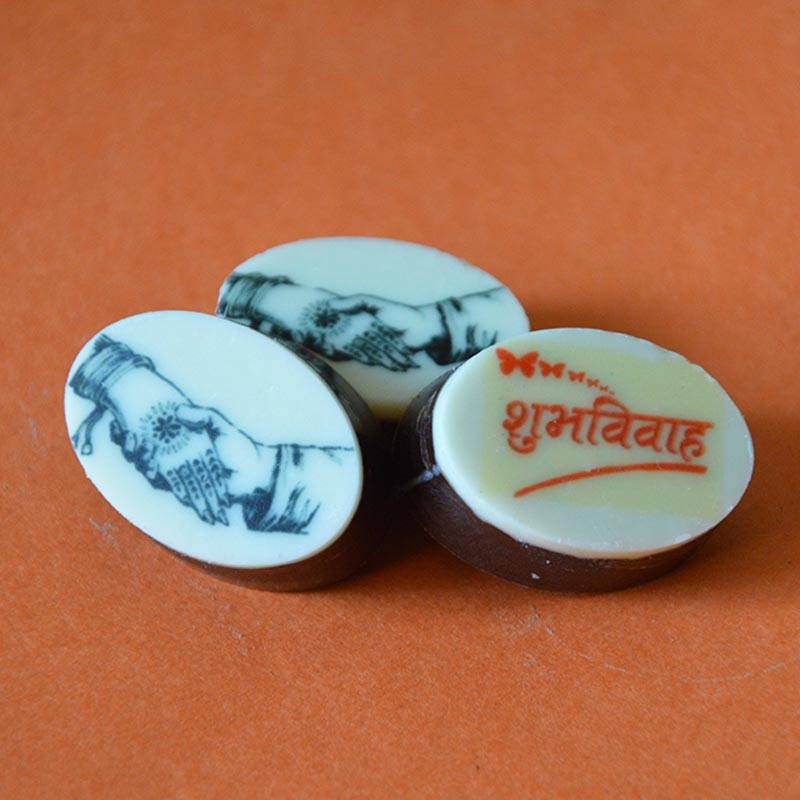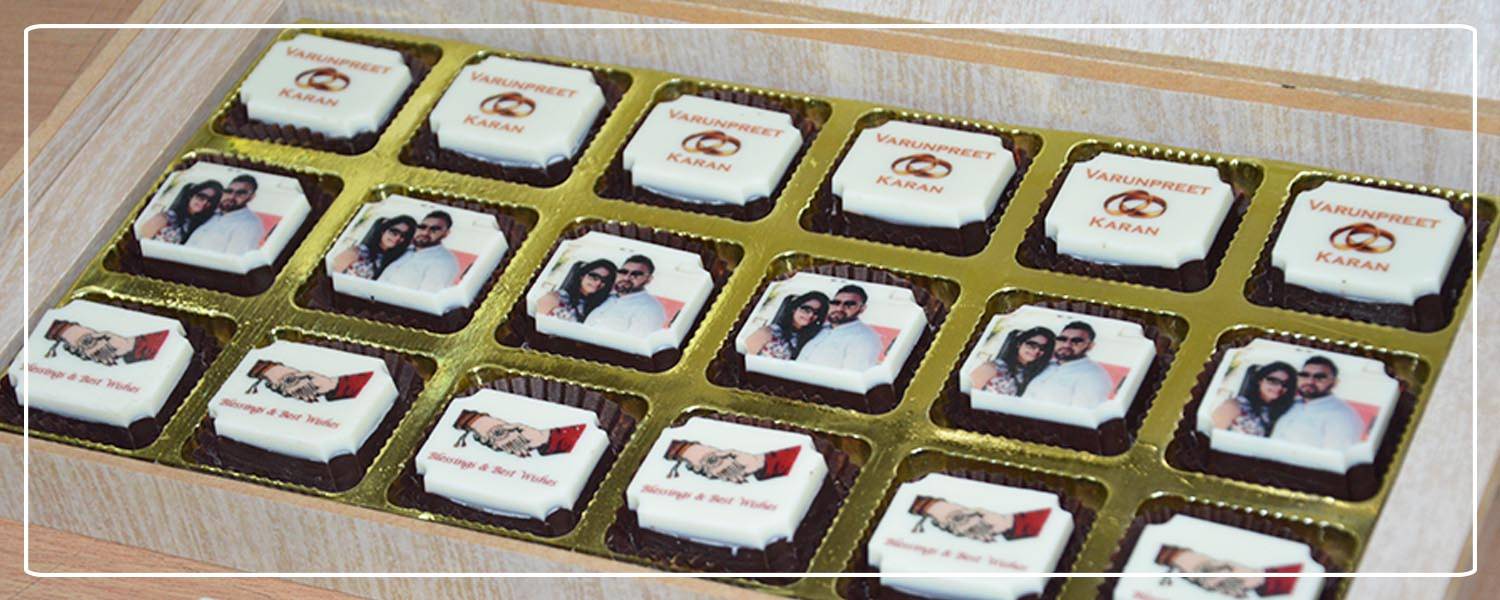 Return Gift for Weddings - a Tradition in India
Apart from the relatives who come and bless you, your friends are an important part of the wedding ceremony. They have always been for you, and they do a lot of work for the wedding. Right from finalizing the invitee list to looking into the decoration details, your friends are there for it all. And the most important thing is that they do all of this without expecting anything in return.
A friend in need is a friend indeed! Should you not, then, express your gratitude for them? Say a big thank you to your friends for all they've done with some great wedding return gifts. This way, they know that you have realized their importance in your life, and the role they played in the ceremony.
Some great return gift ideas for friends include festive clothes (which they can wear in your wedding), shoes, or jewellery. If you're having a destination wedding or a long one, it would be a great gesture to sponsor their travel and stay for the entire period. The two chocolate box from ChocoCraft makes an excellent wedding return gift for friends.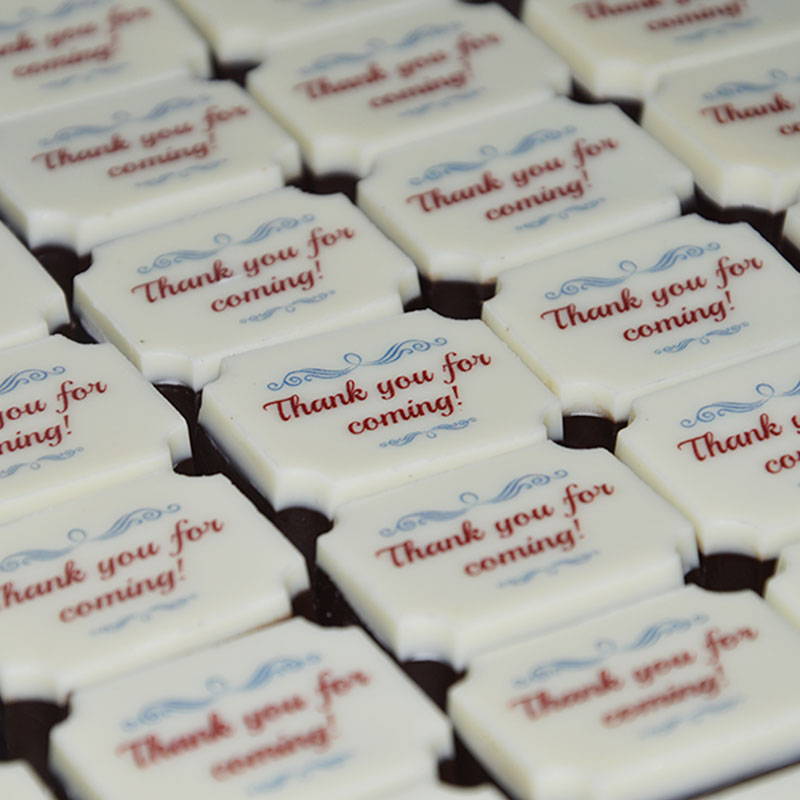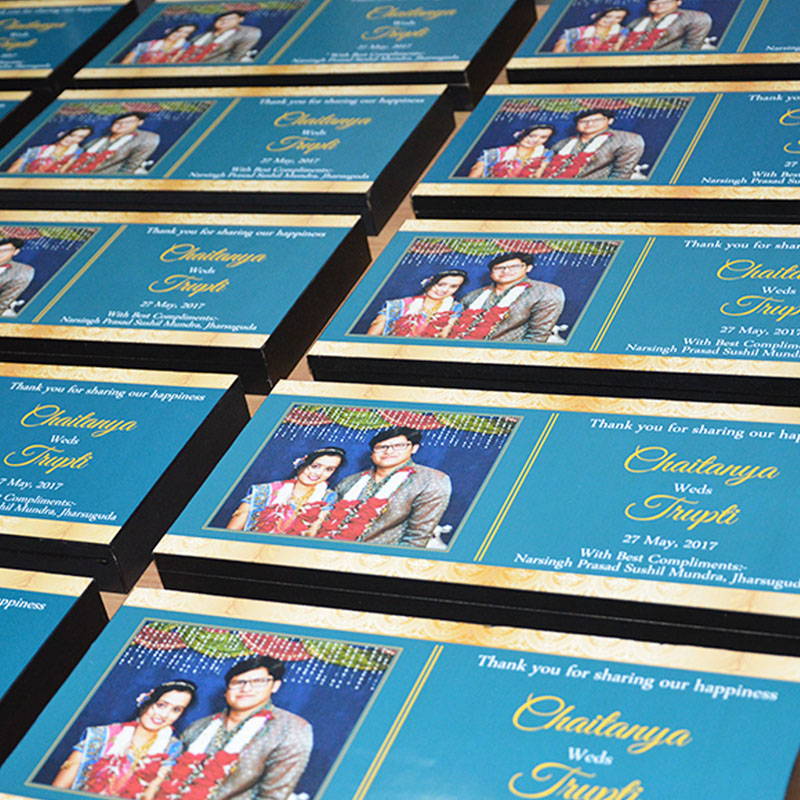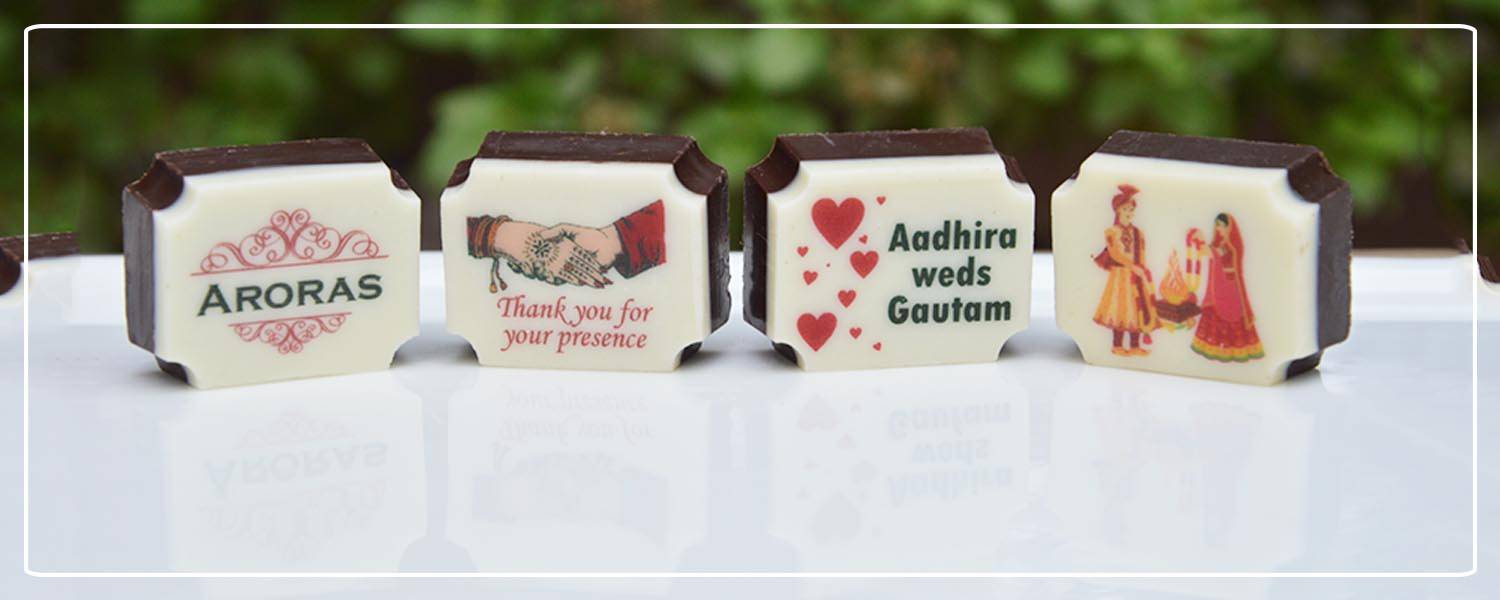 Customised Return Gifts for friends
These days, many couples are opting to buy return gifts online. It is possible to customize a whole lot of things. There are a number of online vendors which offer custom gifts. You can order customised chocolates, calendars, key chains and so on. Buying online offers several advantages as compared to the traditional ways.
First, it saves you a lot of time and effort. You can order your gifts with just a few clicks, and that too, from the comfort of your home. It I just a matter of a few minutes. You need not travel to shops and spend hours looking through designs. All shops are visible on your screen itself.
Secondly, it offers a larger variety. You can mix and match various patterns and colours. Most websites also allow you to compare various gifts according to budget, and also offer a simulated view of the final product. This can help you pick the right one.
In addition, buying online is cheaper. You can eliminate the costs of all the traders, dealers and middlemen. When you buy online, you buy directly from the source itself. An assurance of quality as well as the best price.
Get your wedding return gifts online today!


For more information, please get in touch with us.