Baby Boy Announcement - 2 Chocolate Box


Chocolates configuration options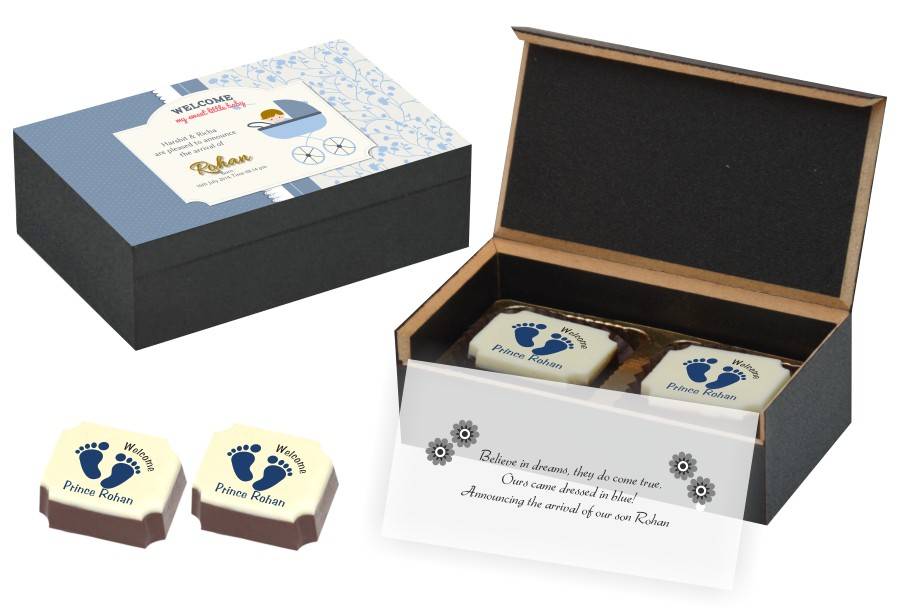 All Printed Candies, Customised Wooden Box, Message on Butter Paper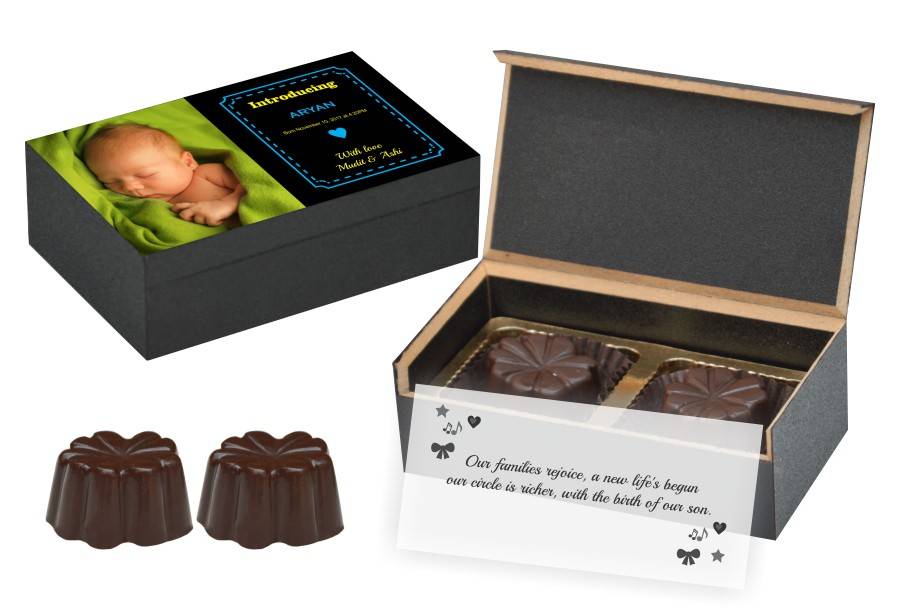 Assorted Candies, Customised Wooden Box, Message on Butter Paper

Baby Boy Announcement - 2 Chocolate Box by Chococraft
---

Baby Boy Announcement Gifts in India
A new born baby in the family brings joy to everyone in the house. A birth is considered to be an auspicious event, and it is believed that the new-born will bring prosperity to the family. The atmosphere is one of hustle bustle and gaiety, and the baby is warmly welcomed and pampered by everyone in the family.
In order to inform loved ones of the new member in the family, baby announcements have become common these days. Although primarily a western concept, birth announcement cards are sent even in India.
Nowadays, proud parents are stepping away from traditional birth announcements and are going for creative baby announcements. Many also opt for custom birth announcements.
Birth announcements are a chance for the family to show off their baby to the world. They can share their joy with near and dear ones. In addition, it is also an invitation for friends and family to shower the new baby with their blessings. One of the most popular baby announcement ideas is to declare the name of the baby in the new baby announcement itself.
In India, the birth of a boy and a girl signify different things. According to Indian tradition, a baby boy signifies the prosperity and longevity of the family. People feel happy and proud to be blessed with baby boy. Hence, birth announcement for baby boy is different from that of a girl.

Baby Boy Announcement - 2 Chocolate Box by Chococraft
Gift Categories
Gifting Ideas
Our Speciality
Traditional birth announcements
Beautiful Bachelorette Party formats
Creative baby announcements
Doorstep delivery across India
Birth announcement for baby boy
Unique Ideas with a personalised message
Design / Make your own Bachelorette Party Invites / favors
Products in a wide price range

Creative Baby Boy Announcements by ChocoCraft
We at ChocoCraft bring you the perfect baby boy announcements. Announce your baby boy with chocolates ; the favourite of all children and adults alike! Who doesn't like chocolate? Chocolate can never go wrong.
We create exclusive gift boxes by pairing decadent chocolates with beautiful photographs and heartwarming messages. Our specialty is printed chocolates. We print on a layer of white chocolate over a block of dark chocolate. All the printing is done using edible ink; so these tasty treats can be relished till the last bite!
These gift boxes are completely customisable. You need not even worry about the packing; all our chocolates are packed in exclusive wooden boxes. You can choose the design for the box. The design can also reflect a particular theme if you wish so. You can also have a photo of the baby printed on the box.
The 2 chocolate box from ChocoCraft is one of the most popular baby boy announcement hampers. It is simple, compact, and yet elegant and exquisite.
The chocolates can be printed or plain as per your choice. These chocolate boxes are easily affordable to everyone and do not burn a hole in your pocket. After all, announcing the best baby announcements shouldn't cost you the earth, should they?
You can get this 2 chocolate box as a welcome baby announcement. You can order it online with just a few clicks, and get these cute baby announcements delivered to your doorstep. We ship to all major cities in India.

Innovative Ideas for Baby Birth Announcements
You don't have to announce the new arrival via boring old cards or phone calls. Baby announcements can be sent out in several ways. Think out of the box and get creative.
If you want to turn eco-friendly, you can send a digital announcement. Make a poster or film a video where you introduce your baby to your family and friends. Make sure you get in audio of the baby's first cry! Many couples also go for pregnancy photo shoots these days. You can use these photographs, and tell a story in your video announcement. You can also announce the birth simply with a photo on Facebook.
Customized items are also great boy announcement ideas. You can customize gift items like fridge magnets, mugs and coasters. They can have a photo of the baby and the date of birth. It can also bear a message like remember this day! You can also depict the baby saying I was born on this day! in a speech bubble. As it is the birth announcement of baby boy, you can include a cartoon of the baby dressed up like a superhero!
If the baby is born in December or January, a great idea would be to customize new year's diaries and calendars. They can feature cute pictures of the baby. You can customize the theme and design to reflect that this is an it's a boy announcement. This way, the birth of your baby will be remembered for the year to come!

Themes for Baby Boy Announcements
Themes are just perfect for babies and children; they center around some character, story or setting and add a twist to the traditional events and invitations. Incorporating a theme to the classic birth announcements adds a fun element. Your theme can be reflected in your announcement card as well. The shape, size, colour, kind and design of the invitation are fertile ground for reflecting your theme in creative ways.
Most of the themes are related to nature and wildlife. The theme can be an aquatic or nautical one which features beaches, fish, and the sea in general. Nautical baby announcements are bright, beautiful and colourful. Children are particulary fascinated by the vibrant colours in the aquatic world.
The theme can also be animal kingdom. With the lion as the king, the baby boy can be depicted as the lion and other animals like tigers, monkeys and rabbits can be shown. This theme is one of the most popular birth announcement ideas.
Another popular newborn announcement idea is to create invitations based on popular TV shows or cartoon characters. Unique baby boy announcements include characters based on Pokemon, Beyblade, Shin Chan, Scooby Doo, etc.
You can also make funny baby announcements in which you depict your baby as a character in a comic strip. The birth announcement wording can be incorporated in this as the dialogues of the characters.
Order your baby boy announcements from ChocoCraft today and design them so as to incorporate your theme!
---
For more information, please get in touch with us.