Corporate Gifts - 12 Chocolate Box
One of the ways of showing appreciation and gratitude for your customers is by gifting them on festivals. If you are confused on what to give them, we are here to help you out. Our chocolates are both delicious and beautiful. We blend the pureness of chocolate and the technique of printing to create a chocolate bar on which messages/wishes can be printed in edible ink. Delicious custom made chocolates are something that your business associates will definitely love and will help you to create a strong business association with them.


Step 1 - Select Configuration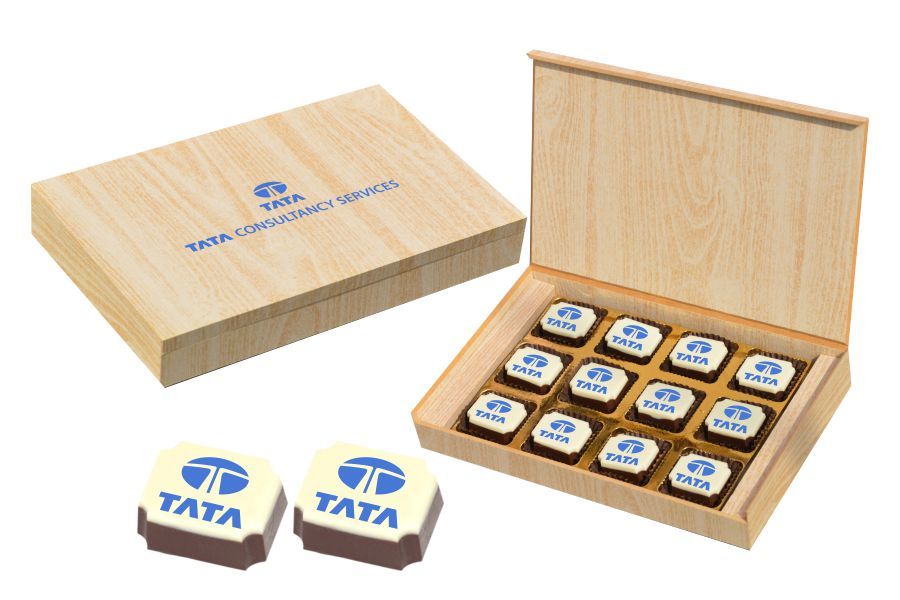 All Printed Candies, Wooden Box with your logo, Message on Butter Paper.

6 Printed & 6 Assorted Candies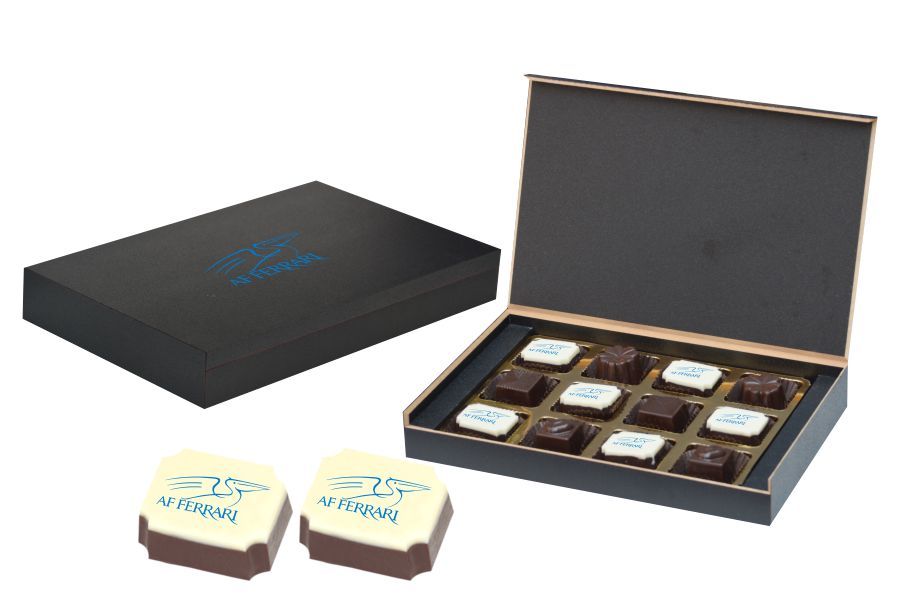 Alternate Printed Candies, Wooden Box with your logo, Message on Butter Paper.

2 Printed & 10 Assorted Candies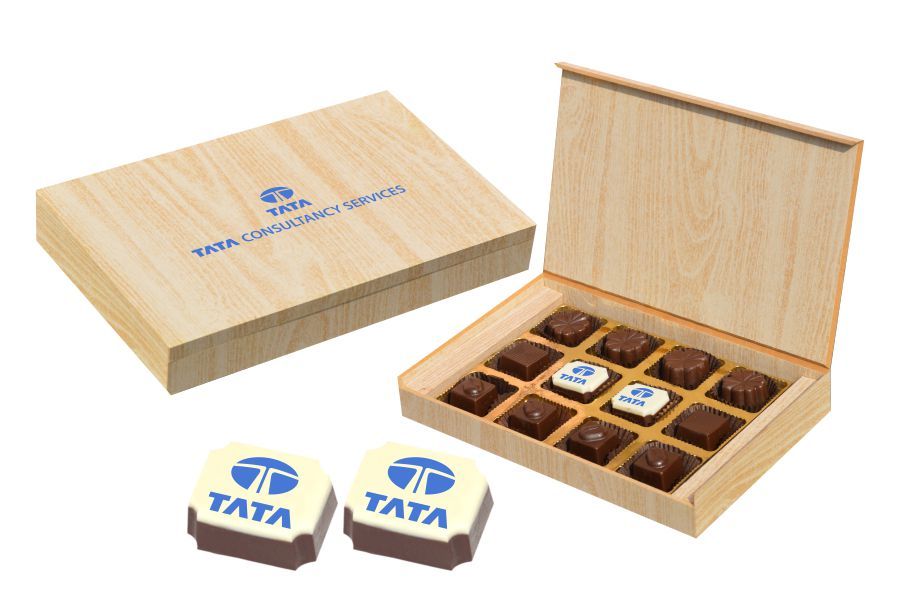 Middle Printed Candies, Wooden Box with your logo, Message on Butter Paper.

Assorted Candies, Wooden Box with your logo, Message on Butter Paper.


One of the ways of showing appreciation and gratitude for your customers and employees is by giving them gifts on festivals. Corporate gifts are the best way to create a strong business bond and letting your business associates and partners know that you value them. Corporate gifting ideas are many however nothing creates a greater impact than chocolates.
We have this 12 chocolate box containing of 12 chocolates that are delicious and crafted with love. You can have a choice of printed, assorted or mix chocolate candies in the 12 chocolate box as per your requirements. Corporate gifts are a way of creating goodwill among your clients and employees and our 12 chocolate box will do it with charm and style. The chocolates are custom made from the finest of ingredients and packaged in beautiful wooden boxes that can be delivered all over India.
We have a number of flavours and fillings for you to choose from and if we do not have your choice listed we can still make it for you on bulk orders. Select your message and upload the image of your company logo and we will print it on the most delectable chocolates you have ever savoured. Make your corporate bond a long lasting one with this unique corporate gifting ideas.
---
Occasions we make corporate gifts for



Corporate Gifts India
Corporate gifting is essentially an umbrella term in the sense that it incorporates various diverse elements that would be hard to define and put into words individually. However, as a whole, it is an art of sorts. Yes, art.Anyone worth his salt in the booming corporate world will tell you that as a businessman, a client or as an employee, whatever you do you need to do so while treading lightly. One false step and it could end up being a game-decider. On the flipside, a smart move and you'll leave the competition begging behind. Corporate gifts can be that game changer and one adept at it would go a long way to becoming successful.
Now, what is this all about? Well, as a business conglomerate or a small-time firm, it is your clients and employees who will keep your cash counters ringing. And a business gift would strengthen that years old relationship, cement it and foster new ones. The art of it, for it, is so and we will refer it as such, has been in practice for centuries. A gift has always been a token of gratification to empower trade relations and increase goodwill.And in the present scenario, it is no different.
In fact, such is the gravity of the tradition, that some serious thought is given to it and a tangible amount is set aside just for gifting purpose.You may call it a marketing gimmick, done to induce a sense of fellowship between two parties or in some cases, it is just a polite gesture to clients and employees to let them know that they are valued assets of the organization.
Branded gifts do what words fail to do. The dynamics of the corporate world are fast changing and words get lost with time. But something as personal as customized business gifts can and will promote your company's brand. This, in time, will make a world of difference as to how deals are negotiated and future business transactions are carried out.
What differentiates a good company from a great company are these little things. Say, it's Diwali and you want to share the happiness with your business associates and important stakeholders? What do you do? Well, send along nice corporate Diwali gifts of course.
Or say it's the end of the year closing in, with the Christmas lights lighting up the alleys already.It's common practice to celebrate it with family and friends. How about including your business partners this time? Or maybe that loyal customer who has been a client for years? A personalized Christmas business gift will make sure that he doesn't stop coming anytime soon.
Consolidating your pre-existing client base and improving upon it. That's what we are trying to do here. And in this cut-throat world, word of the mouth can do wonders. People are swayed by marketing gimmicks and it all depends on how you adeptly you do it. It's common sense that as a client organisation, you'd want to do business with a company who values you and your organization.And nothing says that better than a nice and unique corporate gift.
Promotional gifts will also increase your brand awareness more than you mere words will ever do. And also, the moment there is an exchange of gifts between two business entities, they enter a sort of bond psychologically and it becomes easier for both of them to conduct smooth transactions.
Even when gifting employees, it may or not be expensive. But the thought matters. As someone who puts his heart and soul into the work, he is doing in order to help your company achieve its goals, it's a pleasant feeling to be appreciated for your constant efforts and dedication. A beautiful and personalized business gift for employees will ramp up their morale and that should be reflected in their work output.
As evident, the notion of corporate gifting does come with a few strings attached and it is up to you to decide on how you plan to use it. It is within the realms of business ethics to wish your business clients with branded corporate gifts in the hope of tilting the negotiations in your favour.
The idea is complicated and it's a tricky matter. Selecting the gift can be a difficult choice. Thankfully, we at Chococraft have an eclectic, wide and exclusive range of corporate gifting ideas and executive gifting ideas for you to choose from.Read on to know what we have in store for you.

Corporate Gifts 12 chocolate Box by Chococraft
Gift Categories
Gifting Ideas
Our Speciality
Beautiful Corporate gifts
Doorstep delivery across India
Customized business gifts
Unique Ideas with a personalised message
Design / Make your own Business gifts / favors
Products in a wide price range
Personalized Christmas business gift

Corporate Gifts Ideas
When it comes to corporate holiday gifts there is little room for one size that fits all. In fact, there has to be some research into the recipient's demographics before you hit upon that unique corporate gift. You must be mindful of the fact that corporate giveaways will speak for your company and the brand of it through your gifts itself. As such it might prove to be a two-edged. A corporate thank you gift can sweeten a deal or say, unusual corporate gifts may ensure that your employees know that their efforts are being appreciated. It is always a nice feeling for an employee when he gets gifts when it's least expected-a pleasant surprise per se. This Christmas, make sure that you have just the right personalized corporate gifts for employees.
Even for clients it is the same story. Executive gifts for clients can solidify your relations for years to come and it is just a nice etiquette really. Business gifts for clients during festivals like Diwali, Christmas or say, year ending, creates an environment of the family. And that most certainly is good for business. As a client, you'd want to conduct business with a company who sets high standards for the competition. And little, thoughtful personalized promotional items do just that. Also, as a company you'd want to stand out from the rest and the tradition of corporate giveaways will make sure that the brand of your company in the market carries a lot of goodwill.
Coming to customers, it's commonplace to see that there are incentives and promotional gifts in store for anyone who makes purchases above a certain stipulated level during festivals. This will ensure that the customers will remain loyal to your firm or company come what may. And it proves valuable in the long run. Times may come when you'll be short on revenue but it is these customers due to the goodwill garnered over time who will keep your business afloat. Promotional merchandise also makes sure that newer and newer customers come into the fray. Within no time, your business will be booming and all that for nothing but a few,well-thought-out business gifts for customers.

Best Corporate Gifts – 12 Chocolate Box
If you are looking for personalized corporate gifting ideas, this is the place to be. Chococraft has been the pioneer in the field of corporate gifting solutions for years and as such, we have just the thing for you. The 12 chocolate box is our very best and certainly, the most popular offering.
We have already established that custom promotional items or professional gifts carry a lot of significance and hence, the gift should be such that it does all the things for us that we intend it to do. Naturally, the best candidate proved to be chocolate. You can rest assure that a box of chocolate can sweeten any deal or negotiations. Personalised corporate gifting should be done with a bit of class and charm and nothing screams class more than a box of an assortment of some of the most delicious chocolates available in the market today.
The 12 chocolate box is the perfect business gift for clients as well as being the best corporate Diwali gift for employees. So what sets it apart? Well, they aren't regular chocolates. The box they come in aren't regular either. No, what makes them unique and perfect for promotional goods or marketing items is the fact that these chocolates carry the name and design/logo of your brand on the chocolate itself. Edible ink and a team of dedicated designers make all if it possible. Neat? That is not all.
The box they come in is a wooden box that can be customized as per your liking to bear a message-a thank you note or just a nice Christmas wish on behalf of your organization. Or it may just be a box with a beautiful design. There's the option to have your message written separately on a butter paper inside the box.
Chococraft has a wide and exclusive range of custom promotional items for your perusal. All that you have to do is go to our website, choose the chocolate of your liking, customize the box and the message. And voila! There you have your unique branded promotional gift. The exciting part is that all of this can be done online, all for your convenience.
Now, we do have a large collection of company gifts and marketing gifts ideas, but in case you don't find what you're looking for, we'll get it done for bulk orders. And with delivery across all the major cities of India like Chennai, Delhi, Bangalore, Hyderabad, Mumbai, etc, you don't have to worry about your gifts reaching you in time.
Some of our most sought-after products are the all printed candies at INR 9950(shipping and taxes included) for 10 boxes of 12 chocolates in each, the 6 printed and 6 assorted candies at INR 8300, the 2 printed and 10 assorted candies for INR 7150 and finally the all assorted candies priced at INR 6600.
Be it corporate thank you gifts or corporate holiday gifts we make everything and in style. Just take your pick and let us handle the rest. This Diwali gift your employees, clients and business partners something that'll keep the love for your company growing.

For more information, please get in touch with us.