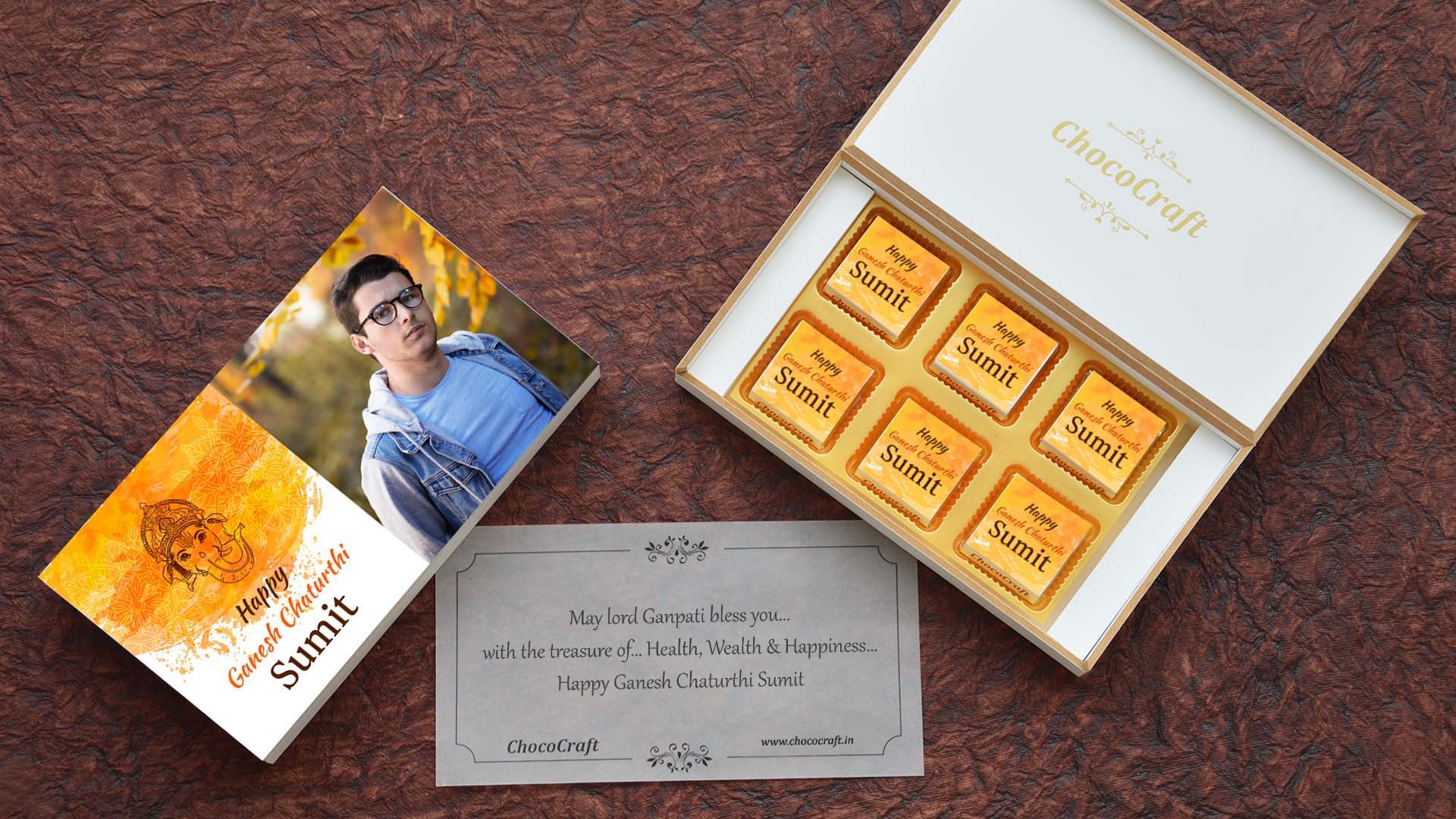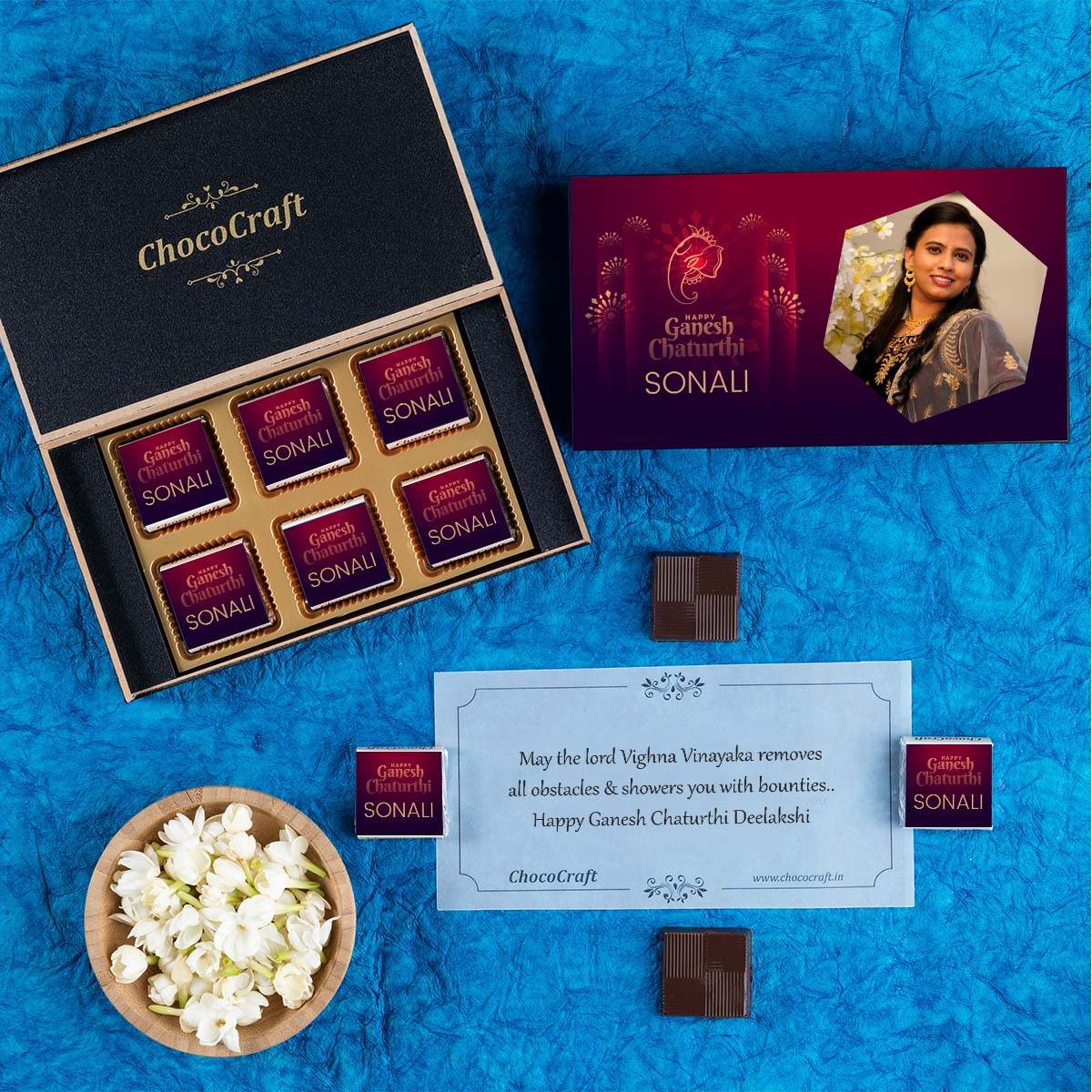 Free Delivery Across India
---
---
---
---
Ganesh Chaturthi Gifts
Ganesh Chaturthi Gifts by ChocoCraft
Ganpati or Ganesh festival is celebrated every year mainly in Maharashtra. Celebrate this Ganpati festival with special ganesh chaturthi gifts by ChocoCraft.
We create exclusive gift boxes which can be sent out as gift hampers. Printed chocolates are our specialty. We craft personalized gifts by pairing decadent chocolates with beautiful photographs.
Our chocolates are rich and dark with a layer of white chocolate on top. We print on this layer using edible ink; you can enjoy these delicious ganesh gifts till the last bite! The chocolates themselves are also packed in specially designed small boxes. These boxes can feature unique designs of lord Ganesha.
You need not even worry about the packing up of these chocolates. Our gift hampers consist of these chocolates packed in a customized box. You can choose the design on the box as well.
Although we also make customized gifts to be sent out as get well soon gifts, eid gifts, raksha bandhan gifts and gifts for boyfriend, we have a variety of designs specifically for ganesh gifts.
So this year, why not go for these unique gifts instead of the traditional ganesha idol for gift or silver ganesh murti? These can be excellent corporate gifts for Ganpati as well.
Ganesh Chaturthi Gifts from ChocoCraft
| | | |
| --- | --- | --- |
| For Recipients | Gift Types | Our Speciality |
| Ganesh Chaturthi Special Gifts | 6 Chocolate Box | Photo Chocolates |
| Ganesh Chaturthi Gifts Online | 9 Chocolate Box | Printed Chocolate Bars |
| Ganesh Chaturthi Gift Packs | 12 Chocolate Box | Personalised Box |
| Ganesh Chaturthi Gift Items | 18 Chocolate Box | All India Delivery |
| Ganesh Chaturthi Gift Ideas | Gift with Photo | Beautiful Designs |
What is Ganesh Chaturthi & Why is it celebrated?
Ganesh Chaturthi is a ten day Hindu festival celebrated in honour of the elephant headed Hindu god Ganesha. Ganesha is considered to be the Lord of art, sciences and wisdom.
He is honoured at the start of rituals and ceremonies as he is also considered to be the God of beginnings. It is believed that the beginning of any activity with worship of Ganesha rids the activity of all future obstacles and hurdles.
The festival is marked with installation of Ganesha clay idols privately in homes, or publicly on elaborate pandals (temporary stage). Vedic hymns are sung in which the greatness of Ganesha is praised.
Offerings after the puja include traditional Maharashtrian sweets called as modakas. These are sweet dumplings with a coconut and jiggery filling, and are believed to be the favourite food of Lord Ganesha.
The festival ends on the tenth day after start, wherein the idol is carried in a public procession with music and group chanting, and then immersed in nearby water body such as a river or ocean. It is said that Ganesha then returns to Mount Kailash to Lord Shiva and Goddess Parvati (who are believed to be his parents).
Ganesh Chaturthi Gifts Online
The tradition of exchanging gifts is deep rooted in Indian culture. No Indian festival is complete without gifts.
Nowadays, people are opting to get their ganesh chaturthi gifts online. When you buy ganesh gifts online, it is possible to have them delivered anywhere in the world in just a few clicks. If you are staying in a foreign country, you can even send your gifts in India.
When you buy online, you can compare various gift items with respect to price. For example, silver ganesh murti price from various traders can be compared quite easily, so that you can get the best deal.
Buying ganesh gifts online can also prove cheaper; buying directly from the source eliminates all the middlemen. There is a significant different in ganesh silver idols price in online stores and retail jewellers. Getting ganesha idol online is thus a smart choice.
You can get your special ganesh gifts online from ChocoCraft, from the comfort of your home. Just select the designs you want, and type in your custom message. You can also collaborate with our designers to create your own design. And you're done!
We deliver to most major cities in India. Your chocolates will be delivered to your doorstep within a week.
Custom Gifts for Ganesh Chaturthi
Nowadays, it has become the trend to offer customized gifts to friends and family for all occasions. Customize to personalise is the new mantra. You can customise your ganesh gifts as well.
You can customise your gifts by having your photo printed on it. You can also have your names engraved on the gift.
In addition, you can customise them according to the receiver of the gift as well. For example, you can print to Kulkarni family on your gift.
If you are thinking of gifts for husband, or special gifts for wife, surprise them this Ganpati with customised gifts. When you customize a gift according to someone's likes and preferences, it shows how truly you know the person and how deeply you care.
Personalized gifts are memorable ones. When you send a customized gift, people know that you care and are willing to take efforts to express your love. They also make you stand out from the crowd. Personalized gifts mean that you are not simply sending stock gifts; you actually care enough!
Of course, no gifts are memorable than the ones with chocolate. Gifts from ChocoCraft are the most unique gift ideas you can have. Who can ever forget such delicious gifts?
Best Ideas for Ganesh Chaturthi Gifts
Ganpati gift items are generally items which feature images of the lord Ganesha. An excellent idea is to give a ganpati murti for gift. It can be a ganpati idol for car or silver idols which can be installed at home. Buying silver idols online has become quite common nowadays.
Other ganesh chaturthi gift ideas include ganesha paintings, ganesha wall hanging and laxmi ganesh murti. Another great silver ganesh item is the puja thali. During Ganpati festival, there are daily rituals to be performed. Thus, this is an extremely practical and useful gift.
Your ganpati gift need not only be limited to ganesh idols or ganesh murti for car. You can think out of the box and gift festive clothes or jewellery. You can exchange sweet boxes or dry fruit packs with your near and dear ones.
You can also give out books. As Ganesha is also the god of wisdom and knowledge, this is an extremely symbolic gift.
As a good gesture, many people also distribute sweets and clothes to the less fortunate.
Unique Gift Ideas for Ganesh Chaturthi
Ganesh Chaturthi is the celebration of Lord Ganesha's arrival into our homes and hearts over a period of 10 days. Lord Ganesha is a much loved deity in India and Ganesh Chaturthi is celebrated with much vigor and enthusiasm. The best gift or Ganesh chaturthi is something that will enrich the festive atmosphere and also bring a smile on the faces of your loved ones. Ganesh Chaturthi is often associated with the beginning of good times. Lord Ganesh is known as the remover of obstacles.
Specialty of Ganesh festival is that it is 10 days of fun, joy, merriment, meeting friends and feasting on delicious food. Devotees worship Lord Ganesha for 10 days and immerse the idol in water at the end of the festival. Ganesh Chaturthi Lord Ganesha is worshipped before beginning anything new and is considered to be very auspicious. There are a lot of options of online gifts for Ganesh Chaturthi, but the best is chocolates.
Gifting during festivals is considered to be very auspicious. At ChocoCraft we create beautiful gifts for every festival, be it Eid, Onam, Lohri or Christmas.When you gift you spread the joy and happiness to your loved ones as well. Chocolates are loved by all and even Lord Ganesha himself. Instead of giving the same traditional gifts for Ganesh Chaturthi, try out something unique and special.
Online Ganesh Chaturthi Gifts Ideas
ChocoCraft specializes in making printed chocolates. Our chocolates come with edible prints. We can print Happy Ganesh Chaturthi or a festive image on the chocolates as well. All these prints are done in completely edible ink and make for excellent Ganesh Chaturthi gifts. All the chocolates are completely vegetarian.
The chocolate designs are done exclusively keeping in mind the Ganesh Chaturthi celebrations and our in-house designers can even collaborate with you for customizing a design as per your choice. Printed chocolates are unique Ganesh chaturthi gifts and completely different from the run of the mill gift options.
All our chocolates are made from the best ingredients and we ensure that only the best quality chocolates reach you. Treat your family and friends to delicious chocolates that are crafted with love. The chocolate gifts will be an instant hit among your family and friends and they will thank you for the effort that you have taken.
The wooden box is again superbly designed replete with Ganesh Chaturthi messages printed on the boxes as well. Once you place the order we start making the chocolates so that the freshest of the pieces are delivered to you. This Ganesh Chaturthi, spread the joy and happiness to your relatives and friends with beautiful and delicious chocolates.
---