Picking out the right return gifts for wedding guestscan betough. It is bound to take some time and effort on your part and might seem like a bother in the days preceding your big day. However, wedding presents, return gifts and photographs are the three most memorable things from any wedding party. It is through these that the guests will remember the day years later. Therefore, it is important to put your schedule on hold for some time to choose amazing return gifts for your guests.
Recently, some changes have been noticed in gift-giving trends around the world. People are no longer inclined towards highly expensive presents, but something unique that speaks of the connection between the giver and the receiver. These gifts are often customized for the occasion and have a persona element to it. Personalizing gifts is extremely easy if you have some innovative ideas. For example, a simple watch can be made special by engraving the initials of the receiver or the wedding date.  
Take a look at the various benefits of choosing customized gifts for your wedding guests. They are a great way to make sure you're remembered:

Boosts the Personal Connection
Gifts can be used for several things at once. Your wedding return gifts is not just a way to thank the guests for attending the celebrations but can also be used to reinforce the personal connection that you share with them. For this reason, customized gifts are a great idea.
These are much more impressive and special than sending exactly the same thing to everyone. With even a subtle element of personalization, the gift will become more valued and treasured. It will make your thankfulness seem more heartfelt and sincere and the guests will cherish feeling a renewed personal connection.                
Shows Thoughtfulness
It is quite easy to pick an ideal gift item and send exact copies to all your guests. While this is time-saving and requires less effort, it also shows lack of thoughtfulness. Gifts that have a story behind them and show that the giver put some thought and effort behind them are the best kind of gifts.
Personalized gifts might take a little more time to choose and design, and the pre-order requires to be placed in advance, but they are a great gesture. Customizing a gift for each guest will show them how important their presence was to your wedding and how much you appreciate them being there!  
A Memory to Treasure
A customized gift is not easy to forget. These will be something to remember you by several years down the line. Hence, if you want your gift to stand apart from all the other wedding return gifts that they might receive over the years, customized gifts are the best option. These will be treasured and valued by the guests and have a special place in their memory.
Whenever they look the special customized gift exclusively meant for them, they will be reminded of you and the cherished time they spent at your wedding. If you want the gift to be like a treasure chest of great memories, you must give a serious though to customized wedding return presents. These will become a token of remembrance and make a place in the receiver's heart.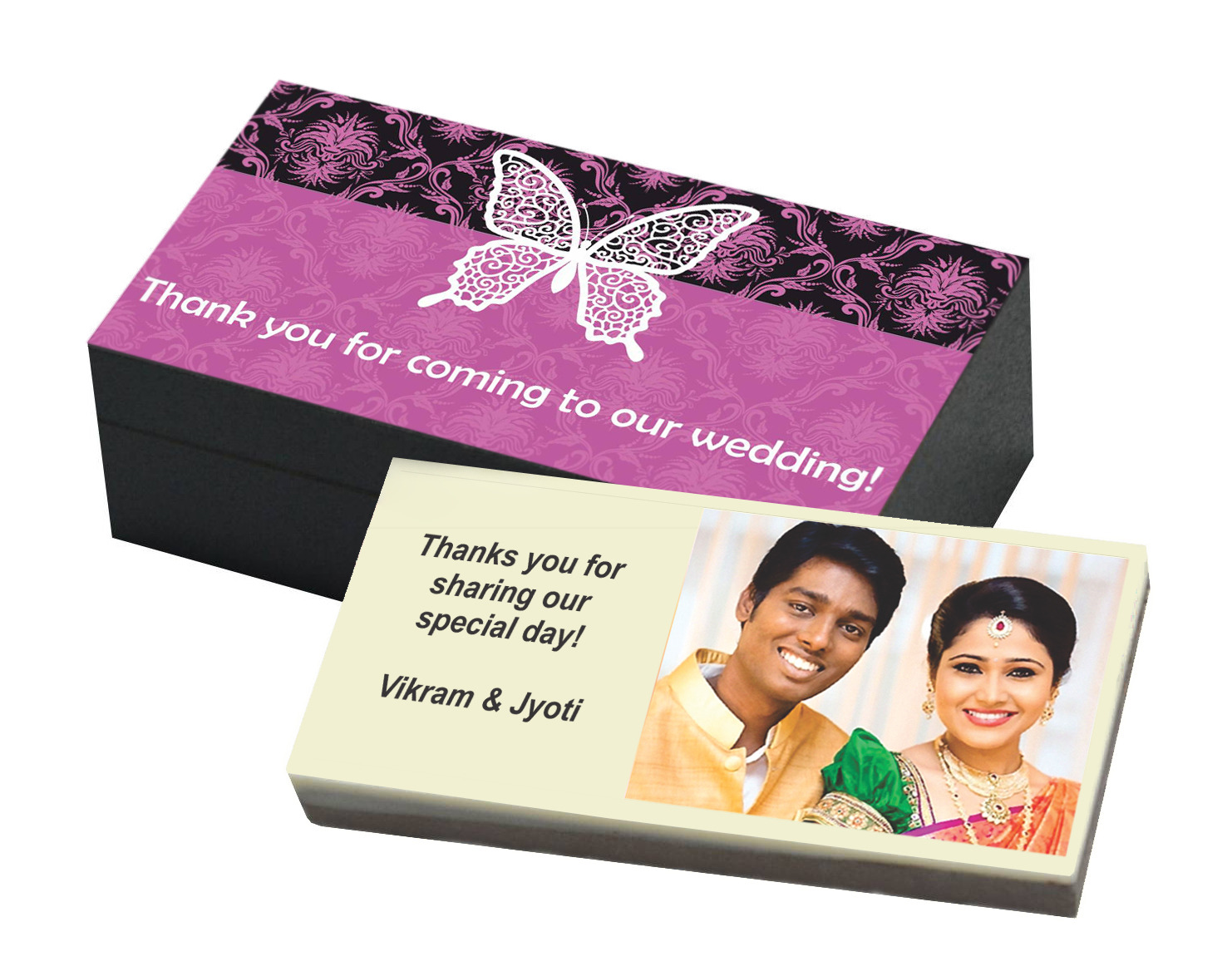 Shows Affection and Appreciation
While it is understandable that sending the same gift to every guest is a tempting offer. You don't have to spend any extra time deciding how to customize it for every guest and what to put on each gift. However, these customizations are the best way to show your love and affection for the people you care about.
If customizing every gift seems like too much of a bother, you can just make a list of your close friends and immediate relatives. However, this can be a risky idea. You have to be very careful to ensure that everyone important is included in order to avoid an awkward situation.    
Personalized Gifts will Be Used
You can guess why adding a personal element to the gift will make it much more interesting for the guests. In the world of mass-produced gifts, there is nothing better than a present that was exclusively made for them. This will encourage them to make use of it in their daily life or place it someplace where it is clearly visible.
For example, while a simple key chain may get lost in the depths of a cluttered kitchen drawer, they will want to use one that has a personal message or their name engraved on it. The same goes for a picture frame or flower vase with a personal customization.  
Exclusive for the Occasion
There are several options to choose the perfect return gift for your guests. However, these gifts are not exclusive and can be given for birthdays, religious celebrations etc. With customization, you can make sure that the gift is especially made for the occasion of your wedding. Some popular examples are customized chocolates, cookies, cupcakes and other treats. These will be very different from return gifts that the guests might receive from other weddings.

Final Thoughts          
As you can see, there are several persuading reasons to choose customized wedding return gifts. One of the major conveniences of these gifts is that the budget is changeable according to how much you want to spend. You can choose something luxurious and expensive like twin watches, silver or gold utensils and showpieces if you have a generous budget. However, several mid-ranged options are also available. For instance, engraved picture frames flowerpots or embroidered handkerchiefs and printed coasters. 
With all this information at hand, you can now pick out the perfect personalized gifts for your wedding guests. They will love the idea of receiving a gift that is different from what the others have. These customized gifts will not only a way to thank the guests for gracing your wedding with their presence but also show them affection and heartfelt gratefulness. Keep these benefits of personalized return gift ideas for wedding in mind in the upcoming wedding season!
Explore Customized chocolate return gifts for weddings by ChocoCraft!