Wedding Return Gifts - 9 Chocolate Box

---
Chocolates configuration options
---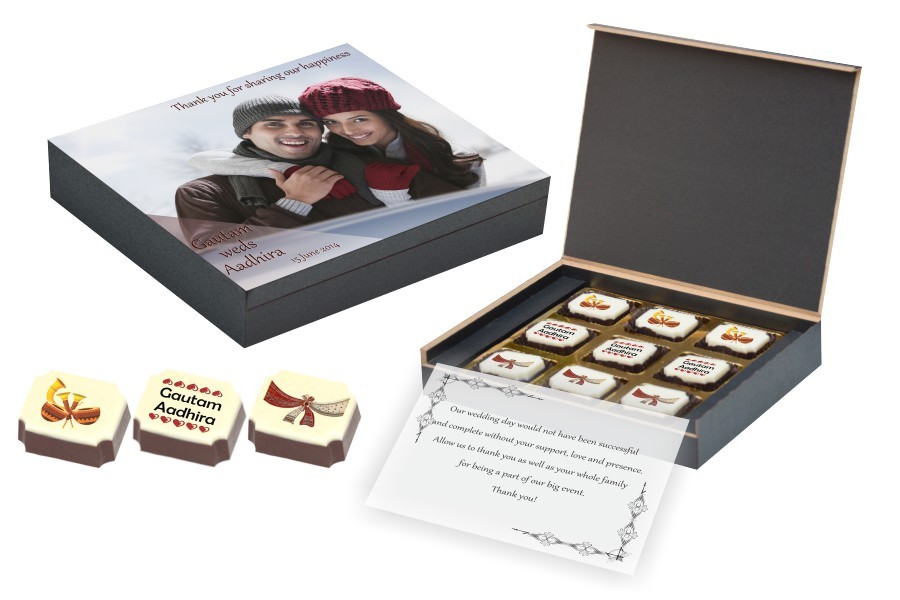 All Printed Candies, Customised Wooden Box , Message on Butter Paper.
---
5 Printed & 4 Assorted Candies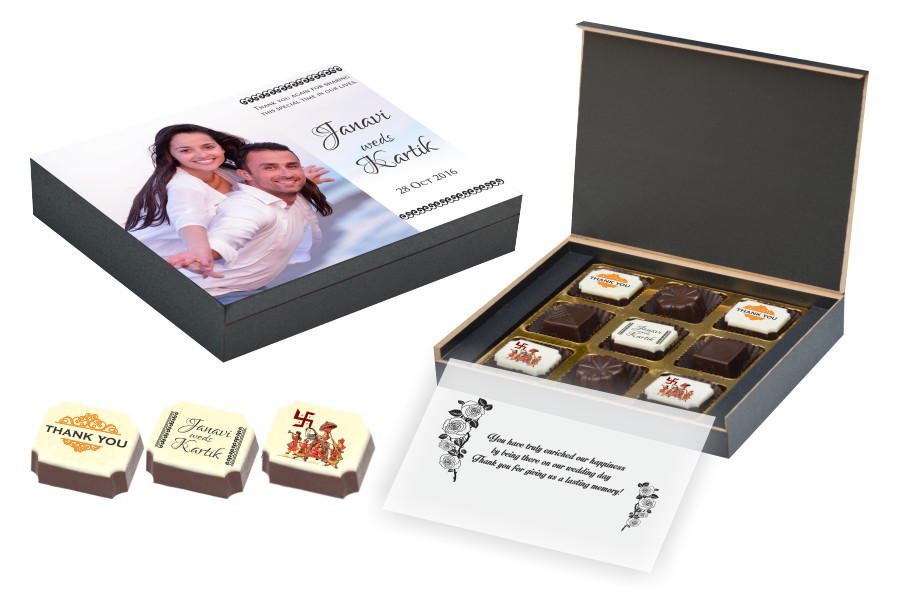 Alternate Printed Candies, Customised Wooden Box , Message on Butter Paper.
---
1 Printed & 8 Assorted Candies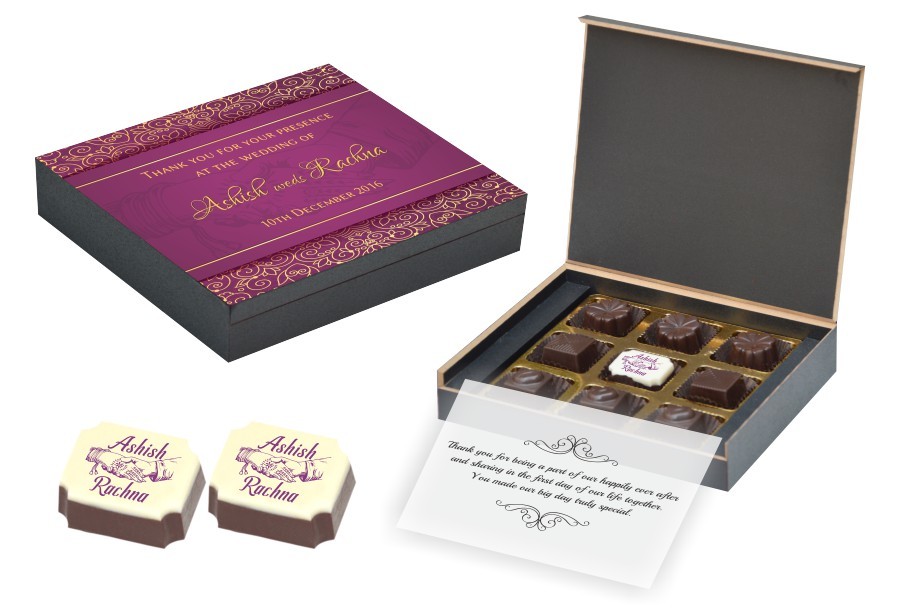 Middle Printed Candies, Customised Wooden Box , Message on Butter Paper.
---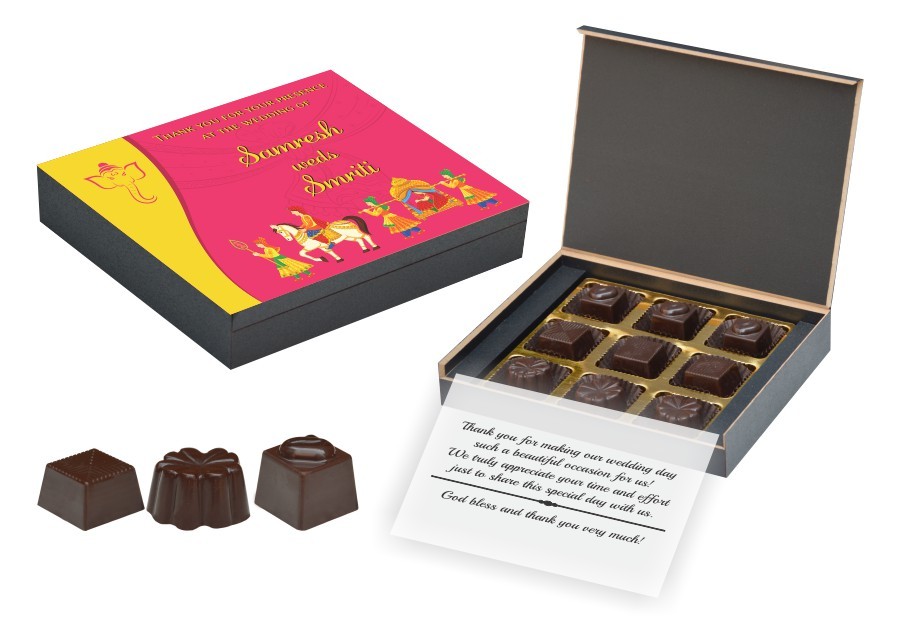 Assorted Candies, Customised Wooden Box , Message on Butter Paper.
---
---
---
Wedding return gifts - 9 chocolate box by Chococraft
---

9 chocolate box as theme wedding return gifts
A wedding is the union of two souls which is witnessed by the people close to them. A wedding is not just about the couple but also about the people watching them tie the knot. So it is necessary for us to thank them for their presence and blessings. It is important to show guests what their presence meant to us, and we generally do this through return gifts on marriages.
Searching for the best return gifts for marriage is a tough feat. You can get thousands of results if you check return gift online, but it is never clear which gift would be most suitable for whom. For example, return gift for friends would be different from gifts for relatives. Similarly, return gift for theme wedding would be different.
Return gifts for weddings should always be given along with a personal message, or it should be something that reminds guests of the wedding. Chocolates are the perfect return gift. As Linda Grayson said, "there is nothing better than a friend unless it is a friend with chocolate." The sight of chocolates is a delight, and it gets even better if it contains personalized messages.
9 chocolate box is the perfect return gift idea. You can give a box full of happiness to the guests, and chocolates are something that is loved by everyone. What else? You can even customize the chocolate box. You can write names of the happy couple on it or even have their picture on it! It is all up to your imagination, and you can customize the box however you like.
9 chocolate box is a wonder in a box that contains 9 chocolate pieces, and a personalized message written on butter paper. You can even have personalized messages printed on chocolates that your guests would definitely love. The ink used on the chocolates is totally edible and safe to eat.
You can also give chocolates as a return gift for any particular theme. The chocolate box for any specific theme would contain a personalized message written by you. The chocolate box and the chocolates inside would reflect the theme of the wedding be it peacock, butterfly, elephant, floral, vintage, rajwada, or beach theme.
For each theme, you can customize the designs on the chocolates and on the chocolate box. You can select designs that would enhance the theme and give it more profound look. You can get these return gifts for marriage online through Chococraft website without any hassle.

Wedding return gifts by Chococraft
Gift Categories
Gifting Ideas
Our Speciality
Return gifts for weddings
Beautiful Return gifts for weddings
Doorstep delivery across India
Unique Ideas with a personalised message
Design / Make your own Return gifts for weddings / favors
Return gifts on marriages
Products in a wide price range
Best return gifts for marriage

Destination wedding return gift for guests  
Searching for destination wedding return gifts requires special care. If you decided to get married someplace beautiful then your return gift should also do justice the beauty of the wedding. Look for something that represents, both the place where you got married, and also your thoughts.
Chococraft gives you perfect way to thank your guests. With Chococraft, you can gift handful of sweetness to the guests with personalized messages. The designs used on the chocolates and the chocolate box should be something that would remind them of the destination. For example, if you got married on a beachside, you can add seashells patterns on the chocolates and view of the beach on the chocolate box. Through these ways, guests would always remember about your wedding every time they would eat chocolates!
You can also gift small return gifts for marriage that have big meanings. You can gift something that is famous on your wedding destination site. It could be a famous dish or some ornament. You can also gift something small and print the image your wedding destination on it.

Return gift for Traditional Indian theme marriage
Traditional weddings follow all the ceremonies that have been passed down the generations, and it has a pious and calm atmosphere. Everyone awaits the bride and groom who unite in presence of God.
For Indian traditional themed wedding, return gifts should be something that would deeply touch the guests, and remind them of the solemn and pious atmosphere of the wedding.
Some popular return gifts for the traditional weddings are religious artifacts and utensils made up of clay. Silver ornaments are also quite popular in weddings. Silver and gold are considered auspicious metals, and materials made of these are widely liked by everyone.
Glass set and statues made up of German silver are considered pious and are always accepted with open arms. Small wooden boxes with intricate patterns and designs show the regional side of India which is widely liked by masses. Gift clocks which are uniquely decorated with wooden frame and bright colors are also a hit.
You can also gift sweets which your guests would surely love. Chocolates or any traditional sweets are widely liked by people. Be sure to send a card with the gifts which would show your feelings for them.

Customized wedding favor
Looking for ideas for return gifts for marriage? Giving a return gift is a delicate matter. One has to very careful before giving return gifts. The gift should be thoughtful which would tell guests their importance.
Before buying gifts, there are some things that should be considered. You should always ask yourself if the gift would be of any use for the guests, and how to make it more thoughtful. Gifts which are thoughtful are liked more than the gifts which are expensive.
Personalized wine glasses, mason jars, candy jars, vintage jars, or glass mugs with printed designs and pattern are universally liked. Handmade return gifts for marriage with insightful thoughts are also appreciated. It is not that price, but the thought that matters. These handmade gifts would tell your guests how much they matter to you.
Some of the popular handmade gifts are scented candles, accessories, wall hangings, engraved mugs, or even your painting. You can use any day to day thing and add your personalized messages to them. Your guests would definitely notice the valuable time and sweat you used to make these handmade gifts.  

For more information, please get in touch with us.