Wedding Return Gifts in North & South India - 6 Chocolate Box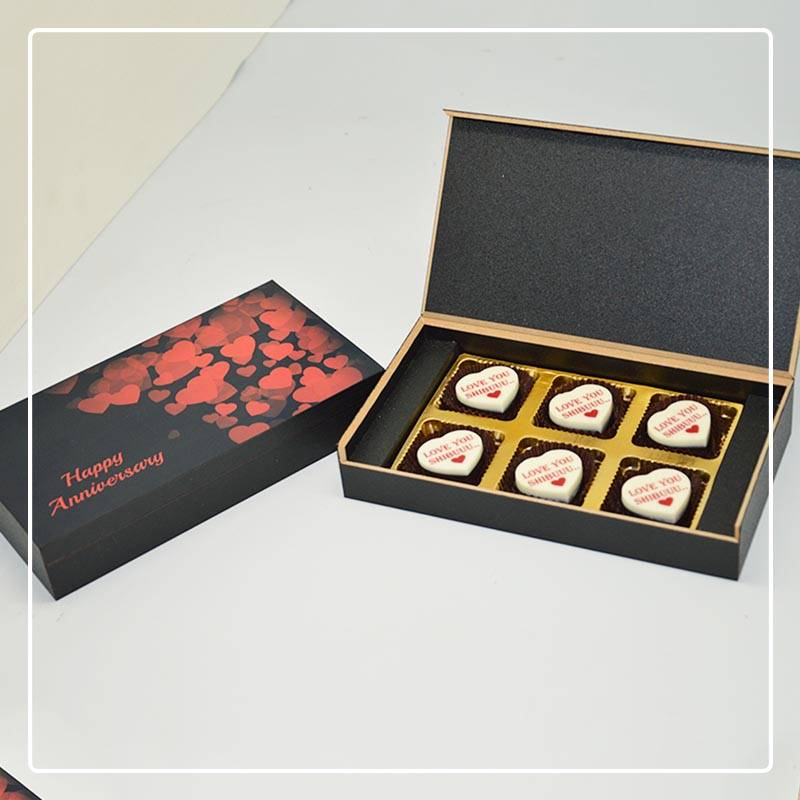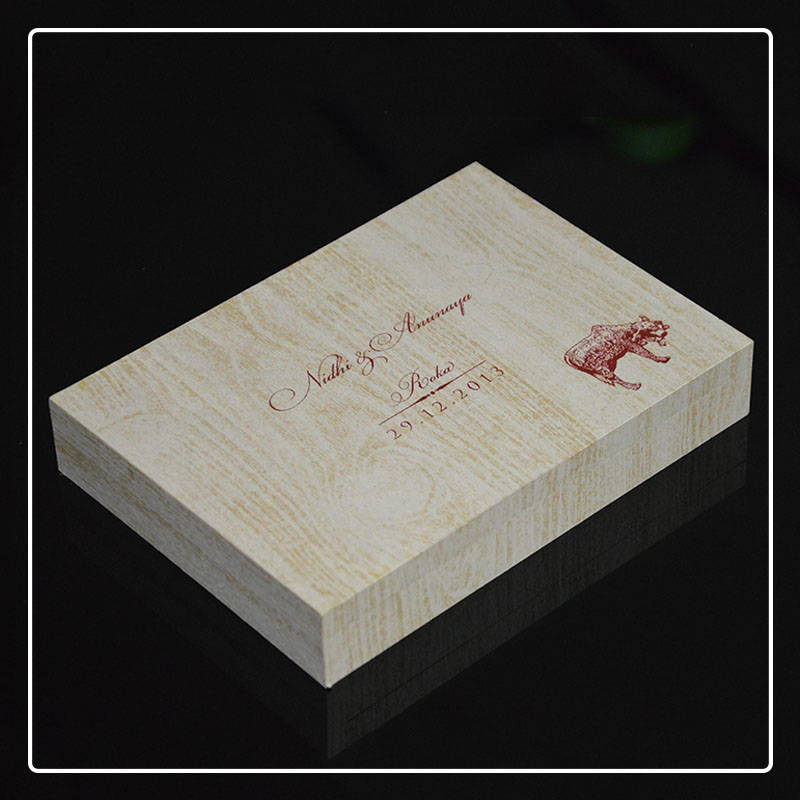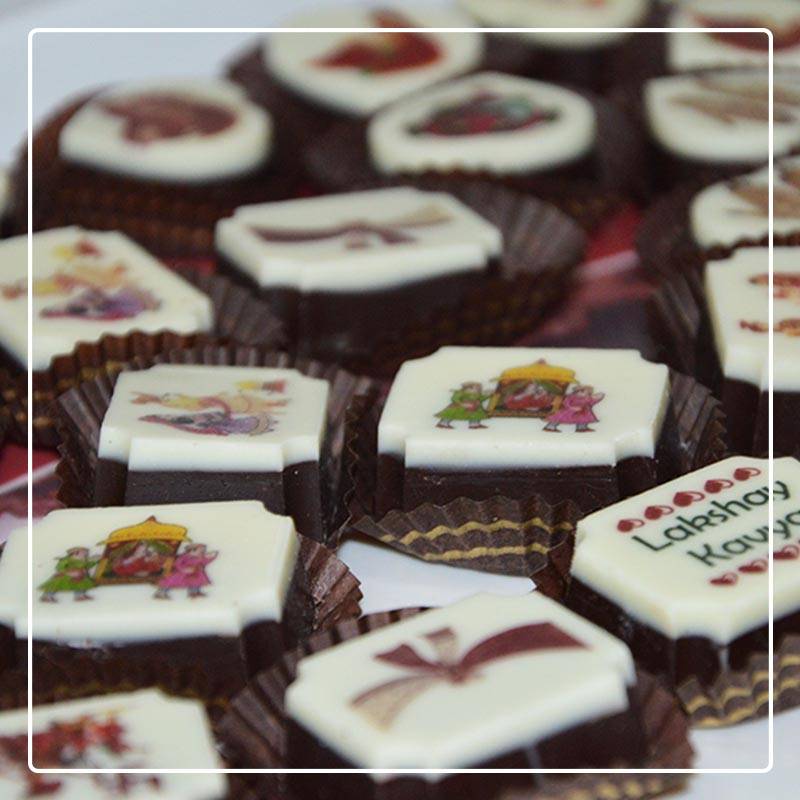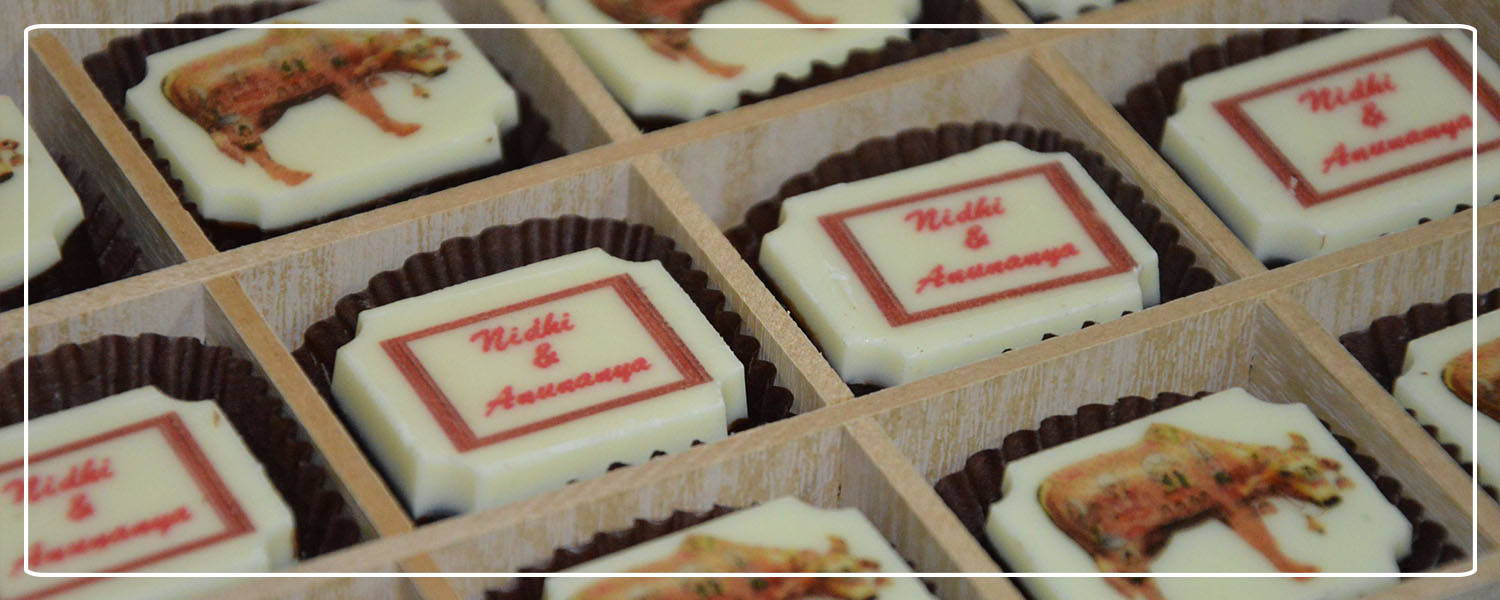 ChocoCraft presents a unique gift idea for the guests at your wedding - Customized chocolate gifts! We create printed chocolates which can feature the names of the bride and the groom, a monogram or any other design.
India being such a diverse country, weddings in different regions are different. So why should wedding return gifts be any different. Create your own gift box featuring the language and design that you prefer!
At ChocoCraft we can make beautiful return gifts for your wedding guests whether it is a Punjabi wedding ceremony or a Bengali wedding or a Gujarati wedding or indeed any other wedding. The gift will be made completely as per your choice!

Chocolates configuration options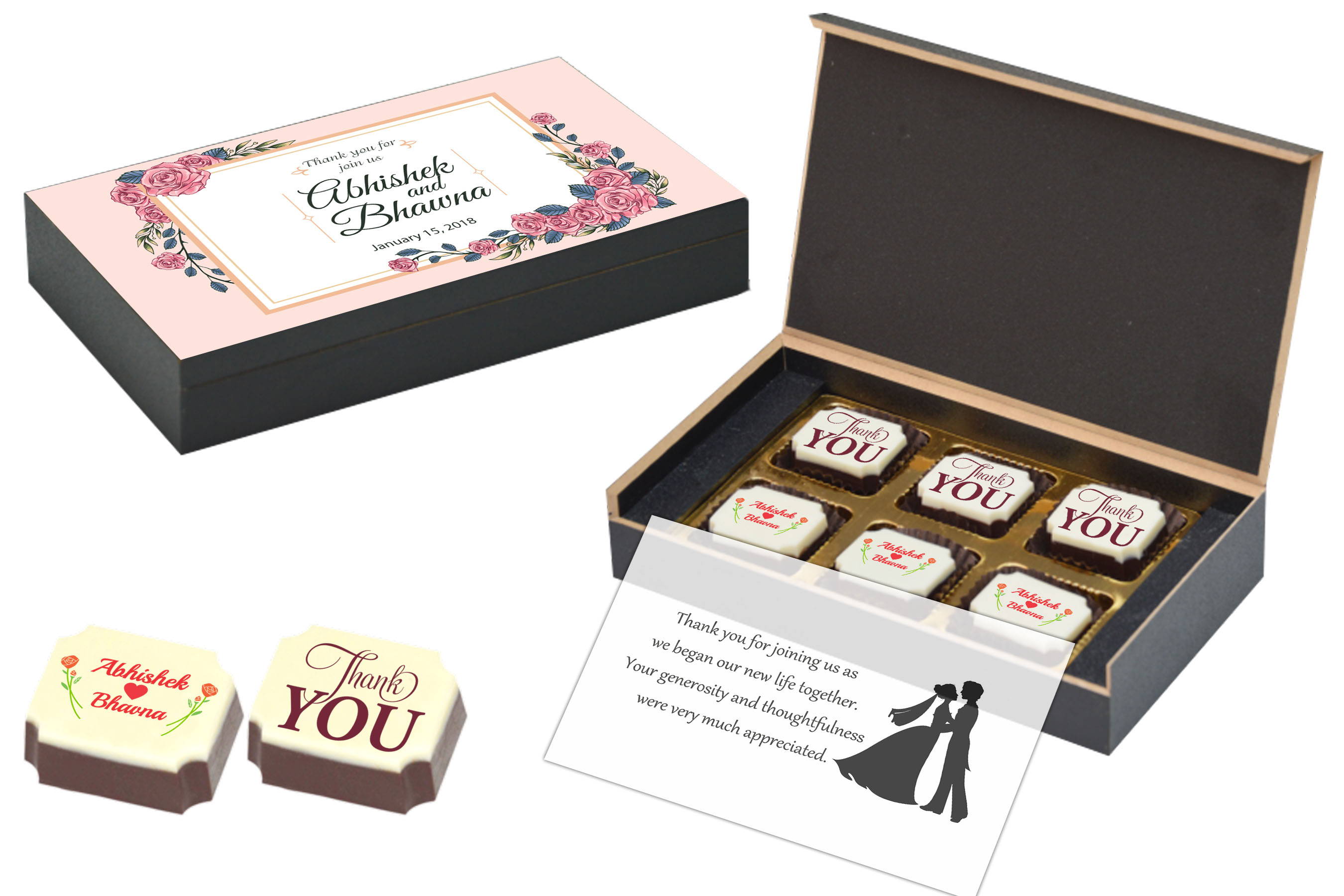 All Printed Candies, Customised Wooden Box , Message on Butter Paper.

3 Printed & 3 Assorted Candies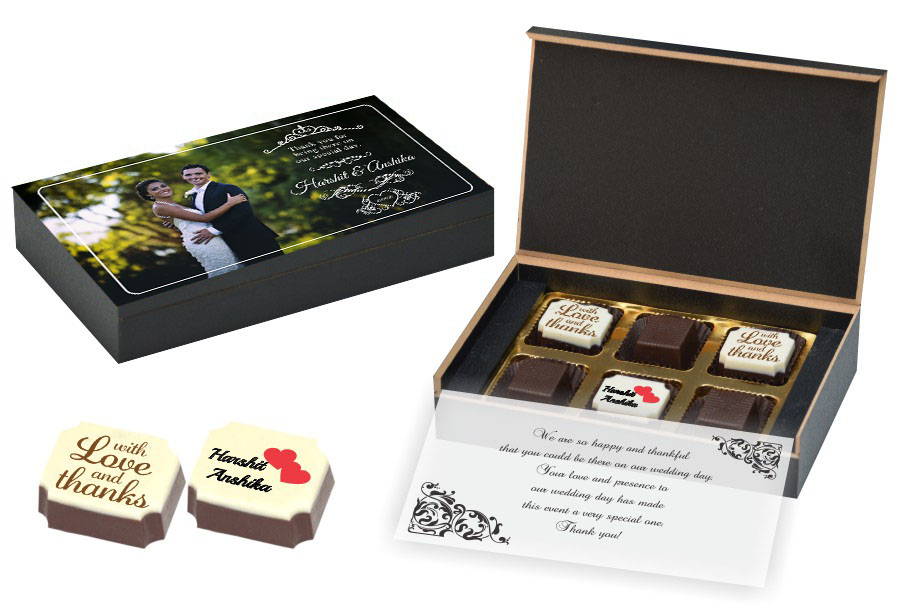 Alternate Printed Candies, Customised Wooden Box , Message on Butter Paper.

1 Printed & 5 Assorted Candies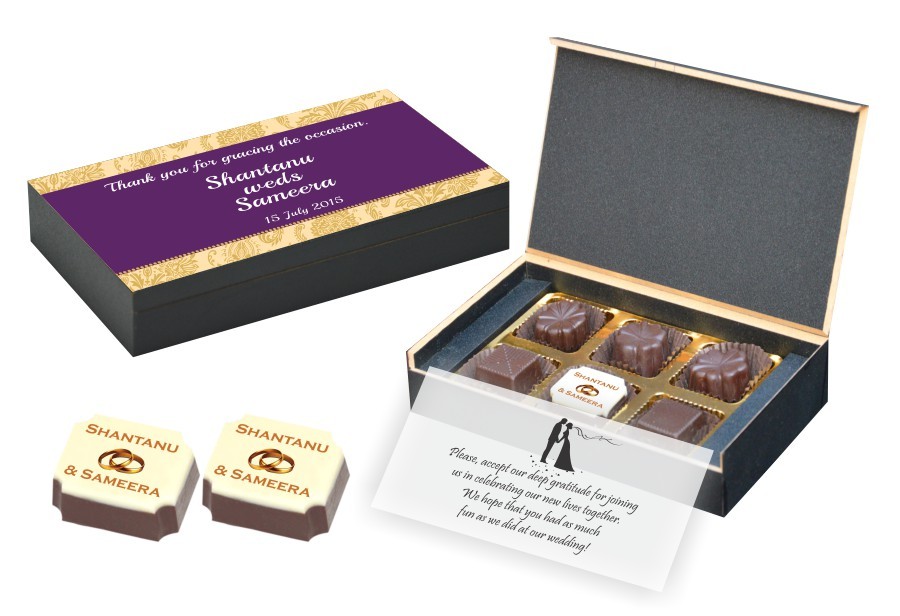 Single Printed Candies, Customised Wooden Box , Message on Butter Paper.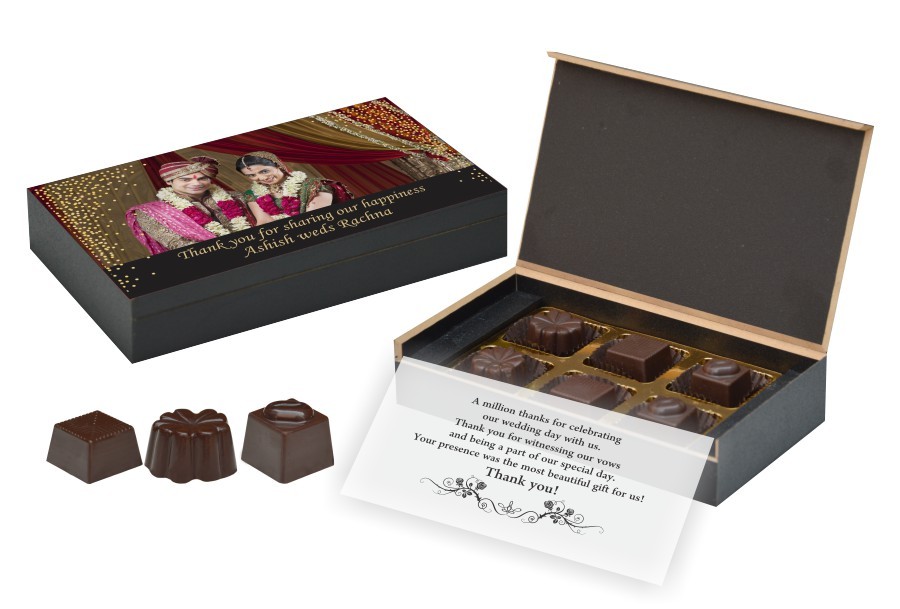 Assorted Candies, Customised Wooden Box , Message on Butter Paper.


Wedding Return Gifts in North & South India
Gifts in North India
Gifts in South India
Our Uniqueness
Themewise design templates
Doorstep delivery across India
Impressive Gift for friends
Customised according to the language perferences
Products in a wide price range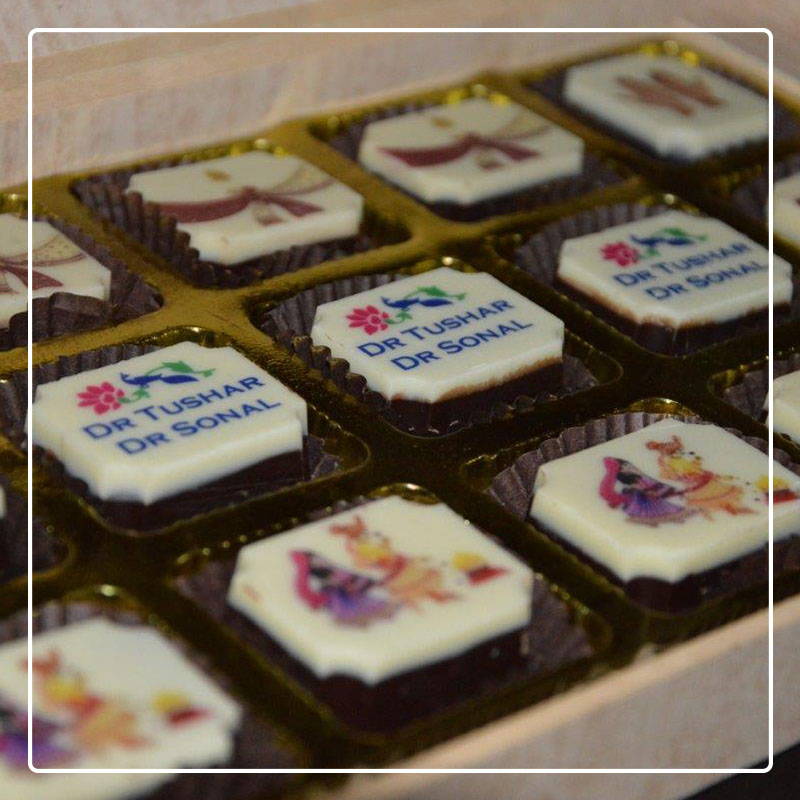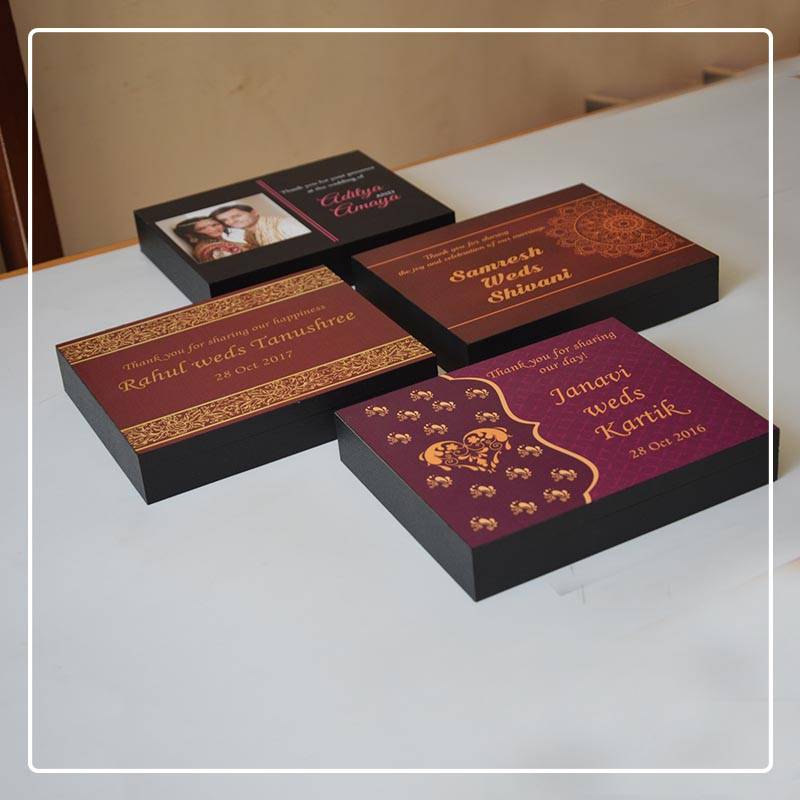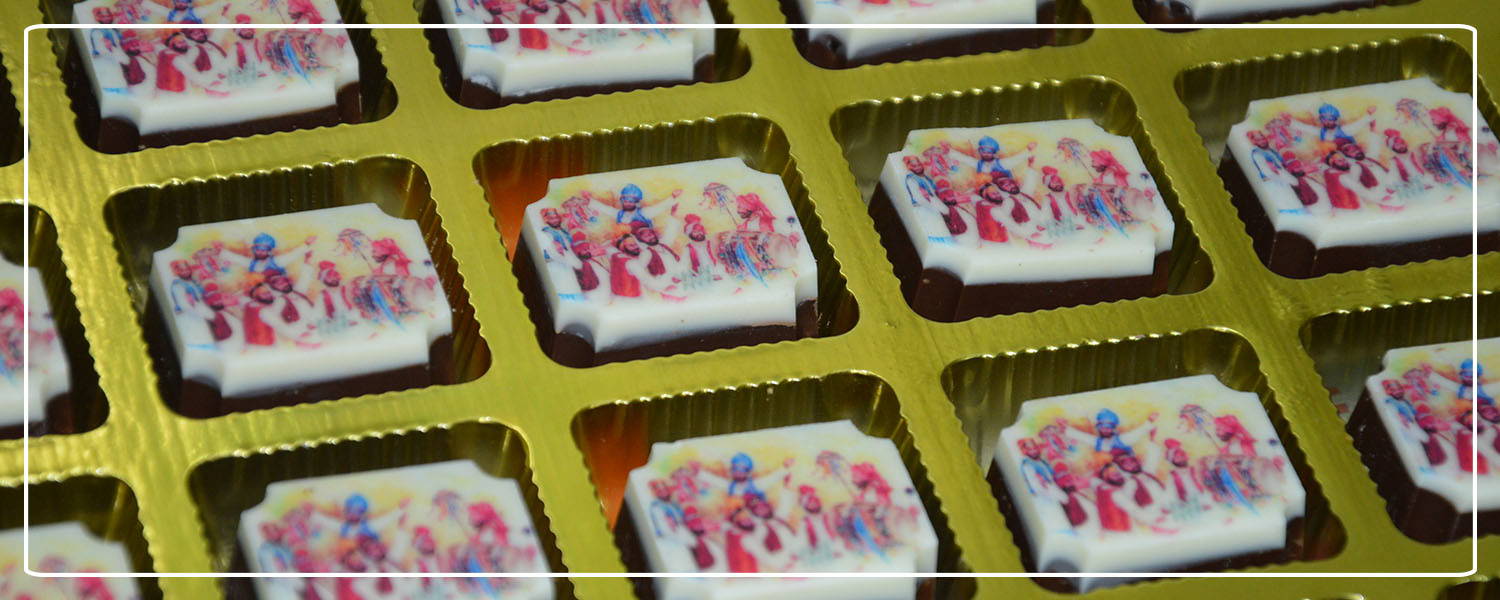 Return Gifts for South Indian Wedding
South Indians have a rich heritage and a culture quite different from the rest of their country. Their weddings also are quite unique. Being a simple folk, these people generally have simple return gifts for wedding. These gifts typically represent the culture of the South.
An excellent return gift for south indian weddings is a pattachitra painting. It is a scroll form of art work where scenes of Hindu mythology are painted on to a piece of canvas. The colours used are all natural and this form of art dates as far back as the 5th century B.C. You can even personalize this painting and have your names painted on it.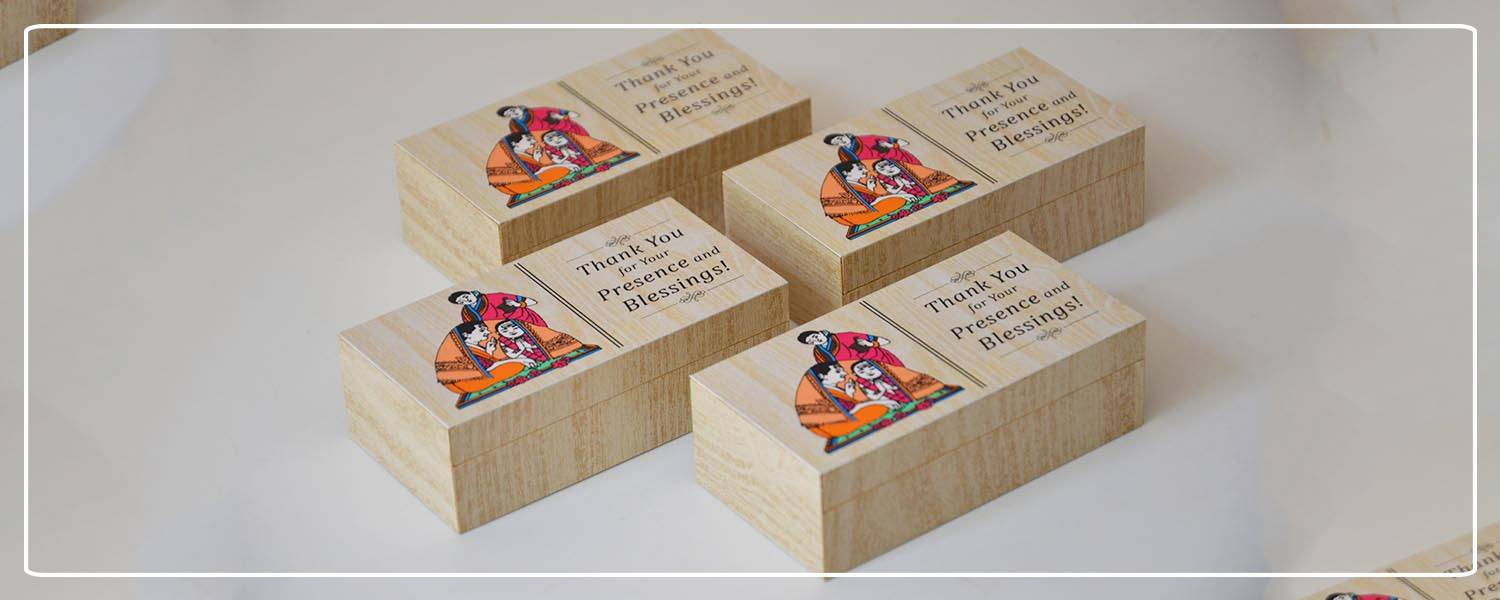 South India is also known for its metal works and artisans, especially brassware. Idols, decorative items or tools such as utensils and flower pots made from brass make excellent return gifts. Such useful return gifts for wedding are always well received by guests!
If you're in Kerala, lacquer coated toys are a very popular souvenir. Lacquer ware is a craft that combines metal work and wood. The wooden products are coated with a finish of lacquer, giving it a glossy or matte finish.
Mysore paintings are souvenirs that make Karnataka stand out completely as they depict mythical imagery that is coloured in bright vegetable dyes and then laced with gold leaf. This is a must if you hail from Karnataka; your guests from other parts of the country are definitely looking forward to this!
At ChocoCraft, you can make custom gifts for south indian weddings. The box design can be chosen so as to reflect the culture and heritage. The print on the chocolates can also reflect a south indian theme.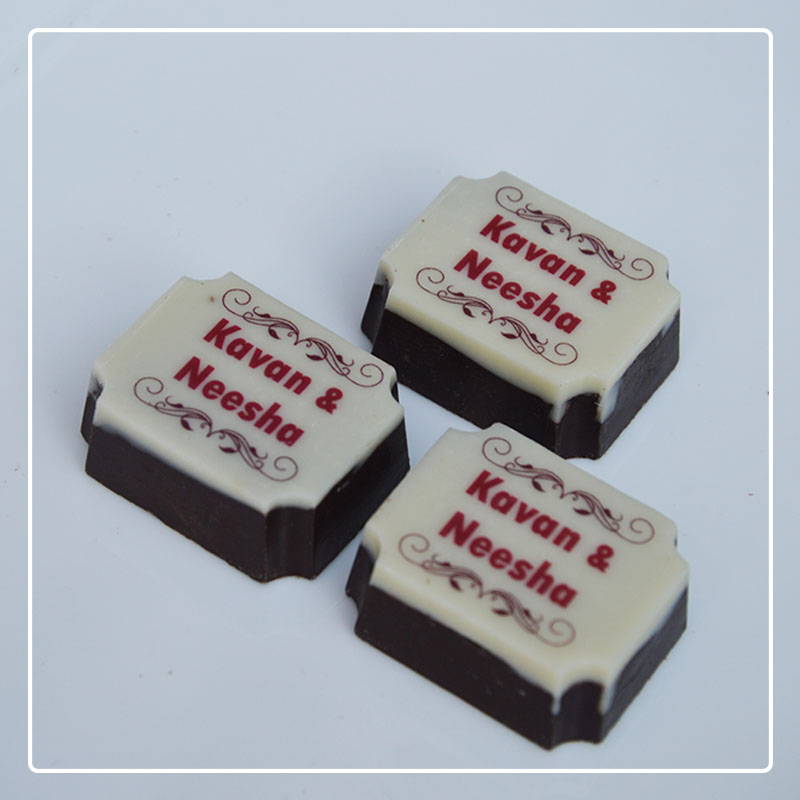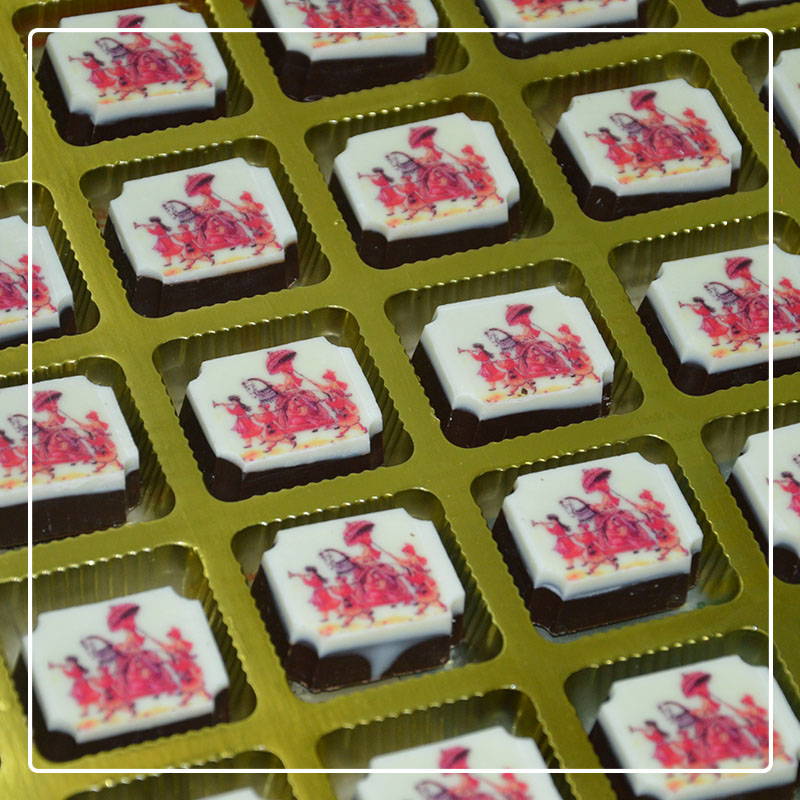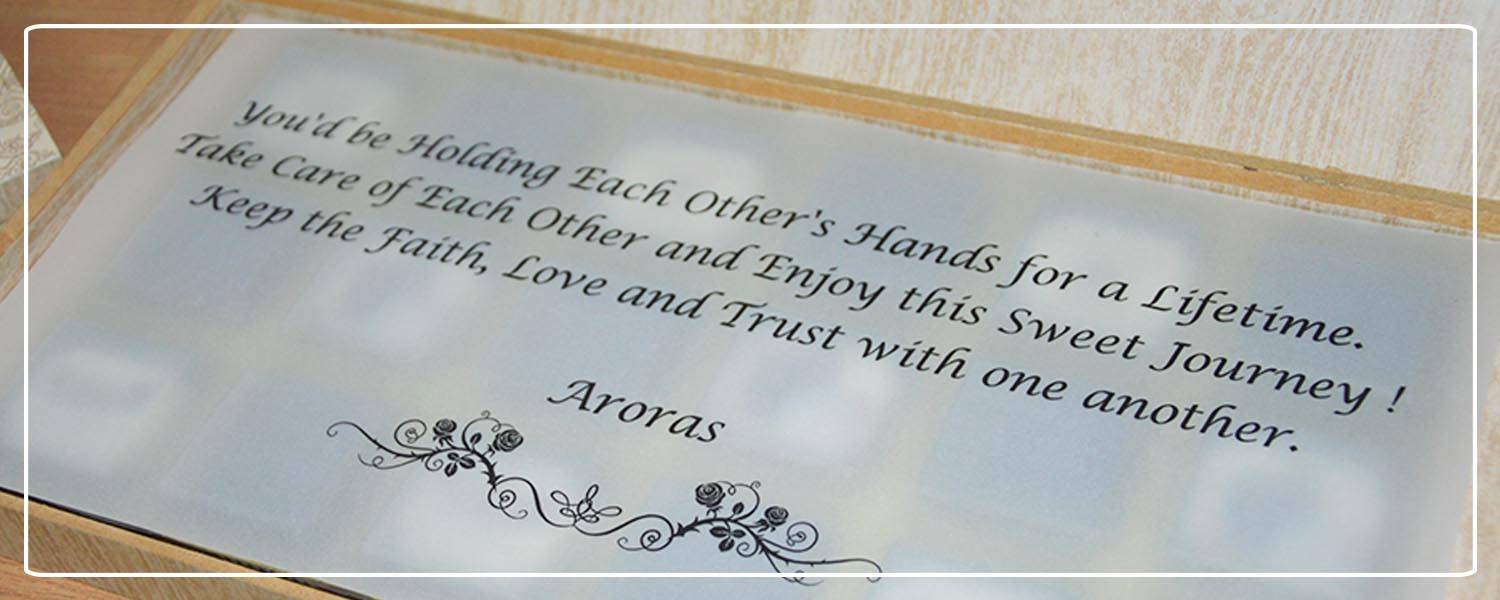 Return Gifts for North Indian Wedding
Like South Indians, North Indians are also a class apart. North India refers to the states of Haryana, Himachal Pradesh, Jammu and Kashmir, Punjab, Rajasthan, Delhi, and Chandigarh North Indian weddings are characterized by grandeur, festivities, music, dazzling clothes and jewellery. They really know how to celebrate in style. The original big fat indian wedding perhaps.  
Delhi is the hub of souvenirs and crafts from all over the country and very few items reflect what is handcrafted in Delhi. Meenakari is the art of ornamenting and colouring the surface of metals by fusing over it brilliant colours that are decorated in an intricate design. Its origins come from Persia, and often the work passes down from several skilled artisans to obtain the finished product. This is an excellent return gift for weddings.
Chhattisgarh is home to several tribal communities who produce beautiful works of terracotta pottery and sculptures. The works represent human emotions as well as spiritual customs and rituals. Your guests from other parts of the country will be happy to take an artefact home.
Rajasthan is known for souvenirs that girls absolutely adore and Lac bangles and accessories are no less. No north indian wedding is complete without glittering jewellery!
North India is also well known for delectable food, especially sweets. Apart from lassi, some other delicacies are gajar halwa, gajar paak, and several varieties of pedas and burfis. A box of these decadent sweets as a gift can never go wrong.
If you want to make your north indian wedding really special, ChocoCraft has just the wedding return gifts for you. The six chocolate gift box can be customised to reflect your heritage.
You can have typical north indian designs on the box as well as the invitation card inside. Go ahead and place your orders today!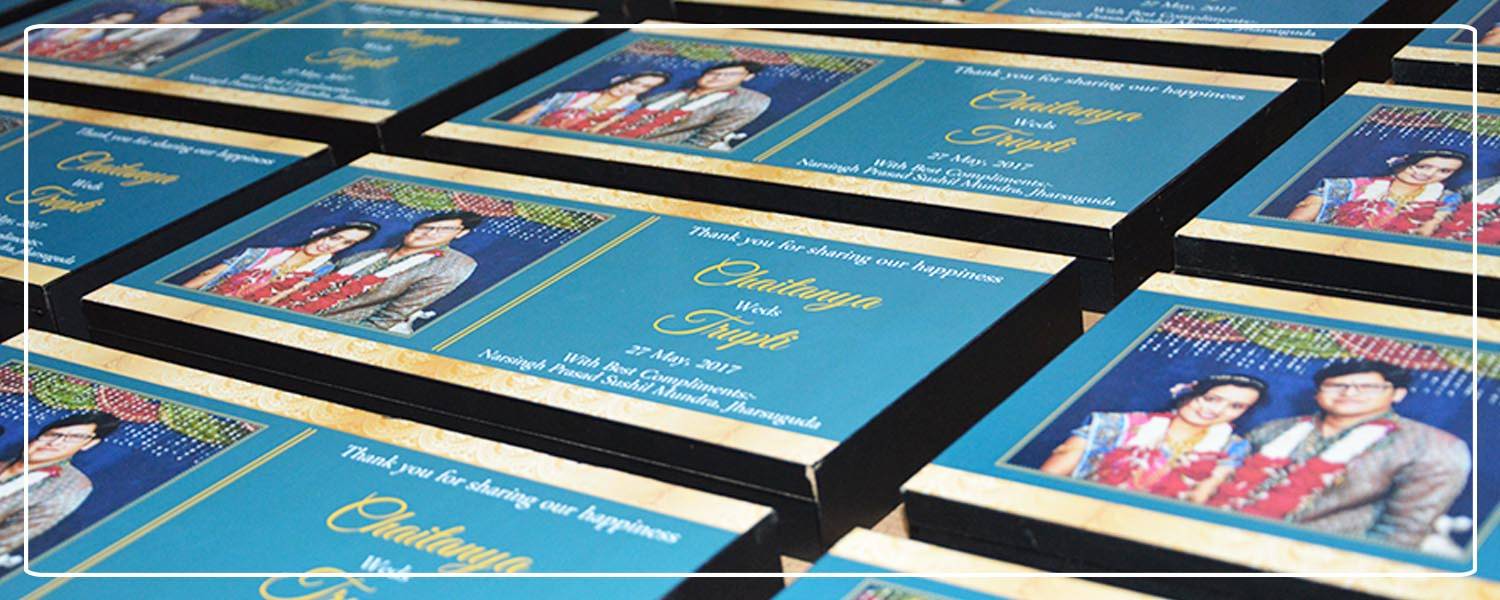 For more information, please get in touch with us.